Understandably, every couple wants to create an unforgettable wedding experience for their guests and themselves. However, they also do not want to break the bank, which is why budgeting often feels like the most daunting aspect of planning a wedding. In the end, you have to work with what you have — be it, $5,000, $20,000, $30,000, or $50,000.
A $50,000 wedding budget is more than enough to plan and execute the wedding ceremony—and reception—of your dreams. To give you an idea of how you can manage this budget, below is a complete breakdown of expenses.
50,000 Wedding Budget: Cost Breakdown
| | | |
| --- | --- | --- |
| Category | Expense | Percent of Budget |
| Venue and catering | $25,000 | 50% |
| Photography and videography | $5,000 | 10% |
| Wedding attire and accessories | $4,000 | 8% |
| Flowers and décor | $4,000 | 8% |
| Entertainment | $3,500 | 7% |
| Invitations and stationery | $1,500 | 3% |
| Wedding planner or coordinator | $1,500 | 3% |
| Miscellaneous | $5,500 | 11% |
Venue and Catering (50% – $25,000)
Venue and catering will most probably take up most of your wedding budget, but just how much you will spend on this aspect depends on how small or large your wedding is.
While selecting a venue, your first consideration should be the rental fees and catering costs. Also be mindful of any additional rentals you have to make, such as chairs, linens, and dishware. Also figure in the taxes, service charges, and other fees you may have to pay.
Photography and Videography (10% – $5,000)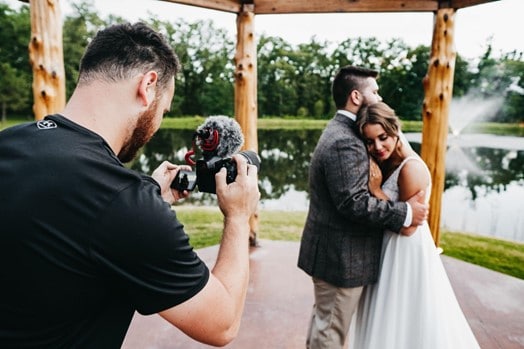 Consider investing in a photography and videography team who can skillfully immortalize your love story. Years down the line, having beautiful images and touching wedding videos will help you look back on your special day.
Photography and videography teams vary widely in cost based on several factors. These factors include experience, package inclusions, and cost of living in your area. To be safe, keep 10% of your budget for photographers and videographers.
Before hiring a team, make sure to browse their portfolios and testimonials. During the initial interview, ask them about their vision and see if it aligns with yours. It might also be worth conducting a test shoot to see their work ethic and your chemistry with them.
Wedding Attire and Accessories (8% – $4,000)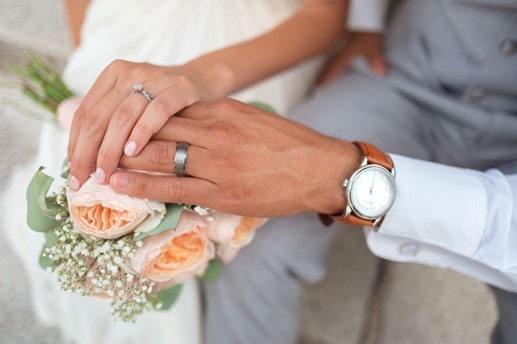 Every couple wants to look their best for their wedding. Since you are working with a $50,000 wedding budget, you have the freedom to splurge on gorgeous outfits and accessories.
A reasonable amount to spend on your attire and accessories is 8% of your budget. A considerable portion of your expenses in this category will go to the bridal gown, the groom's suit, and any necessary alterations to these garments.
Moreover, remember to buy shoes, jewelry, and other accessories that will complete your wedding day look. However, you can also repurpose items you already have or borrow things from your loved ones to save some money.
Flowers and Décor (8% – $4,000)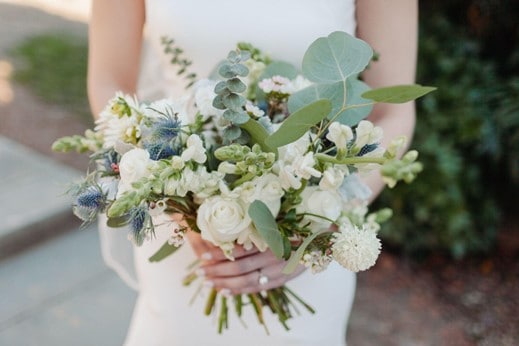 Flowers and décor are an effective way to set the ambiance of your ceremony and reception. Expect to spend around 8% of your wedding budget of $50,000 to cover the costs of bouquets, boutonnieres, centerpieces, and any additional floral arrangements or décor elements needed to bring your vision to life.
Keep in mind that the cost of flowers can fluctuate depending on the season and availability. If the cost of authentic flowers is too much at the moment, there are creative alternatives worth exploring—silk flowers and DIY flowers, for example, can look just as chic and gorgeous.
Entertainment (7% – $3,500)
The entertainment at your wedding can set the tone for the ceremony and keep your guests engaged during the reception. Your choice of music is also crucial for different parts of the day, such as the parent-child dances and wedding party introductions.
Expect to spend around 7% of your budget on a band or DJ, as well as any additional entertainment options you may desire, such as a photo booth or live performers.
You may also want to consider hiring a band for your ceremony. Live music is always a delight to have, and it can make your day even more romantic and unforgettable. If you already have musicians for your reception, ask them if they offer packages also covering the ceremony.
Invitations and Stationery (3% – $1,500)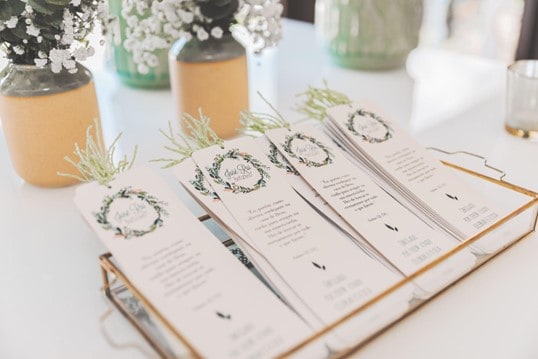 Although seemingly a minor detail, wedding-related stationery has two significant purposes: it shares pertinent importation with your guests, and it also allows them to get a glimpse of the style and theme of your wedding.
This category includes save-the-date cards, invitations, RSVP cards, programs, menus, and thank-you notes. In total, expect to spend around 3% of your $50,000 wedding budget on wedding-related stationery.
Take note of additional expenses, such as postage and calligraphy services, if you choose to incorporate them. Oppositely, opting for online RSVP alternatives can save you some money.
Wedding Planner or Coordinator (3% – $1,500)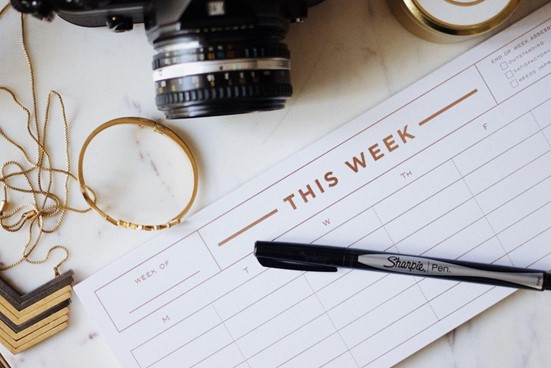 For some people, planning is not their strong suit. Wedding planning is especially an overwhelming task: coordinating with vendors, making decisions every second, sorting out paperwork, and staying within budget can be difficult if you do not have the right skill set, connections, and patience.
If this is you, hiring a professional wedding planner or coordinator will be a lifesaver. They will handle the nitty-gritty of wedding planning, and all you have to worry about is signing papers, attending fittings, making decisions, and having fun.
A great wedding planner will make sure every aspect of your wedding is taken care of, all while staying organized and within the budget. A wedding coordinator focuses on logistics and tasks to ensure everything runs smoothly on the day of the wedding.
Set aside around 3% of your budget to hire a wedding planner, coordinator, or both. Ask your potential wedding planner if they also offer coordinating services.
Miscellaneous (11% – $5,500)
The miscellaneous category is a catch-all for other, smaller aspects of a wedding, including your wedding favors, accommodation costs, transportation, tips for vendors, gifts for the wedding party, and your wedding cake.
You also never know what might happen on the wedding day itself; for example, there might be an additional charge you are not aware of. Having a "miscellaneous" category in your budget can help you address contingencies and emergencies as soon as they arise.
Set aside 11% of your wedding budget of $50,000 to account for these expenses.
Final Thoughts
Planning a wedding on a $50,000 budget is possible. Especially if you consider the fact that the national average wedding cost sits around $30,000, a wedding budget of under $50,000 is feasible and will get you the wedding of your dreams.
Nonetheless, staying organized and within budget are important. Grouping your expenses into categories is one way to ensure that every aspect of your special day is taken care of, creating an unforgettable experience for both you and your guests.
Ultimately, the budget breakdown above is only an average. You and your partner have complete control over your expenses; if you want a wedding budget under $50,000, you can adjust each category accordingly. Your preferences must take priority.