Sometimes, deciding when your big day will take place is easy; it can come to couples naturally. However, in some cases, this decision might need a lot of time, deliberation, and discussion. It is worth noting that some months are more popular for weddings than others.
August is an often-picked month for weddings because of its sunny days and vibrant surroundings. August marks the end of summer and the start of fall; thus, August wedding colors often reflect these two seasons and the transition between them. These colors include:
Light blue
Dark blue
Orange
Yellow
Brown
White
Gray
Below is an explanation of each August wedding color's meanings, along with examples of exquisite color schemes and tips for choosing what colors are suitable for your ceremony.
Lovely August Wedding Colors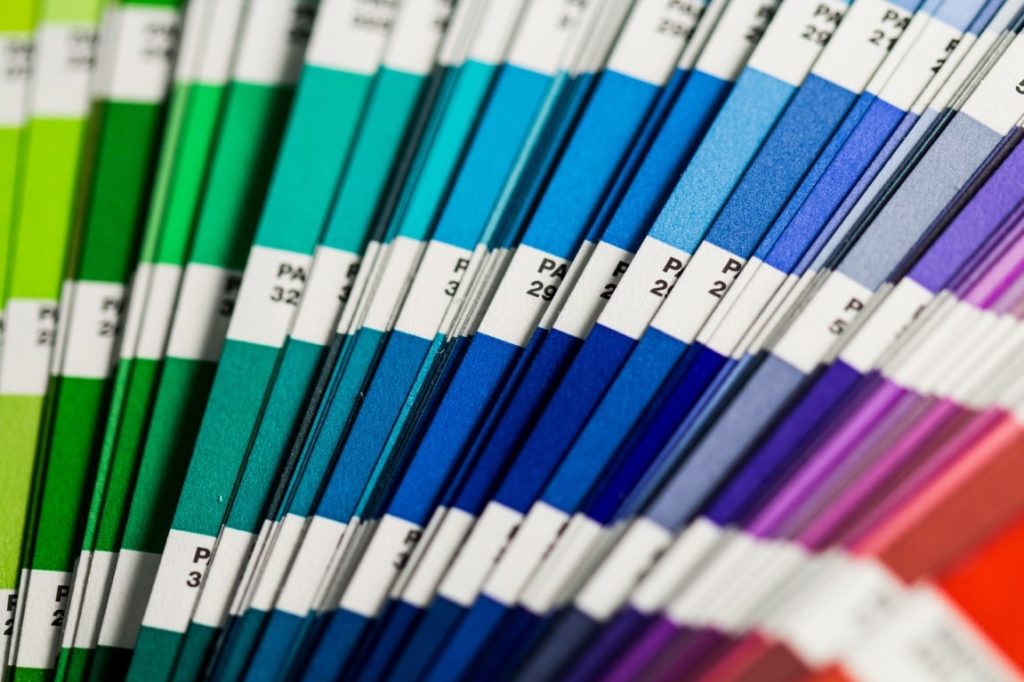 As stated above, August is the last month of summer in the US; summer colors tend to be vibrant, saturated, and intense. Moreover, August also leads the transition into fall; fall colors tend to be rich, but the focus has switched to more neutral shades to reflect the changing seasons.
Generally, August wedding colors take inspiration from natural sights — a vast ocean, lush fields of grass, delectable fruits, earth-toned produce, and so on.
1. Light Blue
Blue is a primary color in the cool spectrum that inspires feelings of tranquility, calmness, and contentment, regardless of the precise shade. Light blue, in particular, is a softer variant that reminds us of a clear sky during a hot summer day.
2. Dark Blue
In contrast, dark blue is a richer shade of blue. Because of this richness, dark blue often connotes confidence, intelligence, and power. Depending on how you incorporate this color into your palette, you can give your wedding an elegant and sophisticated touch.
3. Orange
In nature, orange is observable during sunsets, when the sky is transitioning from bright to dark. Iconic citrus fruits, such as tangerines and oranges, are also the same color. Because of these representations, orange is often associated with feelings of revitalization, joy, and beauty.
4. Yellow
Yellow is similar to orange, especially in their real-life representations and symbolism. The sun, the sky during nightfall, and lemons are some examples of yellow objects. Generally, yellow connotes hopefulness, youth, and happiness.
5. Brown
Brown might seem out of place in a list of August wedding colors at first glance. However, brown excellently exemplifies the transitional quality of August, as it is the last month before autumn. Furthermore, brown is also the color of the earth; thus, it represents stability, support, and steadfastness.
6. White
Although white is technically not a color, it is a mainstay in any color scheme. White can balance two strong or contrasting shades. Likewise, it can also be a subtle but elegant accent to your palette. In color psychology, white represents purity, brightness, and integrity.
7. Gray
Gray is a flexible neutral color. You can use it as an accent to stabilize and embellish a contrasting palette. Alternatively, you can pair gray with another August wedding color, with the former being the focal point. Consequently, gray signifies versatility, balance, and timelessness.
Stunning Palettes with August Wedding Colors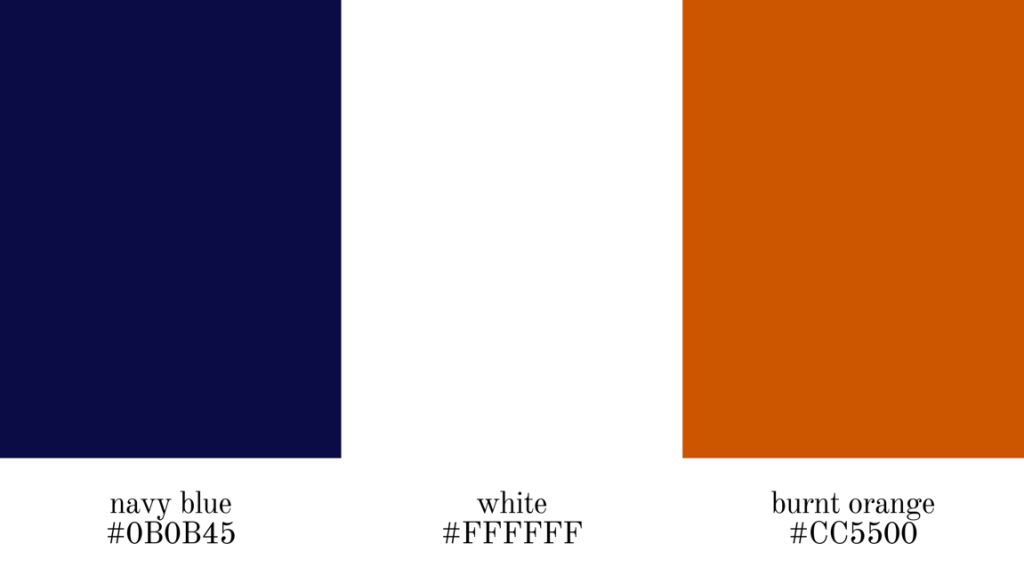 By themselves, navy blue and burnt orange are popular wedding shades. Navy blue is timeless and elegant, while burnt orange is unique and vibrant. Together, these colors give a rustic but chic vibe that will work well for many types of weddings.
Your bridal bouquet can have a mix of navy blue, burnt orange, and white details. Alternatively, you can wear a navy blue dress with burnt orange accessories. You can also integrate this combination into the decor, invitation suite, and more.
Dusty Blue and Sunflower Yellow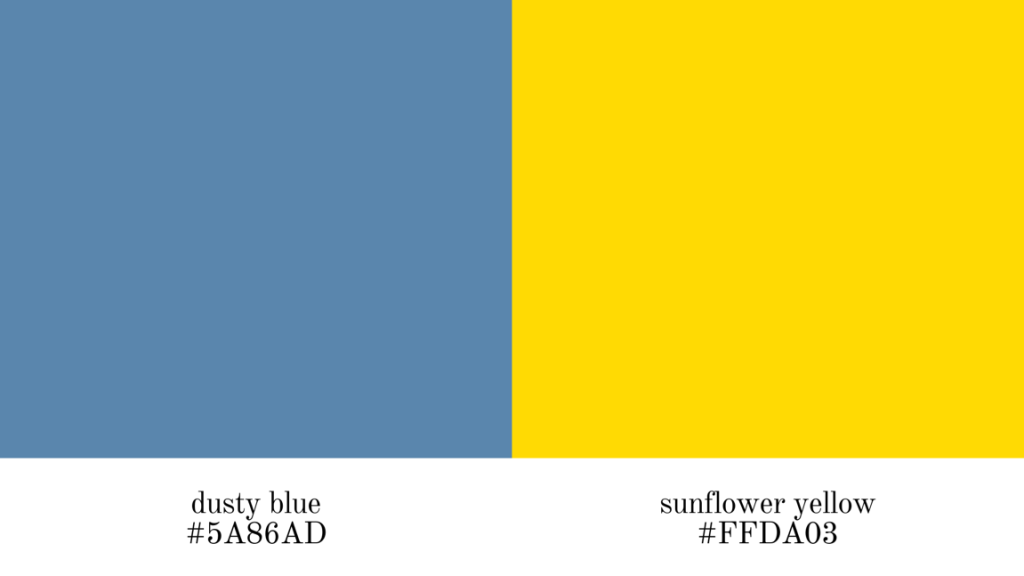 If you want a less saturated version of the navy blue-burnt orange combo, go with dusty blue and sunflower yellow. They provide a similar contrast but are not as vibrant as the abovementioned colors. However, muted does not always mean inferior.
Dusty blue dresses are splendid for bridesmaids. Another lovely touch is sunflower yellow attire and details for younger bridal party members, such as your nieces and nephews. Your bouquets, centerpieces, and decor pieces can contain an eclectic mix of these colors.
Dusty Blue and Orange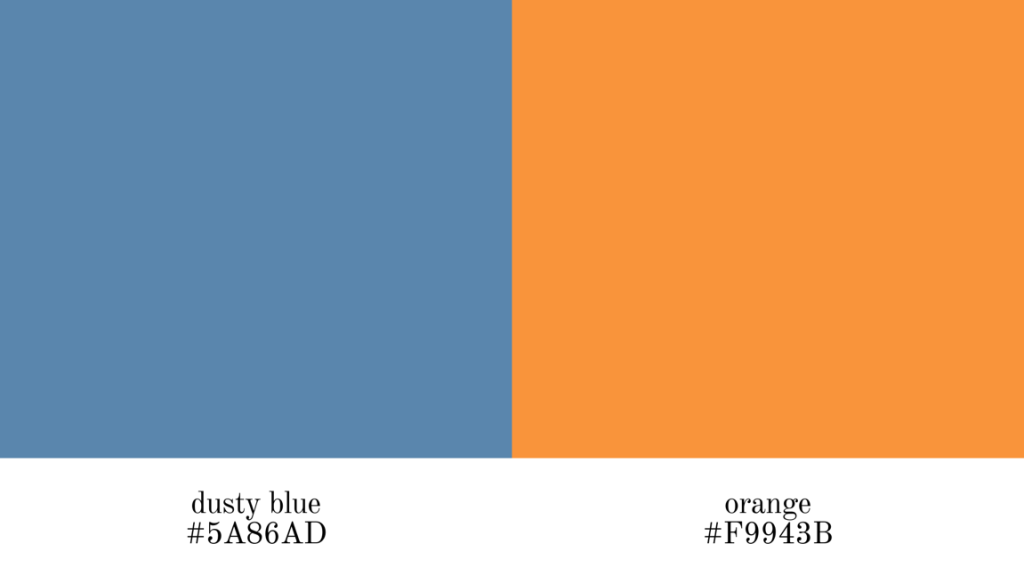 Consider dusty blue and orange if you prefer a different version of the classic navy blue-burnt orange combination. Dusty blue has medium saturation and high brightness, whereas navy blue has high saturation and low brightness.
However, the combination still works beautifully. The ambiance remains elegant, natural, and memorable.
Dusty Blue, Peach, and Another Neutral Tone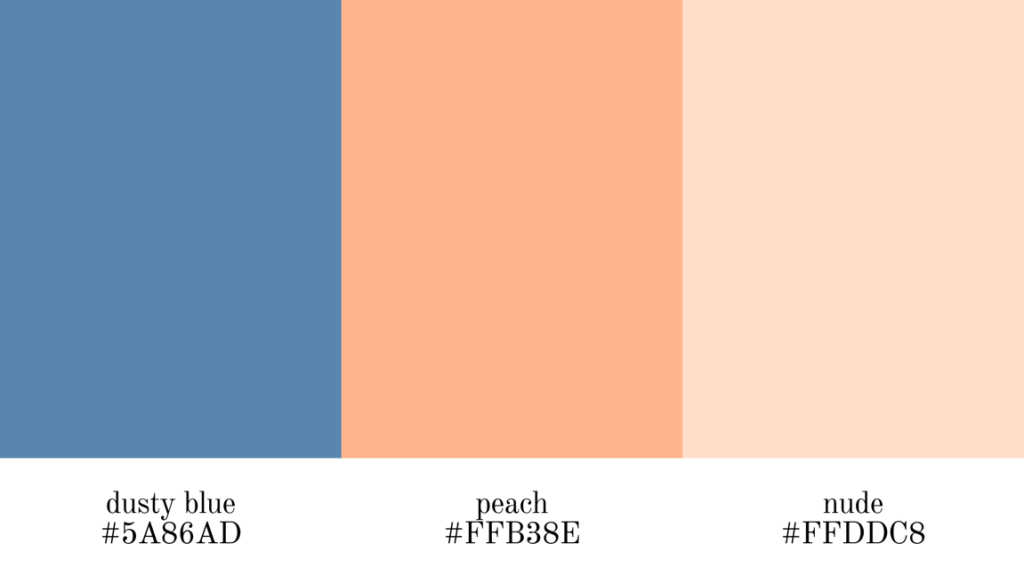 Peach is a pinkish variant of orange, thus giving the shade a lighter and more neutral effect. Combining dusty blue and peach will result in a muted, whimsical, and stunning color palette.
These August wedding colors are ideal for locations where the transition to autumn is more apparent. However, this combination is versatile; whether your ceremony is religious, formal, or humanist, dusty blue and peach are fantastic options.
Muted Blue, Green, and Yellow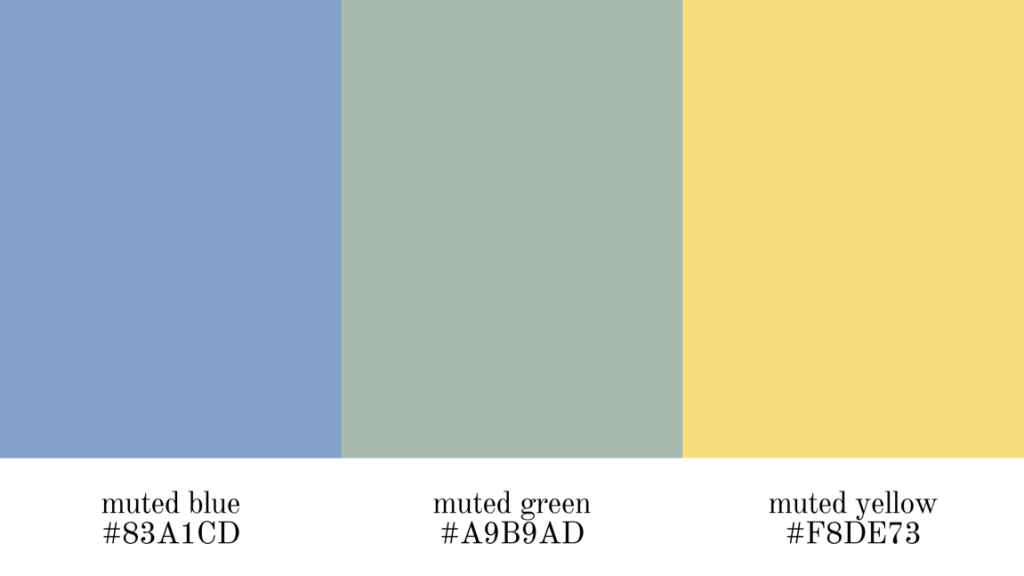 Some people prefer lighter and more muted shades of colors for various reasons. Pastel hues might give them more joy, comfort, and peace. Consider going for muted blues, greens, and yellows if you are one of those people.
There are plenty of gorgeous dresses with a muted blue color. Your partner can wear a matching three-piece suit with muted yellow accessories and a muted green boutonnière. You can serve blue, green, and yellow cocktails or incorporate these colors into your bridesmaids' bouquets.
Aquamarine with Earth Tones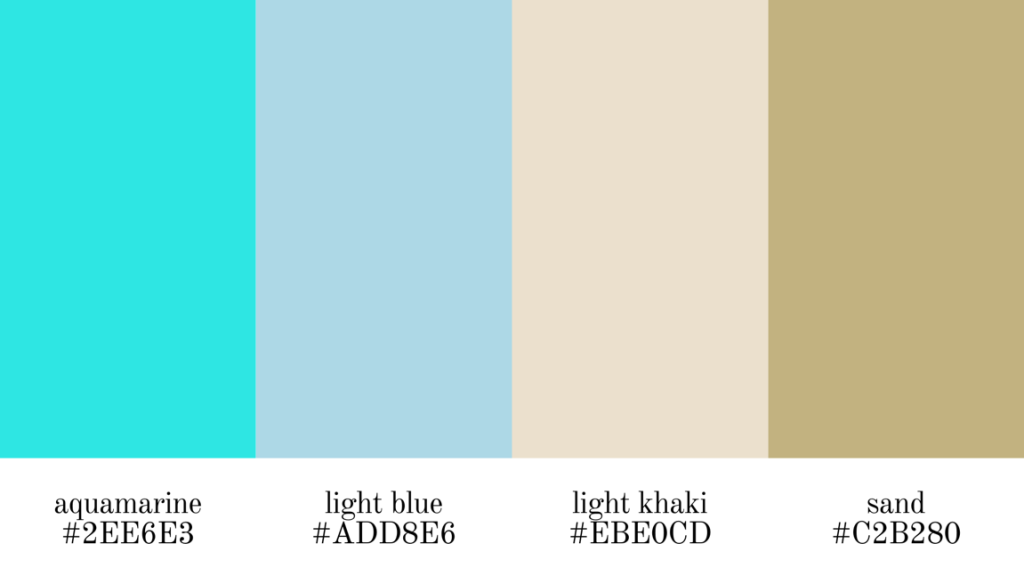 As for beach weddings, aquamarine is the quintessential August wedding color. Depending on the area, you might match the color of the ocean or contrast it. Regardless, this greenish shade of blue is bubbly, eye-catching, and stunning.
To further match your venue, incorporate various neutral tones into your palette — including a lighter shade of blue. Colors that resemble sand will be perfect as tablecloths, chairs, tables, arches, and more,
Meanwhile, you can use aquamarine for anything you want to pop. Examples include your wedding cake, tabletop decorations, lighting fixtures, signs, favors, and more.
Blue, Green, and Purple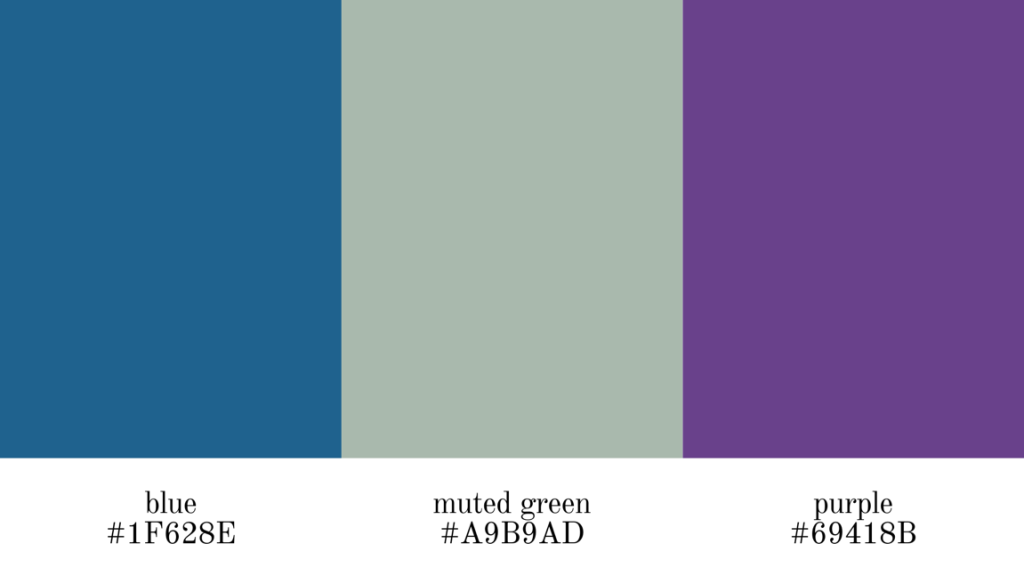 Blue, green, and purple are analogous colors on the color wheel. We see analogous color schemes in nature frequently, especially in flowers. Thus, these three shades can provide you with a natural but whimsical environment during your ceremony.
Your floral details, such as boutonnières, bouquets, and centerpieces, can have two-toned flowers with green stems. Your bridesmaids can alternate between purple and blue dresses, and the groomsmen can do the same with their accessories.
Pinks with Neutral Tones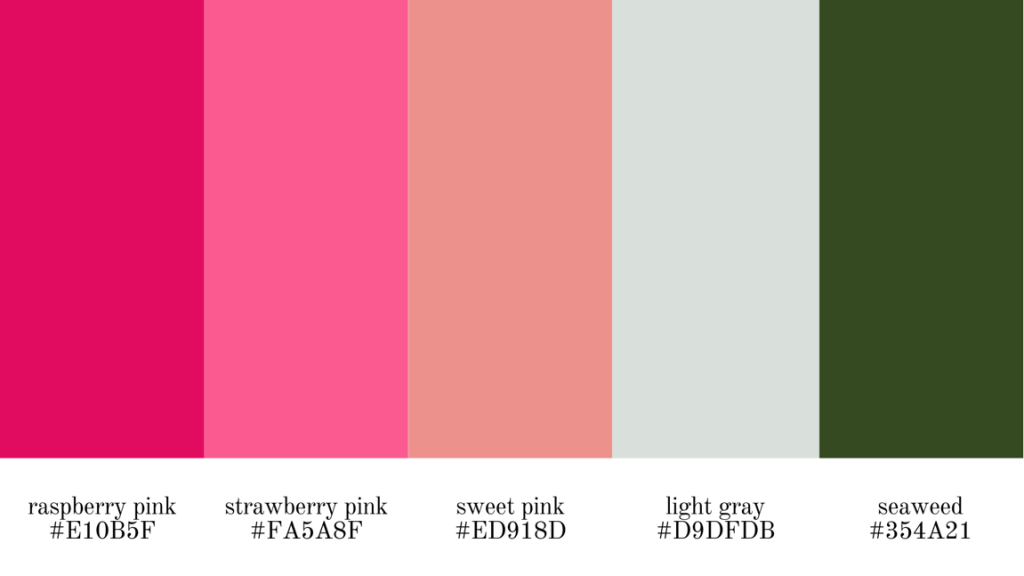 Match the flowers still in bloom by incorporating different shades of pink into your August wedding colors. One can be lighter while the other can be richer, while the third shade of pink balances the other two. Complete the imagery with green from foliage and another neutral tone.
Your bridesmaids' dresses can all be in pink, though they can decide the exact shade they prefer. Extend this mishmash into your bridal bouquet and centerpieces. Ultimately, work with an experienced florist and decorator if you want a predominantly floral motif for your wedding.
Although this color palette will work in any wedding, destination and outdoor ceremonies suit it best. Pinks and earth tones are frequent parts of any scenery, so your decorations and attire will not look out of place.
Pinks and Yellows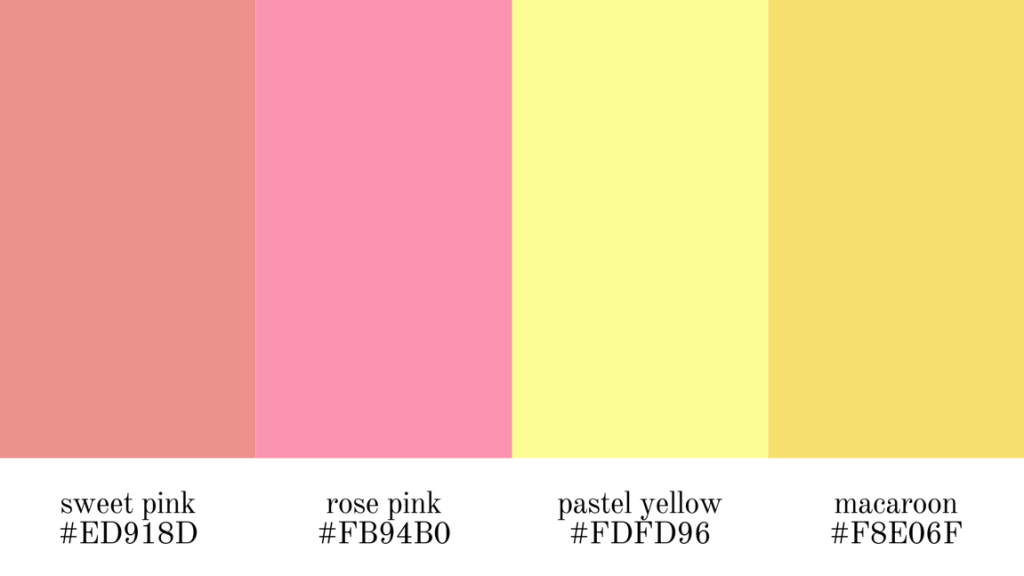 No other colors exemplify the vibrance and youthfulness of summer better than bright pinks and yellows. They make us feel young, energetic, and bursting with glee. Thus, pinks and yellows will be delightful as your August wedding colors.
Bridesmaids' dresses are delightful in pastel pinks. Your bouquet and centerpieces can contain a mix of pink and yellow flowers. You can use a yellow envelope for your invitation suite, with yellow and pink cards that include every piece of information your guests need.
Pinks, Emerald, and Gold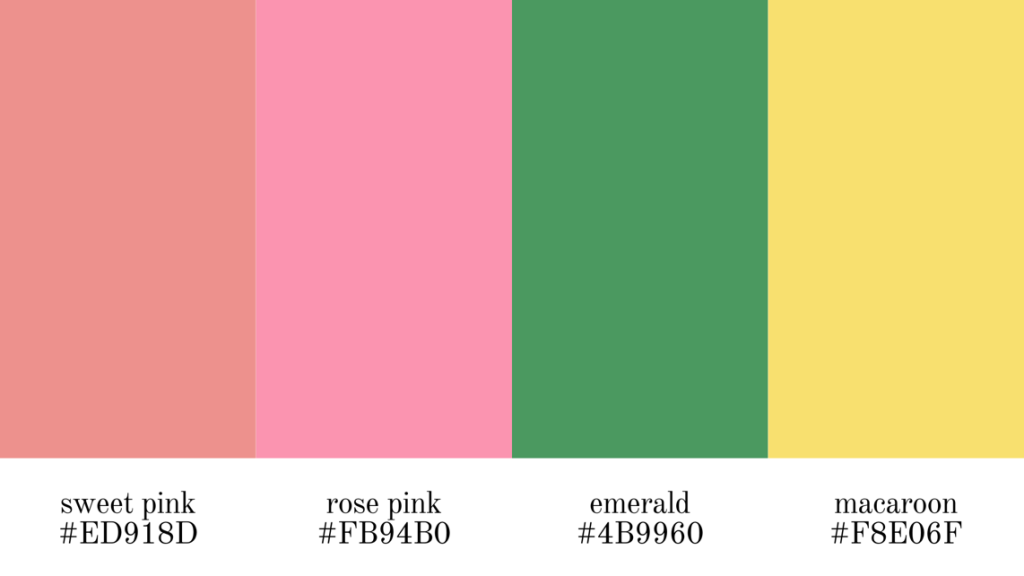 If you like the color combination above but wish it had more contrast, emerald green is an excellent addition. This rich August wedding color will provide another dimension to your attire and decor.
The groom can set himself apart from his groomsmen by wearing an emerald suit. The table runners can be emerald, while the centerpieces, tableware, and other design pieces can be in pink and gold.
If the bride wants to be unique, she can wear a gold or emerald dress. She can use the remaining colors in the palette as accents and accessories. There is plenty of opportunities for personalization in this August wedding color scheme.
Peach, Mint Green, and Silver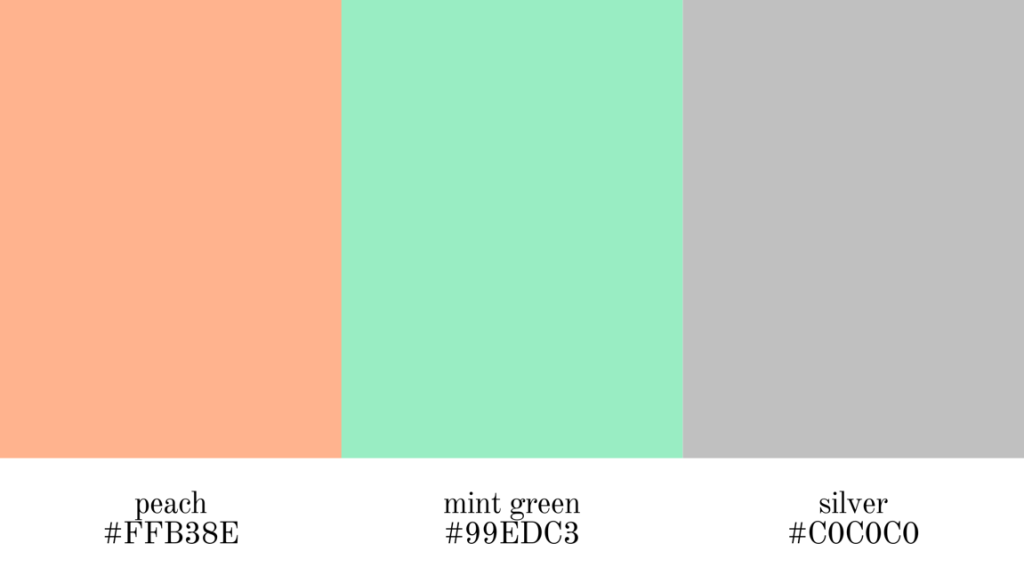 Peach and mint green are complementary colors. However, because their saturations are lower than their original shades, they create little contrast. The introduction of silver, although a neutral color, visually serves as the stronger element.
The bridesmaids can wear peach dresses, while the groomsmen can have a peach bowtie or boutonnière. The groom can wear a silver three-piece suit with a mint green necktie.
The tableware can be an assortment of peach, mint green, and silver details. Decors, such as balloons, flowers, and fixtures, can also come in these colors.
Light Blue, White, and Dark Blue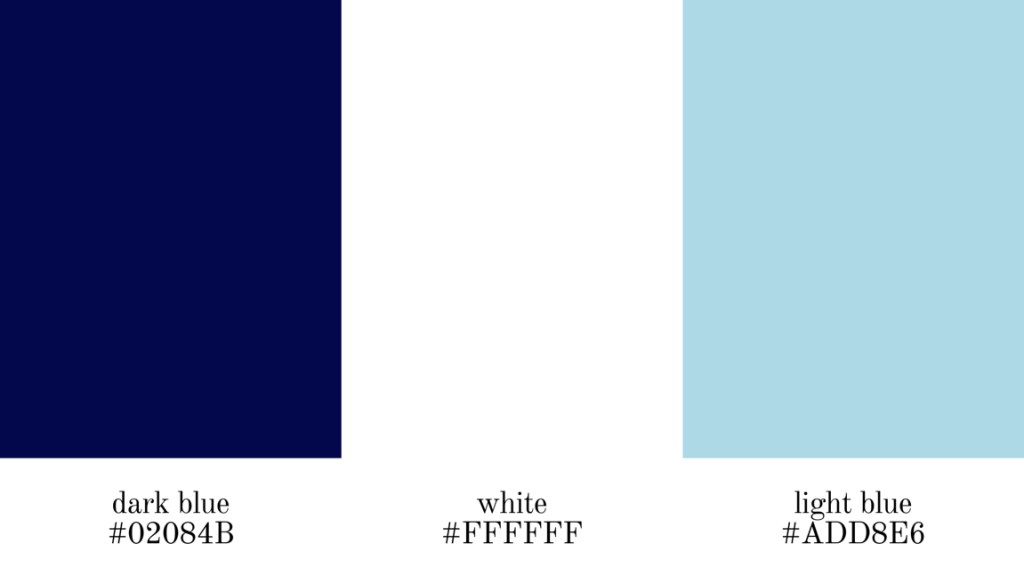 Light blue and dark blue make for a visually stunning color scheme. White can provide a smooth transition between the two shades. Although a simpler palette, these August wedding colors are just as flexible and breathtaking as the others.
The groomsmen can wear a dark blue ensemble, while the bridesmaids can don light blue dresses. Your wedding invitation suite can have a dark blue envelope, white cards, and a light blue wrapper. Your tableware and other fixtures can have a mix of these shades.
You can find everything in various shades of blue, making the task of decorating and choosing an outfit less challenging. You just need to find your preferences and stick to them.
Dusty Blue with Neutrals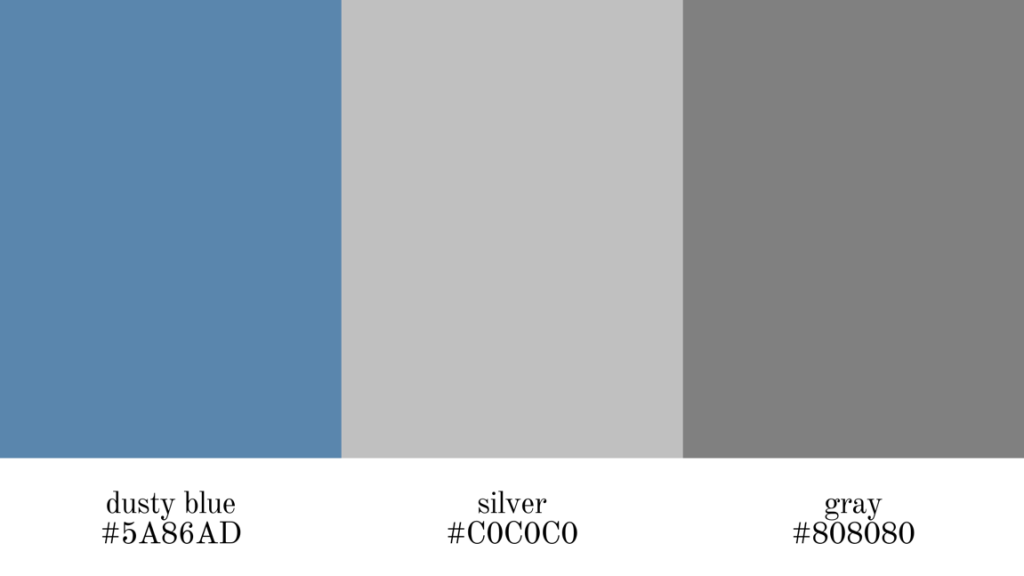 As illustrated above, blue is a universally loved color. If you want dusty blue to take center stage at your August wedding, pair it with neutrals. Various shades of gray will provide stunning accents and highlight dusty blue's subdued but eye-catching nature.
The bride and groom can both wear white ensembles with dusty blue accessories. On the other hand, the bridesmaids and groomsmen can wear silver or gray outfits.
Centerpieces and large pieces of decor can be dusty blue. Smaller details, such as tableware and subtle designs, can come in variations of silver.
Lemon Yellow with Neutrals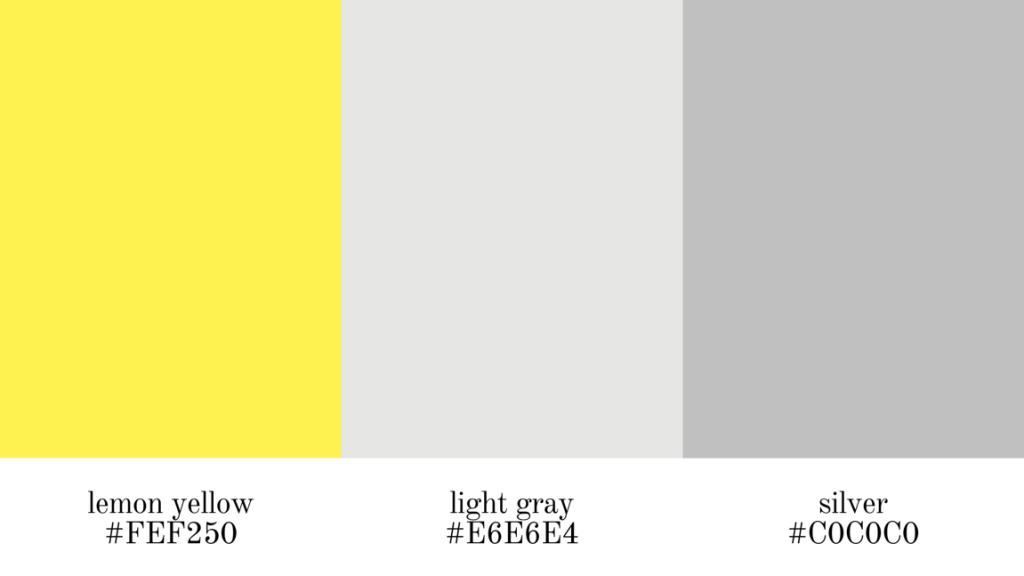 Yellow is another well-known August wedding color. This palette functions with the same principles as the above scheme: the neutrals serve to emphasize and elevate lemon yellow's effect.
The groom can wear a gray suit with yellow accessories, and the bride can wear a hat with yellow details. The rest of the bridal party can also sport yellow ensembles.
Tips for Choosing August Wedding Colors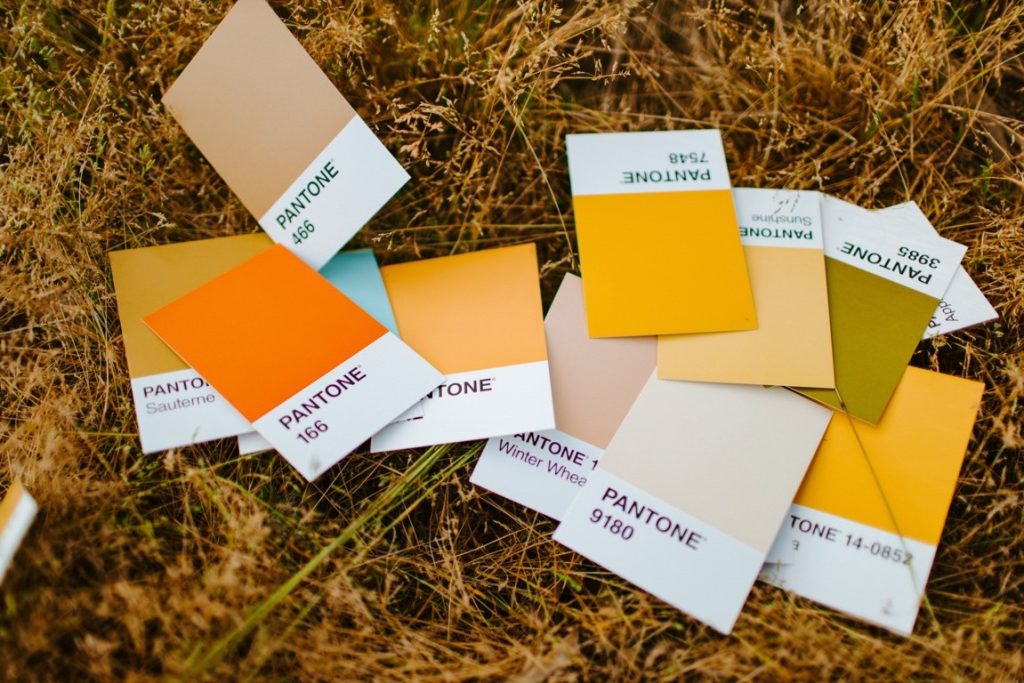 Learn About Color Theory
Baseline knowledge of color theory will help you create a beautiful and harmonious palette. Researching the discipline may sound intimidating, but you only need to brush up on one specific concept: color combinations. Here are the common types of assortments:
Analogous → consists of three to five consecutive colors on the color wheel. For instance, you can use light green, yellow, and light orange.
Complementary → is composed of two colors that must be opposite of each other on the color wheel. An example of complementary colors would be shades of yellow and violet.
Monochromatic → focuses on one color. For example, a monochromatic color scheme that emphasizes blue can include navy blue, periwinkle, cerulean, or azure.
Split Complementary → is a variation of the complementary combination. Once you find the complement of your preferred color, take the colors adjacent to the complement. For example, orange is split-complementary with blue-violet and blue-green.
Square → consists of four colors. These colors are equidistant on the color wheel. For example, red-orange, yellow, blue-green, and violet all have two colors between each other.
Tetradic → is composed of two pairs of complementary colors. For instance, yellow, violet, blue-green, and red-orange form a tetradic palette.
Triadic → consists of three colors. Similar to a square color palette, triadic schemes use equidistant colors from the color wheel. For example, various shades of yellow, blue, and red can form a triadic or "triangle" palette.
As evident above, the color wheel is a multi-purpose and beneficial tool. While choosing your August wedding colors, refer to the wheel and the various possible combinations. You will find the creation of schemes less complicated.
Play with Contrasts
The end of August marks the transition from summer to fall. With the right combination of colors, you can reflect this change on your scheme. One way to do so is to utilize complementary shades.
For example, you might think violet and bright yellow would not make a pleasant color palette. However, you might find a stunning color scheme once you experiment with their shades and values. You might discover that dark purple blends beautifully with gold.
Look at Your Surroundings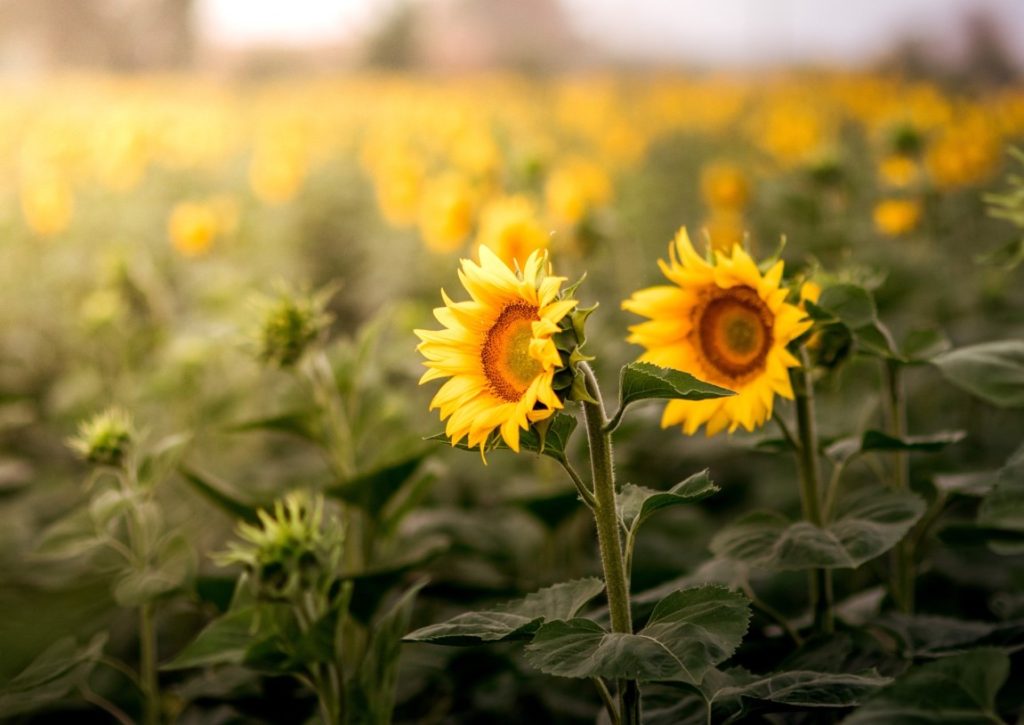 At some point, you might struggle with finding the right combination of August wedding colors. The quickest way to get inspiration is by surrounding yourself with nature. Alternatively, you can look at photos of your wedding venue during summer and autumn.
If autumn starts earlier at the area of your venue, you may want to lean towards autumnal colors and design choices. Your color palette may include more neutral colors and earth tones.
However, if it will still be evidently summer at your ceremony, consider going for more vibrant options. Let oranges, pinks, and bright shades dominate your color scheme. Neutral colors and earth tones can neutralize and balance your palette.
Consider the Level of Formality and Theme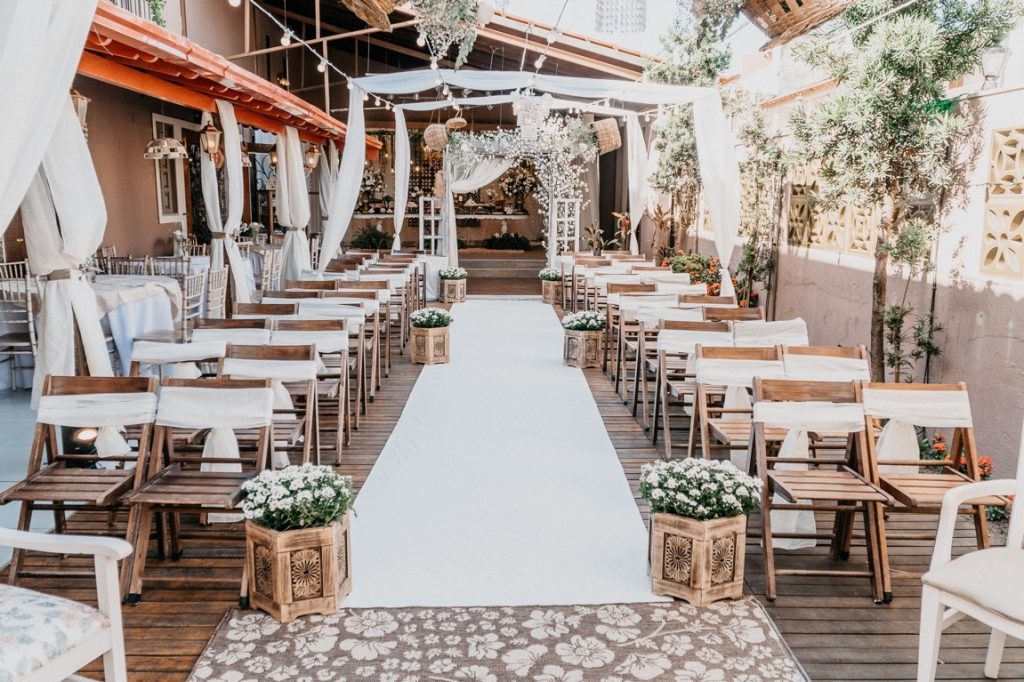 The type of wedding ceremony you will have can influence your decisions regarding August wedding colors. Similarly, the theme of your wedding will come with appropriate shades, combinations, and harmonies.
In some cases, bright and vibrant colors will look out of place at a highly formal ceremony. However, dark colors like navy blue can elevate the sophistication of the event.
An outdoor wedding with a vintage or rustic theme will focus on neutrals and earth tones. Burnt orange, copper, browns, yellows, and greens are excellent choices.
Weddings are immensely personalized to fit a couple's personalities and preferences. Ultimately, this customization affects your color scheme. Consider your wedding theme, formality, and traditions when deciding on your August wedding colors.
Final Thoughts
Colors are a powerful visual tool that has profound symbolism and psychological effects. The right combination of August wedding colors can give you and your guests an unforgettable experience.