After the magical moment that is your engagement, the wedding planning process begins. One of the first things a couple should determine is their budget — how much can they spend, and how much do they need to have the wedding of their dreams?
Planning a beach wedding costs anywhere between $9,000 to $50,000, depending on factors such as the location, the number of guests, and so on.
A local beach wedding can cost around $10,000 to $15,000 on average. Meanwhile, couples holding a destination beach wedding spend $30,000 to $35,000 on average.
Below is a more detailed breakdown of an average beach wedding budget, enumerating each expense you should expect to make.
Beach Wedding Cost: Comprehensive Breakdown
| | |
| --- | --- |
| Category | Average Cost |
| Venue | $2,000 to $15,000 |
| Food and Drinks | $30 to $210 per guest |
| Accommodation | $100 to $600 per night |
| Wedding Attire | $600 to $3,500 |
| Decoration | $1,000 to $4,000 |
| Transportation | At least $400 |
| Entertainment | $1,000 to $6,000 |
| Officiant and License | At least $225 |
| Photography and Videography | $1,500 to $3,000 |
| Wedding coordinator or planner | $600 to $5,000 |
| Wedding insurance | $200 to $500 |
| Miscellaneous | $1,000 to $3,000 |
The categories above have a large range—for instance, your venue can cost anywhere from $2,000 to $15,000. The final price depends on the level of luxury, inclusions, and more. The variations will be explained in further detail below.
Your Chosen Beach Venue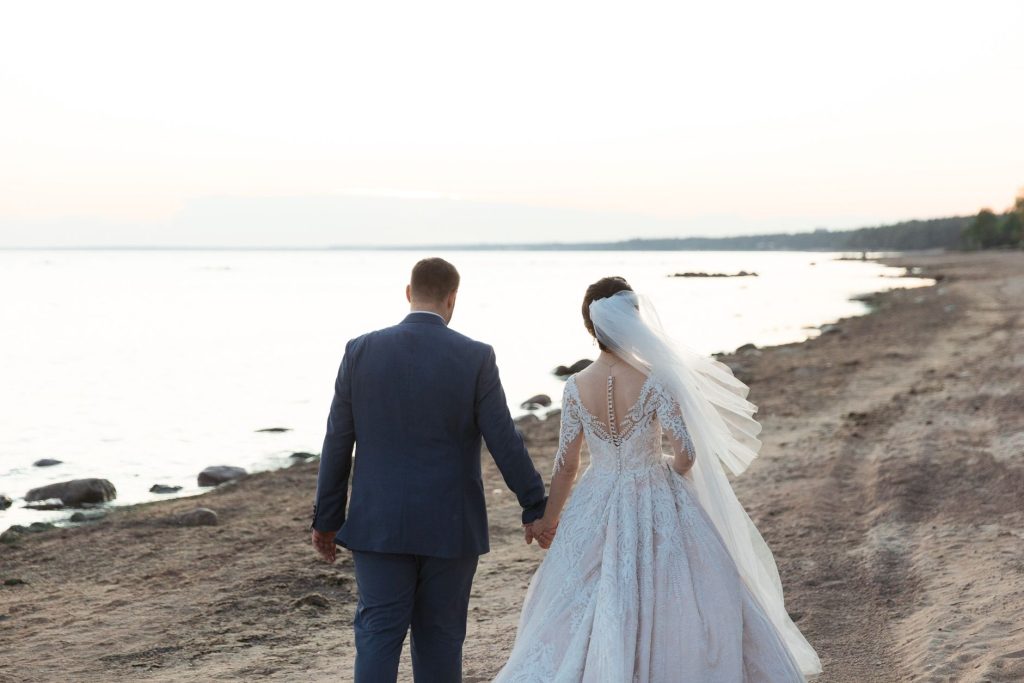 As with most weddings, your venue will be a significant portion of your expenses. With a destination wedding, the beach venue you select will set the stage for your ceremony. Every beach has unique features, and you may want to spend a lot of time researching your options.
Depending on the location, its exclusivity, the inclusions in the package, and other amenities, you might be looking at spending anywhere between $2,000 to $15,000.
Food and Beverages
Another category that will significantly add to the cost of your beach wedding is the catering—you need to feed your guests and keep them hydrated. There are several ways you can plan your wedding menu.
For one, you can have a beach BBQ, which may cost around $15 to $30 per head. Another option would be a sit-down gourmet seafood meal, where the range per person hovers between $70 to $150. In terms of beverages, you may also expect to shell out $15 to $60 per guest.
Adding everything together, feeding each guest may cost anywhere between $30 to $210. This means that with 50 guests, you might spend anywhere from $1,500 to $10,500 on catering alone.
If you are working with a professional caterer, you also need to consider service fees and other additional charges. The final amount will vary depending on your service provider.
Accommodation
The cost of accommodation for a beach wedding depends on several factors, such as the type of lodging, the duration of the stay, the location, and the number of rooms you will book. Look into any group discounts and special offers.
Remember: you are not expected to cover the accommodation costs for all your guests. You can shoulder your wedding party's rooms, or you can only pay for your and your partner's room.
Either way, a mid-range hotel may have rooms at $100 to $200 per night. Lodging at a luxury resort may go up to $600 per room per night.
Wedding Attire
You also need to factor your wedding attire into your beach wedding cost breakdown. On the one hand, men spend around $100 to $500 on their outfits. On the other hand, women usually shell out $500 to $3,000—inclusive of a wedding dress and other accessories.
Venue Decorations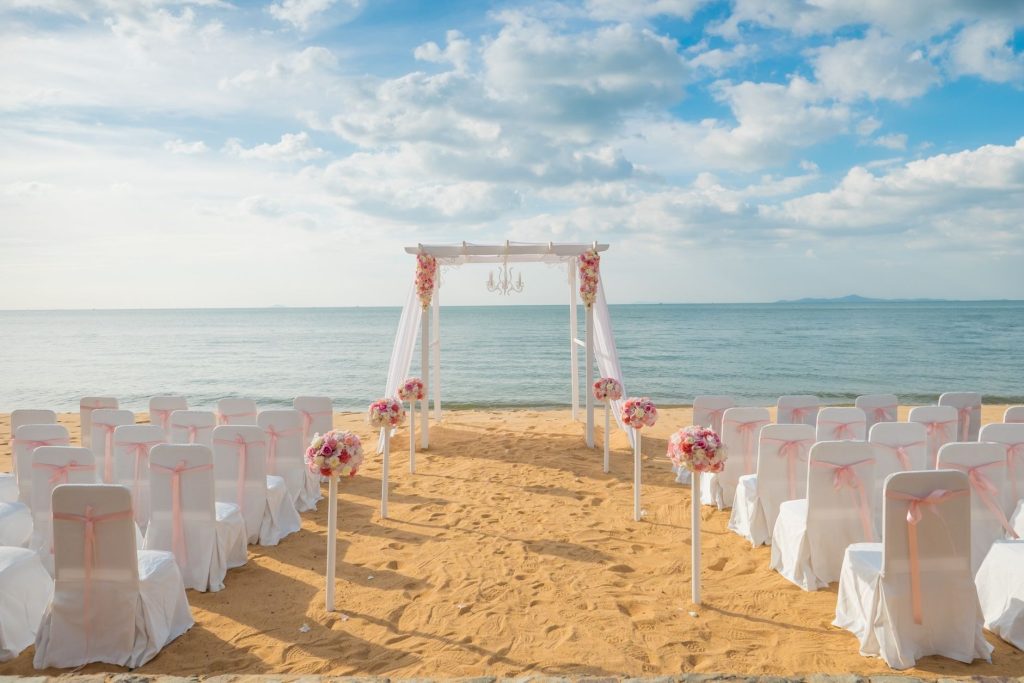 Generally, decorations for a destination beach wedding tend to be rustic, organic, and natural. The highlight of the venue is the ocean itself, and having too many decorations may clash with or overshadow the sea's beauty.
As such, expect to set aside $1,000 to $4,000 in your beach wedding budget for decorations; this estimate already accounts for centerpieces, bridal flowers, floral arrangements, and other pieces.
Transportation
If your location is far from the city or remote, you have the option to provide transportation for your guests. A basic shuttle service or coach bus can range from $400 to $1,200. More luxurious options, like a charter bus or even a limo service, can go up to $2,500.
You also have to factor your personal transportation into the total beach wedding cost. This includes domestic or international plane tickets, car rentals, and so on.
Entertainment
Music, and other forms of entertainment, can elevate the ambiance at your wedding. You have multiple options for live music: a DJ or a live band.
A live DJ who will play beach wedding music can cost between $1,000 and $2,500. Meanwhile, live musicians can range from $2,500 to $6,000. In other words, it might be an expensive addition to the cost of a beach wedding.
Having live entertainment at your wedding is by all means not required; you and your partner can decide whether or not this is something you want. You can always assign the task of overseeing your playlist to a member of your wedding party.
Legal Aspects: Officiant and License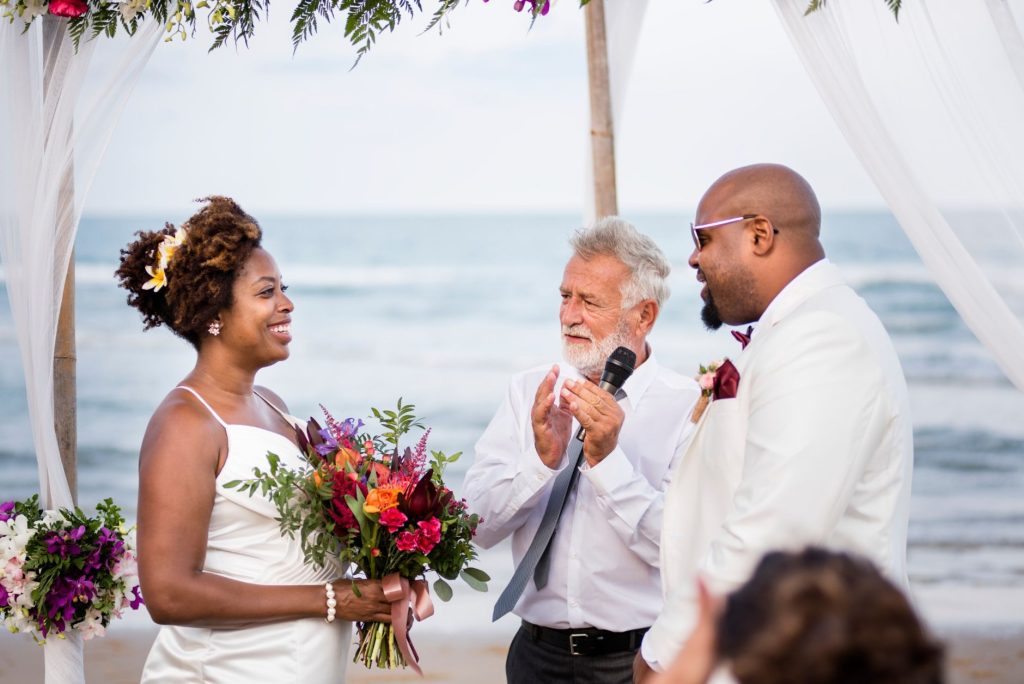 In most cases, couples cannot get married without an ordained officiant, and their union will not be recognized without a marriage license.
Wedding officiants typically charge around $200 to $500. You may also have to cover their transportation expenses—which can be expensive for an out-of-the-country wedding—and allot meals for them as well.
Requirements for a marriage license vary across states and countries—overseas destination weddings typically involve more paperwork. Set aside at least $25 to $115 of your beach wedding budget for marriage license application fees.
Photography and Videography
Finding the right photographers and videographers is especially important for a beach wedding. While looking for a documentation team, you will find your beach wedding costs significantly increasing, as photography and videography tend to be expensive services.
Expect to pay anywhere between $1,500 to $3,000 for photographers; consider spending extra time looking for those specializing in beach weddings.
Wedding Planner or Coordinator
You and your partner may want to splurge on a wedding planner, especially if planning a major event is not your strong suit. A wedding planner can guide you through the entire process, making sure nothing is left unattended. For their services, you might pay $1,500 to $5,000.
Oppositely, if you only need the services of a day-of coordinator, you only need to add approximately $600 to $1,500 to your beach wedding costs.
Wedding Insurance
Insurance is always worth getting, especially for a destination beach wedding. It will help you recover non-refundable deposits in case something unexpected happens, such as injuries, vendor no-shows, and event cancellations because of extreme weather.
There is a wide variety of insurance available, which has different levels of coverage. Anticipate adding $200 to $500 to your beach wedding costs for wedding insurance.
Miscellaneous Expenses
Regardless of the type of wedding, it is a smart idea to have emergency funds on hand. Miscellaneous and unexpected expenses can pop up, such as needing to buy more decor pieces, arranging transportation and accommodation for guests, and more.
To be safe, have $1,000 to $3,000 extra for these unexpected expenses. You can also include vendor tips in this category.
Final Thoughts
It is worth reiterating that you do not have to spend a large amount of money. You and your partner can decide what aspects you want to splurge on, what you can save on, and more.
Stay within your budget as much as possible. For example, a $15,000 wedding budget is more than enough to get you a memorable and romantic beach wedding. Do not feel pressured into spending more on something not necessary; your wedding is special and unique, no matter how much money goes into it.