If you close your eyes, what comes to your mind when you think of your dream wedding? Palm trees dancing along to the rhythm of crystal clear waves? Millennia of history within reach with the ruins of ancient civilizations? A majestic sunset melting casting sand in a romantic light?
If so, Tulum, Mexico is the perfect location for a destination wedding.
The average Tulum wedding cost ranges from $10,000 to $30,000 (Mex$ 170,129–510,387), with the more luxurious celebrations reaching upwards of $50,000 (Mex$ 850,645).
A more in-depth exploration of how much a Tulum wedding costs is provided below, followed by some tips to help you save money.
Getting Married in Tulum: Costs and Expenses
Category
Average Cost
Wedding Venue
$2,000–$8,000
Catering
$50–$100 per guest
Decorations and Flowers
$1,000–$4,500
Wedding Attire
$500–$3,500
Photography and Videography
$1,500–$5,000 (photography)
$2,000–$6,000 (videography)
Wedding Planner
$3,000–$6,000
Entertainment
$500–$5,000
Accommodation
$100–$600
Legalities
$1,000–$2,000
Transportation
$80–$900
Wedding Insurance
$100–$1,200
Miscellaneous
10% of total budget
Wedding Venue: Where Your Dreams Will Come True
Average cost: $2,000 to $8,000 (Mex$ 34,025.80–136,103.20)
Tulum is a gorgeous town on the Yucatán Peninsula. Besides its world-renowned beaches, it also boasts rich jungles, historic Mayan ruins, clear lagoons, and cenotes—sinkholes or caves with pure waters.
As such, there is a wealth of wedding venues for every type of couple. In the average range above, you can score beachfront resorts, private villas, spots in the heart of the jungles, and everything in between.
However, if you have a lofty budget and want to splurge on an opulent venue, some of them go up to $15,000 (Mex$ 255,193.50). There is anything for anyone.
Catering: A Fiesta for the Senses
Average cost: $50 to $100 (Mex$ 850.65–1,701.29) per guest
The figure above covers the main meals and the drinks for your guests. With as little as $50 (Mex$ 850.65) per guest, you can feed your guests with local delicacies—Mexican food is universally loved—and exciting alcohol.
If you have 20 guests, then catering might add $1,000–$2,000 (Mex$ 17,012.90–34,025.80) to your expenses.
If you have fewer guests but want to treat them to an unforgettable culinary adventure, you can get packages starting at $150 (Mex$ 2,551.94) per head. At this rate, you will get a truly delectable, Pinterest-worthy fine dining experience.
Decorations and Flowers: A Natural Charm
Average cost:
$1,000 to $4,500 (Mex$ 17,012.90–76,558.05)
As mentioned above, Tulum is renowned for its beauty and charm. Instead of overpowering or overshadowing its natural appeal, try to decorate your venue to highlight the genuine, real magnificence around you.
However, in case you want to go all out with your decorations, prepare up to $10,000 (Mex$ 170,129) for embellishments in your Tulum wedding budget. This amount will get you luxurious and lavish pieces that will make for an ornate, enchanting event.
Wedding Attire: Dressing to Impress
Average cost: $500 to $3,500 (Mex$ 8,506.45–59,545.15)
In terms of wedding attire, you have two main options: renting and buying. Renting would be the cheaper option, ranging around $500 (Mex$ 8,506.45) for an entire ensemble. However, you might not be able to get the perfect fit.
Alternatively, purchasing new or pre-loved attire allows you to make alterations to the garments. While these customizations will add to your expenses, you can at least be sure that you will look and feel your best.
Photography and Videography: For the Memories
Average cost: $1,500 to $5,000 (Mex$ 25,519.35–85,064.50) for photographers; $2,000 to $6,000 (Mex$ 34,025.80–102,077.40) for videographers
Regardless of where your destination wedding will take place—be it in Tulum, along the coastlines of Fiji, or in a town by the Amalfi Coast—the photographers and videographers will consume a significant chunk of your budget.
The price depends on several factors, including the vendor's experience, expertise, and equipment. The amount of coverage and the type of deliverables you want will also influence the cost of a Tulum wedding photographer and videographer.
Wedding Planner: A Reliable Guide
Average cost: $3,000 to $6,000 (Mex$ 51,038.70–102,077.40)
The figure above can get you mid-range wedding planners, more affordable luxury packages, and the space to create a custom package. In other words, you can get a lot of coverage—as much as you need—with this price range.
However, if you only need day-of coordination, the fees may range from $800 to $1,500 (Mex$ 13,610.32–25,519.35).
Entertainment: Dancing Underneath the Stars
Average cost: $500 to $5,000 (Mex$ 8,506.45–85,064.50)
The range above is wide, but it covers a lot—from DJs and live musicians to folk performers and fire dancers. You decide which type of entertainment fits your vision of your special day.
Accommodation: Home in Paradise
Average cost:
$100 to $600 (Mex$ 1,701.29–10,207.74) per night
You can go for a quaint guesthouse or a solo unit on Airbnb. You can explore the various boutique hotels in the area. Or, if you have the budget, you can splurge on a room at a luxury resort.
Regardless, securing accommodation is important. Besides just being a place to sleep, you also need somewhere to get ready for the day—physically and emotionally.
Legalities: Crossing Your T's
Average cost: $1,000 to $2,000 (Mex$ 17,012.90–34,025.80)
Two foreigners can get married in Tulum, Mexico. Likewise, you can get married to a Mexican resident. You just have to accomplish some paperwork, undergo some tests, and so on. Here are some requirements you have to keep in mind:
Four witnesses (if performing a legal ceremony)
Marriage application forms
Travel visas, visitor's permits, or resident permits
Passports
Birth certificates
Chest x-rays
Blood test
Divorce decrees or death certificates (if necessary)
The medical tests have to be performed in Mexico, and foreign documents must be translated and Apostilled. Costs and requirements vary per state, so it is best to consult the Office of Authentication at your local State Department.
Visit Mexperience.com for more information regarding the legal requirements of getting married in Mexico.
Transportation: On the Go
Average cost: $80 to $900 (Mex$ 1,361.03–15,311.61)
When discussing the cost of getting married in Tulum, most couples forget to account for transportation—that is, getting to Mexico, traveling from the airport to your venue and vice versa, and so on.
This category is highly variable. For one, plane tickets vary a lot based on location, how far in advance you book, the airline, and so on. Moreover, some couples arrange shuttle services for their guests' convenience.
Here are some ballpark figures for the different forms of transportation you may need:
Airport transfers: $50 to $150 (Mex$ 850.65–2,551.94) per trip
Car rentals: $30 to $100 (Mex$ 510.39–1,701.29) per day
Shuttle services: $200 to $600 (Mex$ 3402.58–10,207.74)
Wedding Insurance: A Smart Investment
Average cost: $100 to $1,200 (Mex$ 1,701.29–20,415.48)
Basic coverage plans protect you against sudden cancellations, damage, and liability. These plans typically cost $100 to $500 (Mex$ 1,701.29–8,506.45).
Meanwhile, comprehensive coverage plans also protect you from extreme weather events, illness, and more. As such, these plans can go from $500 to upwards of $1,200 (Mex$ 8,506.45–20,415.48)
Miscellaneous: Cushion for the Unexpected Extras
Average: 10% of the total budget
Whether you have a burst of inspiration for additional decoration, a person who did not receive an invite suddenly arrives, or you need to pay for overtime, it is good to have a 'miscellaneous' fund to cover these unexpected Tulum wedding costs.
For instance, if you are working with a $30,000 (Mex$ 510,387) wedding budget, you should ideally have an extra $3,000 (Mex$ 51,038.70) on hand.
Tulum Wedding Costs: Tips to Save Money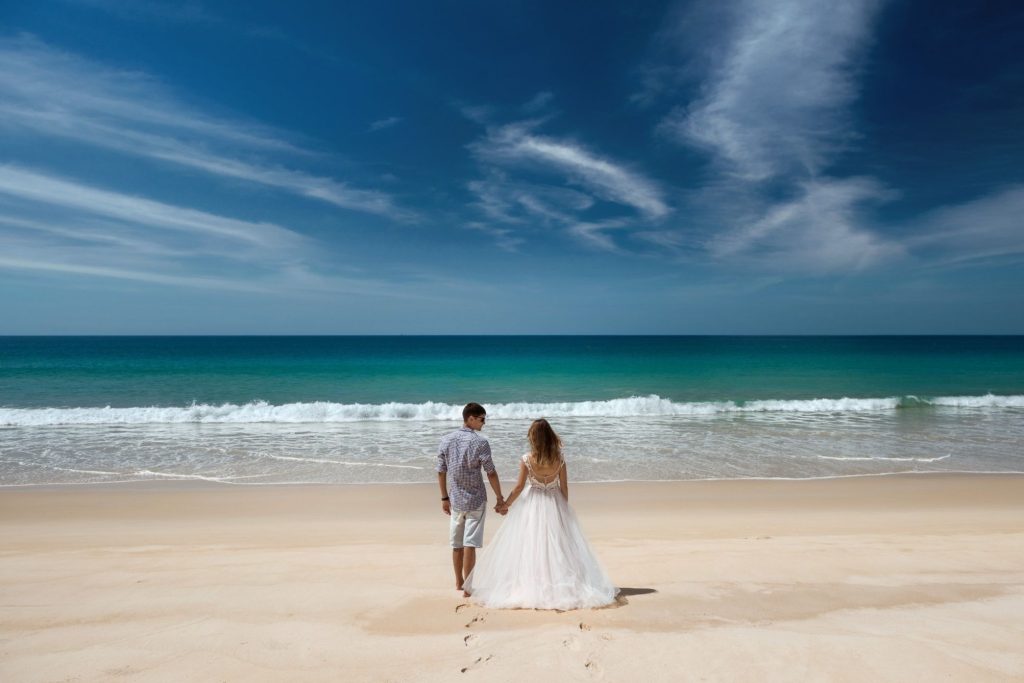 Be Mindful About When to Get Married
The best season to get married in Tulum, in terms of saving money, is summer. From June to October, many venues have lower rates. However, be aware—the weather is at its most humid from May to August, and the area is also more susceptible to heavy rainfall.
However, the most optimal weather for weddings usually occurs from October to December. The rainy season has passed, and the temperature throughout the day is typically pleasant enough.
Consider Cutting Down on the Flowers
As you plan the decorations for your venue, it might be tempting to add a lot of floral motifs. After all, the right choice of flowers can really elevate a space.
However, keep in mind that flowers can quickly make your Tulum wedding costs balloon. Florists in Tulum have to source their flowers from Mexico City or all the way from Europe, as they might face restrictions from the US.
Get Quotes From Multiple Wedding Planners
Some couples have reported getting an astoundingly high quote from one or two wedding planners. Just as a precaution, it is sensible not to immediately go with the first planner you approach.
Gather a small list of reputable wedding planners, and set a meeting with them individually. Compare their prices and packages. This way, you can find a professional who can give you the wedding of your dreams without having to break the bank.
Check the Wedding Packages of Venues
As you browse the wedding venues available in Tulum, pay close attention to the packages they offer for couples looking to get married in their facilities.
In some cases, availing of a wedding package is cheaper than planning a custom celebration. Moreover, the former can be more convenient—the package may include planning services, catering, decoration, assistance with the legal aspect, and more.
However, keep in mind that it is not always cheaper. Similar to the advice above, consider getting quotes from multiple venues so you can compare rates.
Find Trustworthy Local Vendors
Since you are getting married in a foreign country, you have to find reliable local vendors who can help you navigate unfamiliar areas and rules.
Invest in a reputable wedding planner who specializes in Tulum weddings. They can connect you to other vendors, help you with the legalities, and assist you in processing the necessary forms.
Another essential vendor: photographers and videographers with intimate knowledge and experience of Tulum. They will know the perfect spots, the right timing, and other insider tips to get immaculate shots.
Final Thoughts
Having a destination wedding is an unforgettable and fantastic experience, and it does not have to cost you your entire life's savings. If you are smart and meticulous with the planning process, you can achieve the wedding of your dreams—with money to spare for a honeymoon.