Destination weddings are a type of ceremony that occurs in a foreign state or country, making it a highly special and unforgettable experience. Having the presence of the most important people in your lives at your destination wedding will only make it even more heartwarming.
Destination wedding invitation wordings are generally short; they include all the major details of the wedding, such as the name of the couple, the schedule of the ceremony, and its location. These details are typically preceded by a call of action, such as "Fly away with us!"
Below are five samples of ways you can write the content of your destination wedding invitation, followed by brief instructions for writing your own destination wedding invitation. Lastly, other things to keep in mind related to destination wedding invitations are also enumerated.
Examples of Destination Wedding Invitation Wording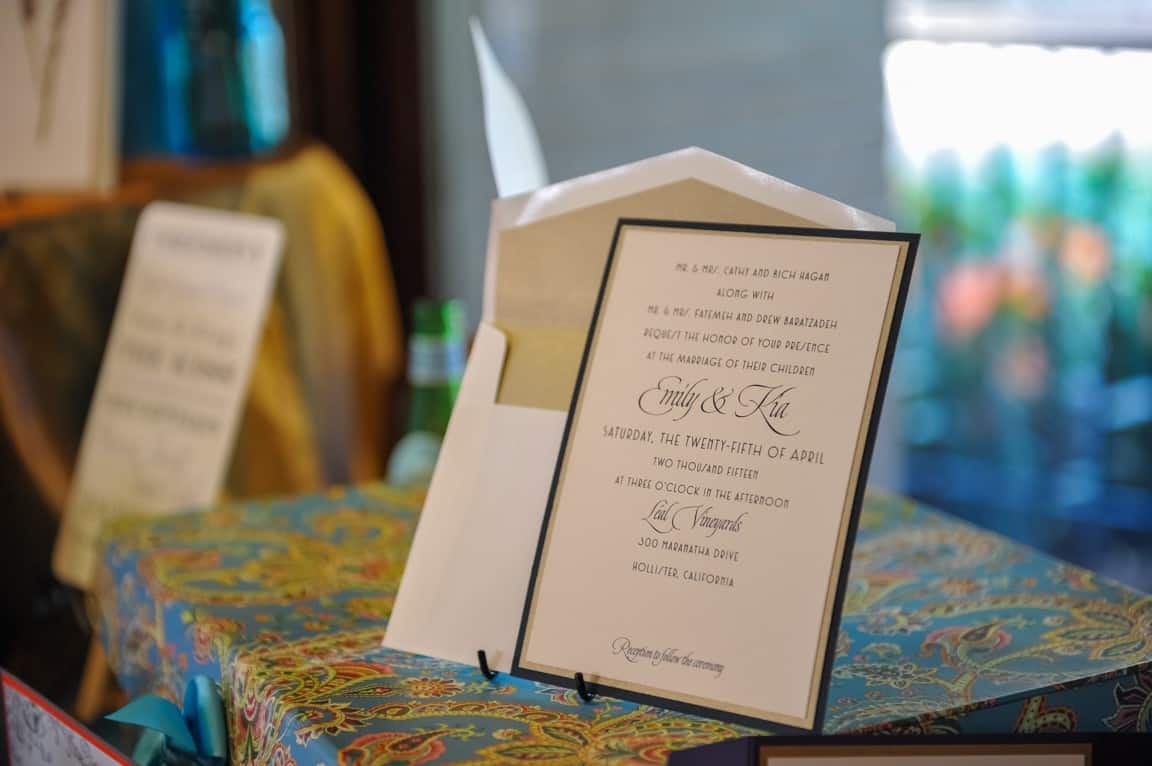 1. Fly away with us!
Together with their families, Samantha Johnson and Alex Smith invite you to join them on their special day
Wednesday, September 14, 2022
at six o'clock in the evening
at the Rocky Mountain National Park, Colorado
2. Pack your bags!
Jessica O'Hara and Luca Macchini, along with their families, would be honored to have your presence at Isola del Garda, Lombardy, Italy, for their destination wedding.
Saturday, May 7, 2022
at five o'clock in the evening
3. Love is one big adventure.
Michael Bernardino and Roberta Feinstein would be delighted to be with you as they formalize their union in the eyes of God.
Pack your bags and catch a flight to Rio de Janeiro, Brazil, this upcoming Sunday, October 30, 2022! Don't forget your best swimwear and tubes of sunscreen for an amazing time at Copacabana Beach!
For more information and instructions for booking, visit MichaelAndRoberta.weddingwebsite.com.
4. You are cordially invited to Amanda Gomez and Viktor Nemov's wedding weekend getaway, to be filled with amazing food, good friends, and unforgettable moments.
Clear your calendars from February 11 to 14, 2022. The magic begins at Malahini Kuda Bandos Resort, Maldives, with a welcome dinner by the bay.
See card for additional travel details.
5. Come be with us on our special day!
Josh Elliott Dillon and Maxine Rose Miller, together with their families, would love to see your gorgeous face as they say their vows and enter a new chapter of their lives.
Catch a flight to the beautiful city of Puerto Vallarta, Mexico, on Saturday, March 5, 2022!
For more information, visit our wedding website wedding.com/MrAndMrsDillon.
How to Write a Destination Wedding Invitation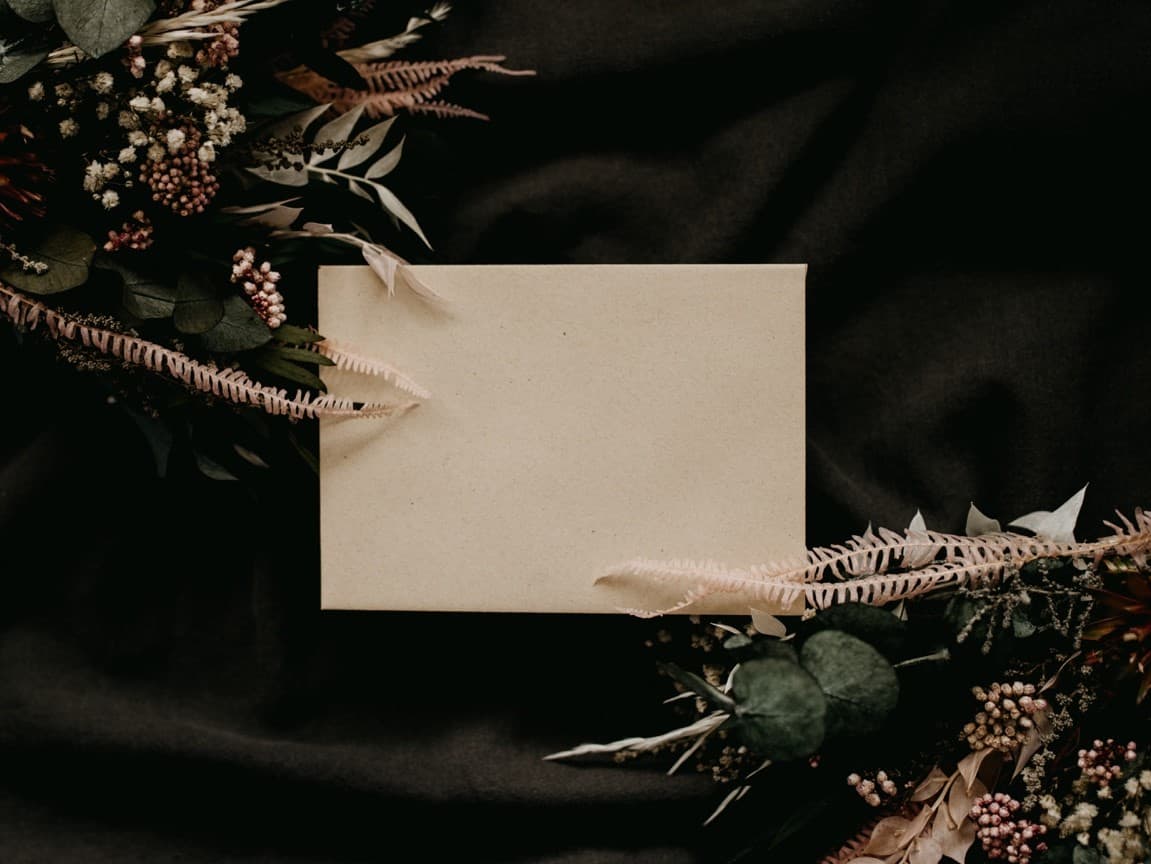 What to Include
First and foremost, emphasis should be placed on basic details such as the bride and groom's names, the location of the wedding, and when the wedding will take place. In addition to the main invitation card, destination wedding invites usually include two more cards.
The first card states additional details that are important for guests to know. Typically, this card would contain details about the reception, accommodations for guests, and other pertinent facts that directly concern them. Sometimes, a link to the couple's wedding website or contact details of their travel agent is also included.
The second card is an RSVP which guests will use to accept or decline the invite.
Keeping it Simple and Special
Avoid overwhelming your invitees with a lot of information presented on one card. The purpose of having a multi-card invitation is to evenly distribute the details, as opposed to cramming everything in one layout. Not only will this confuse your guests, but this will also look aesthetically unpleasant.
Adapting the Wording Based on Included Events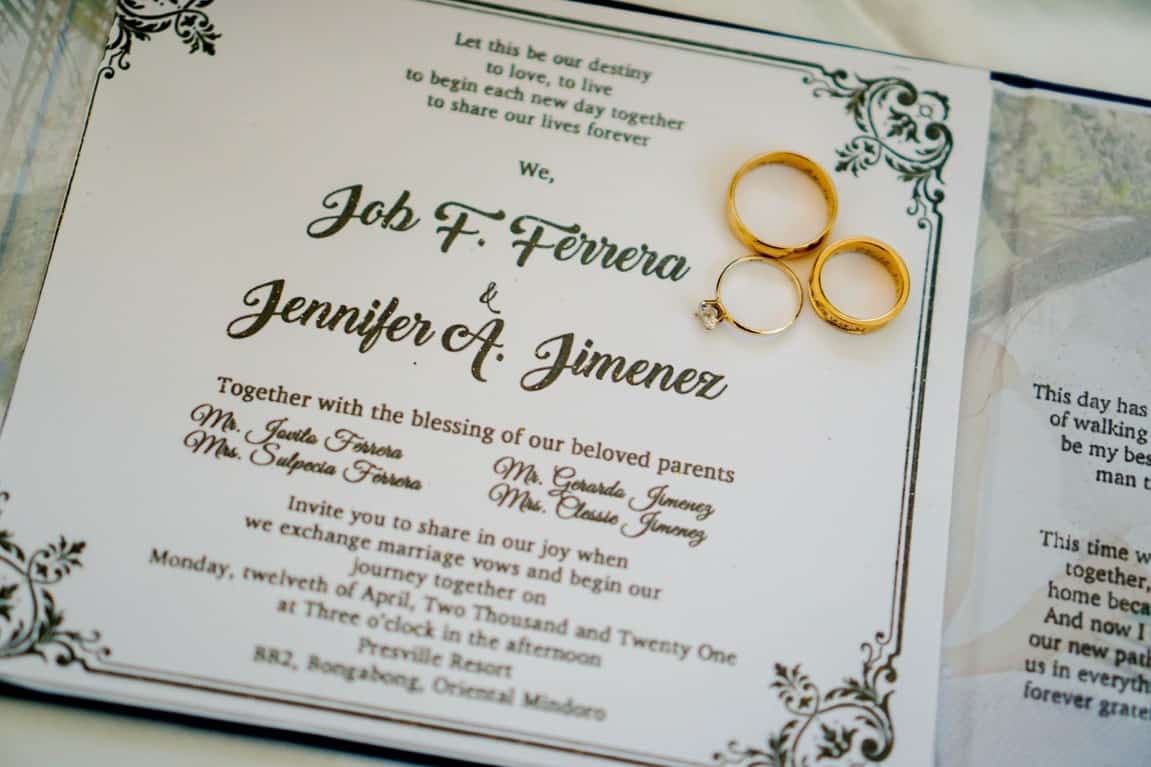 Pre- and post-destination wedding events → If you are planning on having a welcome cocktail, brunch by the beach, rehearsal dinner, it is best to include an itinerary somewhere in your invitation. You can do it simply by enumerating each event and what time it will be held, such as:
3:30 - Welcome cocktail
4:30 - Ceremony
6:00 - Dinner
6:30 onwards - Dancing and fun
You can also get a bit creative by presenting the itinerary through a poem or a narrative, such as:
We would love to have the most magical weekend with you,
including nights full of laughter, music, and dancing
in our flip-flops on the beautiful beaches of Malibu!
Reception at home → As not everyone can catch a flight to join you in your destination wedding, holding a reception at your home state is a way to make them feel included in your celebrations. To indicate that you will be having a reception at home, you can simply put this in the main card after the details of the destination wedding:
A wedding reception will be held at the
Village by the Sea
Wells, Maine

on Saturday, October 8th at 6:30 p.m.
More information can be found on our website.
Post-adventure elopement reception → Given the expenses that come with hosting and attending a destination wedding, some couples decide to simply hold an adventure elopement in another country or another state with their closest relatives. If that is the case, you can invite your guests to a post-elopement reception.
We have eloped!
Come join us for a casual reception

to celebrate the union of the new

Mister and Missus
Clint & Sabrina

Sunday, August 14th, 2022
Other Things to Remember for Destination Wedding Invitations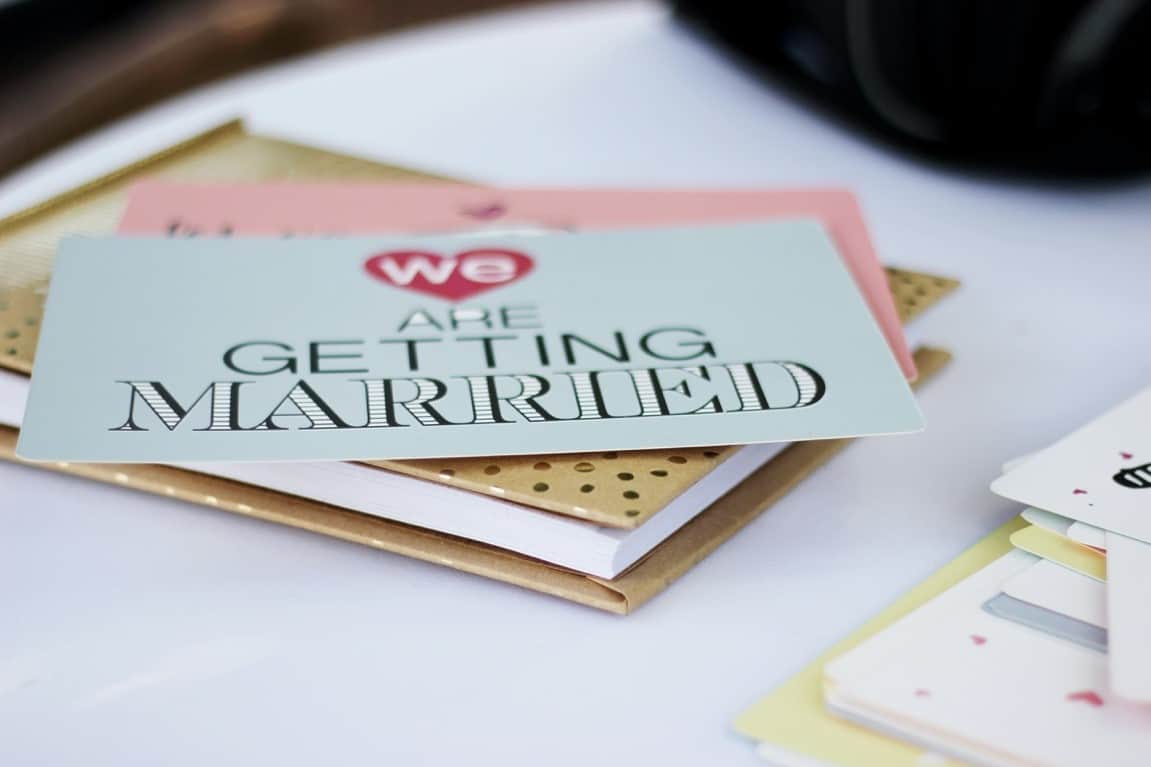 Limiting the Number of Guests
As mentioned above, the expenses that come with hosting or attending a destination wedding can pile up quickly. By having a smaller guest list, you can save costs from the accommodation, catering, and other services.
It is understandable to feel hesitant to explicitly state in your destination wedding invitation that only a limited number of guests is allowed. To work around this, there are multiple ways you can politely word your RSVP to indicate that the venue's capacity can only have a certain number of people. Similarly, you can say that your wedding is a no-kids event.
Saying You Do Not Want Gifts
Another way of helping your guests cut expenses for your destination wedding is to discourage gifts. The odds are they have already given a gift during the bridal shower, wedding shower, or any other pre-wedding event. The simplest yet most polite way to indicate that guests do not have to bring gifts is:
"Your presence is the best gift we could receive."
However, some guests will inevitably insist on bringing a gift. In this case, you can install a wishing well into your venue. Your guests can bring small gifts such as household items, cards, and money to contribute to honeymoon funds.
When to Send the Invitations
Six to 12 months before the wedding, it is common practice to send save the dates or a link to your wedding website to your guests. The proper destination wedding invite should reach your guests two to three months before the official day.
Guests must send their RSVP a week before the earliest pertinent deadline with a vendor. For instance, if your travel agent requires that all payments must be made by April 9, you should tell your guests to RSVP by April 2. This will give you ample time to organize information and communicate with your travel agent.
Everyone Should Get an Invite
Even if you are certain that a significant friend or relative will not be able to attend your destination wedding, it is common courtesy to still send them an invitation. It lets them know that you are important to them. At the last moment, they might be able to surprise you with their presence. If nothing else, the invitation can be their keepsake from your special day.
However, wedding invitations can get expensive. As an alternative, you can send a save the date to everyone you want to have at your wedding. Those who express interest in attending your destination wedding will be the only ones to receive a formal invitation.
Final Thoughts
A destination wedding invitation typically includes multiple cards, each with its own function. The main card displays all of the pertinent details, such as the venue and schedule of the wedding. Other details, such as the itinerary, travel instructions, wedding website, and wedding hashtag are written on another card. Lastly, there is an RSVP which the guests can use to confirm their presence or absence.