Although the ceremony and reception will be the highlight of your wedding, you can have a variety of parties before your special day. These are opportunities to bond with your friends and family and to recuperate from the stresses of planning.
Bridal showers and bachelorette parties are two pre-wedding events that focus on the bride. They have eight key differences: purpose, nature, timing, duration, itinerary, meals, guest list, gifts, and attire.
The table below provides an overview of the differences between bridal showers and bachelorette parties. Each differing characteristic is then expounded. Lastly, similarities between the two events are explored.
Bridal Shower vs. Bachelorette Party
| | | |
| --- | --- | --- |
| Bridal Shower | Characteristic | Bachelorette Party |
| Helps prepare the bride for married life | Purpose | Marks the bride's last night being single; allows the bridal party to relax and bond after the stresses of wedding planning |
| Family-friendly and formal | Nature | Naughty and risqué |
| Ideally around a few weeks to two months before the ceremony | Timing | Ideally between one to four months before the ceremony |
| Typically held during lunch or dinner, lasting a few hours long | Duration | Can be overnight, a weekend, or even a whole week |
| After the guests eat lunch or dinner, wedding-themed games will be facilitated. Gifts are then opened. Some parties serve a bridal shower cake, then give shower favors when the guests leave. | Itinerary | Varies between brides; generally begins with dinner, followed by any outdoor and social activity such as bar hopping, going to a concert, exploring, etc. |
| Lunch, brunch, snacks, appetizers, or dinner; lemonade, punch, mimosas | Meals | All meals can be served; alcoholic beverages such as wine and beer |
| Larger guest list; consists of the bridal party, family friends, friends, and relatives | Guest List | Smaller guest list; consists of the bridal party and a few close friends and relatives |
| Practical items, home decor, appliances | Gifts | Whimsical, based on the theme of the night |
| Leans more toward formal | Attire | Casual and fun; outfit depends on the theme or itinerary |
1. Purpose
Bridal showers, also known as wedding showers, are held to help prepare the bride for life as a married woman. This is reflected in the event's main event, the giving of gifts. Older women also offer their advice for a happier, stronger marriage.
In contrast, bachelorette parties allow the bride and her guests to bond, destress, and rest after the hectic process of planning. It is often described as a bride's "last hurrah" as a single woman, in that a bachelorette party consists of risqué activities that would be inappropriate for committed people.
2. Nature
Given the purpose of bachelorette parties, the activities would be considered inappropriate and improper at any other time. Bachelorette parties are often portrayed in media as a tight-knit group of women consuming forms of entertainment featuring men flaunting their physique. There is some truth to this portrayal, but many parties simply consist of nights out with hefty amounts of alcohol.
Bridal showers are more formal and family-friendly events. After all, this event's purpose is to ready the bride to be a wife. This is also partly because of the guests.
3. Timing
Bachelorette parties are commonly held one to four months before the wedding. This allows the bridal party to go all out in the celebration and have ample time to recover and regain their bearings.
Bridal showers happen closer to the ceremony. They are typically set one to two months before the wedding. Some opt to hold it around two weeks before their special day. However, this is generally not recommended, as the closer you get to your wedding, the busier you will be.
Regardless of if it is the bachelorette party or bridal shower, you must give yourself enough time to fully prepare for the wedding itself. Rushing yourself through pre-wedding events and the ceremony itself may compromise the quality of each event.
4. Duration
Bridal showers take between two to four hours. This is enough time to get through your itinerary smoothly without making your guests feel rushed or bored.
The duration of bachelorette parties depends on how much the bridal party has planned. Some parties last overnight, especially those with barhopping as their sole agenda. Destination bachelorette parties typically last longer, from a weekend to a whole week; a popular location is Las Vegas, given the wide range of activities available in that area.
5. Itinerary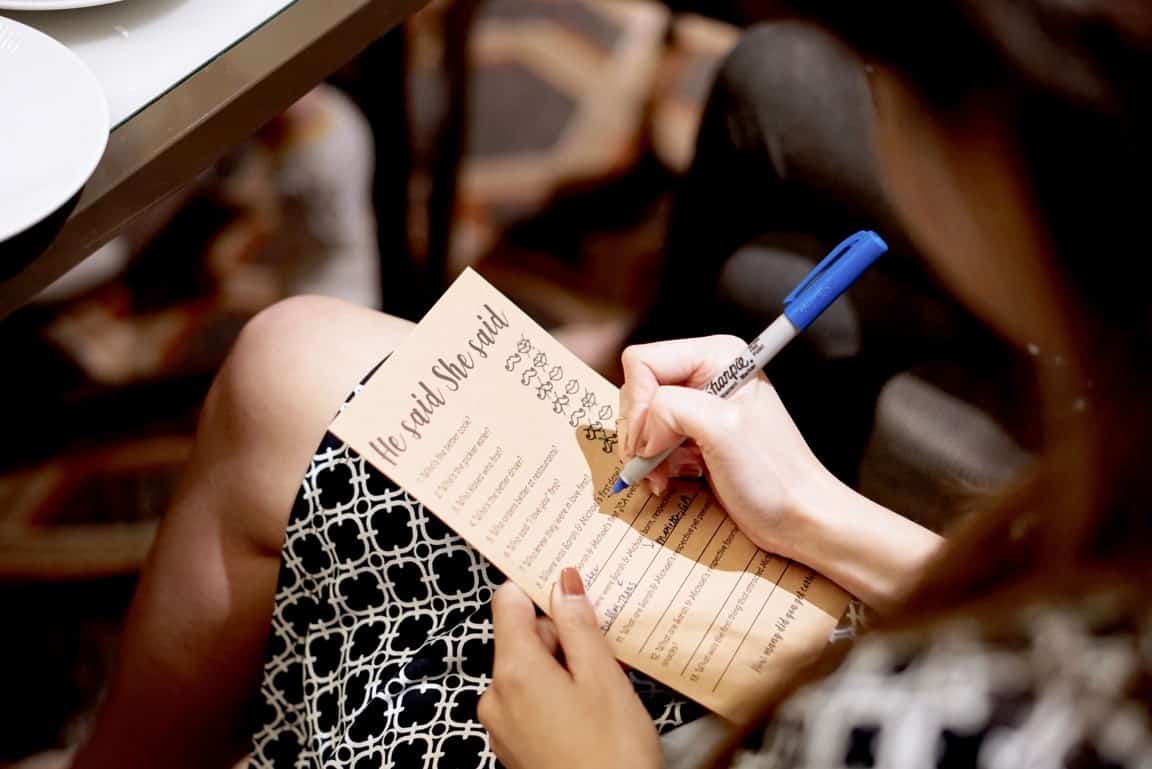 Some bridal parties plan an activity-centered shower, such as going to a craft class together or having a spa day. However, the typical bridal shower's itinerary consists of:
Guests arrive and give their gifts → traditionally, there is a table by the entrance to the venue where guests can leave their gifts.
Food and drinks are served → this can be lunch, brunch, snacks, or dinner, depending on what time the bridal shower is held. For the beverage, it is more common to have non-alcoholic choices, though that varies per bridal shower. Instead of hiring a caterer, the bridal party may organize a potluck to save some money.
Guests play games → the purpose of these games, besides entertainment, is to let the guests know the couple better. Games are also good to get your guests engaged and socializing with one another. Some examples of games perfect for bridal showers include the shoe game, he said she said, charades, newlywed trivia, and a scavenger hunt.
The bride opens her gifts → a chair is placed in the middle where the bride will sit and open the gifts. Someone is tasked to hand her the gifts from the table, while another person takes the unwrapped gift and places it back on the table to keep it safe.
The cake is served → some may buy a cake that fits their wedding theme, whereas others may opt for a simple cake. This draws the party to a close, giving time for the guests to socialize some more.
Guests start to leave → the bridal party have the option to prepare favors and small tokens to commemorate the shower. This is a perfect time to hand them out.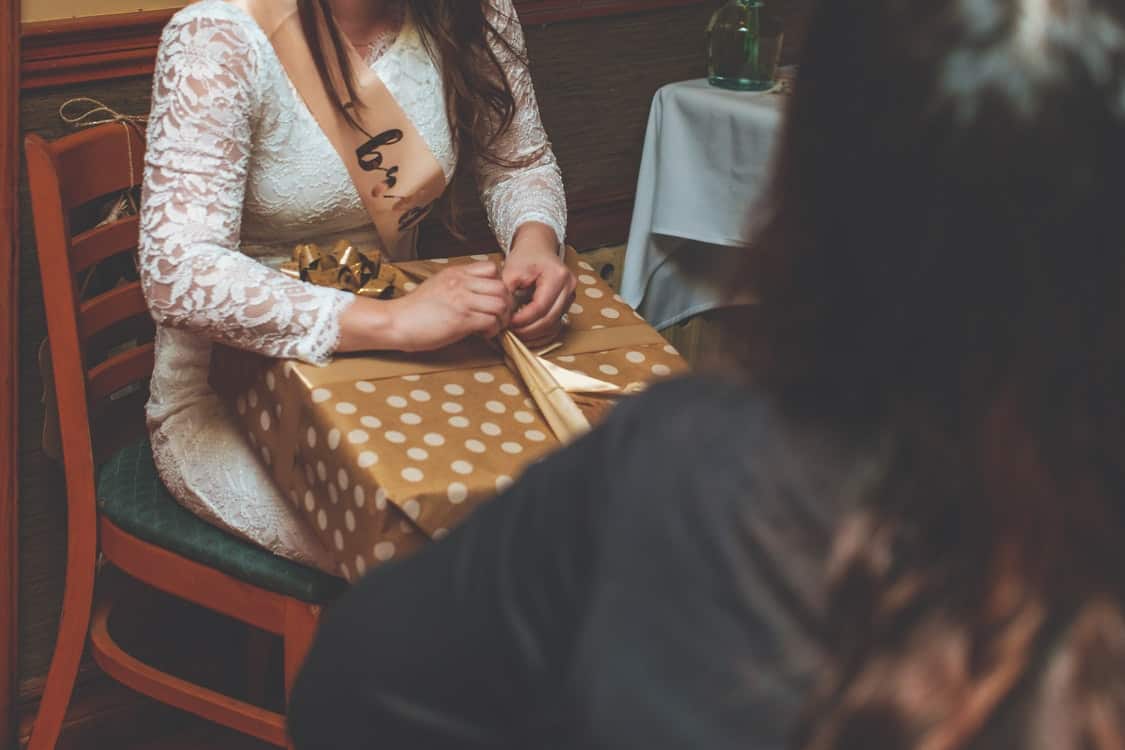 Bachelorette parties are personalized and highly dependent on the bride's preferences. The party is planned according to what the bride wants, and what she considers as memorable and exciting adventures. With that said, here is a rough outline of how a bachelorette party may go:
The maid of honor arrives at the location first → this only applies to destination bachelorette parties; the maid of honor may be accompanied by the bride herself or some of the bridesmaids. This early arrival allows them to put up decorations and make sure everything is running.
Eat dinner → the location can be the bride's favorite or something that she has never tried before. This dinner gets the night started, ramping up the excitement for the actual party. Not having an empty stomach will not only give everyone energy but also prevent them from getting drunk quickly.
After dinner, that is where bridal parties start to do their unique thing. This ranges anywhere from concerts, hikes, barhopping, restaurant-hopping, and so on.
6. Guest List
The only similarity between the guest list of bridal showers and bachelorette parties is the presence of the wedding party.
For your bridal shower, you can also invite your relatives, such as your mother, grandmother, mother-in-law, aunt, and cousins. Friends and family friends are also free to attend.
However, the bachelorette party is a more intimate group of people. Only invite people you trust and are close with. This may include some of you and your spouse's close friends and relatives. Having a smaller guest list is also practical for bachelorette parties, as costs can sharply increase depending on what you have planned.
7. Gifts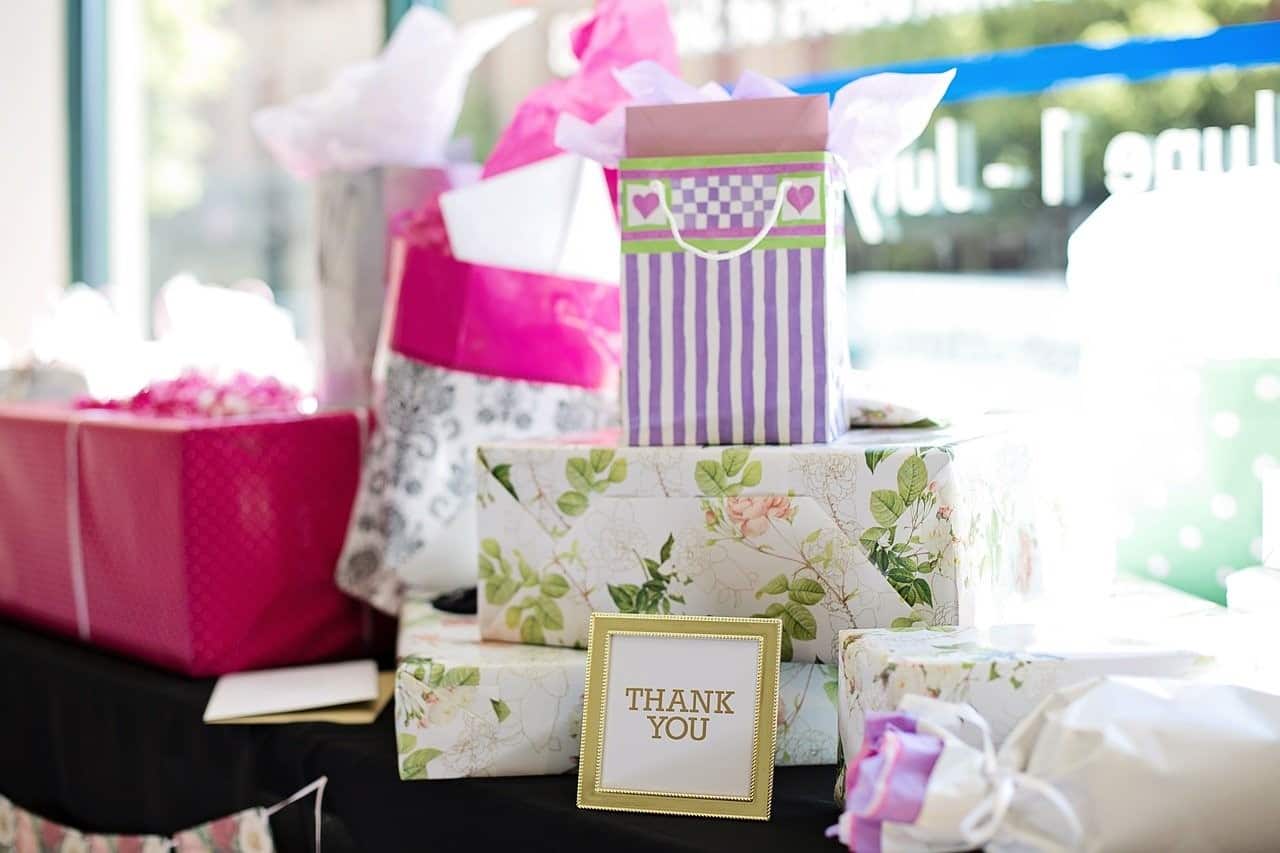 Gifts given during a bridal shower are practical and useful in everyday life. Typically, guests will give the bride decoration for her home, gift cards to various stores, and kitchen appliances. As the lattermost is often expensive, guests may chip in and buy it together.
For the bachelorette party, it is common practice for the maid of honor to get something custom-made. This may be matching shirts or hats, with something like a tiara or a sash to set the bride apart. Another frequent gift is lingerie, which she can wear for her honeymoon.
8. Attire
Guests would want to dress in more casual attire for the bridal shower. However, the appropriate casual wear for a bridal shower leans more toward smart casual: blouses, polo shirts, button-downs, blazers, dress pants, dark-wash jeans, and practical footwear. The bride herself wears a simple and elegant dress or pantsuit.
Again, the attire for a bachelorette party depends on what type of activities are on the itinerary. Outdoor wear is better suited for hiking or any similar activity; a flattering swimsuit is best for going to the beach or lounging by the poolside.
Similarities Between Bridal Shower and Bachelorette Party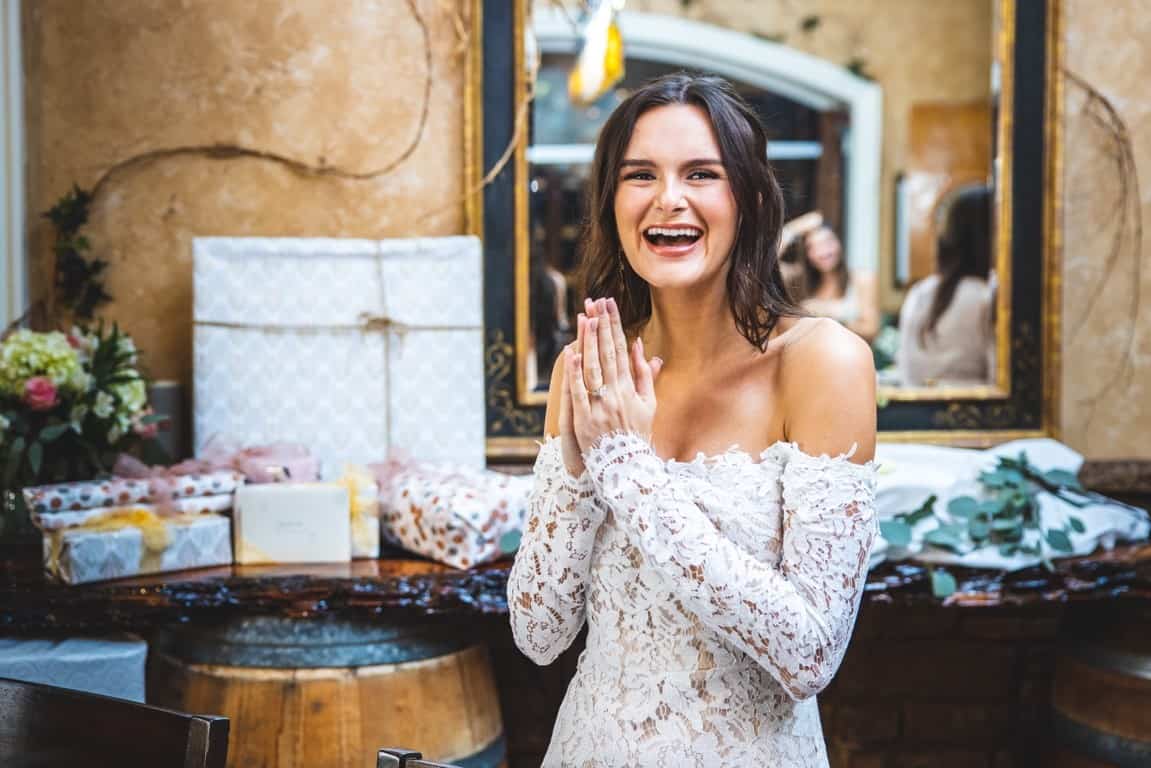 1. Planners of the Event
Both the bridal shower and bachelorette party are the responsibilities of the bridal party. The maid of honor, with the help of the rest of the bridesmaids, plans the logistics and itineraries of the two events.
The bride's contributions can vary; while some brides love to be hands-on and give their input in all of the aspects of the event, others prefer to let the bridal party handle everything. Ultimately, the bride is not required — and, in some cases, discouraged by her bridesmaids — to be involved.
2. Perfect Time to Send the Invites
You are strongly advised to send the invites four to eight weeks before the event will be held. This will allow you to get an accurate headcount of your guest list for pertinent vendors. Additionally, some guests may need to clear their schedules beforehand. If your party will be held at a different destination, giving them this much time to RSVP can allow them to make the necessary arrangements.
A hashtag's main purpose is to organize similar posts in one place, making them easier to access and browse. Having a hashtag for the bachelorette party and the bridal shower will be beneficial in that regard; guests can also contribute their pictures and videos of the event for everyone else to see.
Whereas bachelorette parties typically have their own hashtags, you can reuse your engagement hashtag or wedding hashtag for the bridal shower.
4. Financers of the Event
The bridal party equally divides the expenses for the bridal shower and bachelorette party. Specifically for bachelorette parties, it is also common for guests to chip in, especially if the party will be held in a special location.
5. Hosts of the Event
The maid of honor, with some help from the rest of the bridesmaids, usually hosts these events. Sometimes, the relatives of the bride will also assist in the facilitation of the events.
6. Traditionally Attended by Women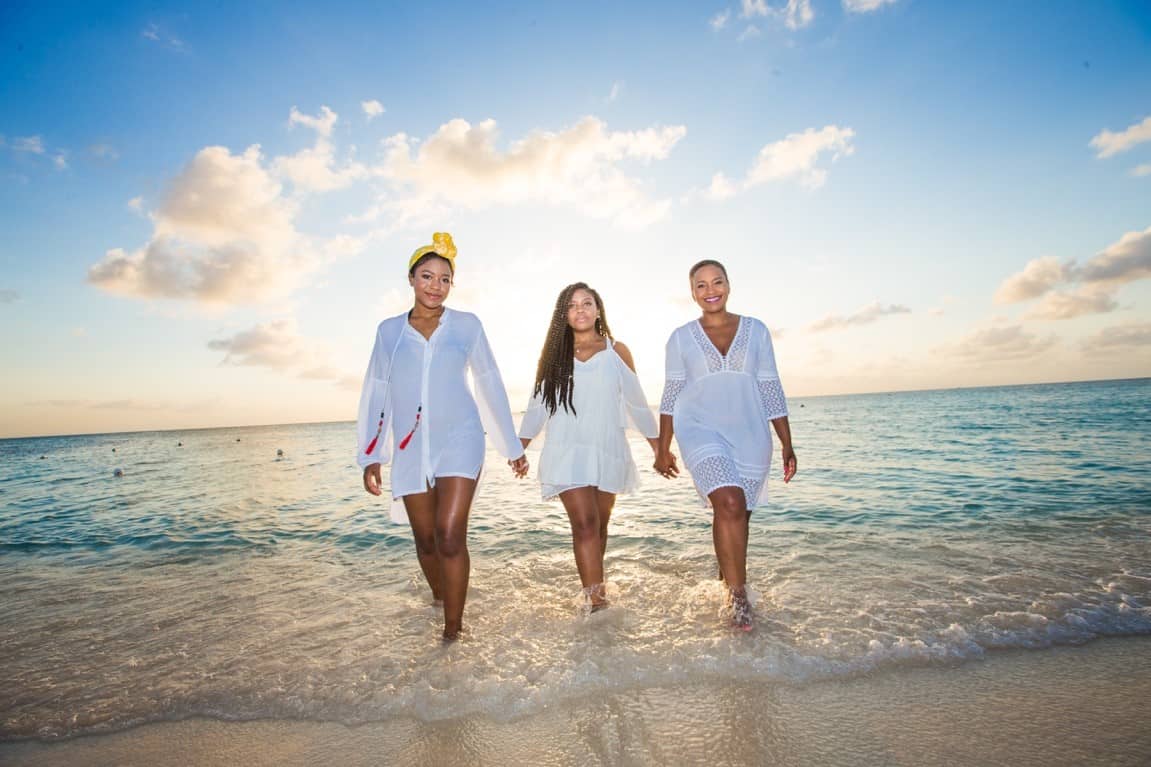 Both events have historically been women-centric; only female friends and relatives, bridesmaids, and the maid-of-honor were expected to attend. While some brides still opt to have all-women bridal showers and bachelorette parties, it is becoming more acceptable and common to have male guests.
7. These Events Are Optional
Some brides choose to forgo a bachelorette party for practical, financial, or personal reasons. Likewise, they may also opt not to have a bridal shower. In some cases, both events are absent. This is common for couples who elope, as etiquette states that only those invited to the actual wedding can be invited for pre-wedding parties.
8. Centered Around the Bride
Ultimately, both the bridal shower and the bachelorette party are a celebration of the bride. Both events honor the bride as a woman and a wife; these give her opportunities to strengthen her support network, to let her know that she has people in her life who will be there for her in this new chapter in her life.
Final Thoughts
Both the bridal shower and the bachelorette party honor the bride and celebrate the new chapter of her life. While they have similarities in some aspects, they have eight key differences: purpose, nature, timing, duration, itinerary, meals, guest list, gifts, and attire. Knowing these similarities and differences can factor in your decision as to which pre-wedding events you want to have and help you plan them better.