Regardless of whether you are engaged or not, you might find yourself searching Pinterest and Instagram for wedding inspiration. You might have seen a whimsical, beautiful backyard wedding, and thought to yourself, "I want that for myself."
Immediately after, you might have asked yourself, "How much does a backyard wedding cost?" On average, it ranges from $10,000 and $25,000. However, the final price depends on multiple factors, including your priorities and preferences.
Below is a detailed cost breakdown of a backyard wedding with 30 guests, along with an explanation of why each aspect costs that much money. Some tips for saving money are also included. Lastly, some sample budgets are provided.
How Much Does a Backyard Wedding Cost? Detailed Analysis
| | |
| --- | --- |
| Item or Service | Cost |
| Wedding videographer* | ~$3,000 |
| Wedding photographer | ~$2,500 |
| Wedding attire | ~$2,200 |
| Wedding planner or coordinator | ~$2,000 |
| Forms of entertainment | ~$2,000 |
| Wedding florist | ~$1,800 |
| Additional amenities (bathrooms, generator, etc.) | ~$1,500 |
| Tent | ~$1,200 |
| Miscellaneous expenses (contingencies, favors, etc.) | ~$700 |
| Wedding-related stationery | ~$350 |
| Wedding cake | ~$350 |
| Wedding officiant | ~$300 |
| Hair and makeup styling | ~$300 |
| Wedding insurance | ~$275 |
| Food and beverages | ~$60 per person |
| Rentals (dinnerware, decor, etc.) | ~$35 per person |
The cost analysis presented above, accounting for 30 guests, totals $21,325. This figure is on the upper limit of the average range, which starts at around $10,000 and ends at about $25,000.
You can cut down this figure by DIYing aspects of your wedding, such as floral arrangements, decorations, and hair and makeup styling. You can forgo other elements altogether, like the cake or the videographer.
Hence, many people believe that going for a backyard wedding will save them money compared to a traditional venue-based ceremony. Most of the time, this is the case.
However, you may end up spending just as much money for a backyard wedding as you would for a traditional wedding because of two factors: the number of guests you will invite and the intricacy of your theme.
With that said, here is a more detailed inspection of each aspect listed in the table above. If applicable, some tips for saving money in that aspect are also given.
Wedding Photographer and Videographer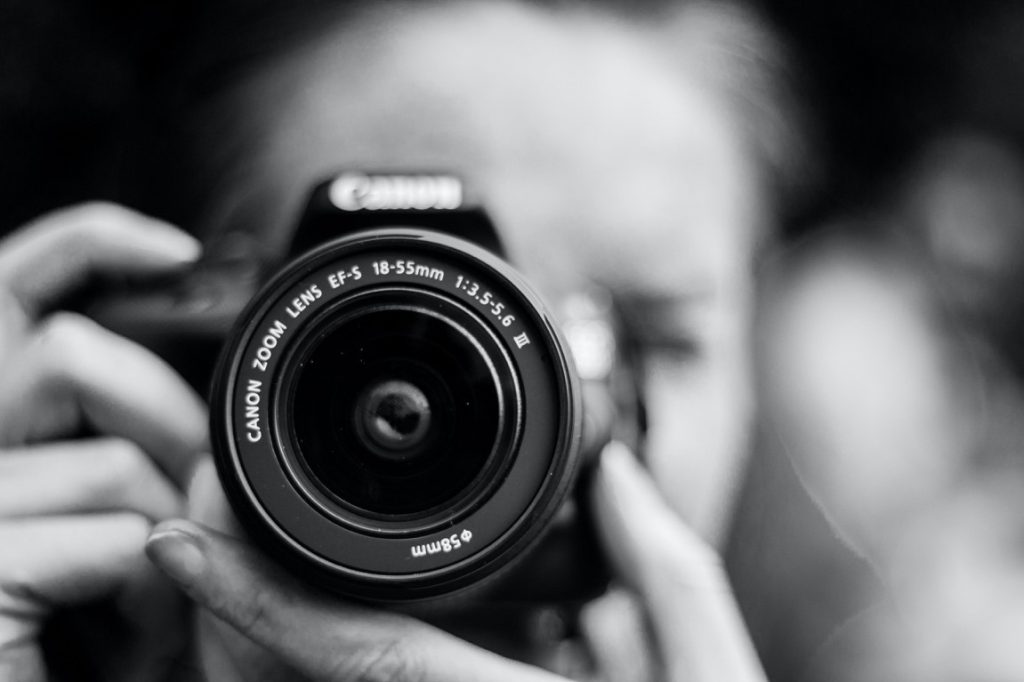 Wedding photographers are typically one of the most expensive vendors a couple will splurge on for their wedding. In many cases, photography and videography take up around 15% to 20% of the average wedding budget.
Couples can expect to pay anywhere from $1,500 to $3,000 for a professional photographer. This figure accounts for their skills, equipment, and high demand; in fact, it is often stressed that you should book your wedding photographer at least nine months before your special day.
There is an asterisk next to the wedding videographer on the table because couples consider this service a splurge. You might not have the budget for a dedicated videographer, or your photographer might have a team who will take care of the videography.
Either way, in the absence of a wedding venue, expect this aspect to take up the biggest portion of your wedding budget.
Wedding Attire and Styling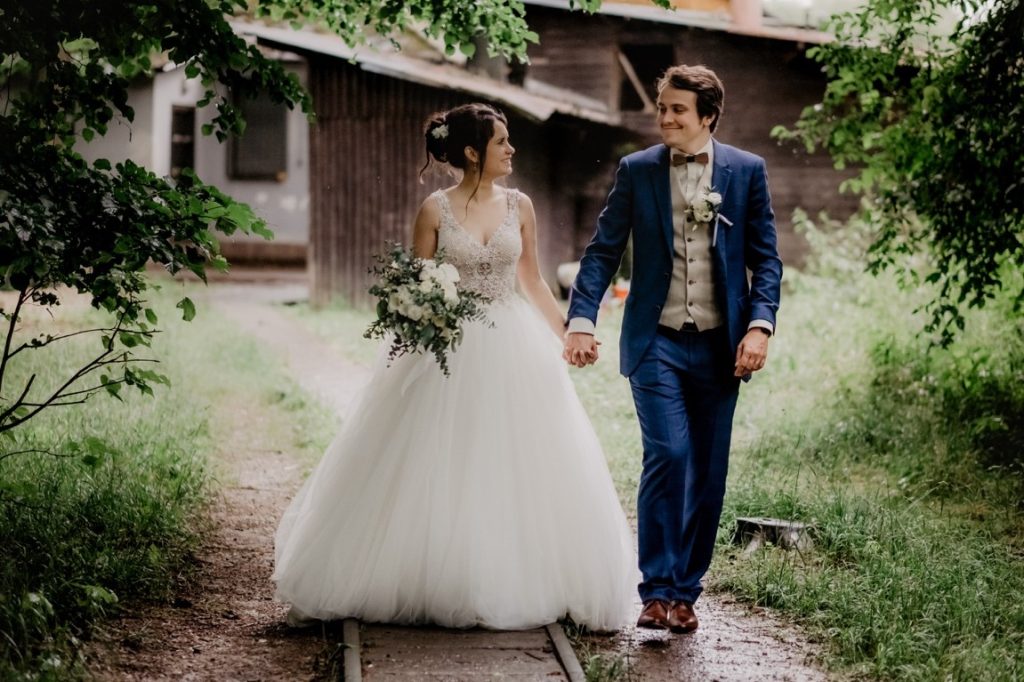 The couple's attire is one of the most memorable parts of any wedding. Many people prefer to buy new gowns, accessories, suits, and other garments for their special day. Afterward, they attend multiple fittings for a tailor to alter their clothes to perfection.
If you want to save money in this aspect, consider renting attire instead of buying them. There are plenty of bridal boutiques with a breathtaking selection of dresses and suits that will not break the bank.
You can also wear clothes you already own. For instance, if your wedding is relaxed and casual, why not wear something bohemian-themed to match the vibe?
Regarding styling, you have the option to hire professional stylists, visit a salon, or do your own hair and makeup. Some couples want to splurge in this aspect, while others are content to do it themselves.
Wedding Planner or Coordinator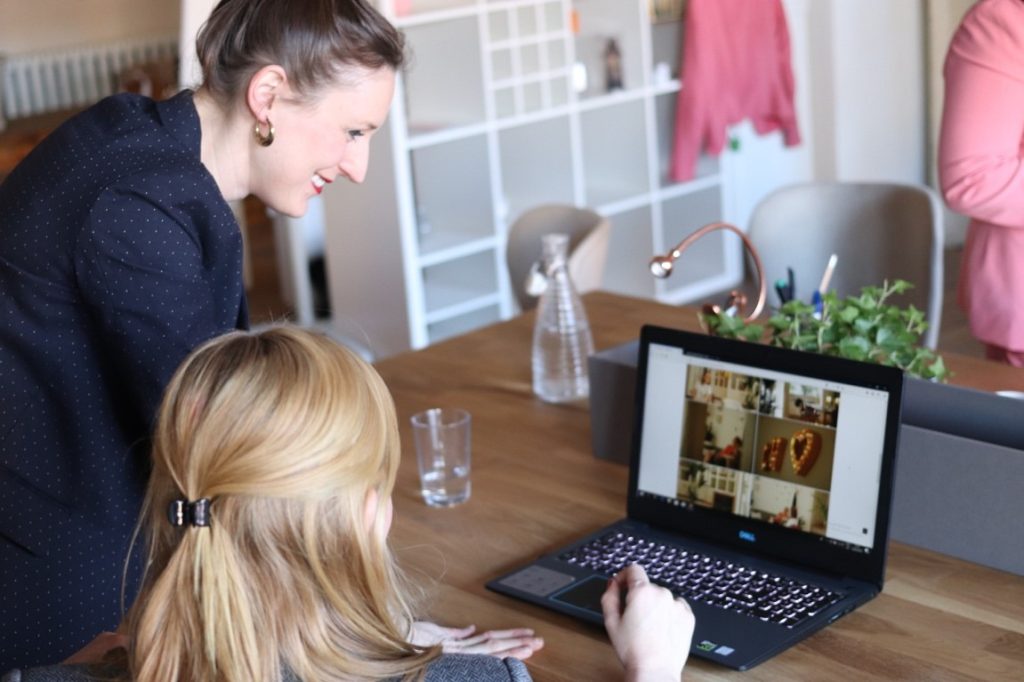 Wedding planners are any stressed couple's saving grace. As professionals, they know what needs to be taken care of and by when. They have organizational, social, and negotiation skills that are invaluable to the success of your big day.
If you are thinking of skipping a wedding planner, reconsider your plans — especially if they can double as your day-of coordinator. You will appreciate their presence more while you have the magical, unforgettable, and no-stress experience of a backyard wedding with a coordinator.
Expect to pay around $2,000 for a wedding planner. This figure goes up depending on the amount of coordination and other services you request. With additional coordinating assistance, you may need to spend at least $4,000.
To offset some of the expenses, you can ask your maid of honor or bridesmaid if they are willing to be your day-of coordinator.
Forms of Entertainment
You have a wide variety of choices for entertainment at your backyard wedding. You can have a live band or a DJ. You can even rent out a sound system — or use what you have — and create a Spotify playlist for your special day.
The third choice is the most budget-friendly. A bridal party member can control the playlist, or you can give them a song checklist with general pointers on the music you want them to play.
This category also encompasses any wedding reception game you plan to include in your itinerary. Examples include musical chairs, lawn games, scavenger hunts, and more.
In general, if you want to save money on entertainment, use what you already have and DIY the rest.
Wedding Florist
Flowers are a mainstay in any wedding. However, they are even more essential in a backyard ceremony; beautiful floral arrangements can elevate your venue and make it more elegant.
Hiring a wedding florist costs $1,800 on average, but you might find services in the range of $800 to $2,500. The final cost depends on how intricate you want the floral arrangements to be, along with how many you want.
You can save money in this aspect by DIYing your floral designs. Furthermore, you can find ingenious alternatives for bridesmaid bouquets and flower girls that require fewer flowers overall.
Additional Amenities, Including a Tent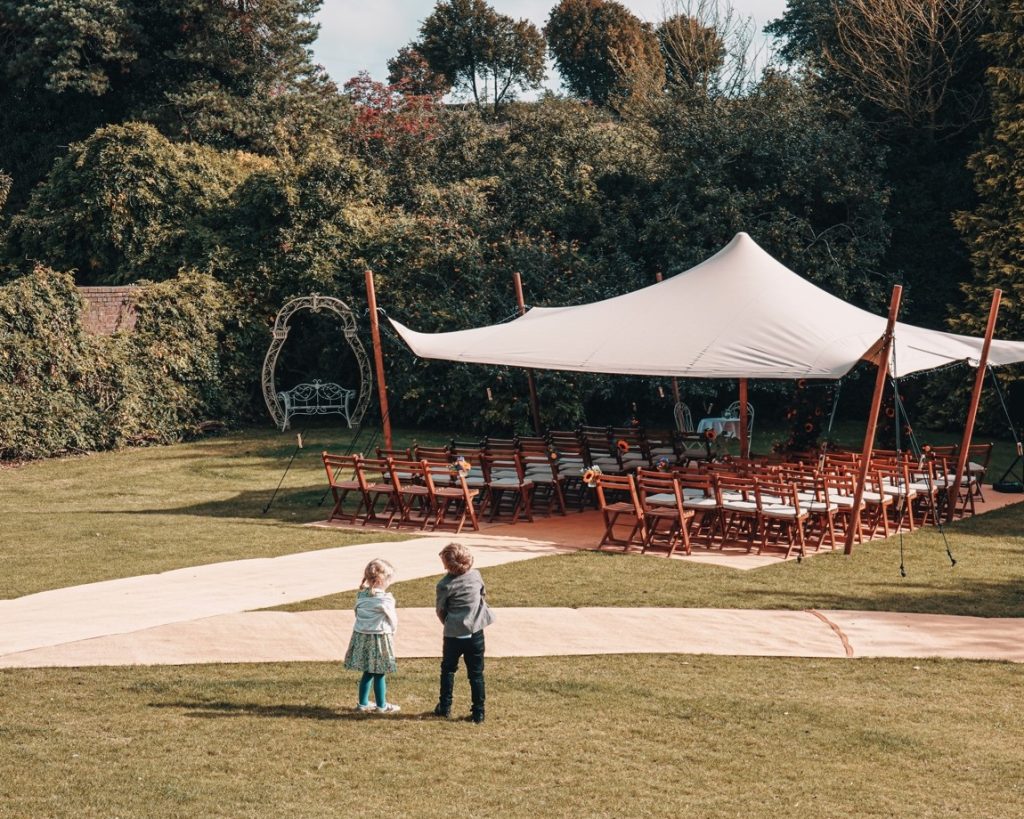 It is not a great idea to solely rely on your home for everything you need at your backyard wedding. If you have 45 guests, and your house only has two restrooms or powder rooms, you might end up with long lines and impatient people.
With that said, consider renting a restroom trailer, which may cost you at least $600 for one weekend. Depending on the model, you might be looking at $3,500 just for a bathroom trailer. Porta-Potties are much cheaper, ranging from $75 to $150 for one unit per day.
You may also want to rent a backup generator for logistical and safety purposes. Using this generator, you can power your entertainment system, light fixtures, and more. Expect generator rental to cost at least $100.
A tent is also a must-have. It provides shade from the heat of the sun and shelter from the rain. Likewise, with the right decorations, a tent will make your backyard wedding even more magical and memorable. The smallest tent sits at approximately $500, while the largest may cost upwards of $20,000.
All in all, expect to pay approximately $2,700 for all the additional amenities you need. Saving money might be a bit difficult in this regard.
Food, Beverages, and Cake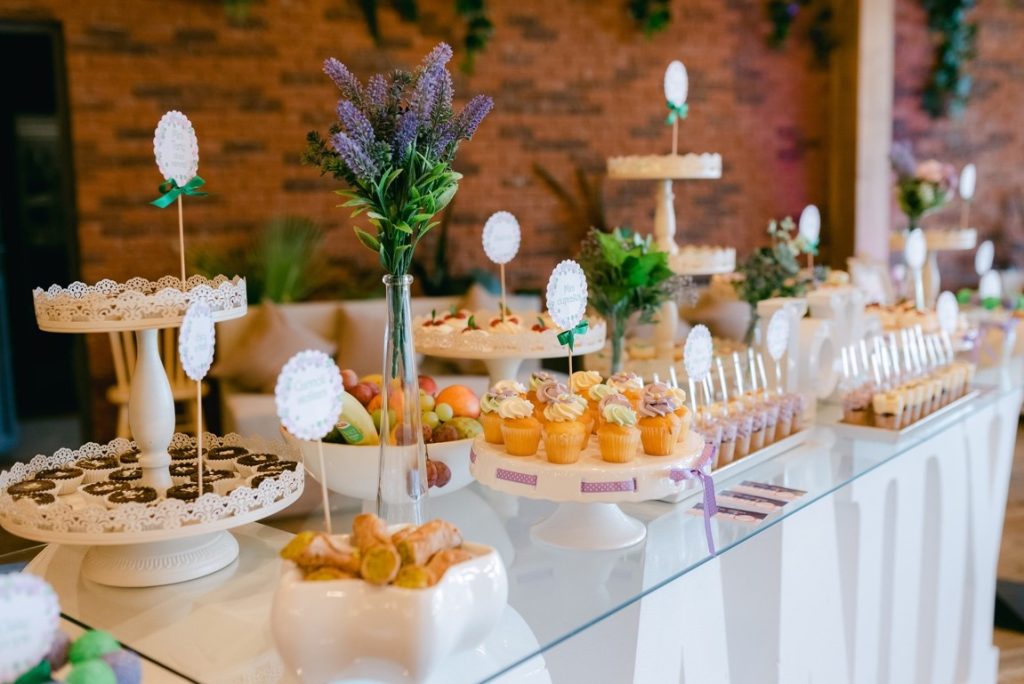 Catering is an essential aspect of any wedding. Food and drinks are more than necessities; they can also be an avenue for entertainment and socialization. Give your guests something to talk about by serving them great meals and cocktails.
As mentioned in the table above, expect to pay around $60 per head for food and beverages. This figure will vary depending on the menu you decide to serve, what drinks will be available, the cost of living in your area, and more. With 30 guests, expect to shell out around $1,800 for catering.
There are plenty of ways you can save money on wedding food. Examples include making it a potluck, hiring food trucks, and setting up DIY food stations. You decide which options are applicable and appropriate for you.
Meanwhile, expect to pay around $350 for a wedding cake. However, you can buy a smaller cake or look for dessert alternatives like mini cupcakes.
Rentals for Dinnerware, Tableware, and More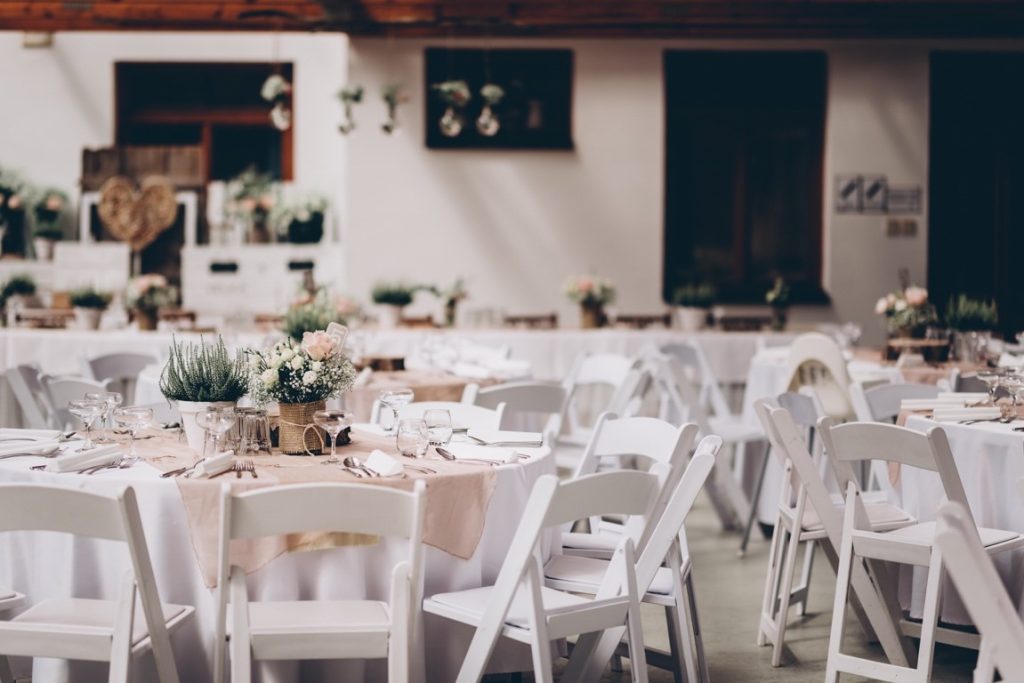 In an event like a backyard wedding, you need to rent items like dishware, drinkware, utensils, and more. Each item's rental price varies depending on its size, function, and design.
Moreover, you have to rent chairs, tables, tableware, and so on. You also have the option to rent decor pieces to elevate your backyard wedding.
Ultimately, expect to pay around $35 per person in terms of rentals. With 30 guests, this amounts to $1,050.
You can save money in this aspect by using the dishware, drinkware, and utensils you already have. It might be a pain to clean them all afterward, but you do not need to spend as much.
Mixing and matching fixtures like tables and chairs also make for a unique and endearing venue. Experiment with the furniture you have and see if you can find a way to make them work.
Miscellaneous Expenses, Including Insurance and Celebrant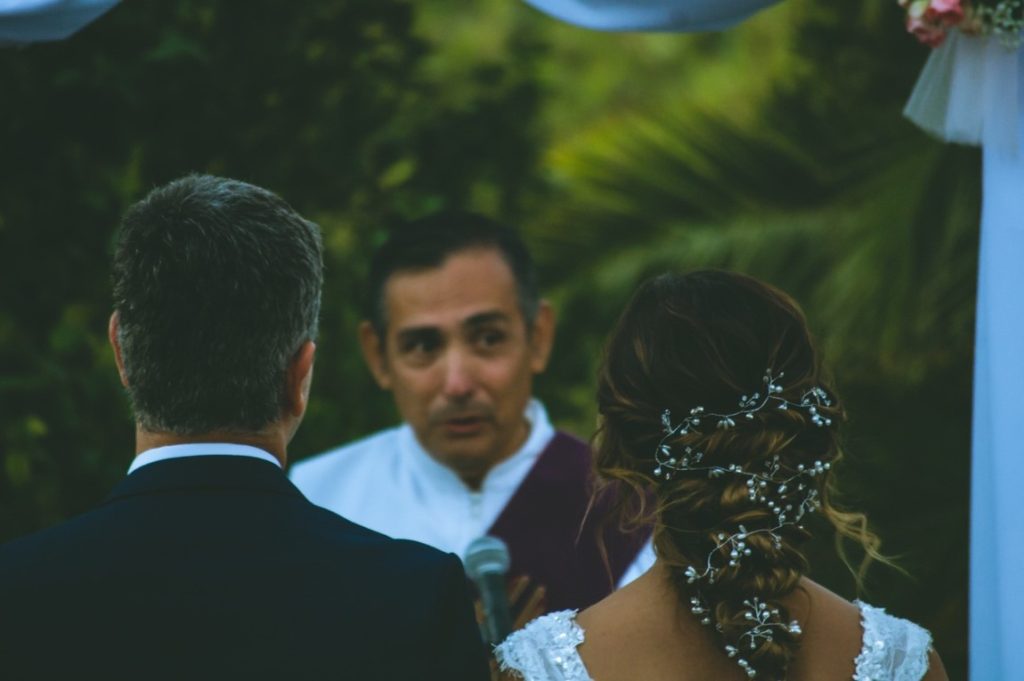 There are many smaller aspects of weddings you need to oversee, such as preparing wedding favors, gratuities, and more. To be safe, consider setting aside around $700 for these expenses.
Furthermore, do not forget to purchase wedding liability insurance. This insurance will cover any unanticipated events, such as accidents and injuries, that happen on your special day. Without one, you are liable for what happens in your backyard.
The cost of a wedding officiant varies, but you can expect to pay anywhere between $200 to $500. This figure increases depending on how personalized you want the ceremony to be.
These aspects are mostly non-negotiable. Perhaps you can set aside a smaller miscellaneous budget, but insurance and celebrant costs are necessary expenses.
Wedding Stationery
This category includes invitation suites, table cards, seating cards, posters, menus, programs, and more.
A great way to save money in this aspect is to digitize what you can. For instance, there are plenty of online RSVP alternatives that can track your guest's responses.
Alternatively, DIY what you can. With the help of your bridal party, friends, and relatives, create beautiful posters, table and seating cards, and more.
Sample Budgets for a Backyard Wedding
1. $10,000 budget, 60 guests
| | |
| --- | --- |
| Item or Service | Cost |
| Wedding photographer | $1,800 |
| Wedding attire | $1,200 |
| Forms of entertainment | $500 |
| Wedding florist | $425 |
| Miscellaneous expenses (contingencies, favors, etc.) | $100 |
| Wedding-related stationery | $100 |
| Wedding cake | $300 |
| Wedding officiant | $300 |
| Food and beverages | $4,500 |
| Rentals (dinnerware, decor, etc.) | $1,300 |
| Total | $10,525 |
2. $15,000 budget, 30 guests
| | |
| --- | --- |
| Item or Service | Cost |
| Food and drinks | $5,000 |
| Decor (floral, rental, etc.) | $3,500 |
| Wedding photographer | $2,000 |
| Wedding attire (including styling) | $2,000 |
| Forms of entertainment | $1,000 |
| Equipment rental | $1,000 |
| Wedding cake | $400 |
| Wedding-related stationery | $250 |
| Wedding officiant | $200 |
| Miscellaneous expenses (contingencies, favors, etc.) | $200 |
| Total | $15,550 |