People say marriage is not only between two people but two families; a couple's social circles often merge into one big community. Couples are always looking for tangible and intangible ways to clarify this aspect of their union, for which unity ceremonies are excellent options.
A ring warming ceremony is a unity ceremony wherein guests hold the wedding bands, make a wish for the couple, then pass it to the next person. More information about this endearing ceremony is provided below, along with examples of ring warming ceremony scripts with free PDFs.
Ring Warming Ceremony 101: What You Need to Know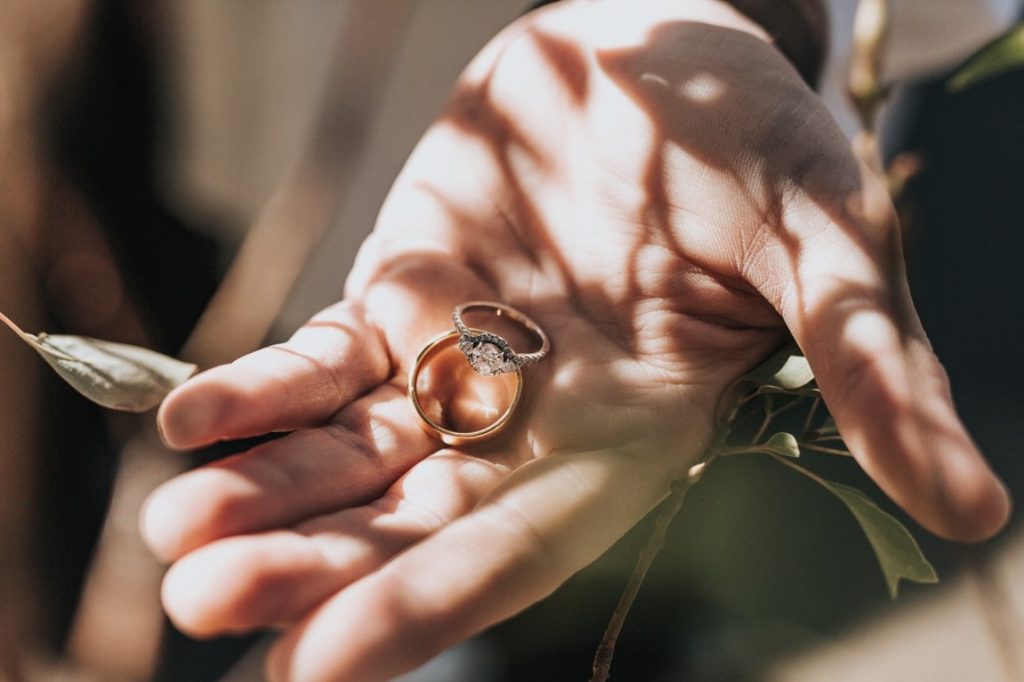 The ring warming ceremony has its origins in Irish tradition. The couple's wedding bands are given to the guests, who spend a moment holding the rings before passing them to the next person.
The name "ring warming" has two layers of meaning. Literally, the guests warm the rings with the heat from their palms.
Symbolically, the guests can imbue their good wishes and blessings for the couple. They may utter a prayer or think of manifestations for the new chapter of their lives.
This ceremony is an easy but highly sentimental way to make a community with your guests. It signifies that the people around you will be there for you throughout your married life.
In What Part of the Wedding Does This Ceremony Take Place?
You can incorporate the ring warming ceremony into any part of your itinerary, granted that it should happen before the exchange of vows.
Does Every Guest Have to Participate?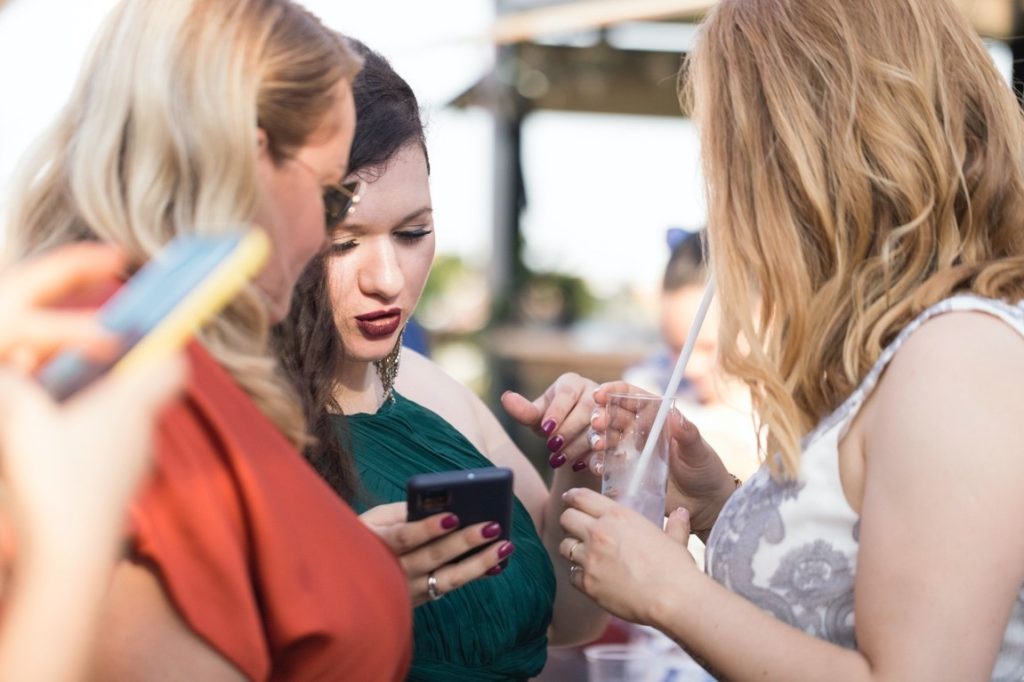 No, not every guest has to participate. The couple can decide whom they want to hold the rings. As such, a ring warming ceremony is an excellent way to make your chosen guests feel extra special.
Typically, the couple's parents and the entire bridal party will warm the rings with their thoughts and prayers. The couple might also ask anyone they are close with, such as best friends and other relatives.
If you want people to warm your rings, but they cannot attend the wedding, you can bring the bands to them before your special day. For instance, your grandparents might not be able to go to your wedding because of medical reasons. Pay them a visit and have them warm the rings.
However, some couples may opt to have their entire guest list warm the rings. This choice works best with small and intimate weddings, as the ceremony will not take too much time.
Regardless, make sure to inform your guests about the significance of this ceremony. You can include a card in your invitation suite that explains what "ring warming" is and how it occurs. Alternatively, you can ask your officiant to talk about it as the ceremony takes place.
Ample information will give your guests time to prepare their wishes and manifestations. Likewise, it will help them realize the essence and importance of this ceremony; they will be extra careful with how they handle the rings and the sentiments that go into them.
How Does Each Guest Get to Hold the Rings?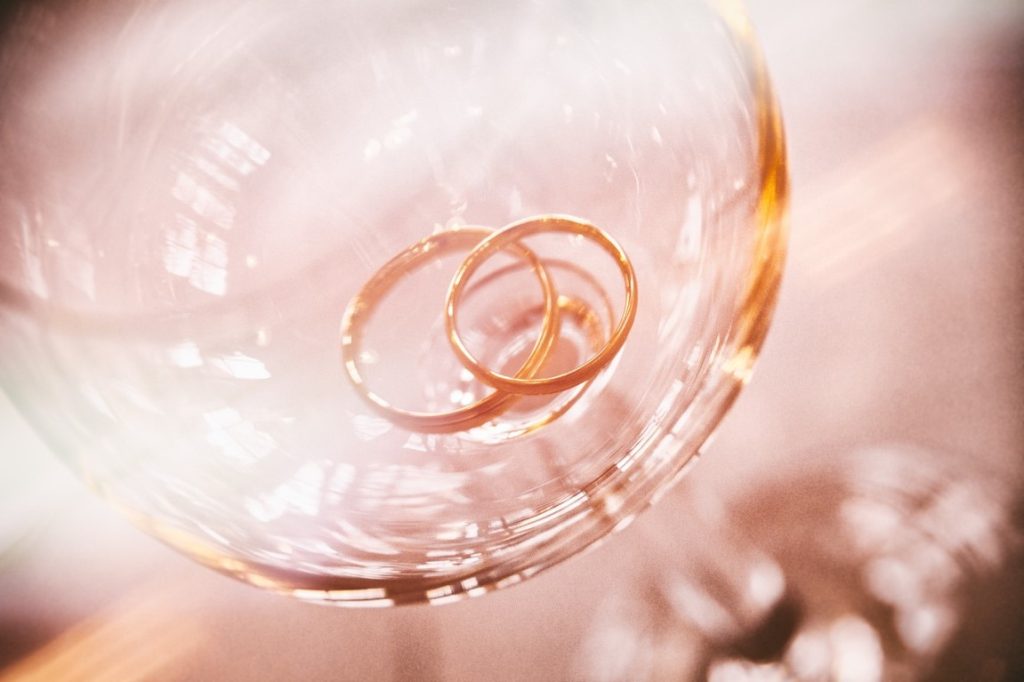 Likewise, the logistics of the ring warming ceremony depend on the couple's preferences. One way to do the ceremony is by putting the ring in a container and placing it on a table. Your guests can approach the table, pick up the bands, and return it to the box before sitting down.
Alternatively, you can ask one person from your bridal party to pass the rings to every guest. This person can be a bridesmaid, groomsman, ring bearer, or even your officiant. Other responsibilities for this role include:
Making sure the rings are safe and in good condition before, during, and after the ceremony
Bringing the rings to the couple for their vow and ring exchange
Instead of letting your guests hold the bands, you may want to place the rings in a bag or pouch. Doing so will make it easier, safer, and more sanitary to pass the piece of jewelry around. You can use the pouch the rings came with or order a personalized one online.
You can also use other containers, such as a bowl or a shell.
How Much Time Will This Ceremony Take?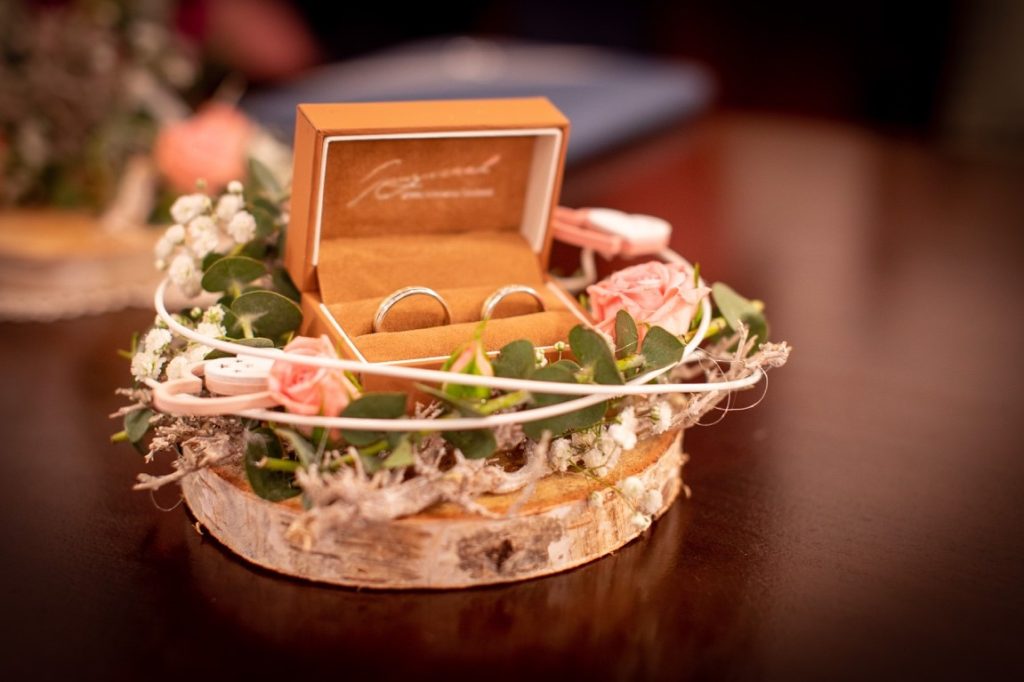 Ideally, the ring warming ceremony should not take more than a couple of minutes. Give each guest around 10 to 20 seconds to send their thoughts, prayers, and well wishes.
Ultimately, the duration of this ceremony depends on how many guests will warm your rings and the speed with which they do it. You can ask your officiant to gently remind your guests if they are taking too long.
If you have limited time, consider starting the ring warming ceremony as soon as your guests enter the venue. Place the bands somewhere near the entrance, ask a coordinator or bridal party member to explain what to do, then have them find their seats. You can also create a card to explain the ceremony, including what to do.
How Can We Customize This Ceremony?
As with any wedding tradition, you can get creative with the way you incorporate a ring warming ceremony into your day. Even a bespoke ring warming ceremony script will help personalize this tradition. Here are some other examples:
If only a few people will warm your rings, consider inviting them to stand in a circle and surround you in front of the altar. You can see the emotions on everyone's face as they pass your bands around and make wishes.
If the thought of having everyone hold your ring makes you uncomfortable — for personal or medical reasons — have someone hold the ring in front of the congregation. This person can be a ring bearer, bridal party member, or even you or your partner.
As the officiant explains the symbolism of this ceremony, they can ask the guests to raise their hands toward the rings. They can manifest and pray while they hold this position.
Ask a few special people, such as your parents and grandparents, to say their wishes and blessings out loud. Although this might take a longer time, your ceremony will be much more personal and emotional.
The Irish traditionally use a piece of ribbon to tie the rings together. They also add some lace, shamrocks, and other details for decoration. You can go the same route or use something from your culture to embellish your bands.
Use a ribbon or string to pass the rings around to your guests. Two chaperones can hold both ends of the ribbon, let the rings flow through it, then move on to the next row. This method can be an efficient and time-saving way to hold this ceremony.
Sample Ring Warming Ceremony Scripts with PDFs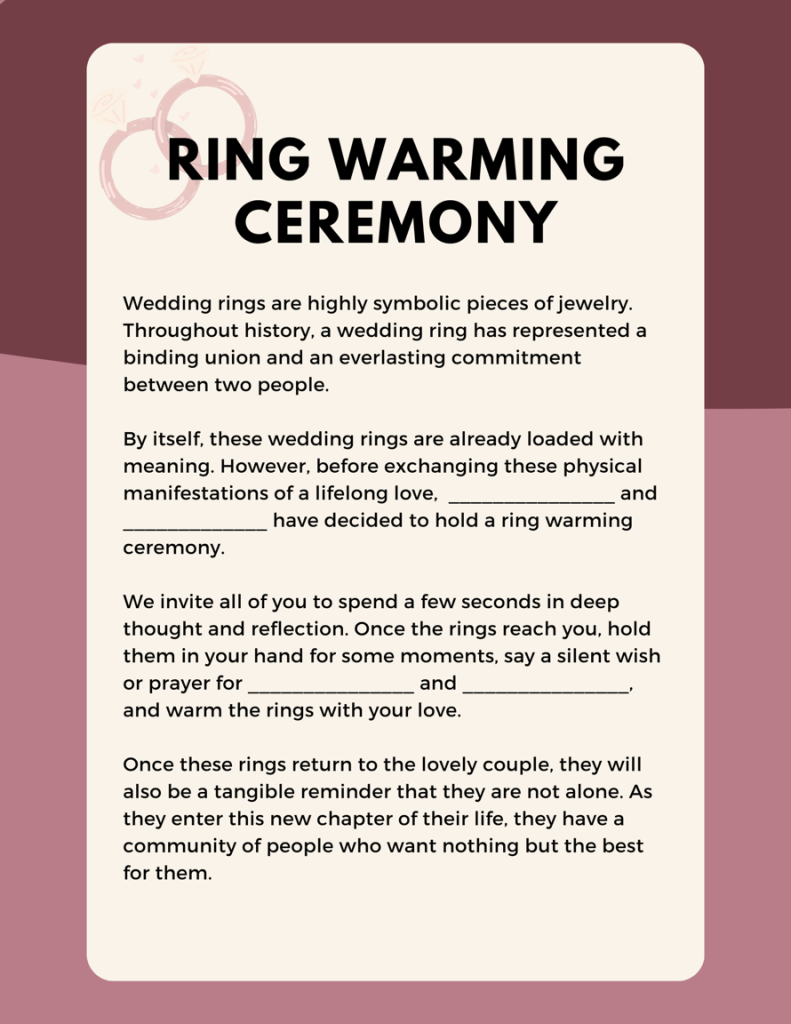 Click here to download the PDF.
Wedding rings are highly symbolic pieces of jewelry. Throughout history, a wedding ring has represented a binding union and an everlasting commitment between two people.
By itself, these wedding rings are already loaded with meaning. However, before exchanging these physical manifestations of a lifelong love, [name of the bride] and [name of the groom] have decided to hold a ring warming ceremony.
We invite all of you to spend a few seconds in deep thought and reflection. Once the rings reach you, hold them in your hand for some moments, say a silent wish or prayer for [name of the bride] and [name of the groom], and warm the rings with your love.
Once these rings return to the lovely couple, they will also be a tangible reminder that they are not alone. As they enter this new chapter of their life, they have a community of people who want nothing but the best for them.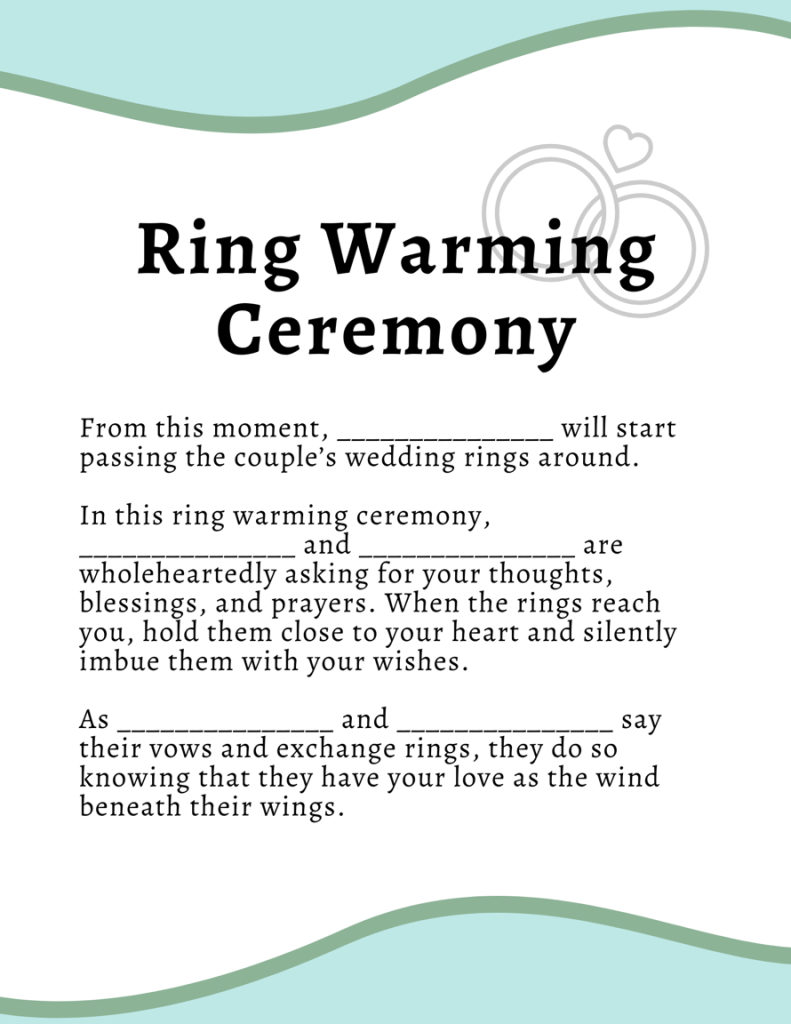 Click here to download the PDF.
From this moment, [name of chaperone/s] will start passing the couple's wedding rings around.
In this ring warming ceremony, [name of the bride] and [name of the groom] are wholeheartedly asking for your thoughts, blessings, and prayers. When the rings reach you, hold them close to your heart and silently imbue them with your wishes.
As [name of the bride] and [name of the groom] say their vows and exchange rings, they do so knowing that they have your love as the wind beneath their wings.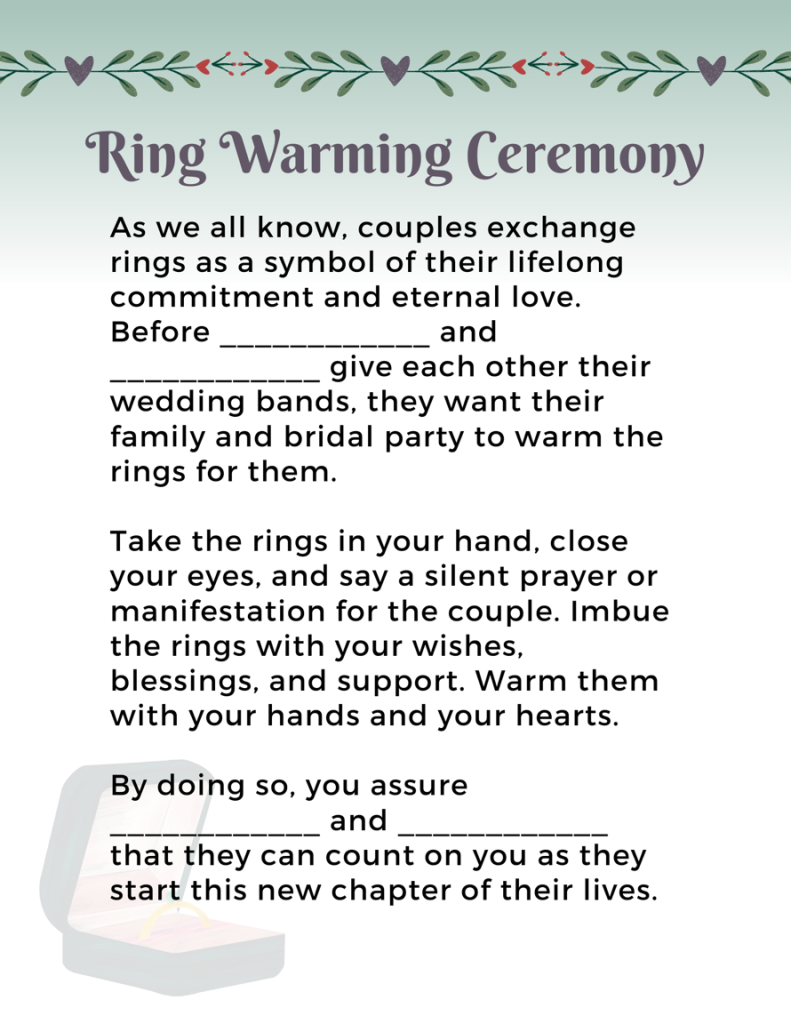 Click here to download the PDF.
As we all know, couples exchange rings as a symbol of their lifelong commitment and eternal love. Before [name of the bride] and [name of the groom] give each other their wedding bands, they want their family and bridal party to warm the rings for them.
Take the rings in your hand, close your eyes, and say a silent prayer or manifestation for the couple. Imbue the rings with your wishes, blessings, and support. Warm them with your hands and your hearts.
By doing so, you assure [name of the bride] and [name of the groom] that they can count on you as they start this new chapter of their lives.