Every country has a unique set of customs and traditions, which inform their beliefs, acts, and ways of life. Whether we notice it or not, people's clothes tell us a lot about the culture they come from — this is especially true for wedding attire.
Traditional Egyptian wedding dresses typically come in two styles: jewel-toned and white. Brides can choose between the two depending on their beliefs, preferences, and personal circumstances.
The characteristics of a traditional Egyptian wedding dress are discussed in further detail below. Pictures of dresses are also provided to give you a better idea of what they look like. Lastly, wedding-related occasions wherein Egyptian brides wear different dresses are also explained.
What Is a Traditional Egyptian Wedding Dress?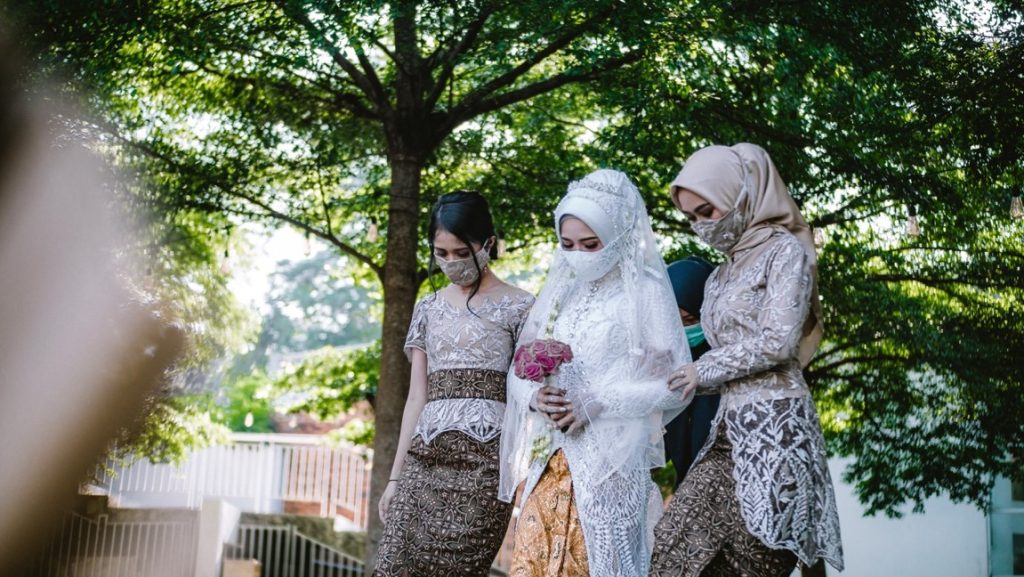 Generally, Egyptian women opt for dresses with vibrant colors. Jewelry plays an essential role in traditional Egyptian bride attire; women wear it not only as accessories, but their dresses also frequently have jewel appliques.
Egyptian wedding traditions differ according to religion and social status. Most Egyptians are Muslim, but around 10% practice Coptic Christianity. Whereas Christian brides wear white dresses, Muslim brides can choose any jewel tone for the fabric.
A typical wedding dress in Egypt is long; inches or meters of fabric trail the bride in a train. Red and gold are well-loved colors for the gown itself. As for the accessories, brides wear intricate gold jewelry and headpieces shaped like a crown or a tiara.
The emphasis on gold motifs and jewelry is the result of rich Egyptian history. Throughout the millennia, Egyptians have viewed wives as respectable and affluent people. Thus, people would spend excessive amounts of money on an extravagant wedding to match the wife-to-be's importance.
Alternatively, the styling would be different if the bride chose a white dress. They would still wear gold jewelry but focus on "wealthy simplicity." Their dresses have gold motifs embroidered along the hem and the top. They spend more on the dress's quality, not its embellishments.
Generally, tailors create traditional Egyptian wedding dresses using natural linen. This choice of fabric is both practical and stylish. For one, Egypt is a predominantly hot country; linen is breathable, absorbent, and durable.
Likewise, linen helps exude an image of elegance and luxury. These qualities are crucial, as Egyptians prefer bridal wedding attire that is both light and opulent.
Regardless of the religion, Egyptian brides wear veils. This headpiece not only adds to the attire's beauty but also has cultural importance. Egyptian brides view it as a symbol of modesty, purity, and innocence. Alternatively, they might choose to wear a cape for the same objective.
Some Muslim brides might be required or prefer to cover their entire body. The choice to wear a hijab, for example, hinges on a woman's personal beliefs and desires; Islam does not force its believers to do anything they do not want.
Nowadays, it is not uncommon to see Egyptian brides adopt Western styles. You may see corset bodices, intricate lace details, unique necklines with ornate appliques, and so on. However, most Egyptian brides still try to combine tradition and modernity.
Breathtaking Traditional Egyptian Wedding Dresses
1. Simple White Dress with Gold Motifs and Headpiece
As mentioned above, some Egyptian brides opt to wear a white wedding dress. This one is a sleeveless white linen gown, featuring an asymmetric hemline that covers her ankles at the front but forms a sweep train at the back.
The jewel neckline and sash around the waist have bespoke appliques and patterns, both in a shade of matte gold. The crown-like headpiece mimics the prints. Ultimately, this traditional Egyptian wedding dress exudes luxury and warmth at once.
2. Matching Cream Dress and Hijab with White Overlay
Recently, there has been a trend of conservatism among Egyptian women. While it is still not required to wear a hijab, many brides choose to cover their hair. This bride does it beautifully; her cream-colored hijab matches her dress.
She put on an additional layer, presumably for additional modesty and style. The dress fully covers her arms and extends to the floor. It has elaborate patterns, pearl and gold trims, and a belt that gives structure to her attire. A tiara and sheer veil complete this stunning outfit.
3. Green and Gold Dress with Matching Veil
This outfit personifies the traditional Egyptian reverence for the bride: the gold belt, the layers of pearl necklaces, the tiara, the headpiece, and the earrings. Everything gives off a luxurious, elegant, and affluent charm.
The green dress works gorgeously with gold patterns and trims. The unique veil matches the color of the dress, with another sheer layer having similar gold prints.
4. White Gown with Lace Details
This white gown has more modern and Western-inspired touches than others on this list. The dress itself has a sweetheart neckline. The bodice is fit enough to flaunt the bride's natural shape, but the skirt flares into a majestic ballgown silhouette, allowing for elegance and modesty.
The entire gown has intricate lace details. On the upper half of the dress, the lace acts almost like an overlay, giving the bride more coverage. Overall, the patterns give the dress texture, dimension, and a dreamy look.
The bride in the picture wears minimal accessories: a pair of earrings and a tiara. Ultimately, this outfit embodies the "wealthy simplicity" style. However, you can add more jewelry if that is what you prefer.
5. Mint Green Pleated Gown with Gold Trims and Veil
The combination of mint green and gold is underrated, but this dress shows that the two colors are stunning together. The gown has a ballgown silhouette, cinched at the waist with a belt. The skirt's pleats make it textured and dynamic, and the floral motif matches the other details beautifully.
Both the dress and the veil have gold trims, most noticeably along the skirt's middle section. The bride wears a pair of earrings and a tiara to complete her outfit.
Other Dresses an Egyptian Bride Wears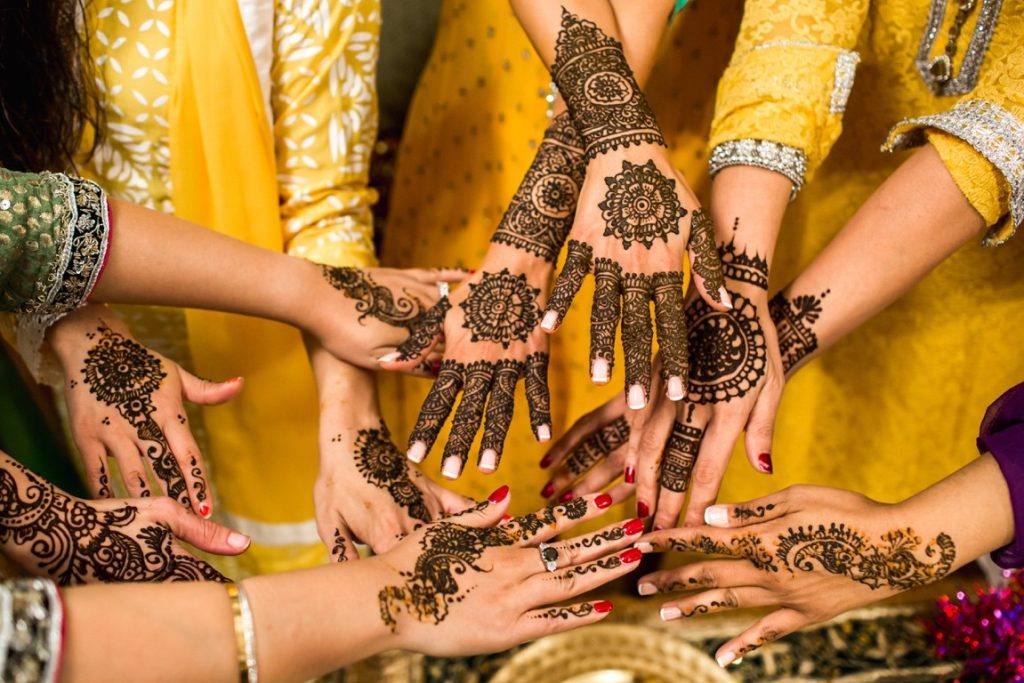 Egyptian marriages observe a multitude of wedding traditions. Many of them occur before and during the ceremony. Some traditions necessitate a different dress, which also balances stylishness with customs.
Engagement Party
In Egyptian culture, the engagement party is often just as big and extravagant as the wedding. The bride's family typically hosts it, but they may also opt for a hotel or outdoor venue. Regardless, this party is always full of entertainment, decoration, and food.
The groom will give the bride a shabka, either an engagement ring or a whole set of gold jewelry. He will also pay a dowry to the bride's family. These gifts symbolize their upcoming commitment, along with the groom's commitment to providing for his bride.
This party is essential for another reason: it is a Muslim couple's way of announcing their intention to marry. Thus, they can go on dates and be seen by other people without worries of ostracization or judgment.
Traditionally, brides wear an enormous, puffy, bright dress to their engagement party. It must be modest, but she can add elaborate details and customization. Most brides only rent the dress, given that they will only wear it for one occasion.
Laylat Al-hinna (Night of Henna Party)
On the night before the wedding, the bride gathers her close friends, cousins, and sisters for a party. They will spend the night dancing, singing, and having a good time.
The most important part of this tradition is tattooing the bride's feet and hands. Anyone can draw the designs, but in some cases, they might hire a professional henna artist. These elaborate patterns of henna symbolize wealth, good luck, and happy marriage.
Egyptian brides usually wear a stunning pink dress for their laylat al-hinna. As for fabric, they can choose between cotton and silk.
Final Thoughts
Clothing is a great way to connect with one's culture and ancestry. Whether you are a bride currently living in Egypt, or you are somewhere else in the world and want to express your identity, you should consider incorporating aspects of traditional Egyptian wedding dresses in your attire.