No two people are the same. Thus, it follows that no two weddings — unions of two people — are the same. Wedding ceremonies reflect the couple themselves and their relationship, making it essential that their wedding is done in a way that respects their beliefs and personalities.
There are 19 different types of wedding ceremonies. Some examples include civil ceremonies, commitment ceremonies, destination weddings, non-denominational ceremonies, mass weddings, and religious ceremonies.
The types of wedding ceremonies vary in the legal recognition they afford, the amount of planning they take, and the processes they follow. Additionally, five points can help you and your partner decide which ceremony you can partake in.
Different Types of Wedding Ceremonies
Civil Ceremony
Civil ceremonies are brief, secular ceremonies held in a courthouse, city hall, or judges' chambers. The officiant can be a judge, a justice of the peace, and even a municipal or city mayor.
The only people needed in a civil ceremony are the couple themselves, the officiant, and legal witnesses. Some guests are also allowed to attend to see the couple exchange vows and declarations.
Depending on when you choose to hold a civil ceremony, you may be included in a large group of couples getting married on the same day. Thus, there is usually little to no flexibility and opportunity for personalization. Couples take this in stride and instead go all out on their reception.
Commitment Ceremony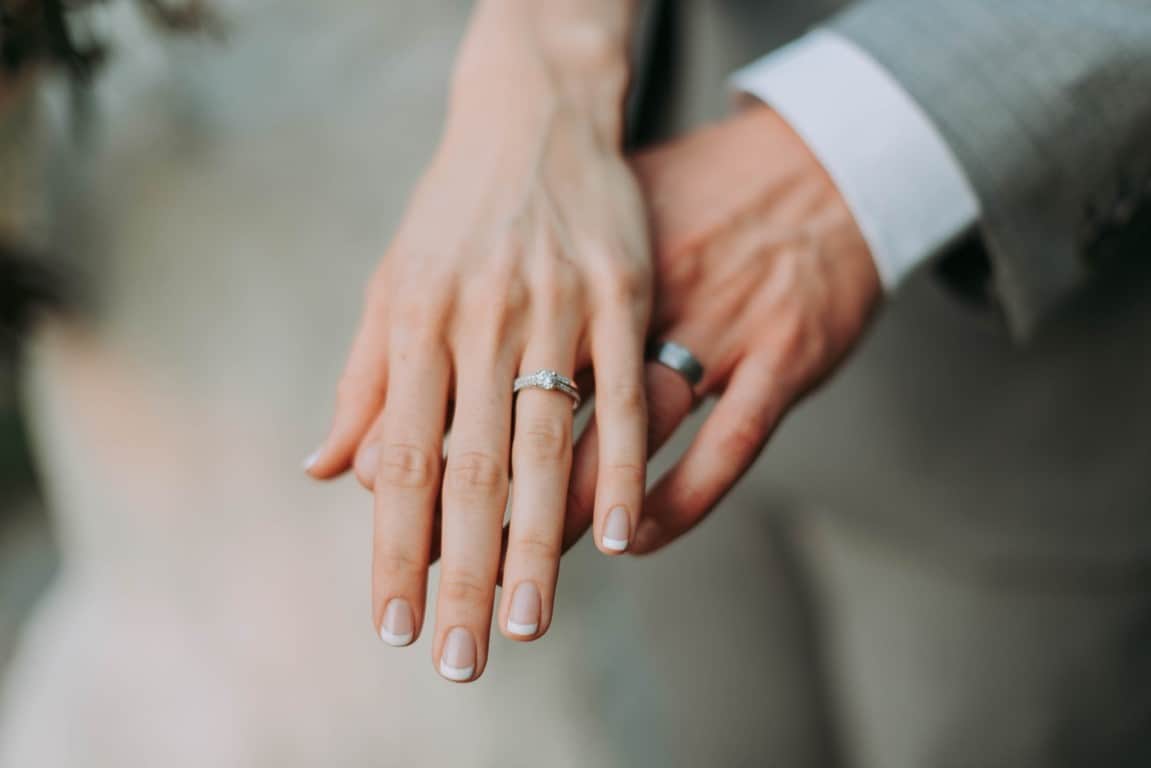 Commitment ceremonies are an opportunity for couples to publicly declare their faithfulness and life-long commitment to each other. While commitment ceremonies may seem like any other wedding, it must be noted that commitment ceremonies are not legally binding. No paperwork, contracts, or marriage licenses are signed and recognized by the state. With that said, couples have the option to hold another ceremony that will be legally recognized.
Cruise Wedding
A cruise wedding is a kind of destination wedding that takes place on a cruise. Cruises are memorable venues that can provide various services to accommodate a wedding, such as staffing, catering, bartending, and so on. A clergy member can officiate your marriage at the port, but the ship's captain on board may also do it. Cruise lines offer wedding packages and/or in-house wedding planners to assist in organizing the event.
Destination Wedding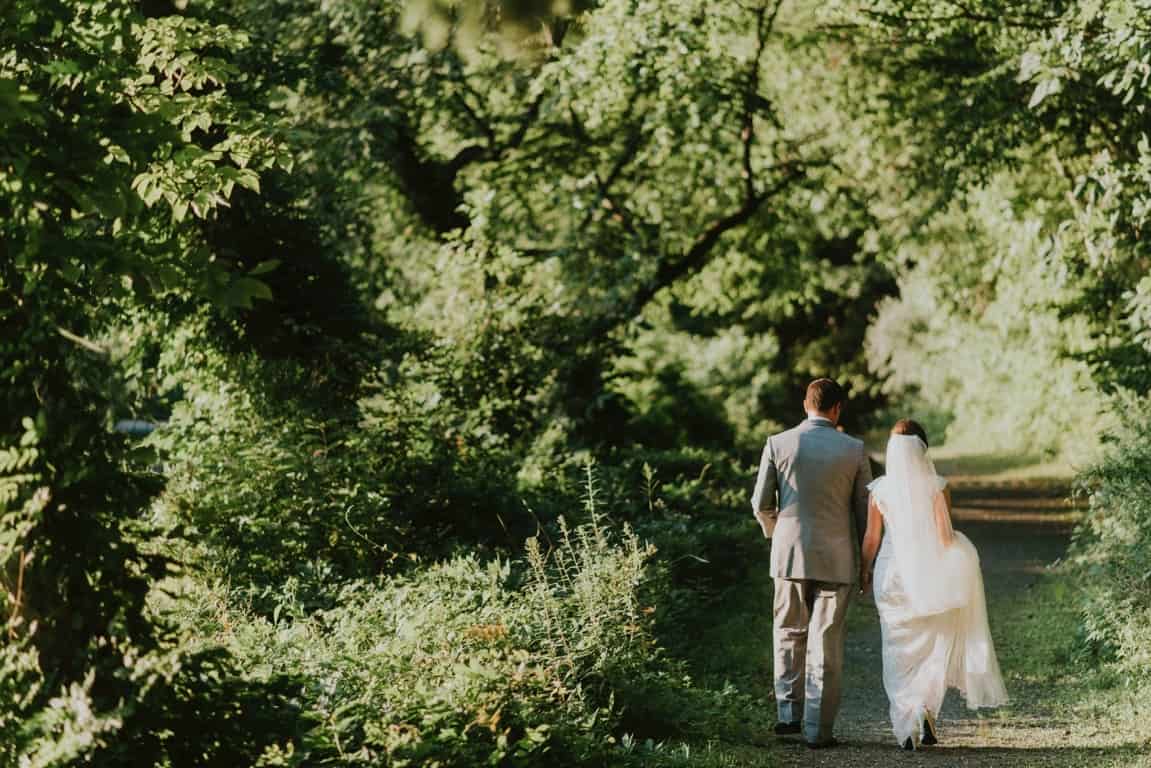 Destination weddings commonly occur in a foreign country. However, it may also take place in a different city or a different state. It can be done at a private beach, national park, or anywhere the couple desires. Destination weddings are typically intimate affairs due to the added cost of transportation and accommodation. A benefit of having a destination wedding is that the couple can go straight into their honeymoon.
Double Proxy Wedding
Double proxy weddings are a particular type of proxy wedding wherein the couple is not physically present for the ceremony. The couple signs their right-of-attorney to two proxies, who then sign a marriage license for them in front of an officiant.
Double proxy weddings can only be solemnized in the state of Montana. It requires the couple to either be residents of Montana or members of the military on active duty. Like proxy weddings, double proxy weddings are legal and will be recognized nationwide, with the exception of Iowa.
Due to the onslaught of the COVID-19 pandemic, rates of proxy weddings and double proxy weddings increased. This is to prevent the couple, the guests, and everyone in the vicinity from catching the illness.
Double Wedding
Not to be confused with double proxy weddings, a double wedding consists of two couples getting married at the same time. Usually, it is siblings or best friends who opt for a double wedding. A double wedding ceremony is identical to any wedding. However, instead of one, there are two declarations of intent, two exchanges of vows, and so on. Double weddings are a great option to make the special day all the more memorable; it also saves a lot of money, as only one wedding will be held instead of two.
Elopement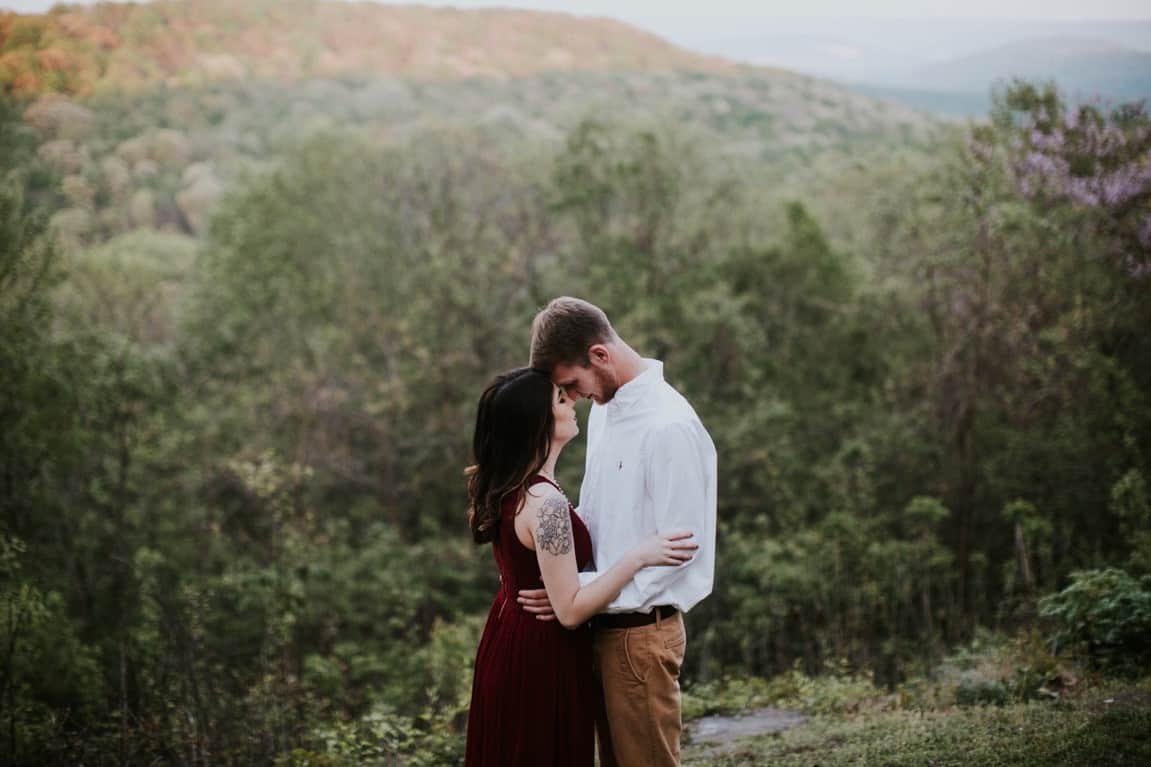 Although popularly known as a wedding ceremony done secretly, elopements do not particularly have to be a furtive affair. Rather, elopements are spontaneous and intimate experiences that generally require less planning than formal weddings. It is up to the couple if they want to inform their friends and families or not — sometimes, the announcement of their marriage is given after the ceremony has concluded.
Formal Wedding
Formal weddings are elaborate and intricate affairs that honor the couple's beliefs, culture, and tradition. Given the formality of the ceremony, there are many rules, both spoken and unspoken, that govern the guests. Everything is meticulously planned and graciously executed down to the seating chart, stationery, and flower arrangements. Formal weddings abide by societal expectations and, on some occasions, serve to flaunt the status and/or wealth of the families.
Group Wedding
Also referred to as collective weddings or mass weddings, group wedding ceremonies formalize the union of more than two couples. These are usually organized by wedding venues or cities. A group wedding ceremony is highly budget-friendly. Typically, the reception is also held at the venue of the wedding with complimentary cakes and champagne.
Humanist Wedding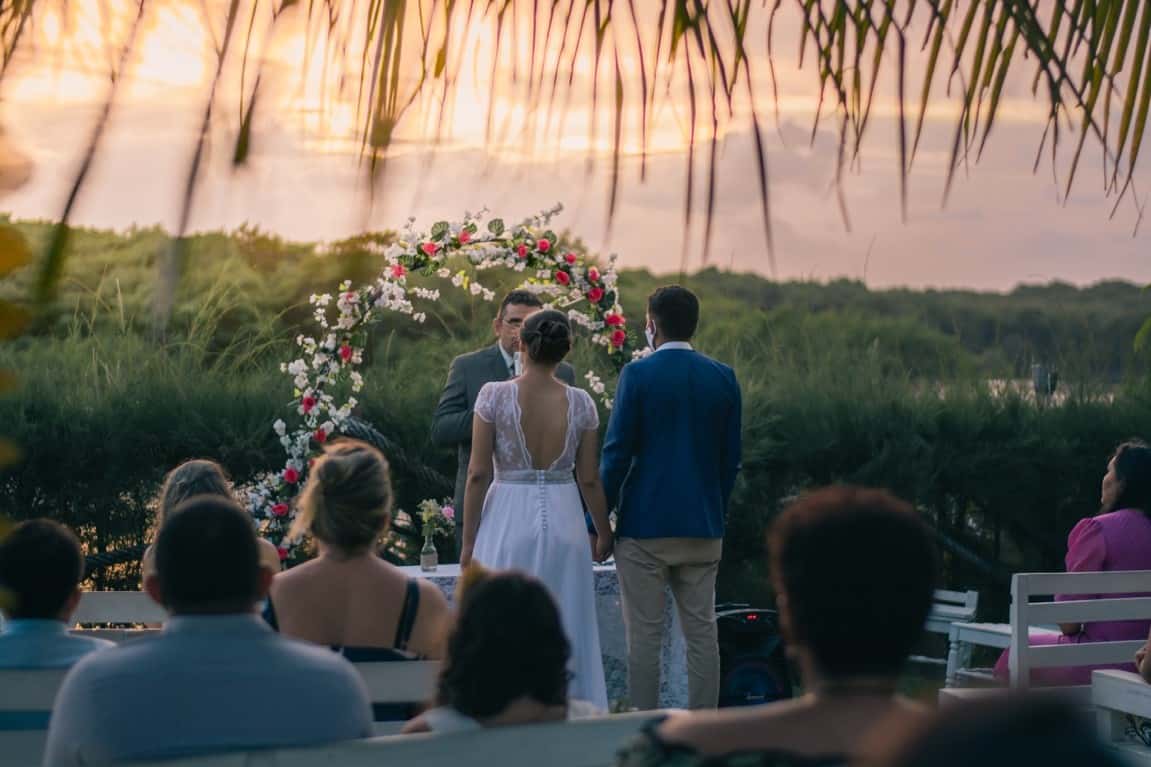 Humanist wedding ceremonies are also non-denominational in that it adheres to no specific religion. In humanist weddings, the couples have utmost freedom on all aspects of their ceremony: the location, the time, the order of events, the traditions to observe, and so on.
Humanism believes that long-term commitments such as marriage are strongest and most secure if they are built on honesty, equality, and support. Thus, humanist weddings revolve around the couple, their relationship, and what matters to them.
Ceremonies are led by a "celebrant" who, throughout the process of planning, establishes a meaningful connection with the couple. This allows them to effectively and sincerely facilitate the wedding in a way that honors the couple's story.
It is important to note that humanist weddings are only legally recognized in Scotland, Northern Ireland, Jersey, and Guernsey, which are constituent countries or dependencies of the United Kingdom. If you plan on having a humanist wedding, it is imperative that you have another, legally binding ceremony — such as a civil ceremony — for your marriage to be recognized.
Informal Wedding
Opposite to a formal wedding, informal weddings are more casual, relaxed, and personal. Couples can customize all aspects of their ceremony and reception. Although there are still plenty of customs and traditions observed in informal weddings, couples have more freedom to modify, mix and match, and be creative.
Interdenominational Wedding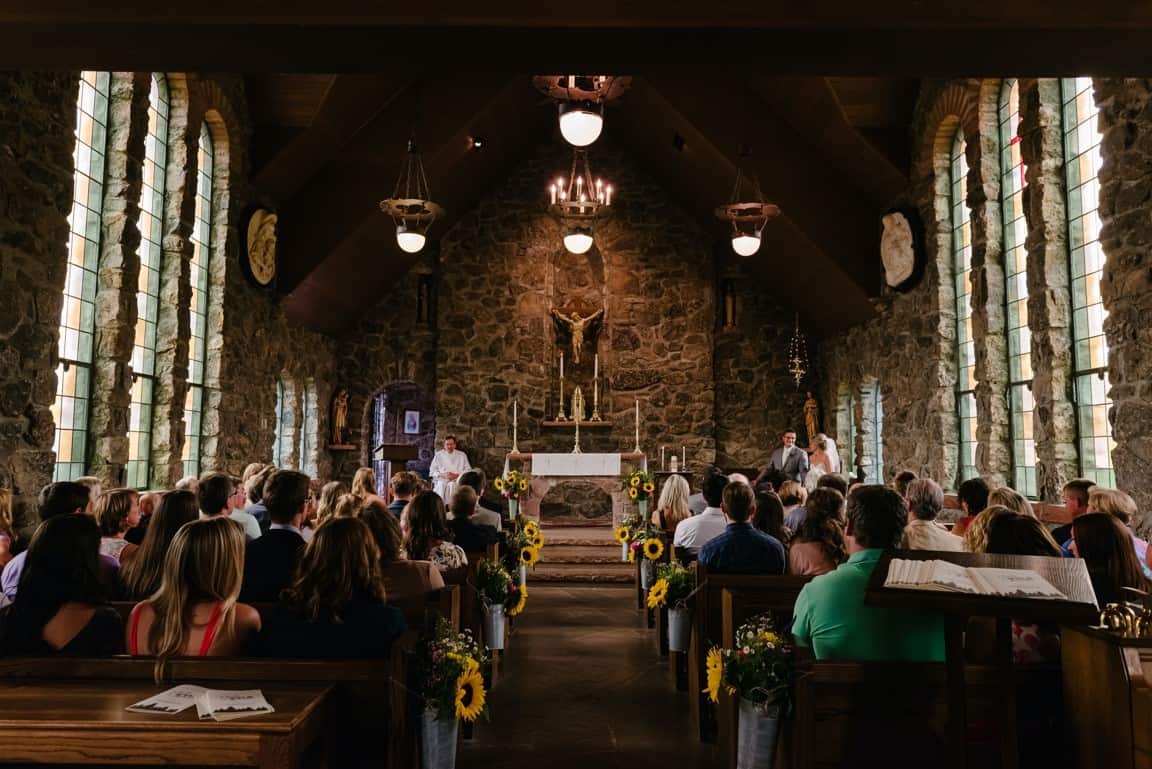 Specific to Christianity, interdenominational weddings refer to the marriage of two people from different Christian denominations. For instance, the union of a Catholic man and a woman of Lutheran Christian faith will be considered an interdenominational wedding.
Each denomination has its perspective on interdenominational weddings. For instance, Methodism does not prohibit it, so long as both parties involved "have the form and are seeking the power of godliness." On the other hand, the Catholic Church requires the Catholic person to obtain consent or "dispensation" from the diocesan bishop before marrying their non-Catholic Christian partner.
Interfaith Wedding
Couples with different religious affiliations may opt for an interfaith wedding ceremony. In doing so, they will both get to honor the traditions and customs of their faith, all while saving them time and money that would have gone to two religious ceremonies.
It is important to note that some religions may not permit interfaith wedding ceremonies; they may require conversion into their faith. Similarly, while some religions may not explicitly prohibit interfaith marriages, they may be surrounded by stigma or negative perceptions.
Military Wedding
Military weddings are not so different from formal or religious ceremonies. What sets it apart is that one of or both the bride and the groom were or are in active service in any branch of the U.S. military. Cadets still in the academy are also afforded a military wedding.
Military chaplains, or commissioned officers, officiate military weddings. However, couples can choose to have a member of the clergy be present in the ceremony as well.
There are a lot of guidelines to keep in mind when having a military wedding. Although it may vary among the different branches of the military, there are dress codes, wording syntax, and strict etiquette to follow.
Non-denominational Ceremony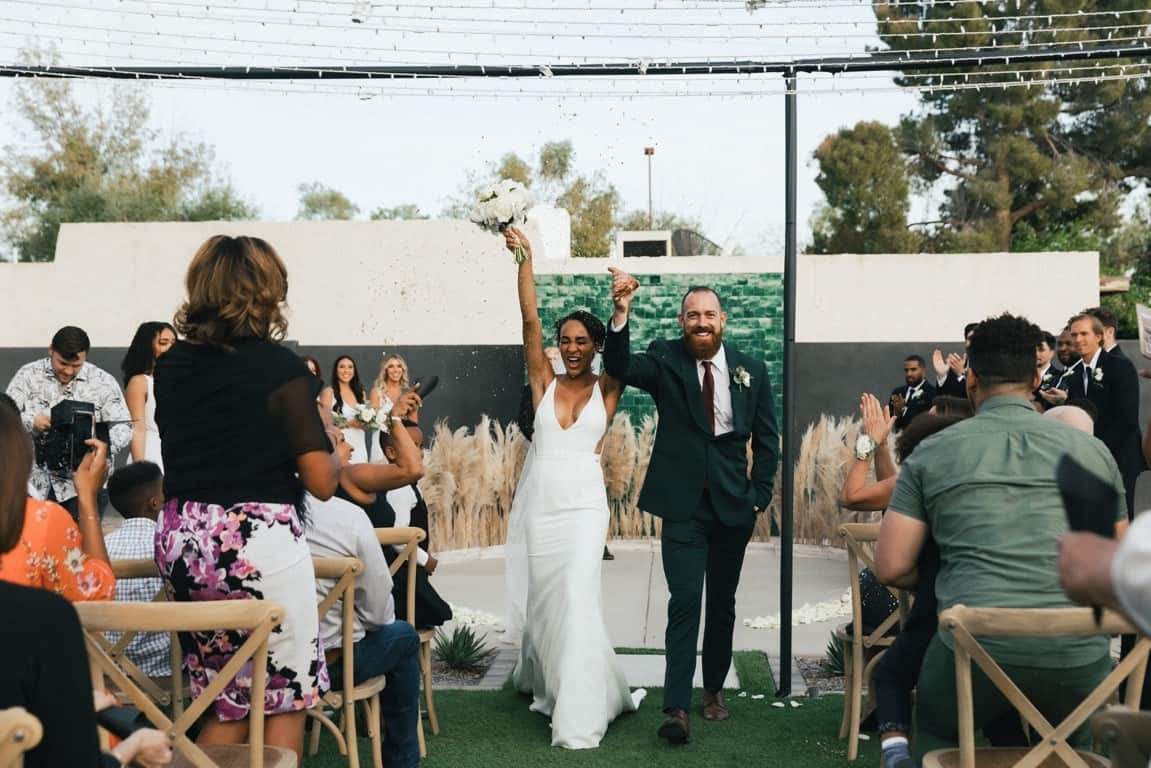 In contrast with religious ceremonies, non-denominational marriages do not observe any religion's teachings. The officiant may still speak of God, albeit in a way that is not specific to any faith. A non-denominational ceremony is perfect for couples who do not adhere to any religion but still want to have a wedding ceremony.
A non-denominational ceremony consists of a procession, the exchanging of vows and rings, the first kiss, and a recessional. However, the couple has control over the proceedings of the ceremony itself. They can include or exclude any tradition according to their preferences.
Pop-Up Wedding
Pop-up weddings share a lot of similarities with group weddings. Pop-up weddings are typically organized by companies or organizations that take care of every aspect of the wedding, including the decorations, vendors, and logistics. All the couple has to do is show up at the location on their schedule.
Proxy Wedding
In a proxy wedding, one of the individuals getting married is not physically present in the ceremony. Instead, a representative stands in for the absent person. Video conference technology, such as Skype and Zoom, is utilized to make proxy wedding ceremonies possible.
Proxy weddings are commonly held for people whose partner is in the military on active duty. A unique circumstance where a proxy wedding was necessary was in the marriage of a Russian cosmonaut and his bride living in America at the time.
Proxy weddings have a rich history and used to be more common in the past. European monarchs and nobilities engaged in proxy marriages as early as the Middle Ages. During World War I and II, various countries permitted proxy weddings for frontline soldiers marrying their partners at home via telephone.
It is important to note that nowadays, proxy marriage ceremonies can be solemnized in only a handful of jurisdictions, namely California, Colorado, Kansas, Montana, and Texas. However, the marriage itself is legal and will be recognized nationwide.
Religious Ceremony
As the name denotes, religious wedding ceremonies unite the couple in accordance with the customs and beliefs of their religion. Each religion has its own processes and traditions when it comes to marriage; most of the time, having a church leader or evangelist officiate the wedding will get your marriage recognized within the congregation.
Some religious ceremonies take place in their respective place of worship. For example, Catholic weddings typically require that a church be its venue. This means that there is not much room to customize and personalize your wedding.
However, it is also possible for weddings to be held in nonreligious spaces, as long as it is still a religious leader who officiates the event.
It is worth mentioning that a lot of religions obligate couples to partake in pre-wedding counseling.
Here are some religions with some insight on their wedding traditions:
Buddhist Weddings – opposite to other religions, Buddhists view marriage as a secular matter. Buddhist weddings revere Siddharta Gautama's teachings and are a symbol of the couple's commitment to kindness, balance, and self-actualization. Contemporary elements of a wedding, local culture and customs, and old rituals in Buddhism are often combined. As marriage is viewed as a secular matter, Buddhist weddings are commonly held at home or in a rented venue.
Catholic Weddings – Catholic weddings can be held either during Mass or outside of Mass. The wedding party, composed of bridesmaids and the maid of honor, groomsmen and the best man, the couple's parents and grandparents, the officiant, the flower girl and the ring bearer, and the couple themselves, enter the venue in a procession. The rite of marriage consists of the declaration of intent, the exchanging of vows, the exchanging of rings, the pronouncement, and in some cases, the general intercessions, the Lord's prayer, and the nuptial blessing.
Hindu Weddings – there are eight forms of marriage with varying degrees of religious appropriateness and social acceptability. The most widespread and valid is the Brahma marriage, where the father of the bride finds a suitable man and arranges their marriage. The ritual of Kanyādāna, where the father hands over the bride to the groom, is very significant in their wedding ceremonies. Across all eight forms of weddings, the belief is that a man becomes suitable if he has finished his studenthood. A woman is viewed as suitable once she reaches puberty and has never been married.
Jewish Weddings – Jewish wedding rituals start as soon as the couple decides to get married. On the day of the wedding itself, two witnesses sign the wedding contract or ketubah just before the ceremony starts. The groom puts a veil over the bride's face in the bedeken The marriage ceremony is done under a chuppah or a marriage canopy to symbolize the couple's new life together. The ceremony concludes with the recitation of Sheva Brachot or the seven blessings in Jewish marriage and the breaking of glass to signify the Temple's destruction.
Muslim Weddings – in many cases, Muslim marriages are arranged by parents. The bride's and groom's families meet to discuss the mahr, which is the payment from the groom to the bride. The couple is required to sign a marriage contract; moreover, ceremonies are usually simple and consist of Qur'an readings, the signing of the marriage contract, and an exchange of vows. After, a large feast or walimah is held to announce the wedding public. Muslim wedding customs as a whole vary across cultures, with each country having its own set of traditions.
Same-sex Wedding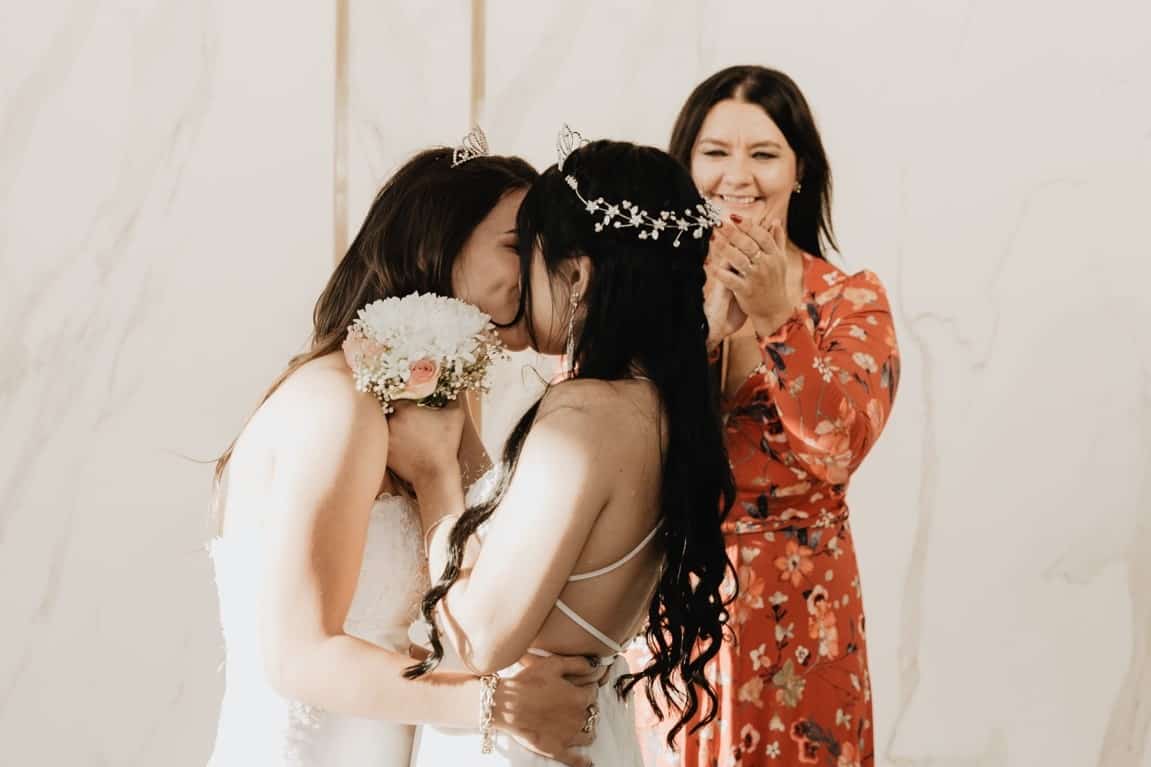 Over the past several years, more and more countries and jurisdictions are recognizing and legalizing same-sex weddings. Couples consisting of two men or two women are starting to be given legal rights, state protection, and recognition for their union.
There is a lot of flexibility when it comes to same-sex weddings. They can hold religious ceremonies, destination weddings, elopements, and so on.
Unfortunately, there is still a lot of work ahead; there are many countries where same-sex couples are not recognized and punished for loving who they love. In cases like these, a commitment ceremony or a civil ceremony are viable options.
Choosing Which Type is Best for You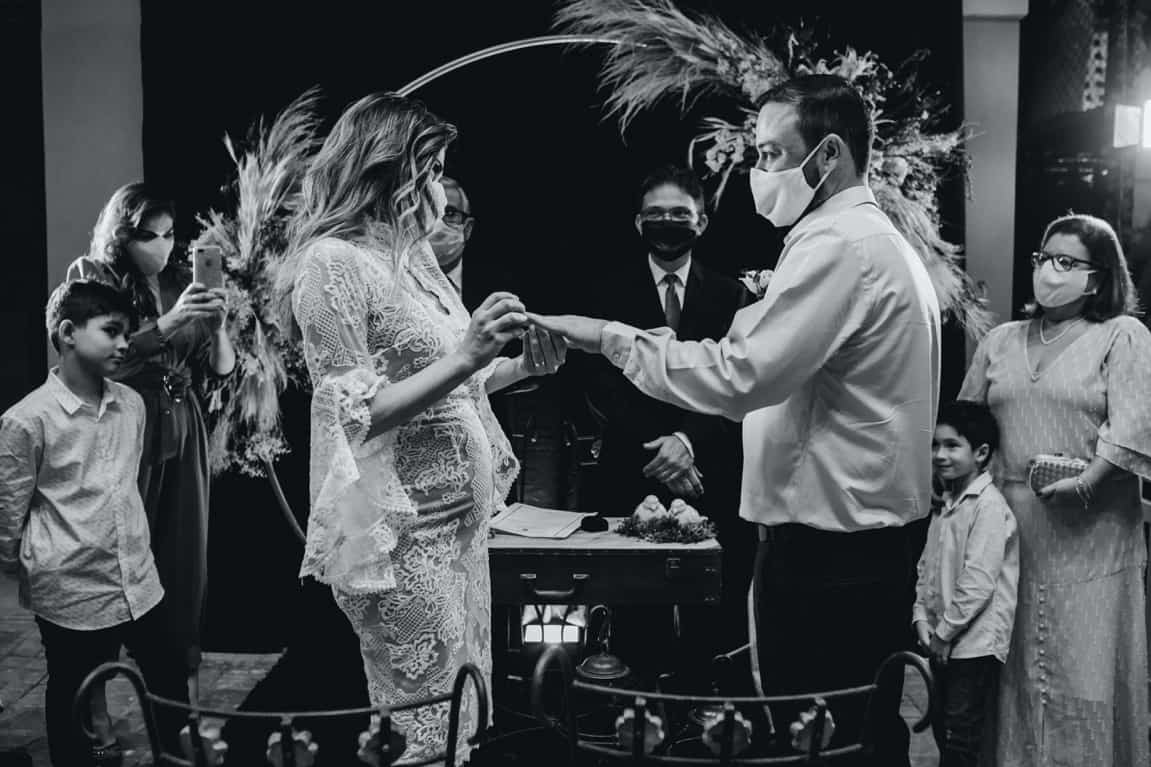 Weddings are not one-size-fits-all; every couple will have different perspectives and preferences when it comes to their special day. Choosing which type of ceremony to hold can be difficult, but making the decision can be a bit easier with these criteria.
You and Your Partner's Religious Affiliations
A significant aspect to consider is the religion you and your partner subscribe to. If you are of the same faith, then a religious ceremony may be the best fit. If you have different religions, then it is best to hold an interfaith or interdenominational wedding ceremony. If you do not adhere to a specific religion, a non-denominational wedding ceremony is your best option.
Budget
Some wedding ceremonies are more expensive to execute than others. If finances are not a problem, you may want to have a formal wedding or a destination wedding. If you have budgetary constraints, you may want to consider a double wedding, a mass wedding, or an informal wedding.
Amount of Planning
Similarly, some wedding ceremonies take more planning than others. If you are up for the challenge, then go for a destination wedding, a formal wedding, a humanist wedding, or a religious ceremony. Otherwise, you may want to consider an elopement, a pop-up wedding, or taking part in a mass wedding.
Purpose of Getting Married
A legally recognized marriage entails socio-economic benefits for the couple. If this is what you are after, consider having a civil ceremony, a formal wedding, or a religious ceremony. If you simply want to announce and showcase your love for each other, legal recognition aside, then a humanist wedding or a commitment ceremony is the perfect fit for you.
Circumstance and Condition.
If you and your partner are in a long-distance relationship, then you may want to hold a proxy wedding or even a double proxy wedding.
In the United States, same-sex marriage is legal in all 50 states as of 2015. Worldwide, same-sex couples do not have many legally binding options because of negative public perception, persistent age-old beliefs, and antagonistic legislation. Religious ceremonies are often out of the question for same-sex couples as well.
Final Thoughts
The 19 different types of wedding ceremonies differ in who can participate in them, how they are done, and if they can provide legal recognition. It is important that in deciding which ceremony you will partake in, you and your partner are on the same page. Additionally, things to consider, such as budget, religious affiliation, and circumstances, could influence which options are available to you.