Many people see Italy as the pinnacle of romance: rich history, stunning architecture, mouthwatering food, majestic views, and renowned art. Couples around the world are drawn to the country's charm, wishing to exchange vows in the Bel Paese (beautiful country).
Villa del Balbianello is a famous venue in Lake Como, Italy. The average Villa del Balbianello wedding costs anywhere between €10,000 to €20,000 ($10,795.50–$21,591.00).
After a brief description of the location's enduring beauty and appeal, a breakdown of how much it costs to get married in Villa Del Balbianello is provided below. Some tips and things to remember while you plan your wedding are also given.
The Magical Appeal of a Villa Del Balbianello Wedding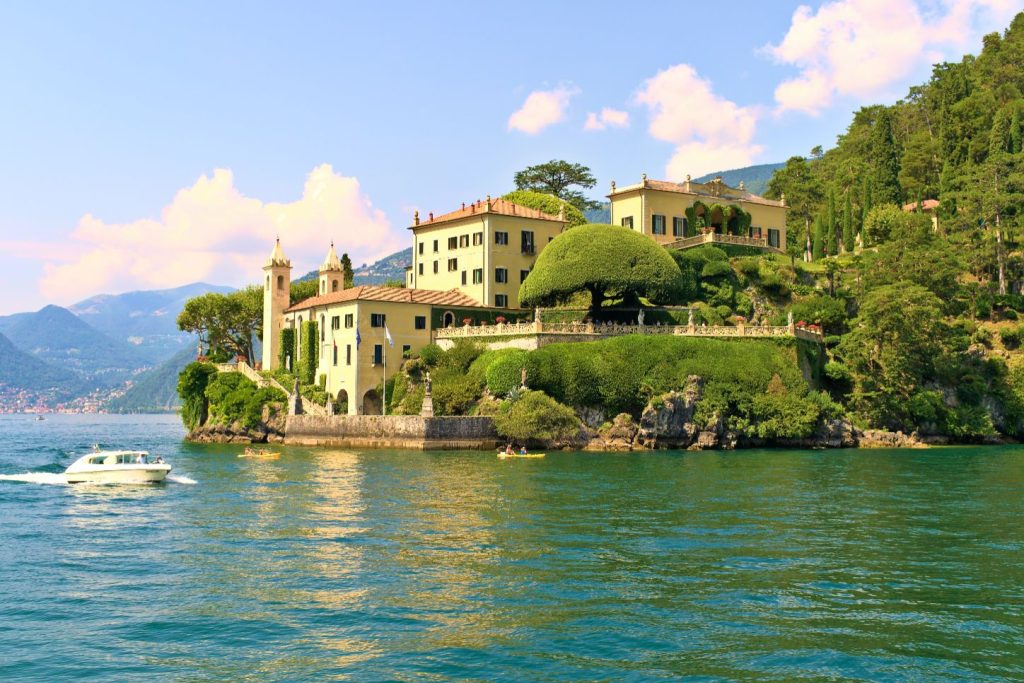 Among all the wedding venues in Lake Como, Villa del Balbianello is one of the most well-known options. You may have seen the villa featured in movies like Star Wars: Episode II – Attack of the Clones, where the iconic kiss between Padmé Amidala and Anakin Skywalker took place.
An extensive and grand garden surrounds the entire property, peppered with holm oaks and overlooking the breathtaking Lake Como. You will see meticulously groomed hedges and lawns, steep rocks, and more.
Villa del Balbianello consists of two residential buildings, a church, and an ornate portico called Loggia Durini. Typically, Villa Del Balbianello weddings—and other private events—are held in this portico.
There is also the newly built Loggia Segré, which can accommodate your guests for a ceremony or a sit-down dinner. This new loggia has breathtaking panoramic views of Lake Como. Likewise, it has a secluded terrace perfect for an intimate afterparty or cocktail hour.
The residential buildings are a treasure trove of history; you will find paintings, pieces of furniture, works of art, and artifacts dating back to the 17th century. You might have to book a guided tour to get access to the villas, though.
Getting Married in Villa del Balbianello: Costs and Expenses
Category
Average Cost
Venue Rental
€9,000
Catering
€100 to €200 per guest
Flowers and Decor
€1,000 to €3,000
Music and Entertainment
€750 to €3,000
Photography and Videography
€3,000 to €5,000 (photography)
€2,000 to €4,000 (videography)
Wedding Planner
€2,000 to €6,000
Miscellaneous
€2,000 to €4,000
Venue Rental
Price range: €2,000 to €47,000 ($2,159.10–$50,738.85)
Average: €9,000 ($9,715.95)
Villa del Balbianello is open to the public from 10 a.m. to 6 p.m. every day except Mondays and Wednesdays. You can hold your wedding even if the villa is open for visitors, provided that you have less than 50 guests.
Otherwise, you can wait until the villa closes at 6 p.m., choose a Monday or Wednesday date, or go for a Saturday wedding. Your choice of schedule, along with how many guests you invite, will influence the price of renting Villa del Balbianello for your celebrations.
Renting Loggia Durini for 2 hours can range from €2,000 to €7,000 ($2,159.10–$7,556.85).
Adding Loggia Segré, including its private terrace, for aperitifs can cost you €2,500 to €9,500 ($2,698.88–$10,255.73). This figure gives you three hours for your celebrations and can accommodate up to 100 guests.
Extending your rental to dinner—a maximum of 6 hours—will cost you anywhere between €6,000 to €15,500 ($6,477.30–$16,733.03). If you also want to use the lake terrace, you have to prepare €25,000 to €47,000 ($26,988.75–$50,738.85).
Be mindful of staying within schedule. Every additional hour can add €2,500 ($2,698.88) to your Villa del Balbianello wedding costs.
Catering
The cost of catering will vary on several factors, including the complexity of your planned menu, the number of people to feed, and so on. In general, set aside €100 to €200 ($107.95–$215.91) per guest.
This means that with 50 guests, you might have to spend €5,000 to €10,000 ($5397.75–$10,795.50) on food and drinks. You might have to add some extra for dessert, so double-check with the specific caterer you are working with.
Flowers and Decor
The venue itself will need minimal decor; you already have a jaw-dropping backdrop in Lake Como, along with the ornate architecture and landscape of the property. You only need to add a few touches to make it more personal.
You also need to source flowers for your bouquets, boutonnieres, and centerpieces.
Set aside around €1,000 to €3,000 ($1,079.55–$3,238.65) for flowers and decorations.
Music and Entertainment
Having some form of entertainment is essential for an unforgettable wedding. Some of your options include live musicians, DJs, dancers, bands, and so on. You can also think of unique forms of entertainment to make the night even more unforgettable.
Prepare €750 to €3,000 ($809.66–$3,238.65) to provide entertainment at your ceremony and reception.
Photography and Videography
Another major addition to the cost of a Villa del Balbianello wedding is photography and videography. You may want to splurge on a local team who can beautifully capture your special day.
On average, you may have to spend €3,000 to €5,000 ($3,238.65–$5,397.75) for photography and €2,000 to €4,000 ($2,159.10–$4,318.20) for videography. Some vendors offer packages that cover both.
Browse their portfolio thoroughly before hiring a photographer and videographer. Likewise, it is best to have an approximate of how long you will need their services.
Wedding Planner
Planning a destination wedding is no joke—it can be overwhelming, seeing how many aspects you need to take care of. The language and culture barrier only adds more challenges to the process.
As such, hiring a reliable local wedding planner can be one of the best investments for your Villa del Balbianello wedding.
Depending on the coverage and extent of the services you need, expect to pay around €2,000 to €6,000 ($2,159.10–$6,477.30) for a professional wedding planner.
Miscellaneous Costs
There are many small expenses you need to prepare for when it comes to your wedding—before, during, and after the big day. This includes ordering invitations, making rentals, giving tips, buying wedding favors, and so on.
As such, these miscellaneous costs will vary widely depending on your needs, preferences, the number of guests, and so on. In general, prepare €2,000 to €4,000 ($2,159.10–$4,318.20) in your Villa del Balbianello wedding budget for this category.
Villa del Balbianello Wedding Costs: Things to Remember
Start Processing Your Requirements Early
Since you will be getting married in a foreign country, you have a bit of paperwork to get through. If you have already hired a wedding planner, they will be happy to assist you with the entire process.
Visit this guide to learn more about the process for American citizens looking to get married in Villa del Balbianello, Lake Como.
Accessing Villa del Balbianello
There are two primary ways to get to Villa del Balbianello:
Walking approximately one kilometer (0.62 miles) from Via degli Artigiani
Taking a taxi boat from Lenno Beach, costing around €8 ($8.64) per roundtrip
To get to Lenno, you can take the C10 bus or take a boat from another lake town.
If you have guests with disabilities and special needs, you can coordinate with the venue's management. They can provide a car if necessary.
Transportation is something you have to think about, especially as your guests are most likely not familiar with the area. Make arrangements for their convenience, such as hiring a taxi boat or shuttle service.
Get Approval for Vendors
Villa del Balbianello only works with select vendors. It is worth asking the management for a list of approved vendors or at least consulting them before signing a contract with a service provider.
No Accommodation in Villa del Balbianello
Although the property has residential buildings, Villa del Balbianello does not actually provide any accommodation. However, you have a lot of nearby options—hotels, villas, resorts, apartments, and the like.
While booking accommodation for yourself, check if the venue offers any group discounts. Mention that you will be getting married nearby and that you have a certain number of guests. This way, everyone can save on booking their stay for your destination wedding.
Marrying Into the Night Is Okay
You can rent Villa del Balbianello up to 2 a.m. without feeling guilty about the noise you are making. The property has no neighbors; you can sing and dance the night away without worrying about noise complaints from nearby venues.
Purchase Wedding Insurance
Spending such a large amount on anything can be intimidating. The cost of a Villa del Balbianello might be giving you financial anxiety, which is totally understandable.
Give yourself a sense of relief and protection by availing of wedding insurance, which will protect you from unexpected cancellations and circumstances beyond your control.
Consult insurance providers to determine the right package for you and your partner. In general, prepare €200 to €600 ($215.91–$647.73) for wedding insurance.
Final Thoughts
Italy is a gorgeous country for destination weddings, and there is no shortage of venues that can turn your dreams into reality.
Planning a wedding in Italy can be overwhelming, especially as you look at the price tag, but you do not have to spend all your savings—and go into debt—just to have your dream wedding.
By being smart and strategic with your expenses, a wedding in Villa del Balbianello is within reach.