Receiving an engagement ring is an unforgettable occasion; it is a physical symbol that you and your partner are ready to take your relationship to the next level. However, when it comes to finally picking a wedding band, you might find it challenging to pick one that suits your engagement ring.
The shape of a diamond — or any gemstone — influences what rings and bands will go well with it. Oval-cut is a well-loved diamond shape for any jewelry, especially engagement rings. Below are the top four wedding bands for oval rings:
Chevron wedding bands
Diamond wedding bands
Emerald-cut wedding bands
Ring enhancers
Below is a more detailed description of each wedding band style, followed by concrete examples of stacks with an oval diamond ring. Practical general tips, such as techniques for matching multiple bands and rings, are provided.
Wedding Bands for Oval Diamond Rings: Lovely Pairings
1. Chevron Wedding Band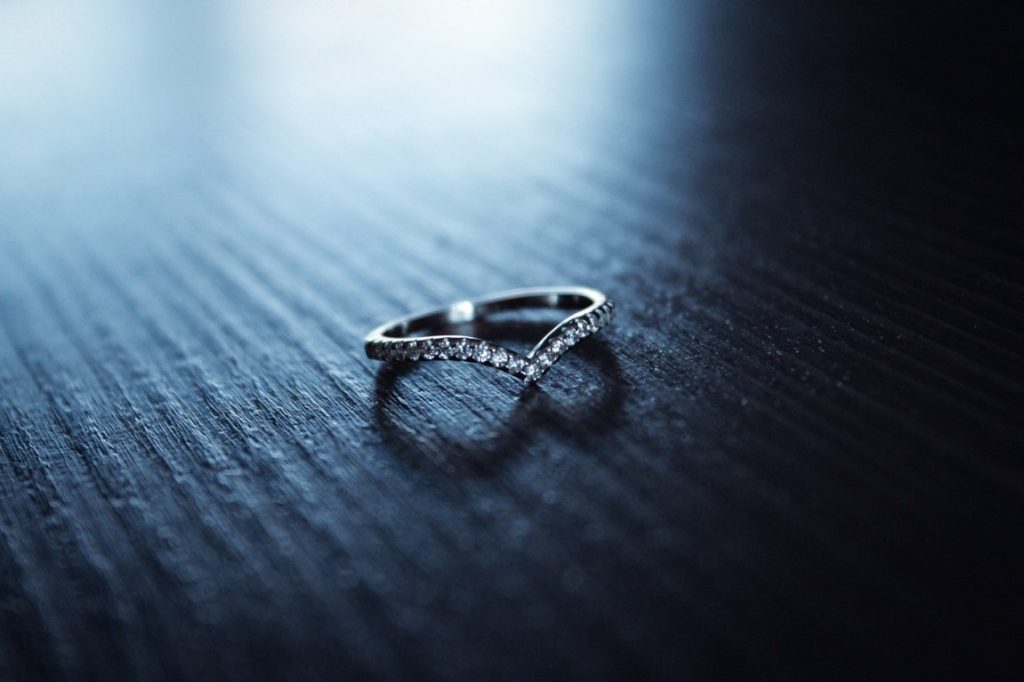 The most distinctive characteristic of a chevron wedding ring is its V-shaped band. This type is also known as a wishbone or curved ring because of its shape. Jewelers offer different styles; for instance, some bands are plain, but some have diamond accents.
The chevron style is an ideal wedding band for an oval diamond ring because the elongated stone will fit perfectly in the V-shaped indentation. When stacked, it looks like your wedding band is "adjusting" to or "accommodating" your engagement ring's diamond.
Another benefit of a chevron wedding band is its versatility. You can accentuate your engagement oval diamond ring by changing the indentation's length, width, and depth. You can also choose between minimalist and maximalist designs. Here are some popular styles:
Classic metal. You can choose a plain band with a subtle curve. This style's simplicity will allow your oval diamond ring to take center stage.
Embellished chevron. This style features other gemstones, such as diamonds, on its indentation. Alternatively, an embellished chevron wedding band can have intricate metalwork. This ring works flawlessly regardless of whether it is stacked with your engagement ring or worn alone.
Gemstone wishbone ring. This band features your gemstone of choice, usually encrusted along the ring's curve. The specific stone has specific and heartwarming meanings.
Eternity wishbone ring. Eternity rings feature a continuous line of gemstones along its band made with precious metal. Adding identically cut diamonds along the indentation will highlight its V shape.
Each style of chevron wedding band has its pros and cons. Most importantly, your chosen style will have different visual effects. For example, a gemstone wishbone ring will add color and vintage touches to your stack.
Besides its stunning visuals, a chevron wedding band also boasts heartfelt symbolism. Wishbones represent wealth, positivity, and good fortune. Because of these meanings, chevron-style rings can be a touching gift for anniversaries and other milestones.
If you plan on wearing your wedding band below your engagement ring, you should consider wearing a chevron facing downwards. Doing so will achieve that "accommodating" effect mentioned above. However, there is no definitive way to wear a chevron band; your decision will depend on your preferences.
2. Diamond Wedding Band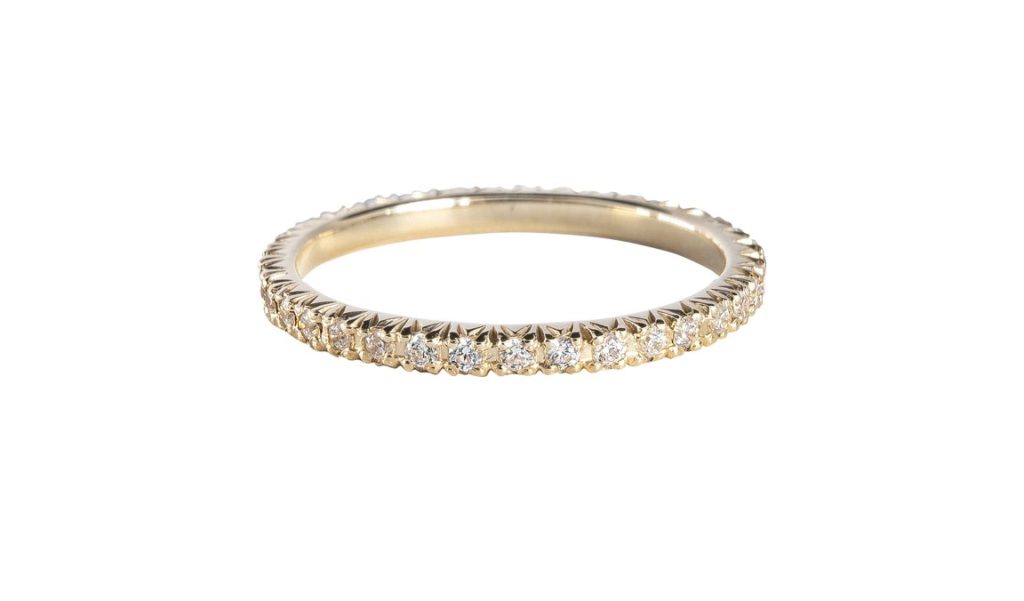 A list of wedding bands for oval diamond rings would not be complete without the diamond wedding band. This design is distinctively flashy, breathtakingly complementing your engagement ring.
There are two ways you can go with a diamond wedding band:
Diamond eternity band. As mentioned above, this style features individually set diamonds on the entire band.
Diamond half band. As its name denotes, an eternity half band only has diamonds on one side, forming a semicircle.
If you choose this wedding band, you will achieve a consistent look because of the matching diamond cuts. Moreover, this style of ring stack is suitable for people who love a flashy, dazzling look.
If you opt for an eternity half band, make sure to expose the side with diamonds to maximize the bling.
3. Emerald Cut Wedding Bands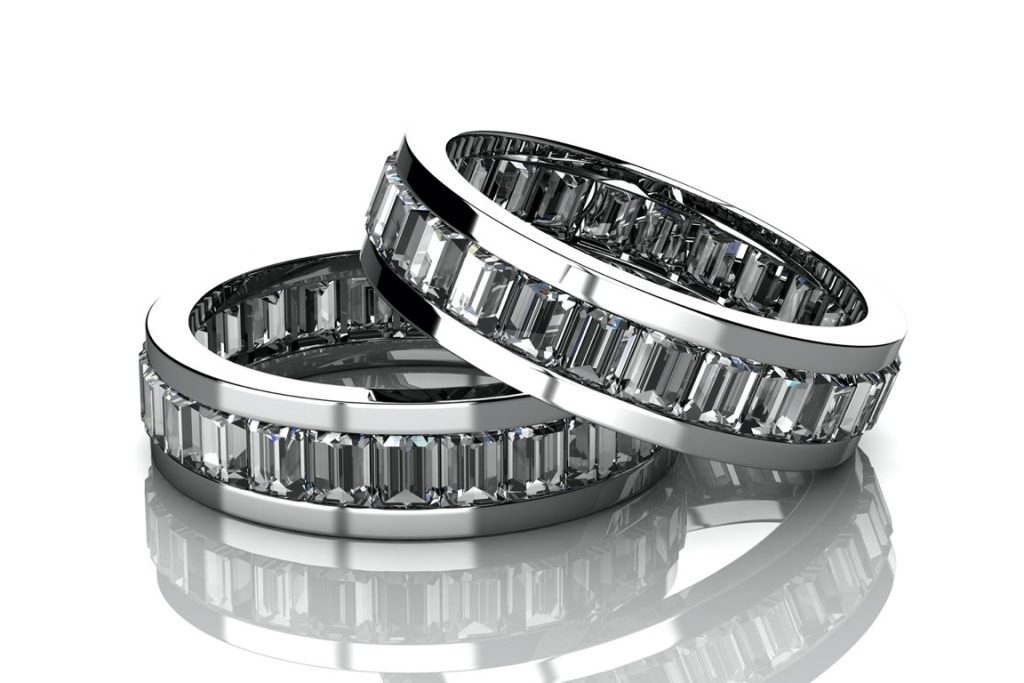 Some people do not like the appearance of an oval diamond wedding band with an oval diamond ring. They might prefer a different cut to contrast their elongated engagement stone.
In this case, you can reach a middle ground with an emerald cut band — also known as a step cut. A stone with an emerald cut has a rectangular shape with parallel facts on every side and corner. As a result, you will achieve a hall of mirrors effect.
Like other types of wedding bands for oval diamond rings, you can find different styles of emerald-cut rings. Here are some examples:
Eternity diamond emerald cut ring

Baguette cuts. Baguette-cut diamonds are a specific type of step cuts with longer rectangular stones. They feature 14 facets with length tapered cuts. Like an oval diamond ring, baguette-cut diamonds are also thin and elongated.
Combination of round-cut diamonds and baguette-cut diamonds
Baguette-cut diamonds with pavé setting. Pavé wrap is a type of setting on a ring wherein the band's shank has small diamonds. When viewed from afar, a pavé ring with baguette-cut diamonds will look like a glittering cobbled road.
Regardless of your chosen style, your stack of rings will have complementary and contrasting features. The soft oval-cut diamond will go against an emerald-cut diamond band's harsh, geometric appearance.
4. Ring Enhancers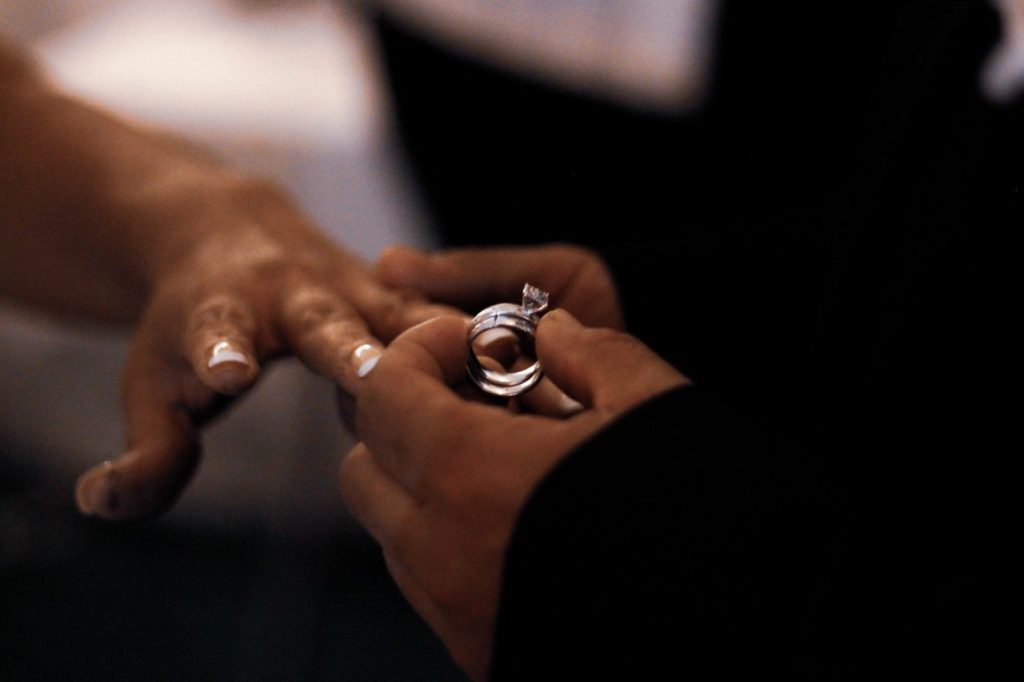 Ring enhancers are extra bands created to go with an engagement ring. They have three primary purposes, the first being to accentuate your engagement ring. They have bespoke designs meant to highlight and embellish your band.
Secondly, ring enhancers can protect your engagement ring from damage. Doing household chores, traveling, going on adventures, and other activities might result in some scratches on your band. However, instead of changing your ring, you can purchase an enhancer as an additional layer of protection.
Thirdly, enhancers can also make a ring fit more securely. When your engagement band is too big, but your jeweler cannot resize it for some reason, getting an enhancer is an alternative you can explore.
While shopping for a wedding ring, you may find that ring enhancers have two general categories:
Ring wrap. A ring wrap consists of one band that surrounds the engagement ring. It typically has bespoke shapes and designs, allowing it to be a standalone accessory whenever you prefer.
Insert ring. An insert ring has two bands with a gap in between where the engagement ring can sit. These enhancers often have fancy details such as pavé gems, gemstones, and more. An insert ring will effectively protect your engagement ring.
A ring enhancer pairs beautifully with Solitaire diamond rings, whether a wrap or an insert. Thus, you can purchase a ring enhancer as a wedding band for your oval ring.
However, remember to purchase an enhancer specifically designed for oval-cut engagement rings. If you choose styles that do not match, your ring stack will not be as visually stunning as you want.
Keep in mind that when you go shopping for wedding bands, you might see ring enhancers called guards, jackets, contour rings, or curved rings. They typically mean the same thing but ask the jeweler to be sure.
Wedding Band for Oval Ring: Breathtaking Examples
The Maeve Oval 4-Prong Solitaire Ring + .35ct Starburst Diamond Tracer Band
The picture above shows Sarah O. Jewelry's stunning
Maeve Oval 4-Prong Solitaire Ring
, featuring a 1.8mm band width, 1-2ct diamond, a GHI diamond color, and a VS2/SI1 diamond clarity. The jeweler offers three metal options: white gold, yellow gold, and rose gold.
The wedding band is a .35ct Starburst Diamond Tracer Band, glittering with seven round diamonds of varying sizes. Tracer bands, or contoured bands, are specifically designed to slide perfectly against engagement rings.
Oval Moissanite Engagement Ring + Moissanite Wedding Band Enhancer with Leaf Details
Like
white topaz
, moissanite is a diamond simulant. Moissanite and diamonds have similar gemological characteristics and appearances. These similarities are apparent in moissanite's brilliance and shine.
The oval-cut moissanite engagement ring is surrounded by a matching moissanite wedding band enhancer, which has a vine-like appearance and leaf motif. These two rings are unique, bespoke, and very eye-catching when stacked.
The 1.8mm engagement band has a lustrous golden color, while the gemstone itself is colorless. As for the enhancer, the width of the band is approximately 4.6mm with round-cut moissanite or natural diamonds.
The Ava Engagement Ring in Rose Gold + The Promise Wedding Band in Rose Gold
The Ava
is a petite engagement ring whose highlight is a 1ct oval-cut simulated diamond. The band is made with 925 Sterling Silver and then plated with 18 Karat Rose Gold. This ring balances elegance, flashiness, and chicness.
The Promise is a 2mm eternity band that comes in rose gold, silver, and gold. You can opt for The Eternity ring if you want a slightly more prominent option. Regardless, this band will astonishingly complement The Ava and its oval diamond simulant.
The beauty of these wedding bands is that they are versatile and flexible. You are not limited to a stack of two rings; if you cannot choose between The Promise and The Eternity, you are free to get both of them to embellish your engagement ring on both sides.
Threaded Ring, Oval-Cut Diamond + Diamond Interwoven Band
The Solitaire engagement ring is a
threaded ring with an oval-cut diamond
from Melanie Casey. The band is simple yet elegant; your options for the metal include 14k yellow gold, 14k white gold, 14k rose gold, and platinum. As for the diamond, you can choose a weight of anywhere between 0.35ct to 11.15ct.
The diamond interwoven band features marquise-cut diamonds whose shape resembles that of the oval-cut diamond ring. Between each marquise-cut diamond, you can find a smaller round-cut diamond. You have the same options for the metal on the band, but you can choose between a full eternity band or a demi.
How to Match a Wedding Band to an Engagement Ring: Tips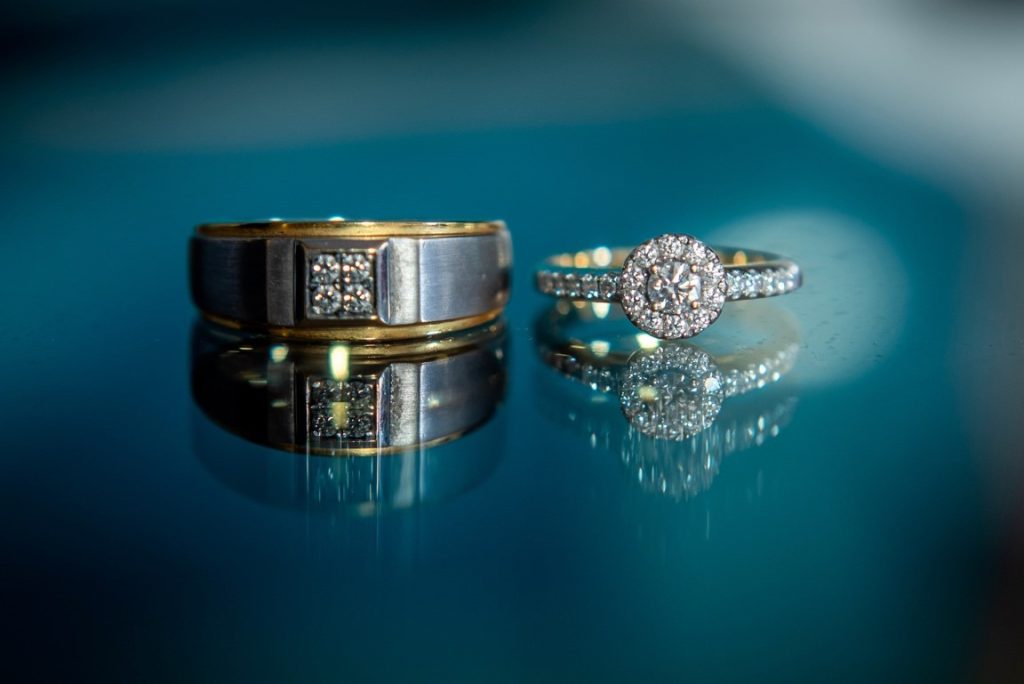 Oval diamond engagement rings are a statement piece — they are bold, unique, and flashy. One of the most appealing qualities of these rings is their elongation. With more surface area, the diamond appears to hang over the shanks.
Furthermore, oval diamond rings fit well with any finger. On the one hand, if you have long and thin fingers, this style will balance them. On the other hand, if you have chubby fingers, the elongated stone will slenderize them.
Ultimately, oval diamond engagement rings will take the spotlight because of their elegance. However, unlike other styles, you can pair them with other equally stunning bands without compromising their shine.
Here are some tips to maximize the visual effect of your wedding band with oval rings:
Know the Different Types of Wedding Bands
Jewelers have different ways of classifying wedding band styles. However, here are some common types of wedding bands:
Classic. This style is traditional, often the most frequently used ring among couples. A classic wedding band typically has a solid metal band, and partners can choose whether they want to encrust it with diamonds or other gemstones.
Contoured. Contoured wedding bands are bespoke; their designs smoothly accommodate the details of your engagement ring. This group of wedding bands often contains the best choices if you want to stack your rings.
Notched. This group is similar to contoured, but notched rings lack the bending of a contoured band. Furthermore, notched rings have a notch, allowing two bands to slot into each other.
Unique diamond accented. As its name denotes, a wedding band with unique diamond accents features diamond embellishments. Some rings that belong to other abovementioned groups can also be classified under this category.
Fancy. This category includes unique diamond-accented rings and other gemstone-accented rings. Any band with intricate designs and embellishments, such as hammer finishes, metalwork, and engravings, also belongs to this group.
Ring wraps and guards. Ring wraps and guards — sometimes called enhancers or jackets — surround a diamond engagement ring. Enhancers can have one or two additional bands.
Each type of wedding band has pros and cons. Moreover, as illustrated above, your current engagement ring will influence the options you have for wedding bands.
Make Way for the Center Stone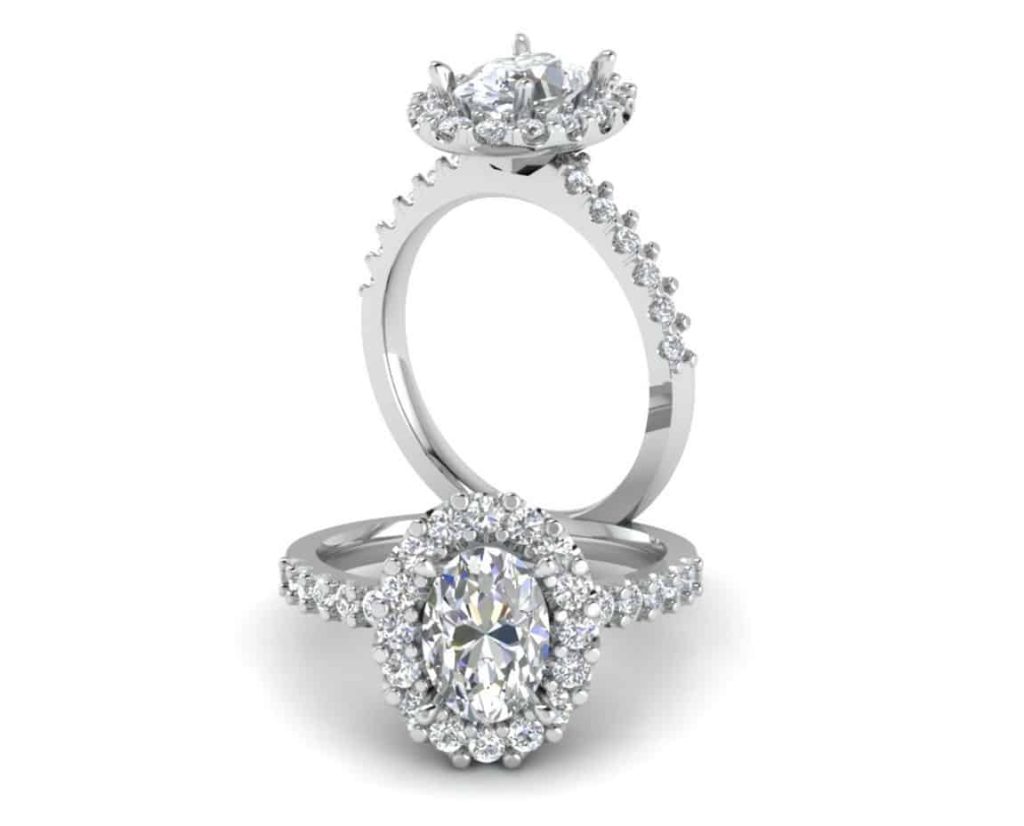 As with any engagement ring, the diamond — or center stone — is the highlight of the accessory. When looking for a matching wedding band for oval rings, you may want one that is elegant but simple.
For example, consider getting a plain wedding band that fits perfectly underneath the oval-cut diamond. You can choose a metal that matches the one used for the engagement ring. Alternatively, you can create a contrast; rose gold and silver, for instance, will look stunning.
An eternity band will also accentuate the oval-cut diamond on your engagement ring. Furthermore, the right eternity band will look like an extension of your engagement ring's bling.
Complement the Diamond
Besides its thinness and elongation, one of an oval-cut diamond's distinctive features is its curves. These curves might be something you want to emulate in your wedding band.
The chevron wedding band is an excellent choice. Its V-shaped indentation complements the oval-cut diamond's curves and accommodates the hanging diamond.
Another unique option to complement the oval-cut diamond's softness is an intertwined band.
Bold Begets Bold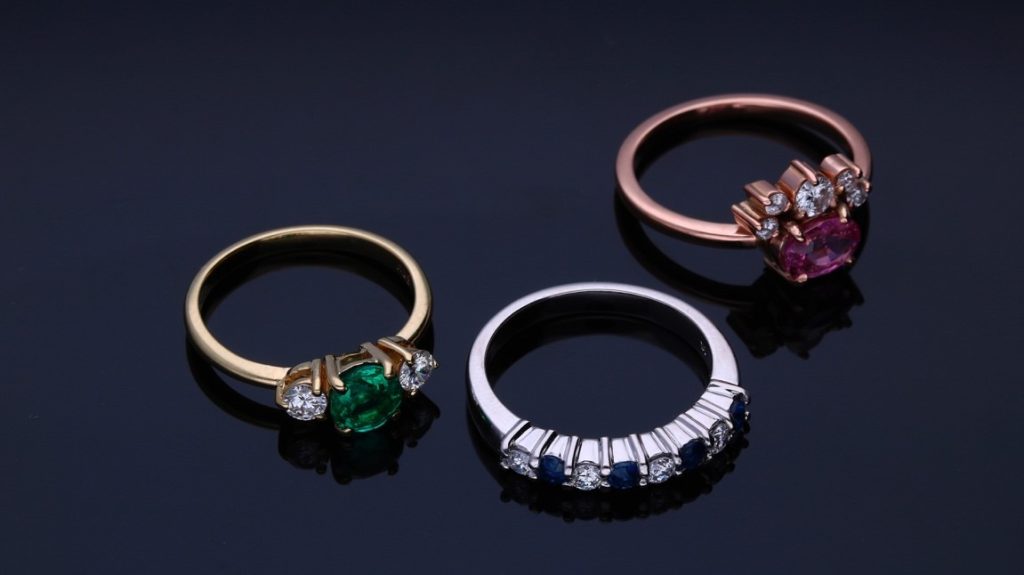 Oval-cut diamond engagement rings are a breathtaking and extravagant choice of accessory. As for couples who want to stack their rings, some opt for a simple wedding band so that the flashy engagement ring takes center stage.
However, some couples want to go all out and amplify the bling of the engagement ring. Thus, they want a bold wedding band to match their bold oval-cut diamond ring.
If this style suits you more, eternity bands are your best bet. Experimenting with different cuts, patterns, and settings of eternity bands will yield gorgeously flashy results.
You can also make a unique statement with a distinctive wedding band. Explore your options for metals, colors, and embellishments.
Stack Three Rings Instead of Two
If you cannot choose between letting your oval ring shine and matching its boldness, remember that you can achieve the best of both worlds. You are not limited to a stack of two rings; if you have the budget, you can get two bands to complement your oval-cut diamond ring.
This option is best done using eternity bands. One eternity band can go over the engagement ring, and the other can go below.
However, going in this direction requires more patience and experimentation. You have to find eternity bands that match each other and your engagement ring. This task might be challenging but with enough time, you can find the stack that speaks to you.
Other Useful Tips to Remember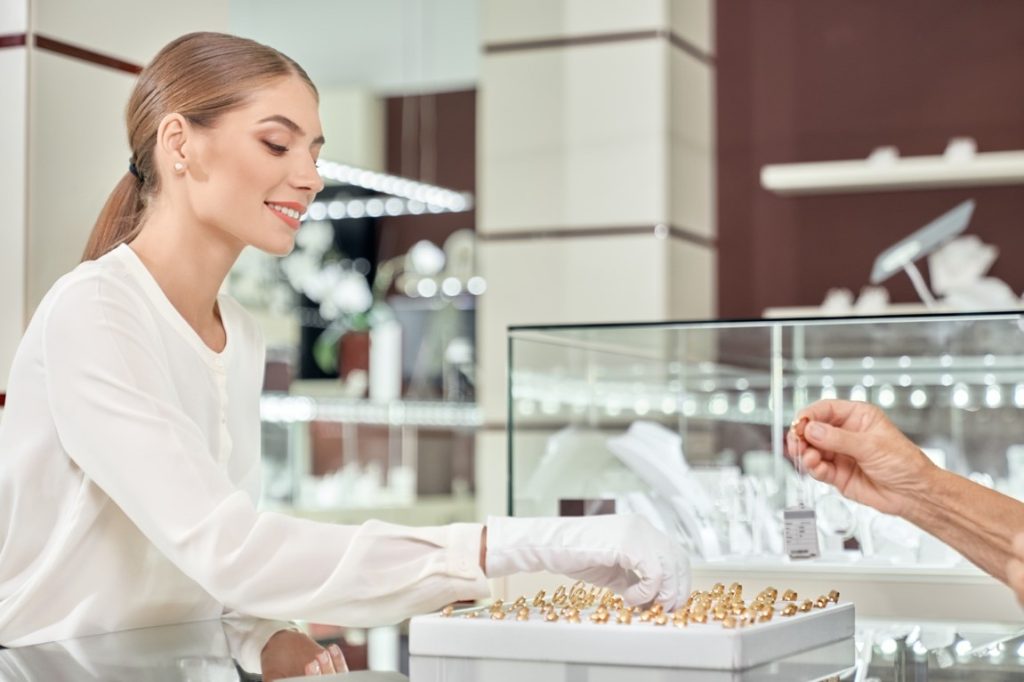 Work with Experts
Many retailers have in-house jewelers and design teams who are more than willing to help you find the right ring stack. Bring your oval-cut diamond engagement ring, explain your vision to the staff, and try the different options.
If there is no nearby jeweler or retailer, look for trustworthy online companies and book an appointment with their team.
You can also look for the perfect wedding band online. Tools like Find My Matching Wedding Ring offer a convenient way to compare and contrast various styles of bands with your current engagement ring.
Look at Wedding Ring Sets
Some people have a good eye for matching things, whether it be accessories, colors, or clothes. Other people might not have that skill. If you and your partner belong to the latter category, consider browsing your jeweler's wedding ring set options.
When you purchase a wedding ring set, you get an engagement ring and a matching wedding band. Having matching rings in one purchase will take away the difficulty of individually choosing bands — from dozens to hundreds of options — that will look great with each other.
You Can Change Your Engagement Ring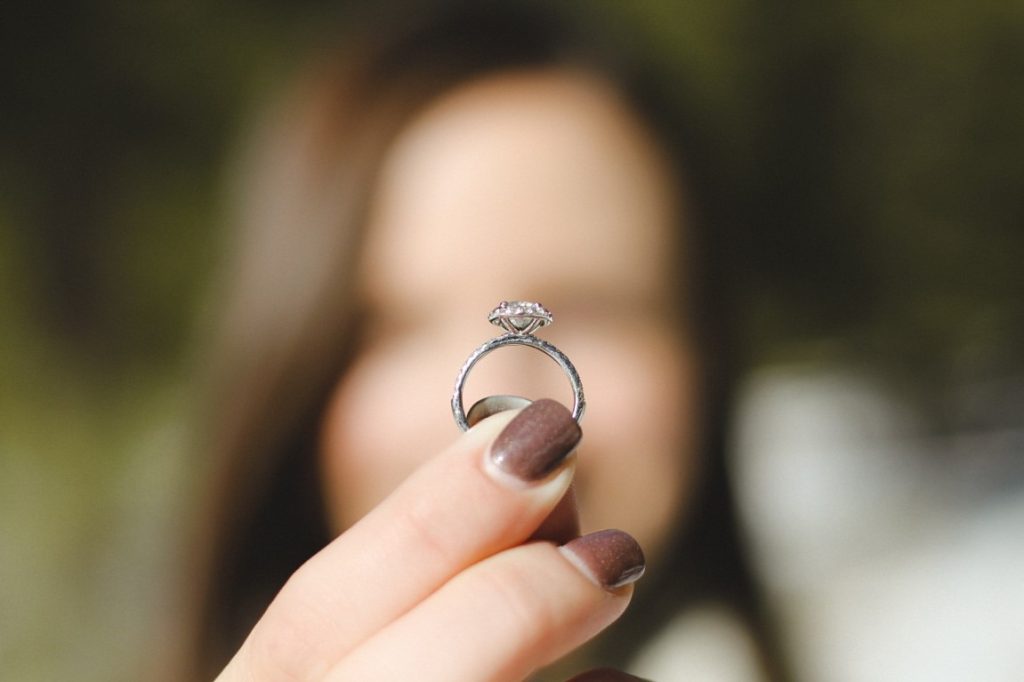 Most people will tell you that your engagement ring is for forever; you have to wear them at least until you are married. Some people choose to stack their engagement ring with their wedding band, which is why they research how to pair the two accessories well.
While it is true that your engagement ring will be with you for a long time, it is okay to change your engagement ring for valid reasons — as long as you have the budget to do so. These reasons include:
Your preferences have changed over time. What you found beautiful years ago may not be as stunning to you now.
You have physically outgrown your ring. The human body is fascinating; there are so many processes that we do not notice. Your fingers might grow or shrink, making your ring too tight or loose. In some cases, resizing the band is not an option; this is a valid reason to change your engagement ring.
Your center stone or band does not flatter your body. Bigger stones are better for bigger fingers, whereas smaller stones are better for smaller fingers. You can change your band if you feel your ring does not flatter your hand or finger.
Ultimately, there is a lot of pressure to get the engagement ring right on the first try. Proposers try their best to discreetly get ring sizes, but they might miss the mark on the design their partners want.
Buy the Rings Together
To avoid the abovementioned situation, you can have multiple conversations about preferences and expectations. You might find it challenging or awkward to initiate this discussion, but it is necessary to prevent wasting your resources.
However, your safest bet is to go to the jeweler and choose your rings together. In doing so, you avoid any "mistakes" and miscommunication.
You Can Redesign Your Ring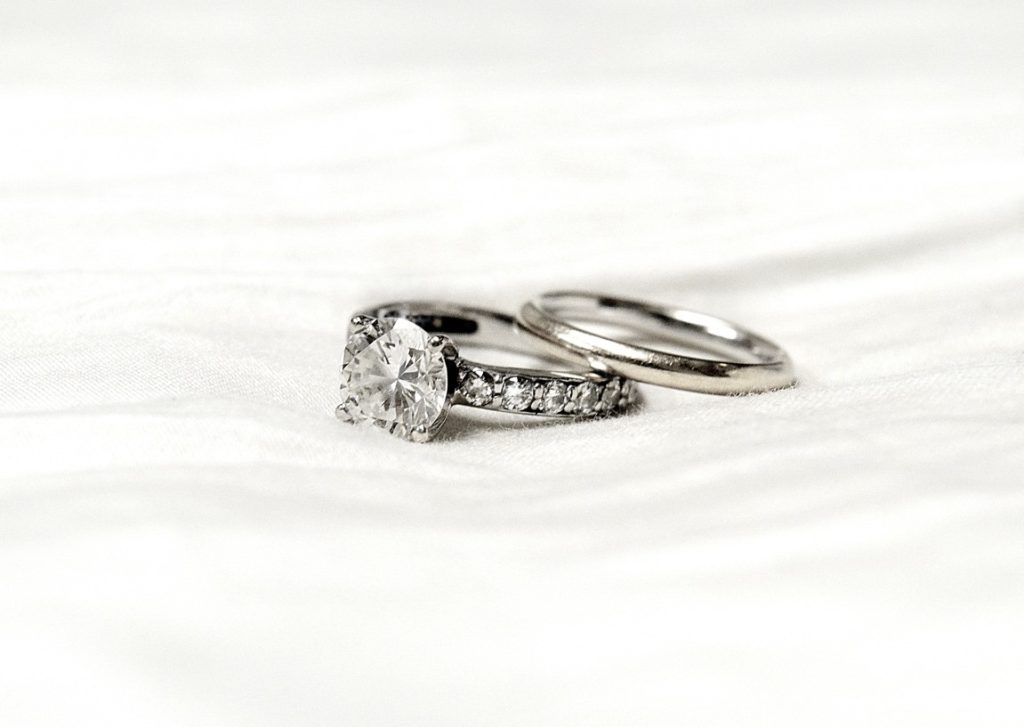 As an alternative to buying new rings, you can modify the design of your current engagement ring to better suit your preferences.
You may find that a halo setting looks better for you. If you want to emphasize your oval-cut diamond, your jeweler might suggest a bright white metal band. Alternatively, they might tell you to get slimmer prongs.
The first practical tip in this list is worth reiterating: work with a trustworthy, experienced jeweler. They will know the process of redesigning a ring, give you insight, and price their services accordingly.
Talk to Your Partner
Before you do anything else, talk to your partner. Tell them if you want a wedding band matching your oval ring. Tell them if you want to buy your rings together. Inform them that you are thinking about redesigning your ring.
Openness and honesty are essential in any relationship. If you forego these conversations, you risk hurting your partner's feelings, especially if they are the proposer. You might accidentally invalidate their efforts.
Assure your partner that this is a personal and stylistic choice. Wanting to make changes to your ring does not make you superficial, nor does it mean that you love them any less. You simply want your ring stack to look the best it can.