Many brides say you will immediately know when you have found the perfect dress. You will get a feeling of exhilaration, contentment, and happiness. However, finding the dress of your dreams is not always straightforward — sometimes, the fit seems right, but the color is not working for you.
When trying to find ideal wedding dress color for pale skin, you must first find your skin's undertone. Your gown's color will depend on whether your skin tone is warm, cool, or neutral. However, some colors, like ivory, champagne, and gray, are flattering for everyone.
A guide for choosing the right color to complement your pale skin is given below, including several DIY methods to find your skin tone. Wedding dress inspirations are also provided, followed by other styling tips worth knowing.
Choosing the Best Wedding Dress Color for Pale Skin: A Guide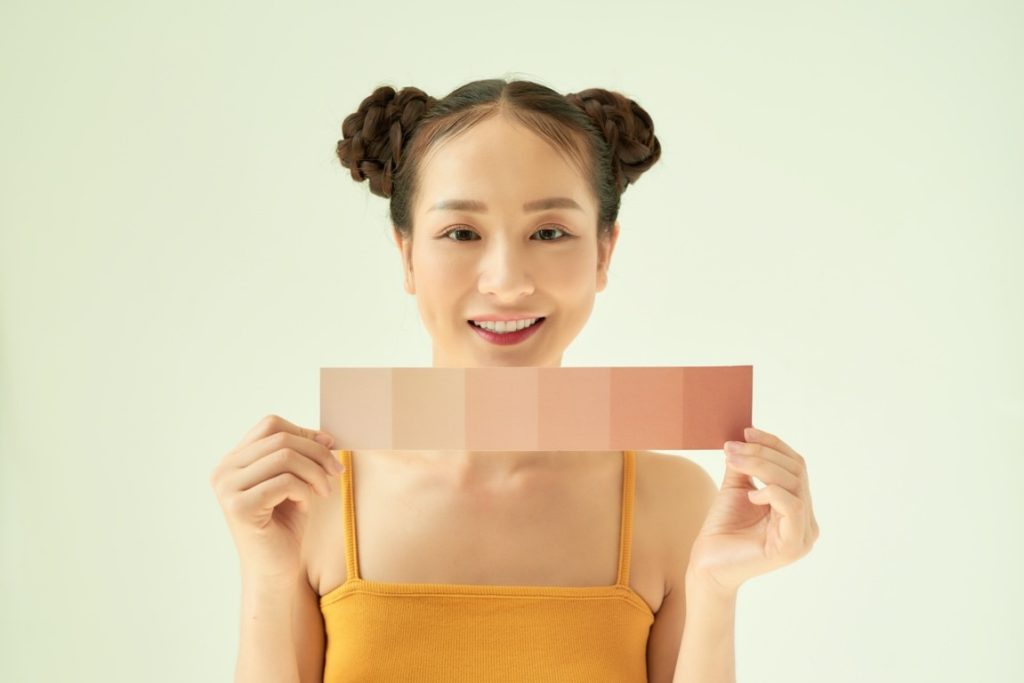 Determine Your Skin Undertone
Some guides might tell you to look at your complexion, determining whether it is fair, dark, medium, olive, and whatnot. While this information is helpful for other things, it will not help you find the perfect wedding dress.
Instead, focus on your skin's undertone. This term describes the color below the surface of your skin, influencing how you look and what shades look amazing on you. There are three types of undertones:
Warm. Your skin appears golden or peachy.
Cool. Your skin seems bluish, pinkish, or reddish.
Neutral. You either have a mixture of warm and cool, or you fall somewhere else on the spectrum. It is also possible not to have an undertone.
There are several ways to determine your skin's undertone. Firstly, you can stand under natural light and check the color of your veins.
You have a cool skin tone if your veins are bluish or purplish.
You have a warm skin tone if your veins appear yellowish or greenish.
You have a neutral skin tone if it is challenging to tell your veins' colors.
If you have gold and silver accessories on hand, trying them on is also an effective way to distinguish your skin's undertone.
Silver accessories look best with cool skin undertones.
Gold accessories suit warm skin undertones the best.
You may have a neutral skin undertone if both metals fit you well.
Similarly, pieces of white and off-white fabrics can help you determine your undertone. Try on a white and off-white shirt, then compare how you look in each one.
Your skin's undertone is warm if you like the white shirt more.
Your skin's undertone is cool if you prefer the off-white shirt.
You can say your undertone is neutral if both shades suit you.
The combination of your physical characteristics can also indicate your skin undertone.
Warm undertones: you have black, blonde, or brown hair, and your eyes are green, blue, or gray.
Cool undertones: you have black, brown, red, or light reddish-blonde hair, and you have brown eyes.
You can use multiple methods to double-check your complexion.
Knowing your skin's undertone is crucial, as it will allow you to find a gorgeous dress that will take your beauty to the next level. Your skin tone also applies to makeup and accessories; choosing the wrong materials will make you look too saturated or too washed out.
Universally Beautiful Colors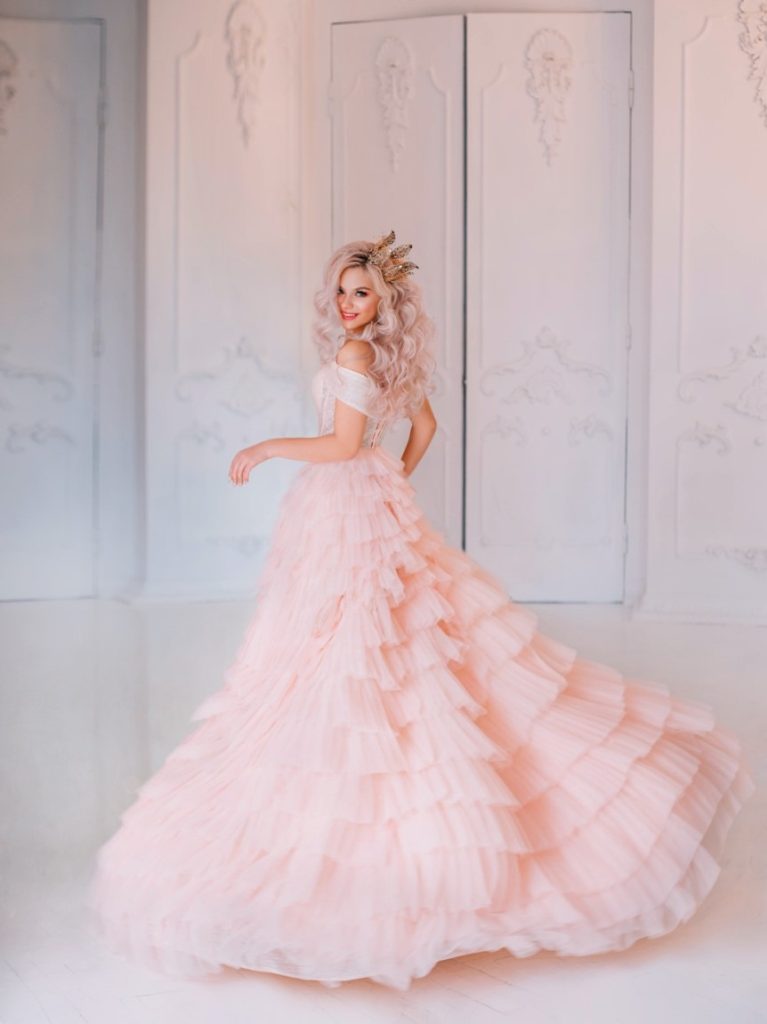 Before diving into each skin undertone, it is worth noting that some colors will look amazing on any bride. Here are some examples of such universally flattering shades:
Off-white. Off-white is an encompassing term for any shade of white with a slight variation from pure white. Specific colors include ivory, cream, eggshell, vanilla, snow, and whitesmoke. Generally, off-white shades are created by adding some yellow or gray to pure white.
Champagne. Champagne white adds a small amount of pink undertone to pure white. Other stylists or retailers might describe the color as an extremely muted yellowish orange, almost appearing beige.
Gray. Gray is a classic neutral tone that complements almost anyone and anything. Technically, gray is a mixture of black and white. You can experiment with how light, dark, and radiant you want your shade of gray to be.
Blush. Generally, blush is an umbrella term for tints of pink. However, this term typically refers to the medium-bright shade.
Among all the universally flattering colors, ivory is said to be the most well-loved among brides. You can find lighter and darker variations of ivory that will accentuate your features.
In the same vein, crystals and diamonds are breathtaking choices for your jewelry. Every bride will look astonishing with accessories that feature these stones.
Best Dress Colors for Warm Undertones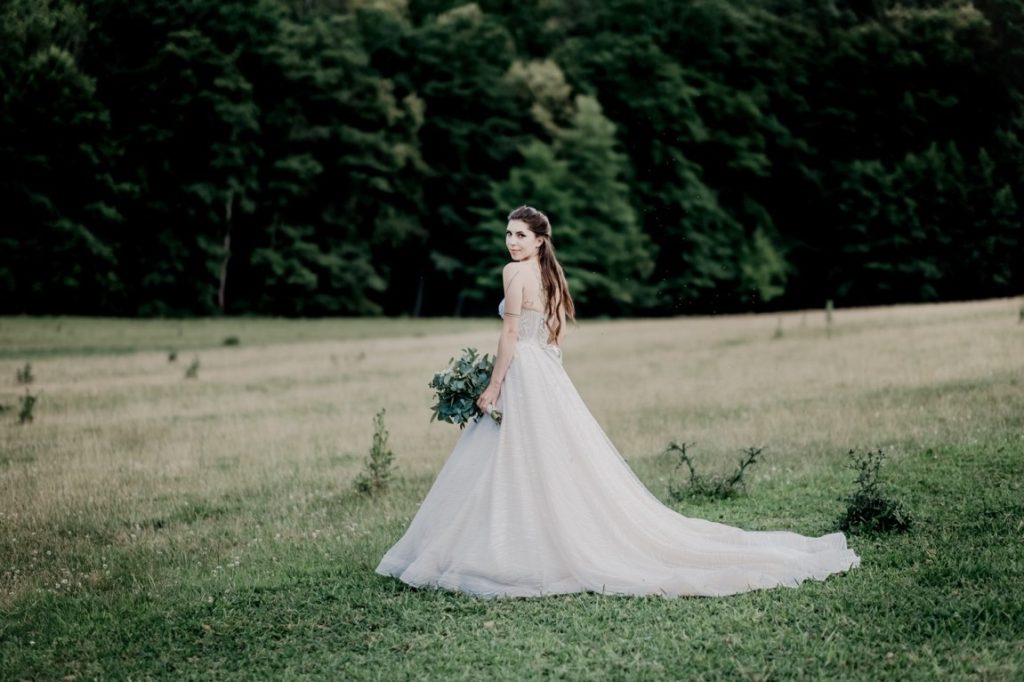 The general rule is to use pieces that will balance your skin undertone. Therefore, a warm skin tone will flourish with neutral and cool colors.
As for makeup, look for slight hints of yellow or gold in your foundation, concealer, bronzer, and highlighter. Nude pink, peach pink, and red-orange lipsticks and blushes will work well for you.
You can wear any piece of jewelry. However, consider one with rose gold, as this metal will stand out and embellish your outfit.
Best Dress Colors for Cool Undertones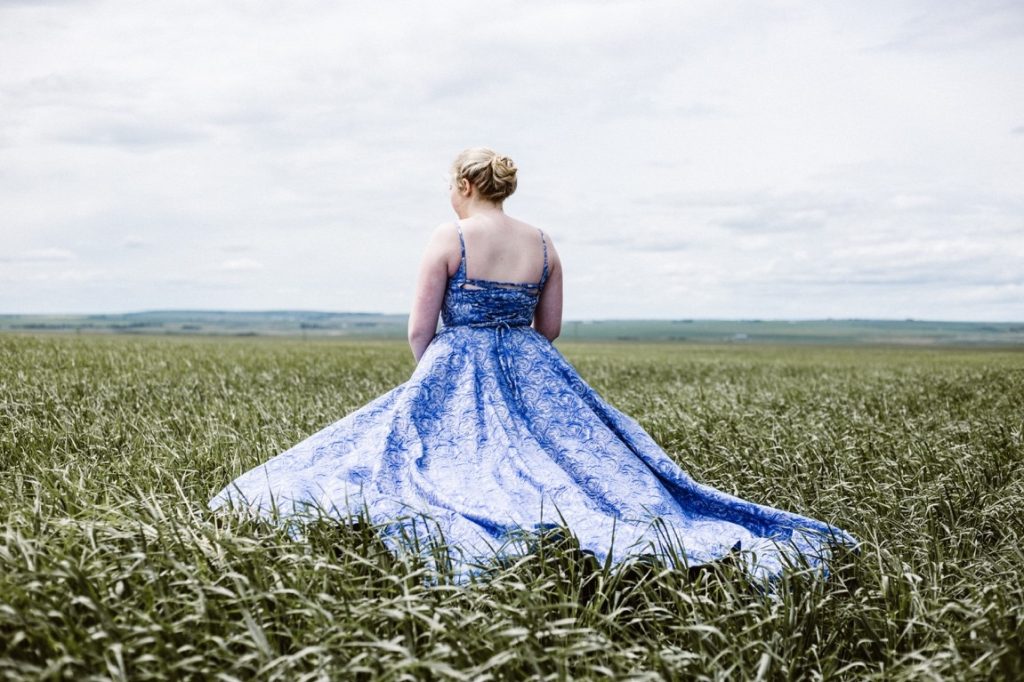 If your skin has a cool undertone, your best options would be warm and neutral colors. Aside from the universally flattering colors already listed above, consider the following shades:
Rich blue. A deeper, darker variant of blue will work wonderfully with the pale blue undertones in your skin. Look into dresses with navy, indigo, peacock, or midnight blue accents, or go big with an entirely rich blue dress.
Silver. You might think that silver is the same as gray. However, silver has a distinctly reflective and metallic appearance. This added luster balances the flatness of gray, making it ideal for people with cool undertones.
Lilac. Lilac is a specific shade of violet known for its paleness and softness. This color balances the red and blue undertones of your skin.
Pay attention to your complexion products. Make sure your bronzers, highlighters, concealers, and foundations have minimal pink undertones. Likewise, your best options for lipsticks and blushes are vibrant colors like blue-red, rose pink, and berries.
As for jewelry, choose accessories with white gold, silver, or platinum. Pearls are also an excellent choice of accent.
Best Dress Colors for Neutral Undertones
Consider yourself the luckiest person looking for a wedding dress — any color will suit you. Ultimately, your choice comes down to preference. Do you want a pure white dress? Do you want a lilac dress?
Wedding Dresses for Pale Skin: Lovely Inspiration
1. Silk Wrap Dress in Champagne
This gorgeous silk wrap dress comes in a champagne color, making it one of the most perfect wedding dresses for pale skin. The spaghetti straps are configured to create a unique criss-cross shape, mirroring the V-neckline.
The fabric's luster, vintage hue, and flowy silhouette make for a sophisticated gown. Given its features, this dress will also complement people with broad shoulders; the thin straps and neckline will balance your proportions.
2. Blush Pink Wedding Dress with Floral Lace Details
This dress is ideal for brides who want a whimsical, fairytale-like vibe for their attire. The illusion bodice has floral lace details that accentuate the plunging V-neckline. The flowers flow downwards along the skirt.
The A-line dress opens up into a gorgeous full skirt, featuring layers of blush and white tulle. You can wear this dress regardless of when your wedding will take place, but it will look extra gorgeous during the spring and summertime.
3. Strapless Blue White Ombre Gown
If you want to make a statement with your attire, consider wearing this strapless ombre gown. The navy-blue bodice has a corset-like appearance, featuring a unique straight neckline with a square indent in the middle.
The skirt starts with a mixture of white and blue, the latter becoming paler as it goes. The hemline and train are exclusively white. These details result in a stunning ombre effect, sure to mesmerize anyone who looks at the dress.
4. Ivory Mermaid Wedding Dress
If you want to stick to tradition and wear a white wedding dress, go for the universally flattering ivory color. This gown features an off-the-shoulder neckline, a pleated bodice, and a mermaid silhouette that wonderfully accentuates the model's body.
The gown opens up into a classic cathedral train, giving the outfit a regal and royal feel. The addition of a full-length veil and statement pearl earrings makes for a sophisticated, elegant attire.
5. Lilac Wedding Dress with Floral Lace Bodice
Lilac is a wonderful color choice for wedding dresses for pale skin. It compliments any skin tone, be it neutral, warm, or cool. This excellent gown capitalizes on the shade's versatility, creating a flowy and dreamy silhouette through the full-length skirt and sweep train.
The fitted bodice makes for an overall amazing silhouette. The floral details pay homage to the color's namesake, trailing across the bodice's back and sleeves. All in all, this gorgeous dress is worth considering.
Other Styling Tips You Need to Know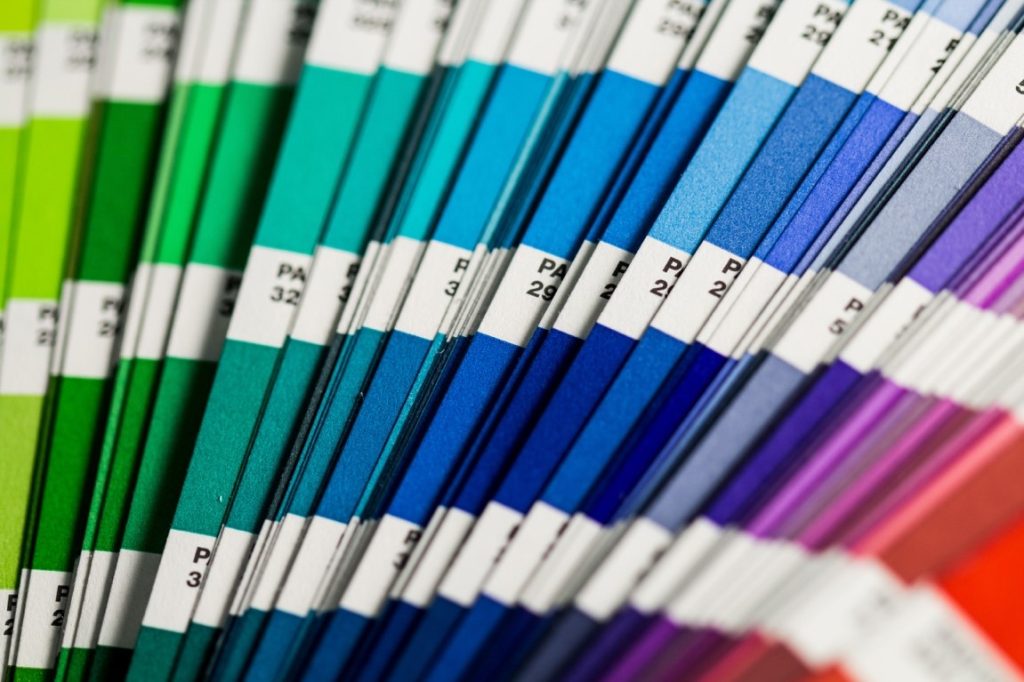 Visit a Fashion Color Consultant or Color Analyst
While you may have figured out what your skin's undertone is, and you have a vague idea of what colors suit you, you might feel that something is missing. Likewise, you might feel like you still have not found the right shade.
If you have the time and budget to do so, find a color analyst or a fashion color consultant. As their job title denotes, they will analyze your physical characteristics to come up with a color palette that best accentuates your features.
Color consultants use over 100 pieces of fabric with distinct shades. They will place these fabrics around your shoulders one by one, analyzing which colors fit you the best.
You can use the information you receive from the expert to create the bridal attire of your dreams.
Some color consultants might offer their fashion consulting services. You can decide whether that is something you need.
Bring a Fresh Pair of Eyes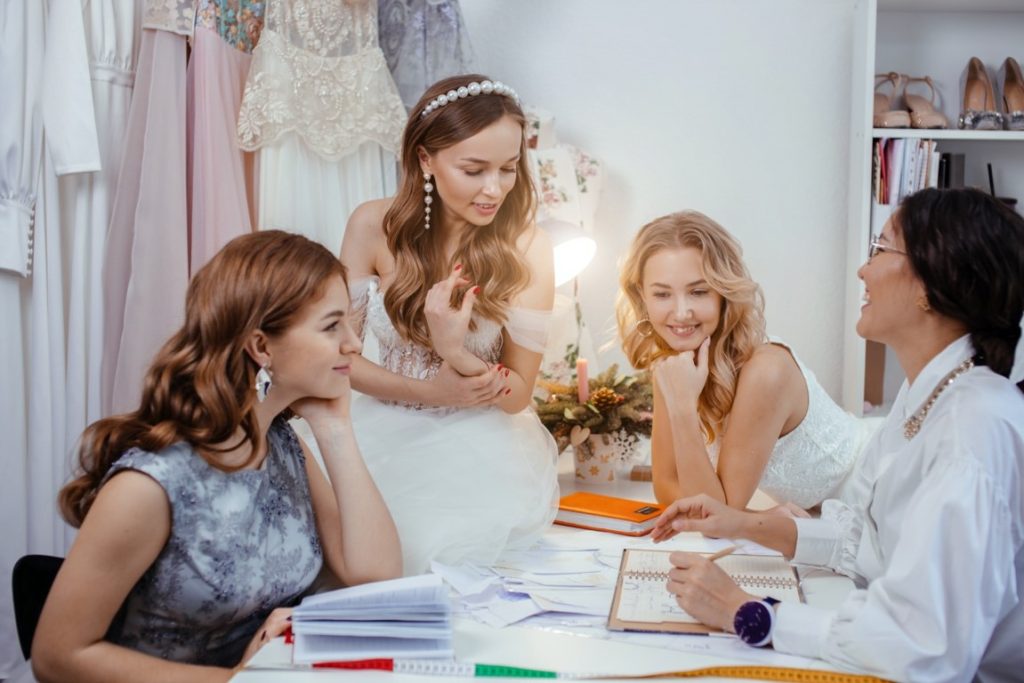 Part of the reason why having a color analyst is wonderful is they can offer unbiased — and expert — insight. You might be unconsciously viewing your body in an unfair, unkind, and unrealistic way.
Not everyone has the resources to hire a color analyst, be it finances, time, or access to such a professional. However, having a different pair of eyes, even if untrained in the profession of color analysis, will help you tremendously.
Bring people along while you shop for wedding dresses. Have them come over to your place and do a mini fashion show, where you wear different colors and ask which suits you.
If nothing else, your friends and family can give you reassurance and validation. Having a strong support network is crucial for your mental well-being during such a stressful time.
Consider the Wedding's Schedule
Each season is associated with a set of colors. While choosing what dress to wear, keep these associations in mind. The right gown will harmonize with nature, working together to accentuate each other's beauty.
For instance, the typical spring colors include greens, yellows, blues, and pinks. Summer color palettes feature lots of neutrals and pastels.
Moreover, months also have colors that define them. For example, examples of August wedding colors include blues, oranges, and browns.
Final Thoughts
Ultimately, you have the power to decide what dress you will wear to your wedding. The colors listed above are only tips and suggestions. Go with your heart and do what makes you happy.