For your guests, the wedding festivities start even before the pre-wedding parties. They start the moment they receive a save-the-date or an invitation. As such, couples look for ways to make them more interesting, personal, and memorable—including wedding invitation poems.
A fantastic example of a wedding invitation poem is:
The countdown has begun for our fated date,
We eagerly look forward to our wedding fête.
Your presence will make our big day complete,
So we hope you can join us for this moment so sweet.
Below are 10 examples of poems you can include on your wedding invitation. These poems can give your guests an idea of what to expect on your big day in terms of vibe and ambiance. You can also use it to impart important information, like wedding hashtags or expectations on gifts.
Wedding Invitation Poems to Set the Tone for Your Big Day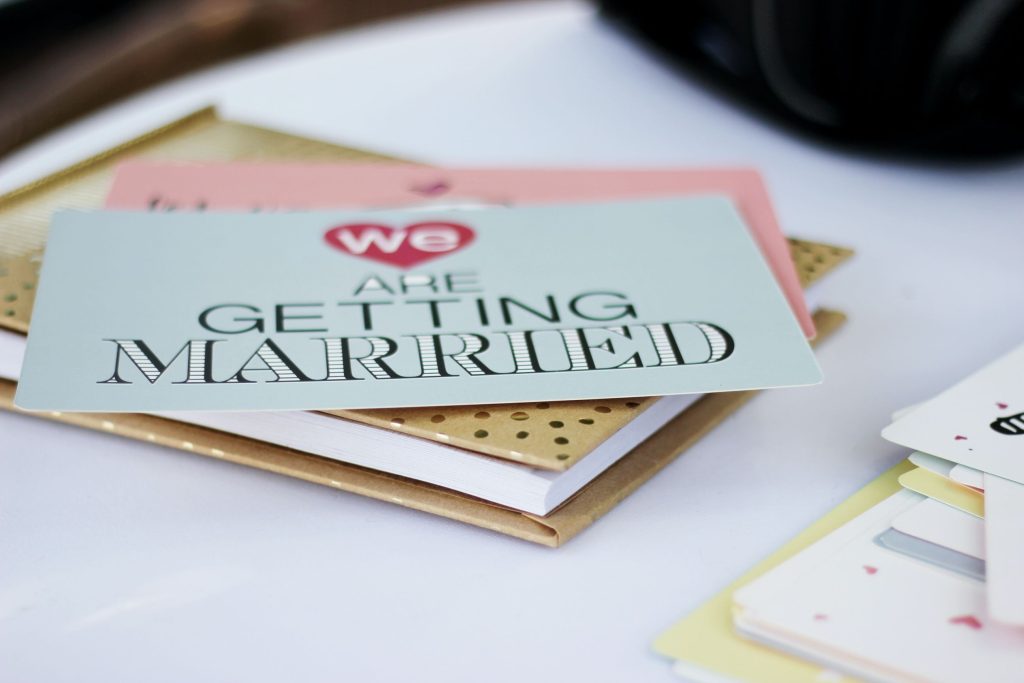 1. Stories unfold in millions of ways,
Ours leads us here to this monumental day.
No matter what our tale may hold,
We'll walk this path together, two hearts brave and bold.
This romantic poem for a wedding invitation will surely make your guests swoon. Although it only has a few lines, your guests will see how much you love each other and how committed you are to one another.
2. The countdown has begun for our fated date,
We eagerly look forward to our wedding fête.
Your presence will make our big day complete,
So we hope you can join us for this moment so sweet.
Another short but impactful poem, these lines will let your guests know how much you will appreciate their presence. You can also incorporate the last two lines in your RSVP reminder for people who have not responded.
3. A special union
is not far away.
They hope you join them,
on their memorable day.
Just like a flower,
their love has now bloomed.
Smiles and kisses,
both hearts have consumed.
Witness their journey
or just a glimpse of their bond.
As soon as you can,
please do respond.
They're looking forward,
to having you there.
Their happiness on (date of wedding),
they just can't wait to share.
(Name of bride) and (name of groom),
and guests just like you
shall make this beautiful wedding,
Joyful and true.
(by tree.cards)
This lovely wedding invitation poem has it all: a few stanzas give a glimpse of your love story, a gentle reminder for guests to confirm their attendance, and a couple of lines to express your excitement for your guests' presence.
4. Let me not to the marriage of true minds
Admit impediments. Love is not love
Which alters when it alteration finds,
Or bends with the remover to remove.
O no! it is an ever-fixed mark
That looks on tempests and is never shaken;
It is the star to every wand'ring bark,
Whose worth's unknown, although his height be taken.
Love's not Time's fool, though rosy lips and cheeks
Within his bending sickle's compass come;
Love alters not with his brief hours and weeks,
But bears it out even to the edge of doom.
If this be error and upon me prov'd,
I never writ, nor no man ever lov'd.
For the bookish and well-read couple, incorporating a famous sonnet or love poem in your wedding invitation is a fantastic way to showcase your personality and make the invitation unique.
Sonnet 116 is one of Shakespeare's most revered works. It provides a romantic and idealistic definition of love, claiming that it never changes nor fades—instead growing stronger with time. You can also use this sentiment in your vows or renewal of commitment.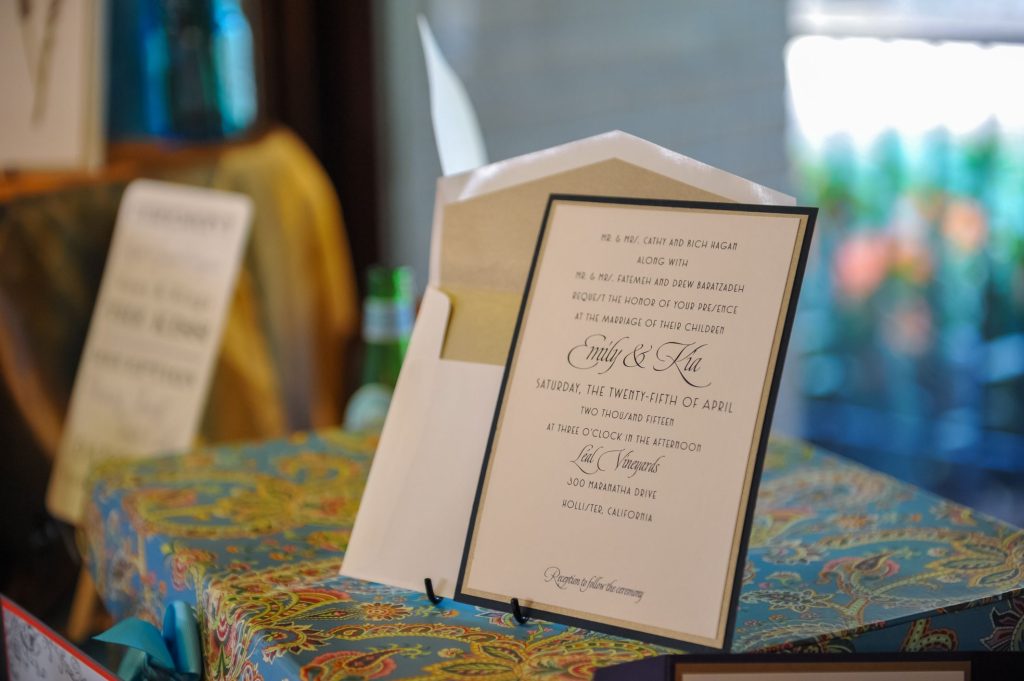 5. Under stars that dance and gleam,
We'll vow our love, an endless dream,
With the moonlit night as our guide,
Please be there by our side.
This short and sweet poem is perfect for an outdoor wedding, where the twinkling stars and shining moon will give your ceremony a romantic glow. However, this wedding invitation poem can suit any nighttime celebration.
6. As we get ready to say "I do"
We'll drink and dance with me, myself, and you.
Snap our big day for the 'gram if you please,
Use the hashtag (wedding hashtag) or tag us both to share with ease.
This short, modern, and funny poem for a wedding invitation will make your guests chuckle—and get excited for the big day. More than that, it gives them an important piece of information: your wedding hashtag.
7. We're getting married and want you there,
To eat and drink without care.
Watch us say our vows and seal them with a kiss,
Then dance with reckless wedding night bliss!
This poem is another fun and exciting one. Give your guests a glimpse of what they can expect at your wedding: romance, drinks, and dancing. From the invitation alone, your guests already know that this will be one of the best nights of their lives.
8. Join the celebration,
on our wedding day.
Our mutual love,
we'll openly convey.
Joy and excitement,
gladly we'll share.
It will be truly wonderful
as long as you're there.
(by tree.cards)
This simple but sentimental wedding invitation poem is direct but heartfelt. This is perfect if you want to be straight to the point, saving your emotion and energy for other aspects of the planning process.
9. Two hearts unite in a knot so pure,
A cord, a bond, forever to endure,
Be witness to this special tie,
Your company we'd not deny.
If you want something with a poetic and literary tone, the poem above fits the bill. It is also perfect if you plan on incorporating the Cord of Three Strands or the rope ceremony into your special day.
10. On a journey of love, we've begun to embark
Your presence alone lights up the spark,
Should you ponder a gift to aid our way,
Funds for our future would brighten our day.
As mentioned above, you can use wedding invitation poems to ask your guests for gifts or donations. The poem above is a great example. You are not directly asking for money; instead, you use the metaphor of a journey.