Getting invited to someone's wedding is an honor; it means that the couple wants you to be with them to celebrate their love. As such, choosing an appropriate outfit is an important part of being a guest. However, this choice is not always easy to make.
When deciding what to wear to a Hawaiian wedding, you have to consider the event's dress code, specific location, and the weather on that day. A detailed guide for choosing your outfit for a Hawaiian wedding is given below. 18 outfit ideas for guests are also provided as inspiration.
Guide for What to Wear: Hawaiian Weddings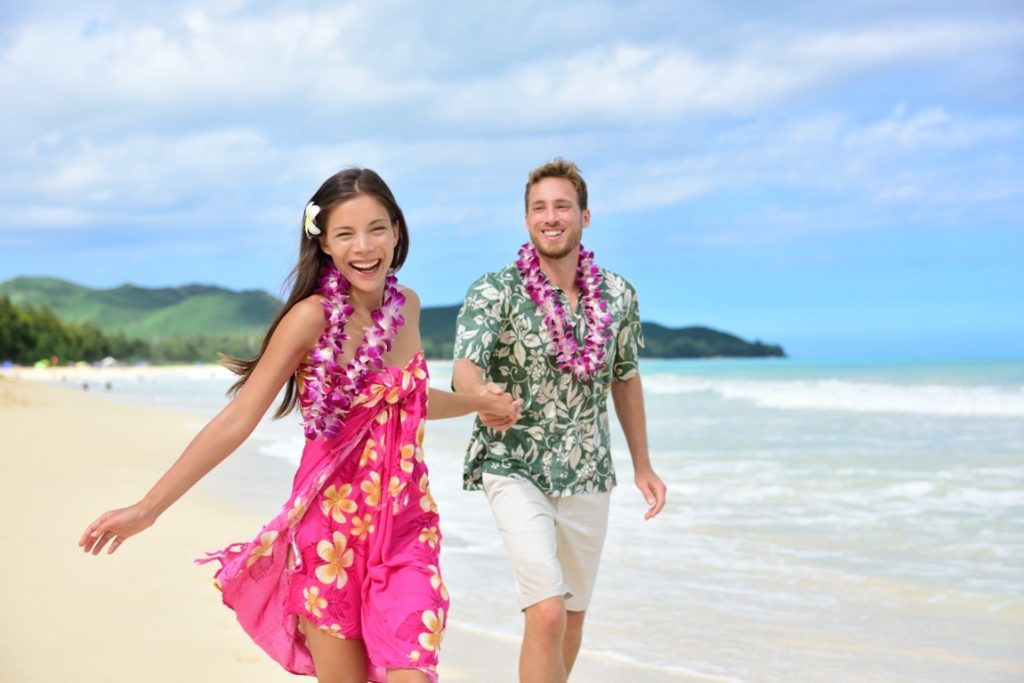 Refer to the Dress Code
In any type of wedding, a dress code will be indicated on the invitation. In general, a beach wedding necessitates more comfortable and relaxed attire. There is a wide range of dress codes to choose from, but Hawaiian weddings usually come in any of the following:
Beach formal – refers to attire with elegant elements. Women are expected to wear a suit, dress, or jumpsuit. Men can wear a classic long-sleeved shirt with a jacket or a suit paired with trousers.
Beach semi-formal – can also be classified as beach cocktail attire. In addition to what is permitted in beach formal attire, women can also wear a romper. Meanwhile, men can ditch their suits for a blazer or coat.
Dressy casual – refers to an outfit with casual and sophisticated clothes combined. This dress code is also called "smart casual." Your attire should be classier than casual but more relaxed than business casual.
Beach casual – comes with less strict rules on attire. Women can opt for simpler dresses and high-quality sandals. Men can wear a polo or polo shirt with a refined pair of chinos.
If the couple did not indicate a specific attire, go with a beach semi-formal attire to be safe. You might be overdressed, but this is preferable to being under-dressed.
Consider the Location and Venues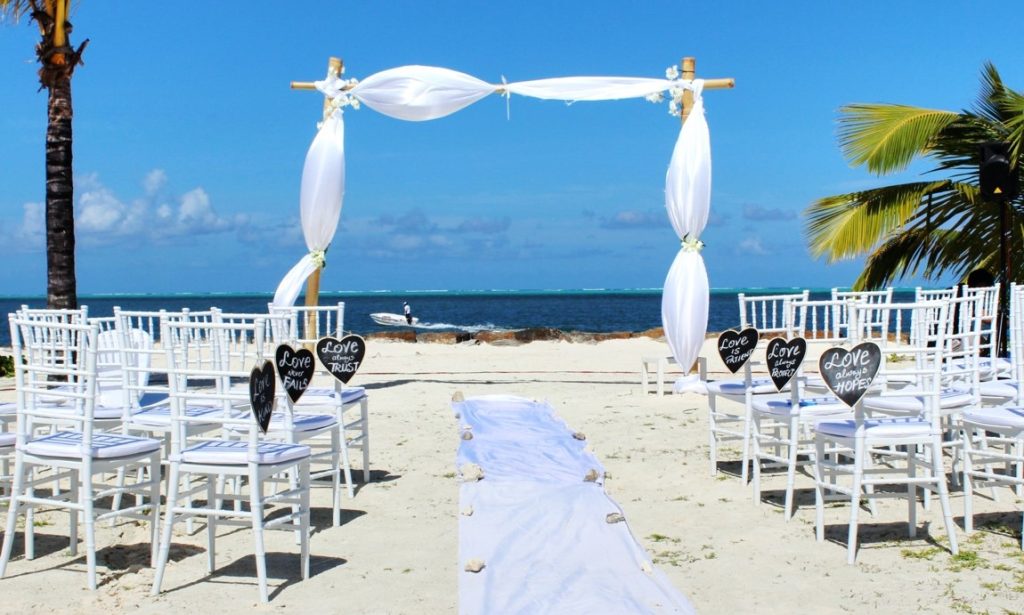 The venues of the wedding ceremony and the reception are important factors in deciding what to wear to a Hawaiian wedding. If a part of the wedding will be held indoors, the level of formality will be affected.
If the entire wedding will take place on the sand, you may want to carefully choose your footwear and the length of your clothes.
The Weather and the Temperature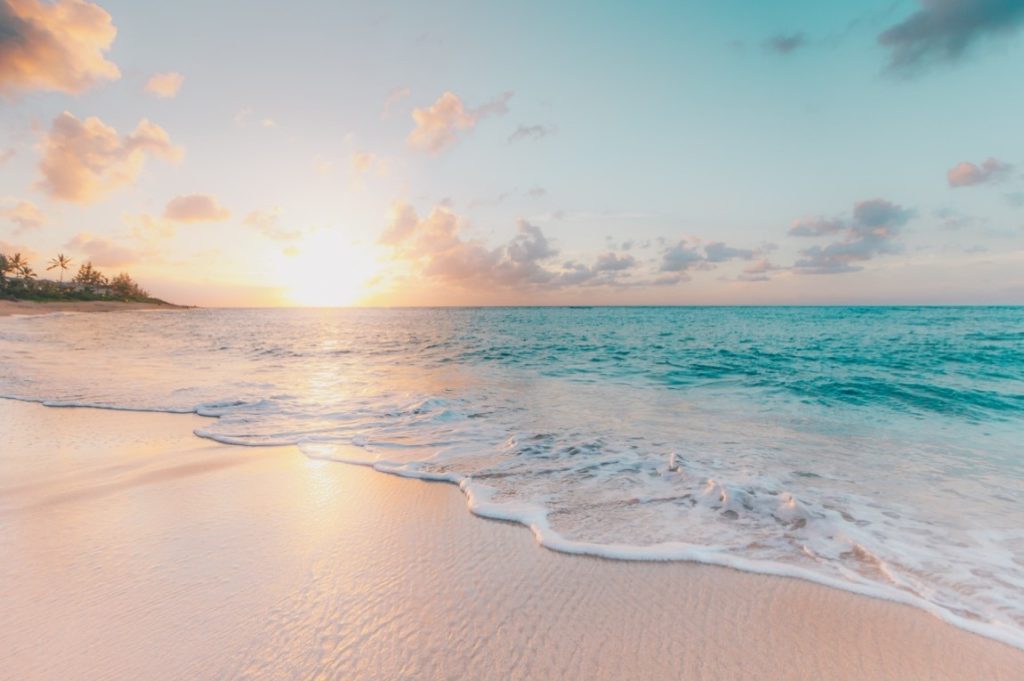 The climate in Hawaii is considered tropical. The state experiences a hot season every June to October, while the cold season lasts from December to March. The yearly average temperature sits at 78°F, and it rarely drops below 60°F or exceeds 90°F.
In terms of rain, storms typically pass Hawaii every October to March. These storms are marked by strong winds and heavy rain. Depending on the location and altitude, the average mean rainfall can be anywhere from 7.4 inches to 404.4 inches.
All this to say, check the weather forecast on the day of the wedding. While the couple may have already planned around this, it is still better to be prepared.
Colors and Patterns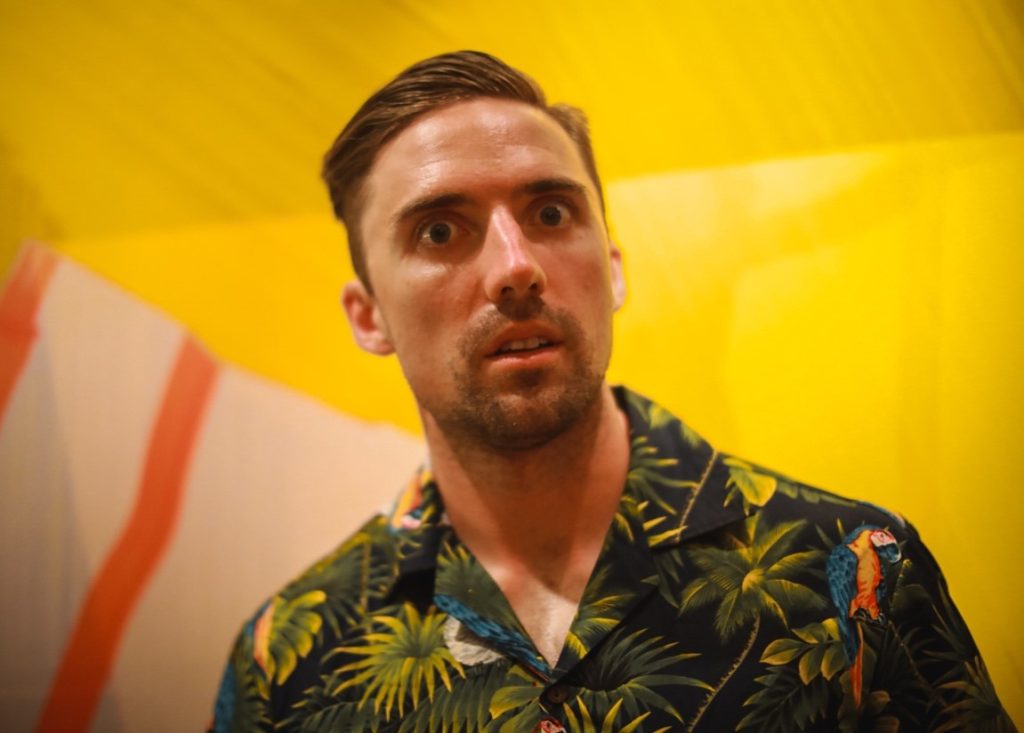 Beach wedding attire generally features more vibrant colors and patterns. You have the opportunity to experiment with quirkier and more fun accessories.
As a nod to the environment, you can wear any color you can see on a beach. This includes shades of blue, green, and other earth tones. Likewise, stripes, floral prints, and polka dots can provide a lovely accent.
While you have the freedom to choose any color and pattern, you are encouraged to avoid black as it might make you feel too warm. Depending on the couple's preferences, you may wear white. Lastly, do not wear anything that will take the attention away from the bride.
Fabrics
As mentioned above, beach wedding attire tends to emphasize comfort and relaxation. Guests are encouraged to wear breathable fabrics that will not stick to their bodies when they sweat. You can opt for organza, linen, chiffon, lace, and cotton blends.
Other Styling Tips for Hawaiian Weddings
Get a Pedicure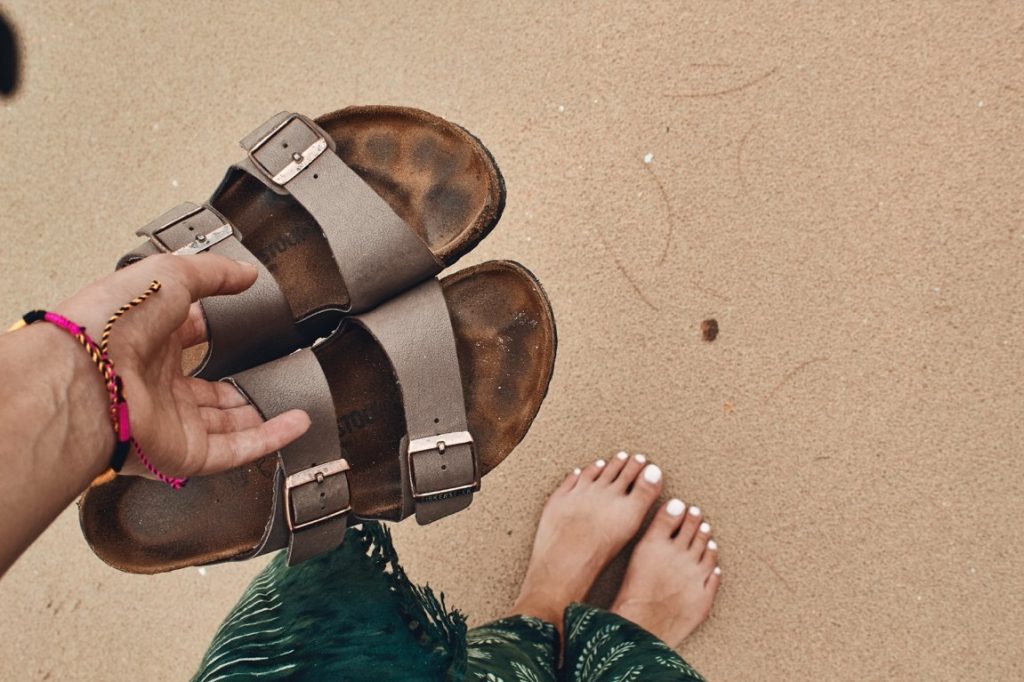 Since you will most likely be wearing open-toe shoes or sandals, it is best to get a pedicure. Doing so will make sure your feet look as healthy as they can be. Although women may already have a pedicure on their to-do list, men might forget to set an appointment.
Apply a Lot of Sunscreen
While this advice may seem obvious, it is worth mentioning. At a Hawaiian wedding, you will most likely spend a lot of time outdoors. By wearing sunscreen, you are protecting yourself from the harmful UV rays of the sun.
Be Mindful of the Length of Your Dress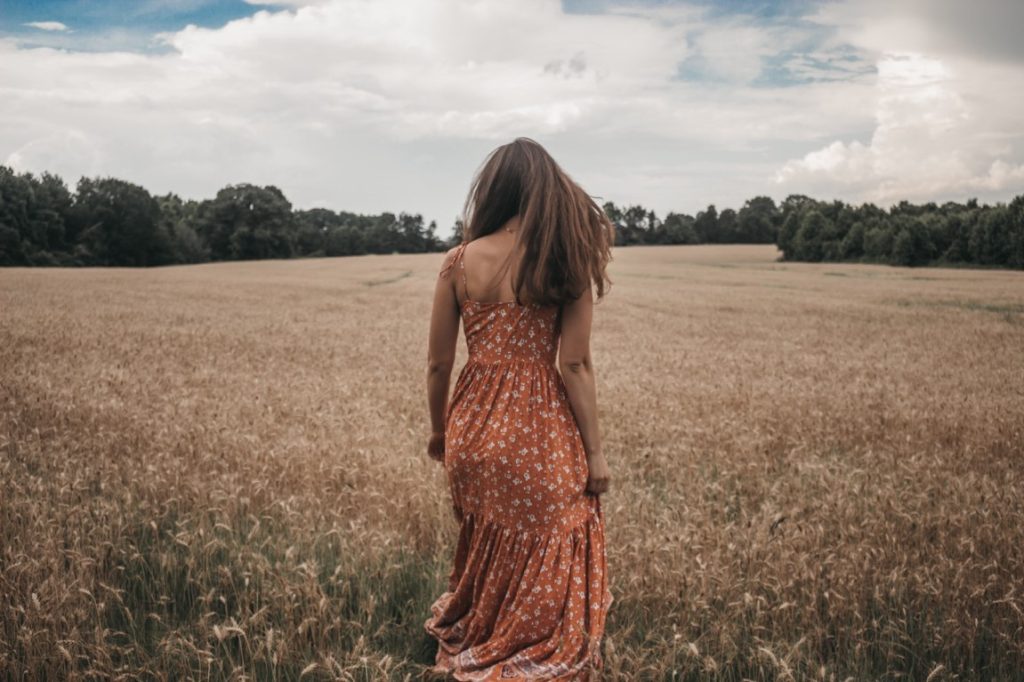 If you opt to wear a dress, make sure that your dress is not too loose or short. The wind is unavoidable, especially at a beach wedding. A particularly strong gust of wind might lift your dress and expose you against your will. To avoid this incident, wear a dress that ends below your knees.
What to Wear at Hawaiian Weddings: Female Guest Outfits
1. Maxi Dress with Elastic Off-Shoulder Neckline
This maxi dress is a stunning Antigua ombre that perfectly mirrors the color of the ocean. The draped ruffle overlay on the bust mimics the waves that crash by the shore. You can complete your outfit with an accessory whose color matches the dress.
2. Maxi Dress with Spaghetti Straps and V neckline
Like the maxi dress from above, this maxi dress also utilizes ocean-related motifs. Most strikingly, the hem of the dress is a rich blue, while the rest is an off-white color. These elements combined give the image of a body of water being hit by sunshine. Complete the outfit with a simple wedge or sandal, which will make walking on sand easier.
3. Caged Cami Maxi Dress
This maxi dress comes in a subdued but lovely peach color with subtle pleats that run down along the skirt. The straps are thin and feature a unique triangular shape, invoking a sense of symmetry with the slits down the legs. All these details combined make for a memorable and beautiful dress.
4. One Shoulder Romper
This romper comes in a flattering muted pink color. The pleats along the bust and the pants give the piece a solid structure. Although the romper flares at the pants, the belt detail at the waist will accentuate your figure. Overall, the dress' silhouette and style are perfect to wear for anyone.
5. Green Floral Print Jumpsuit
This green floral print jumpsuit features a waist tie detail and a wrap-over bodice. The waist tie ensures that your figure is accentuated with a flattering silhouette. The dress is made with polyester and is perfect not only for a Hawaiian wedding but any summer look.
6. Spaghetti Strap Maxi Dress with Polka Dot Pattern
This maxi dress is a simple, sleeveless dress made using polyester fiber. The skirt is tied to the chest to fit the wearer's natural curves. The bright yellow color sprinkled with white polka dots gives off a retro aura. Overall, this breezy dress is ideal for summer and beach weddings.
7. Strapless Halter Sundress with Flower Motif
This strapless sundress features a halter neckline and a flower motif. The petals and leaves have different shades of pink, red, and green. Even if the dress itself is white, the colors from the floral pattern overshadow it. Overall, this dress is pleasing to the eye and memorable.
8. Button-Front Sundress
This sundress comes with spaghetti straps, a subtly pleated skirt, and a column of buttons down the middle. This feature is unique and eye-catching, and it gives you plenty of opportunities to match it with accessories. This summer dress is highly versatile; if you prefer, you can also wear this for
the rehearsal dinner if you are a bridesmaid
.
9. Tiered Midi Dress with Open Back
This midi dress features a hi-low hem, a skirt with two tiers, and a lace back detail with adjustable drawstrings. Combined with a fitted bodice and a halter neckline, the dress has a relaxed but flattering silhouette. Moreover, the dress has a unique motif and side pockets, making it even more memorable.
What to Wear at Hawaiian Weddings: Male Guest Outfits
1. Green Linen Suit with White Slacks
Linen is an amazing fabric for what to wear at Hawaiian weddings, as they are stylish but breathable. This linen suit comes in green, matching well with the brown belt and dress shoes. The look is completed with a sky-blue button-up and white slacks.
2. Matching Beige Linen Suit and Trousers
A classic pair of a beige suit and beige trousers are appropriate for a Hawaiian wedding. The shoes, though not worn, complement the ensemble with their darker earth tone. As in the picture, you can expect to go barefoot at some point during a beach wedding.
3. Rust Orange Sport Coat with Khaki Trousers
A sport coat is a must-have for any man, as it is fitting for any season and occasion. This stunning rust-orange sport coat matches perfectly with a pair of brown loafers. Complete the outfit with a white long-sleeved shirt, khaki trousers, and an accessory of your choice.
4. Linen Mint Green Long-Sleeve Polo
For a casual Hawaiian wedding, men can usually skip the jacket and opt for a polo. This linen mint green long-sleeve polo is perfect for the beach, as the fabric is cool and comfortable. You can pair it with classic trousers and loafers, deck shoes, or even a pair of open-toe sandals.
5. Floral Print Short-Sleeve Polo
When thinking of what to wear to a Hawaiian wedding, Hawaiian-style shirts are possible options. This floral print short-sleeve polo is ideal for very casual weddings by the beach. You can complete your outfit with trousers, nice shorts, a belt, and your choice of footwear.
6. Sport Coat with Shorts and Belt
One of the recent trends in menswear is pairing a coat with shorts. In a Hawaiian wedding, this outfit would be appropriate for a casual dress code. Make sure to wear a nice belt and match it with your footwear. For a more cohesive look, wear a matching pair of shorts and an undershirt.
7. Seersucker Suit and Trouser Ensemble
Seersucker is a type of fabric specifically designed to withstand summer heat. Seersucker clothes have a distinct puckering pattern, making them more eye-catching. Thus, a seersucker ensemble is a great option for Hawaiian wedding attire. Complete your outfit with a pair of loafers and a button-down.
8. Light Blue Linen Jacket and Trousers
Another popular color for menswear is sky blue. This sky blue double-breasted linen jacket features a slim fit, pearlized buttons, and matching trousers. Any color of dress shoes will look amazing in this outfit. Overall, this ensemble is ideal for formal and semi-formal Hawaiian weddings.
9. Hawaiian-Style Polo with Coconut Tree Design
This polo is the quintessential Hawaiian-style shirt: it has a coconut tree motif and its cotton-blend material is perfect for the beach. If the wedding has a casual dress code, you can pair this polo with a high-quality pair of shorts or pants and loafers.