As much as it's crucial to avoid putting wedding tasks off until the last minute, it's still inevitable. To ensure nothing gets overlooked, it's important to have a day of wedding coordinator duties checklist.
The wedding coordinator is tasked to oversee the day-of coordinator checklist, which includes:
Checking in with vendors
Preparing tip envelopes
Packing and dropping off luggage
Packing the day-of bag and an emergency kit
Compiling a contact list and wedding playlist
Briefing the documentation team
Arranging transportation services
Planning for inclement weather
Day of Wedding Coordinator Duties Checklist
Check In with Vendors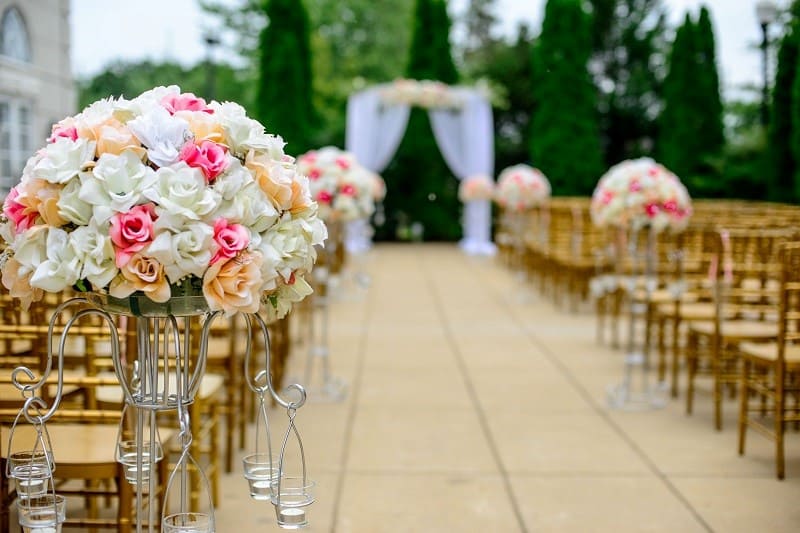 A quick phone call to the wedding vendors to confirm arrangements ensures that their services are still available and are on the way to the wedding venue. This call will alert you of any issues so that you can remedy them immediately.
It's also important to finalize the payment days before the wedding so that everything will go smoothly and there's no reason for them to not follow through with their commitment to serve.
As payments are completed, create an insurance policy by having vendors sign a contract or note confirming receipt of payment.
Tip Envelopes
As part of the Coordinator's Checklist, prepare tip envelopes to hand out to service workers after the reception. It's challenging to tend to numerous guests and it's common for weddings to go a little bit over time which means that all of the employees will work extra hours.
Tipping them is a nice way to show your appreciation for their service. Placing the tips in individual envelopes is more organized than rifling through a wad of bills. You can even label the envelopes to ensure that you don't miss anyone.
Bring Extra Cash
Tipping is a universal way of showing gratitude for excellent service. You might need some extra cash to tip more. This extra money is also handy for any day of wedding coordinator to have in case of inevitable emergencies, like purchasing essentials.
Drop Off Your Luggage in Advance
Whether the couple is staying in the hotel after the reception or proceeding directly to their honeymoon, it helps to pack in advance and drop off their luggage ahead of time.
Make sure that the contents are complete and that there are enough clothes for the duration of their stay. Packing in advance guarantees one less thing to worry about.
If the honeymoon is abroad, make sure to include their passports, visas, and weather-appropriate clothing in your day of coordinator checklist.
Pack the Day-Of Bag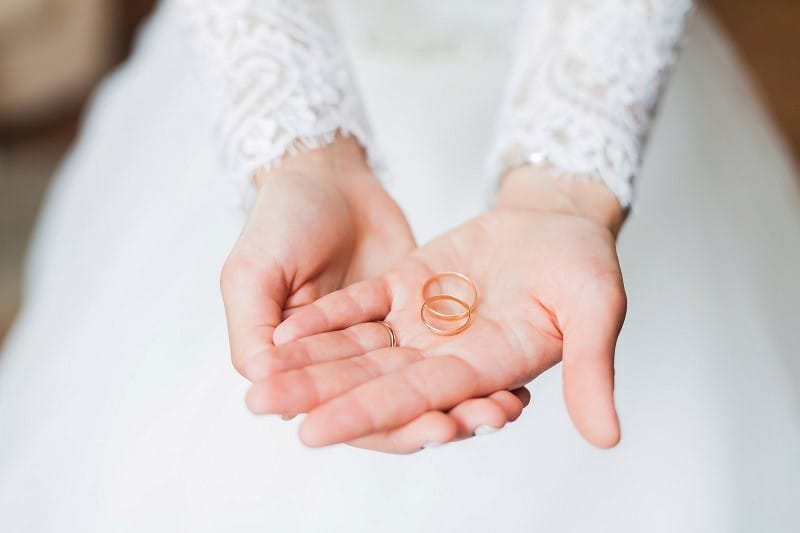 This bag contains all the essentials for the actual wedding day, such as:
Rings
Written vows
Extra shoes
Marriage license
Day-of timeline
Pack the Emergency Kit
Including an emergency kit in your wedding day coordinator checklist accounts for any last-minute surprises. The kit must include:
Pain reliever (Advil, Ibuprofen, etc.)
Nail polish to match the color the bride is wearing
Stain remover
Safety pins
Needle, thread, or a small sewing kit
Adhesive bandages
Tissues
Lint roller
Deodorant
Fashion tape or skin tape
Makeup kit
Bobby pins and hair ties
Floss and breath mints
Portable snacks like granola bars
Tampons or pads
Bottles of water
Hairspray
The backup copy of the wedding playlist
Traction pads for heels
Shawl
Umbrella
Wedding Day Contact List
This contact list makes it easy to get in touch with different people involved in the wedding, from vendors to guests. In this way, any emergency can be remedied by contacting the person concerned. The contact list in a wedding coordinator checklist must include:
Vendors
Maid of honor
Best man
Wedding planner
Create a bridal party group chat to easily get answers to questions
Avoid making the bride and groom the main person of contact. All questions should be redirected to the maid of honor, best man, or other close relatives.
If there's a wedding website, put up as much information about the wedding as possible to avoid confusion.
Wedding Playlist
There are numerous moments in between the phases of the wedding that should be filled with music. It's best to prepare a wedding playlist which is a list of songs that are meaningful to the couple.
The songs must be ready to go, and you can ask the couple for their list and download all of the songs they want. For a more convenient wedding playlist, you can craft one on a streaming platform like Spotify or Apple Music.
Brief the Photographer And Videographer
Compile a shot list and forward it to the documentation team. The shot list often includes the first look, first touch, bride walking down the aisle, golden hour photo op, family photos, etc.
These professionals often follow a template that covers the basics of wedding documentation. However, if the couple wants specific shots, then they should forward their requests to the photographer and videographers.
Aside from the shot list, the photography schedule must be discussed. Everyone involved in the photos must arrive at the site 15 minutes before the scheduled photo shoot.
Arrange the Transportation Services
The bride and her parents are usually ferried from the hotel to the wedding ceremony venue through a limousine. Make sure to contact the driver and ask him to be on time.
Additionally, arrange transportation for the other members of the wedding party. Inform the guests of their assigned transportation so that they know who to look for to and from the wedding venue. It's also important to advise the guests to always be on time to prevent delays.
Finalize the Rain Plan
Having a contingency plan in case of inclement weather is a crucial part of the Day Of Wedding Coordinator Checklist, especially for outdoor wedding receptions.
Day of Wedding Coordinator Checklist: Free PDF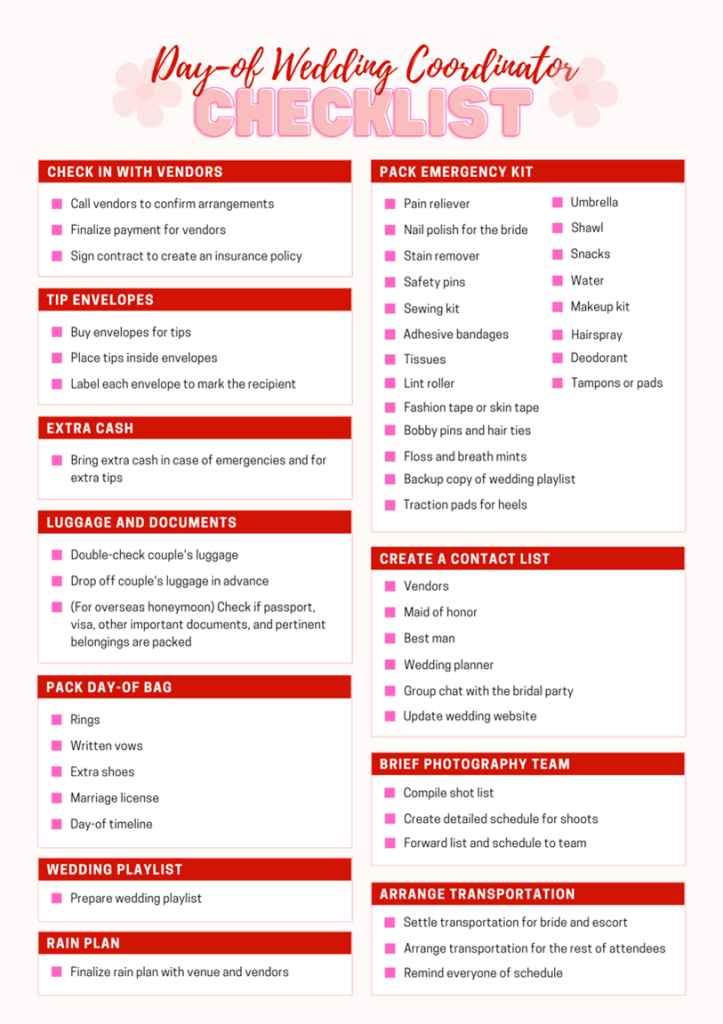 Click here to download a copy of the wedding coordinator duties checklist PDF.