Food is one of the most important aspects of any wedding. Besides satisfying a basic need, food is an integral part of the memory-making process and often becomes a conversation starter. Give your guests something to talk about by presenting your food creatively.
One way to create an unforgettable dining experience for your wedding guests is by putting out a beautiful — and edible — fruit display. Below are seven outstanding ideas for a fruit display and a step-by-step guide for providing a fruit display at your reception.
Eye-Catching Fruit Display for Wedding Reception
1. Red, Orange, Yellow, and Purple-Themed Fruit Display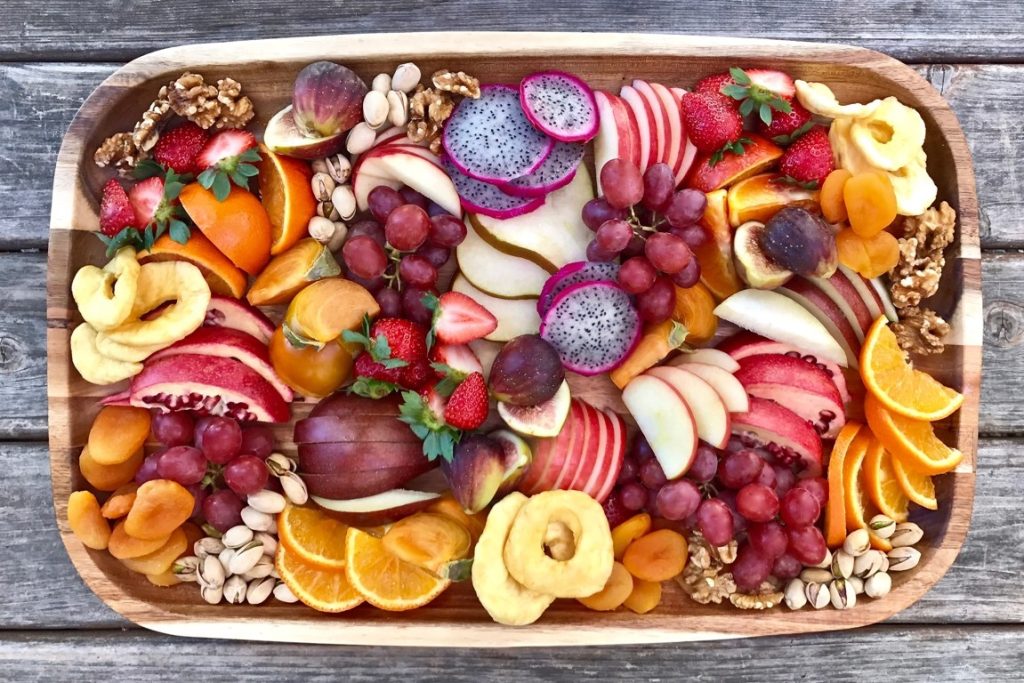 This gorgeous display's fruits include apples, dragon fruits, pomegranates, grapes, oranges, and strawberries. The combination of colors on a simple wooden platter makes for a mouth-watering view.
2. Greens, Yellows, Reds, and Oranges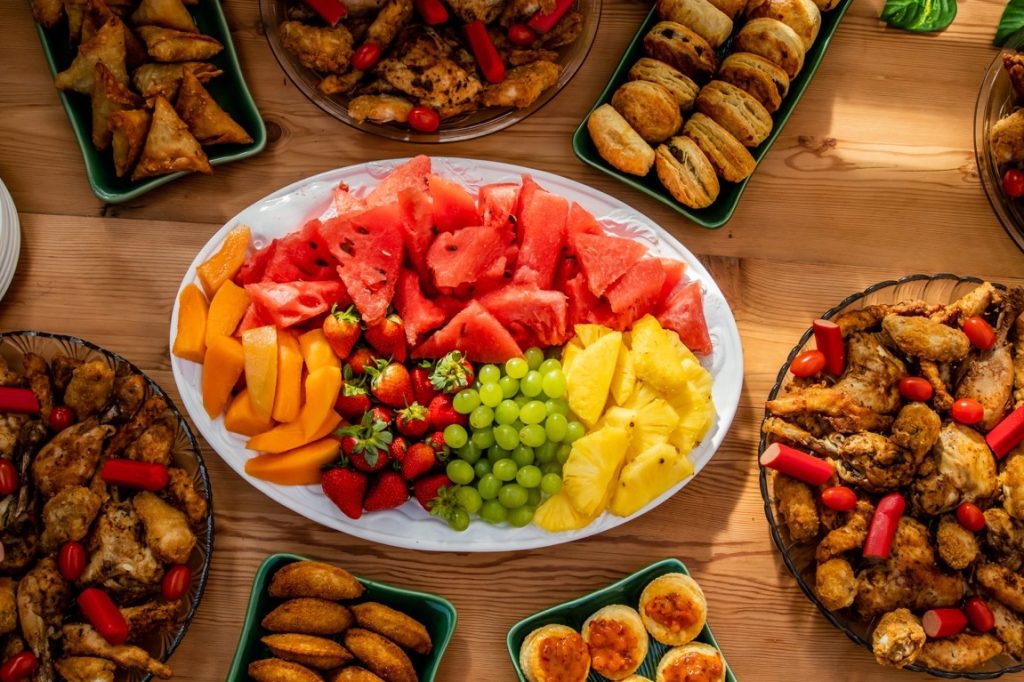 This simple yet refreshing fruit display consists of watermelon slices, pineapple chunks, grapes, papayas, and strawberries. You can trust this platter to rejuvenate your guests after a long day of wedding proceedings.
3. Fruit Glasses
People can get creative with the containers they use for a fruit display for wedding receptions. The image above features fruits like grapes, plums, and various berries all placed in glasses of different sizes.
4. Three-Tiered Fruit Display
Consider opting for a tiered fruit display if you want something more sophisticated and elegant. The image above shows a three-tiered platter with black metallic details, holding platters of cubed and sliced fruits with decorative greenery.
5. Fruit Display on Plates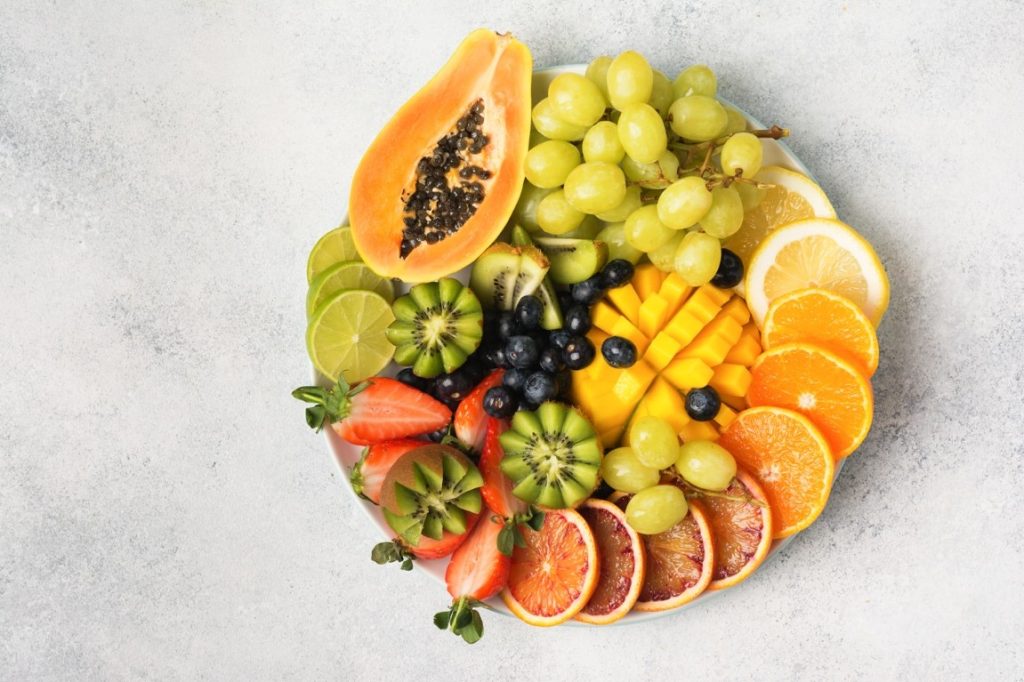 Take inspiration from the image above if you want multiple but smaller fruit displays for your reception. Kiwis, oranges, grapefruits, strawberries, grapes, blackberries, and papayas are artfully placed on a large plate. You can create several of these platters and use them as centerpieces for your tables.
6. Watermelon and Pineapple Bowls
Another way to get creative with your fruit display is by using the fruits themselves as containers. In the example above, blueberries fill up a cored pineapple while watermelon scoops sit inside a cored watermelon. The rest of the fruits are scattered around the bowls.
7. Rose Garden-Themed Fruit Display
This artistic rendition of a fruit display features a bunch of strawberries that look like roses. Kiwis, blackberries, blueberries, grapes, strawberries, and pineapples surround the "roses" in neat rows.
How to Create Your Own Fruit Display for Your Reception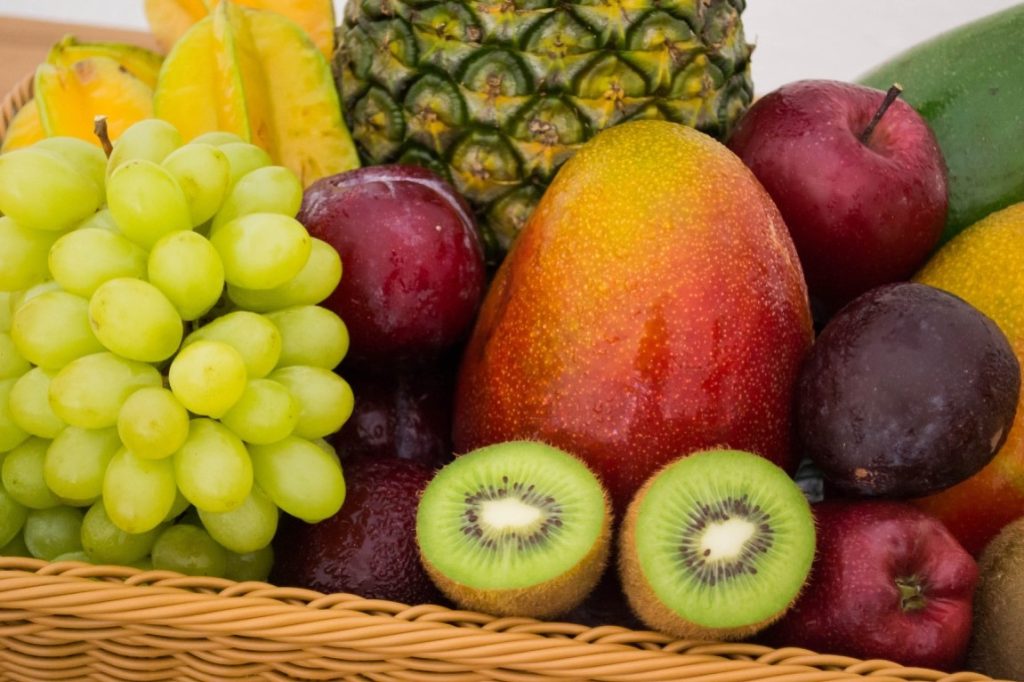 Find Out What Fruits Are in Season
Although you might want to include a particular fruit in your platter, you must check first if it is in season. Fruits in season are more delicious, presentable, and long-lasting. Not only can you display them for longer, but they will retain their flavor the entire time.
On a more practical note, in-season fruits are also more affordable. Moreover, you can do your part in environmental conservation by picking in-season fruits; they require fewer resources to store, preserve, and sell, thus making them an eco-friendlier choice.
Ask Your Guests if They Have Dietary Restrictions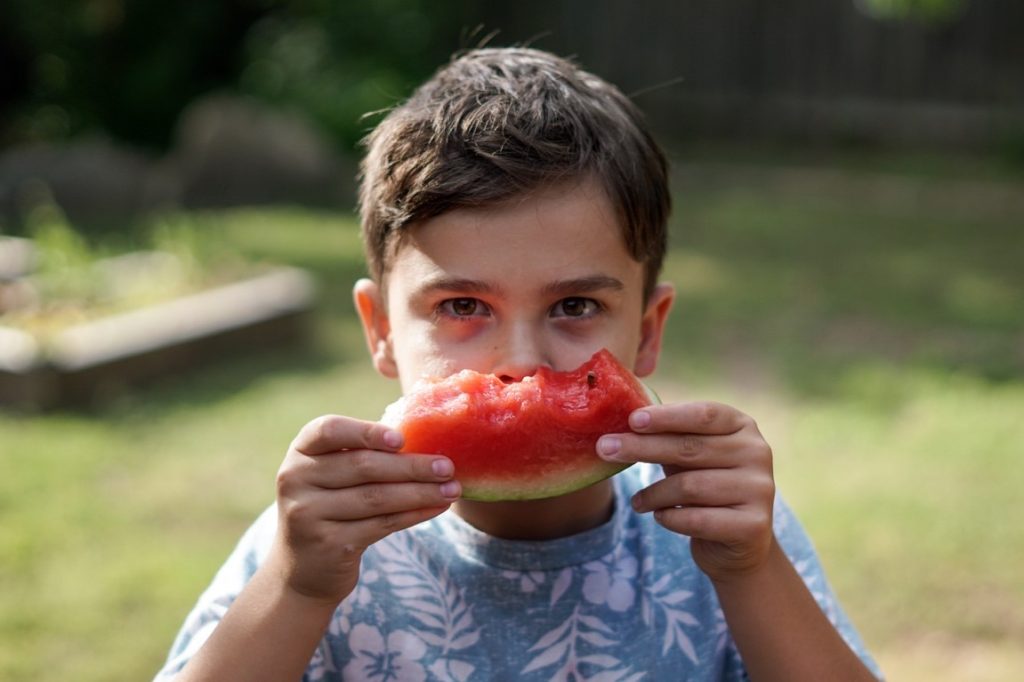 It is always better to be safe than sorry. Ask your guests if they have any allergies or dietary restrictions through your RSVP or RSVP reminder. Pay close attention to any mentions of fruits.
Create a list of every answer you receive, regardless of what kind of food it is. Make sure your caterer and other pertinent vendors have a copy of this list. Alternatively, if you are the one doing the shopping, always refer to the list to prevent overlooking anything.
If you have a vision for a specific color palette, but your guest is allergic to one component, you can simply replace one fruit with another of the same shade. For example, you can purchase pineapples instead of mangos for a yellow fruit.
Brush Up on Your Color Theory
Speaking of color schemes, it is worthwhile to review the basics of color theory as you plan your fruit display for your wedding reception. At its core, color theory will assist you in determining which colors, when combined, will help you achieve your desired effect.
One of the basic concepts in color theory is a color wheel. Through this wheel, you can create palettes of harmonious colors. To avoid getting overwhelmed, pick a color you want to highlight.
For example, let us say you want your fruit display to be predominantly red. One route you can go is picking analogous colors — three to five colors next to each other on the wheel. The result might look like a fruit platter of reds, oranges, and violets.
Decide if You Want to Hire Someone, Purchase a Pre-Made Platter, or DIY
If you think you do not have the resources, you are free to hire someone to create your fruit display or purchase a pre-made one. Try to ask your caterer if they can make a platter for you. Doing so will save you time, but you have to spend some more money.
A fruit display from your caterer may cost upwards of $200. Meanwhile, preparing the fruit display yourself is cheaper; you might not need to spend over $100. However, it is more labor-intensive on your part. Weigh your options and do what is best for you.
Prepare the Fruits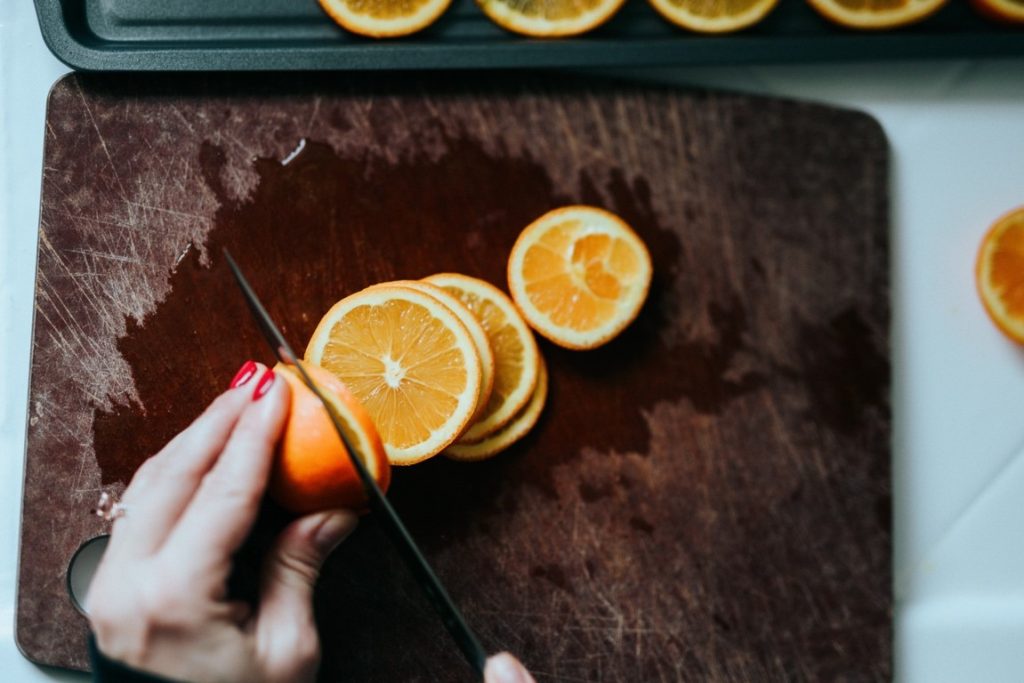 If you choose the DIY route, prepare to block out time to create your fruit platter. Between buying the fruits, cleaning them, cutting them, and putting them on the display, the entire process should not take more than a few days.
Visit local stores and farmer markets. Ask for help in choosing which fruits are the freshest and tastiest. You can even use shopping as a bonding time for you and your nieces and nephews.
Once you have the fruits, you can look for tutorials on the best way to prepare them. Some will look most appetizing when sliced evenly, diced, cut into rings, and whatnot. Do not forget to wash the produce, clean your hands, wear a pair of food-safe gloves, and use a sharp knife.
Put Together the Fruit Display
Let your creativity shine in the last step of this process. You can buy a simple 12-by-17-inch platter or look for a more elaborate display. You can even use watermelons and other large fruits as a bowl.
You can set out the fruits in neat columns, scatter them, or try to make an image with different colors.
Other Tips to Keep the Fruit Fresh
Do not buy or prepare the fruits too far in advance. Some fruits, such as oranges and pineapples, can be kept in the fridge overnight. However, some fruits are best prepared on the day of the reception itself.
If you slice fruits in advance, let them drain their water content in the refrigerator by placing them on paper towels.
Do not bring out the fruit platter too early. Display it just before the guests arrive or before dinner starts.