At the end of a wedding reception, a couple will bid their guests farewell as they are sent off into their life as newlyweds. The tradition of wedding send-off parties is symbolic and significant; thus, the decorations used for these parties must be magical.
Pairing glow sticks with other materials can truly make for a breathtaking and unforgettable sight. Items such as balloons, jars, bottles, and cups, when used with glow sticks, can make your wedding send-off all the more beautiful.
Several creative ideas for a glow stick wedding send-off are given below. Additionally, the history and science behind glow sticks are briefly explained. Tips for the ultimate glow stick wedding send-off are also provided.
Creative Ideas for a Glow Stick Wedding Send-Off
Fireworks and sparklers are integral parts of wedding traditions in various cultures, such as that of Lebanon. However, some venues may restrict the usage of flames and pyrotechnics in their vicinity. As such, a glow stick wedding send-off can be the perfect compromise. Here are some creative ideas you can do to make your glow stick wedding send-off unique and more special:
1. Glow Stick Balloons
Probably the most popular glow stick wedding send-off idea. Fill up balloons of any color halfway through. Carefully place one or two glow sticks into the balloon before completely filling them with air and tying them securely. There are multiple ways you can utilize glow stick balloons: tying a string and letting the guests hold them, and hanging them from the ceiling are two of them.
2. Glow Stick Pool Lanterns
Glow stick pool lanterns are simply glow stick balloons floating in a pool. You may choose to have a single color or multiple colors that fit into your overall
color scheme
.
3. Glow Stick Pool Party
Traditional glow sticks are made of waterproof material. Moreover, most will float to the surface of the pool and are safe to use. Thus, if you would rather not use balloons for glow stick pool lanterns, simply putting glow sticks in the pool will already be a sight to behold. You also have the option to use something heavy like a washer to make them sink to the bottom of the pool.
4. Glow Stick Word Art
Arrange multiple glow sticks on walls or any surface to form letters and words. This can be your
wedding hashtag
, a short message, or simply your and your partner's last names. Using an assortment of colors will make for an aesthetically pleasing result.
Glow stick fireflies are simple crafts created with recycled materials such as plastic soda bottles, sheets of paper, and more. With the help of the bridal party, close friends, and family, assemble the fireflies and hang them from the ceiling or branches of trees. Not only will they provide a beautiful backdrop for your send-off, but they will also entertain the kids through the ceremony and reception.
6. Glow Stick Drink Cups
Despite its name, the glow sticks would not actually be mixed in with the drink. The glow stick is placed in an opaque cup, and a plastic cup will be placed on top of it, which is where the drink will be poured. Some cups already have glow sticks made into them. This would work best with clear beverages such as Sprite. Having multiple options for colors while remaining in theme would result in an aesthetically pleasing image.
7. Glow Stick Mason Jars
Placing glow sticks inside transparent jars will give the venue and the pictures a fairytale-like ambiance. Strategically place them on top of tables and other surfaces. If possible, you may also hang them from tree branches.
To further improve the appearance of glow stick mason jars, you may utilize some tulle or plastic netting inserts. Cut the glow stick into shorter strips and intersperse the pieces between the inserts. The resulting product will look like fairy dust.
8. Firefly Glow Jars
Firefly glow jars use glow paint instead of glow sticks. However, you may also substitute glow paint with a
mixture of glue and some atomic glow or glow powder
. As the name suggests, firefly glow jars give the illusion of a sparkle of fireflies.
9. Glow Balls
Glow balls are simply multiple glow sticks arranged to form the shape of a ball. Some stores sell packs of glow sticks with a small, circular contraption where you can attach the ends of the glow sticks. By themselves, you can let glow balls float in the pool or stand on surfaces. You may also line them up to form the path you will walk down on. Furthermore, you can use yarn or a cord to string them together and hang them up.
10. Glow Stick Frosted Lanterns
Glow stick frosted lanterns also utilize jars. Using frosted spray paint, paint your preferred jars then add glow sticks inside. You can spread these lanterns outside, hang them from tree branches, and place them on tables as a centerpiece.
Other Glow Stick Wedding Send-Off Ideas:
Confetti
Bouquets
Flower Crowns
Lanterns
Photo Booth
Wine Bottles
Necklaces
Bracelets
Anklets
Rings
Body Paint
Hair Accessories
Headbands
Party Favors
Cake Toppers
Table Centerpieces
Garland
Chandelier
Candles
Archways
Banners
Flags
Signage
Heart Wands
Hula Hoops
Horseshoes
Ring Toss
Cornhole
Frisbee
Lawn Bowling
Croquet
Glow Stick Mini Golf
Bubble Bath
Balloon Animals
Pet Collars
Pet Toys
Dog Leashes
Cat Toys
Hot Tub Party
Darts
Piñatas
Treasure Hunt
Light-Up Shoes
Musical Instruments
Tips for Having a Glow Stick Wedding Send-Off
Glow Sticks Look Best in Specific Camera Settings
If you and your partner are planning a glow stick wedding send-off, you must closely coordinate with your photographer. For the best results, the photographer can set the shutter speed a little slower, falling in the range of 1/30 to ¼ of a second. Setting the flash high and skewed to the side also helps improve the results.
Reuse Glow Sticks Throughout the Day
Glow sticks can last anywhere from a couple of hours to even several days. This time span allows you to reuse glow sticks multiple times in your ceremony and reception. This saves you money that would otherwise be spent on procuring more glow sticks and reduces the waste during your event.
Buy Glow Sticks in Bulk
With that said, buying glow sticks by the dozens or in bulk is more cost-effective than buying them individually or in small packs. Look around various party supplies stores, general merchandise stores, and check online platforms such as Amazon to find the best deal.
Additionally, it is best to buy more than what you think you need. Besides replacements, some guests may ask for additional glow sticks to make different props, such as bracelets, glasses, and so on.
Stay Within the Color Scheme
If possible, only utilize glow sticks that fit with the color theme of your wedding. However, this may end up limiting your options for glow stick colors. However, you can find a way around this issue using the creative ideas listed above.
Put on a Show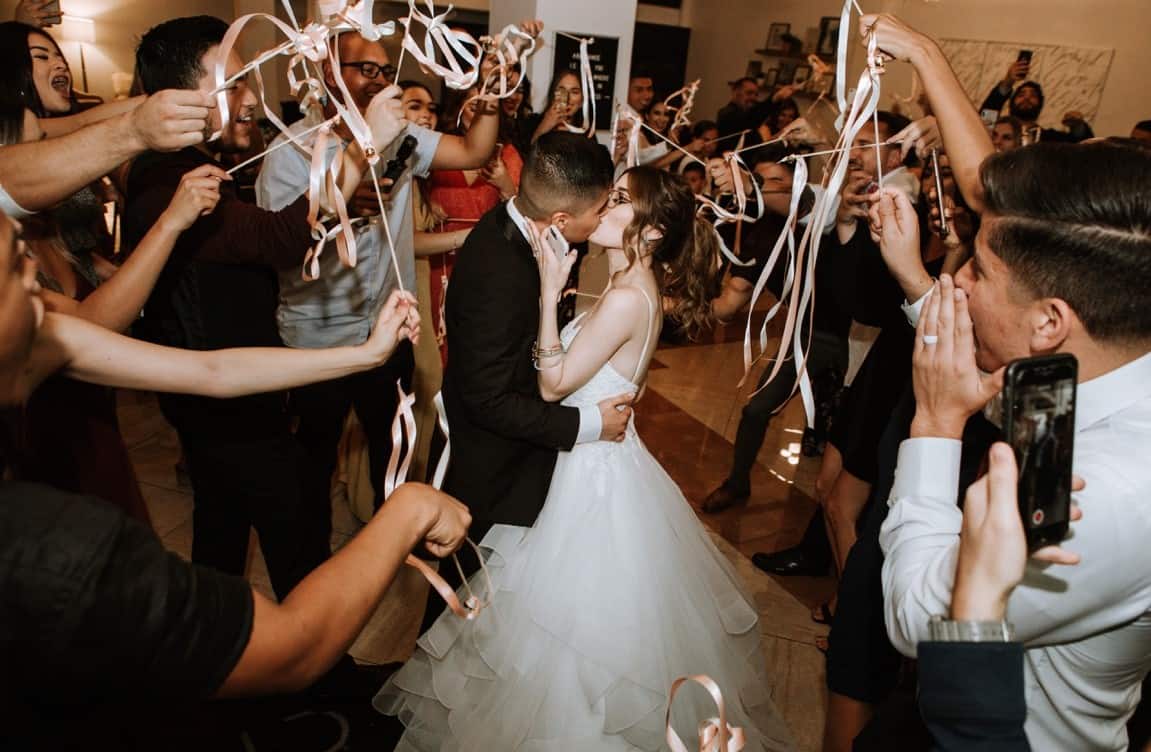 As you and your partner make your exit, give each other a sweet kiss. You may even opt for a dip for an added effect. You can also bust out some moves here and there as lively recessional music plays. This will get your guests energized and cheerful, which can make the moment all the more memorable. This energy will also reflect in the photos.
Incorporate Glow Sticks Into Your Wedding Favors
A wedding favor refers to a small gift given by the couple to their guests as a sign of gratitude. It is common practice to have the wedding favor fit with the general theme of your wedding. With that said, you can include a few glow sticks in each wedding favor to serve as a memento for your special day.
Ask for Assistance
Executing these creative ideas takes a lot of time, energy, and effort. Doing them by yourself will take weeks, even months, to finish. By asking your friends and family to help with the assembly of your chosen decorations, you can finish them in much less time. Additionally, this is an opportunity to spend time together and bond.
Final Thoughts
Glow sticks, in and of themselves, are great decorations for wedding send-off parties. However, by using various materials such as jars, bottles, and cups, you can craft beautiful and eye-catching pieces of decor that will make your send-off an exceptional experience. We hope you've found a glow stick wedding send-off idea that you liked.