The wedding dress is undeniably one of the most important and memorable aspects of any wedding. Recognizing this significance, brides invest substantial time and effort to ensure their dress alteration results in a perfect fit. But how long does the alteration process actually take?
It takes brides approximately two months, during which they are advised to schedule three to four fittings, to alter and adjust their wedding dress to perfection. While individual alterations can potentially be completed within 24 hours, the time required varies based on the complexity of each change, potentially extending up to several weeks.
Details on the wedding dress alteration timeline can be found below. In addition, several tips are provided to guarantee a smooth fitting experience, and some commonly asked questions about wedding dress alterations are also addressed.
Understanding the Wedding Dress Alteration Timeline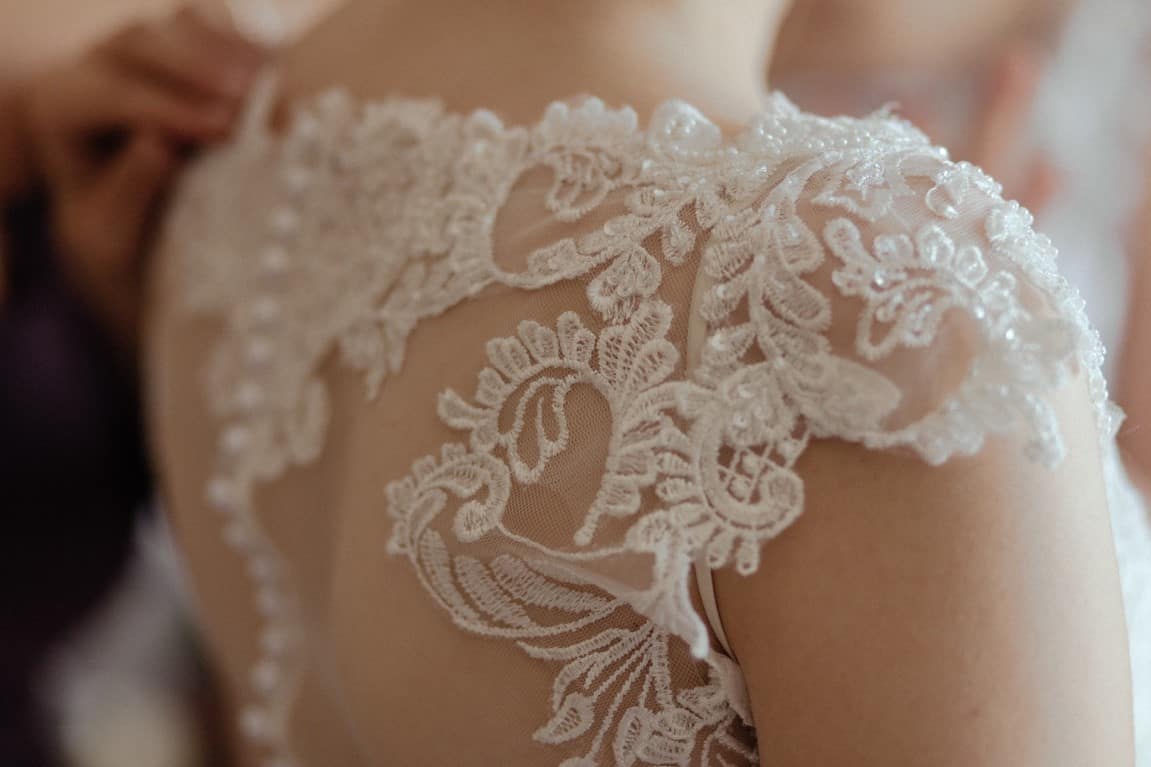 It is best to buy your dress around nine months before your wedding day. This gives you ample time to shop for undergarments and accessories. If the retailer you purchased your dress from does not have in-house altering services, this is the perfect time to get a dress altered by searching for seamstresses that specialize in wedding dress alterations.
Wedding dresses typically have a delivery time of four to six months. Once your dress arrives, schedule a first fitting with your tailor or seamstress. First fittings often take place three to four months before the wedding day. During this appointment, you will discuss your desired alterations and customizations; additionally, the seamstress will also take measurements for the hem length and the bustle.
The second fitting occurs four to six weeks before your special day. By this time, most of the alterations you requested beforehand may be ready. The task at hand will then be to ascertain that everything is up to your liking, including the fit and length. Your seamstress will also take note of which details need to be fine-tuned.
Two weeks before the wedding is the ideal time for your third fitting. During this appointment, you will be double-checking every aspect of your dress to make sure that it is ready. It is possible that last-minute changes have to be made, which will then necessitate a fourth and last fitting a week before your special day.
Tips for a Smooth Wedding Dress Fitting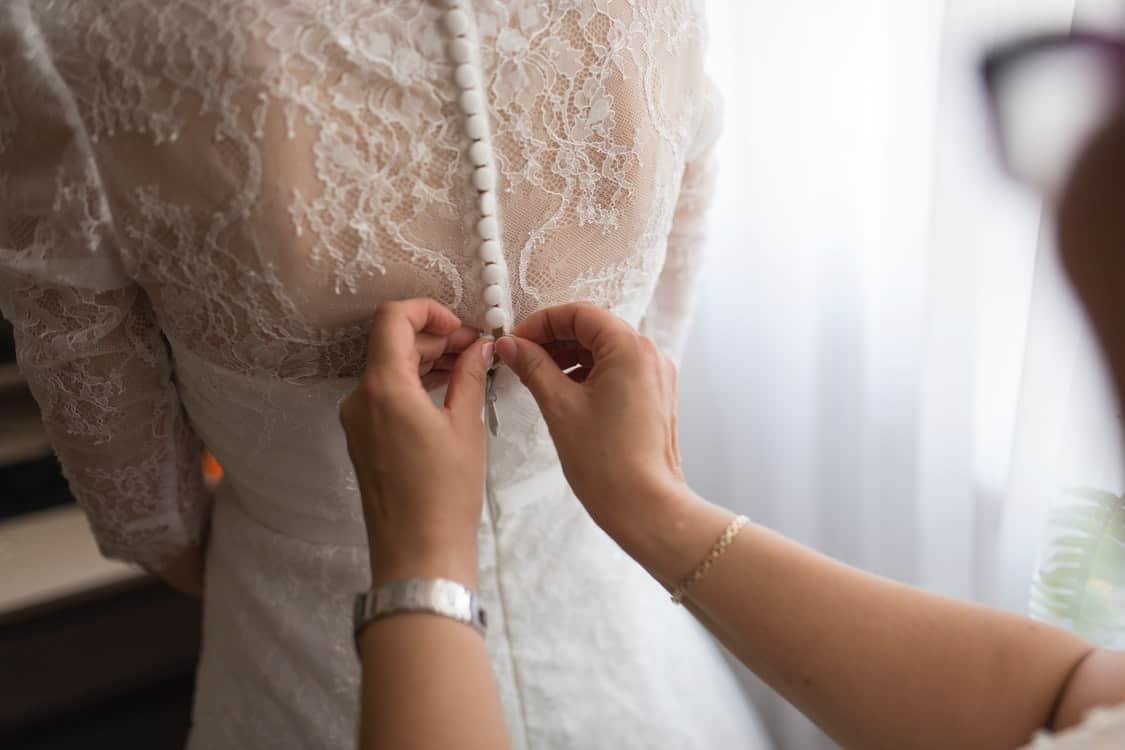 Buy From a Retailer with an In-House Seamstress
Not every retailer will have a team of seamstresses that can accommodate your alterations and customizations. As much as possible, try to buy your dress from a store with in-house seamstresses. Doing this may save you money on alteration costs and will make booking fittings more convenient. If they do not have in-house alteration services, ask them for a recommendation or referral to a professional who they trust.
Feel Free to Ask Questions
If you have any concerns regarding any part of the alteration process, contact your seamstress. There is nothing wrong with asking them to clarify something or explain why they did something the way they did. This will prevent any future misunderstandings or surprises.
Moreover, ask the seamstress if they are capable of accommodating your desired customizations. Many seamstresses specialize in a specific aspect of the dress; not every tailor has the tools and skills pertinent to your requests. If they are unable to provide their services, ask them for recommendations or referrals that they trust.
Do Not Get Your Dress Altered Too Early
As stated above, brides are generally recommended to schedule their first fitting three months before their wedding day. Getting your dress altered too early is a risky move, as you may end up with a gown that does not fit well. With the stress from wedding planning and weight loss or gain from exercising and dieting, your body might undergo some changes or fluctuations.
Do Not Get Your Dress Altered Too Late
Oppositely, having your dress altered too late may result in subpar alterations. If you rush your seamstresses, they are likelier to make mistakes. Too little time will also limit the number of fittings you can attend and the number of customizations you can make. Additionally, depending on how in-demand the tailors are, they may not be able to accommodate your request.
Keep in mind that you may also incur additional fees if you give the seamstresses an earlier deadline for the alterations.
Invite Someone You Trust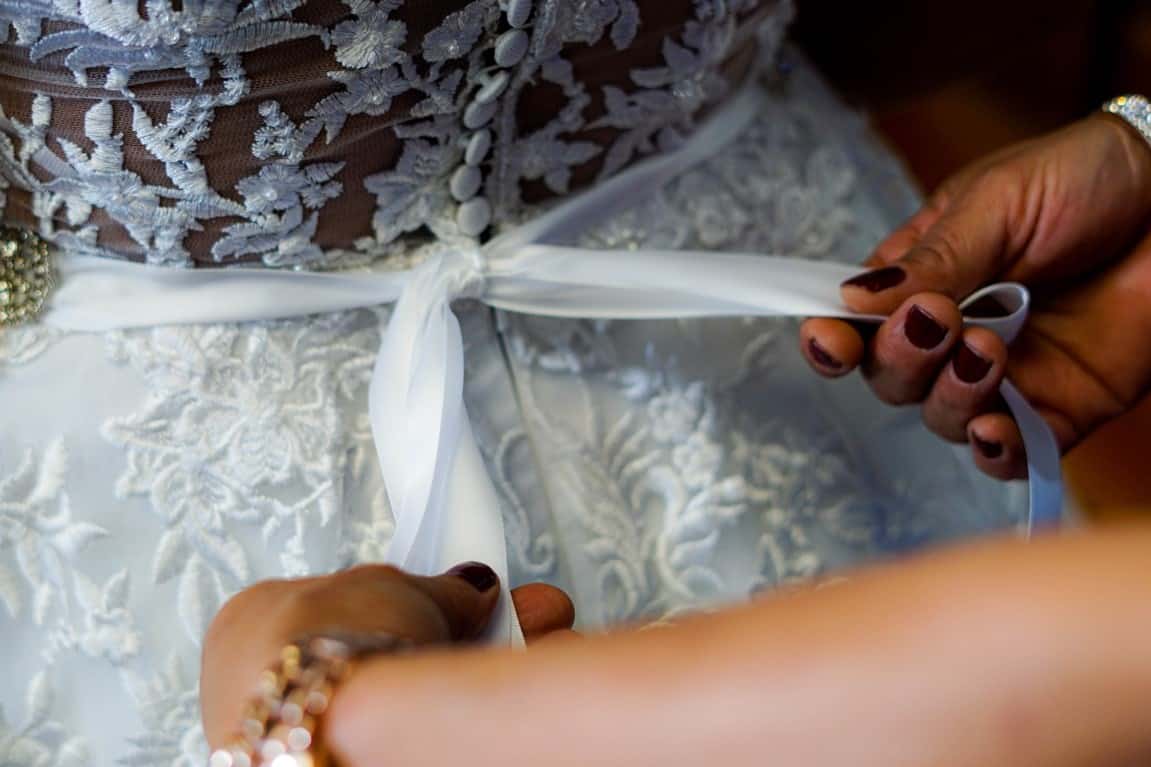 Ask your mother, close friend, relative, or a bridesmaid or maid of honor to accompany you to your fittings. They can offer their opinions, suggestions, and insight into the possible alterations for your dress. Furthermore, they can be your sounding board for your ideas. However, the final decision must still be in your hands; do not let them dictate what you go for.
Come Prepared
Before attending your first fitting, visualize what your dream wedding dress looks like. Itemize each customization you want to make, each aspect you want your seamstress' opinion on, and each change you want to do to your dress.
Having an oral discussion with your seamstresses will suffice. However, they will appreciate it if you arrive with some photos or a Pinterest board for inspiration.
Bring the Rest of Your Wedding Attire
When attending your fittings, make sure to bring the undergarments, accessories, and pairs of shoes you plan on wearing with your dress. This will assist you and the seamstress to determine what needs to be changed and by how much. Seeing the entire outfit will also give you an idea of what you will look like on your special day.
If the specific shoe you plan on wearing is not yet available, bring another pair that has a similar height. The same goes for any other piece of clothing — if they are not yet on hand, bring something with the same dimensions.
Do Not Fall Into the "Wedding Diet Mentality"
As the name denotes, wedding diet mentality refers to the desire to lose weight in anticipation of one's wedding. Falling into this mentality brings can cause stress that, in turn, can counterproductively make your body fluctuate.
On a more practical level, excessively dieting or rigorously exercising for the duration of your wedding planning might necessitate more fittings. The changes in your body may require last-minute alterations, which will end up taking more time. Thus, you risk walking down the aisle with a dress that does not fit you as well as it should.
You are perfect the way you are. Get your dress altered in a way that will flatter your shape and make you comfortable. Get your dress altered according to your body, not what society dictates as the body.
Wedding Dress Alteration: FAQs
Is alteration mandatory? No, but it's recommended for the best fit.
How does pregnancy impact alterations? Generally, adding an inch for every remaining month of pregnancy to your dress size can help. This might require additional fittings.
Do some customizations extend the alteration timeline? Yes. Detailed work like embroidery, beadwork, or specific fabrics like satin can be time-consuming.
How long is each fitting? The first is about an hour, with subsequent ones averaging 30 minutes.
Is there such a thing as "too much altering?" While dresses can undergo extensive alterations, consult with your seamstress about feasibility and time constraints.
Should I avoid plastic surgery before the wedding? Yes, avoid any procedures at least six months prior to avoid body changes.
Final Thoughts
While individual alterations can be swift, a comprehensive wedding dress alteration process typically spans about two months, with three to four fittings advised.
Giving your seamstress ample time ensures that the dress will be a flawless representation of your vision on your special day.