The wedding dress is arguably one of the most important and memorable aspects of any wedding. Knowing this, brides feel motivated to put a lot of time and effort into making sure that their dress fits them remarkably.
How long do wedding dress alterations take? Brides are advised to schedule three to four fittings for their wedding dress, which typically span two months before the ceremony. Technically speaking, individual alterations can be finished within 24 hours. However, depending on the intricacy of each alteration, it may take up to several weeks.
The timeline for wedding dress alterations is detailed below. Moreover, several tips are also given to ensure that your fitting appointments go as smoothly as possible. Lastly, some frequently asked questions regarding wedding dress alterations are answered as well.
How Long do Wedding Dress Alterations Take? (Timeline)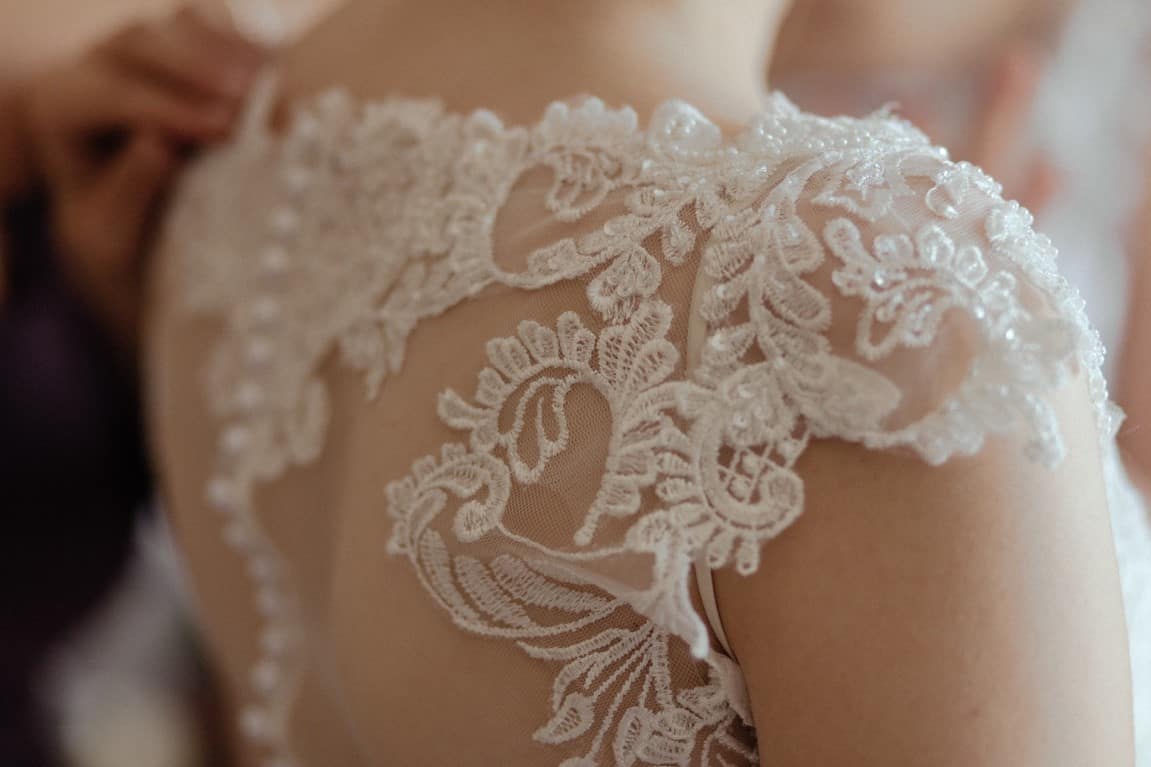 It is best to buy your dress around nine months before your wedding day. This gives you ample time to shop for undergarments and accessories. If the retailer you purchased your dress from does not have in-house altering services, this is the perfect time to search for seamstresses that specialize in wedding dress alterations.
Wedding dresses typically have a delivery time of four to six months. Once your dress arrives, schedule a first fitting with your tailor or seamstress. First fittings often take place three to four months before the wedding day. During this appointment, you will discuss your desired alterations and customizations; additionally, the seamstress will also take measurements for the hem length and the bustle.
The second fitting occurs four to six weeks before your special day. By this time, most of the alterations you requested beforehand may be ready. The task at hand will then be to ascertain that everything is up to your liking, including the fit and length. Your seamstress will also take note of which details need to be fine-tuned.
Two weeks before the wedding is the ideal time for your third fitting. During this appointment, you will be double-checking every aspect of your dress to make sure that it is ready. It is possible that last-minute changes have to be made, which will then necessitate a fourth and last fitting a week before your special day.
Tips for a Smooth Wedding Dress Fitting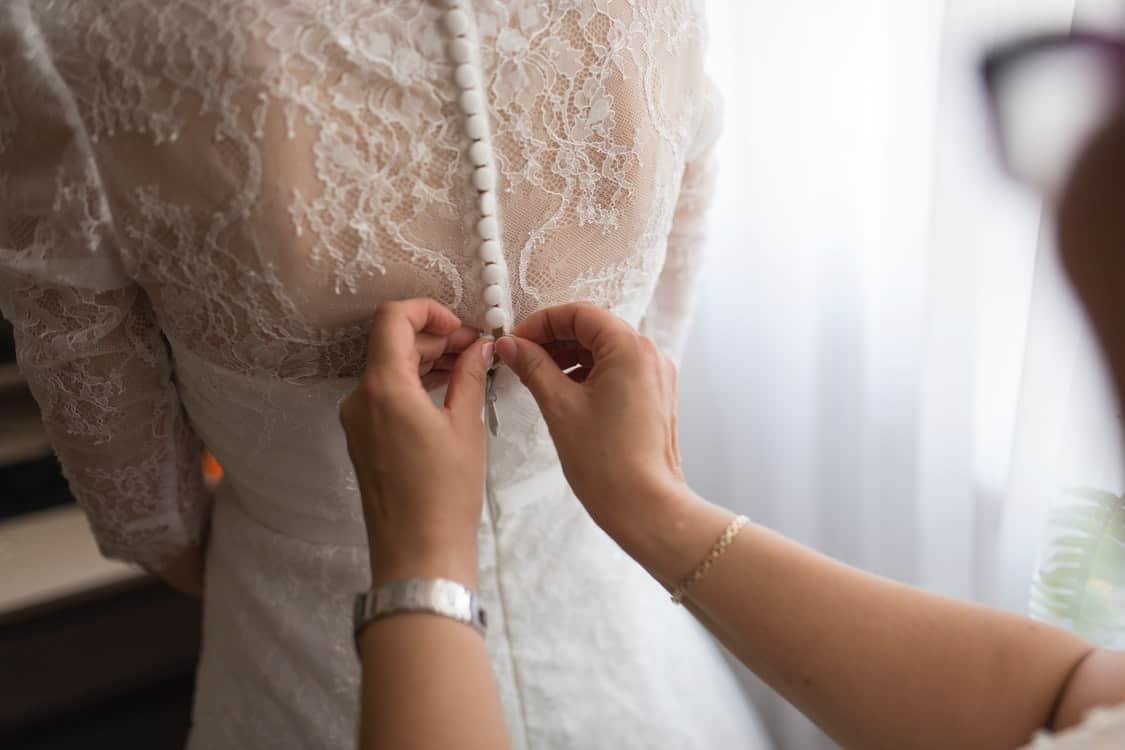 Buy From a Retailer with an In-House Seamstress
Not every retailer will have a team of seamstresses that can accommodate your alterations and customizations. As much as possible, try to buy your dress from a store with in-house seamstresses. Doing this may save you money on alteration costs and will make booking fittings more convenient. If they do not have in-house alteration services, ask them for a recommendation or referral to a professional who they trust.
Feel Free to Ask Questions
If you have any concerns regarding any part of the alteration process, contact your seamstress. There is nothing wrong with asking them to clarify something or explain why they did something the way they did. This will prevent any future misunderstandings or surprises.
Moreover, ask the seamstress if they are capable of accommodating your desired customizations. Many seamstresses specialize in a specific aspect of the dress; not every tailor has the tools and skills pertinent to your requests. If they are unable to provide their services, ask them for recommendations or referrals that they trust.
Do Not Get Your Dress Altered Too Early
As stated above, brides are generally recommended to schedule their first fitting three months before their wedding day. Getting your dress altered too early is a risky move, as you may end up with a gown that does not fit well. With the stress from wedding planning and weight loss or gain from exercising and dieting, your body might undergo some changes or fluctuations.
Do Not Get Your Dress Altered Too Late
Oppositely, having your dress altered too late may result in subpar alterations. If you rush your seamstresses, they are likelier to make mistakes. Too little time will also limit the number of fittings you can attend and the number of customizations you can make. Additionally, depending on how in-demand the tailors are, they may not be able to accommodate your request.
Keep in mind that you may also incur additional fees if you give the seamstresses an earlier deadline for the alterations.
Invite Someone You Trust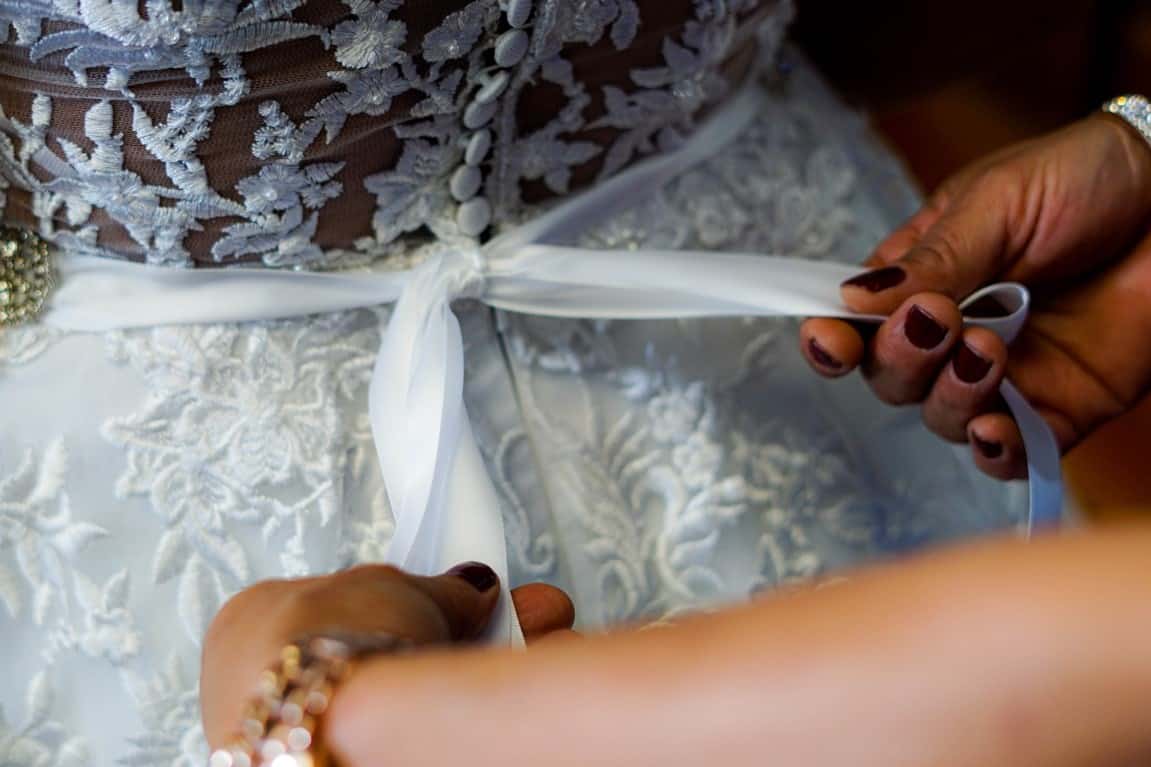 Ask your mother, close friend, relative, or a bridesmaid or maid of honor to accompany you to your fittings. They can offer their opinions, suggestions, and insight into the possible alterations for your dress. Furthermore, they can be your sounding board for your ideas. However, the final decision must still be in your hands; do not let them dictate what you go for.
Come Prepared
Before attending your first fitting, visualize what your dream wedding dress looks like. Itemize each customization you want to make, each aspect you want your seamstress' opinion on, and each change you want to do to your dress.
Having an oral discussion with your seamstresses will suffice. However, they will appreciate it if you arrive with some photos or a Pinterest board for inspiration.
Bring the Rest of Your Wedding Attire
When attending your fittings, make sure to bring the undergarments, accessories, and pairs of shoes you plan on wearing with your dress. This will assist you and the seamstress to determine what needs to be changed and by how much. Seeing the entire outfit will also give you an idea of what you will look like on your special day.
If the specific shoe you plan on wearing is not yet available, bring another pair that has a similar height. The same goes for any other piece of clothing — if they are not yet on hand, bring something with the same dimensions.
Do Not Fall Into the "Wedding Diet Mentality"
As the name denotes, wedding diet mentality refers to the desire to lose weight in anticipation of one's wedding. Falling into this mentality brings can cause stress that, in turn, can counterproductively make your body fluctuate.
On a more practical level, excessively dieting or rigorously exercising for the duration of your wedding planning might necessitate more fittings. The changes in your body may require last-minute alterations, which will end up taking more time. Thus, you risk walking down the aisle with a dress that does not fit you as well as it should.
You are perfect the way you are. Get your dress altered in a way that will flatter your shape and make you comfortable. Get your dress altered according to your body, not what society dictates as the body.
Wedding Dress Alteration: FAQs
Am I required to have my dress altered?
No, you are not required to have your wedding dress altered. At the end of the day, that is your decision to make. For financial or practical reasons, it may not make sense for you to go through multiple fittings.
The reason why you are strongly recommended to get your wedding dress altered is that it is rare for a wedding dress to perfectly fit any bride right from the beginning. The sizing conventions in bridal stores follow standards, and not every person fits within those standards.
It is also important to reiterate that your body can — and will — go through changes over the months leading up to your wedding. Altering your dress addresses possible weight fluctuations and how it can be tailored to better accentuate your shape.
How will pregnancy affect the wedding dress alteration timeline?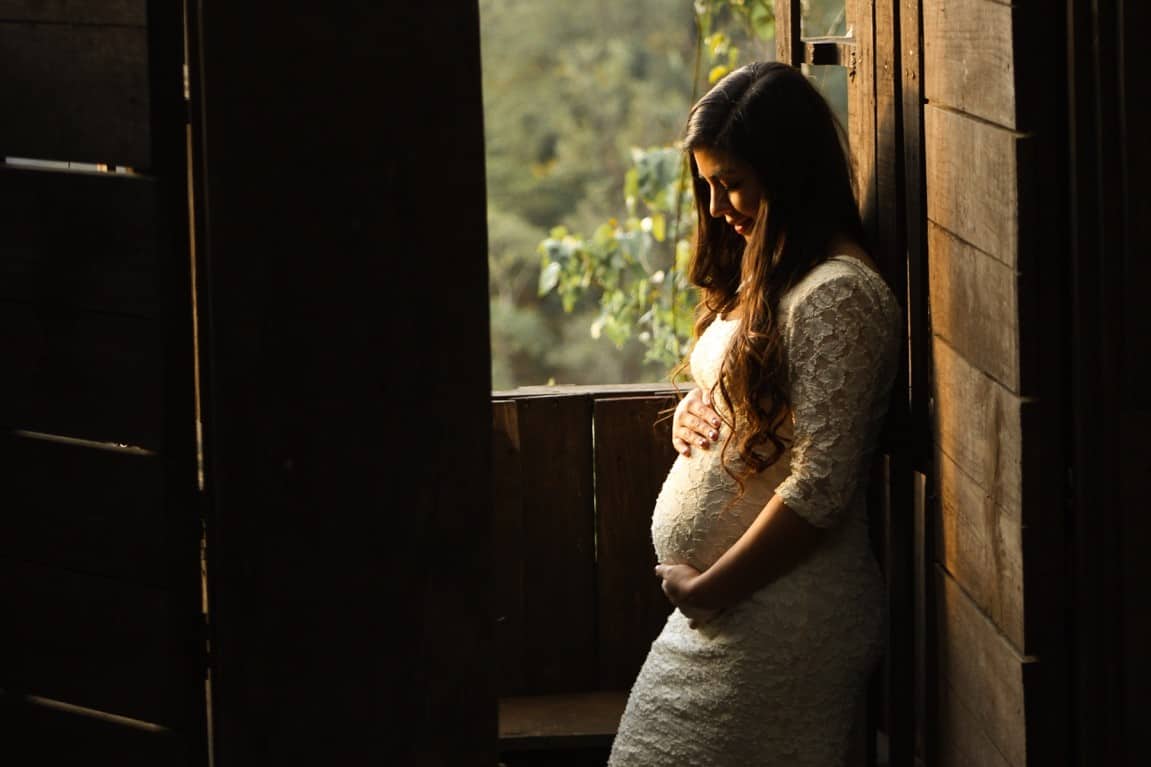 When purchasing a gown while pregnant, always size up to accommodate your baby bump. It is generally recommended to add one inch to your measurements for every remaining month of your pregnancy leading up to your wedding date.
Pregnancy does not have a significant effect on the alteration timeline itself. However, you have to discuss certain customizations with your seamstress. Examples of customizations for a maternity wedding dress include extra panels and corset tops. Furthermore, your growing baby bump necessitates a third or even fourth fitting to make sure that your dress will fit perfectly on the day of your wedding.
Will certain customizations make alterations take longer?
Yes, availing of certain customizations will take more time. The range of time mentioned above is merely an average; the final amount of time is dependent on the number of alterations necessary, how complex these alterations are, the availability and skill of your seamstress, and more. Here are some examples of things that can heavily impact the timeline of alterations.
Embroidery and lace → details such as embroidery and lace are much more demanding when it comes to altering. They necessitate a higher level of care and precision. The seamstress needs to use an overlay when working with embroidery and lace, which will end up taking more time.
Beadwork → much like embroidery and lace, beadwork calls for more carefulness and exactness. Each bed needs to be removed from the fabric, then resewed individually with the altered measurements.
Satin → satin is a delicate fabric that is prone to showing wrinkles, making it easier to make mistakes when doing handiwork. Because of this, working with satin can take a lot of time and be wearisome.
How long does each fitting appointment last?
The first fitting appointment usually lasts for an hour and takes longer than the rest of the fittings. This is due to it being the first time you will wear the dress and discuss the changes to be made. The proceeding appointments take around 30 minutes.
Is there such a thing as "too much altering?"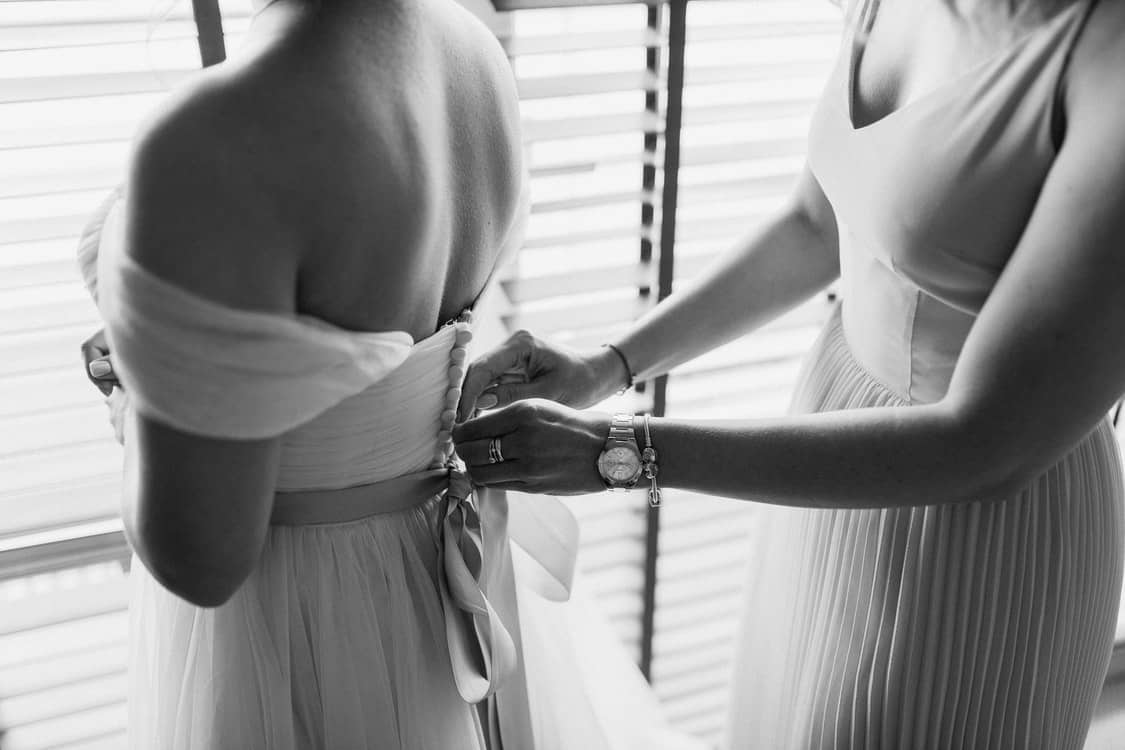 No, there is no such thing as "too much altering." Seamstresses, especially those with more experience in the profession, can even totally redesign the gown you purchased if you want. They are also able to resize, change the length, and add or take out customizations according to your will.
Again, ask your seamstress if they can accommodate your requests time-wise and skill-wise. Also, consider your budget and the amount of time you have before the wedding.
Can I undergo bodily plastic surgery before or during my fittings?
You are strongly discouraged to undergo bodily plastic surgery six months before the wedding. Your body can take up to several months to stabilize after the surgery; all these fluctuations will make fitting more challenging.
In the same vein, sudden changes in diet, exercise habits, and medication will also influence your physique. Speak with a dietitian or physician to discuss the possible side effects of switching nutritional plans or medication.
Final Thoughts
So, how long does it take to alter a wedding dress? Over the course of two months, brides are encouraged to have three to four fittings for their wedding dress. These fittings will ensure that their dress will accentuate their body flatteringly on their special day. It is important to give seamstresses ample time to alter your dress so you can achieve the best results.
As for one time-off individual alterations at a bridal salon, it can be finished within 24 hours. However, depending on the intricacy of each alteration, it may take up to several weeks.