A quintessential wedding dress will be one of the most essential and memorable parts of your wedding. However, store-bought wedding dresses rarely perfectly fit upon purchase. As such, brides go through multiple fittings to get the right size.
On average, a bride will spend $75 to $590 on basic wedding dress alterations. With customizations, the average expenditure is around $1,000. Some retailers may charge a flat alteration fee that ranges from $500 to $1,000.
The cost of individual alterations varies according to the type and complexity of the modification, the material of the gown, and the seamstress or retailer.
Wedding Dress Alteration Cost Breakdown
Most brides, if not all, will need a few alterations to their wedding dress to get the perfect fit. These alterations can be broadly categorized into two groups: basic hemming and customization. Some tailors or retailers offer individual quotes for each process, while some have a flat alteration fee.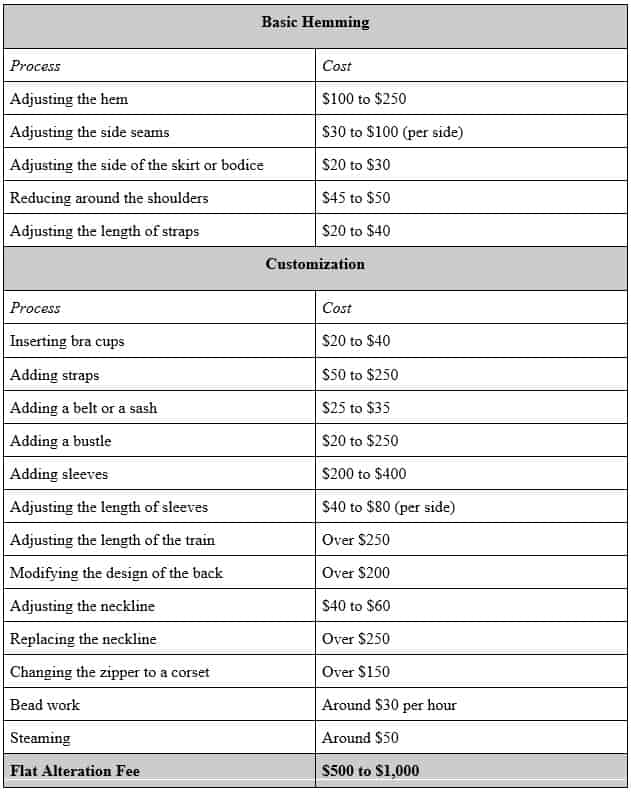 The costs listed above are in ranges because the final quote will vary according to the gown's material, the intricacy of the design, the amount of work, and the retailer or seamstress.
If you are ordering a custom-made gown or modernizing a relative's old wedding dress, the same fees may apply. However, depending on the complexity of the work, you may need to account for additional charges.
Basic Hemming
The most common measurements used are the bust, waist, and hips. It is highly recommended that you order the size which corresponds to the largest among the three measurements. For instance, if your bust fits a size 10, your waist fits a size 8, and your hips fit a size 12, it is best that you order a size 12 wedding gown and get it altered to complement your body.
You may disregard your hip size if you opt to wear a gown with a full skirt, as the skirt will fit regardless of the measurement. 
Hemming is done by manipulating the length and sides of your gown so as to ensure that the fit is perfect.
A gown is said to be a perfect fit once the bust is fully supported, the body's shape is flatteringly accentuated, and the shoes are hidden by its skirt without risking the bride from falling over.
Customization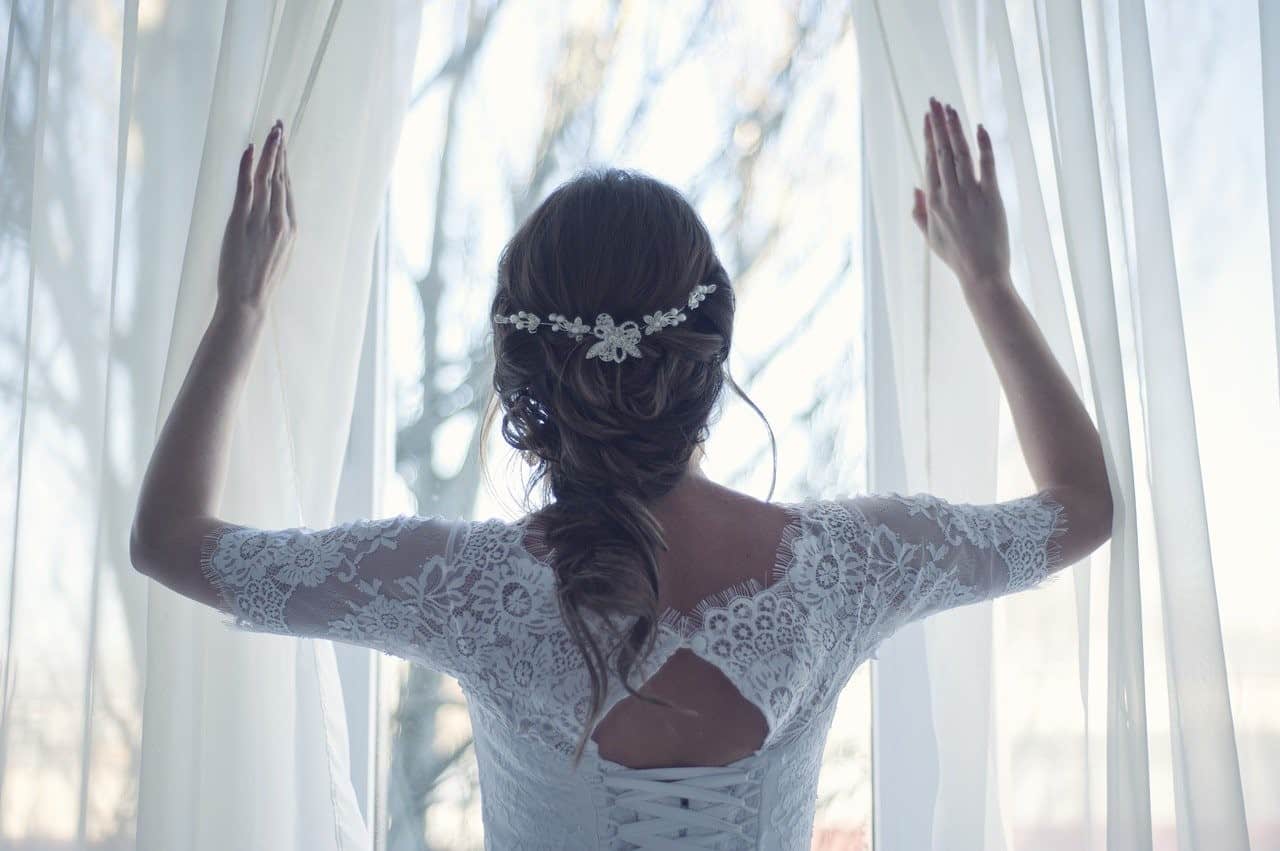 Other than the aforementioned basic adjustments, you may want to modify certain aspects of your wedding gown by putting new elements or changing existing ones. These modifications include the addition of bra cups, straps, sleeves, and beads, the adjustment of the neckline or the train, and so on.
While some of these adjustments may be doable by yourself or someone you know, the more complicated and difficult alterations should be left for professional seamstresses.
There is no such thing as too many alterations. At the end of the day, your gown must make you happy and comfortable for your special day.
Flat Fees
Some retailers may charge a flat fee that would encompass all alteration services. This can be good for customers who may need quite a lot of modifications; flat fees can end up saving them money.
However, if there are only a few alterations needed, settling for a retailer's flat fee can be an unnecessary expense.
Look around and consult multiple retailers and seamstresses to determine which can give you the best deal without having to cut certain corners.
Tips For Brides
Allot Adequate Time for Fittings
It is standard for brides to have two to three wedding fittings. This is to acknowledge that bodies change over time; for instance, a bride-to-be may decide to start working out, dietingwedding, and or they may lose weight from the stress of planning.
Buying your wedding gown early will give you ample breathing room for multiple fittings. It is recommended that a fitting be done within 8 to 12 weeks before the wedding and another fitting 2 weeks before the ceremony.
You may want to go on another fitting in between those time frames — around 4 weeks before the ceremony — if you are availing multiple customizations or you are currently pregnant and your baby bump is growing.
Wear Your Wedding Day Shoes, Undergarments, and Accessories During Fittings
This will help you and the seamstress obtain the best possible fit and look for your wedding day. A lot of modifications will revolve around the shoes, undergarments, and accessories, such as the length of the hem, the need for a strap or bra cups, and the neckline.
Opt for a Hemline Thar Brushes the Floor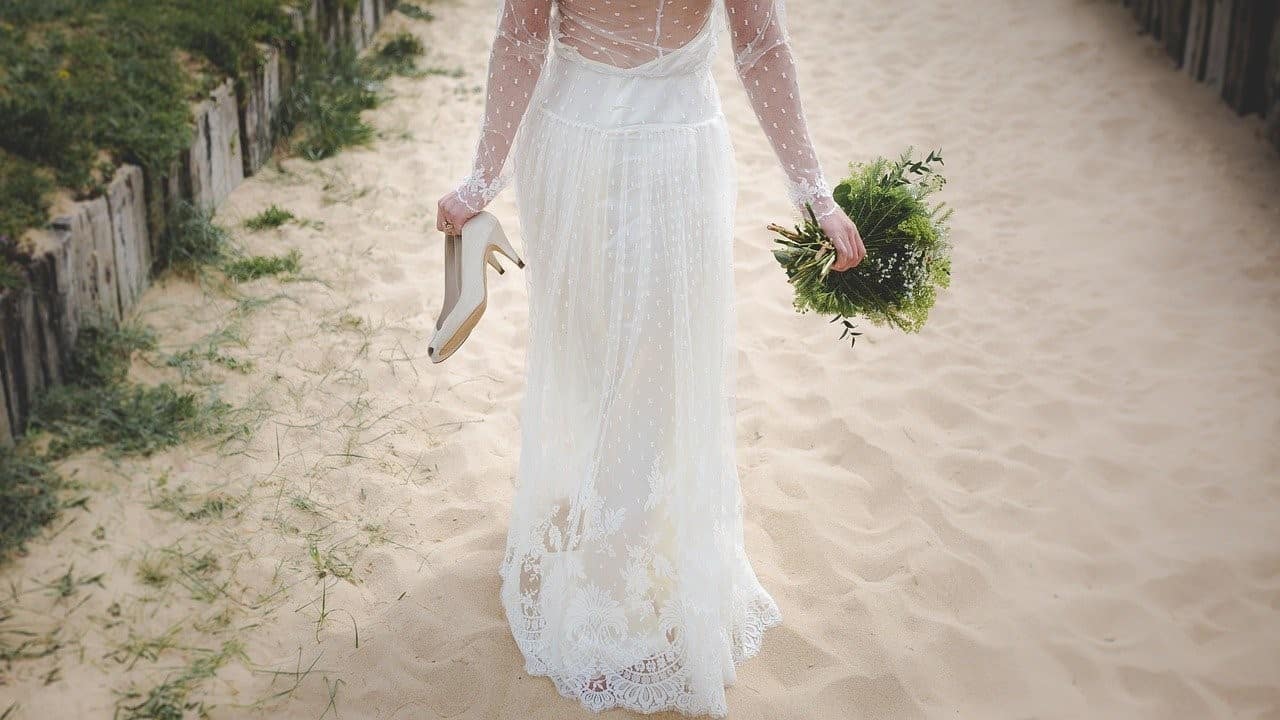 As mentioned earlier, the perfect fit for a gown is one where the shoes are hidden but is not a risk for tripping. This will give you more freedom and comfort to roam around, dance, and socialize during your reception.
Be Creative with Customizations
For instance, instead of paying for sleeves to be added to your gown, you may opt for a bolero instead. Try to think of alternatives for alterations that will still contribute to your desired look.
Opt for a Corset Back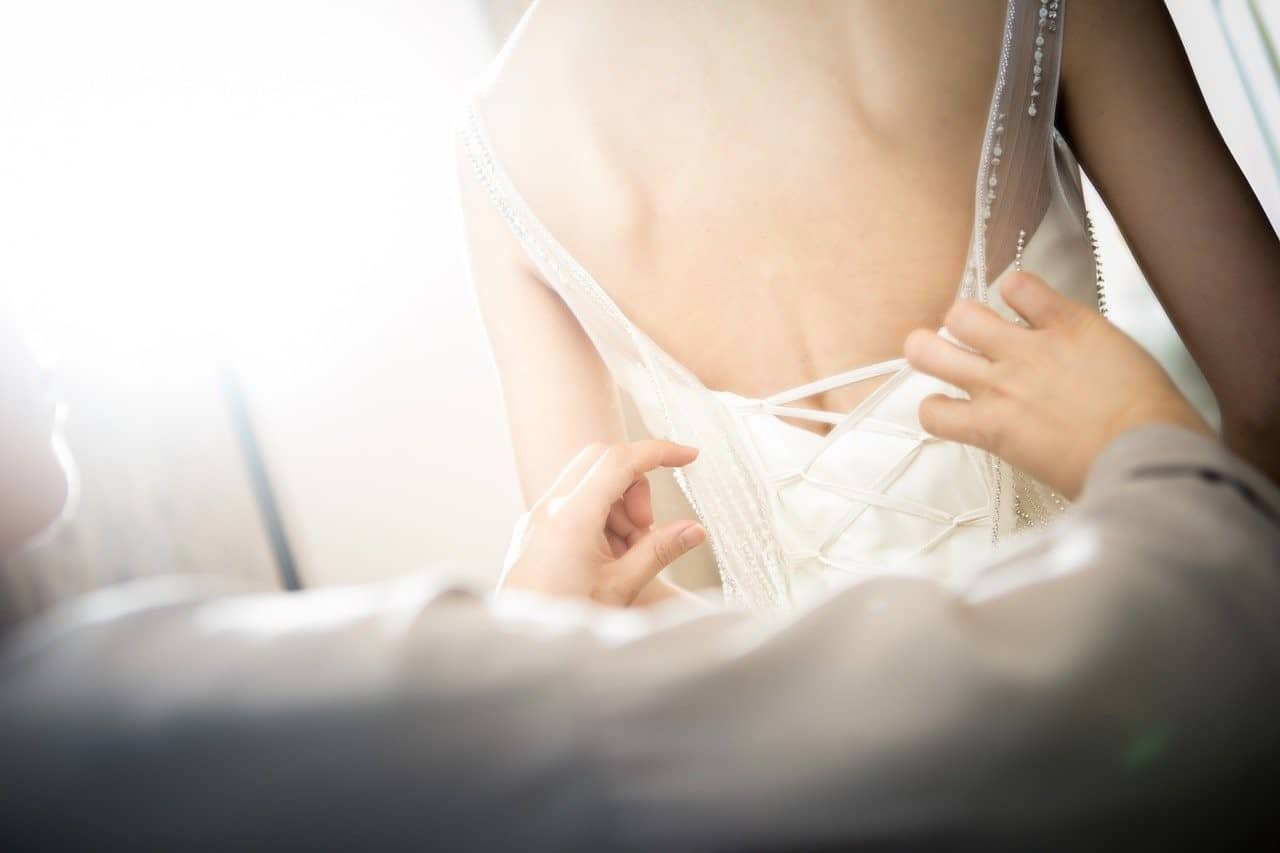 This will give your gown more flexibility with your weight. Minimal weight fluctuations can be addressed simply by loosening or tightening the corset back. This can save you money from having to alter the dress every time you lose or gain weight.
There is No Such Thing as Too Many Alterations
It is important to reiterate that bodies inevitably change over time. Having to readjust the measurements of your hem or side seams or having to alter the length of your sleeves or the shape of your neckline every fitting, is not something to be ashamed of.
What matters most is that your gown accentuates your body in a way that you are happy with and satisfied by. Seamstresses are perfectly capable of taking in the gown, opening its seams, or attaching more fabric to the dress to address the changes in your body.
Be Flexible with Your Footwear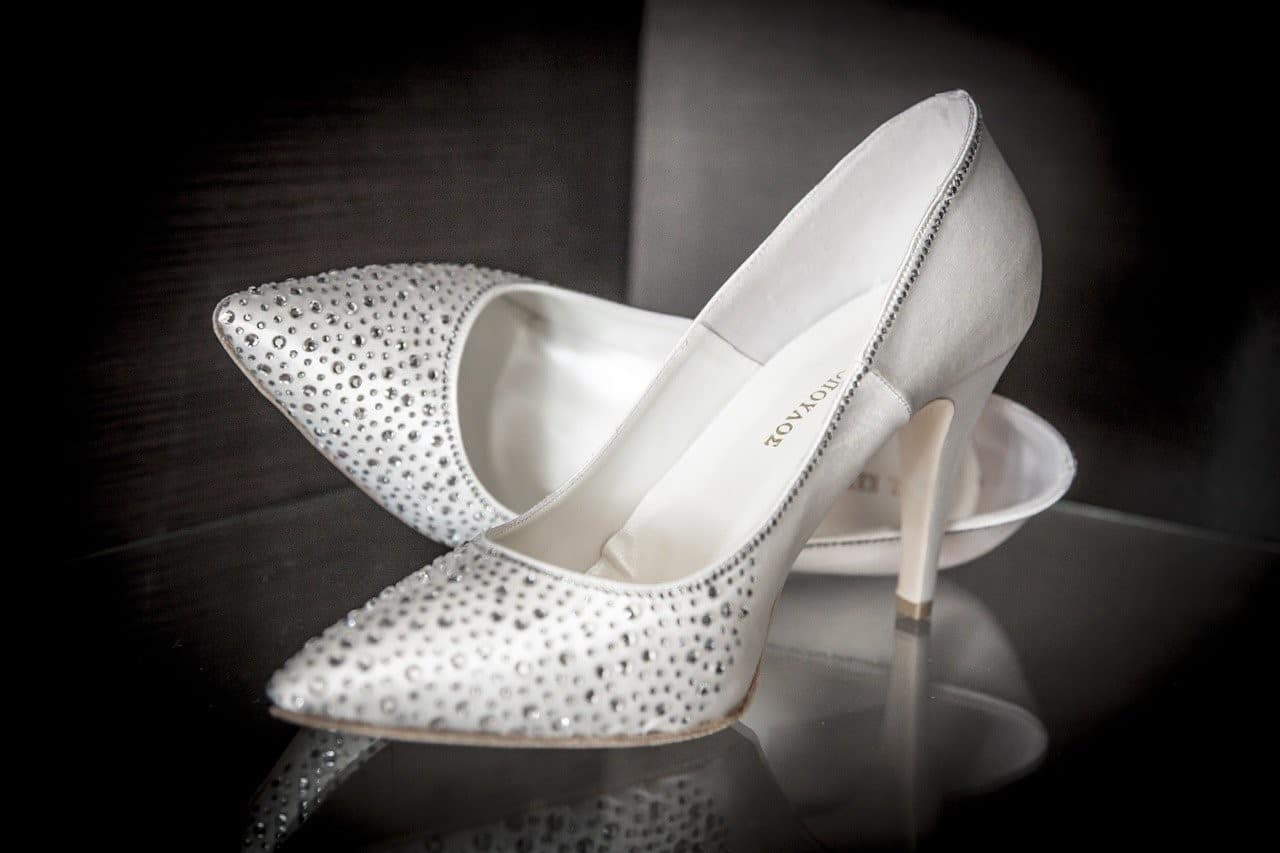 A shorter or taller pair of heels may mitigate hemming alterations by letting you yourself adjust to the length of your gown. With that said, you must still take into consideration your own comfort; if having higher heels, for example, is too painful, then it may be best to just pay for hemming alterations.
Have a Friend or Family Member Accompany You
An additional set of eyes may be very helpful to the fitting process as they can give their opinions and suggestions on modifications. They will also be there to provide emotional and moral support. 
Where to Get Your Dress Altered
Check the details from the retailer if they offer free or discounted alteration services for your purchase. Regardless, it is worth checking with other nearby boutiques to compare fees and see which can fit your budget.
You may also ask for help from acquaintances, friends, and families who know how to sew. They may be able to alter your gown for a lower price or without a fee at all.
However, as some processes and customization are highly complicated, it may be best to leave the job to a professional seamstress or tailor. Look around your area for local seamstresses and inquire about their services.
Final Thoughts
It is best to set aside a budget of anywhere from $75 to $1,000 for wedding gown alterations, depending on the amount and complexity of alterations you want to avail. This will give you plenty of options to modify your gown to best fit you and your personality.