Proposing to your partner is one of the most exciting parts of your relationship. However, the process can be quite intimidating, especially when it comes to picking the right size for the ring. However, many do not know that it is possible to get your ring resized.
How long does it take to resize a ring? There are multiple factors that influence the duration and cost of getting your ring resized. However, you can generally expect it to take around 1 to 3 weeks and cost at least $30 for the simplest rings.
The time needed and the price to pay for resizing services will depend on the material and design of the ring, the original size, and your intended size, and the retailer you will avail the service from. Furthermore, as some rings cannot be resized at all, there are alternatives jewelers can install such as sizing beads to make the fit more comfortable.
How Long Does It Take To Get a Ring Resized on Average?
There are two options available for getting a ring resized: traditional and quick.
Traditional Resizing Process
Quick Resizing Process
Step
Duration
Step
Duration
Customer goes to a retailer or physical store
Travel time depending on location and traffic
Customer ships the ring to a repair facility
N/A
Retailer or store ships ring to a repair facility or jeweler
1 day to 1 week
Jeweler resizes the ring
1 to 3 days
Jeweler resizes the ring
Around 1 week
Repair facility ships the ring back to the customer
1 day
Jeweler ships the ring back to the retailer or physical store
1 day to 1 week
Customer picks up the ring at the retailer or physical store
Travel time depending on location and traffic
Total
Around 3 weeks
Total
Around 1 week
The quick resizing process only takes around a week to finish, while the traditional resizing process may take more or less 3 weeks. Choosing which one to go through depends on your preference, convenience, and budget.
However, there are several factors to consider before getting your ring resized and approximating the cost. These factors include whether you are getting your ring upsized or downsized, how much resizing you need, the material of your ring, and the complexity of its design. Unfortunately, there are certain types of rings that cannot be altered. You also have to take into account the availability of the jeweler.
Upsizing a Ring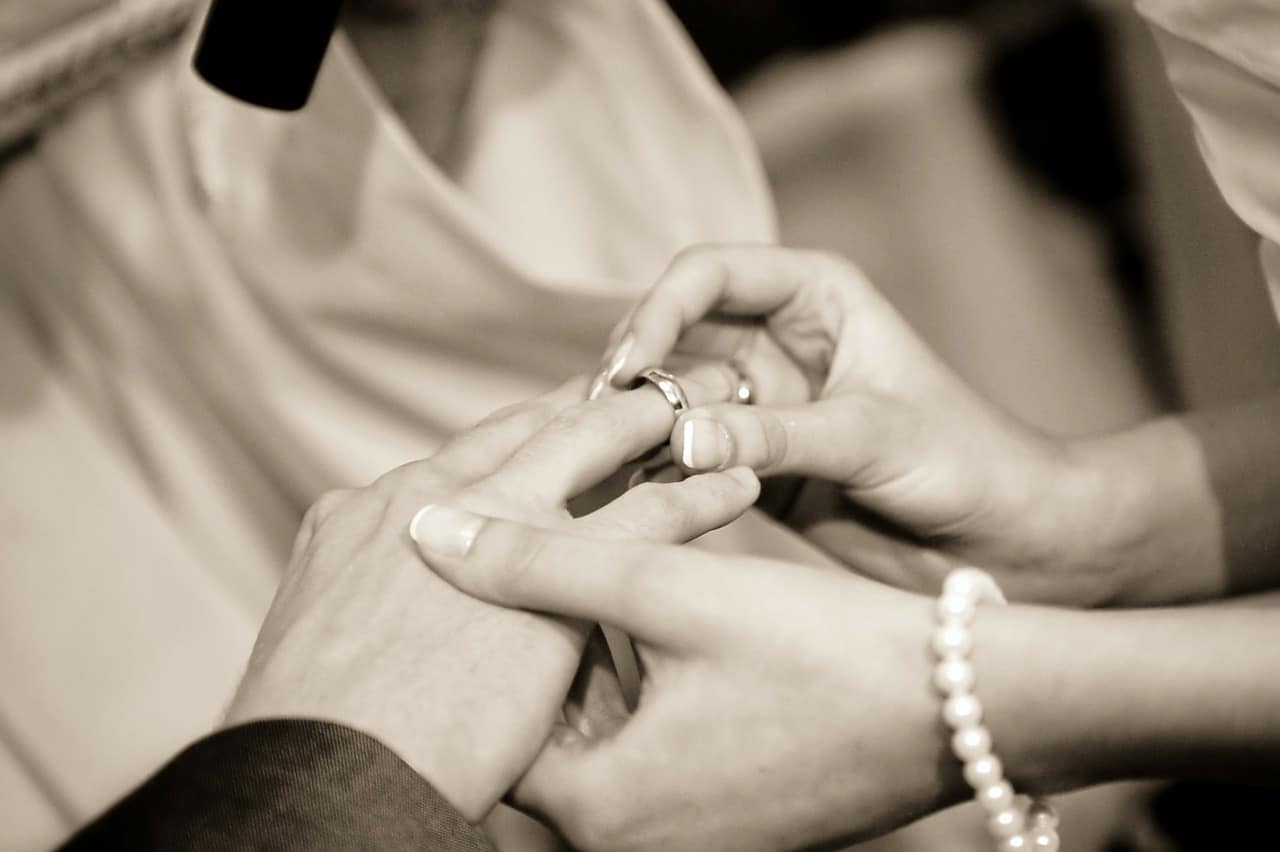 Jewelers have two options when having to upsize a ring.
The first is to stretch the metal of the band. This is the quicker of the two processes, as a jeweler can need as little as 10 minutes. Stretching is only recommended if the ring needs to be upsized by a quarter to a half of the ring size.
Larger alterations necessitate adding more metal to the ring. This is done by cutting the band, adding a bridge of metal, and soldering or lasering it back together. Then, the jeweler will polish and clean the shank so as to make it look brand new. On simpler rings, this process may take up to three hours.
Downsizing a Ring
To downsize a ring, jewelers cut the band in the back and remove enough metal to get it to the customer's desired size. It is then soldered or lasered to put it back together, then polished and smoothened.
You may ask for the "cutout" or the leftover metal when the ring was cut. This can be useful to have on hand if you ever need your ring upsized again in the future.
As there is no additional material used in downsizing a ring, it is typically cheaper and quicker than having a ring enlarged.
Material of the Ring
The easier the material to work with, the less the cost and duration will be. Some metals are easier to work with in terms of resizing such as gold and silver. However, certain materials such as tungsten and ceramic cannot be resized because of their hardness, brittleness, and other characteristics.
| | | |
| --- | --- | --- |
| Material | Resizable? | Explanation |
| Yellow gold | ✓ | Among the easiest metals and least inexpensive to resize. |
| Sterling silver | ✓ | Relatively easy to resize. |
| Palladium | ✓ | Similar to platinum in terms of characteristics; also used to make white gold rings. |
| White gold | ✓ | Resizable but takes more work; rhodium plating is reapplied to keep the white gold color. |
| Platinum | ✓ | Difficult to resize as specialized tools are needed because of platinum's higher melting point. |
| Cobalt chrome | ✓ | It is possible to slightly upsize cobalt chrome rings as they are a little less hard than titanium. |
| Titanium | ✓ | Resizable, but many jewelers do not resize titanium as it is very difficult to work with. |
| Stainless steel | ✓ | Resizable, but very difficult to resize due to its remarkably high melting point. Like platinum, stainless steel requires specialized tools to work with. |
| Rose gold | ✗ | Rose gold is avoided or altogether not resized by jewelers because it tends to crack. |
| Tungsten | ✗ | Tungsten cannot be resized as it is too hard and brittle. It is also scratch-resistant. |
| Ceramic | ✗ | Ceramic wedding bands are extremely hard, thus making them unresizable. |
| Base metals (e.g. bronze, copper, brass, etc.) | ✗ | Base metals do not have the necessary metallic characteristics such as heat transference and a tendency for burning, making them easily damageable in resizing procedures. |
| Any non-metal material (e.g. quartz, wood, glass, etc.) | ✗ | These materials cannot be bent or cut, thus making them unfit for the resizing procedures. |
Design of the Ring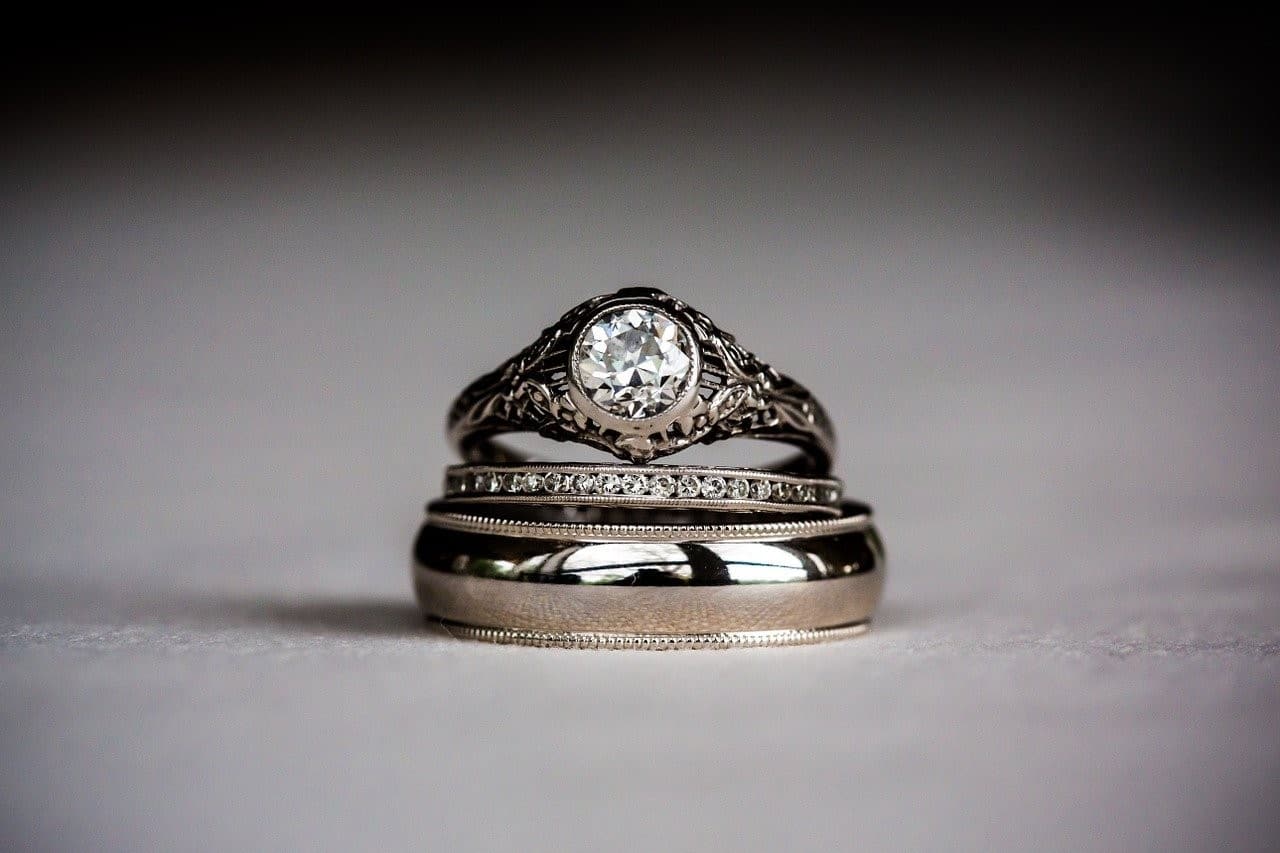 The thickness of the band also influences the cost and duration of resizing. Bands that are too thin may be impossible to resize because of the risk of completely breaking the band.
Rings with intricate shanks such as the European shank, the bypass shank, and the interlocked shank, may add to the difficulty and cost of resizing as well.
If precious stones such as diamonds are also placed along the side of the ring, the process will be significantly longer and costlier. This is because the stones will have to be retightened or reset due to the resulting alteration of the curvature.
Eternity bands cannot be resized because of the diamonds used around the ring. Jewelers will not have any bare metal to work with to resize eternity bands.
Rings with ornate patterns and complicated designs will also be more challenging to resize compared to simpler rings. As the patterns will be affected by cutting the band, the jeweler may have to completely redo the pattern.
Similarly, rings with more than one stone such as those with a channel or pave settings are more challenging to resize. The jewelers may have to alter the placement of gemstones to maintain symmetry and balance.
It is possible that rings with ornate patterns and rings with a channel or pave settings may take up to two months to finish resizing.
However, rings with a tension setting may not be resized. This is because the structural strength and integrity of the ring will be disturbed, thus making the precious stone fall off.
The Retailer/Jeweler
The jeweler or the retailer may charge additional fees based on their policies. Additionally, going through a retailer may entail an overhead fee.
Business may also be busy for the retailer or jeweler. While this may not necessarily affect the cost, it will increase the duration of the process.
Jewelers also have the right to deny you their service if they feel that they are not equipped to accommodate your request. This is likely for the metals listed above that are resizable but considerably difficult because of specialized tools.
Another possible reason you may be denied is that your ring has to be resized by 3 or more sizes. The greater the difference to the original size, the more difficult it is to accomplish.
Cost
The factors listed above influence the overall cost of getting your ring resized. As such, it is difficult to give an encompassing approximation as prices will vary depending on individual rings. The table below provides a base range with relation to the band's material.
| | |
| --- | --- |
| Material | Base Price/Range |
| Sterling silver | $30 to $40 |
| Yellow gold | $40 to $100 |
| White gold | $60 to $130 |
| Platinum | $60 to $300 |
| Palladium | $75 |
| Rings with precious stones and gems | $200 |
Where to Get a Ring Resized
Your original purchase may have included a free warranty or resizing. Check the details to see if it is still available.
Chain jewelry stores offer resizing services, though the tendency is that they may have to ship your ring to a separate facility or jeweler. This increases the waiting time, as you have to wait for your ring to be shipped to and from the facility.
Local jewelers, on the other hand, can provide quicker resizing services as they may have a workshop on site. If there are no other customers ahead of you, the jeweler may immediately start working on your ring. However, local jewelers will typically give a one-week quote just in case.
Online companies, such as Quick Jewelry Repairs, also offer resizing services. You have to supply information such as ring-type, original size and intended size, and so on, so they can give an accurate appraisal.
Alternatives to Resizing a Ring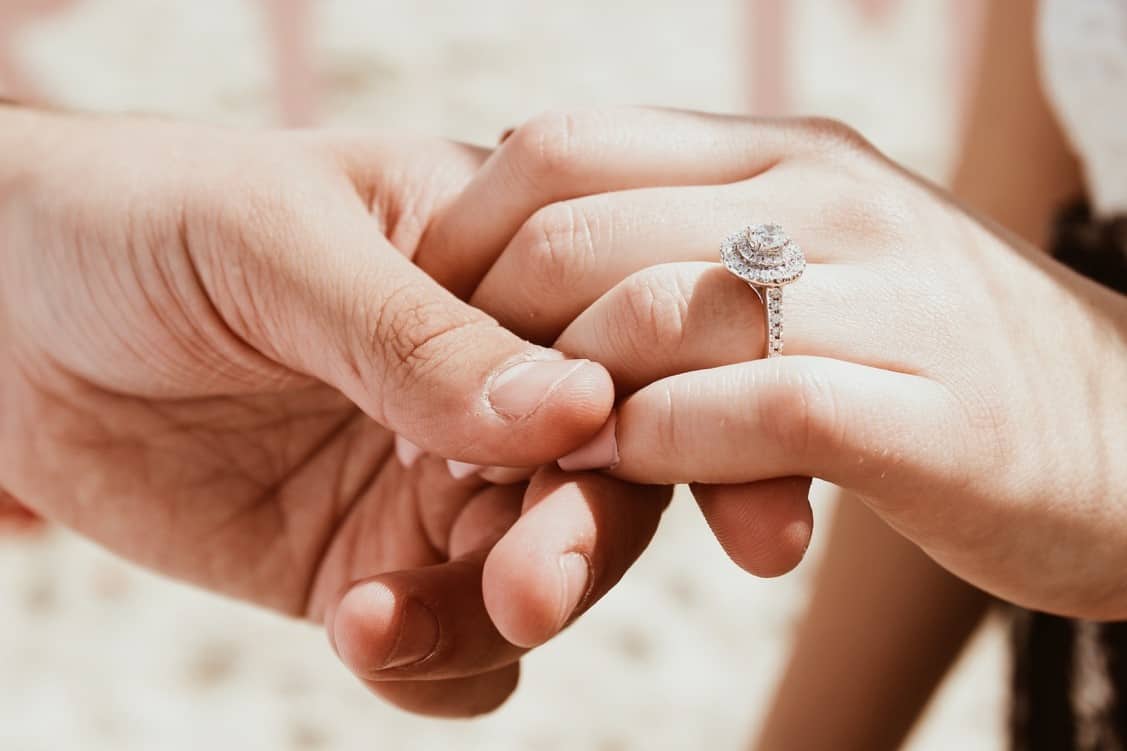 If your ring cannot be resized, you can avail of sizing assistants or ring sizers that the jeweler can install to the ring to make it fit better.
Sizing beads – small metal spheres soldered inside the ring on its back. This is particularly great for those with large knuckles; sizing beads give the needed space for your ring to go over your knuckle while staying in place at the base of your finger. They are also referred to as "ring bumps" or "speed bumps."
Spring inserts – a strip of metal placed in the band, allowing the ring to easily push over the knuckle. Spring inserts are more workable in terms of sizing, as it can be useful for one size smaller. Additionally, they are more comfortable than sizing beads.
Ring guards – metal bars placed around the ring's foundation at the band's base. As ring guards are usually temporary, they are apt for people in the process of losing weight or whose fingers shrink in the winter. These are also called "ring guards," and are cheaper, easier to apply, and more pleasant to use. Ring guards are recommended for metallic rings that are very difficult or cannot be resized.
Adjustable shanks – an installed hinge that enables the ring to open when a small button is pressed with the tip of a pen or a tool. This gives easier access over the knuckle. Adjustable shanks, although more expensive, are an excellent permanent solution for rings that do not have the right fit. These are usually recommended for gold or platinum rings.
Final Thoughts
So, how long does it take to resize a ring? The duration and cost of getting your ring resized are influenced by the resulting difference in size, the material used on the ring, its design, and the jeweler who will provide the resizing service. For as low as $30, you can get your ring resized to better fit your finger. All in all, it is best to consult your retailer or jeweler for an accurate appraisal of your ring.