The bride takes all the spotlight during the wedding day as she should. However, the bridal party members also look stunning; their outfits are properly coordinated with the wedding's color scheme and theme.
As the couple planning their wedding, you might be confused if you have to pay for your bridal party's outfits.
In most cases, you have to pay for your bridesmaids' outfits. However, you have to inform them of this expense beforehand; you can approach them directly, gather them for a mini hangout or Zoom call, or ask your maid of honor to tell them for you.
Below are more detailed explanations and guides for how to ask bridesmaids to pay for their dresses, along with tips to make the process easier and smoother.
How to Ask Bridesmaids to Pay for Their Dress: Polite Ways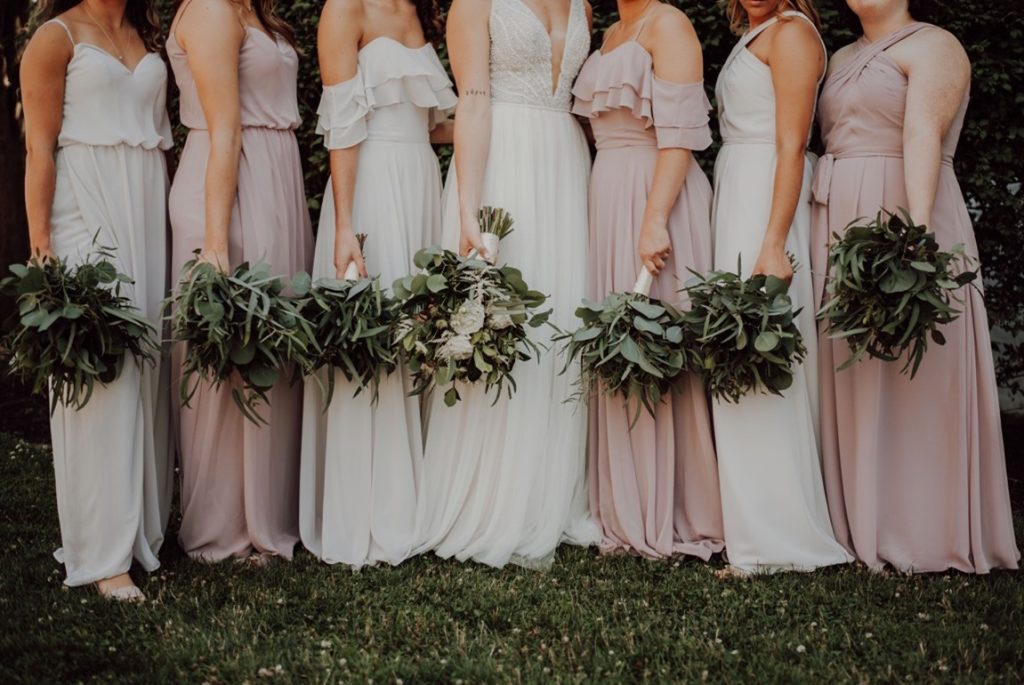 1. Invite Your Friends to Hang Out
Asking an important question is best done in person. With that said, if circumstances allow, it is best to ask your bridesmaids to pay for their dress face-to-face.
Call your bridesmaids and schedule a mini hangout. You can invite them for a homecooked meal, brunch, or coffee in your favorite store.
During this meeting, you should have some ideas on what kind of dress you want your bridesmaids to wear. Prepare a Pinterest board or an album of inspiration regarding fabrics, patterns, colors, and more.
Likewise, give your bridesmaids an idea of how much they might spend on their dresses. Posing the question, "How much are you willing to pay for your bridesmaid dress?" or something similar can let them know that they will be paying for it.
You can also use this opportunity to discuss other pertinent details related to your wedding, such as responsibilities, dates of pre-wedding parties, and more.
2. Have a Zoom Call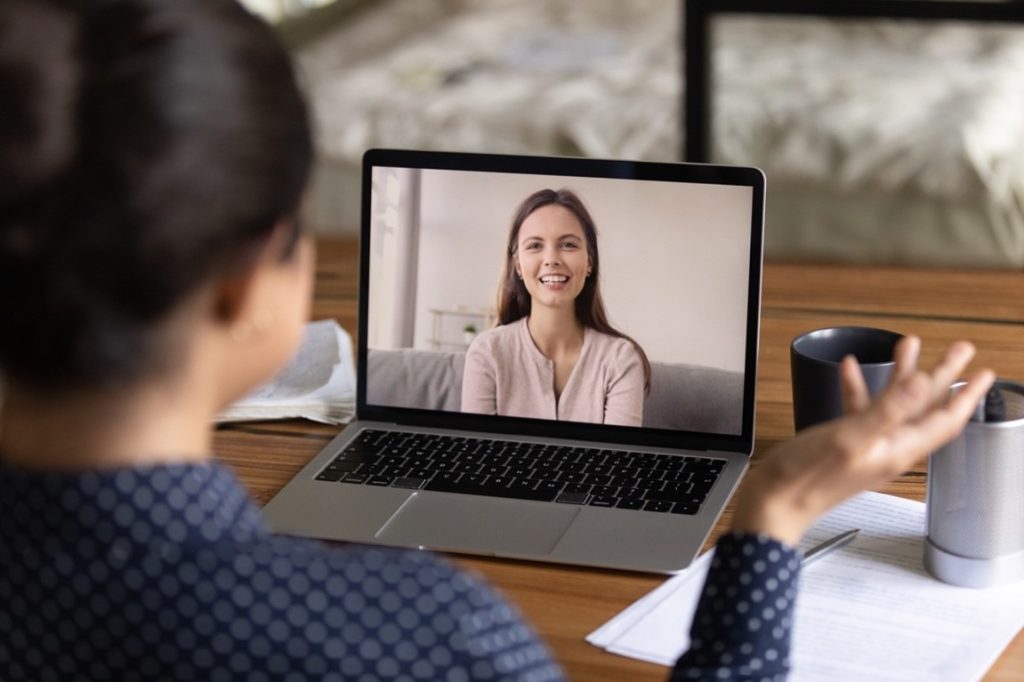 In some cases, gathering everyone for a hangout is not possible. Your bridesmaids might live in a different city, state, or country. You might not be able to find a date that works for everyone.
An efficient solution to this dilemma is a Zoom call. You and your bridesmaids can meet regardless of proximity, time zones, and more.
The same principles in a face-to-face hangout apply in this situation. Another question you can ask is, "Do you have a budget for your dress? How much can you spend for a bridesmaid's dress?"
3. Ask Your Maid of Honor to Do It
While you may be close with every member of your bridal party, you might have the deepest bond with your maid of honor. One of the responsibilities of a maid of honor is to lead the bridal party in planning everything wedding-related.
You can ask your maid of honor to politely ask the bridesmaids to pay for their dresses. She can organize a hangout, schedule a Zoom call, create a group chat with everyone in it, or message each bridesmaid separately.
4. Pay for Another Expense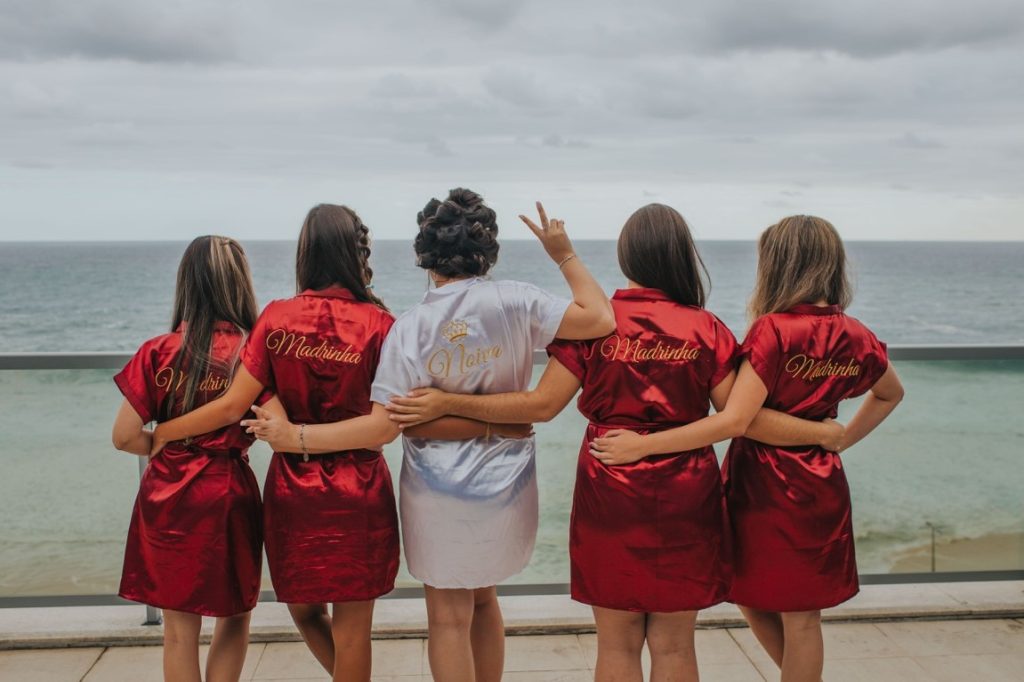 If your bridesmaids have reservations about buying their dresses, the first thing you should do is respond with sympathy. You might not be fully aware of their financial situation.
While wondering how to ask bridesmaids to pay for their dresses, you should also consider covering a different expense. For example, you can take care of their hair and makeup. Doing so will ease the financial burden on your bridesmaids.
After this conversation, a bridesmaid might approach you privately to tell you that they still might not be able to afford a bridesmaid dress. In this case, figure out something that works for both of you; for example, offer to pay for half or 75% of the dress.
5. Ask Your Bridesmaids Directly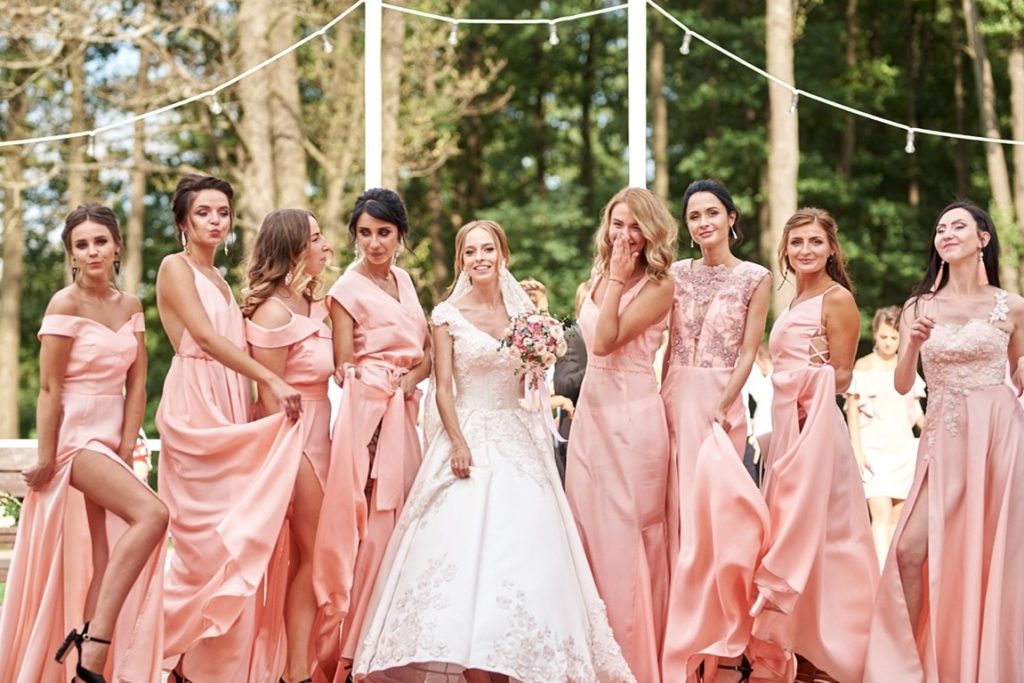 You may feel as if the approaches above do not fit you and your circumstances. In this case, the answer to the question of how to ask bridesmaids to pay for their dresses is to ask them directly.
If you both have the time, go out for a quick coffee. Invite them to brunch. Otherwise, you can text or message them on any social media platform. FaceTime is also another option.
Regardless, do it with patience and sympathy. Firstly, you can explain why you are asking them to pay for their dress; you might be doing it because it is outside your budget.
Secondly, you can ask them how much they can shell out for their dress. If you have an idea of the entire outfit — for example, if you want them to wear cowboy boots — you should also include that in the estimation.
Tips for Asking Bridesmaids to Pay for Their Dress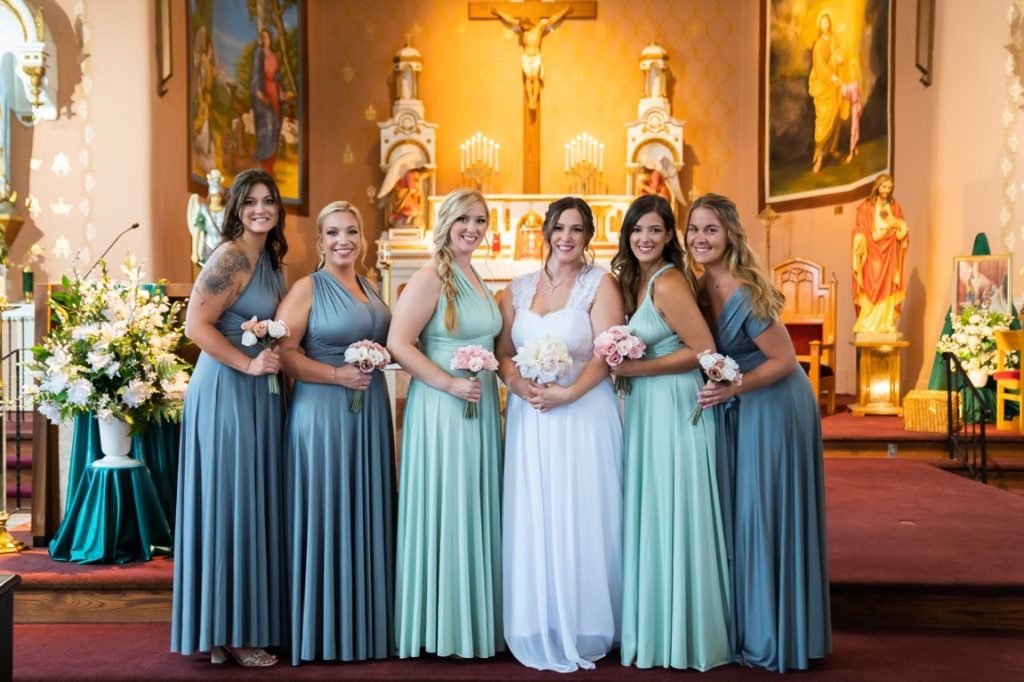 Be Open to Compromise
As mentioned above, there might be a case where your bridesmaid might not be able to afford the dress you want them to wear. Although your preferences should take priority, do not be so close-minded to the point of causing a financial burden.
In this situation, look for a similar dress at a lower price point. You might be surprised by what you can find with some patience and determination.
You can also simply give them a color palette and let them choose a dress within the theme and their budget. While you might not get uniform bridesmaids dresses, you are giving your bridesmaids freedom and options.
If nothing else, you may have to slim down your list of bridesmaids and groomsmen. Doing so might be the financially smarter choice for you and your bridal crew members. Be open to this possibility.
Prepare a Spreadsheet of Possible Expenses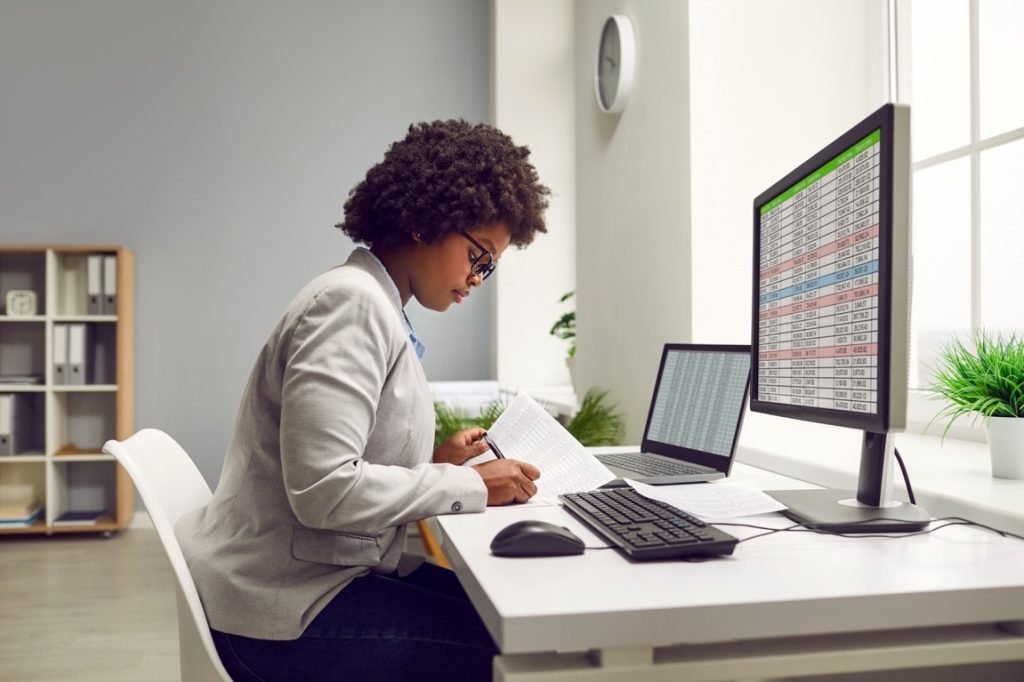 Before you approach your bridesmaids to ask them to pay for their dresses, preparing a spreadsheet of the expenses they potentially have to cover might be helpful.
Include the price of the bridesmaid dress, the possible alterations they might need to get, hair and makeup styling, transportation, and pre-wedding party-related expenses.
This spreadsheet will help your bridesmaids visualize how much money they need to prepare for your wedding. As such, they can determine if they are capable of taking on these expenses.
Keep Your Eyes Open for Discounts and Deals
As you plan the outfits and communicate with your bridesmaids, be sure to watch out for discounts and deals. Many stores offer discounts if you buy several items; in this case, encourage your bridal crew to place the order together.
Similarly, boutiques might also give you a discount if you work with their in-house tailors. Make sure to clarify this policy — and the prices of any alteration — as you purchase the bridesmaid dresses.
Communicate Clearly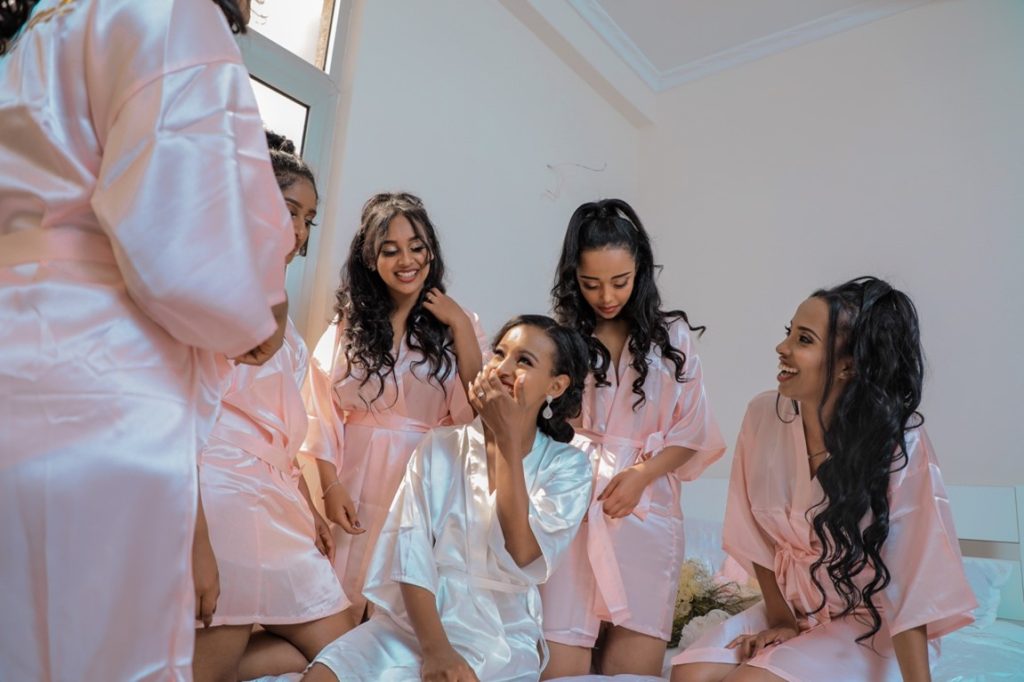 During the process of asking your bridesmaids to pay for their dresses, clear communication is essential. Tell them your expectations and listen to theirs. Establish boundaries if necessary, and ensure that everyone respects each other's boundaries.
However, there may be one exception to this rule: when you agree to cover someone's expenses, either partially or fully. It might not be smart to let the other bridesmaids know about this situation, as they might think you are being unfair. The bridesmaid in question may also feel embarrassed about it.