The feeling of wearing your wedding dress for the first time is magical. However, no one immediately gets the perfect fit. On your first fitting, you might find that your dress does not flatter some parts of your body.
Back fat can give brides and nearlyweds a lot of insecurity. Here are seven smart ways to get a smoother silhouette, such as using contour tape, adding a wider strap to your dress, and wearing shapewear.
How to Hide Back Fat in a Wedding Dress: Creative Solutions
1. Use Contour T ape
Contour or boob tape is a popular bra alternative that gives its wearers shape and comfort. While it is marketed as a bra alternative, people have found that it can also help you smoothen any back fat.
Find a spot along your ribcage where your skin is hidden by your dress, then pull the skin forward.
If you do not have access to contour tape, you can buy a bandage wrap instead. This wrap will also create the effect of a smooth back:
2. Try a Different Silhouette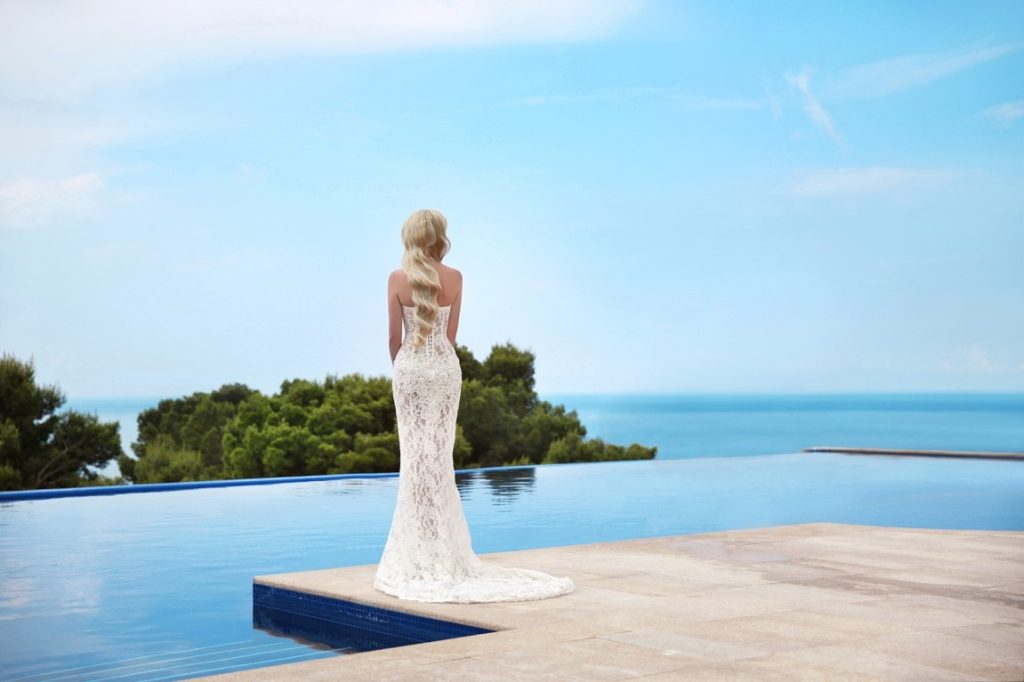 Before coming to a wedding dress boutique, you may already have plenty of ideas about the gown of your dreams. If you have tried them on, and all of them give you back fat, consider opting for a different silhouette.
Ask your stylist or the salesperson at the store to show you their selection of empire-style dresses, A-line gowns, trumpet-style dresses, and sweetheart dresses.
A dress with a V-shaped back can give the illusion of an elongated torso. This silhouette gives your back some space to breathe and makes you look taller.
Likewise, a fully covered back will remedy your problem about having back fat in a wedding dress. If you want or need to be more conservative with your outfit, this silhouette is a stylish way to do so.
3. Choose a Wider Strap
Another way to hide back fat in a wedding dress is by getting a dress with a wider strap. The additional coverage from the broader fabric can cover the fat along the sides of your back.
If you are adding a strap to a strapless dress, make sure that the wider end of the strap goes on the base.
However, be mindful that wider straps are not ideal for every figure. If you have broad shoulders, you may need to look for another answer to the question, "How to hide back fat in a wedding dress?"
4. Wear Accessories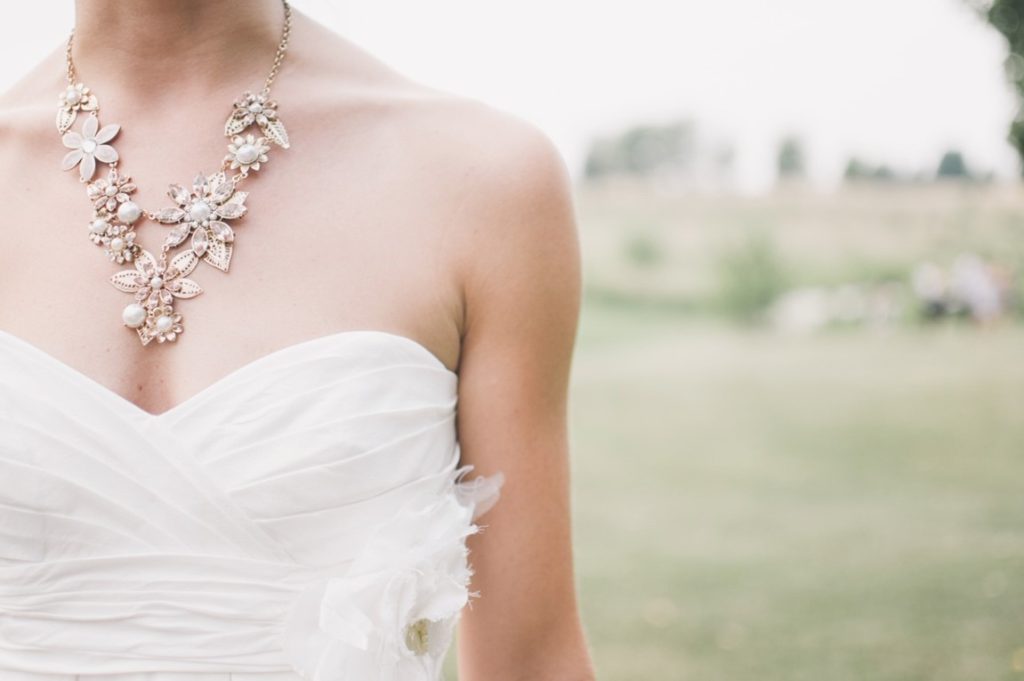 Accessories are an excellent answer to the question, "How to hide back fat in a wedding dress?" They are more comfortable and relatively cheaper than other solutions in this list. Likewise, you can get more creative with how you style your outfit.
An elaborate and showstopping necklace can pull all the focus away from your back fat, especially if the necklace is lengthy and bulky.
You can also add a long veil to your outfit. Not only will a veil hide the back fat in your wedding dress, but it will also add intrigue and mystique to your overall appearance.
Earrings can also be an incredible way to divert attention from your back. Intricate and wonderfully made earrings can be a conversation starter and scene-stealer.
5. Add a Layer
If your wedding dress is giving you back fat, one way to hide it is by adding a layer to your outfit.
A bolero is a gorgeous, short open-front jacket that is a staple in women's formalwear. This layer is ideal for highly formal events. Another option is a shawl.
In a more casual celebration, you can also consider wearing a shrug. It is similar to a bolero, but a shrug is less structured and fitted. This layer might resemble a knitted sweater or cardigan.
6. Get the Dress Let Out
Every bride and nearlywed wants their wedding dress to fit them perfectly. You may have undergone multiple fitting sessions with a tailor to get your gown to match your physique beautifully.
However, something unexpected might happen — for instance, you may have gained weight from overeating because of stress. As a result, your dress has become too tight, leading to back fat.
In this case, the best way to hide back fat in a wedding dress is by letting the dress out. Making a dress bigger and loosening it gives you more leeway to fit into the dress. Instead, you can wear a belt to maintain your proportions and give your outfit security and structure.
There are several ways to make your wedding dress bigger, such as adding a gusset, corset back, or side zipper. Each method has its pros and cons, and ultimately, which method will work best depends on the characteristics of your dress.
You can consult tutorials on YouTube and do the alterations yourself. Otherwise, visit a tailor to get it professionally done. Give yourself and your tailor enough time to alter your dress; it can take anywhere between one day to several weeks depending on the complexity of the alterations.
7. Buy Shapewear
Another solution to back fat in a wedding dress is putting on shapewear under your garments. The appropriate shapewear has two primary benefits: cleaning up your silhouette and preventing any fat from showing up.
Shapewear is especially fantastic if you have chosen a mermaid-style dress, sheath-style dress, or any form-fitting gown. As mentioned above, you can hide back fat — or anywhere in your body — that would typically show up in such a tight dress.
However, there are some cons you should keep in mind before opting for shapewear. For one, they can get especially uncomfortable when worn for several hours. Prolonged use of shapewear can lead to several health-related issues, along with bloating, swelling, and acid reflux.
Try to find shapewear that fits you and your needs the best. Read the tag on the product and pay close attention to its performance level; a medium shaping level can smooth out back fat and can give you a cleaner silhouette.
Likewise, be mindful of the fabric and nylon content in the shapewear. The more nylon and synthetic the shapewear is, the more it will change your body shape and make you sweat, respectively. The ideal shapewear for a wedding is lightweight and has a high cotton content to prevent sweating.
If you will wear shapewear for your ceremony, ideally, you should take it off before the reception. Give yourself time to change into more comfortable clothes before the reception.
Final Thoughts
Ultimately, there is nothing wrong with having back fat or excess weight. However, if hiding them will make you most confident on your special day, then try to find what solution to "How to hide back fat in a wedding dress?" works best for you.