Traditionally, discussions surrounding weddings have been heavily gendered. Even with the recent movements toward inclusivity, options for non-binary and non-gendered wedding attire remain limited.
Below are 17 non-binary wedding outfits you can use as a guide to finding comfortable, liberating, and stunning attire. Some tips for dressing up authentically are also provided.
Non-Binary Wedding Guest Outfits: Ideas to Consider
1. Jumpsuit with Convertible Skirt
If you are getting married, this jumpsuit with a convertible skirt is an eye-catching non-binary wedding outfit to consider. The fitted bodice with a boat neckline and cigarette pants beautifully accentuate your figure.
The integration of a convertible skirt is a unique way to honor traditions — wearing a white gown to your wedding — while staying true to yourself. Although the shoes are a lovely pair of lilac ankle-strap heels, you can go for boots, loafers, or whatever you prefer.
2. Three-Piece Suit with Corset
Whether you are a guest or the one getting married, a corset can be an excellent addition to your ensemble. You might feel discouraged to wear it, given the misconception that corsets are highly uncomfortable and restrictive. However, that is not the case for tailor-made corsets.
A well-made and well-fitting corset will give you your desired silhouette and support your body. Beyond functionality, a corset is stunning and adds intrigue to your overall look.
3. Pinstripe Ensemble with Cummerbund and Tie
Pinstripe is a classic and fashionable pattern. As for a non-binary wedding outfit, there are plenty of ways you can adapt a two-piece suit to your style and identity. The ensemble above features an open pinstripe jacket, matching trousers, a cummerbund around the waist, and a bespoke tie.
Although barely visible, there is a blouse underneath the suit. For more coverage, you can close the jacket or button your undershirt. You can complete the outfit with your choice of footwear and accessories, but heels and boots will look glamorous.
4. White Two-Piece Suit with See-Through Lace Undershirt
Consider this two-piece ensemble with a see-through lace undershirt if you want a mix of formality and playfulness. The matching suit and trousers will give your outfit structure. You can put it on your shoulders but not wear the sleeves to show off the shirt's details.
Speaking of details, the lace undershirt has intricate floral patterns. Only the cuffs, front placket, collar, and the tip of the breast pocket are opaque. The rest of the shirt is see-through. You can button the suit to cover up or opt for stylish innerwear or nipple covers.
This outfit blends tradition and modernity. Navy blue ensembles are a wedding staple; the color exudes a luxurious and elegant vibe. The illusion of an off-shoulder dress is created by adding a layer of fabric along the sleeves, culminating in a tasteful sweep train.
The leopard print footwear stands out while still matching the buttons on the jacket and undershirt. To further personalize this outfit, you can go for boots or heels, then add a neckerchief or a bowtie. You can even achieve a monochromatic effect if you prefer.
6. Evening Tailcoat with Heels and Tiara
A white-tie wedding can be the most challenging dress code to follow; there are limited options, most of which are heavily binary. However, with proper tailoring and creative choices, you can create a non-binary wedding outfit that suits this level of formality.
The model above wears a white evening tailcoat with black details. The waistcoat, trousers, and bowtie are also in black. You can complete your outfit with a pair of gold heels and a tiara or any accessory you prefer.
7. High-Waisted Two-Piece Combo
This 80s-inspired outfit is charming, bespoke, and breathtaking. The matching gray trousers and jacket are oversized. However, the ensemble's showstoppers are arguably the lace undershirt with a plunging neckline and an assortment of golden accessories around the model's waist.
Other accessories include earrings, gloves, and black leather shoes. This outfit is excellent for vintage, rustic, and boho weddings.
8. Coordinating Three-Piece Suits with Bowtie
If you are looking for a creative way to coordinate outfits with your partner, choose two colors that blend beautifully. The couple above picked a rich burgundy and peacock. Their fabric choice also suits them well, giving their ensembles a lustrous and luxurious finish.
Instead of wearing a bowtie that matches their suit, they exchanged ties. The partner wearing peacock embellished their outfit with burgundy and vice versa. They also wore matching undershirts and shoes to complete their looks.
9. Bedazzled Two-Piece Suit and Metallic Cloak
If you want a maximalist non-binary wedding outfit, take inspiration from Billy Porter's 2019 Golden Globe Awards look. Overall, the ensemble has embroidered floral appliques along the jacket's lapel and flaps, the collared undershirt, and the cloak exterior.
The cloak is a breathtaking metallic fabric with a rose gold exterior and fuchsia interior. From the front, the outfit follows Porter's silhouette. From the back, the cloak creates the illusion of a ballgown silhouette. Whichever way you look at it, this ensemble is creative and gorgeous.
10. White Collared Shirt with Ruffled Sleeves and Asymmetrical Maxi Skirt
Layering is an efficient way to personalize styles and create unique outfits. Above, Harry Styles wears a white button-up with tiered ruffle long-sleeves. Over the shirt, he layers a black maxi dress with an asymmetrical hemline.
The V-neckline of the shirt and dress makes the outfit cohesive. To further personalize this outfit, consider adding the following: a belt around the waist; a statement necklace; large earrings; boots; Mary Janes; a hat.
11. Suit and Waistcoat with Matching Skirt
Traditionally, a three-piece ensemble consists of a suit, waistcoat, and trousers. If you would rather not wear trousers, a matching skirt will be a unique touch to your non-binary wedding outfit.
Many people believe that a three-piece must have a consistent colorway or aesthetic. The outfit above is an example, with all components having an off-white pinstripe design. However, there are no hard rules; choose whatever colors and patterns you would like to wear.
12. Monochromatic Double-Breasted Coat and Skirt
This outfit is a variation of the previous example. Instead of having a waistcoat, you can opt for an oversized double-breasted suit. Choose a skirt length that suits your preferences, the dress code, and other personal factors. Complete your outfit with a pair of boots and a headpiece.
You can wear a skirt that ends above your knees; however, this might not be appropriate in certain situations. For instance, showing knees might be a sign of immodesty according to Islamic beliefs.
13. Oversized Suit and Bell-Bottom Trousers
Consider this combination of an oversized suit and bell-bottom trousers if you want a simple yet unique non-binary wedding outfit. The play on silhouettes will give your ensemble dimension. Furthermore, there are plenty of opportunities for personalization.
The plunging neckline of the single-breasted suit gives space for a statement necklace. You can add a brooch, neckerchief, patterned undershirt, or bespoke headpiece. However, you do not have to accessorize if you believe less is more.
14. White Two-Piece with Beaded Bustier
If you feel more comfortable with a bustier than a corset, consider wearing the former as an alternative to an undershirt. A bustier will flaunt your figure. If bodycon is not the style you are going for, a two-piece with an oversized fit will create a gorgeous silhouette.
This ensemble also allows for plenty of customization. You can add a veil, necklace, headpiece, earrings, choker, or another accessory that suits your style. Likewise, you can remove the jacket once the ceremony is over.
15. Sheer Button-Up Bodice with Ballgown and Train
Ballgowns are a well-loved structure for wedding dresses, but you might not be comfortable with their tight-fitting bodices. This non-binary wedding outfit replaces the bodice with a sheer button-up with dramatic bishop sleeves.
The skirt opens up to a majestic ballgown silhouette, accentuated with pleats and a ribbon around the waist. Another stunning detail is the glorious train. This outfit will look breathtaking at an outdoor wedding, with the train fluttering in the wind.
If you want something more out-of-the-box, you might like this tiered dress and coat combination. The flowy material of both pieces creates an ambiguous silhouette, which might be your preferred structure.
Each tier in the skirt has pleats and, combined with the tied neckline, introduces textures and dimensions to the outfit. If not held, the dress might create a sweep or court train. Other ways to embellish this ensemble include adding earrings, appliques to the coat, or a fascinator.
17. Turtleneck with White Dress Shirt and Peacock Green Skirt
Besides providing additional warmth, a
turtleneck
can make you look mysterious and sophisticated. If you choose a shirt with a turtleneck — or create a makeshift turtleneck with fabric — match its color to your skirt for a cohesive outfit.
The skirt has a flowy A-line silhouette, textured with pleats, and cinched by a peacock green belt. The high waist elongates you, making you look taller. Complete the outfit with platform heels, platform boots, Mary Janes, or your footwear of choice.
Tips to Help You Create an Authentic Non-Binary Wedding Outfit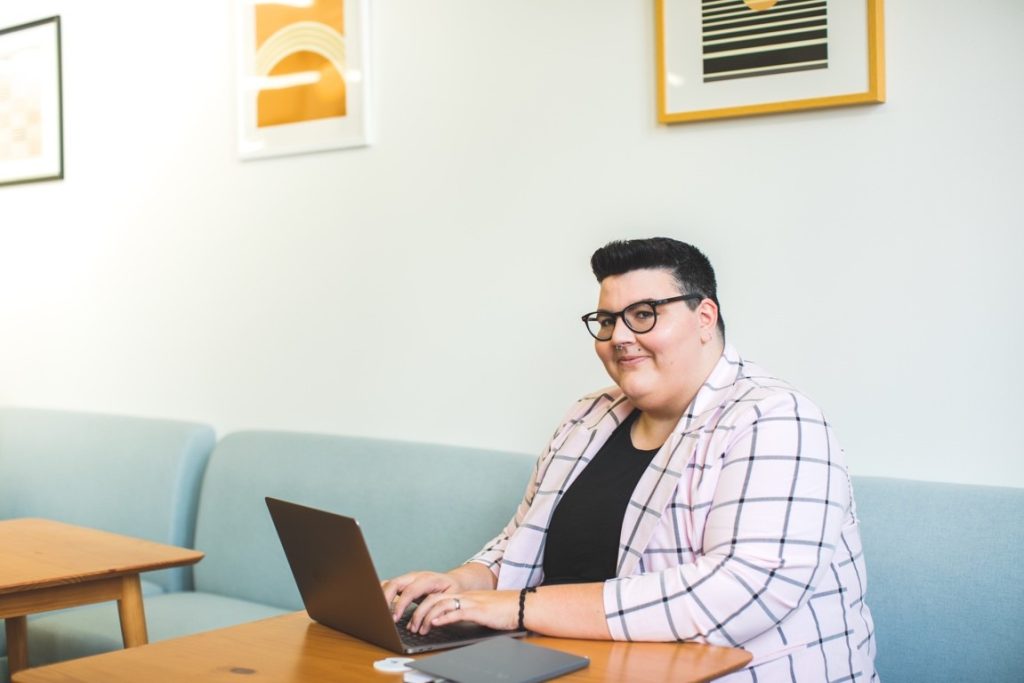 Stay Within the Dress Code
The prescribed dress code is the only rule you should consider when creating a non-binary wedding outfit. Doing so shows respect to the couple getting married and the rest of the guests. Here are some of the most frequently used dress codes in weddings:
White-tie → is the most formal dress code. Guests typically wear three-piece suits with bowties, tuxedos, and floor-length gowns.
Black-tie → is a notch less formal. You must still cover your ankles, but there are fewer restrictions on what clothes and accessories to wear.
Formal → removes the rule of covering your ankles. This dress code is similar to black-tie, except it offers more flexibility.
Cocktail → gives you more freedom regarding the length of your garments. If you would wear a specific outfit to an upscale dinner, you can also wear it to a wedding.
Festive → is a spin-off of the cocktail dress code. As such, you have more space to express yourself through prints, colors, accessories, and more. The couple might also mention specific themes, such as holidays, that will serve as guides.
Semi-formal → stands between formal and casual. A semi-formal outfit would be something you might wear to a first date. Generally, it is dressier than officewear but more relaxed than cocktail attire.
Casual → prioritizes comfort over formality, but both must still be present in your outfit. Casual attire includes anything you can wear for everyday situations, such as hanging out with friends and running errands.
Stay with Your Style
Non-binary folks can find comfort, confidence, and liberation in their style. For many people, it takes them years to cultivate an affirmingly stylish aesthetic. With that said, prioritize clothes and silhouettes with which you are comfortable.
One piece of advice you should keep in mind is that if you would not wear this particular outfit on everyday occasions or other events, do not force yourself to do so at a wedding. Put yourself first. Style yourself the way you see is best for you.
Final Thoughts
Although some people downplay it, clothes are a significant part of identity and expression. The gender binary has severely limited options — and acceptance — for non-binary folks, especially in such a historically gendered institution as marriage.
Finding outfits that suit your style and personhood can be challenging. In some cases, it can be intimidating and dangerous. However, remember that no one can take your identity away from you; how you express it is your prerogative.