The perfect wedding comes with perfect timing. In fact, timing is one of the most essential details that a couple should consider when planning a wedding. As such, it all boils down to when the wedding ceremony itself begins.
What time do weddings start? It is highly recommended that the ceremony starts somewhere between 10 AM and 3 PM to ensure that the entire affair sails smoothly. The best time to start a wedding is dependent on the myriad of factors that the bride and groom have to consider.
Logistical factors, including the prep time, the length of the wedding ceremony itself, as well as the duration of the reception, should be taken into account.
What Time Do Weddings Usually Start and End?
Ironically, a technique that may be used to determine when the ceremony should begin is to identify what time the couple wants the ceremony to end. To be more specific, examine the time in which the final leg of the event – usually, in this case, the reception – would pack up.
In order to do this, it is essential that couples and their planner or coordinator form a comprehensive timeline or schedule of how they want their wedding day to go. This will ensure that all subsequent events and every major and minor detail that comes along with them will be accounted for.
Wedding Timeline: Things to Consider
The following are only a few of the elements that the couple must consider when planning their wedding timeline, especially when the wedding should start.
Hair and Makeup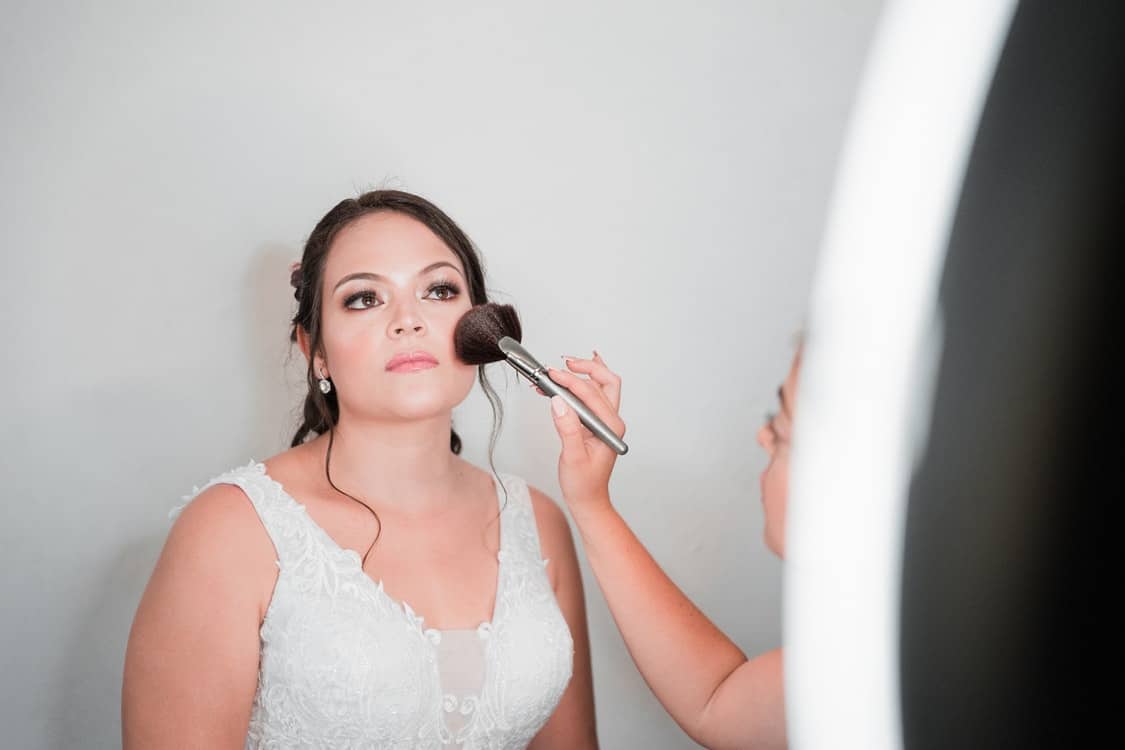 Depending on how elaborate the bride's makeup will be, this usually takes about two to three hours. While that may seem a bit much, it is still far better to make an allowance for any untoward event that may occur.
If the attendees will also be having their hair and makeup done, it is best to try to coordinate with the hair and makeup artist. This is particularly applicable for the maid of honor and bridesmaids.
The Wedding Pace
Formal or relaxed, a wedding should still be carefully planned. Contingent upon the couple's decision if they wish to have a much more relaxed wedding, they need to allot more time to the blocks of events of the wedding itself so as not to rush the ceremony.
As a general reminder: early wedding ceremonies imply that the couple needs time to get ready. However, that gives a better, much bigger stretch of time to be allotted for the reception which usually occupies the largest chunk of a wedding day.
Lighting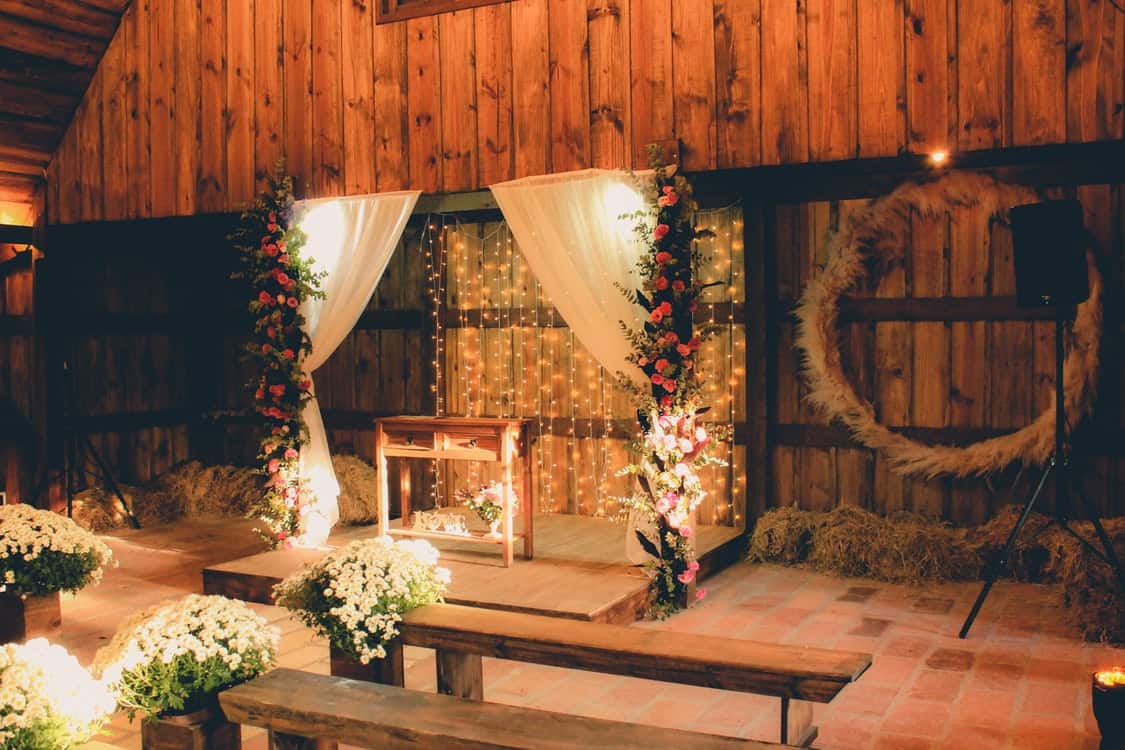 Needless to say, weddings are inexhaustible and – for most – only happen once in a couple's lifetime. Photos of the event are a must to keep the memories immortalized. As such, lighting is important to consider to best capture the day. If the ceremony starts too late, then daylight will quickly run out.
It is quite in fashion for the couple's wedding to start around the time of the sunset during their wedding day. It is also a good idea to take note of the sunset time on that day for good pictures, as well as a natural determinant if the wedding is running "too late".
For some couples, who would opt for a nighttime wedding, note that the photographer might have to use their flash for the duration of the ceremony.
Season
Outdoor weddings have become quite the fad as of late. However, having the ceremony started at an odd time might mean that the couple and their wedding's attendees would have to endure the heat of the sun.
If planning an outdoor wedding in the summer, it is best to avoid starting from noon to around 2 PM. On the other hand, it is advisable to have the wedding ceremony earlier during winter so that there is still enough time left to catch natural daylight.
Venue Rental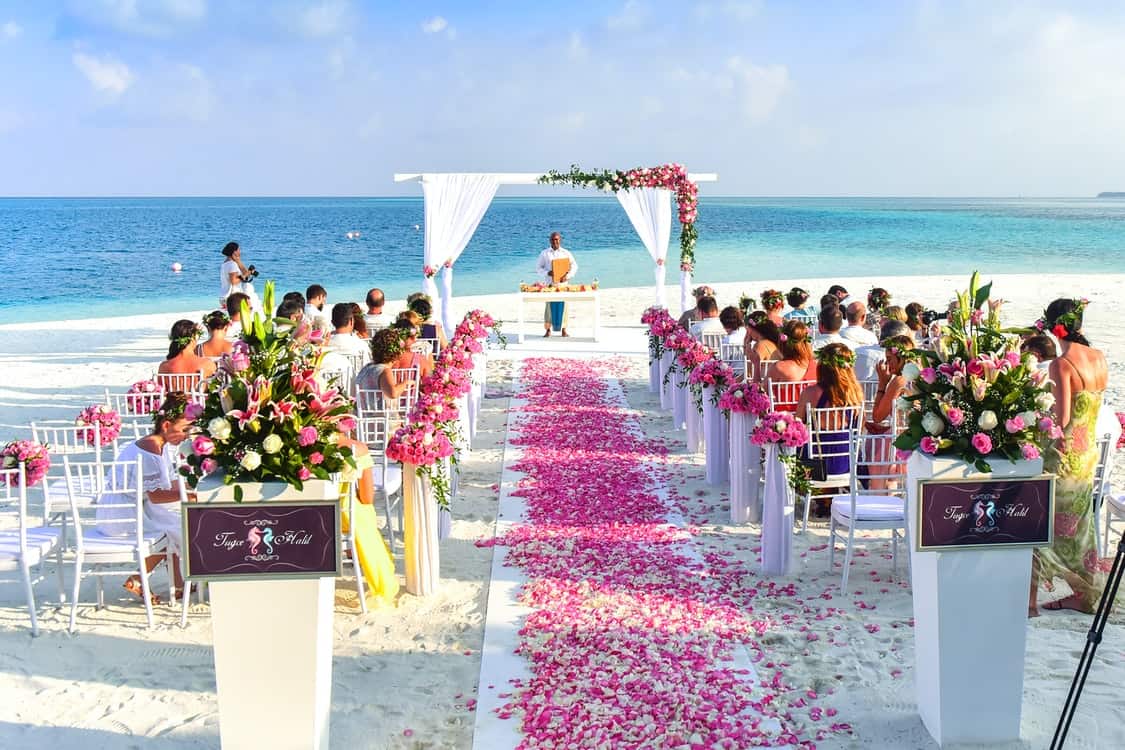 Most, if not all, venues have certain regulations with regards to their rental times, such as how long a venue hall may be rented. In addition, other venues have provisions about their curfews or statements for until how late their venue may be rented.
A great deal of the wedding day timeline will be based off on these regulations that surround the event's venue. If the couple intends to have a longer reception time, it is a good indication to start the ceremony earlier. At best, the couple may choose to rent a venue in a private estate which is more likely to offer location rentals without curfews.
Demographics of The Wedding Attendees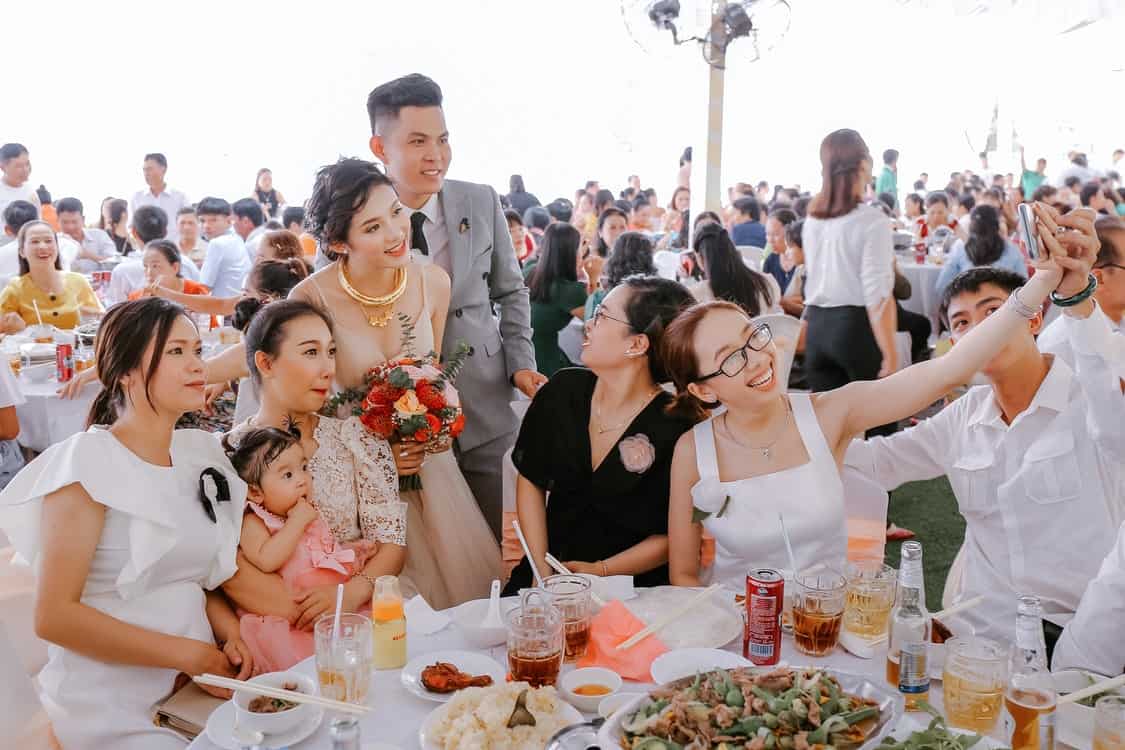 Determining the average age of the guests is important when planning the wedding timeline. An older set of attendees may want a shorter, more straight-to-the-point ceremony. Holding the wedding at brunch time or early afternoons is best for these people.
Meanwhile, younger guests may be more open to fun and exciting wedding parties. The couple may then be open to the idea of late afternoon weddings or wedding parties that last well into the night.
If the wedding guests are likely to bring children and their attendance is warranted or cannot be avoided, planning for the event to last until the evening may not work for them. Consider an earlier wedding time if little guests are invited to avoid tiresome tantrums by 7 in the evening.
Alternative Hours
Some couples may want to go for something quirky and beyond the norms. Young and hip couples might want alternative hours that would not normally be considered in other weddings.
For example, the couple might want a romantic ceremony held right at the cusp of early sunrise. Other couples might want to exchange their vows during New Year's Eve. At the end of it all, the wedding day should be tailored fit to the couples' preferences and personalities. Therefore, planning odd hours for the ceremony should not be entirely ruled out.
Sample Wedding Timelines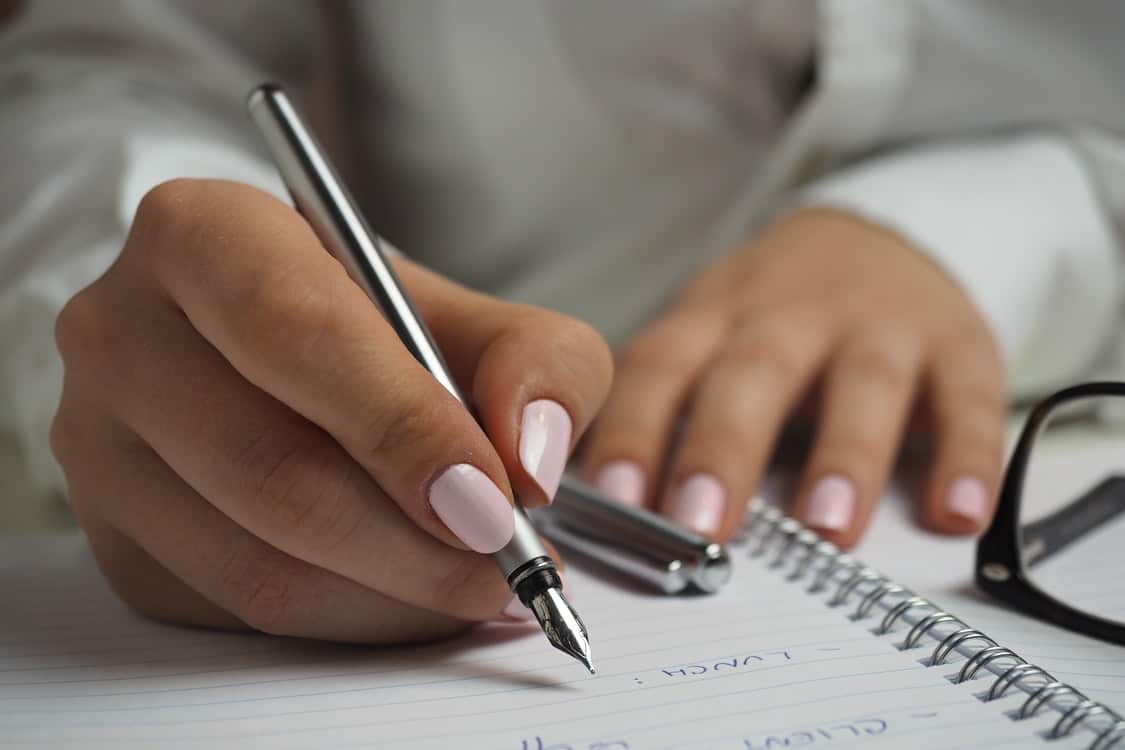 Now that the basic considerations have been laid out, below are sample wedding timelines to showcase which time a ceremony can best start.
Morning Wedding
7 am – Hair and makeup ensues on bridesmaids.
8 am – Hair and makeup begins on the Bride.
9 am – Bride gets dressed. Photographer arrives.
10 am – Photo-taking for the bridal party and groom's party.
10:30 am – Groom and groomsmen arrive at the venue.
10:45 am – Bride and bridal party departs for the venue.
11 am – Ceremony starts.
11:30 am – Ceremony ends.
11:45 am – Reception begins subtly. Couple takes photos.
12:15 pm – Couple returns. Group takes photos.
1 pm – Lunch is served
3 pm – Speeches and coffee.
6 pm – Evening guests arrive.
6:30 pm – Cake cutting and first dance.
7 pm – Dance floor opens.
7:30 pm – Dinner (evening buffet) is served.
Afternoon Wedding
10am – Hair and makeup begin on bridesmaids.
11 am – Hair and makeup begin on the Bride.
12 pm – Bride gets dressed.
12:45 pm – Photo-taking with the bridal and groom party.
1:30 pm – Groom and groomsmen arrive for the ceremony.
1:45 pm – Bride and bridal party depart and arrive at the venue.
2 pm – Ceremony starts.
2:45 pm – Ceremony ends. Couple takes photos.
3:15 pm – Reception drinks begin. Canapes served.
3:30 pm – Couple returns from taking photos. Photo-taking with guests.
5 pm – Dinner is served.
6:15 pm – Speeches.
6:45 pm – Dessert.
7:15 pm – Cutting cake. Bride and groom leave for 'golden hour' photos.
8 pm – Evening guests arrive.
8:30 pm – First dance.
8:45 pm – DJ/band starts.s
11:45 pm – Bride and groom depart.
12 pm – Party finishes, or may continue in another bar.
Final Considerations Before Exchanging "I Do"s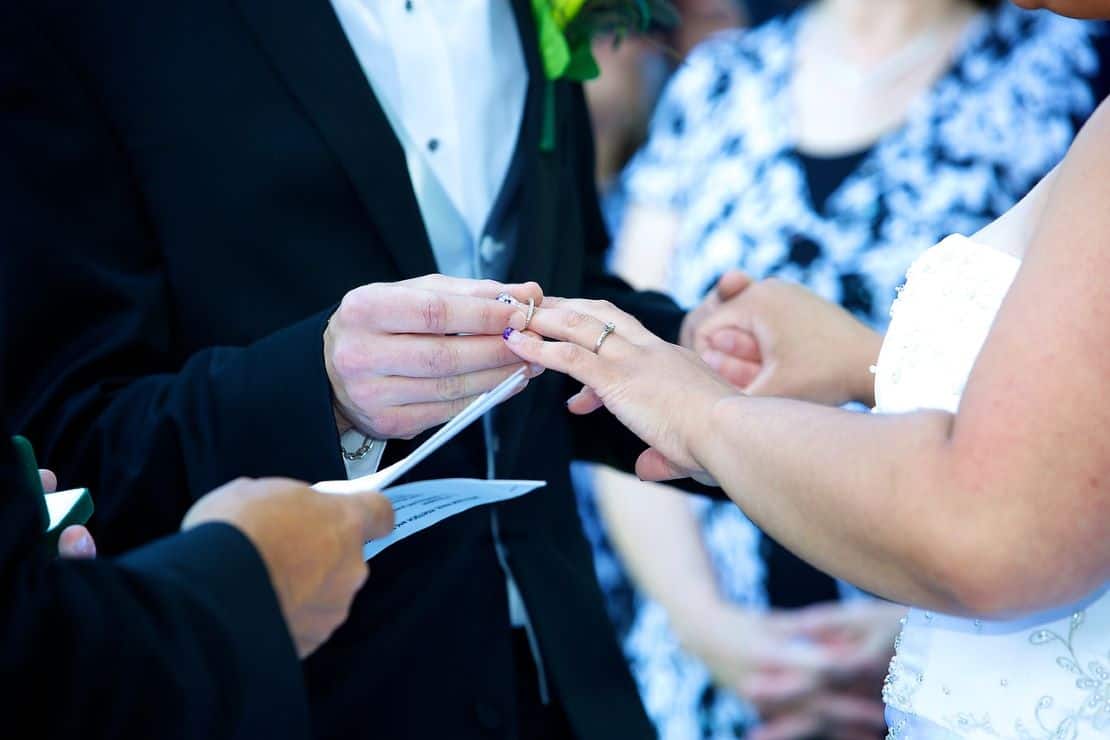 Do Not Start Too Late
Starting too late means the reception time would have to be cut short. Also, consider starting early to ensure that there is enough daytime for the best quality photos.
Consider A Longer Reception
Receptions are usually the most fun and the least formal bit of the wedding day. So, it is best not to leave a very short window frame for the reception. A solid 4 to 5 hours is a good benchmark time for this part of the wedding day.
Pace The Ceremony Well
It is always good to allot leeway time for periods in between the blocks of events. In doing so, the wedding will not feel hurried or rushing for time. As such, it is very important that every detail is accounted for when planning the wedding timeline.
Use These As Mere Guides
Finally, remember that those wedding timelines are only guides. While many couples would want a "perfect" wedding where everything is in place, these guides should not be taken to heart and should instead be simply treated as blueprints or templates for the wedding. If the timing does not go according to plan, then there really is no use fussing over it. What is important is that the wedding is celebrated and enjoyed by all.