Bachelorette parties are one of the most anticipated pre-wedding events. There are a lot of misconceptions and stereotypes that surround these parties. As such, it can be challenging to create a realistic and personalized itinerary without further research.
Below is a step-by-step planning guide for a bachelorette weekend itinerary, starting with a brainstorming session all the way to setting up your accommodation and making last-minute preparations. An example of a weekend itinerary is provided along with free PDFs you can use.
Bachelorette Party Weekend Itinerary Planning Guide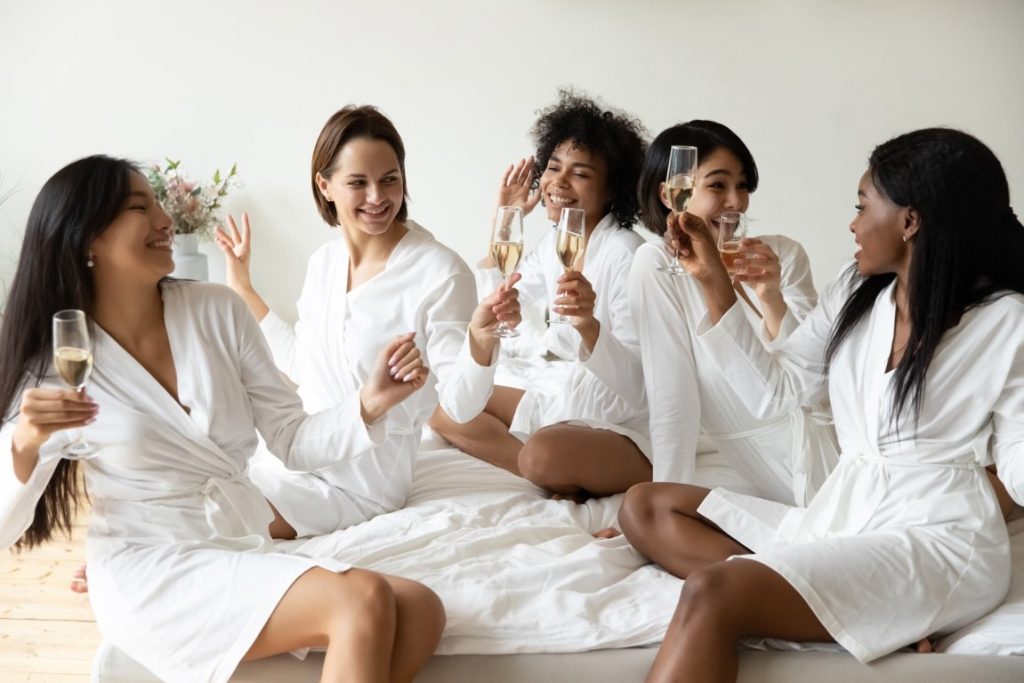 1. Have a Brainstorming Session With the Bride
Several months before the party, gather the bride and other bridesmaids for a brainstorming session. You need to discuss ideas about possible destinations, activities, and budget ranges.
At this time, let the bride lead the conversation. After all, it is her bachelorette party. Ask her what she wants to do, where she wants to go, and everything in between. If she already has a location in mind — Vegas is a popular choice — then browse through available activities in that area.
You should also ask about her priorities. Does she want an adventurous, thrill-seeking party? Is she mindful of everyone's budget? Would she prefer to stay lowkey and indoors? Knowing this information will make it easier to create a bachelorette weekend itinerary.
2. Schedule Your Bachelorette Weekend
Before proceeding with everything else, settle on when you will hold the bachelorette party first. It does not have to be specific at first; you can simply ask the bride which month she thinks is best.
Once you have decided on the month, you can start ruling out any weekends with scheduling conflicts.
3. Start Researching Potential Activities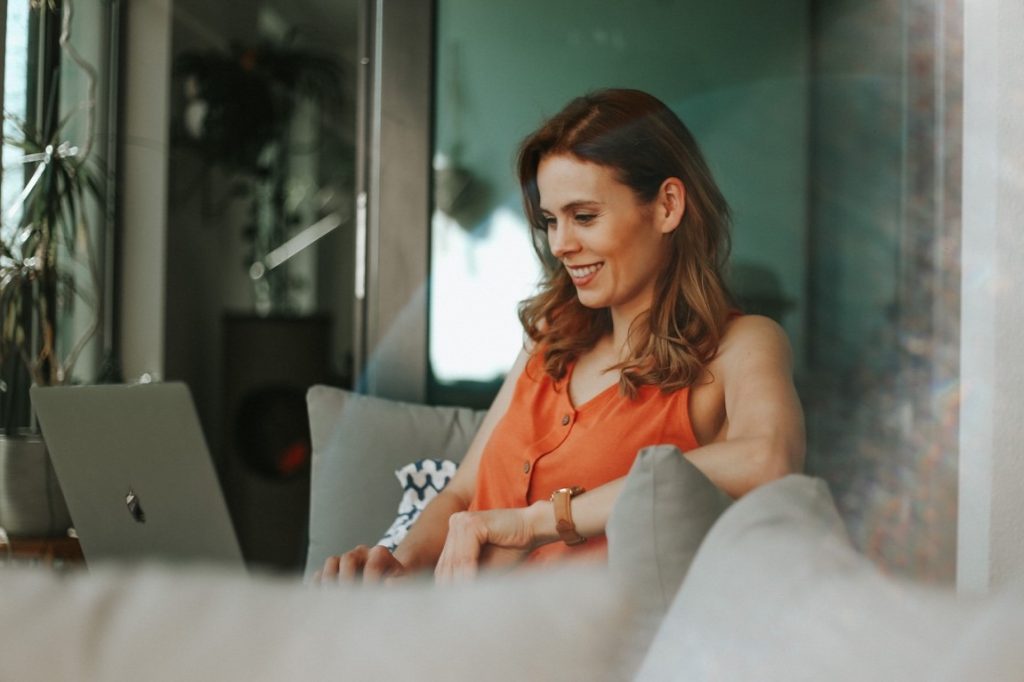 With the location and schedule already settled, you can begin researching potential items to include in your itinerary. Certain areas are known for certain activities; for example, Indiana in the Midwest has renowned wine trails you can explore.
As you do your research, here are some things you should look out for:
How much does each activity cost?
Will there be discounts, offers, or special rates for group bookings?
What are their policies on payment? Do you need to pay 100% upfront, or do they offer flexible payment structures?
What are their cancellation policies?
Do they have any specific requirements before allowing you to make a booking?
At this point, you might be able to create an itinerary draft with compatible activities. Compile everything you find from your research into a convenient database. Add up the prices and divide the total by how many you are in your crew.
4. Present Your Findings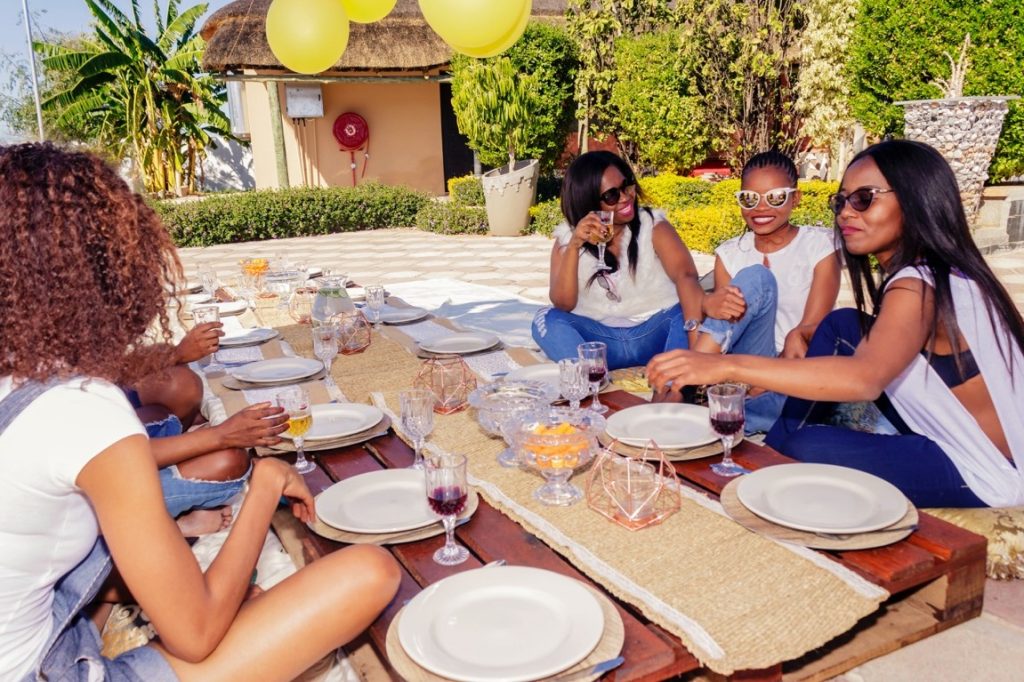 Let everyone know what you found in your research. Make sure to include the price range per activity or itinerary. If you have the time, you can also present any pros and cons of each option.
Encourage the bride to let everyone know her thoughts. Likewise, you can also facilitate a discussion and another brainstorming session. Hearing everyone's input will give you some insight you may have missed.
5. Finalize the Itinerary
After presenting and discussing your options, it is time to choose the final itinerary. It might be best to have the plans finalized four to five months before your chosen weekend. Giving yourself this much time allows everyone enough time to prepare for the party.
6. Send the Invites to the Bridal Crew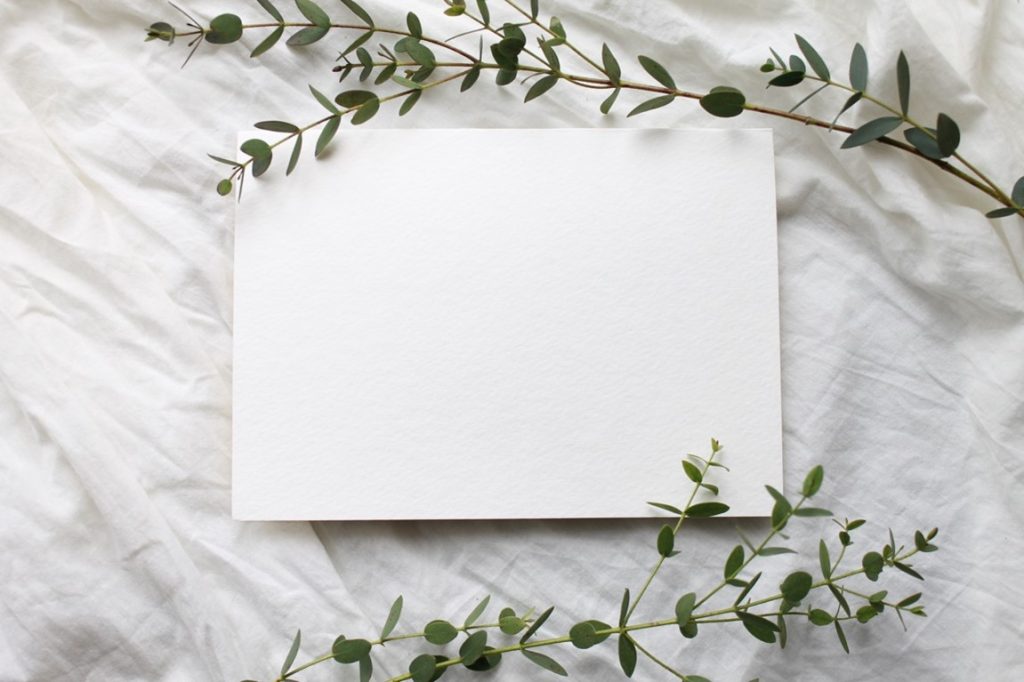 At the four-month mark, distribute the invitation to everyone the bride wants to invite. You have two options: physical invitations, which you have to order from a stationer, or digital invitations, which you can purchase or design yourself. A third option is to send both.
Regardless of how you proceed, here are some of the pertinent information your invitation should include:
Dates of your bachelorette weekend party
Location
Links — or QR codes — to pertinent websites, such as the Airbnb you will rent, activities you will do, etc.
Budget range
Cost breakdown
Outline of the itinerary (does not need to be highly detailed, just give the guests an idea of what will be in store)
Deadline of RSVP
Deadline for payment
7. Make the Necessary Reservations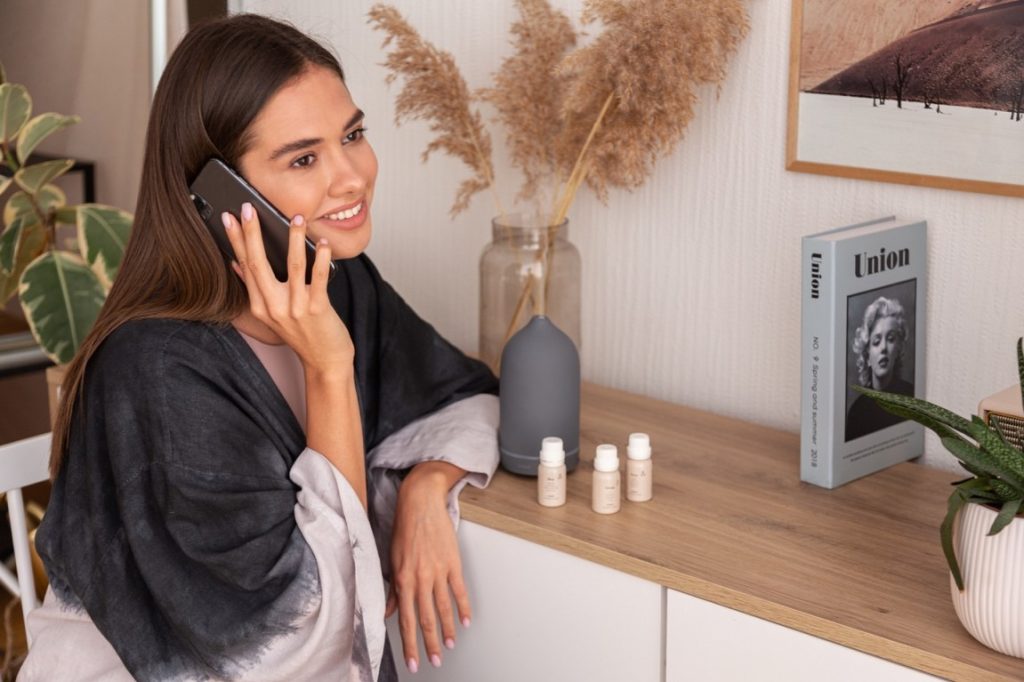 Ideally, the RSVP deadline indicated on your invitation should be three months before your chosen dates. Three months gives you enough time to book your Airbnb, make reservations for activities, and buy tickets to anything.
Any later than that, and you might find the house or activity fully booked. While this situation is not the end of the world, it will be an inconvenience to plan everything again.
Any earlier than that, and guests might have trouble committing to the party. They might be unsure of their schedules that early, thus not allowing them to give a sure answer.
As you make the reservations, make sure to keep track of all your expenses on a spreadsheet. Not only does doing so ensure transparency, but it also helps you stay within your budget by being mindful of overspending.
Furthermore, staying organized is essential. Keep all receipts in one folder, make checklists of things you have to do, create a document listing important contact details, and more.
8. Take Care of the Little Details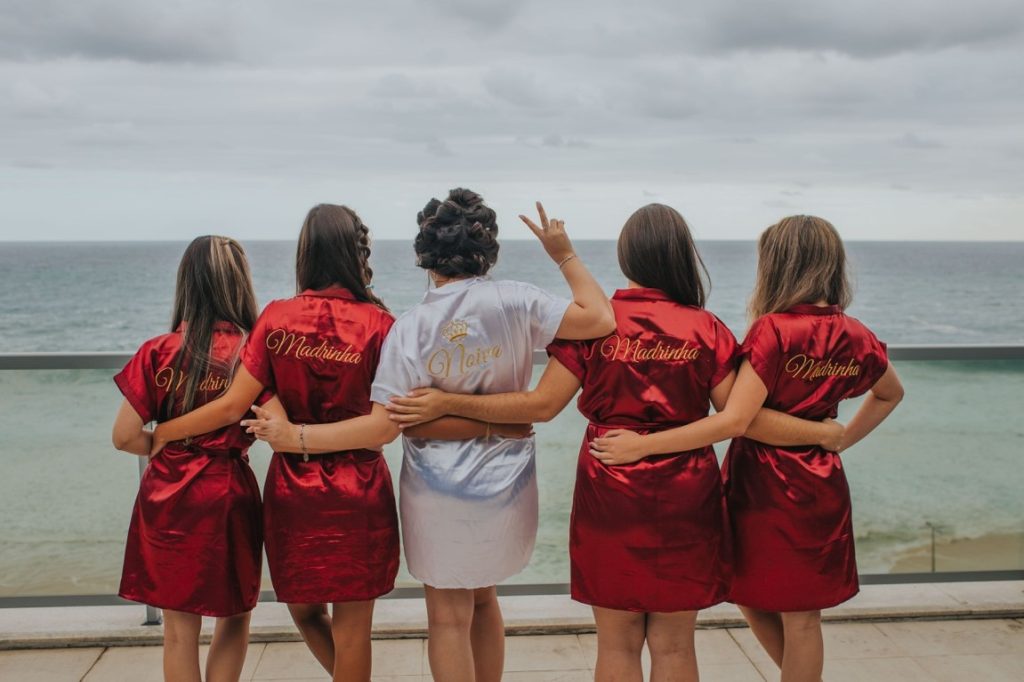 Around a month before the bachelorette weekend, start looking around for bach-themed decorations, party favors, and other fun items.
You may also want to prepare some games to play during your downtime. It does not have to be highly elaborate or complicated; you can bring a deck of cards, some board games, or bachelorette party-themed games.
Furthermore, you should start thinking about the food situation. Will you be getting takeout, delivery, or making your own meals? If you plan on cooking, you may want to plan your meals ahead of time so you can get everything you need.
9. Send Reminders to Your Guests
Around one to two weeks before the party, send an email or message to everyone invited. This message should contain key information, such as:
Address of your accommodation
What to pack
What to wear (if necessary)
Overview of the weekend itinerary
What time to arrive
The bride's sizes (for gifts)
10. Set Up the Accommodation and Do Other Last-Minute Preparations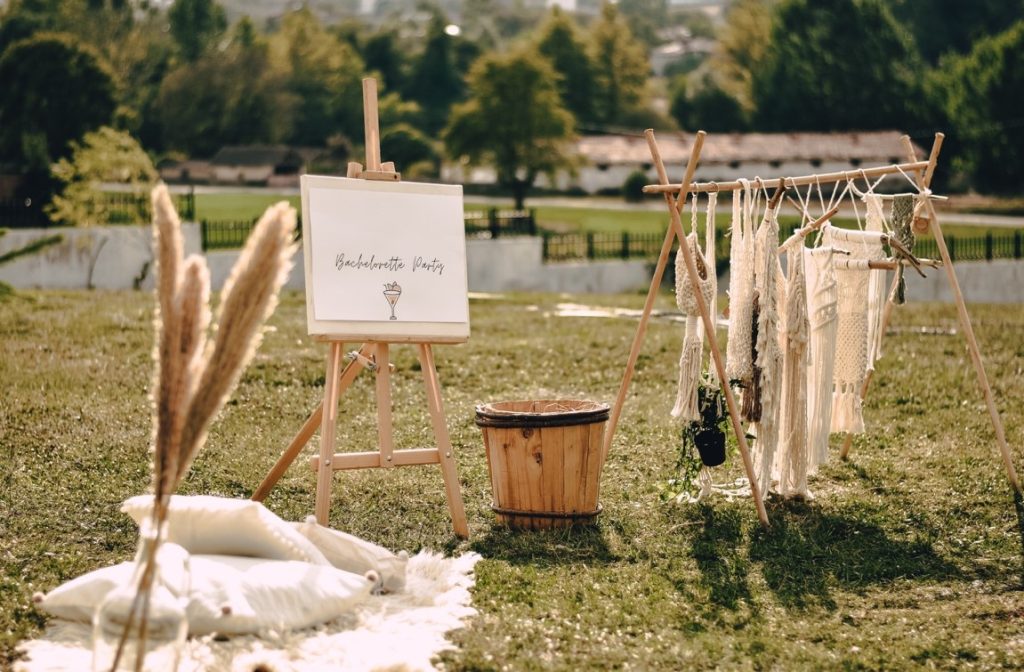 On the first day of your bachelorette weekend, go to your Airbnb and do some decorating. Stock the fridge with food and drinks, set up a photo booth, and more.
If you need to check with some vendors or companies, give yourself enough time to do so. You may even want to go on a day early to settle any last-minute matters.
Bachelorette Weekend Itinerary: Example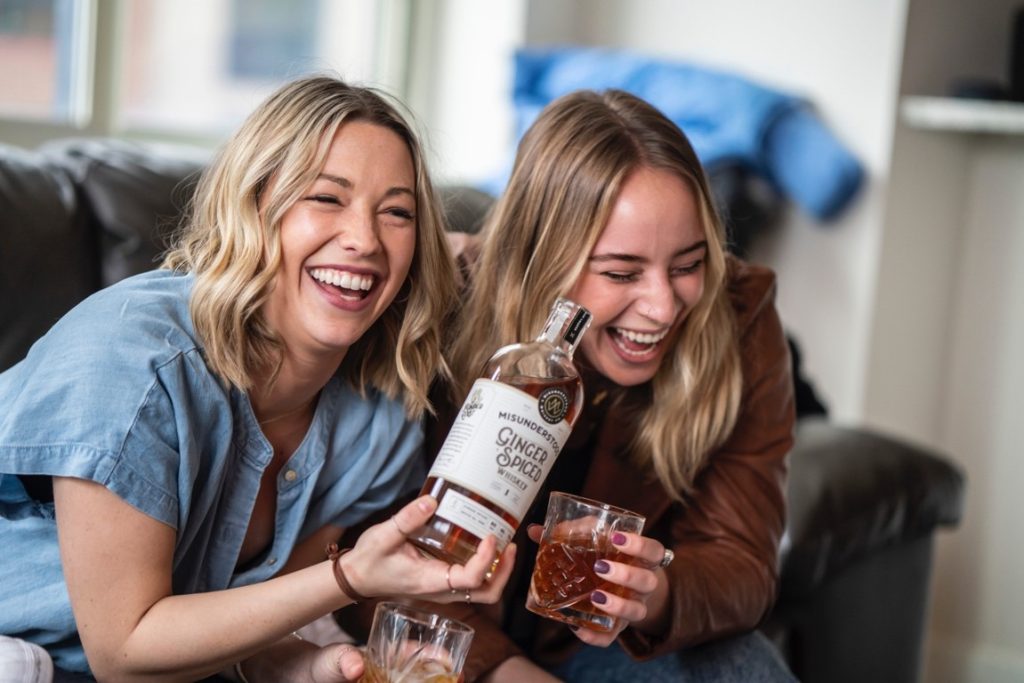 Friday Morning
10:30 a.m. → arrive at Airbnb
11:30 a.m. → make lunch together
Friday Afternoon
3:00 p.m. → get manicures and pedicures
4:30 p.m. → explore the city
Friday Evening
7:00 p.m. → eat dinner
9:00 p.m. → go to the first bar
10:00 p.m. → move to the next bar
3:00 a.m. → go home after bar hopping
Saturday Morning
Saturday Afternoon
12:30 p.m. → get a massage
2:00 p.m. → go shopping
4:00 p.m. → stop for coffee, tea, or boba
5:00 p.m. → continue shopping
Saturday Evening
7:00 p.m. → have dinner
8:00 p.m. → play a bachelorette party game
9:00 p.m. → lingerie shower with the bride-to-be
Sunday Morning
10:00 a.m. → go get brunch
11:00 a.m. → Airbnb checkout
Bachelorette Party Weekend Itinerary: Free PDF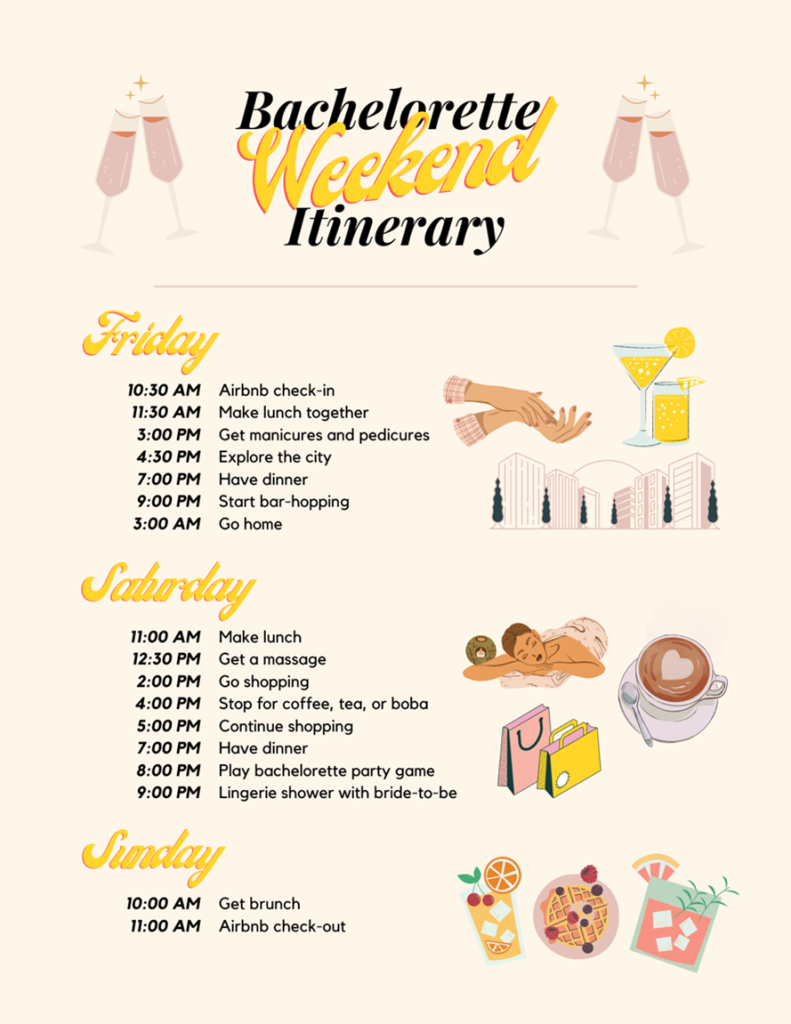 Click here to download a PDF copy of the bachelorette weekend itinerary and here to download a blank copy of the file.