Receiving a wedding invitation is not an everyday occurrence. Such events are not only celebrations of love but also present an opportunity for guests to showcase their best selves. During the planning process, a frequently asked question among attendees is: "Can I wear white shoes to a wedding?"
The answer is yes, you can indeed wear white shoes to a wedding. While there's a traditional etiquette discouraging guests from donning white to keep the bride as the focal point, this rule primarily pertains to dresses and outfits rather than accessories. White accessories and accents, including shoes and jewelry, are usually considered permissible and tasteful.
Below, we've listed five crucial rules for wearing white shoes when attending a wedding, along with outfit inspirations that elegantly incorporate white footwear. Additional considerations and tips regarding wearing white shoes to a wedding are also provided to ensure you make a stylish and respectful appearance on this special day.
Rules for Wearing White Shoes to a Wedding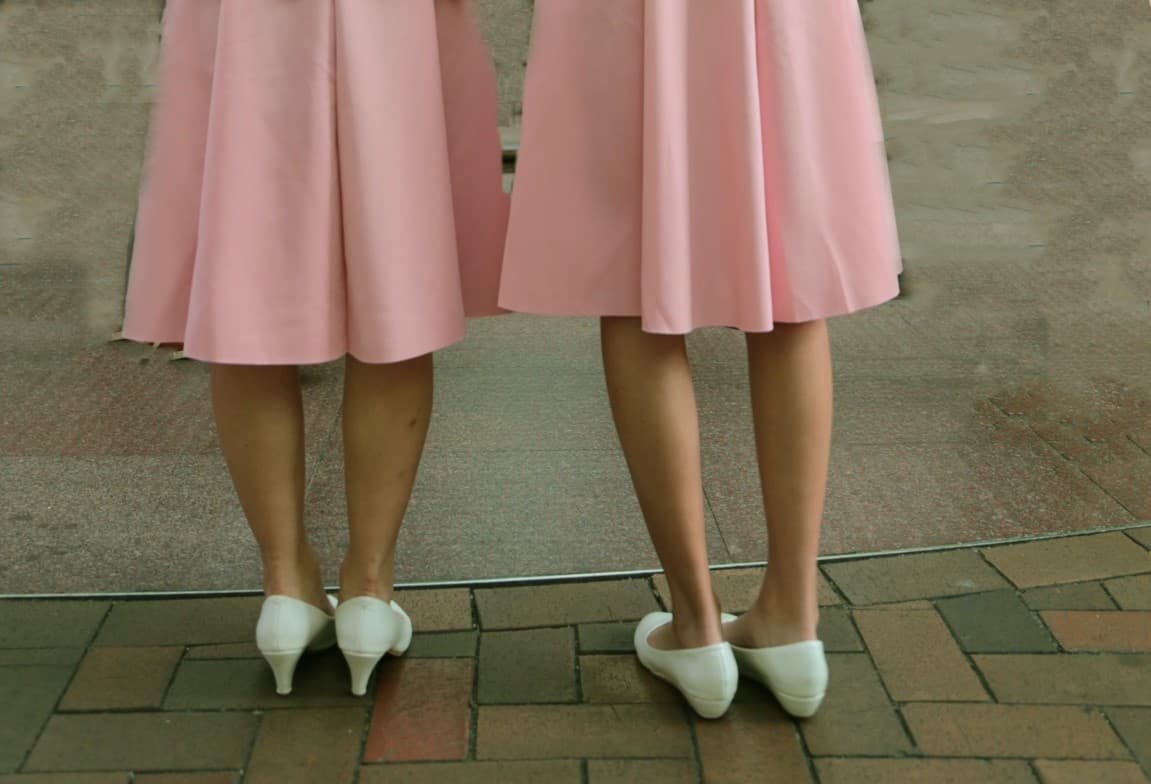 1. Avoid Wearing an All-White Outfit
As mentioned above, guests are advised to avoid wearing predominantly white outfits. Though couples now have more freedom in terms of wedding traditions, white wedding dresses are still a popular and well-loved choice. Thus, an all-white ensemble on a guest will make them appear bridal, thus risking taking away the attention from the bride.
If you want to wear your favorite pair of white shoes, consider changing the color scheme of your outfit. The benefit of having white accessories is that they match with any color; wearing white shoes gives you plenty of flexibility in terms of color coordination.
2. Avoid Wearing White Shoes to an Outdoor Wedding
For practical reasons, you are discouraged from wearing white shoes to an outdoor wedding. This includes national park weddings, hiking weddings, and any wedding that involves the great outdoors. It is best that you wear a pair of shoes fit for large amounts of walking. Similarly, you may want to wear shoes that you do not mind getting dirty.
3. Avoid Wearing White Shoes on Certain Seasons
Specifically, it is not advisable to wear white shoes during fall and winter. Sludge, mud, and snow may damage the appearance and integrity of your shoes.
4. Consult the Dress Code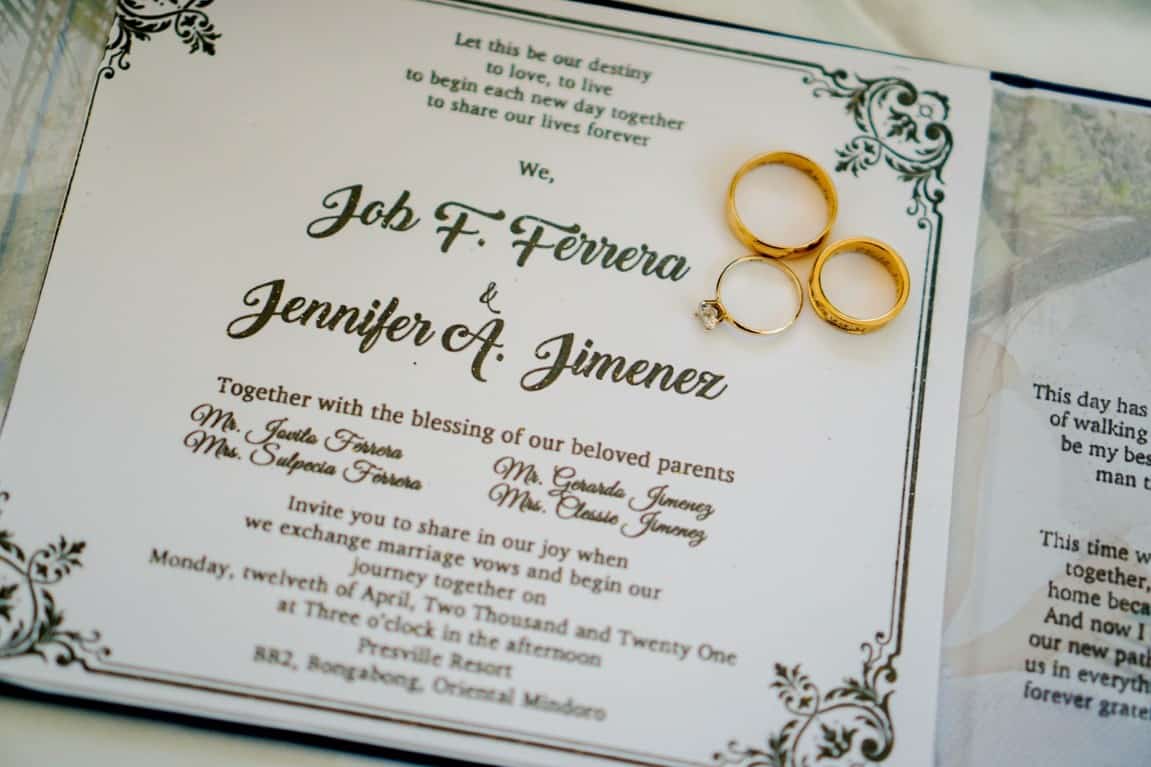 Every wedding is different; schedules, venues, themes, levels of formality, and other considerations must be kept in mind. In line with the aforementioned factors, couples prescribe a dress code for their special day. You can see this on the wedding invitation, social media posts, or their wedding website.
While it is common to see dress codes specify "formal," "smart casual," or "casual," some will be more specific. For instance, some ceremonies and receptions have an "all-white" dress code, wherein guests are encouraged to attend with an all-white ensemble.
Although this may go against the other rules discussed, the couple's preferred dress code will always take precedence.
5. Be Aware of the Couple's Cultural Background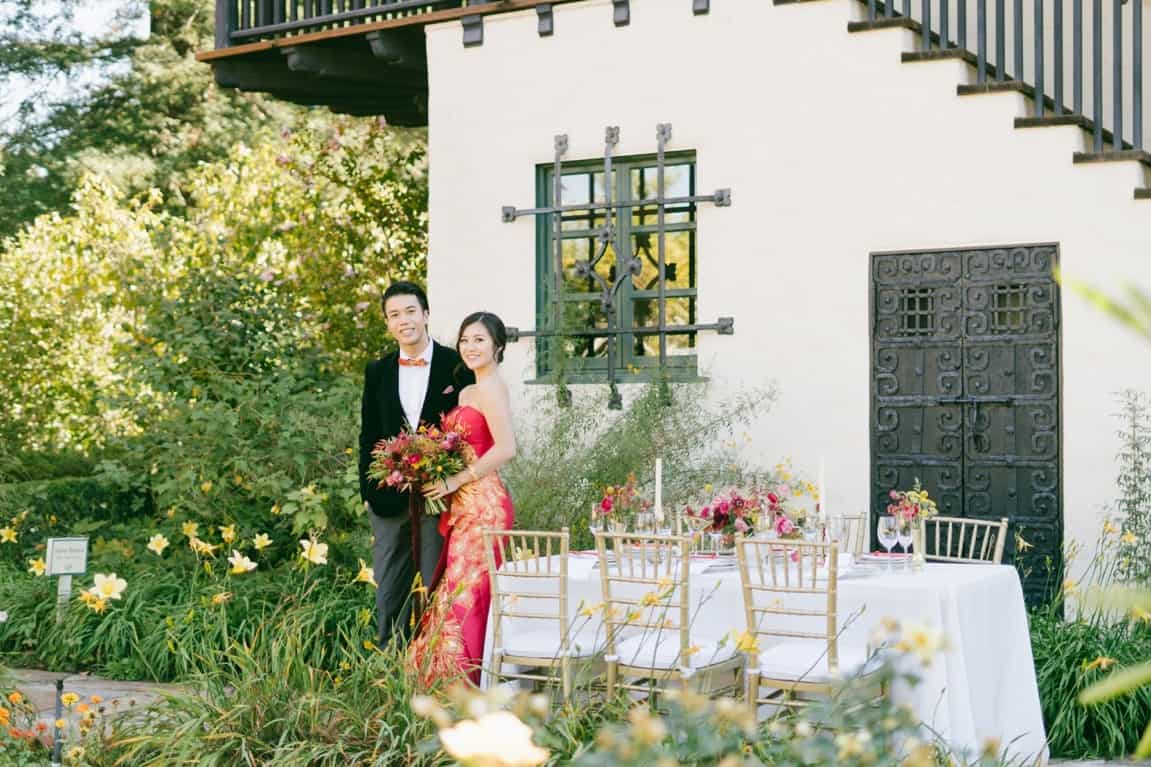 In many Western cultures, the color white is heavily associated with weddings, peace, and the idea of purity. These symbolisms make white wedding dresses a frequent choice among brides from such cultures.
However, in several Eastern cultures, white does not have the same meaning. China, Korea, and other countries interpret the color white as a symbol of despair and grief. White is frequently seen in funerals and other rituals associated with mourning.
Cultural awareness is essential, especially if the couple is from different backgrounds. This explains why some brides refuse to wear a white dress. As a guest, that is not an invitation to wear white yourself.
Styling and Outfit Ideas
Understandably, you may be hesitant to wear a white pair of shoes to a wedding; some people will tell you to go ahead, whereas others will tell you to change. If you want to attend a wedding in a pair of white shoes, here are some outfits you can consider wearing:
1. Pastel Jumpsuit
Jumpsuits are popular options for wedding guest attire; they are chic, elegant, and they require minimal styling. If you choose a jumpsuit that is long enough to cover your feet, such as the one pictured above, you can get away with wearing any pair of shoes — including white shoes. This outfit also has plenty of opportunities for personalization, such as accessorizing and hairstyling.
2. Brown Overall Dress with a High Waist and Flounce Sleeves
This brown overall dress with a high waist and ruffle details is the perfect outfit for fall weddings. The addition of white flounce sleeves matches a white pair of heels, tying the outfit together. Concurrently, you have a lot of opportunities for personalization. For example, the square neckline lends itself perfectly to accessories. Hats will also go well with this outfit idea.
3. Pencil Dress with a Maxi Overlay
Perfect for weddings with a summer or
spring theme or color scheme
, this
blush
pencil dress with a maxi overlay is the right balance between breathtaking and simple. The white block heel sandals, though a great addition to the outfit, are subtle enough that they do not take away the focus from the dress. Its V neckline lets you show off some skin and accessorize creatively.
4. Off-the-Shoulder Midi Tulle Dress
This blue midi dress with off-shoulder sleeves and tulle details is a dreamy and refined choice for your outfit to a wedding. You can accessorize with necklaces, bracelets, earrings, and other jewelry that you prefer. Although the shoes pictured above are in beige, a white pair of heels will work just as well.
5. Lilac Lace Dress with Studded Heels
This lilac dress with intricate lace details is a fitting choice for women who want to accentuate their femininity. The length is just right, making it perfect for accident-free dancing through the night. The leather pumps are studded, giving a slight edginess to the outfit. Though the pair of heels itself is not white, the studs appear white and bright when it reflects light. It is a clever workaround to the no-white etiquette in some weddings.
Things to Keep in Mind for Wedding Shoes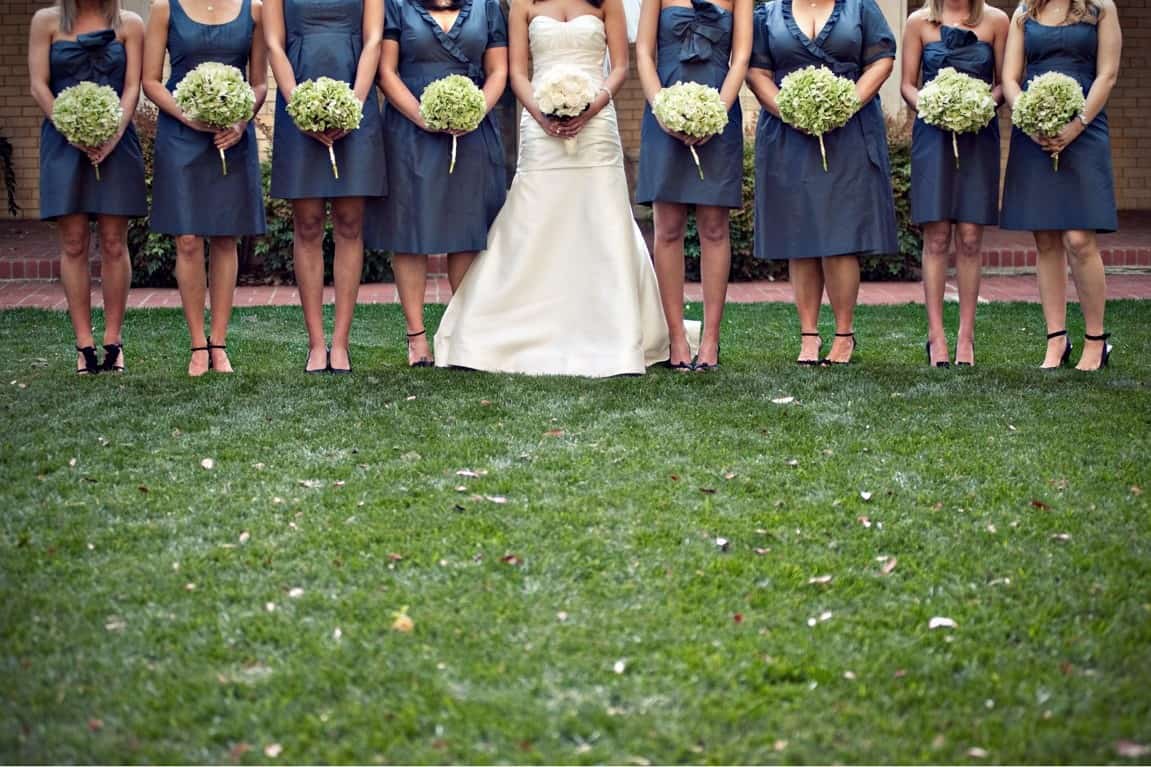 Ask What the Bridesmaids Are Wearing
You do not have to know what brand or style of shoes the bridesmaids will be wearing. However, you can ask them for general details, such as color and type of shoe. This will give you an idea as to what options you have.
When choosing what to wear, whether it be shoes or outfits in general, it is frowned upon to pick something that closely resembles what the bridal party is wearing. This includes not only the bride but also her bridesmaids.
Go with Neutral or Earth Tones Instead
Wearing shoes — or an entire outfit — with earth tones is an excellent compromise between your personal style and the no-white dress code of some weddings. There are unlimited options for footwear in beige, cream, powder, and other neutral or earthy colors. Luckily, they are all easy to coordinate, as they can be paired with any color without problems.
Comfort Over Style? Style Over Comfort?
No consensus has been achieved on this topic. On one hand, some people believe that since you do not regularly attend weddings, you should go all out and prioritize style over comfort. On the other hand, some people will encourage you to go with what feels familiar and comfortable to you, whether it be a pair of high heels or flats.
It is a matter of personal preferences. If you want to look your best and are willing to sacrifice some comfort for the sake of style, you are free to do so. Similarly, if you want to prioritize comfort and stick with safer options, go ahead. However, be mindful of staying within the prescribed dress code.
If you look hard enough, you might even find options that give you both style and comfort. Look around in several stores and retailers until you find what is best for you.
What to Do If You Are Doubting Your Choice?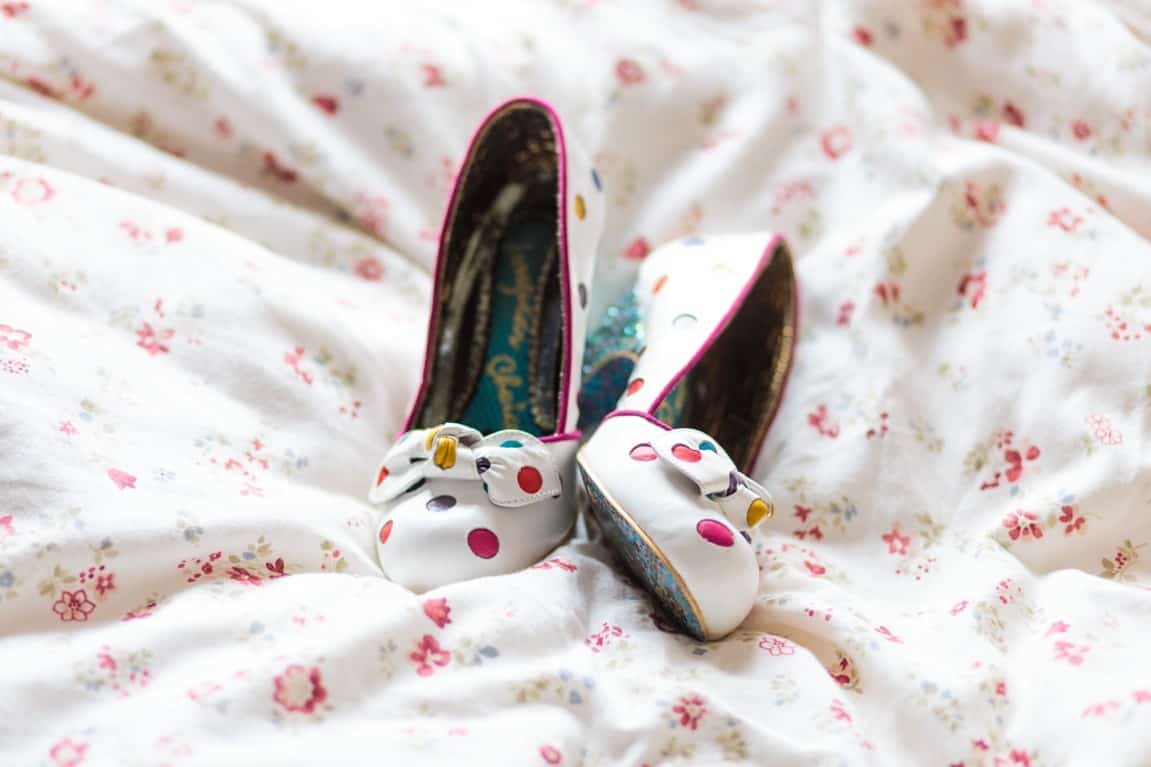 At this point, you might have already bought a pair of white shoes to wear to someone's wedding. Upon reading several articles on the issue, you may start wondering if your choice is inappropriate or too bridal party-like.
If you are close to the bride, you should ask her for her opinion about the topic at hand. If asking the bride is not an option, ask any member of the bridal party. If they approve of it, then you are free to feel confident and secure about your choice. Otherwise, it might be time to return your purchase and look for a different pair.
Alternatively, here are some questions you can ask yourself regarding your choice of footwear:
Is this pair of shoes too eye-catching to the point where it might take attention away from the bride's outfit?
Do these shoes make me physically uncomfortable?
Will I be able to walk around in these shoes without worrying too much about tripping or falling?
Are these shoes appropriate for the venue?
Are these shoes appropriate vis-à-vis the level of formality of the event?
Do I like the way my shoes look?
Do my shoes make me feel confident?
Final Thoughts
So, can you wear white shoes to a wedding? It is important to remember that at weddings, couples should always be the ones under the spotlight. It is their special day, and everything is therefore decided by them. If they are okay with you wearing white shoes, then go ahead and wear your favorite pair. If not, give yourself plenty of time to look for an alternative.