Pre-wedding parties are an incredible opportunity to get to know your bridal crew better and create bonds that will last for a lifetime. One of the ways you can make a bachelorette party more exciting and engaging is by adding a game to the itinerary.
Scavenger hunts are a classic game wherein you must find specific items or perform certain tasks to score points. Below is a complete guide for planning a scavenger hunt for your bachelorette party along with free bachelorette scavenger hunt PDFs you can use.
Bachelorette Scavenger Hunt: Complete Guide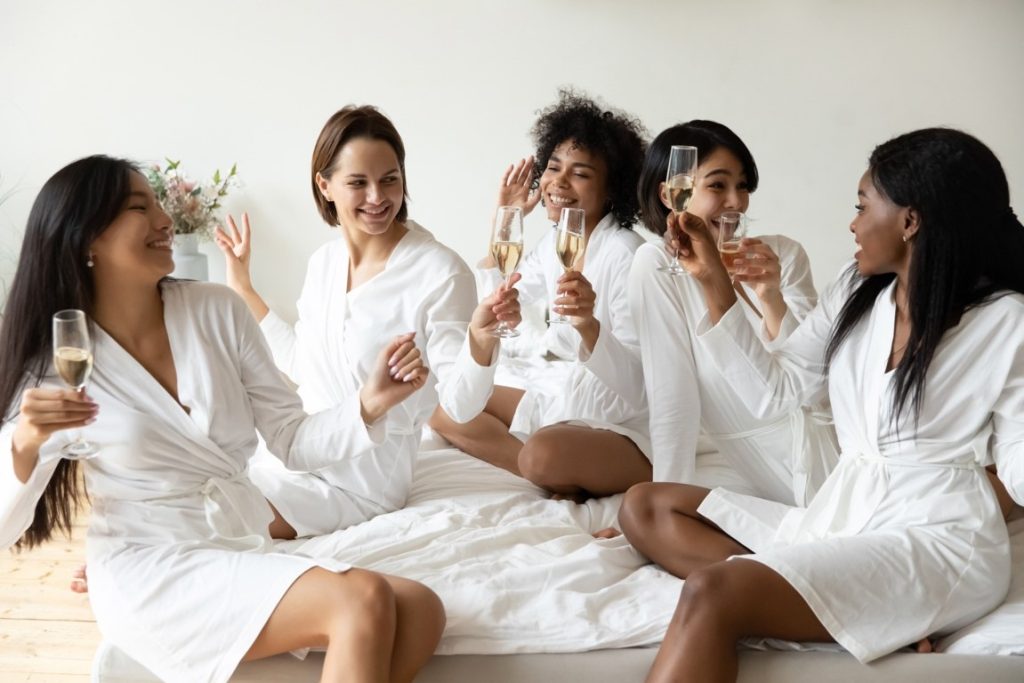 A bachelorette scavenger hunt is just like a typical scavenger hunt; players have to answer riddles, accomplish tasks, and race against each other to get the most points. The more challenging the item on the list, the more points a player gets for checking them off.
As with any bachelorette party game, it is best to start planning the logistics at least a month before the event. Doing so will give you enough time to prepare prizes, scope out locations, and prepare the bachelorette scavenger hunt PDF.
Players
Everyone at the bachelorette party will participate in the game. However, the maid of honor might step out — or at least be out of the competition for the points — of the game, as she is typically responsible for planning the game.
You have the option to play the game as individuals, pairs, trios, or groups. The configuration you go with will depend on your preferences, the complexity of the tasks, and the number of players present.
Materials
Here are the items you might need for a game of bachelorette party scavenger hunt:
Sheets containing the list of tasks and items
Pens for marking items off the list
Duration
How long a scavenger hunt at a bachelorette party lasts will depend on multiple factors:
The difficulty of the items or tasks on the bachelorette scavenger hunt PDF
The location of the scavenger hunt
The level of drunkenness of the players
The competitiveness of the players
However, in general, expect the game to last at least one hour. You can increase the stakes of the game by setting a time limit; doing this will also stop the bachelorette scavenger hunt from spilling over or taking longer than it should.
Alternatively, you can let players check items off their list throughout the day or weekend. As you go through your itinerary, your guests can squeeze in some time performing tasks or looking for things to get some points.
Location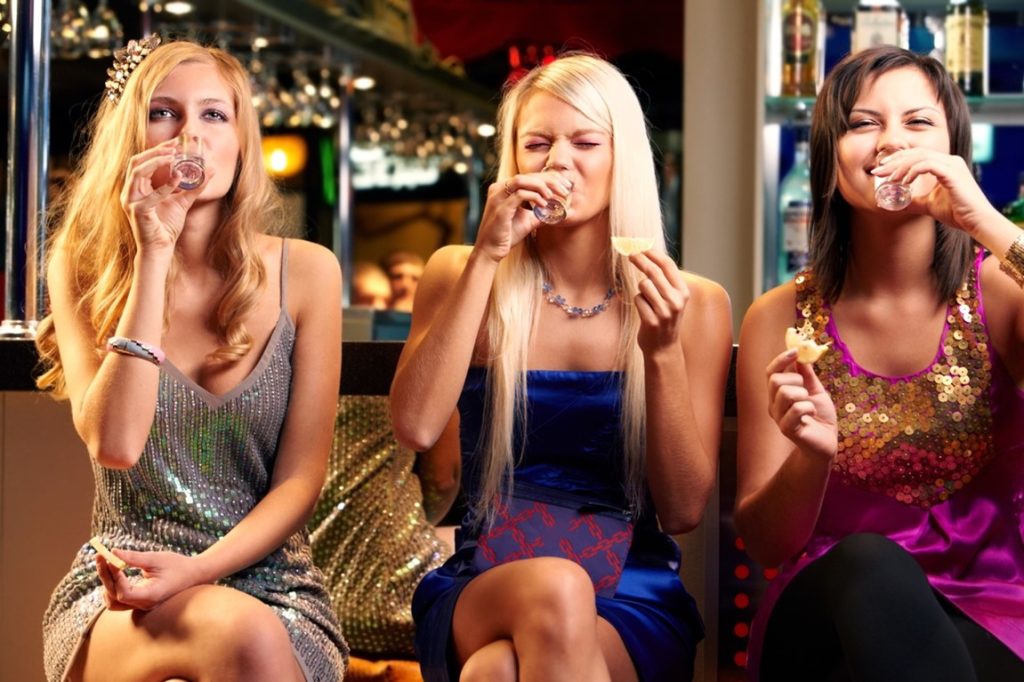 A game of scavenger hunt can be played anywhere. You can bring a printed copy of your bachelorette scavenger hunt PDF around the city, looking for random items and willing participants to help you perform certain tasks.
Some companies offer a city-wide scavenger hunt, an option you may want to explore. Doing so removes some of the burdens of planning on you and your maid of honor.
You can also have a bachelorette scavenger hunt at home. You can hide items in your backyard and inside rooms, list things your guests might have in their purses, and more.
You can even have a digital scavenger hunt through Zoom. This game style is ideal for bachelorettes who live in different areas and may not have the resources to physically come together for a pre-wedding party.
Prizes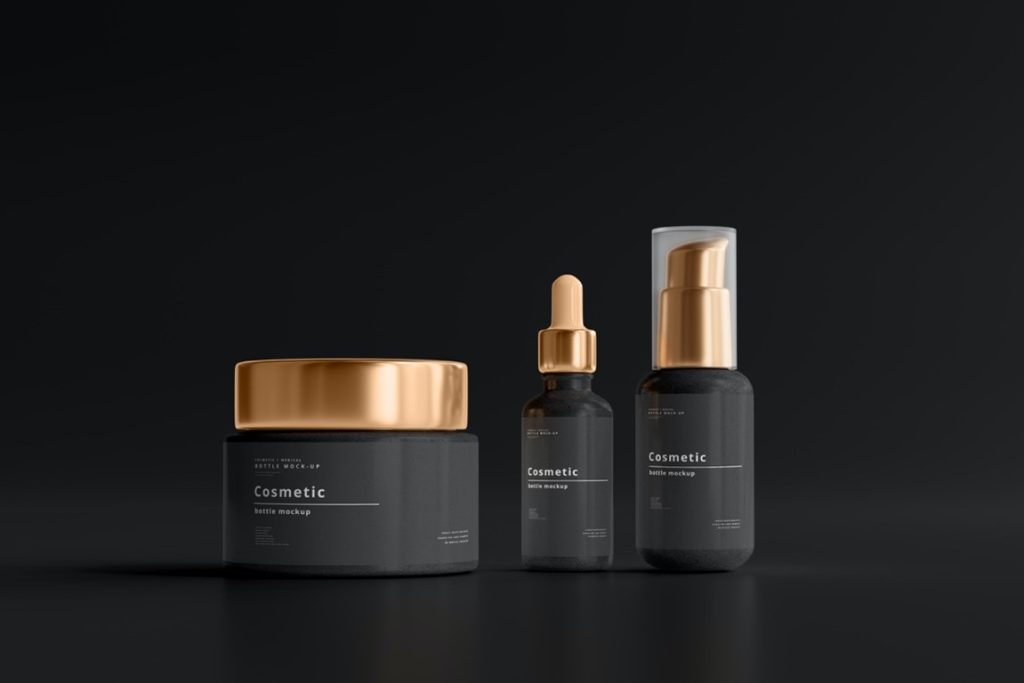 Once the time is up, have everyone gather in one place. The maid of honor — or whomever the facilitator of the game is — can validate each game card, awarding the points for brought items and accomplished tasks. As mentioned above, the player with the most points wins the scavenger hunt.
While you are not obligated to provide prizes for the game, they will make it more fun, engaging, and competitive. Try to prepare at least three prizes, accounting for the possibility of having a tie. Besides, awarding multiple winners makes for a more memorable time.
Here are some simple ideas for prizes you can provide:
Gift certificate for a local business
Goodie bag with candies or chocolates
Mini wine bottles
Stuffed toys
Skincare sets
Mini makeup bundles
Self-care kits
Scented candles
Personalized trophy or certificate of appreciation
Oppositely, you can have a "punishment" or penalty for the player with the least points. You can give them a dare or ask them a risqué question; feel free to get as creative as you want with the penalty, but be mindful of personal boundaries and dignity.
Important Tips to Remember for an Amazing Time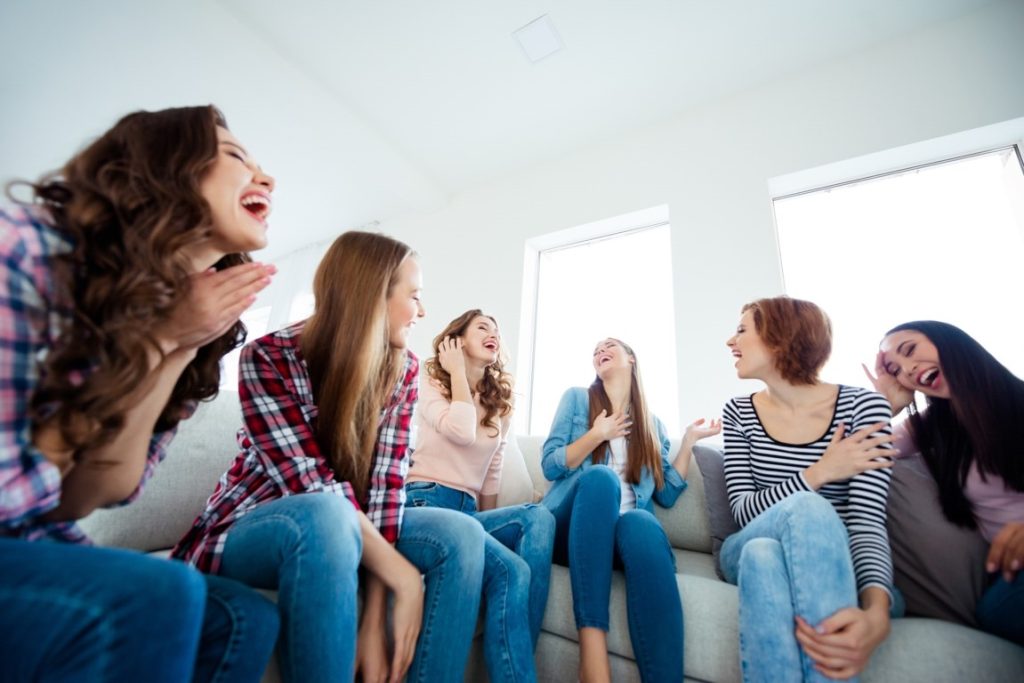 Clean as you go. Whether you are going around the city or roaming your Airbnb's vicinities, always remember to follow the Leave No Trace policy; clean up, do not throw your trash anywhere, and be careful not to break anything.
Respect the boundaries of non-players. Inevitably, some tasks on the bachelorette scavenger hunt PDF will contain participation from non-players. Always ask for a stranger's consent and approach them amicably.
Ask everyone to bring a bag. If you have an extensive list of tangible items on your sheet, tell your guests ahead of the party to bring a bag. Alternatively, you can provide a bag as part of your party favors.
Ask everyone to bring a power bank. A game of scavenger hunt at a bachelorette party might take hours to finish. Remind your players to bring their power banks with them, preventing accidental battery deaths.
Bring extras of every material. Print more sheets and bring more pens than the number of players you have. If any accident happens, you are prepared to provide another list or another pen.
Dress for the weather and location. If your scavenger hunt will be outdoors, pay attention to the weather conditions and terrain. Remind your guests to plan their outfits accordingly.
Bachelorette Scavenger Hunt: Ideas for a Fun Game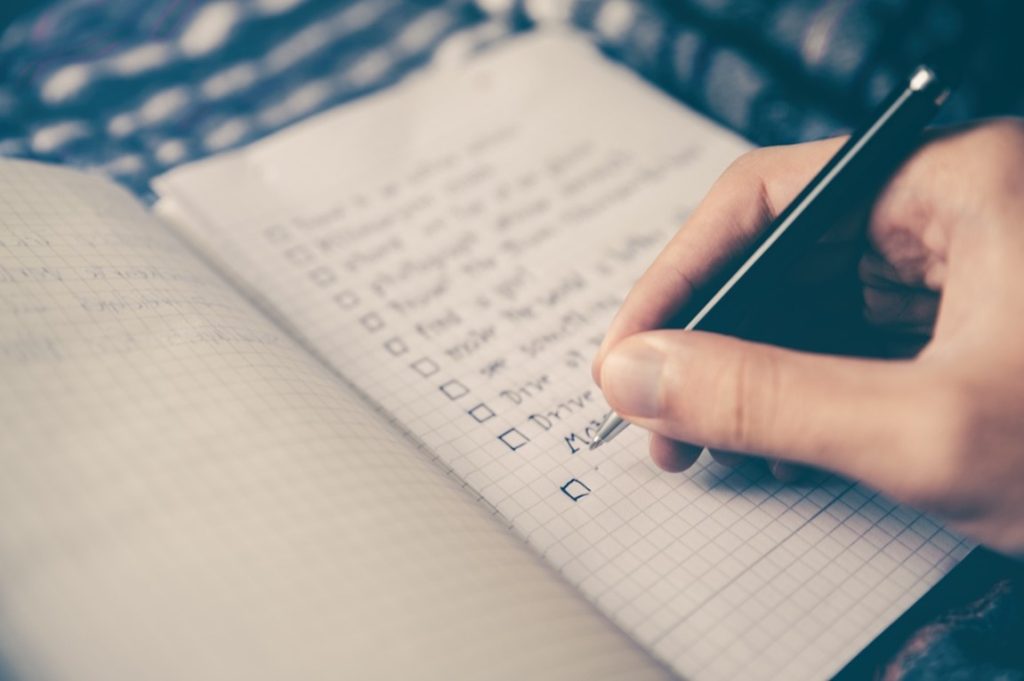 Easy Level
Anything that begins with the first letter of the bride's name
Anything that begins with the first letter of the groom's name
A photo of you in front of a random local business
A small umbrella added to a drink or cocktail
Anything in the bride's favorite color
A handheld gaming console
Empty Amazon box
A polaroid with you and the bride-to-be
Eyebrow or lip pencil shorter than your pinky
An invitation to another wedding
Get at least five phone numbers at a bar
Intermediate Level
Write a haiku on a public bathroom wall
Tell a stranger a dad joke
Take a selfie with any stranger
Ask a stranger for $5
Copy a statue's pose and take a picture
Tell a stranger a pick-up line
Buy a shot for at least five strangers
Film a TikTok with a stranger
Take a selfie inside the men's bathroom
Any graphic T-shirt with a curse word on it
Take a selfie with a drag queen
Dance on top of a table at a bar
Get at least five signatures from strangers at a bar
Pet at least 10 dogs
Difficult Level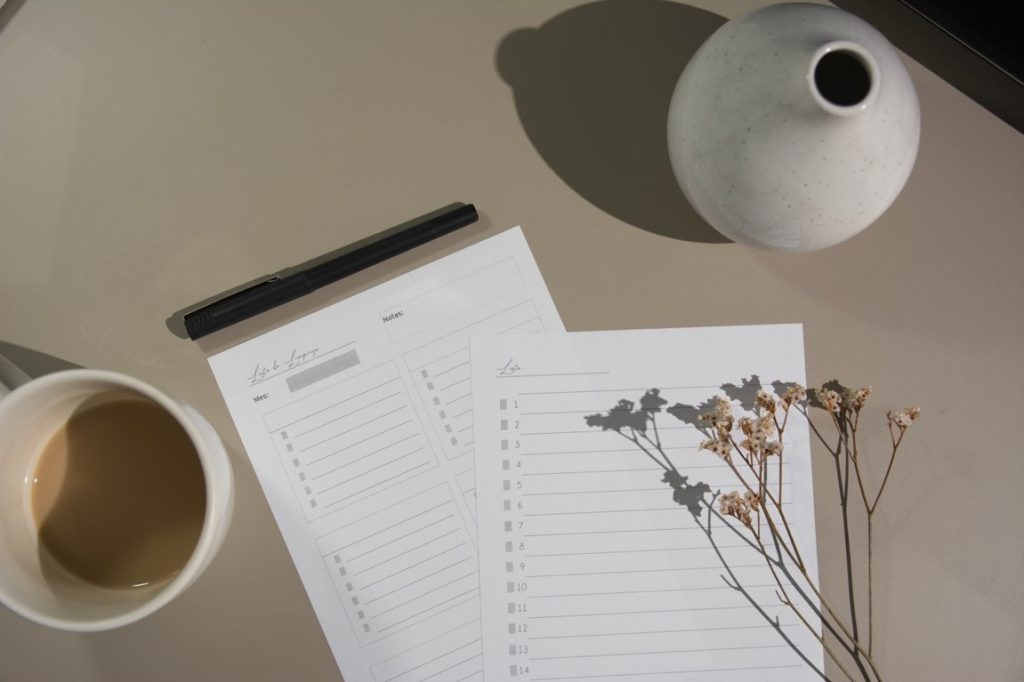 Perform a lip-sync to any song that plays at a bar
Take a selfie with a bar's bouncer
Take a video of a room greeting the bride-to-be
Find another group of bachelorettes having a bachelorette party
Call a number written on a wall
Take a body shot
Give someone a body shot
Take a selfie with a police officer
Find someone who has the same name as the bride-to-be or groom-to-be
Ask someone for a condom
Wear someone else's engagement or wedding ring
Take a picture with a cop
Free Bachelorette Scavenger Hunt PDFs You Can Use
1. Bachelorette Scavenger Hunt Neutrals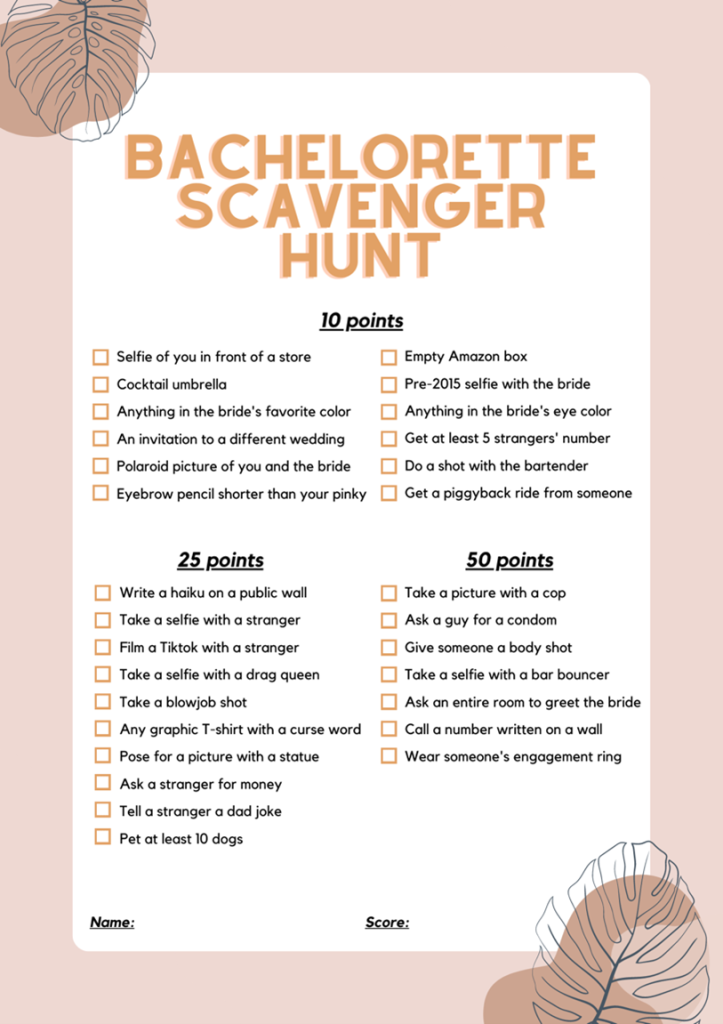 Click here to download the PDF and here to download a blank template.
2. Bachelorette Scavenger Hunt Pinks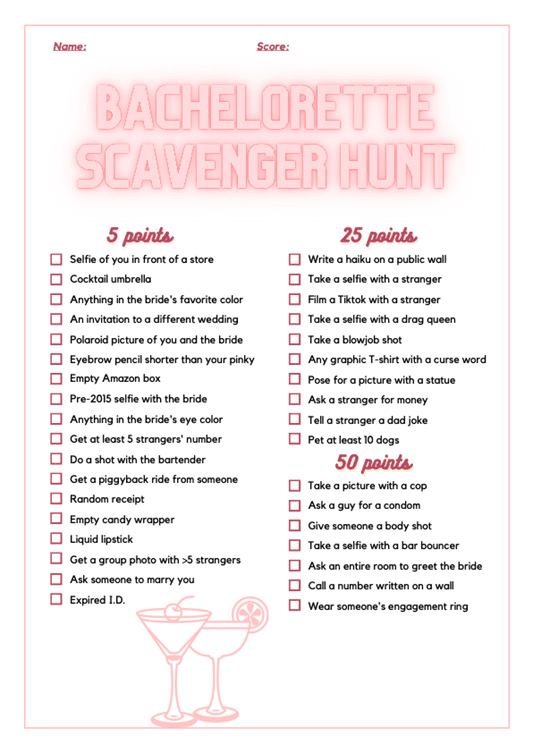 Click here to download the PDF and here to download a blank template.
3. Bachelorette Scavenger Hunt Icons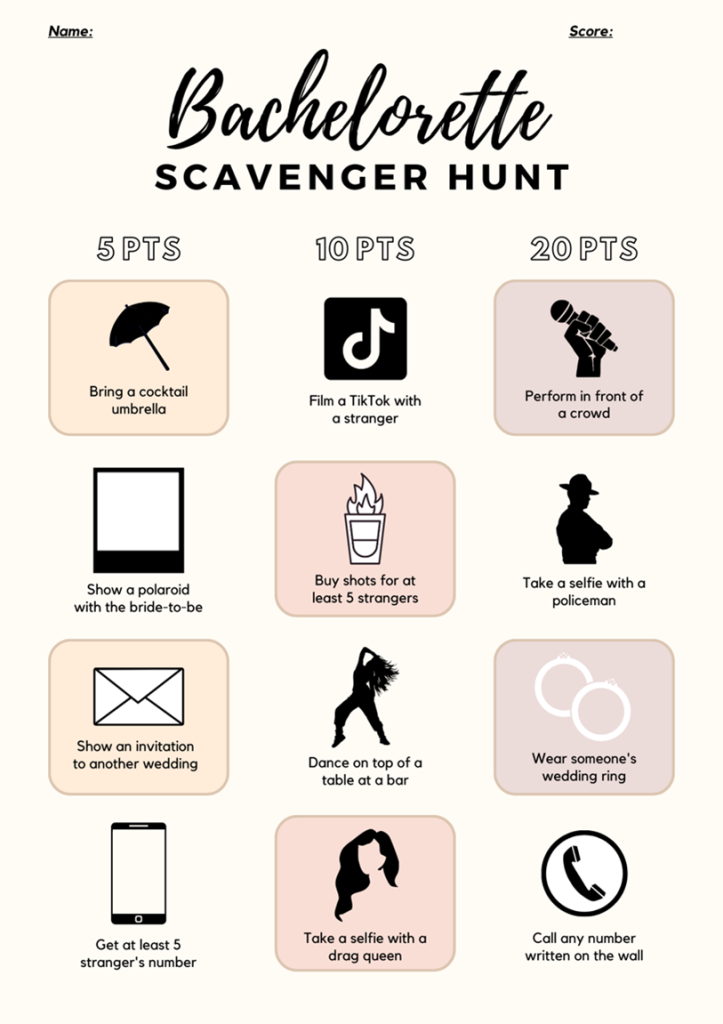 Click here to download the PDF and here to download a blank template.