Bridal showers are an opportunity for a bride-to-be to get together with her close friends and relatives. They will shower her with love, support, and gifts, all of which will help her prepare for the new chapter of her life: marriage.
A bridal shower itinerary contains a few games, for which "What's in Your Purse?" is a popular option. As denoted by its name, the bridal shower purse game makes guests look for certain items in their purses. These items have corresponding points, based on how likely they are to be inside a purse in the first place.
Below is a quick explanation of what the "What's in Your Purse" bridal shower game is and how it is played. Three free printable PDFs are then provided, followed by ideas for items you can include in your own game.
What's In Your Purse Bridal Shower Game 101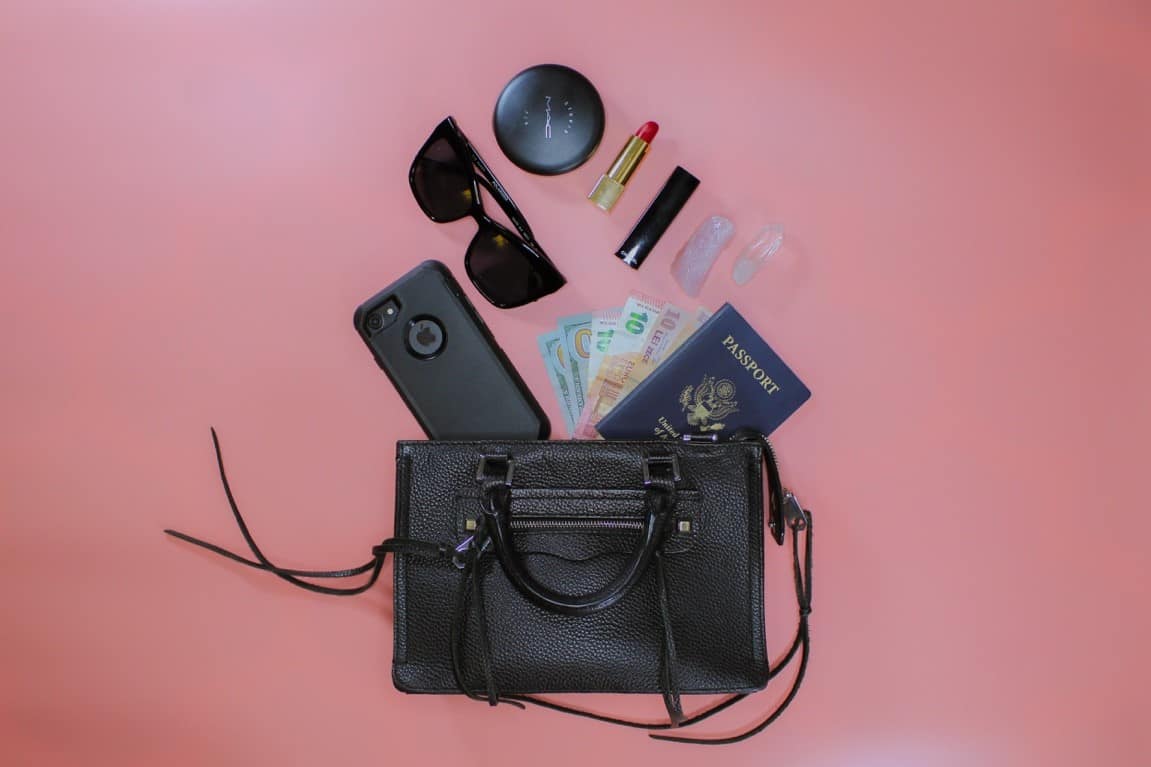 The "What's in Your Purse?" bridal shower game is often compared to a mini-scavenger hunt, as the two games have some similarities in their mechanics.
During the planning of a bridal shower, the host will prepare a list of items usually found in a purse. The items are then assigned a certain number of points, which is dependent on how frequently they are brought by guests. Once the bride-to-be and the organizer have finalized the list, they will print it on quality stationery.
These printed lists, along with a pen, will be distributed to the guests during the bridal shower. Concurrently, the facilitator will briefly explain how the game is played. Once the timer starts, guests can begin rummaging in their purses for the listed items. This is the simplest way you can play the game, but there are many twists you can introduce to make the gameplay more exciting.
When the timer ends, guests will start comparing points. Whoever has gotten the most points is crowned the winner of the game. However, the facilitator must verify the items first and check the validity of the player's points.
What's in Your Purse Game PDFs (Free)
As mentioned above, the guests will be handed printed lists that contain the items they need to look for, along with their corresponding points. Thus, it is important that you will choose a template that matches the theme and color scheme of your event, as well as the overall aesthetic you are going for.
1. Flower-Themed What's in Your Purse Bridal Shower Game PDF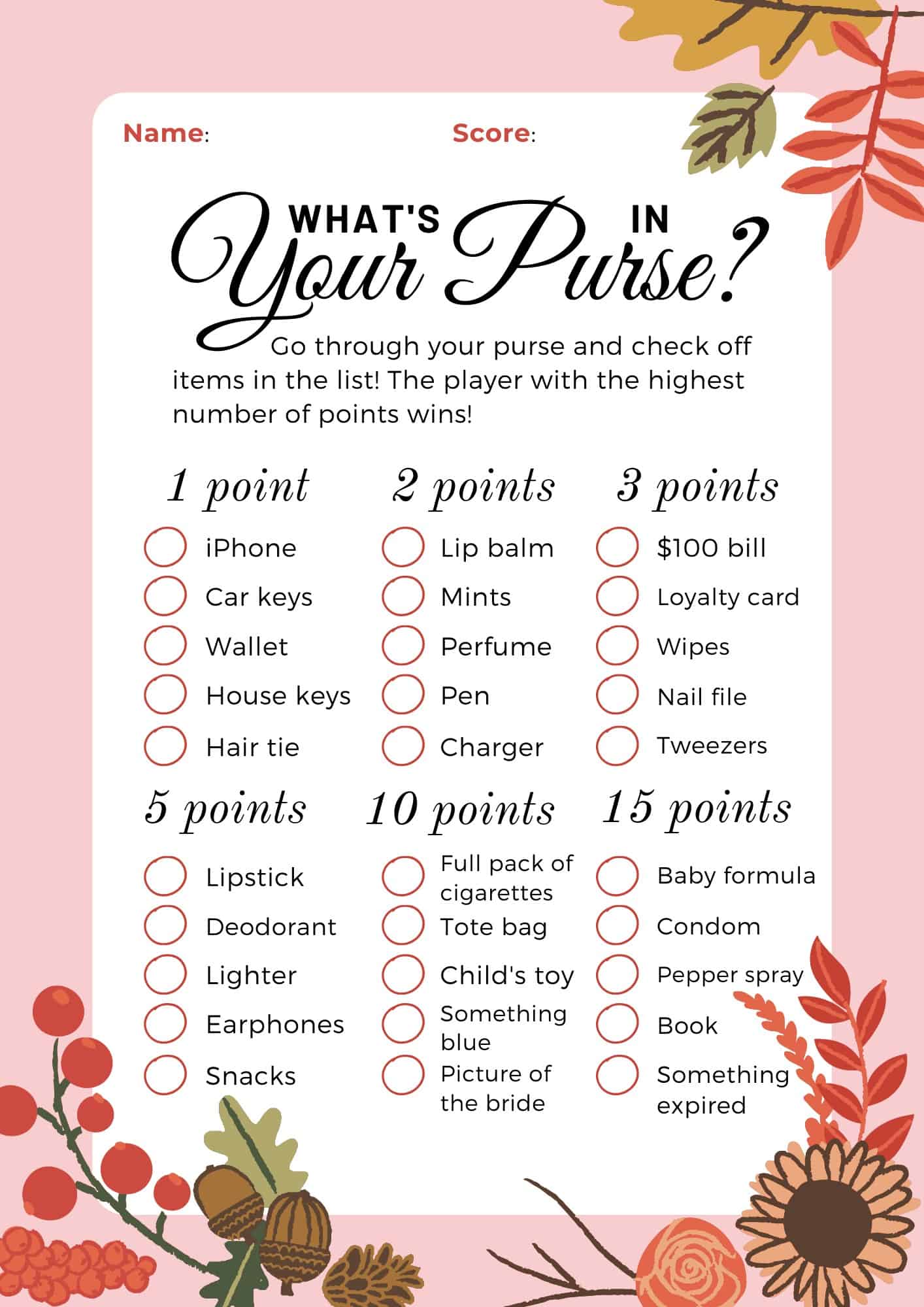 Click here to download the PDF, or blank copy here.
2. What's In Your Purse Bridal Shower Game – Retro Vibe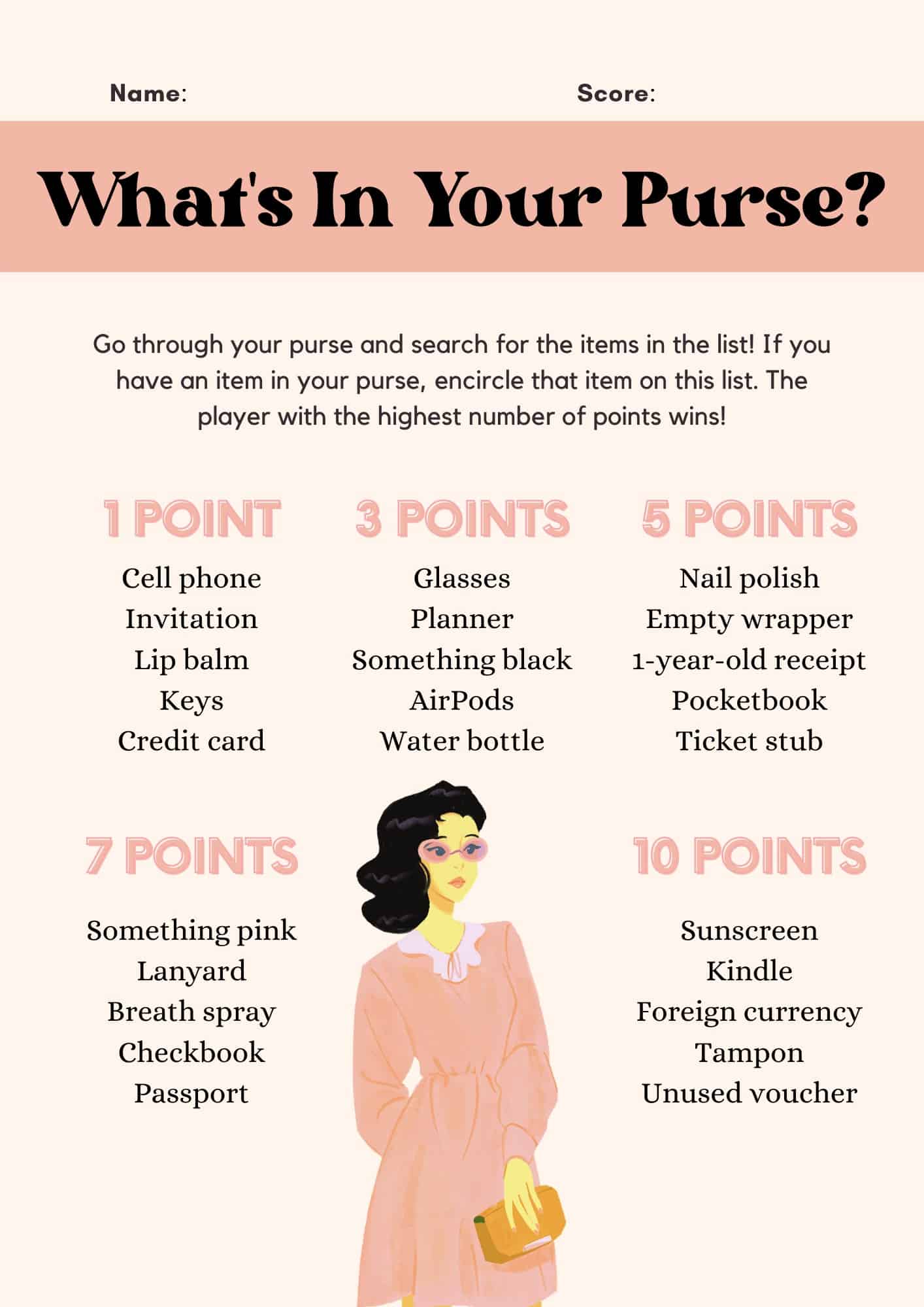 Click here to download the PDF, or blank copy here.
3. What's In Your Purse – Simple but Chic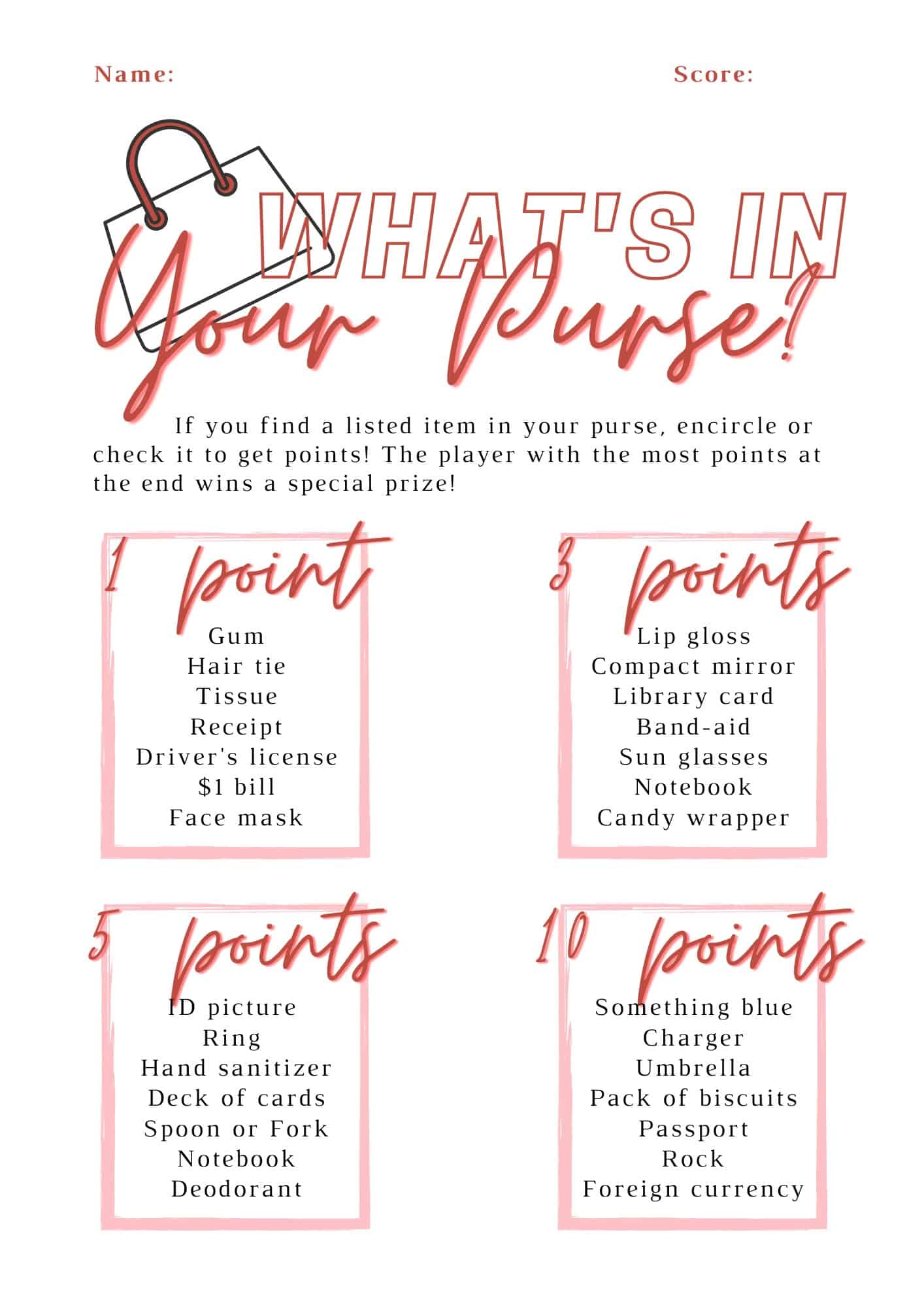 Click here to download the PDF, or blank copy here.
Items to Include in Your Bridal Shower Purse Game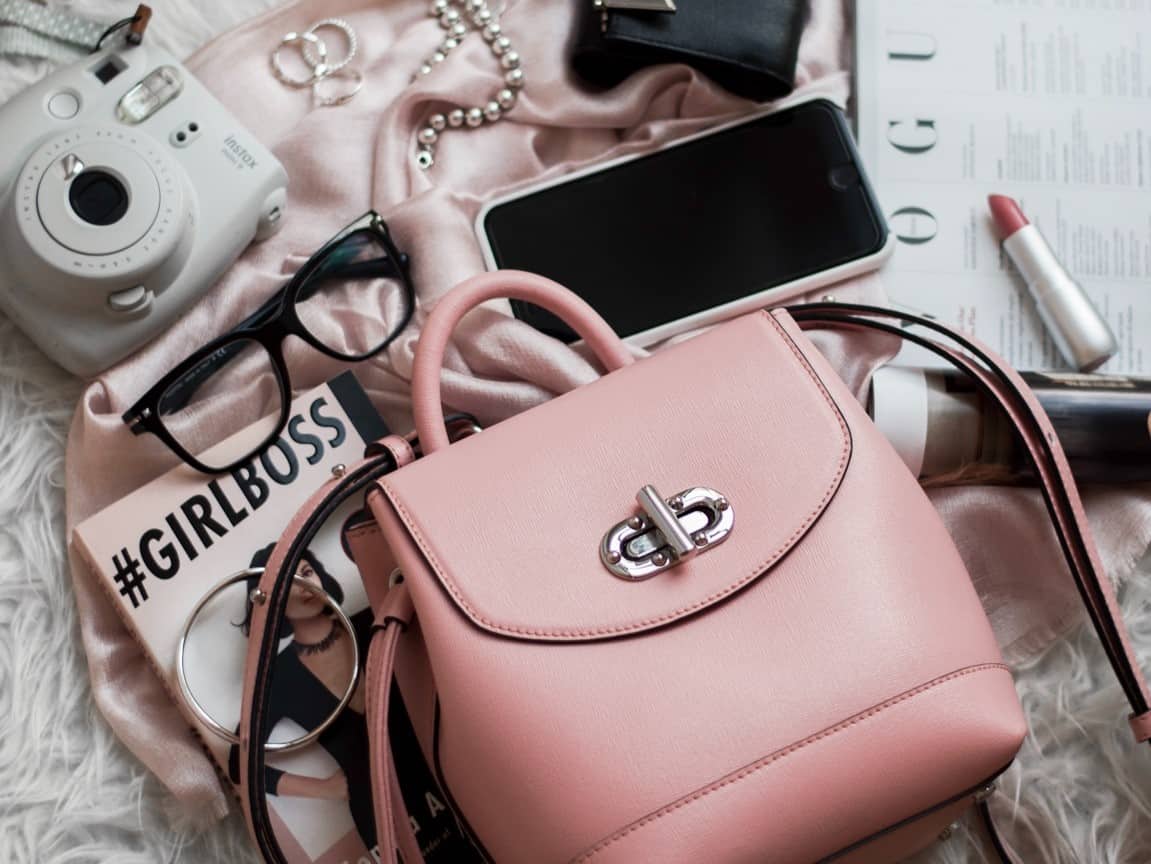 A blank version of the templates is also provided, which you can edit to include items that you yourself came up with. To help with the brainstorming process, here are some ideas for what to include in your game.
One point
Driver's license
Car keys
House keys
Credit card
Pen
Invitation to the bridal shower
$1 bill
Cellphone
Chapstick
Hairbrush
Gum
Mint
Tissue
Receipt
Three points
Other government-issued ID
Coupon
Gift card
Tweezers
Candy
Pain reliever
Headache medication
Nail polish
Eyeglass cleaner
Earring
Paper clip
Eating utensils
Something white
Five points
Business card
Calculator
A cellphone that is not an iPhone
To-go menu of a restaurant
Hand sanitizer
Headphones
Phone charger
Mascara
Receipt whose issue date is over one year ago
Unopened mail or letter
Floss
Something blue
Toothbrush and toothpaste
Planner
Loyalty card
Lotion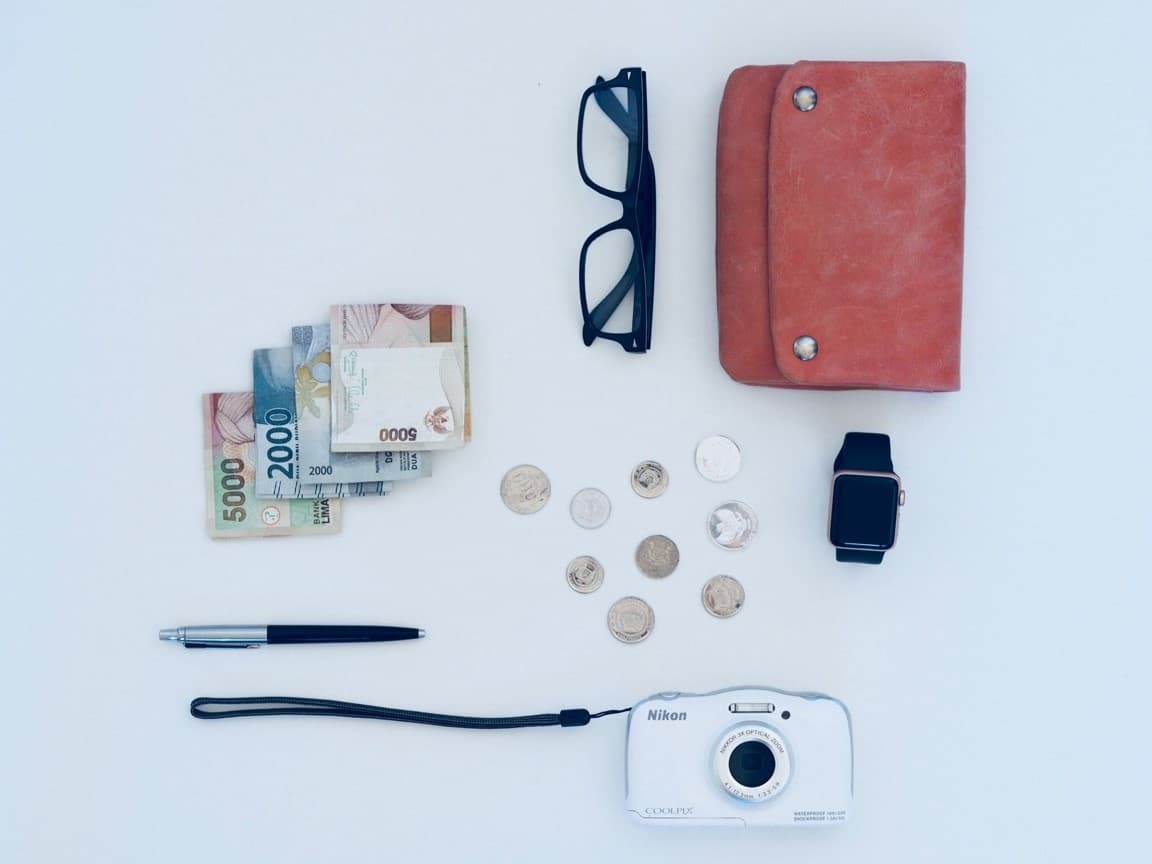 10 points
A small bottle of liquor
Condom
$100 bill
Nail clipper
Flash drive
A pen with at least three color options
Pepper spray
Kindle
Something orange (or any uncommon color)
Picture of the bride
At least five coupons
Brochure
15 points
Another pair of underwear
Expired condom
Foreign currency
At least five different credit cards
Bluetooth speakers
Diapers
Checkbook
Completely melted chocolate
Book
Curling iron
Key to someone else's vehicle or house
Rock
Seashell
Three different phones
Sewing kit
Any pocket-sized tool
Ultrasound photo
Tips for Playing the "What's in Your Purse" Game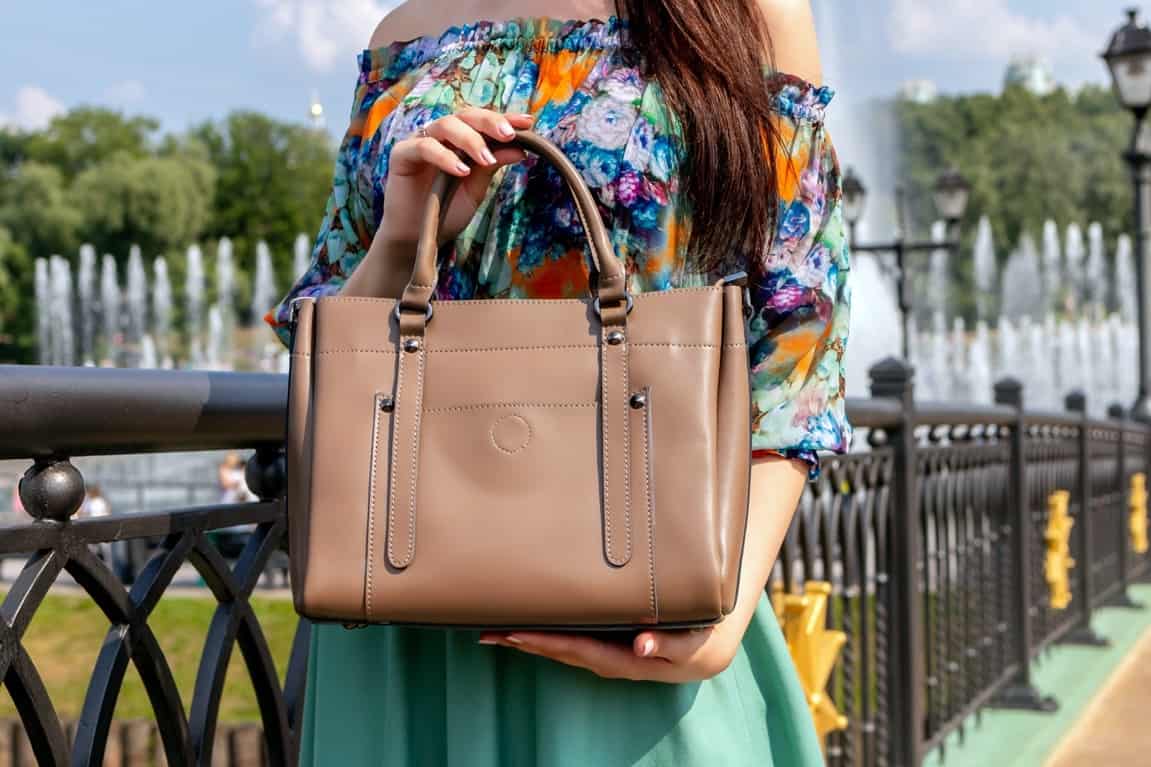 Assign Tasks
The most important role is the facilitator of the game, who is responsible for explaining the mechanics and raising the energy of the room. However, it is best to assign some tasks to other helpers so that the overall gameplay is smoother.
Someone who will distribute the printed lists and pens
Someone who will watch the players and ensure that nobody is cheating
Someone who will help verify the validity of the points
Change the Point System
The most common point system in bridal shower purse games is one-three-five-10-15. However, you are not forced to use that point system; changing it is an easy yet effective way to raise the stakes and make the game more competitive. Here are a few examples of point systems you can consider:
One, five, 10, 25, 50, 100
One, two, three, four, five
Two, four, six, eight, 10
One, two, three, five, seven, 10, 15, 25
Prepare Multiple Prizes
Depending on how many guests are playing, you may want to have a few prizes on-hand on the occasion that a tie arises. By being prepared, you avoid having to make the difficult — or impossible — decision of choosing which person gets the intended prize and which person gets a consolation prize.
Final Thoughts
The "What's in Your Purse?" bridal shower game is only one of the endless options for bridal shower games. Scattergories, Over or Under, and Find the Guest are also exciting options. Regardless of which one you choose, or what other games you decide to pair this with, the important thing is to ensure that everyone has fun.