Getting married is a major decision for couples to make that comes with a lot of life changes. Friends and relatives ease some of the pressure off the couple by contributing to the wedding budget, helping with the wedding planning, or giving gifts that can help them ease into the new chapter of their life.
How to wrap a wedding gift? For some, gift wrapping is the most exciting part of giving gifts; for others, it is the most intimidating. To help with the process, here are 18 lovely wedding gift wrapping ideas to inspire you, followed by some gift-wrapping tips to make your life easier.
Wonderful Wedding Gift Wrapping Ideas
1. Plain Paper with Twine, Dried Flowers, and Wax Seal
This simple but elegant wedding gift wrapping idea is both easy to do and highly aesthetically pleasing; the wax seal and dried flowers add a touch of vintage, which the plain paper accentuates. This is highly suitable for gifts with smooth and even surfaces, such as books and boxed sets. Secure the dried flower with a strip of washi tape that matches the color of the seal and write the newlyweds' names in graceful cursive.
2. Organza Wrap-Around with Flower Detail
Because it is lightweight and sheer, organza is an excellent fabric for wedding gift wrapping. You can place the gift itself in a simple white box and let the organza be the center of attention. While tying the ends to form a flower bud or petal may require more craftsmanship, the result is nothing short of lovely. A touch of dried flower petals can elevate its appearance.
3. Belgian Linen with Ribbon
The designer of this gift-wrapping idea, Alison Milne, utilized dyed Belgian linen as a sustainable and eco-friendly alternative for paper. The fabrics were dyed using natural ingredients, such as turmeric and blackberries. Furthermore, the linen can be used as hand towels by the couple after opening the gift. Gifts such as candles and small pieces of decor will work well with this idea.
4. Burlap Bag with String
Burlap is a popular material used for wrapping gifts, whether it be for weddings,
bridal showers
, or other
pre-wedding parties
. This wedding gift wrapping idea is best suited for candles, bottles, and anything with a cylindrical body. To secure the burlap in its place, you can use some ribbon or string. Adding an ornament, such as dried flowers, can further personalize the result.
5. Simple Wrapping Paper with Sleeves
Taking popular materials and adding a twist to make them more practical is a splendid wedding gift wrapping idea. In this case, plain paper is wrapped in a way that the folds can act as sleeves for you to insert other items. You may opt to include some dried flowers,
congratulations
or well-wishes cards, a gift check, and so on.
6. Tuxedo Gift Wrap
On the more creative and ingenious side of wedding gift wrapping ideas, you can recreate the groom's tuxedo using multiple sheets of wrapping paper with different patterns, a ribbon to mimic the bowtie, and other details such as buttons. You can even add a faux boutonniere. This is perfect if you have separate gifts for the newlyweds or if they are a same-sex couple.
7. Purse Gift Wrap
This wedding gift wrapping idea matches the previous one; the purse gift wrap is perfect for a new, traditional bride. You can choose wrapping paper that matches her personality, along with adding miscellaneous details on the purse, such as pearls and straps. You can place various gifts inside, anything ranging from skincare to trinkets, or even fully wrap a purse like that. Likewise, this gift is also perfect for same-sex couples.
8. Encircled Calendar Date
Usually, a gift itself is already commemorative of a special day. Using a page from a calendar as wrapping paper and encircling the date of the wedding makes your gift more humorous memorable. Wrap a ribbon around it to top it off.
9. Ribbon Weave
It is common to see pretty ribbons and bows on wedding gifts. However, to set your gift apart from other gifts, weave the ribbons in an interlocking pattern instead. Pictured above is a monochromatic set of ribbons, but you can do this to match the
color scheme of the wedding
.
10. Glitter Alphabet Ornament
To step up the traditional gift wrapped with ribbon, you can attach a glitter monogram of the surname of the newlyweds. Alternatively, you can place two letters to signify each of the couple's first names. This wedding gift wrapping idea is a simple yet effective way of personalizing your gift.
11. Map as Wrapping Paper
One of the most popular phrases for any
wedding-related speech
is "Adventure awaits!" or "The adventure starts now!" Building on this phrase, you can use a map as wrapping paper. You can choose a random location or, if you are close to the couple, pick a country or area that you know they want to visit in the future.
12. Velvet Ribbon
As mentioned above, slightly tweaking a popular method is a great way to personalize your wedding gift wrapping. Whereas satin and silk ribbons are more utilized in arts and crafts, you can consider using velvet ribbons instead. The velvet material exudes refinement and elegance and using it with the right wrapping paper can result in a gorgeous wedding gift.
13. Wax Seal with Calligraphy
Nothing is more elegant and sophisticated than the combination of wax seal and calligraphy. Tie a ribbon around your gift and, instead of a bow or flower, put a seal as the centerpiece. On the ribbons, write the names of the newlyweds. Getting the color scheme right is of utmost importance — for instance, navy blue and muted gold make the gift-wrapping look smarter.
14. Furoshiki
Furoshiki is a traditional wrapping cloth used by the Japanese to deliver goods and gifts. These cloths generally come in a square shape and are made of cotton, silk, nylon, or polyester. Furoshiki comes in a wide variety of designs, though plain ones are also popular. This wedding gift wrapping idea is not only practical but also sustainable — the recipients of the gift can repurpose this cloth or reuse it for another gift.
15. Sakura-Themed Gift Wrapping
To continue with the Japanese theme, this wedding gift wrapping idea emulates one of the most popular symbols associated with Japan: Sakura, also known as cherry blossoms. Though this craft may take more time and skills, the recipient of your gift will deeply appreciate the effort you put into the result.
16. Twine with Pendant and Dried Flower
Dried flowers are a frequently used item in wedding gift wrapping ideas because while they have the beauty of flowers, they last way longer. On average, dried flowers can last up to a year. Wrap the gift with plain paper, add some burlap with polka dots, then secure the dried flower and burlap with twine. Add a pendant to write the newlyweds' name or a short and sweet message.
17. Bowtie or Necktie Envelope
If your wedding gift includes a gift card, cash, or message, you can opt to create this DIY bowtie or necktie envelope. This can fit any gift in the form of paper. This is perfect for same-sex male couples or if you plan on giving separate gifts for the bride and groom.
18. Hexagon Gift Box
Many gift boxes take the shape of a square or rectangle, so by opting with a hexagon gift box, you are already setting your gift apart. It also has more space inside, which means you can fit more or bigger gifts. Finish it off with some twine and cards.
Gift Wrapping Tips to Keep in Mind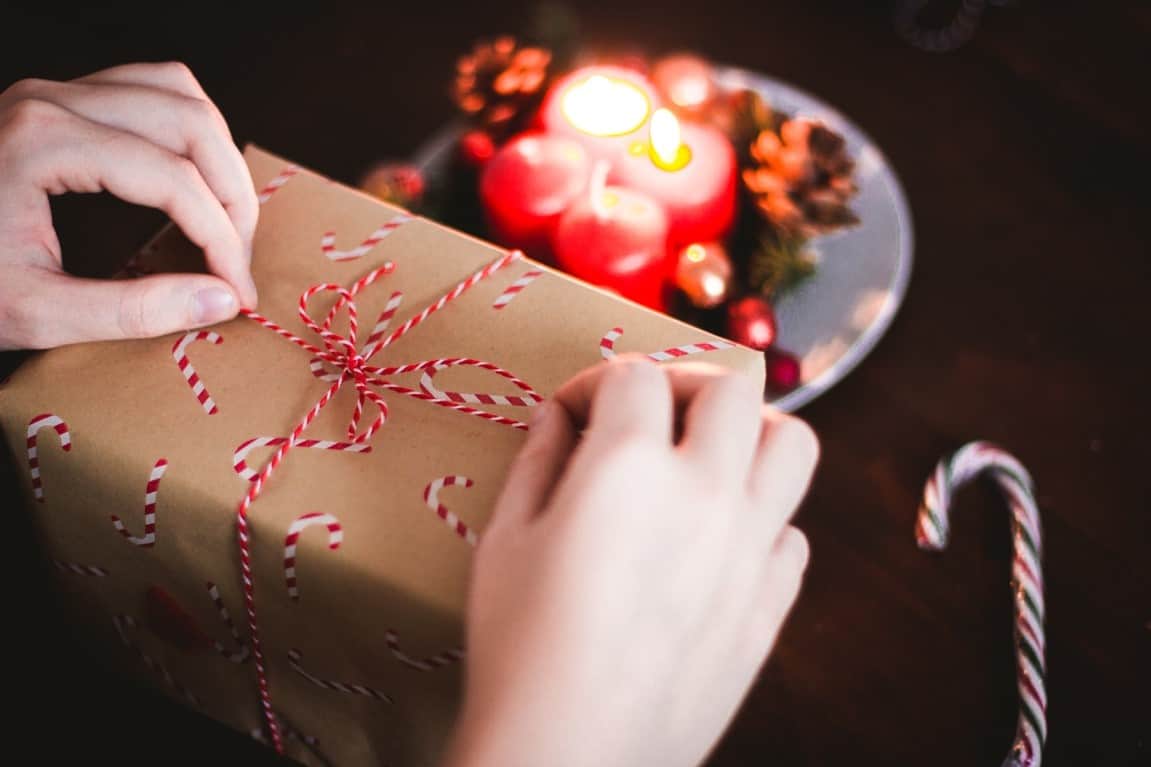 Create a Gift-Wrapping Workspace
To save time and minimize stress, dedicate a specific area in your home for wrapping gifts and crafts in general. You need a clean and spacious surface along with all the necessary tools to work smoothly. These tools include rulers, scissors, tape — double-sided and gift wrap tape — and tape dispenses, and so on.
Use Proper Tools
For wrapping paper, make sure that what you are buying is medium grade. Medium-grade paper has the right thickness and a metallic finish, giving your gift a sharp look. Moreover, your scissors must be sharp enough to cut through paper, ribbon, and other crafting materials. Overall, invest in tools that work well and will last you a long time.
Practice Makes Perfect
No one starts wrapping gifts highly skilled; it is a craft that needs to be honed and practiced. With that said, you may want to buy some extra material so you can do some practice runs. This way, you can figure out which works for you, what you need to practice some more, and which methods you may want to skip for now.
Be Smart with How You Wrap
Gifts come in all shapes and forms. Rectangular or square items are the easiest to wrap, and there are many ways you can be creative with them. However, other gifts may not be as easy to wrap as others. Search around for tips specific to the shape of your gift. Here are some examples:
Cylindrical items work best with pleating.
Irregularly shaped items work best with a gift bag or box.
You may also wrap the item as it is — for example, wrapping a badminton racket in the shape of a racket.
Likewise, if you unexpectedly run out of wrapping paper, there are plenty of ways you can work around the deficit instead of starting over. You can use wide ribbons, fabric, other materials, or find hacks such as the diamond gift-wrapping trick.
Final Thoughts
There are endless wedding gift wrapping ideas you can explore, widely varying in their amount of skill and time required. Not everyone is talented in arts and crafts — whether you give a gift that is ornately wrapped or placed in a bag, what matters more is the thought and sentiment you put into the gift itself.