Receiving a wedding invitation is a delightful moment. You experience the rush of joy from knowing that your friend or relative has found the love of their life. For most people, one of the first things that come to mind is what they will wear for the occasion.
Upon seeing the word "Western" on the invitation, you might be confused as to what to wear to a Western wedding. Below are some styling tips to help you create an outfit that matches the theme, such as sporting a cowboy hat and bolo tie, along with six outfit ideas to inspire you.
Western Wedding Outfit Ideas & Styles
1. Add a Cowboy Hat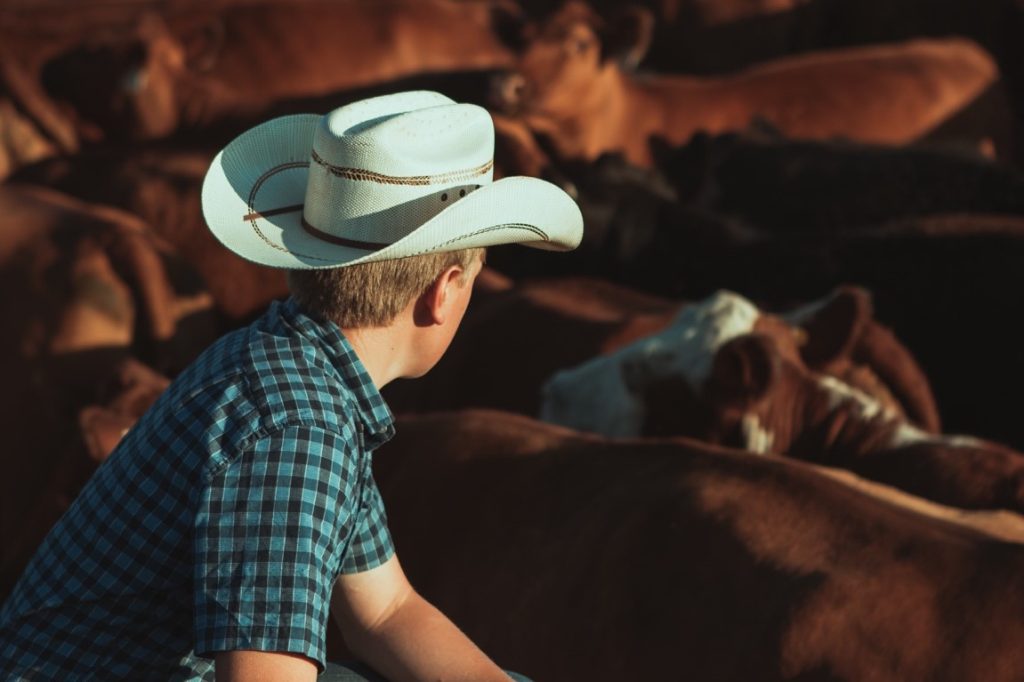 If you ask people what is the first thing that comes to their mind when they hear "western," they will most likely say cowboy hat.
This iconic hat has a distinct wide brim, high crown, and soft felt fabric. Beyond being fashionable, the design of the cowboy hat has practical roots. The crown's shape gives the wearer better control, and the slightly arched brim allows it to avoid a cowboy's rope.
Nowadays, this accessory is not limited to cowboys and ranchers. Country artists, actors, athletes, and everyday people wear cowboy hats to personalize their outfits.
If you already have an outfit planned, wearing a cowboy hat is an easy but excellent way to give your attire a Western vibe.
2. Put on Some Cowboy Boots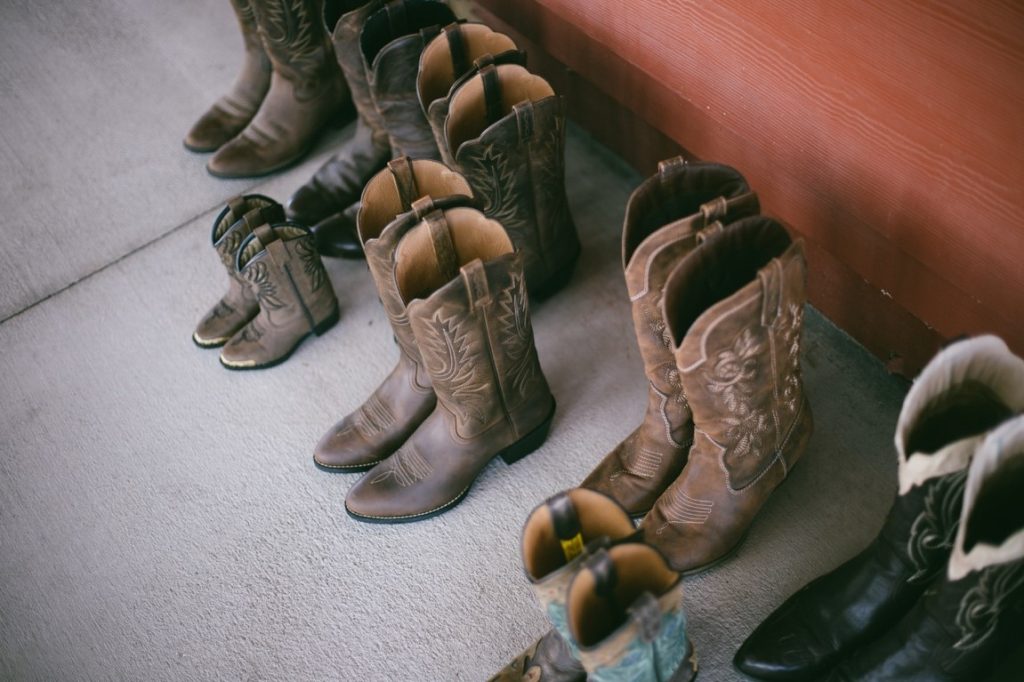 While horseback riding, cowboys need appropriate gear to keep themselves safe. Cowboy boots achieve this function while still managing to look great.
There are two general styles of cowboy boots: classic and roper. Classic boots, also known as western, typically have a boot shaft that ends above the mid-calf. They also have at least a one-inch angled heel and a squared or rounded toe.
Meanwhile, the roper typically only has an ankle-length boot shaft. Roper boots also have a heel, but it does not go higher than one inch.
Both styles can be highly customized. You can choose the fabric to use — cowhide, snake, lizard, and other options. You can also add lacing details, embroidery, and other embellishments.
These opportunities for personalization will help you match your pair of cowboy boots to the rest of your outfit. Wearing the pair by itself, or coordinating it with your cowboy hat, will make your attire the ultimate Western wedding look.
3. Replace Traditional Ties with Bolo Ties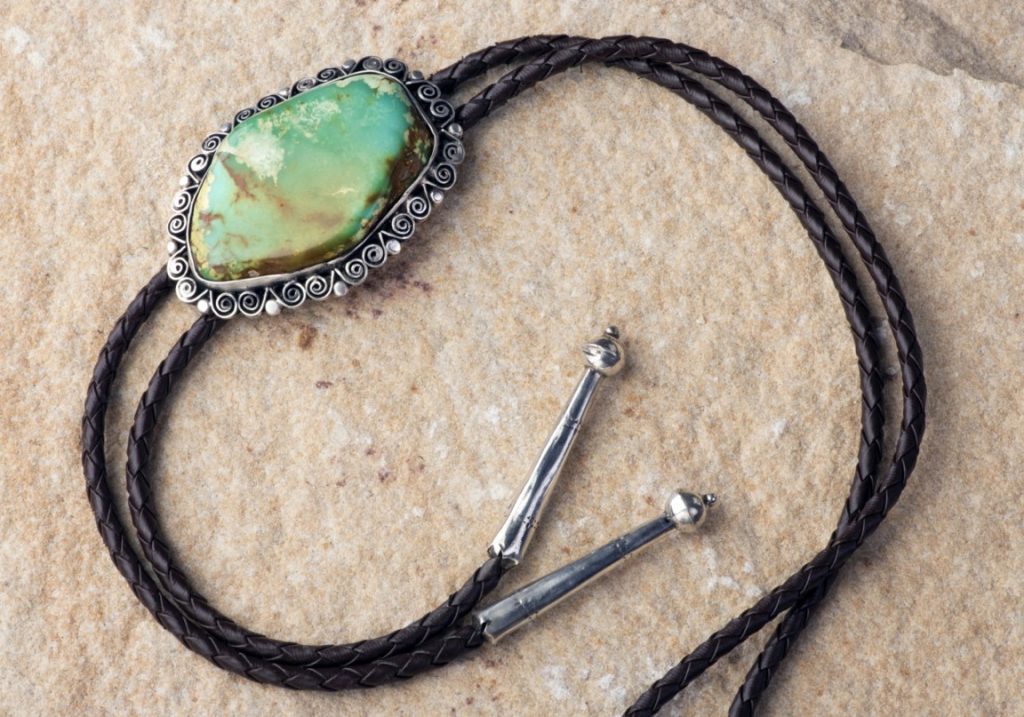 Neckties and bowties might seem too formal or out of place for a Western wedding, especially if you are already wearing a cowboy hat and boots. The ideal alternative is a bolo tie, which is a long cord worn around the neck kept together with a fastening sitting atop the throat.
Bolo ties have a rich history; everyone could wear a bolo tie, but they are often worn by cowboys, athletes, and celebrities.
Even though it may not seem like it, there are plenty of ways to personalize a bolo tie. You can wear it loosely, with the fastening sitting on your chest or lower. You can keep it tight and neat, just like a traditional tie but with a Western flair.
You have unlimited options for the cord's color and slide's design. You can also get creative with it and wear it as a necklace or choker.
4. Add Flair with a Belt Buckle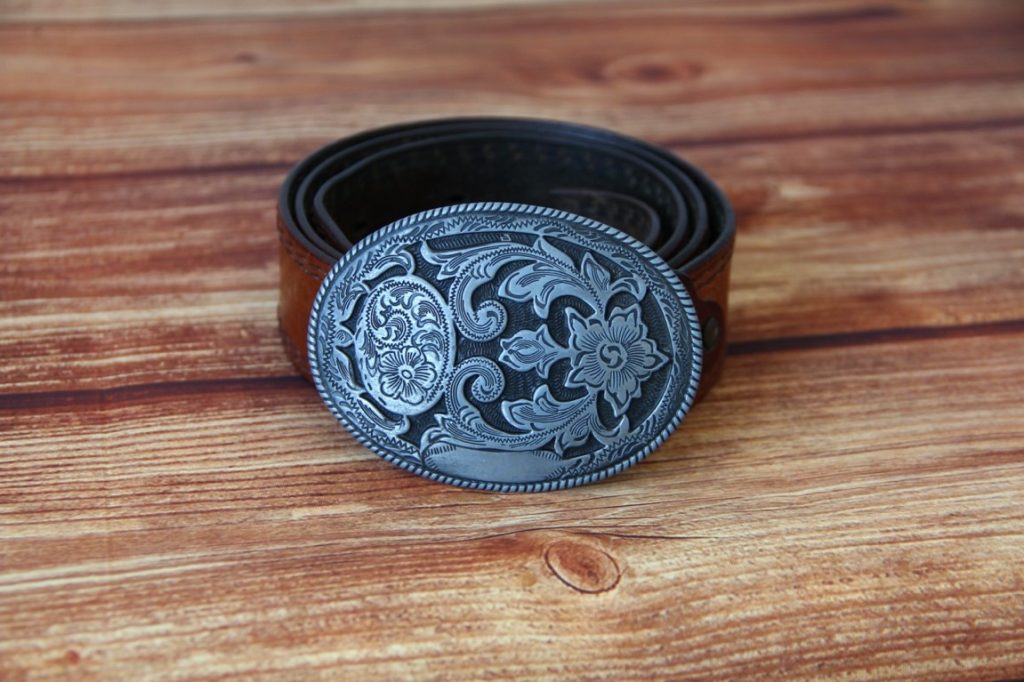 A belt buckle is another iconic symbol for the cowboy, as main characters in western movies typically wear one. Belt buckles are also a mainstay among rodeo champions and country artists. Anyone who wears this accessory makes a loud and proud statement about who they are.
There are many styles of belt buckles available, ranging from simple and classy to ornate and elegant. You can choose a design that speaks to your personality — does a gold eagle, longhorn, or scorpion represent you? Do you want to share your pride in your state, culture, or religion?
If you prefer, you can find a manufacturer who offers monogramming services. They can engrave initials, shapes, or anything you want on your belt buckle.
Belt buckles are usually made of silver, stainless steel, zinc alloy, brass, or pewter. They also come in various shapes: frame, O-ring, D-ring, box frame, and plate.
You can purchase a belt that already has a bespoke belt buckle, ensuring a perfect fit. However, you can also buy a belt buckle by itself, though you must be mindful of the accuracy of your measurements. Regardless, this accessory will be a beautiful keepsake for the special day.
5. Don a Pair of Western-style Cufflinks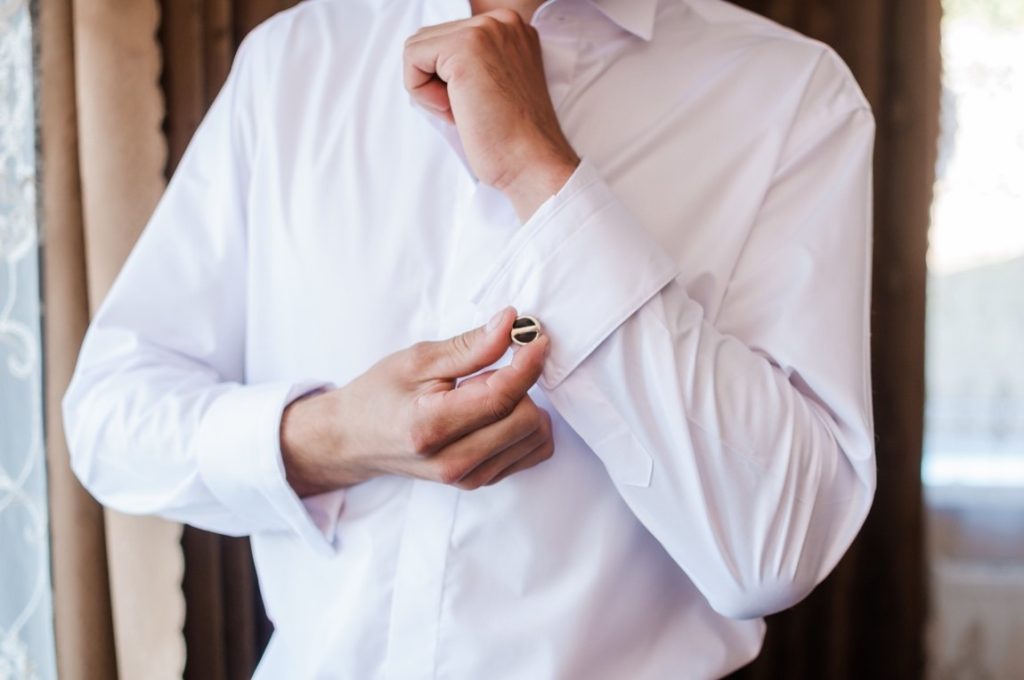 Cufflinks are an excellent choice to consider if you want a subtle touch of the western style on your outfit. These accessories will not take the focus away from your attire; rather, they will embellish it while remaining functional.
Plenty of companies create bespoke cufflinks that will cater to the Western aesthetic. Examples include the shape of your state, cowboy boots, spurs, horseshoes, and stars. If you cannot find a style that speaks to you, you can get a custom-made pair.
However, cufflinks require a specific attire choice: long-sleeved shirts. Additionally, the shirt must have the proper holes through which the cuff will go. If you will wear a different top, other accessories might work better.
6. Wear a Vest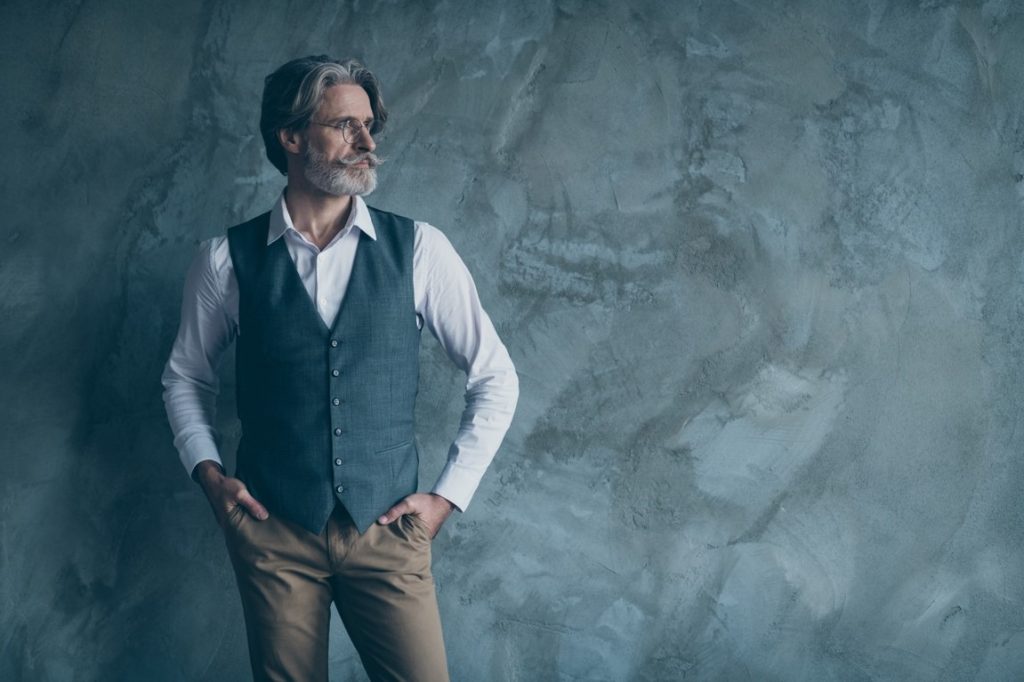 You might think that a vest might look out of place at a Western wedding. However, a leather or neutral-colored vest is a popular stylistic choice, especially among men. It is an efficient way to make an outfit more formal while retaining your aesthetic and personality.
Vests are a particularly well-loved addition to the attire of groomsmen and nonbinary bridal party members. For a more casual look, pair a vest with rolled-up sleeves and denim jeans. Changing the trousers to a more formal fabric will result in a more sophisticated outfit.
Alternatively, the vest can set the groom apart. He can wear it as part of a three-piece set, either opting for a consistent colorway or getting a vest in a different shade from the suit and trousers. He can also forgo the suit altogether, instead wearing a matching cowboy hat.
7. Go for Suspenders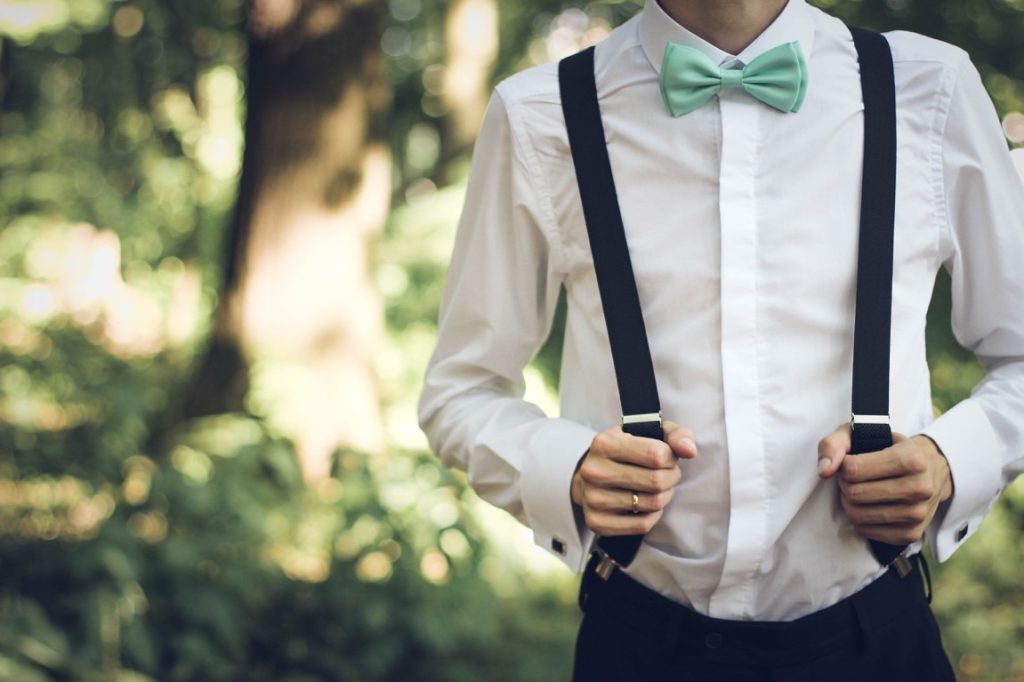 We might associate cowboy attire — and the Western style in general — with massive buckle belts. However, before the 20th century, most men's choice of accessory is suspenders. Only when the first pants with belt loops were created in the 1920s did cowboys change to belts.
Pay homage to this interesting history by opting for suspenders. Particularly, Western-style leather suspenders are both durable and fashionable. They serve the same purposes as a belt, too; you do not have to worry about your pants falling when you wear suspenders.
There are subtle differences in style, such as the shape of the cross on your back, whether they clip on or button to your trousers, and how wide the suspenders are.
Suspenders are a mainstay in groomsmen's attire. Typically, they wear a long-sleeved shirt, a tie, and a pair of suspenders attached to their trousers. However, anyone can wear suspenders — whether you are the groom, a bridal party member, or a guest.
What to Wear to a Western Wedding? Outfit Ideas You Will Love
1. Tweed Suit over Matching Linen Button-Up and Trousers with Straw Hat
As mentioned above, hats are a mainstay accessory in the Western aesthetic. This straw cowboy hat comes in a classic neutral tone, contrasting with the tanned leather hat band.
The rest of the outfit's main focus is the tweed jacket, creating a pleasant colorway with the hat. The linen button-up and trousers complete the earthly color palette. Overall, this attire is fashionable and practical; the accessory and fabrics will protect you from the heat.
This stunning outfit consists of a three-piece suit with darker blue accents. The undershirt and pocket square comes in white. Besides the exquisite tailoring, this attire boasts a neat but breathtaking colorway.
The bolo tie has a navy blue cord with a white slider. This color combination is also featured on the cowboy hat, whose pristine white expanse has a navy blue brim.
3. Silk Floral Dress with Slit and Matching Cowboy Hat and Boots
The highlight of this gorgeous outfit is the silk floral maxi dress with a slit along one thigh. This feature allows the pair of black cowboy boots to shine.
Other beautiful features of the dress include the spaghetti strap, the V-neckline — making it perfect for people with broad shoulders — and the cinched waist detail mimicking a wrap.
The model completes the outfit with a simple black cowboy hat and some jewelry. The dress itself demands all the attention, so more embellishments are not necessary.
4. Tiered Maxi Dress with Oversized Robe, Belt, Cowboy Hat, and Boots
This outfit exemplifies the influence of nature on Western-style wedding attire: the pattern embroidered on the tiered maxi dress seems to include floral motifs; the entire outfit consists of an earthly color palette, including leather, copper, tan, and mustard yellow.
The maxi dress, because of its tiers, has plenty of dimension and texture. The oversized robe-like cardigan accentuates these features. The addition of a belt ties the outfit together and creates a balanced silhouette.
Without the accessories, this outfit is already highly Western-inspired. However, with the cowboy hat, boots, and belt, it does not get more Western than this.
5. Corduroy Sport Coat with Denim Jeans
People are often conflicted about whether they can wear jeans to a wedding or not; this confusion extends to pre-wedding parties like
bridal showers
as well. There is no one-size-fits-all answer, but the general rule is to avoid jeans as they may be too casual.
However, when deciding what to wear to a Western wedding, that rule does not always apply. Combining a sport coat or a vest with denim jeans is actually a widespread style. This outfit exemplifies the cowboy attire popularized by the media.
This outfit consists of a camel-colored corduroy sport coat, a cream undershirt, a pair of medium dark wash denim jeans, a leather belt with buckle, and a brown cowboy hat. Overall, the attire has an almost monochromatic color palette that melds style with attitude.
6. Burnt Orange Blouse and Skirt Combo
Instead of being one piece, this outfit is composed of a blouse and skirt combo. Both components have a flowy, airy texture to them without being completely sheer. With one thigh slit along the skirt, this ensemble manages to balance modesty and exposure.
What sets this outfit apart is the use of multiple belt buckles along the waist. These buckles provide texture and detail to the ensemble. Furthermore, it adds more Western flair to the attire, working well with the bespoke cowboy hat and boots.
Final Thoughts
Preparing your outfit for the wedding can be exciting. However, no matter how much you want to dress up, remember to abide by the couple's dress code and wishes. You want to look good and stylish, but you should not disrespect the couple while doing so.