Receiving a wedding invitation is not an everyday occasion. Your close friend or relative might be planning their wedding, and they want you to be there on their special day. One of the things you must always keep in mind is the prescribed dress code.
In recent years, the bohemian or "boho" style has grown in popularity. Bohemian wedding attire for male guests typically includes natural fabrics, distinctive patterns, multiple layers, and a general overflow of personality.
Below is a gallery of inspiration for boho wedding attire for male guests, followed by a quick explanation of the boho style and styling tips to better fit the dress code.
Bohemian Wedding Attire for Male Guests: Outfit Inspiration
1. Patterned V-Neck Shirt with White Trousers
The model's patterned shirt takes center stage; it is highly eye-catching because of the changing prints. The shirt's deep V-neck allows for a necklace with a
turquoise pendant
, also a well-loved boho accessory.
The color scheme of this outfit revolves around various shades of red: light and dark variations appearing in the prints; a reddish brown bracelet; a burnt orange pair of shades. You can observe two distinct boho style traits: patterns and multiple layers.
2. Painted Long Sleeve Sport Shirt
This long-sleeved sport shirt features an abstract painting going down both shoulders. The white fabric works beautifully as a blank canvas; thus, you have plenty of options for personalizing this into bohemian wedding attire.
For one, you can wear white linen trousers. For footwear, you can go with a classic brogue that matches a color from the painting. You can add novelty socks, a cravat, a scarf, a hat, or many bracelets to complete the outfit.
3. Light Beige Slim Fit Linen Blazer
Consider this light beige slim-fit linen blazer combo if you prefer an understated bohemian wedding attire for male guests. Complete the outfit with a white undershirt and a pair of earth-tone loafers.
While this outfit is fantastic for bohemian weddings, its simplicity allows you to wear it for other occasions. However, if you want to personalize it, change the undershirt for a patterned long-sleeved button-up. Add a hat and a pair of novelty socks that matches your shirt.
4. Floral Jacket with Polo Shirt and Bell-Bottom Jeans
This outfit from the Roberto Cavalli Spring 2017 Menswear Fashion Show embodies the hippie aesthetic from the 60s and 70s with a modern touch.
The entire collection
is a trove of inspiration for boho wedding attire for male guests.
The burgundy jacket has embroidered greenery, making it bespoke. The brown collared shirt and the coral bell-bottom jeans create a pleasant colorway. Lastly, the outfit flourishes with a turquoise necklace, neckerchief, and snakeskin shoes.
5. Harem Pants
Harem pants are oversized trousers that narrow around the ankles. A pair of harem pants is a unique and stylish choice for bohemian wedding attire for male guests. It is highly versatile; you can use it for any outfit.
In the image, the model is wearing a pair of beige harem pants with loafers in a similar color. The top is not visible, but it works to your advantage — use your imagination to envision what would work in this combination.
6. Patterned and Fringed Vest Over Linen Long-Sleeves
This inspiration for bohemian wedding attire for male guests checks multiple boxes: comfort, layers, patterns, and eccentricity.
The fringed vest with tribal prints adds texture to the long-sleeved linen shirt. Meanwhile, the headscarf, necklace, rings, bracelets, and patterned pouch add consistency and dimension. You might have to ask the couple if you can wear denim shorts; otherwise, you can replace them with trousers or harem pants.
7. Shirt Tucked into Flowy Trousers with Vertical Stripes
This monochromatic outfit perfectly balances style and comfort. The shirt appears to be crochet, tucked into a pair of trousers with stripes running down the legs. The studded belt around the model's waist looks unique, with additional fabric surrounding the thin strap.
Even the accessories fit into the monochromatic color scheme. You may want to layer a jacket with a similar color; for example, a light brown leather jacket with studs will elevate the outfit while remaining cohesive. Ask the couple if you can wear sandals; otherwise, substitute them with brogues or loafers.
8. Corduroy Combo
This mustard yellow corduroy blazer with matching trousers is stylish, memorable, and unique. The leather belt coordinates with the leather-like details on the jacket's pockets. The brown patterned undershirt evens out the outfit, complete with a set of gold accessories.
9. Tweed Waistcoat Over Linen Shirt
This muted green button-up with a dark green tweed waistcoat is an excellent choice for semi-formal bohemian weddings. The addition of a hat makes the outfit more stylish and personalized.
The pants have been distressed, showing in the rips along the legs. The brown neckerchief adds another dimension to the outfit, matching the hat's and the chains' color. Ultimately, this attire is a sublime balance between adhering to the theme and flaunting personal style.
10. Patterned Sweater over Denim Jacket
If you received an invitation to a winter boho wedding, you might want to add another layer to your outfit. This
navy blue
mid-length lapel sweater with copper and cream details will provide you with additional warmth and eccentricity.
The blue denim jacket matches the sweater. You can continue with a pair of denim jeans, though you can also substitute them with other pants of the same color. As for further personalization, you can add a novelty scarf, change the white undershirt, and wear several rings.
What Is a Bohemian Wedding and Bohemian Style?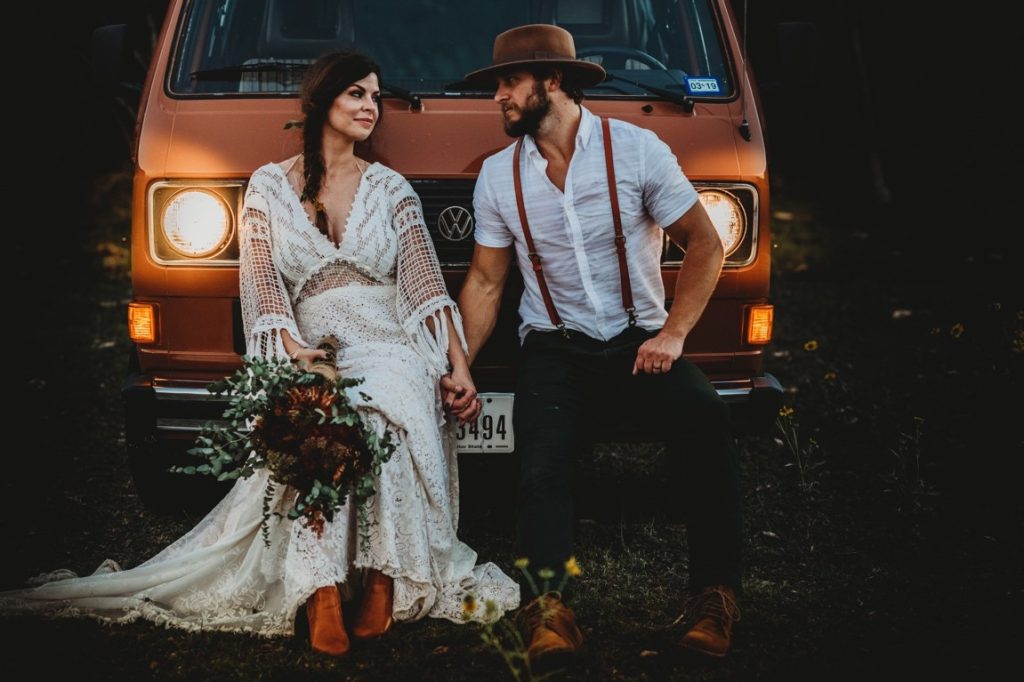 Perhaps one of the reasons you cannot decide on your attire for a bohemian wedding is you do not have enough information about the "boho" style. With many terms floating around, keeping updated can get challenging.
According to the Cambridge Dictionary, bohemian means a person who fancies "artistic and unusual things," leading a life that does not always conform to societal norms. The term "bohemian" may refer to the person or their lifestyle.
Therefore, a bohemian wedding does not always adhere to tradition. It focuses on eccentricity and personality; it incorporates rustic, vintage, and organic elements into the decoration, design, and format.
Meanwhile, the bohemian style — as known today — traces its roots to hippie fashion and counterculture from the 1970s. Visually, the style emphasizes natural fabrics, warm colors, neutral tones, vintage patterns, and eye-catching accessories and accents.
"Relaxed" is one way to describe the bohemian fashion style. The clothes are loose-fitting and generally casual. Boho attire typically incorporates a vibrant mix of patterns, colors, and other elements.
Styling Tips for Boho Wedding Attire for Male Guests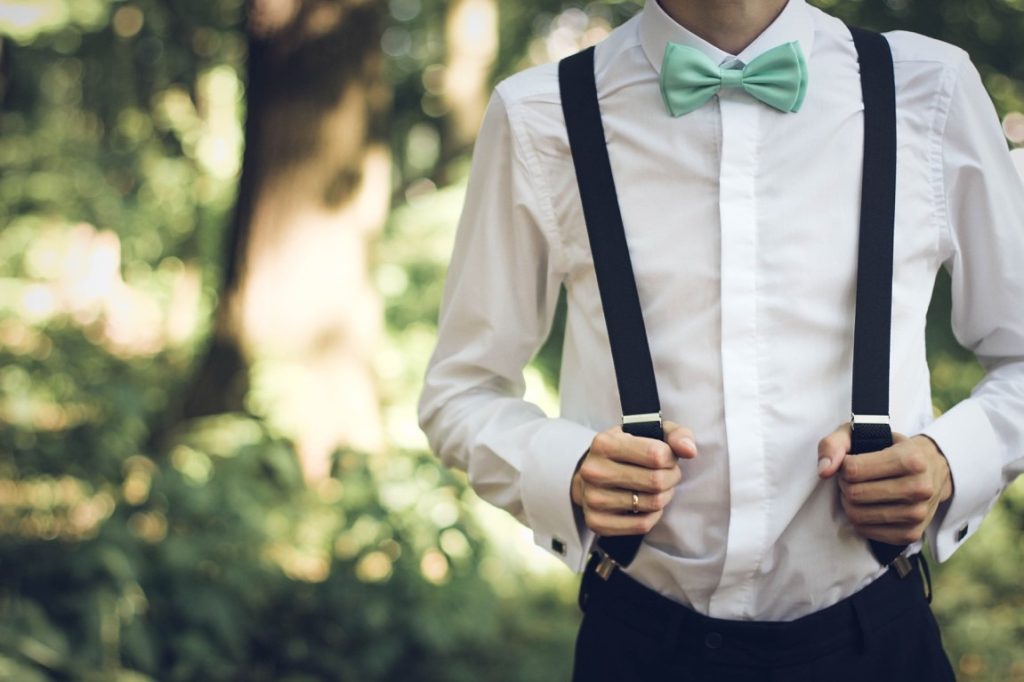 Follow the Dress Code
Your attire must adhere to the wedding's dress code. Doing so is a sign of respect toward the couple. Furthermore, you will also prevent dealing with judgmental stares and conversations. Ultimately, it is in everyone's best interest to show up according to the prescribed guidelines.
Boho weddings predominantly occur outdoors, thus necessitating a semi-formal or casual dress code. However, some couples may prefer a formal dress code for their wedding. Here are descriptions of standard boho wedding dress codes and some examples:
Formal. You can go for a unique and textured jacket, such as tweed or crocheted. Waistcoats and suspenders are also superb ideas for bohemian wedding attire for male guests.
Semi-formal. This dress code emphasizes the balance between comfort and style. You can still wear a jacket but without a tie. If you prefer not to have layers, then sticking to just a long-sleeved shirt is also appropriate.
Casual. This dress code is more relaxed and flexible. A button-up shirt with a floral motif is a simple yet accurate choice. In some cases, you can also wear shorts or trousers.
If you are unsure whether the outfit you chose fits the dress code, you can ask the couple or anyone from the bridal party. It is better to be safe than sorry.
Typical Bohemian Colors and Patterns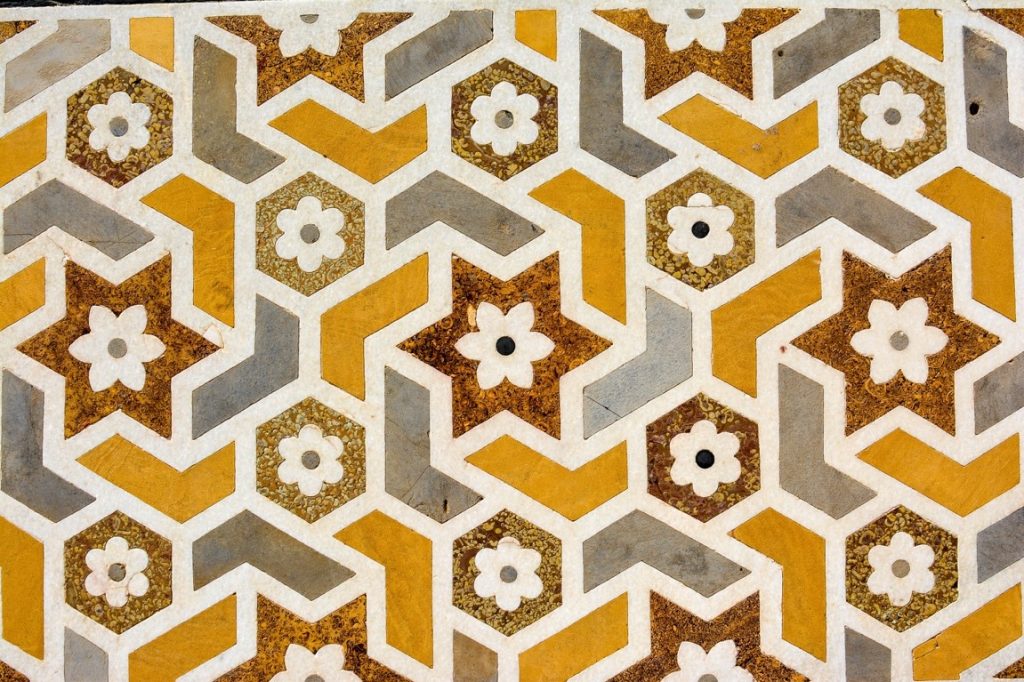 Creating an outfit from scratch can be an intimidating task. However, knowledge of the style's basics will make decisions regarding bohemian wedding attire for male guests less complicated.
As mentioned above, the bohemian style regularly incorporates warm and earth tones. White is an excellent base color, but you can also go for greens, grays, and dark browns. Richer shades of orange, blue, and purple also feature a lot in bohemian attire.
That is not to say you should forgo cool and neutral colors. You can use these colors for accent pieces and accessories. Moreover, you can also integrate pastels into your outfit — what matters most is how you mishmash the elements.
As for shades to avoid, neon varieties of any color do not belong to the boho style. Neons seem unnatural, making them difficult to include in your bohemian wedding attire. Likewise, avoid any shades that appear highly saturated.
Different arrangements and combinations of colors result in varying patterns. These patterns will lend eccentricity to your outfit. Here are some of the typical prints you can observe in boho attire:
Tribal → takes inspiration from various indigenous cultures, usually from Africa. Tribal patterns usually involve geometric designs and vibrant colors.
Ikat → refers to the dyeing technique — resist dyeing — and the resulting fabric.
Trellis → employs symmetries and interweaving designs.
Floral → comes in various styles: small, large, vibrant, unsaturated, and more. A piece can use one type or mix them to increase its visual appeal.
There are plenty more varieties of patterns in the boho style, such as Kilim, Paisley, and other folk-inspired prints. While you are free to integrate them into your attire, you can also create unique pieces of clothing through tie-dye.
Typical Bohemian Materials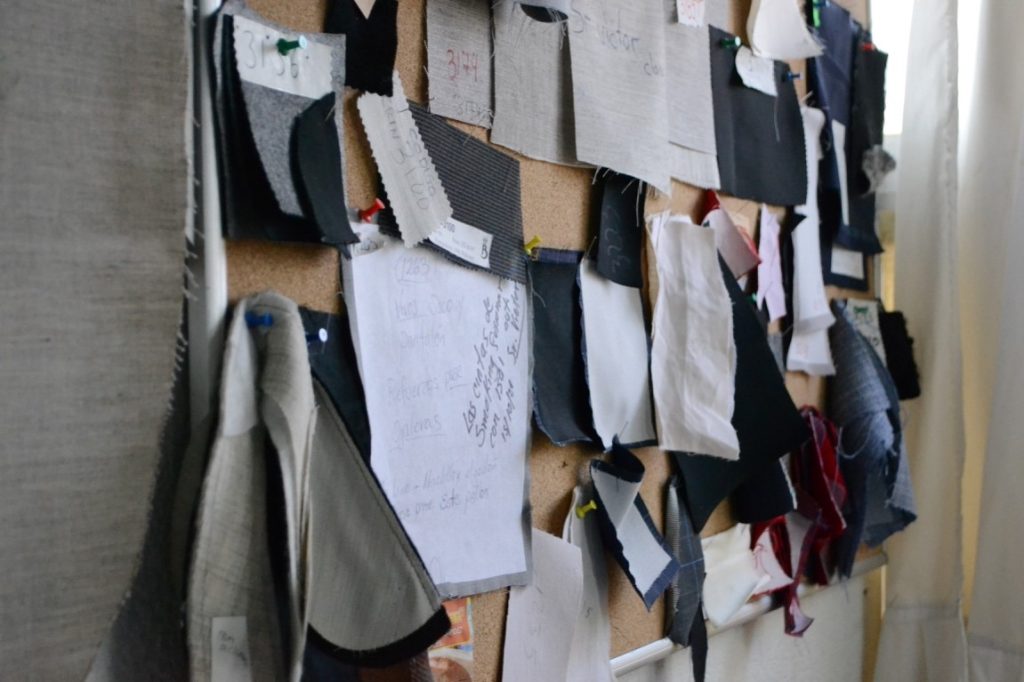 As stated above, the bohemian style emphasizes looking natural and organic. This aesthetic manifests not only in the color palette but also in the materials. Here are some of the most common fabrics and resources used in boho attire:
Leather → can either be genuine or faux. As for bohemian wedding attire for male guests, a worn-out pair of taupe or brown leather jacket is an excellent addition.
Denim → can be distressed, acid, dark, or light. You can go with a worn-out pair of denim jeans — if allowed — or opt for a denim jacket.
Suede → is a type of leather with a napped finish and a soft, fuzzy surface. Suede is a popular fabric for shoes, jackets, and bags.
Linen → refers to a natural fiber known for its durability. Moreover, linen clothes provide comfort, thermoregulation, and organic insect repellant. Overall, this fabric is excellent for summer weddings.
Chiffon → is well-loved for its shimmery, translucent, and lightweight qualities. In menswear, chiffon shirts are popular.
Cotton → is known for its durability, absorbency, elasticity, and ability to retain dye. You can find cotton in a wide variety of clothing.
Lace → is a delicate fabric associated with breathability and translucence. Silk, wool, cotton, and other materials can create lace, resulting in different durabilities and weights.
Rattan → is a vine-like palm with many uses. You can find rattan accessories and footwear in bohemian wedding attire for male guests.
Generally, the boho style favors natural materials — such as those listed above — over synthetics. You can also consider chambray, tweed, or wool. Oppositely, avoid wearing nylon, spandex, and other similar fabrics.
Bohemian Techniques and Customization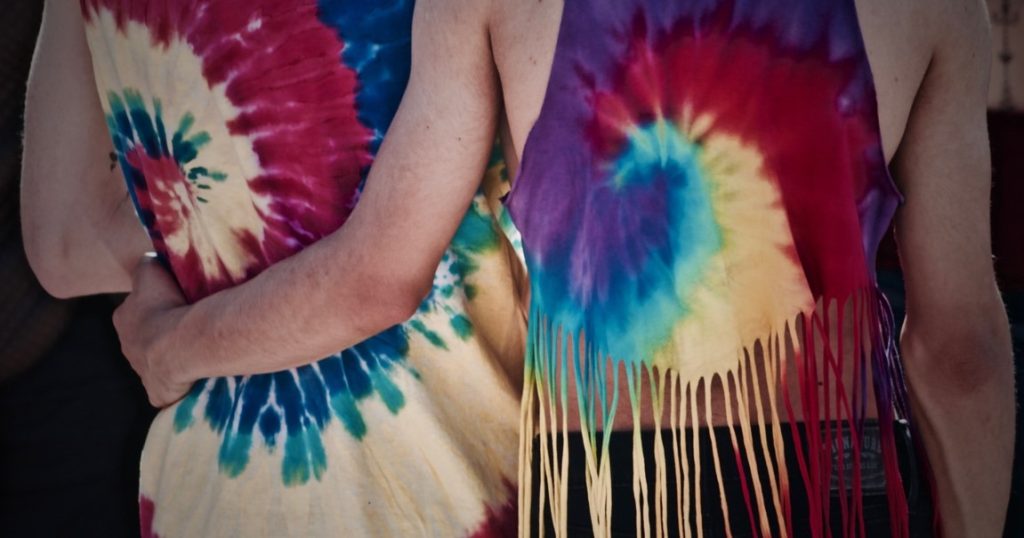 The bohemian fashion style has distinct techniques and embellishments that, when combined, make outfits more unconventional and quirkier. Here are some of the frequent procedures applied to boho garments and accessories:
Tie-dye → is a method of creating patterns on fabrics by hand-tying specific portions of the material. These ties prevent dye absorption on those parts of the textile.
Distressed → means stylizing an accessory or garment until it looks old, well-used, and comfortable. Signs of a distressed piece include tears, frayed edges, fading colors, and rips.
Macramé → is a textile created using a knotting technique. In bohemian wedding attire for male guests, macramé vests, layers, and bags are popular.
Patchwork → refers to a sewing technique that results in one textile with varying textures and designs. Tailors use small pieces of fabric to achieve this effect.
As for customizing your garments, there are several characteristically bohemian additions you can work into your clothes. Here are some examples:
Embroidery → refers to decorating textiles using a needle and thread. You can create designs of varying complexities, including the abovementioned patterns.
Studs → are pieces of metal or plastic that embellish the surface of garments and accessories. Studs come in many shapes and sizes, such as squares, triangles, and spikes. You can attach them to your jacket, footwear, and other outer layers.
Tassels → refer to threads or other material that loosely dangle from your clothes. You can attach them to the trims or hems of your clothes or incorporate them into your jewelry.
Appliques → refer to any ornaments applied to a larger piece of fabric. Examples include sequins, beads, lace, and crystals. Furthermore, you can place them on outerwear, footwear, and bags. Moreover, you can also create patterns and shapes with the appliques.
Fringe → refers to a decorative textile trim placed on pieces of clothing and accessories. Though tailors typically place them along the edge of a garment, you can get apparel with fringes in many configurations.
Go Loose
Bohemian wedding attire for male guests should not be tight-fitting and restrictive. Instead, you should opt for relaxed and breathable clothes. Doing so will provide you with comfort and ease of movement.
On a deeper level, snug clothing goes against one of the central tenets of the boho style: freedom. Many people associate tight clothes with feeling restricted, controlled, and immobile. Bohemian attire focuses on personality, eccentricity, and the liberty to express yourself.
Layering Is Key
A boho outfit consists of many layers of clothes. For instance, you may have an undershirt, a button-up, and a leather jacket. You can still embellish your outfit with a cravat, scarf, or a personalized bag. Putting on many layers will help create the eccentricity characteristic of every boho attire.
Do Not Worry Too Much About Grooming
Typically, men would attend weddings with a clean-shaven or trimmed beard and styled hair. However, there are no rigid rules regarding grooming at a bohemian wedding. You can show up with an immaculate beard and hair, but you can also give off a rugged impression.
Go to Flea Markets and Thrift Stores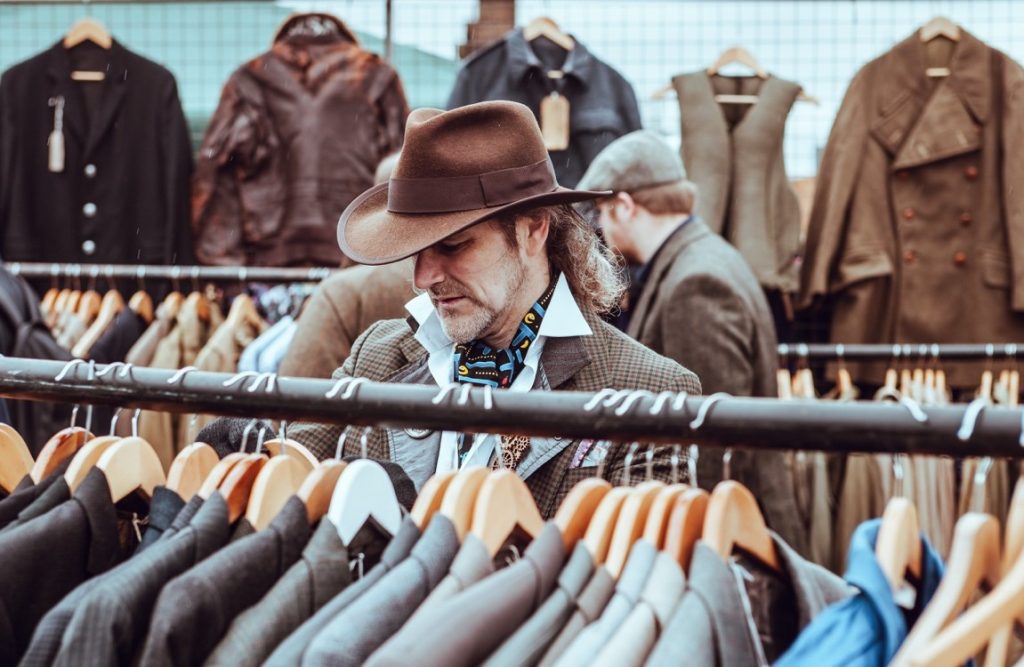 There are limited options from fast fashion retailers when creating bohemian wedding attire for male guests. The pieces these stores sell are usually not unique, quirky, or bohemian in style; this is especially true for jewelry and accessories.
Flea markets and thrift stores are the best places for one-of-a-kind accessories. You know that your purchases are idiosyncratic or vintage, and the sellers might even have a story to tell about the things you are buying.
Get Creative and Do It Yourself
If you have the resources, you can DIY parts of bohemian wedding attire for male guests. You can use the list of colors, fabrics, patterns, and techniques above as a reference. For instance, you might be interested in adding a fringe to your cross-body bag or leather jacket.
Taking something you own and adding appliques can make that garment look more boho. Similarly, simply choosing the right combinations of jewelry to layer can get you the bohemian style you need.