The right combination of colors can make any moment more magical and memorable. When we envision our special day, one of the most important factors is the color palette. If your favorite color is burnt orange, there are many ways you can incorporate it into your ceremony.
Burnt orange wedding color palettes are gaining popularity because of their simplicity, beauty, and natural appearance. Popular colors to pair burnt orange with include navy blue, greens, neutral tones, and earth tones.
Below are 16 burnt orange wedding color palettes and themes that you can use for your ceremony. Some tips for creating a unique burnt orange wedding color scheme are also provided.
Beautiful Burnt Orange Wedding Color Palettes
1. Burnt Orange with Burgundy, Brown, Red, and Emerald
This burnt orange wedding color palette is the epitome of fall. The lush green depicts the grass and foliage outdoor; the various shades of red, orange, and brown represent the autumn leaves, wood, and flowers.
This boho wedding utilized a classic, timeless combination: burnt orange and navy blue. The bridesmaids and groomsmen look remarkable in their complementary attire. The pastel flowers, white, and brown added lovely accents to the big picture.
3. Rust, Burnt Orange, Tangerine, Peach
This seemingly monochromatic color palette consists of rust, burnt orange, tangerine, and peach. The tangerine adds a lovely pop of color, while the peach balances everything out. This is a gorgeous burnt orange wedding color palette that will work great for
any wedding
.
4. Teal, Orange, and Ivory
Although this combination seems unorthodox, teal and orange are actually complementary colors on the color wheel. Together, they create a beautiful contrast comparable to the transition from summer to fall.
5. Raspberry, Burnt Orange, and Sunflower Yellow
This burnt orange wedding color palette is a simple yet captivating scheme. Although yellow is typically associated with
spring
, it also works wonderfully with autumn-inspired palettes. You can never go wrong with this analogous color scheme.
6. Burnt Orange with Brown, Rust, Blue, and Mustard
The combination of blue and yellow is widely used in designs. As burnt orange works beautifully with these colors separately, putting them together in one palette makes sense. In this color scheme, burnt orange acts more as an accent and supporting shade.
7. Burnt Orange, Brown, Two Shades of Blue, and Peach
In this burnt orange wedding color scheme, burnt orange stands out. Whereas it is more vibrant and saturated, the shades of blue are more mellow. Peach and brown, neutral tones, bring balance to this delightful color palette.
8. Terra Cotta, Rust, Burnt Orange, and Beige
Terra cotta is typically considered a darker shade of burnt orange with hints of brown. Thus, it fits perfectly in a burnt orange-dominant color palette. The color scheme is tied together and balanced by beige and rust.
9. Dark Burnt Orange with Earth Tones
In this set of burnt orange wedding colors, dark burnt orange dominates the entire palette. Two shades of green are present, providing a smooth and lovely contrast. The three neutral tones, mahogany, beige, and gray, supply subtle but lovely accents to the picture.
Memorable Burnt Orange Wedding Color Themes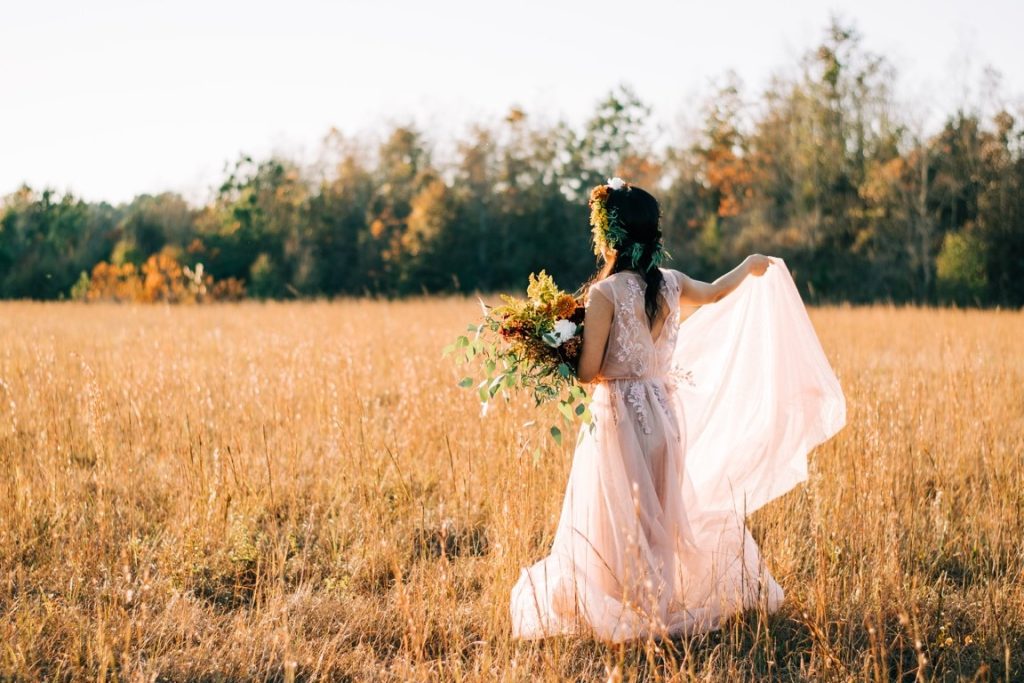 10. Fall-Themed Wedding
Burnt orange wedding colors are ideal for fall-themed weddings. Outdoor venues are gorgeous during the fall; nature is stunning year-round, but autumn has a different charm to it. The leaves are various shades of greens and browns, which you can incorporate into your overall decor.
Generally, fall-themed weddings maximize natural scenes and materials. Dried flowers, wreaths, and harvest are popular and practical additions to designs. A lot of these decorations already come in burnt orange.
Pumpkins, arguably one of the most well-known symbols of autumn, are burnt orange. The food you serve can also come in burnt orange or other close shades.
All this to say, you can achieve a cohesive and memorable design with burnt orange as your dominant color. In a fall-themed wedding, this choice of color will make it easier for you — or whoever is decorating your venue — to stay consistent with the theme.
11. Rustic Wedding Theme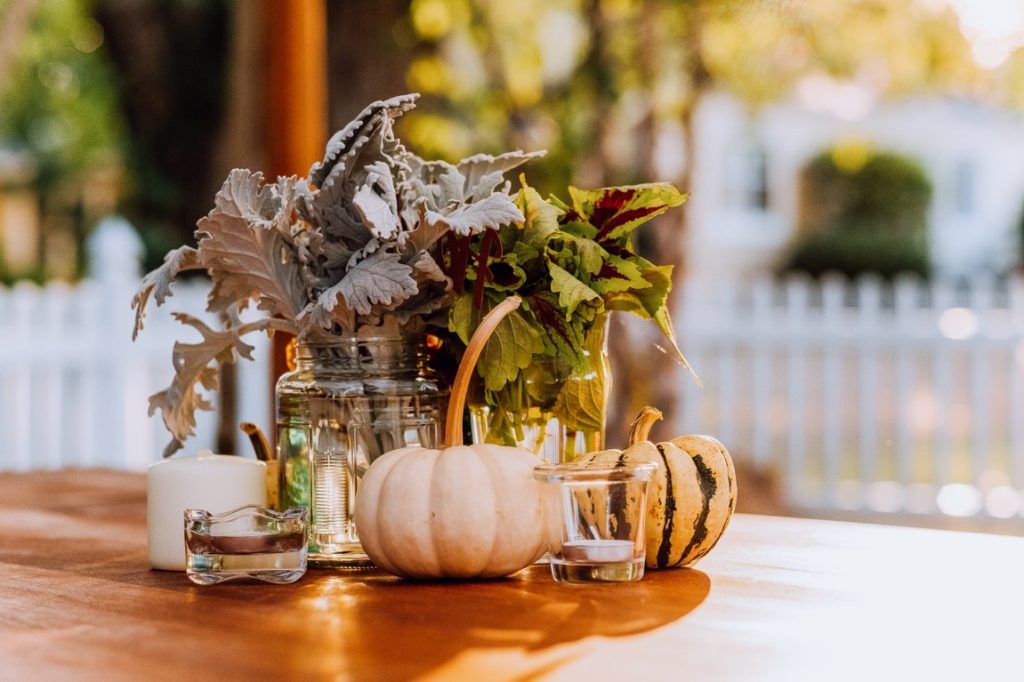 Similar to a fall-themed wedding, rustic weddings heavily rely on natural imagery. Most rustic weddings take place outdoors: atop a mountain after hiking, ranches, vineyards, and so on.
The decoration for rustic weddings also tends to appear organic and natural. Couples go for mismatched fixtures, wooden DIY projects, fruits, flowers, harvests, and so on. Overall, rustic weddings have a chill yet romantic vibe.
Burnt orange is a commonly occurring natural color. You can see it in wood, leaves, and even the rust that gathers on your items. As such, you can incorporate burnt orange into a rustic wedding color scheme with no problem.
12. Barn Weddings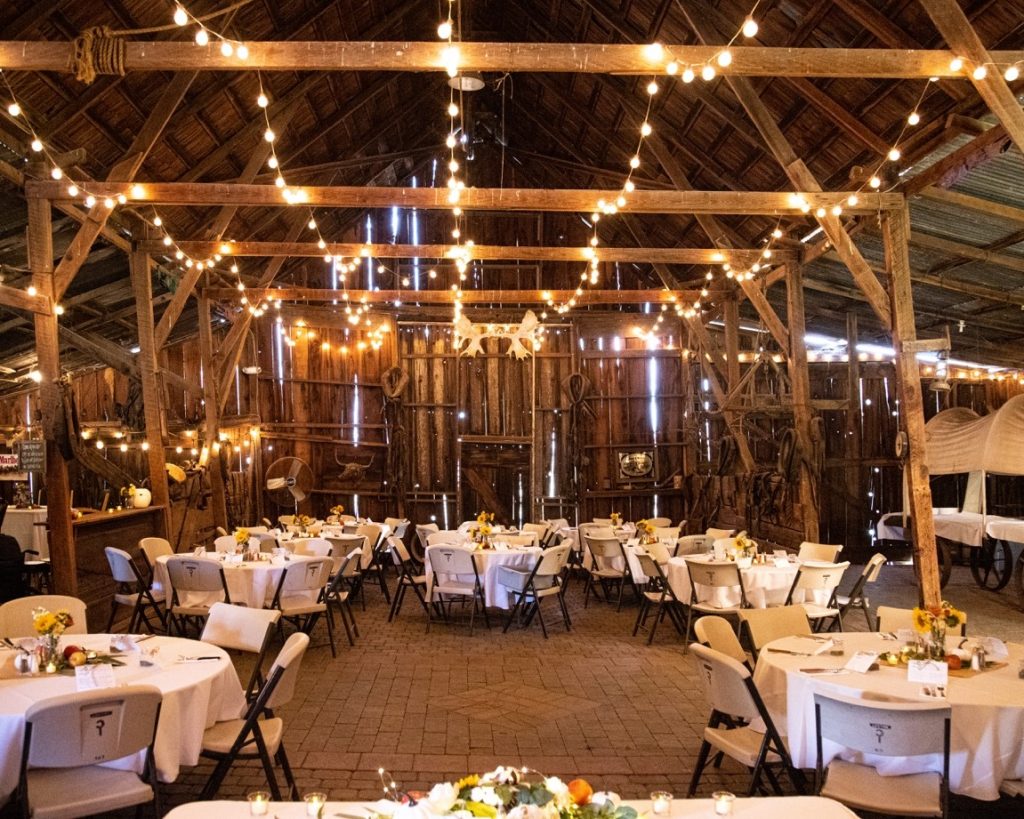 Barns are unique and memorable wedding venues with lots of opportunities for personalization. Some barns are specifically created for weddings, though you can also use existing barns and decorate that.
Barn weddings are great for rustic-themed weddings, but they are not limited to a single theme. With that said, burnt orange is an excellent choice for a dominant color. Most barns already have a woodsy interior, whose shades resemble burnt orange.
13. Bohemian Wedding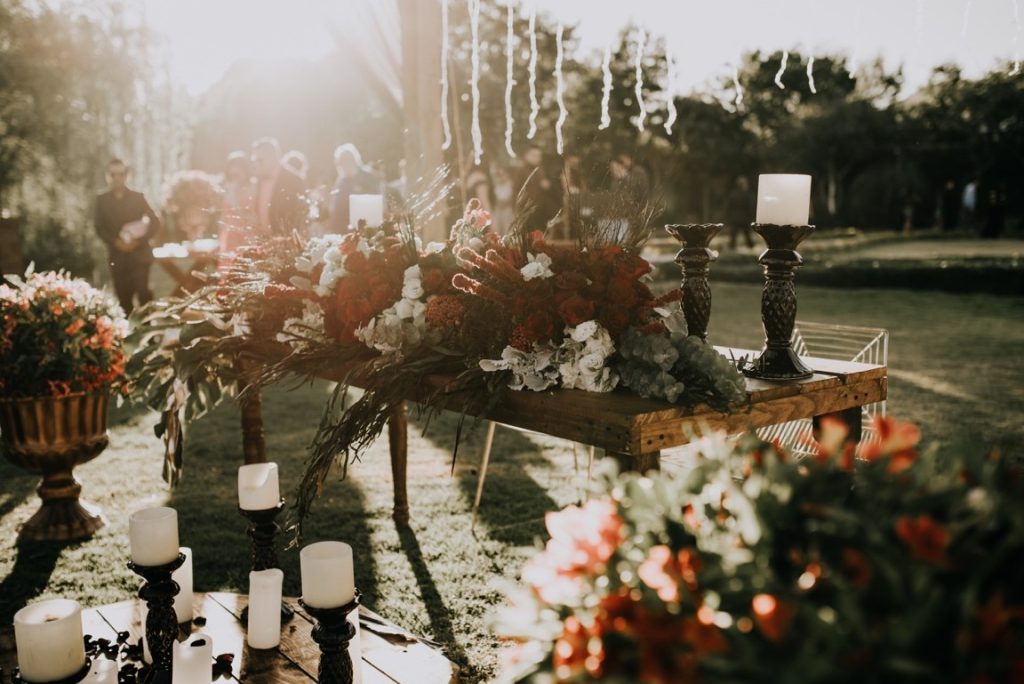 Bohemian, more commonly known as "Boho," weddings are characterized by an artistic, free-spirited, and diverse expression of style. Boho weddings also employ a lot of natural and organic elements in their decor.
Described as eclectic, the boho style is marked by integrating several patterns, materials, and textures. The resulting aesthetic is gorgeous, earthly, and highly personalized to the couple getting married.
Because boho weddings are also inspired by nature, having burnt orange wedding colors is a reasonable choice. Burnt orange will match the surroundings; moreover, with the right palette, your wedding will look as stunning as it feels.
14. Fairytale-Themed Wedding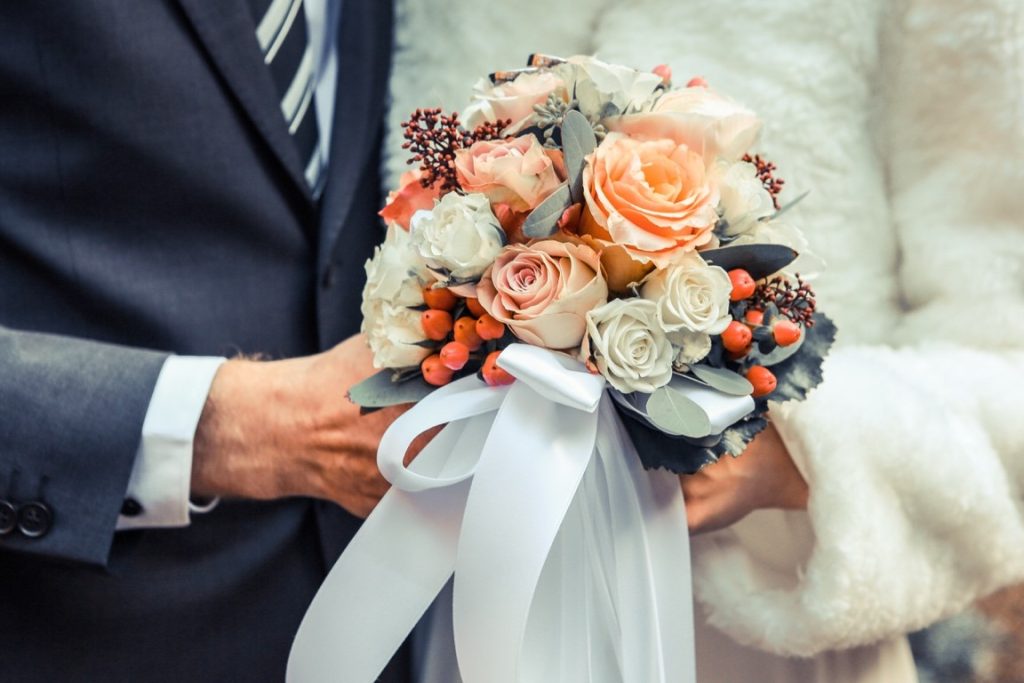 As its name denotes, a fairytale-themed wedding takes inspiration from childhood stories and legends. Brides often describe feeling like a Disney princess at their fairytale-themed wedding.
There are plenty of fairytales that you can use for your wedding. Some examples include Cinderella, Snow White, The Little Mermaid, Beauty and the Beast, and more. Your ceremony can be romantic, quirky, or ethereal — it depends on your preference.
Some fairytales lend well to burnt orange wedding colors. Particularly, these include vintage fairytales and stories set in the great outdoors. Lean into the color schemes you see in nature: greens, browns, oranges, and so on.
15. Vintage Wedding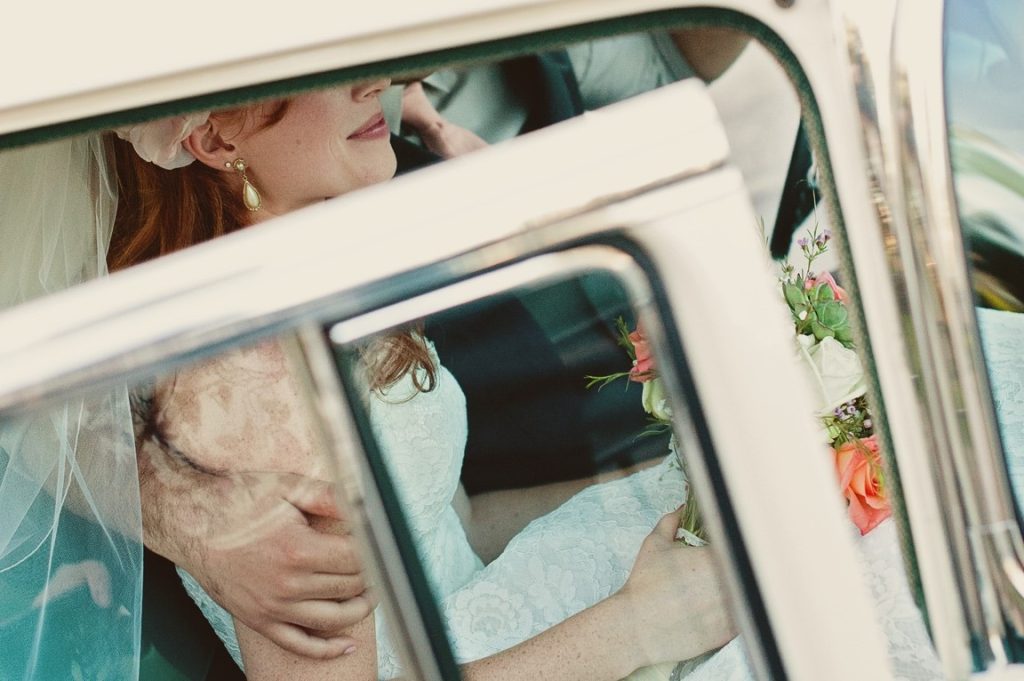 Vintage weddings are a broad category; couples can choose any decade from the 1920s to the 1970s that they want to emulate. Each period has distinct styles, color palettes, and etiquette in terms of attire and decor.
The 1930s are particularly known for their wide use of earth tones, such as browns and beiges. You can think of a 30s-style wedding as an older, more subdued version of a rustic-themed wedding.
The 1960s and 1970s are characterized by hippie and bohemian styles. Weddings — either inspired by or that actually took place — in the 60s and 70s are highly nature-oriented. Flower crowns, wooden decor, and romantic lights are considered staples.
Regardless of which decade inspires you, you are encouraged to personalize your vintage wedding as much as you want. Thus, you can incorporate burnt orange wedding colors into the design; make sure to work closely with a wedding decorator to achieve the best results.
16. Shabby Chic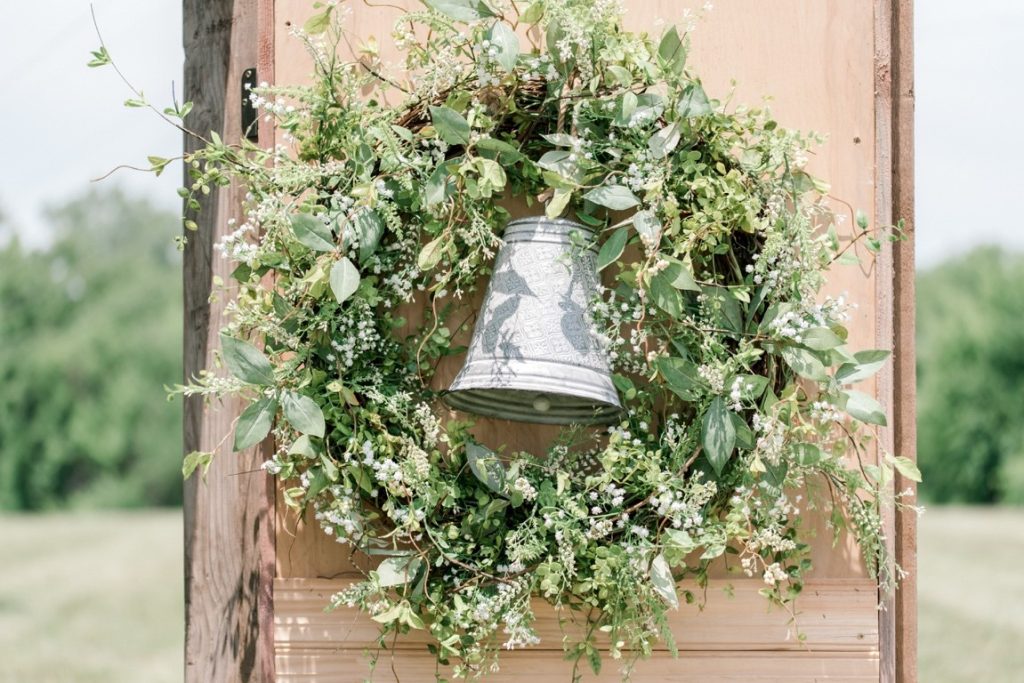 There is a lot of confusion about the shabby chic wedding theme. Some think it is just another name for rustic, while others liken it more to vintage. However, shabby chic distinctly has a homemade, slightly weathered feel.
Shabby chic also uses a lot of natural materials and organic elements. Wooden signs with chalk, Kraft paper with roughened edges, burlap, bunting, and flowers are common features of a shabby chic style.
Burnt orange can be a great addition to your shabby chic wedding colors. The color will look breathtaking when contrasted with the neutral tones of the paper, tables, and other pieces of decor.
Tips for Burnt Orange Wedding Colors
The Color Wheel is Your Best Friend
If you do not connect with the color palettes listed above, you can create one for your wedding. This task might seem intimidating. However, some research on color theory can go a long way. Here are some techniques you can apply to a color wheel to get a personalized palette:
Type of Scheme
Illustration
Description
Monochromatic
A monochromatic color scheme focuses on one dominant color. You can obtain several variations of the color by experimenting with shades, tones, and tints.

In this case, your color palette can consist of burnt orange, honey, dark amber, and gold.

Analogous
To create an analogous color scheme, take three consecutive colors on a color wheel.

One color typically dominates the palette, while the others provide support and accents. You can add or subtract saturation to create contrast.

In this case, your color palette can have oranges, reds, and pinks.

Complementary
To form a complementary color palette, choose one color and its opposite on the wheel.

This combination might seem too saturated. You can lessen the intensity by adding tints and tones to the colors.

In this case, your color palette will have oranges and blues.

Split Complementary
The first step in creating a split complementary color palette is finding your dominant color's complement.

Afterward, instead of the complement, take its two adjacent colors.

In this case, you will have a color palette with oranges, blues, and purples.

Tetradic
A tetradic color palette consists of two pairs of complementary colors.

The first complementary pair is orange and blue. The second complementary pair can be purples and light greens.

Triadic
To create a triadic color palette, choose three equidistant colors on the color wheel.

In this case, your color palette will consist of oranges, purples, and greens.

You can choose to emphasize burnt orange and let the remaining colors provide accents.

Square
In a square color palette, you will choose four equidistant colors from the color wheel.

In this case, purples, teals, and yellows will accompany your burnt orange wedding colors.

These additional colors are supplementary; they provide accents and support to your dominant color.
Colors that Work Well with Burnt Orange
Burnt orange is a distinct, warm, and strong color. It is an excellent choice for the dominant color of your palette. However, because of burnt orange's characteristics, you need to be careful with the other colors you use.
Your best choices are neutral colors. Examples include browns, grays, creams, dusty blue, blush pink, and so on. Using these colors as accents will balance the intensity of burnt orange.
In general, lighter and softer colors work well with burnt orange. Together, this combination has a visually appealing contrast. Look into adding whites, pastels, and lighter shades of orange to your accents and decor.
However, you can also add more warm colors to your palette. Examples include burgundy, gold, bronze, copper, and similar shades.
Final Thoughts
Burnt orange is a breathtaking color. If you choose the right shades to complement it, you will have a visually stunning and unforgettable wedding. Give yourself time to determine which color combinations and dynamics feel right.