Creating an outfit for a wedding can get challenging. There are many things to consider: its fit, comfortability, how photogenic it is, and more. Sometimes, the most tedious part is determining what accessories you should wear.
When deciding how to accessorize a navy blue dress for a wedding, you must pay attention to color combinations. If you choose the right colors, your outfit will be perfect and memorable.
Listed below are possible color combinations that can bring out the best in your navy blue dress. Outfit inspirations for how to accessorize a navy blue dress for a wedding are also provided. Lastly, some beneficial styling tips are enumerated.
Navy blue is a well-loved color for its timelessness, elegance, and versatility. You have plenty of options when choosing which colors to pair with navy blue. Here are some combinations you can consider while accessorizing a navy blue dress for a wedding.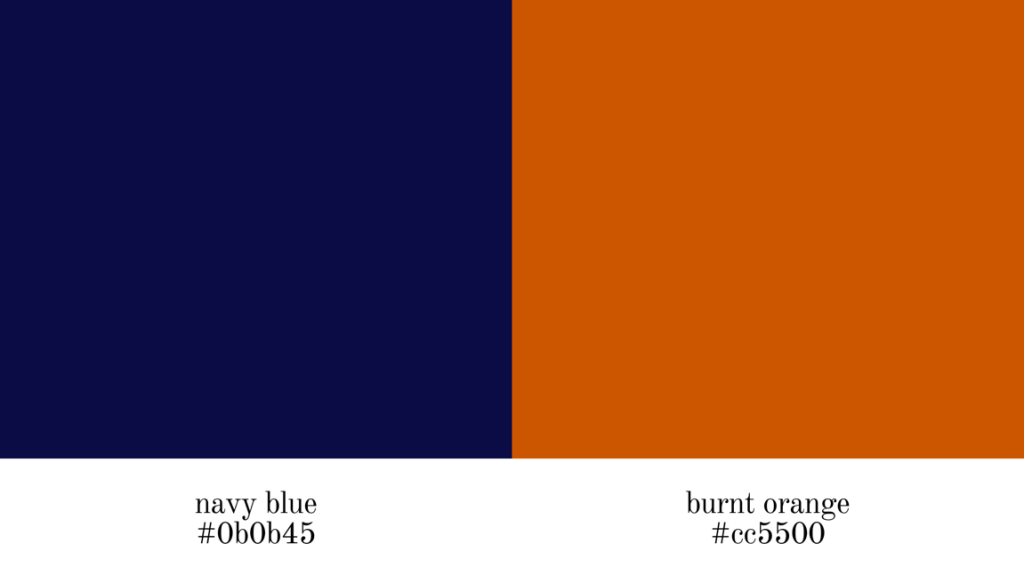 Blue and orange are complementary colors. Generally, complementary colors result in a contrasting effect. You can experiment with shades, tints, and tones to create your preferred combination.
Navy blue and burnt orange are two classic colors that go well together. If you use burnt orange as an accent, expect the color to pop. The brightness of burnt orange, when put next to the richness of navy blue, triggers a stunning visual effect.
If you want to keep the focus on navy blue, make sure your burnt orange accessories are small. Examples include a unique burnt orange clutch and a pair of burnt orange sandals.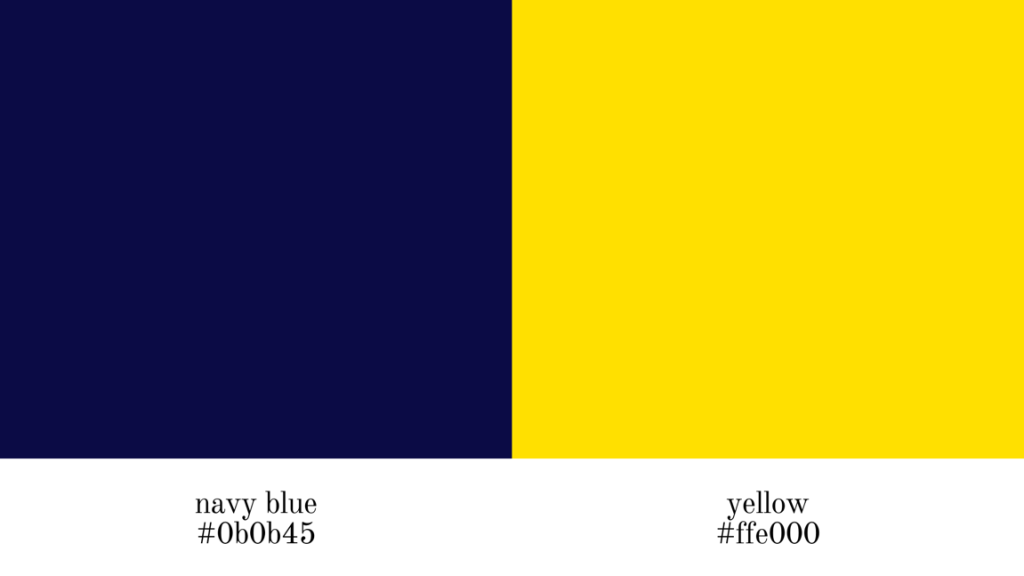 The combination of navy blue and yellow operates on the same principle as above — they are complementary colors. The zestiness of yellow equalizes the deepness of navy blue. Bright yellows will look exceptionally vibrant with a navy blue dress.
Yellow gold accessories can be a lovely addition to your outfit. Wear a yellow gold bracelet, ring, or necklace. You can also opt for a yellow hat, handbag, or clutch.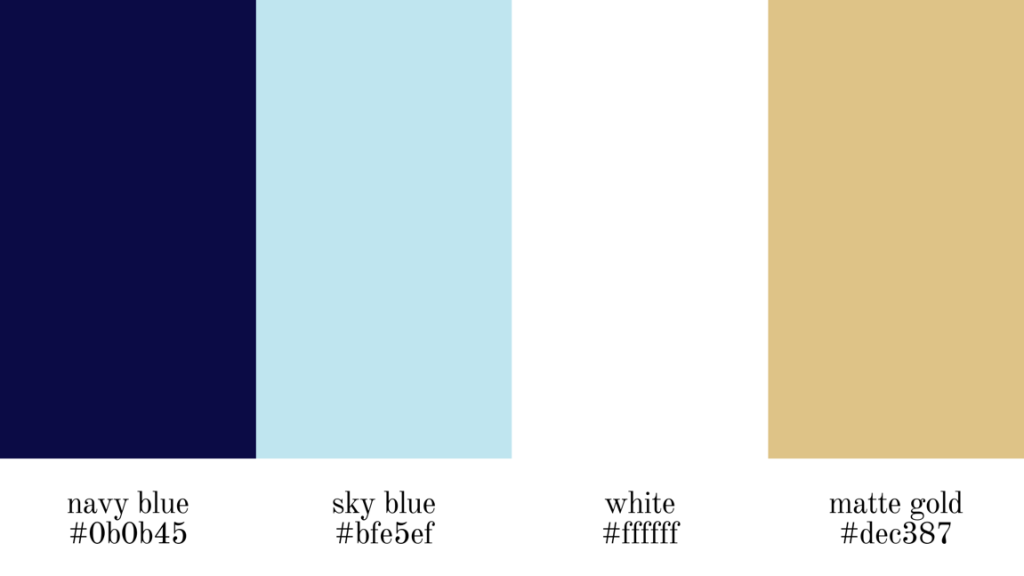 This combination has a monochromatic blue palette with a matte gold accent. White mediates the contrast between the dark and light shades of blue. Meanwhile, matte gold adds subtle yet stunning detail to the color scheme.
For example, you can add a layer of sky blue over your navy blue dress. You can wear a white pair of heels and bring a white clutch. The touches of gold can come from your jewelry or even a hat if the wedding is outdoors.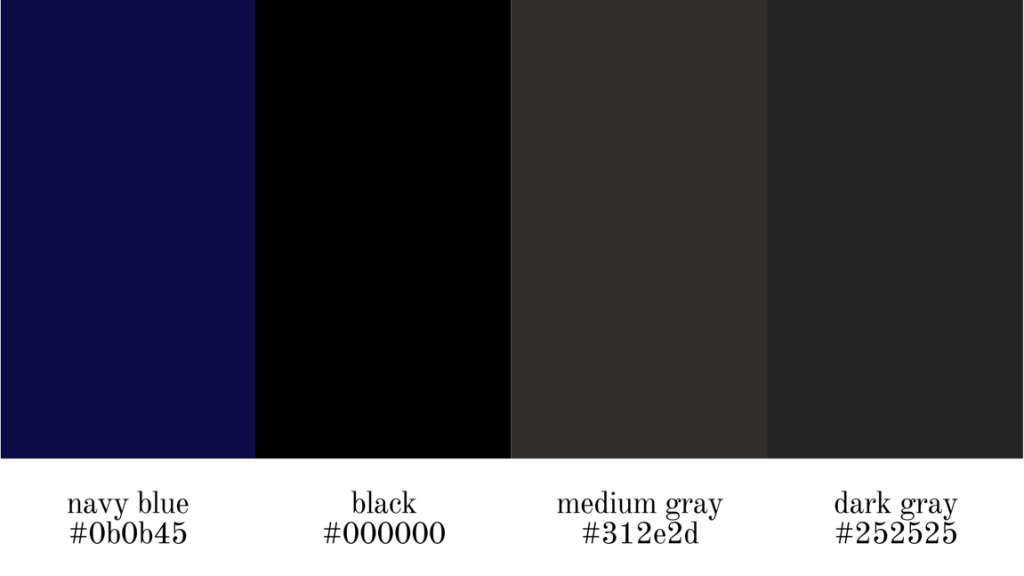 Although pairing two dark colors is typically discouraged, navy blue and black look incredible together. In fact, you can opt for a monochromatic color palette with navy blue as an accent.
You can add black details to complete your look when deciding how to accessorize a navy blue dress for a wedding. For example, you can add a black belt to accentuate your figure. Black dressy sandals, a wristwatch with black straps, or a black handbag are also fitting accessories.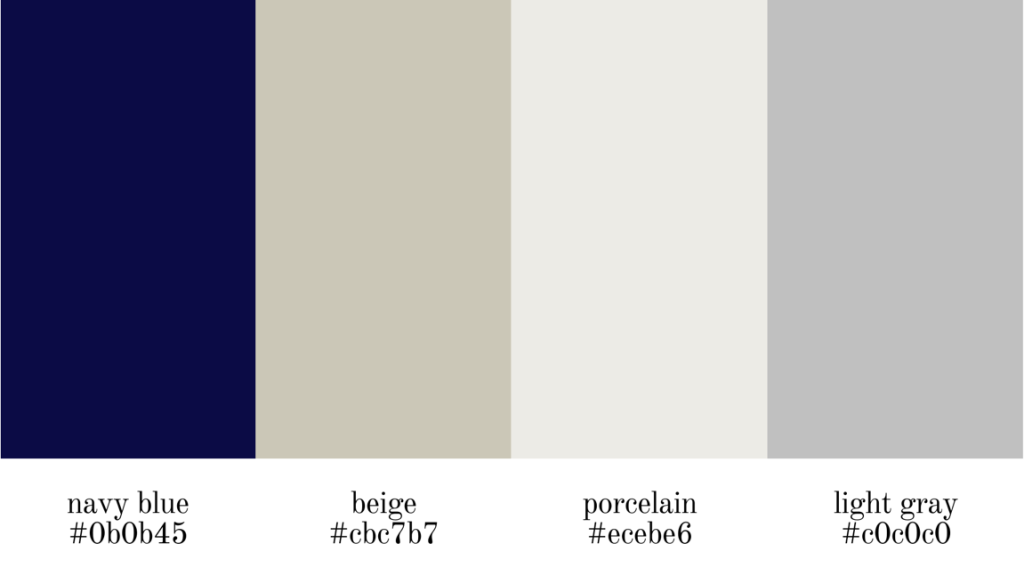 As mentioned above, navy blue is a rich color. You may want to mellow it down by accessorizing it with neutral tones. Combining navy blue with beige, porcelain, and gray will achieve your desired effect.
You can opt for a beige pair of heels. Your handbag, clutch, wristwatch, ring, necklace, and other accessories can come in grayish colors and white gold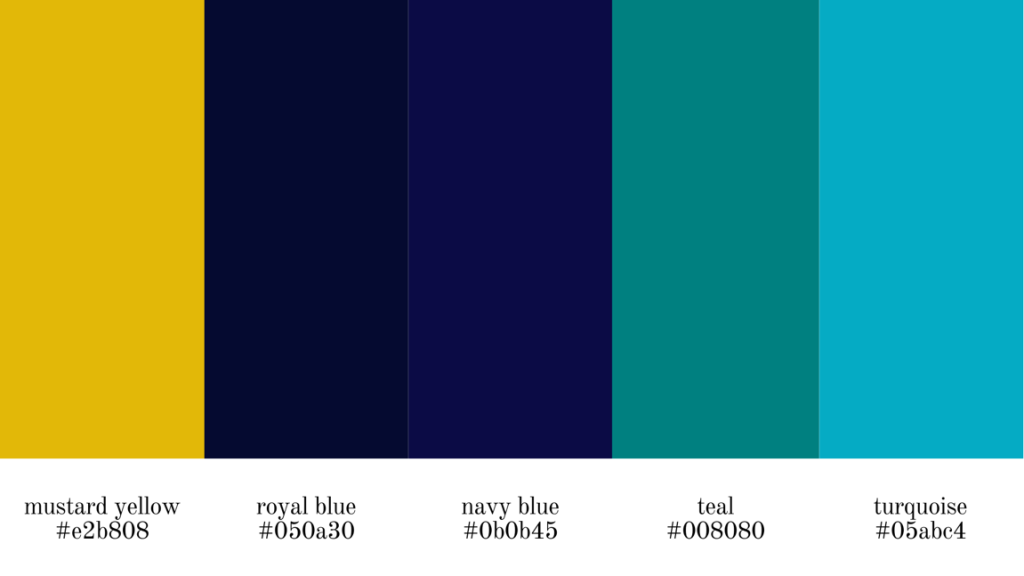 Navy blue, royal blue, teal, and turquoise almost appear like a monochromatic palette. This effect is visible because the colors have varying levels of blue. Meanwhile, mustard yellow serves as a surprising and lovely accent.
Your navy blue dress can have a print with a teal and turquoise motif. Your handbag and phone case can have a matching mustard yellow color. Furthermore, the royal blue detail can come from an additional layer, your footwear, or other accessories.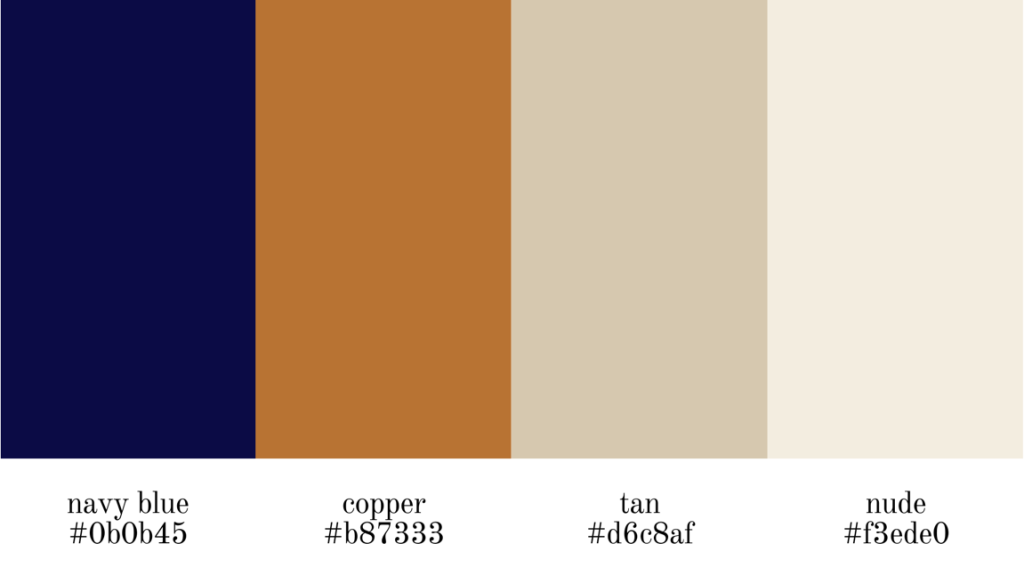 Copper is similar to burnt orange, but they have different intensities. Therefore, navy blue and copper also function as complementary colors. The contrast may seem a bit strong, but the neutrals can help create a balance.
Your navy blue dress can be in an ombre style, and you can pair it with copper footwear. You can match your handbag, clutch, and hat with your shoes. Alternatively, the rest of your outfit can be in neutral colors.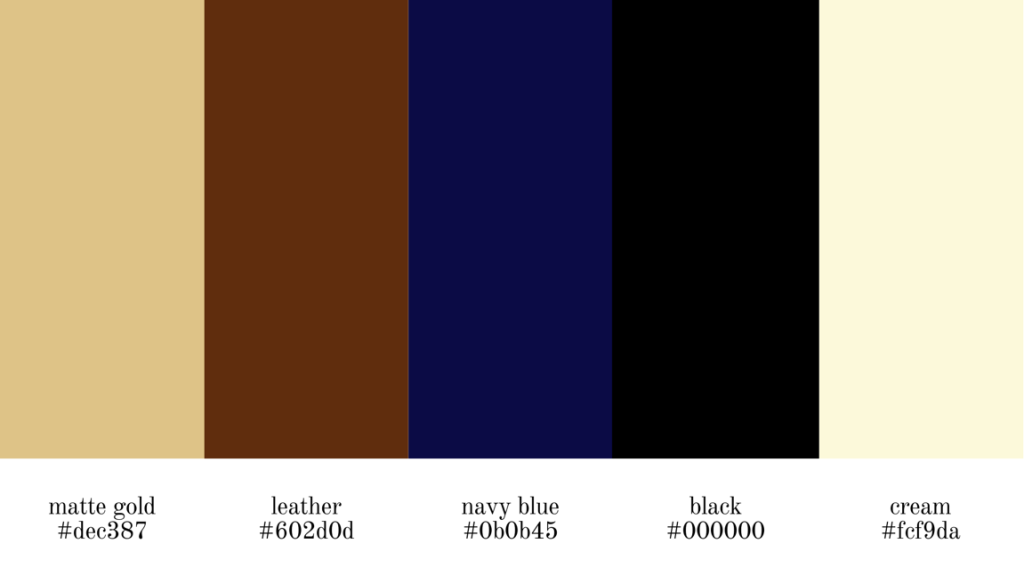 When choosing how to accessorize a navy blue dress for a wedding, leather colors feel like a natural choice. After all, plenty of accessories come in leather shades and materials. The matte gold, black, and neutrals can tie your outfit together.
You can wear a leather belt over your navy blue dress. You can select matte gold, black, and neutrals for your footwear, handbag, hat, and other accessories. If your hair is black, you can consider it part of your outfit.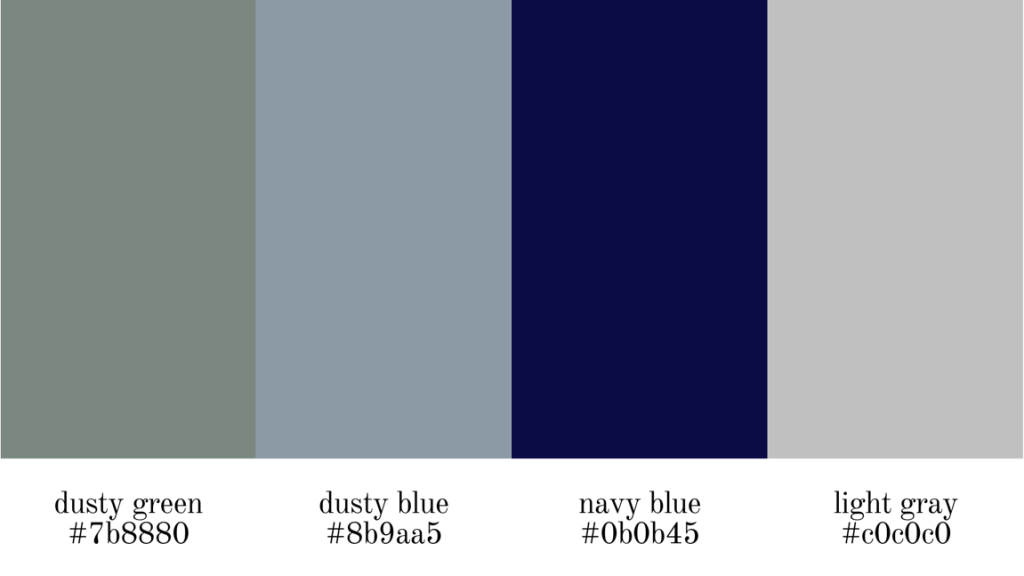 The desaturated appearance of dusty blue and dusty green counteracts the intensity of navy blue. With the addition of light gray, this color palette achieves an ethereal effect. Your outfit will look dreamy yet sophisticated.
You can wear a gray pair of heels with your navy blue dress. Your handbag, hat, and jewelry can come in the four colors mentioned above. To get creative, you can paint your nails with dusty blue, dusty forest, and navy blue.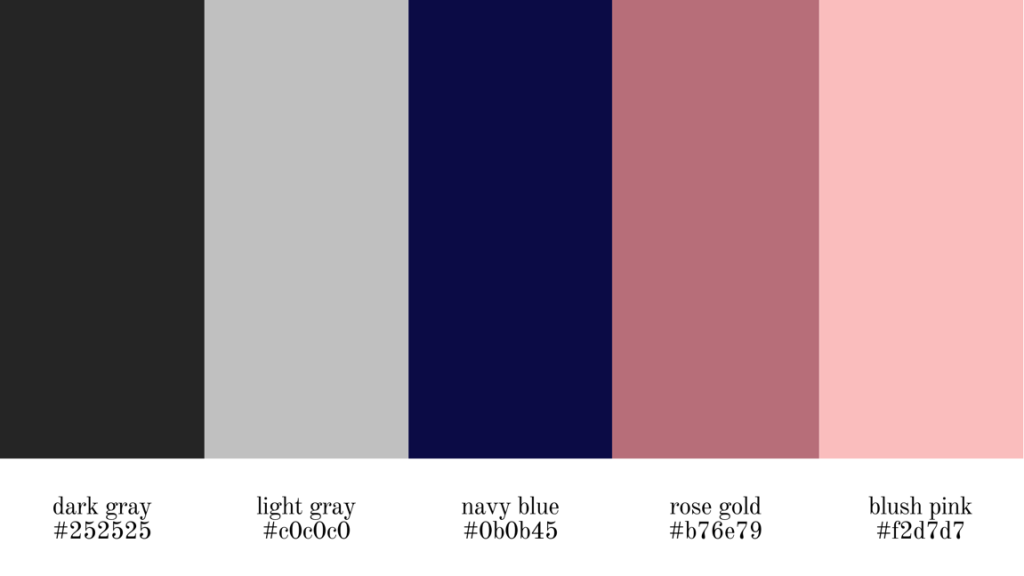 The combination of navy blue and rose gold is a variant of the classic blue-pink dichotomy. By changing the shades, this color palette looks more refined. The introduction of blush pink and grays evens out the color scheme.
Rose gold jewelry is well-loved. You can wear a rose gold or platinum necklace, ring, bracelet, and earrings. If your phone comes in these colors, you can use a clear case to show it off. You can wear heels in silver or blush pink.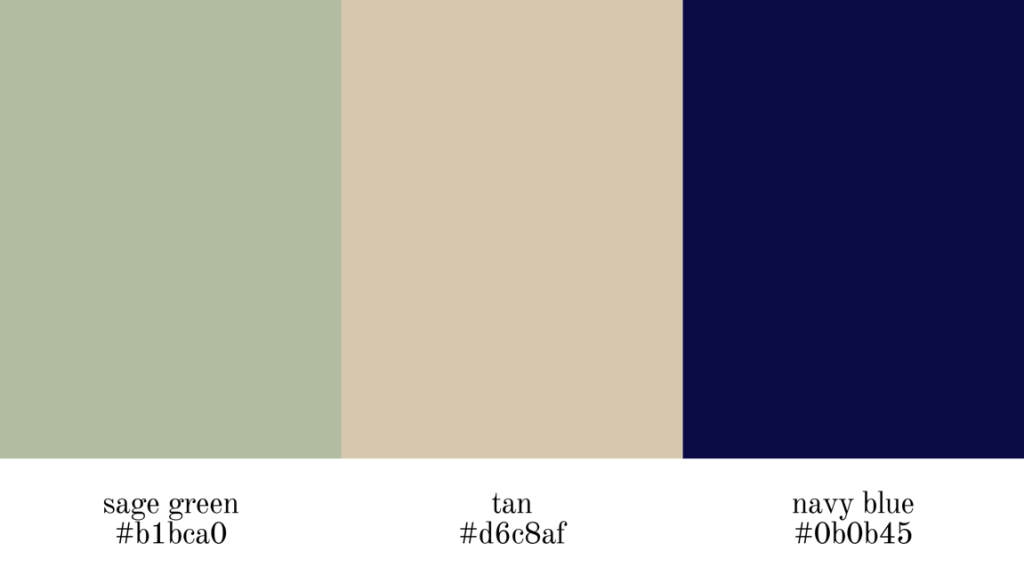 Pairing navy blue with sage green is a classic and sophisticated choice. Blue and green are analogous on the color wheel, which means they have little contrast. You can add tan — or a neutral of your choice — as an accent to this color palette.
For outdoor weddings, you can wear a hat with sage green details. You can add a tan or sage layer to your navy blue dress. Your footwear can come in a neutral color, and tan works incredibly well.
Monochromic Blue and Monochromic Pink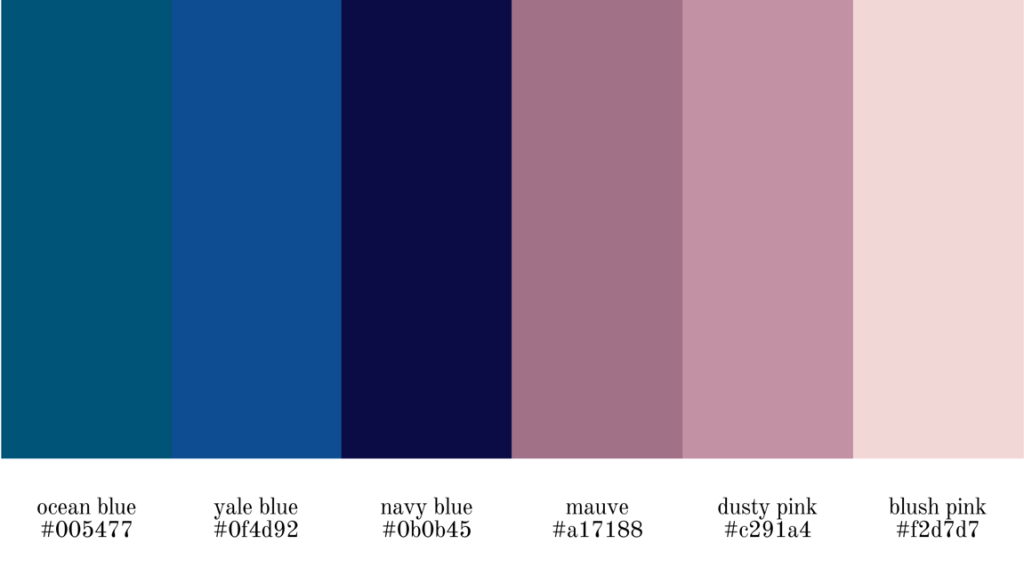 Combining two monochromatic color palettes can have exquisite results. Navy blue, yale blue, and ocean blue comprise the blue palette. Alternatively, you have blush, dusty pink, and mauve for the pink scheme.
Your navy blue dress might have an ombre style, or it has a print with a yale blue and ocean blue design. Your jewelry, handbag, footwear, and other accessories can come in dusty pink, blush, or mauve.
Asymmetric Midi Dress with Ankle-Strap Heels
This midi dress has several intriguing features: a spaghetti strap, a stylized semi-sweetheart neckline, and an asymmetric hem that ends a few inches above the ankles. The bodice beautifully accentuates the model's figure. The ankle strap heels in a leather-like color complete the outfit.
A-Line Backless Dress with Ruffle Hem
This navy blue dress has a unique square neckline, emphasizing the long bishop sleeves. The belt around the waist gives the piece more structure. The flounce hem ends above the knees. Lastly, silver accessories complete the outfit. This attire is ideal for casual weddings.
Midi Dress with Lace Half Sleeves
The bodice of this midi dress has unique details: a lace overlay that extends to the sheer half sleeves and a zigzag scoop neckline. The skirt uses satin material, with ruffles running down from the belt around the waist. For accessories, the model uses a black clutch with distinctive heels.
Geometric-Style Midi Dress with Pearl Jewelry and Mauve Handbag
Although the dress appears simple at first glance, it has subtle details that make it more elegant. The V neckline leads your eyes to the pleated, geometric bodice reminiscent of a wrap dress. The pearl earrings and ring add a touch of sophistication, and the mauve handbag completes the outfit.
Midi Dress with Unique Neckline, Black Accessories, and Coral Clutch
The first thing you notice from this dress is its unique neckline, looking either like a décolletage or a reverse Grecian style. The matching black belt and heels make the outfit more cohesive. For a pop of color, the model carries a coral clutch with platinum details, complementing the earrings.
Midi Dress with Floral Skirt
The bodice looks like a wrap dress, giving it a V neckline. Moreover, the diagonal creases add structure and detail to the top. The white skirt has a floral motif, making this outfit have a sailor vibe. A unique handbag, silver earrings, and yellow gold accessories tie together the attire.
This breathtaking ombre gown goes from black to navy blue. The asymmetrical hem ends below the ankle, barely grazing the floor. The lace detail extends from the waist to one shoulder, glittering as it masks the halter neckline. The accessories are simple: clear toe-strap heels and dangling earrings.
This simple yet beautiful cocktail dress features a round neckline with no sleeves. Interestingly, a strip of fabric is missing along the chest. The striped hemline with tulle overlay also exposes the thighs, giving the dress a cohesive look. A pair of heels in cream completes the outfit.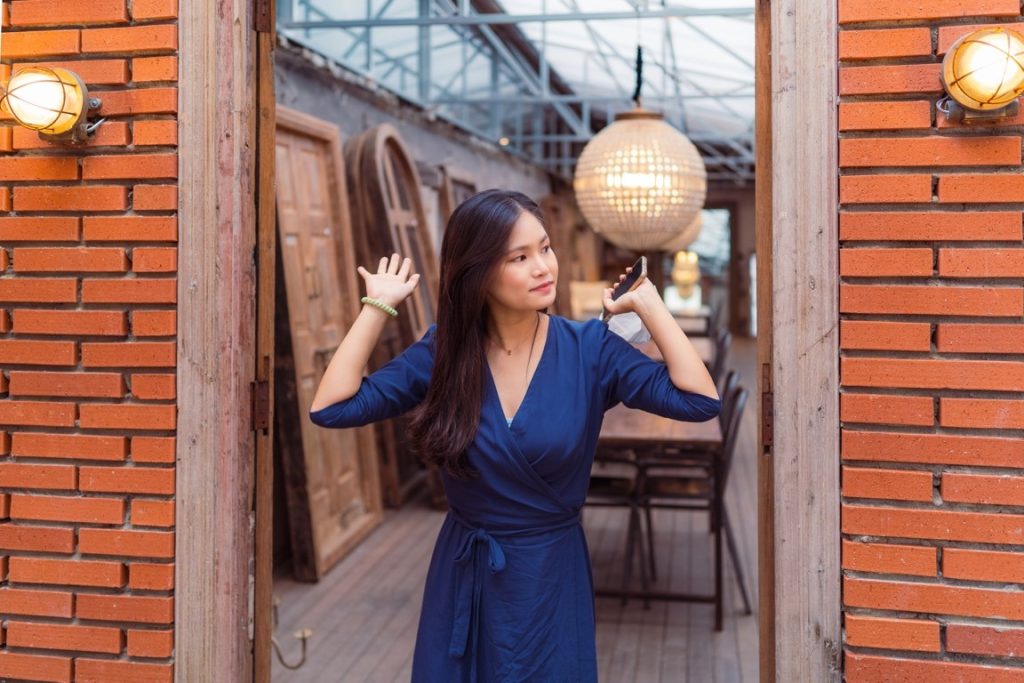 Always Stick to the Dress Code
Every wedding has a prescribed dress code. This information allows you to determine what you can wear to an event. Usually, the couple indicates the dress code on the wedding invitation or website.
Here are some standard dress codes you can expect:
White tie → is the most formal dress code. Women should wear floor-length evening gowns; for accessories, they can wear a necklace, pair of gloves, or earrings.
Black tie → gives women more freedom with their attire. They can opt for floor-length evening gowns, jumpsuits, or cocktail dresses — anything, as long as it covers their ankles. Suitable accessories include a dressy clutch, leather shoes, and flashy jewelry.
Formal → attire allows women to show their ankles. Everything else, such as the choice of clothes and accessories, remains the same as a black-tie dress code.
Cocktail → is more lenient on the length of a woman's dress. Her dress can end above the ankle, below the knee, or above the knee. Appropriate accessories are anything that is not too showy. Examples include a simple ring, bracelet, necklace, and watch.
Semi-formal → encourages a balance of style and comfort. You can go for a dress, pantsuit, or a sophisticated top-and-skirt combo. Your footwear depends on the venue, but you can wear flats, wedges, and heels.
Casual → attire is more flexible and forgiving. Women can wear a blouse-and-skirt combo, sundress, or any type of dress. As for accessories, you can add wedges, belts, scarves, a handbag, and jewelry.
Some dress codes explicitly encourage or discourage pieces of clothing. You must adhere to the dress code; doing so shows respect to the couple.
If you are unsure whether your outfit is appropriate, ask the couple. You can also reach out to any of the bridesmaids. Moreover, there are several additional factors to consider vis-à-vis the appropriateness of your outfit:
What is the couple's religion? Religions come with a set of beliefs and principles. For instance, Muslim and Catholic weddings expect their attendees to be modest.
Where will the wedding ceremony take place? The venue will highly influence your attire. For example, proper footwear for an indoor wedding will not make sense for a beach wedding.
When will the wedding take place? Daytime weddings and nighttime weddings have different levels of formality. Moreover, the current weather and season will also influence your decision.
Is the outfit for the ceremony or a pre-wedding event? Your outfit-related decisions will vary depending on the occasion. While you may want to stay relatively casual for a rehearsal dinner, you may prefer a more elegant outfit for the ceremony.
Pay Attention to Your Skin Tone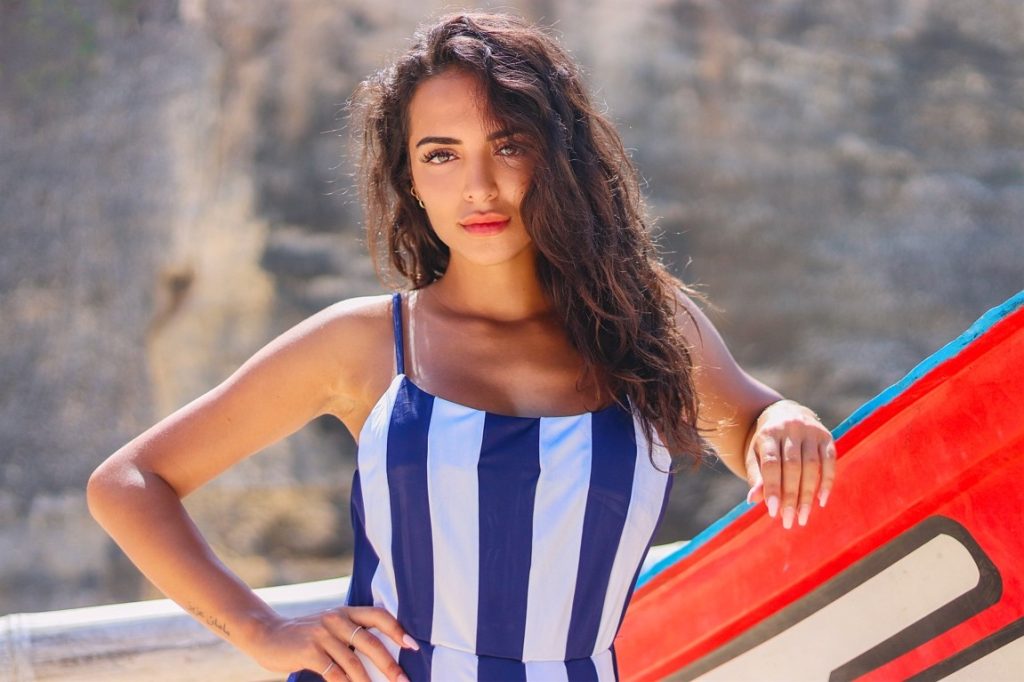 Different skin tones work well with different colors. One easy way to determine your skin undertone is by checking your veins. Under natural light, observe the appearance of your veins:
Bluish or purplish veins indicate a cool skin tone.
Greenish veins indicate a warm skin tone.
If it is difficult to tell the color of your veins, you might have a neutral skin tone.
Cool skin tones look best with silver and white gold accessories. You can also opt for pink, purple, blue, and dark red accessories.
Meanwhile, warm skin tones look fantastic with yellow gold. Neutrals and earth tones will also complement your skin. Consider adding brown, green, maroon, and mustard yellow accessories to your outfit.
For neutral skin tones, how to accessorize a navy blue dress for a wedding depends on preference. Gold and silver accessories are breathtaking. Your options are unlimited; pastels, earth tones, and dark colors are also suitable.
Learn About Color Theory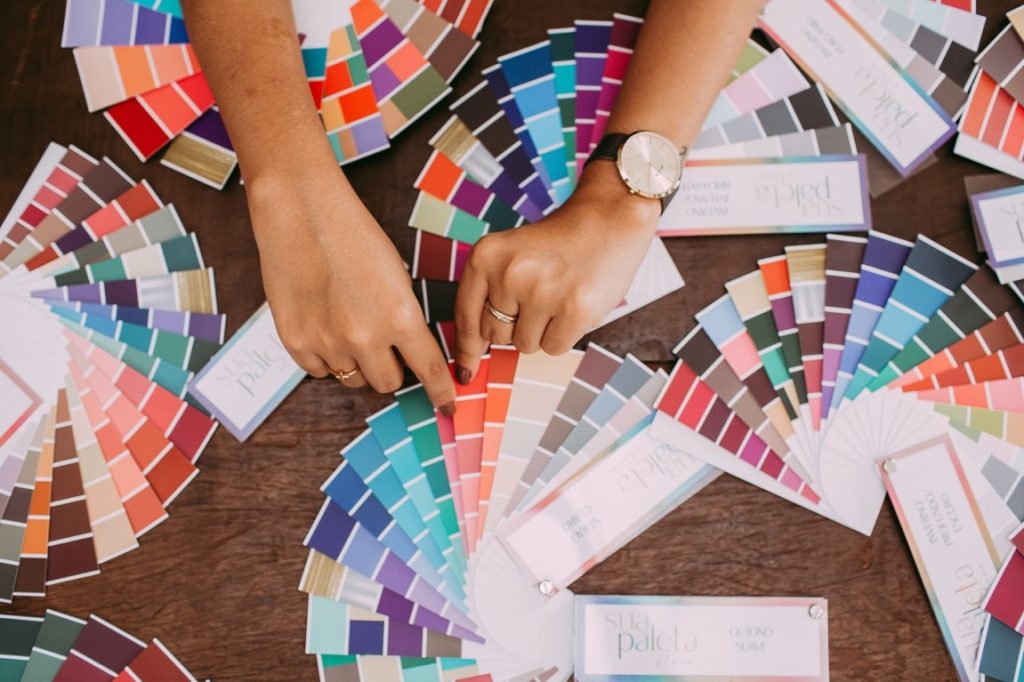 If you are unsure how to accessorize a navy blue dress for a wedding, you can start by researching color theory. This theory will help you find pleasing color combinations; likewise, you will know which colors not to pair with navy blue.
Monochromatic and complementary are two examples of combinations in color theory. Here are some types of color palettes on the color wheel:
Monochromatic → focuses on a specific color. A monochromic palette with navy blue would also contain sky blue, cornflower, and royal blue.
Complementary → consists of two colors opposite each other on a color wheel. The opposite of blue is orange; thus, navy blue and burnt orange are complementary colors.
Analogous → is composed of three consecutive colors. There are at least three possible combinations. For example, you can use navy blue, blue-green, and green.
Split Complementary → has three colors in one palette. You take the complement of a specific color and use the adjacent ones. For instance, you can work with navy blue, red, and light green.
Triadic → takes three equidistant colors from the color wheel. Other people refer to this palette as a "triangle" color scheme. As such, navy blue looks fabulous with oranges and yellows.
Square → takes four equidistant colors from the color wheel. Navy blue is equally distant from pinks, oranges, and light greens.
Tetradic → consists of two pairs of complementary colors. Adding dark greens and pinks to navy blue and burnt orange will create a tetradic color palette.
Once you find a suitable combination of colors from the wheel, feel free to experiment with shades. You can add saturation, tint, and value to the colors. Different tones will result in varying levels of contrast, harmony, and more.
Final Thoughts
When used right, navy blue is a beautiful color. Even though you may be tempted to throw on the first accessory you see, think if the resulting color palette suits you. However, you must also remind yourself that regardless of what you wear, you are charming and gorgeous.