At its core, a bridal shower is a way for the bride-to-be to connect with her close friends and family. It is a reminder that she has people who love and support her. There are many themes to choose from when planning a bridal shower, including "brunch and bubbly."
As its name denotes, a brunch and bubbly bridal shower consists of light food and some alcohol. Other than that, it has all the elements of a typical bridal shower, including games, gifts, and speeches. Below are 35 ideas for different aspects of your bridal shower, namely invitations, decorations, food, games, and party favors.
Ideas for Your Brunch and Bubbly Bridal Shower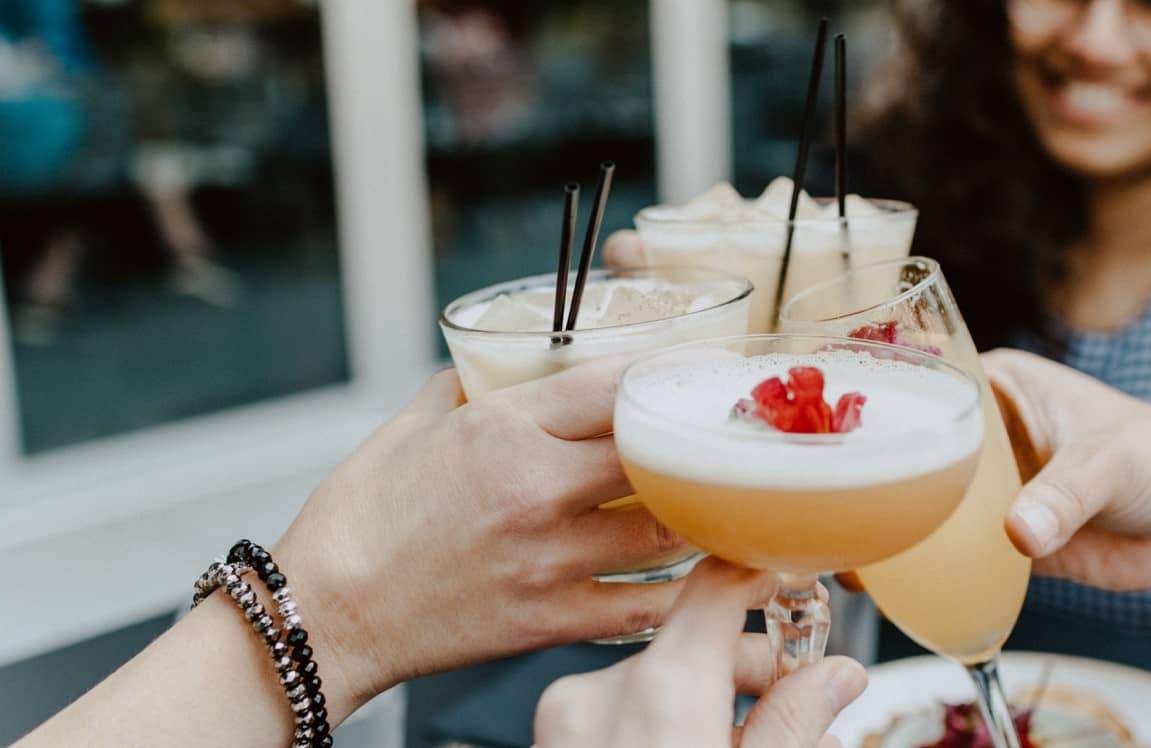 Invitations
1. "Let's Pop the Bubbly" Invitation
2. "Cheers to the Bride to Be" Invitation
3. Gray and Gold Motif
Decorations
5. Brunch and Bubbly Banner
A simple banner with gold calligraphy saying "brunch & bubbly" can elevate the aesthetics of your venue. Hang it over the center table, the table where the food is placed, or the mimosa bar. Regardless of where you put it, it is a subtle but cute addition to your decor.
6. "But first, mimosas" Banner
If you plan on having a make your own mimosa bar, this quirky banner is a great way to let your guests know where to find it. Adding some floral accents to frame the calligraphy makes for a fabulous picture. You can pair it with a sign that gives some instructions to your guests.
7. Spilling Balloons
This decor idea for a brunch and bubbly bridal shower requires two types of balloons: dozens of regular-shaped balloons with varying sizes, and a balloon shaped like a bottle of Champagne. Place the Champagne-shaped balloon at an angle and, from its opening, arrange a line of regular-shaped balloons. The resulting image looks like Champagne being spilled, which is perfect for this bridal shower theme.
8. Monochrome Rose Gold Balloon Arch
Balloons are a popular choice of decor for any bridal shower. However, they are highly suitable for brunch and bubbly bridal showers because they emulate the appearance of fizz. Opting for a monochrome color scheme gives the balloons a sleek and refined appearance. This makes it perfect not only as a piece of decoration but also as a backdrop for photos.
9. Copper and Gold Bottles as Centerpieces
Instead of traditional vases, you can use clean bottles to hold flowers and other decor pieces. Paint it with copper, gold, or any color that fits your palette. Not only will this be aesthetically pleasing, but it will also tie in with your theme of brunch and bubbly bridal shower. Make sure to get bottles of different sizes and shapes for variety.
10. Wine Glasses with Flowers
Similar to the idea above, these wine glasses also function as a vase. With some water, they can hold a flower and make for elegant pieces of decor. To maximize this design idea, get stemware of different heights and flowers of different colors.
11. Mason Jars with Ribbon and Twine
Another alternative to vases, mason jars are perfect for holding flowers and greenery. They are also versatile; you can put them on tables, you can suspend them using twine to make a hanging garden, and so on. The jar itself also lends itself to embellishments.
12. Path of Hearts
Cut out some hearts from paper with different colors; you can stick to a monochromatic color scheme like the picture above, or you can adapt it to your palette. Although this is perfect for an outdoor brunch and bubbly bridal shower, you can make it work for any location.
13. Flour Hearts
Flour hearts are adorable, easy to make, and easy to clean, making them an excellent decor idea for a brunch and bubbly bridal shower. Using flour and powdered food coloring, you can get any color you want. The stencil of the heart is created with a piece of cardboard. Similar to the path of hearts, this idea works best with outdoor bridal showers. However, you can find ways to incorporate flour hearts into any location.
14. Letter Board with Saying or Hashtag
It is common for couples to have
an engagement hashtag
they use for posts on social media, invitations, and other wedding-related correspondence. You can incorporate this hashtag, or any saying of your choice, into the decor of your brunch and bubbly bridal shower using a letter board. You can also insert a cute, drink-related phrase, such as "Pop, fizz, clink" in the picture above.
15. Place Cards on Champagne Flute
Place cards are a creative way to let your guests know where to sit in your event. In the picture above, a bird-shaped place card is perched on the lip of the champagne flute. However, you can also opt for other designs; florals and butterflies are popular options. Write the guest's name in elegant cursive on the place card.
Food
16. Deviled Eggs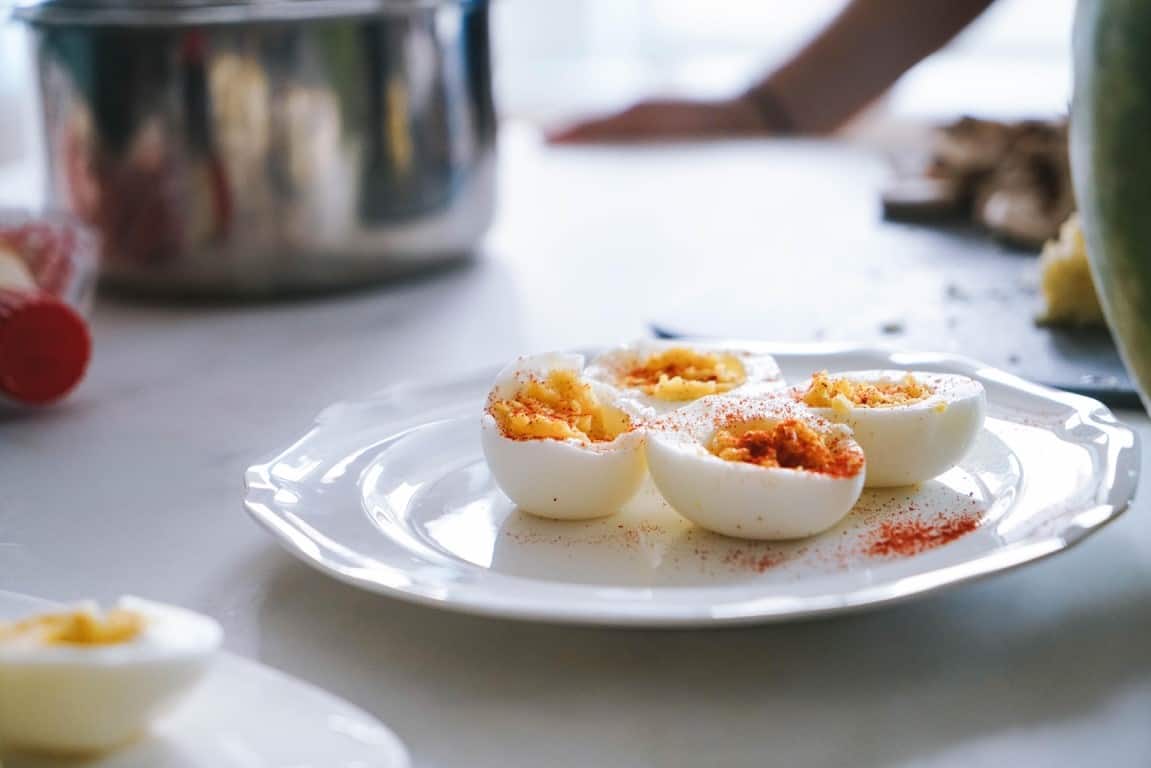 Food is an essential part of any bridal shower itinerary, especially if the theme is brunch and bubbly. Deviled eggs are versatile, as they can function as an appetizer, main course, and side dish. Moreover, they can be made using a wide variety of ingredients to suit your and your guests' tastes.
17. Tea Sandwiches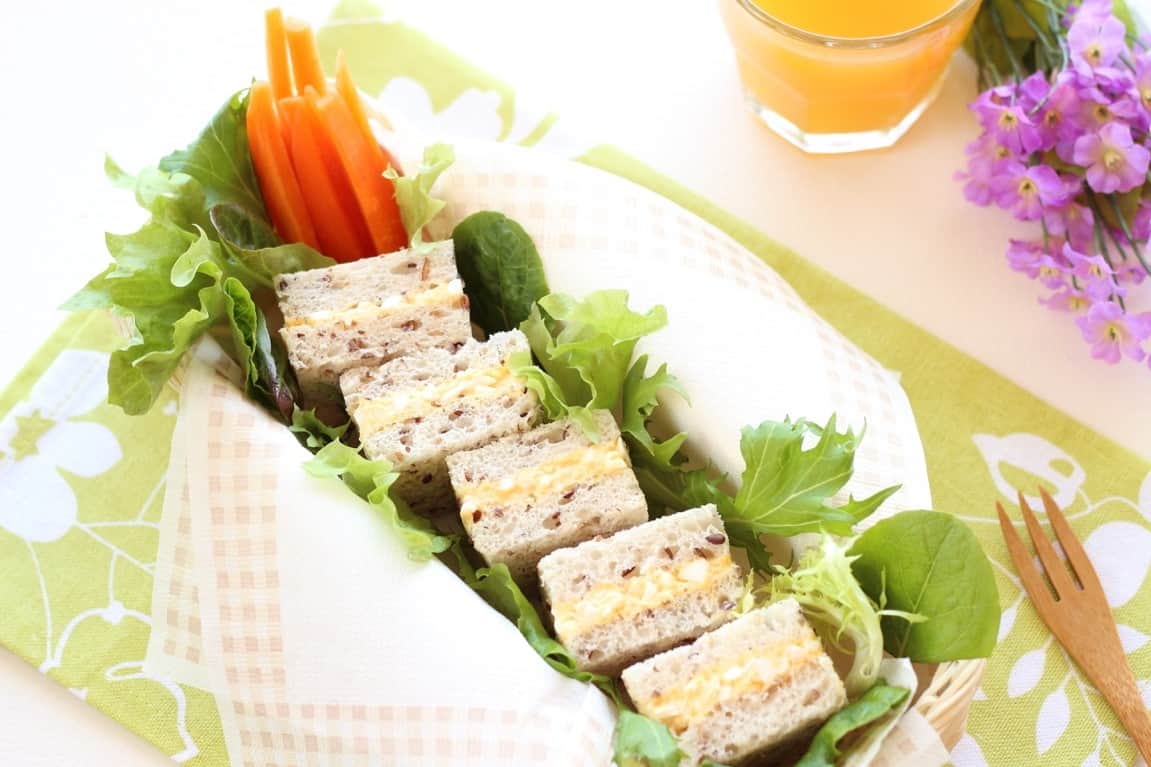 Also known as finger sandwiches, tea sandwiches are small sandwiches you can finish in two to three bites. These sandwiches are perfect for a brunch and bubbly bridal shower as they are not meant to make you feel full; rather, they just keep the hunger at bay until dinnertime comes. There is an abundance of recipes available online, each one varying in its complexity and flavor profile.
18. Mini Quiches

A quiche is a French tart composed of pastry crust with a savory custard filling. However, you can tweak the ingredients according to your and your guests' preferences and dietary restrictions. Whether it be a tomato goat cheese mini quiche or a mini ham and cheese quiche, there is a flavor combination for everyone. Thus, it is perfect to serve at a brunch and bubbly bridal shower.
19. Scones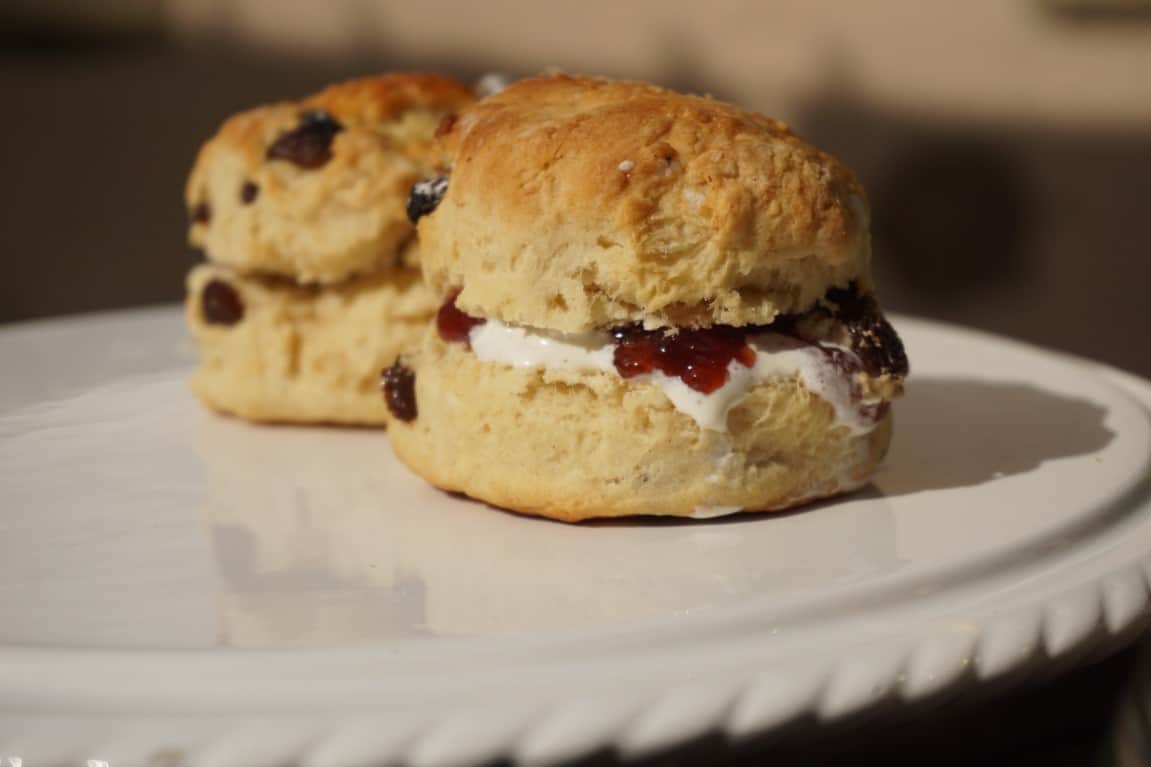 Scones are a type of baked good made using flour, fat, and milk; it is typically unsweetened or only barely sweetened. This biscuit-like cake leaves a lot of room for creativity and diversity. Scones have a wide range of recipes and flavor combinations available, with dairy-free and vegan options if necessary. Here are some recipes to help you start deciding which one is right for you and your guests.
20. Cheesecake Bars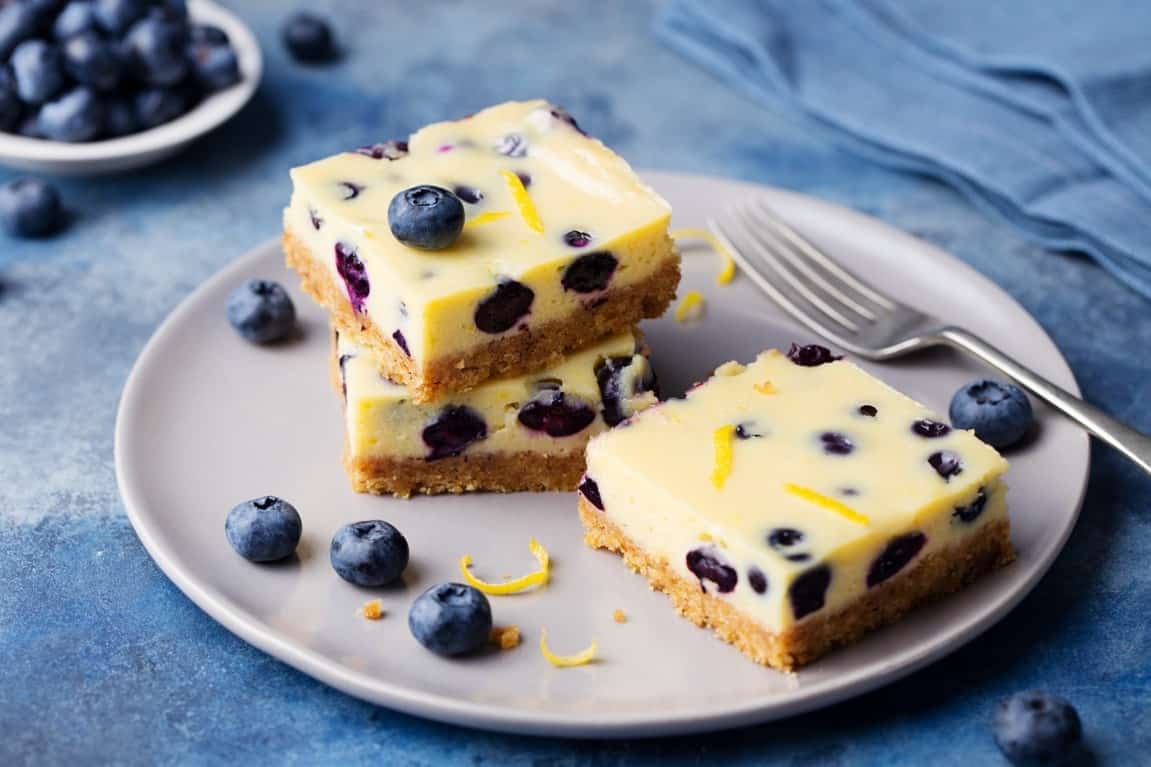 A cheesecake bar consists of a thick cream cheese filling with a crumbly crust made using graham crackers. Cheesecake bars are easier to bake than a full-sized cheesecake, but they retain all the good things about it: its richness, sweetness, and versatility when it comes to toppings and additives. Here is a recipe for the classic cheesecake bar, but plenty of variations are also easy to find online.
21. Make Your Own Bubbly Station
Setting up a make-it-yourself station for meals and refreshments is an
efficient way to save money on food
. A "bubbly bar" is excellent for a brunch and bubbly bridal shower. Besides bottles of Champagne, you can also include ingredients for mimosas and non-alcoholic options like juice or punch. This allows your guests to be flexible, experiment, and create the exact drink they want. Below is a list of items you may want to include in your bubbly bar.
Orange juice
Orange slices
Mango juice
Pineapple juice
Pineapple slices
Strawberries
Peach nectar
Cranberry juice
22. Make Your Own Bagel Bar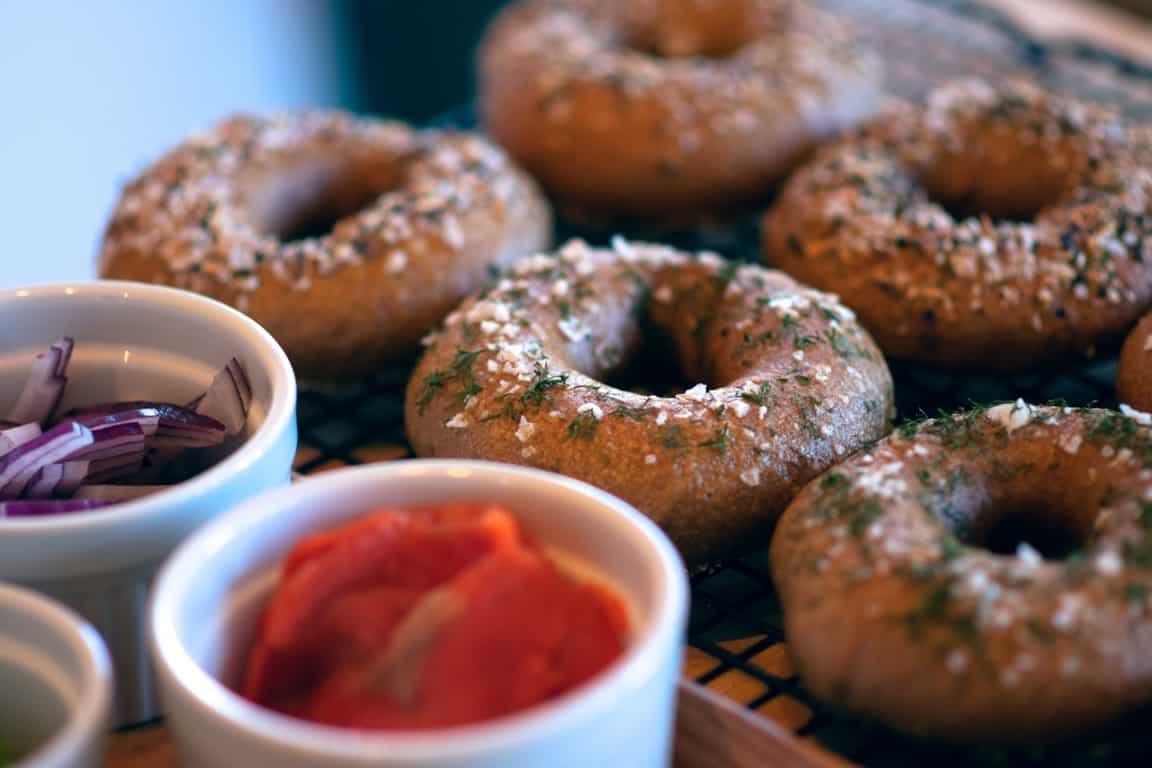 Using the same principle as the idea above, a bagel bar would be a great addition to your brunch and bubbly bridal shower. Supply a wide variety of toppings and spreads so your guests can create the perfect bagel for them — after all, there is a bagel for everyone. Consider providing one or two toasters so your guests can use them if they want. Here are some things you can include in your bagel bar:
Bacon
Smoked salmon
Cream cheese
Jam
Tomatoes
Cucumbers
Avocado
Capers
Scallions
Onions
Scrambled eggs
Butter
23. Fruit and Veggie Bar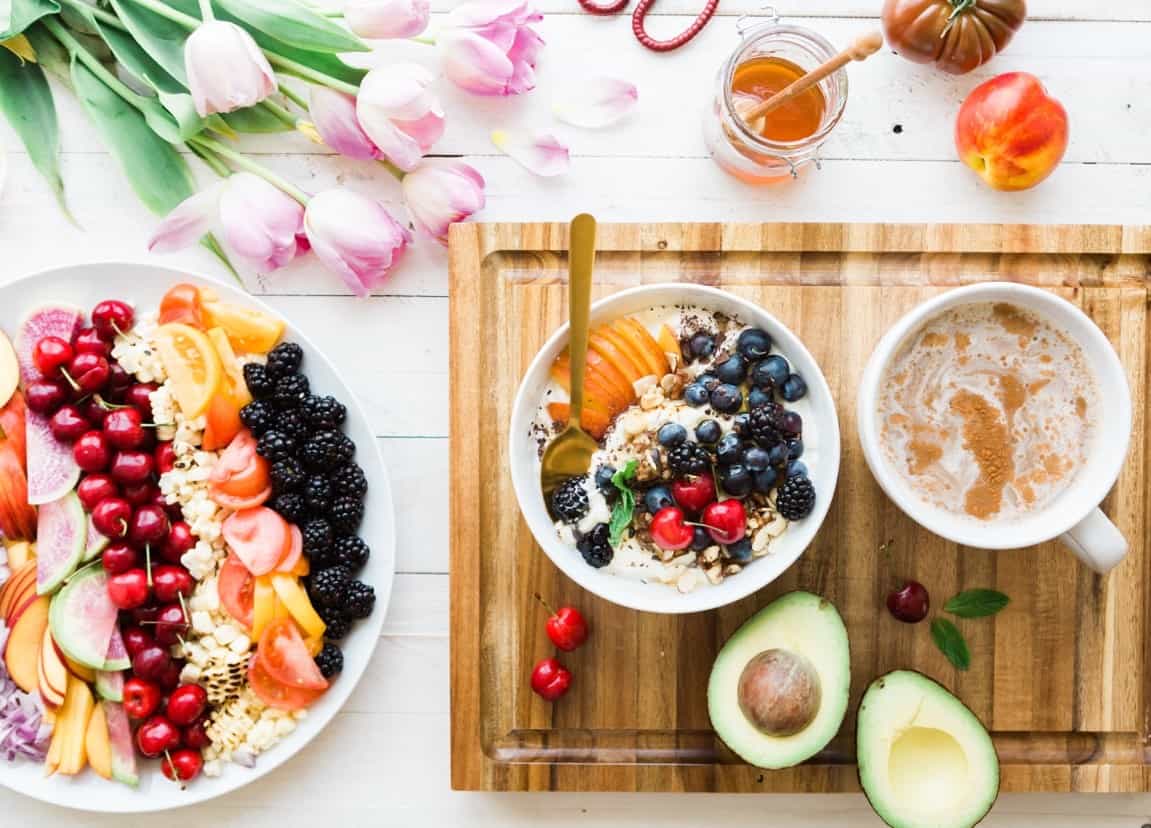 In the same vein as the two ideas above, having a fruit and veggie bar is a splendid choice for people who are conscious about their health. Likewise, when displayed correctly, these fruits and vegetables can be aesthetically pleasing. Here are some things you can serve on a fruit and veggie bar:
Pineapple
Watermelon
Raspberries
Grapes
Kiwis
Oranges
Apples
Strawberries
Tomatoes
It is also a good idea to include cheeses, yogurts, and other ingredients so your guests can create salads. Moreover, you can simply serve ready-made salads.
24. Naked Cake
If you want to serve a cake at your bridal shower, consider opting for a naked cake. As its name suggests, naked cakes do not have an outer layer of frosting. This results in their signature striped or layered appearance. There are plenty of ways you can decorate a naked cake without the use of frostings, such as framing it with fruits, flowers, and leaves. Likewise, you can add a short but sweet saying on top to further personalize the cake.
25. Wedding-Themed Cookies
For dessert, you can consider ordering or baking wedding-themed cookies. These cookies can take the shape of an engagement ring, a Champagne flute, a bottle of Champagne, and even elegant hand lettering. You and your guests deserve to indulge in sweet, delicious cookies, especially amid the stresses of wedding planning.
26. Floral Ice Cubes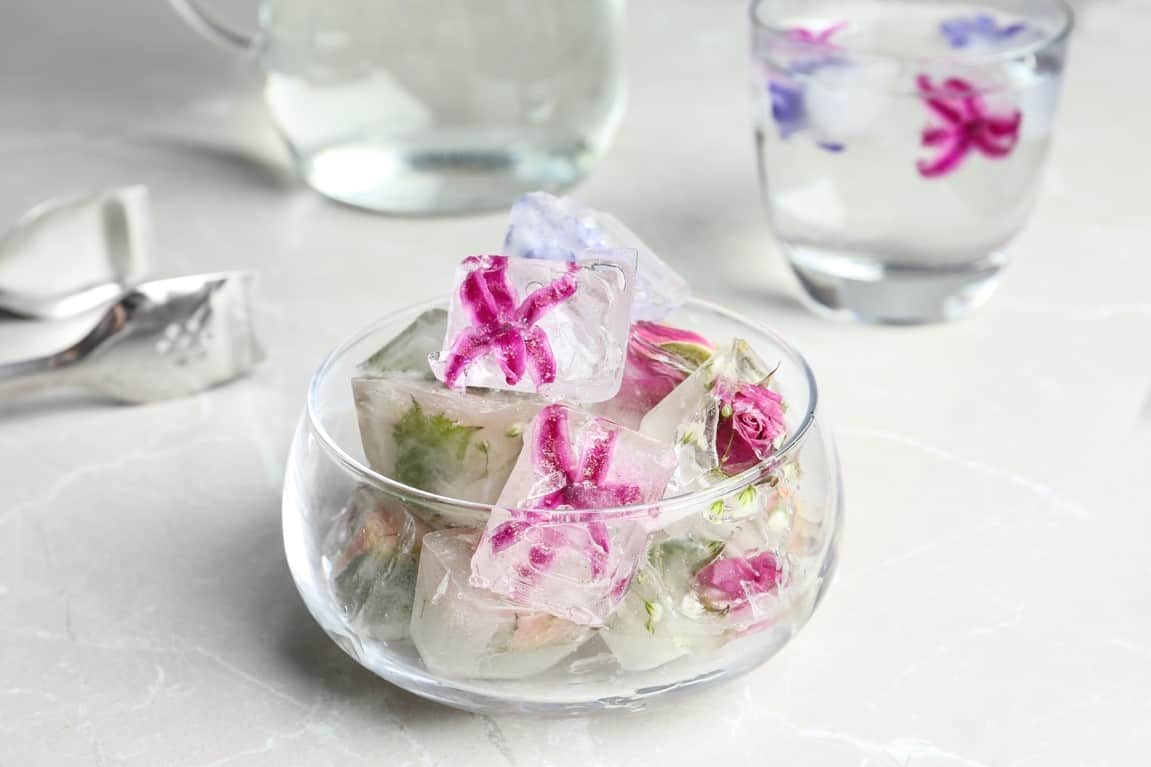 Simply put, floral ice cubes are ice cubes with edible flowers frozen inside them. There are many options for edible flowers, including pansies, orchids, daisies, and dandelions; each one looks different, so your color scheme and overall theme will contribute to the decision. There are plenty of instructions available online that you can follow. Once you have made the floral ice cubes, place them in a clear tub so that the flowers are visible. This functions both as an additive to your beverages and a piece of decor.
27. Glittery Ice Cubes
Glittery ice cubes, as the name suggests, are ice cubes with a smattering of glitter. Similar to floral ice cubes, this brunch and bubbly bridal shower idea has aesthetic and practical value. Edible glitter is available at various retailers. Once you have it, glittery ice cubes are remarkably simple to make: freeze ice cubes, roll them on glitter, or sprinkle them on top, then freeze them again. Bring the ice out once it is time to enjoy the bubbly.
Games and Entertainment
28. Wedding Vow Mad Libs
Mad Libs are stories with some of the words and phrases removed, prompting the player to provide their own words and phrases. Wedding vow mad libs is a variation of the game specifically created for wedding-related parties. With bubbly in their systems, you can expect your guests to be as funny as they can.
29. Left Right Game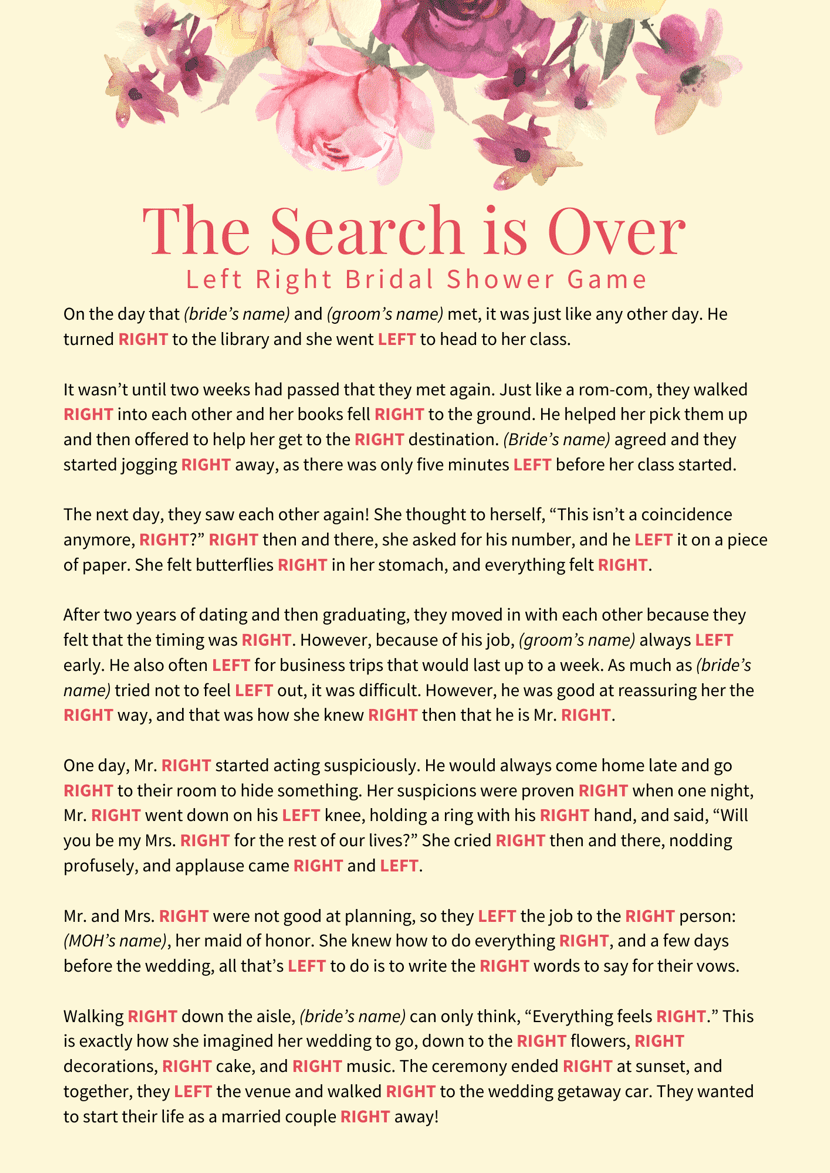 The Left Right Game is a classic choice for any bridal shower. With your guests sitting in a circle, the facilitator of the game will read a story that mentions the words "left" and "right" multiple times. Every time they hear those two words, they will pass a gift — provided by the facilitator — in that direction. At the end of the story, whoever is holding the gift wins it.
30. Emoji Pictionary
The main objective of the
bridal shower emoji game
, also known as emoji Pictionary, is to decode a message from a set of emojis. The game cards usually have a theme, such as wedding-related movies, Disney movies, and the like. It is an easy game to facilitate for your brunch and bubbly bridal shower that does not require too much setup.
31. What's In Your Purse?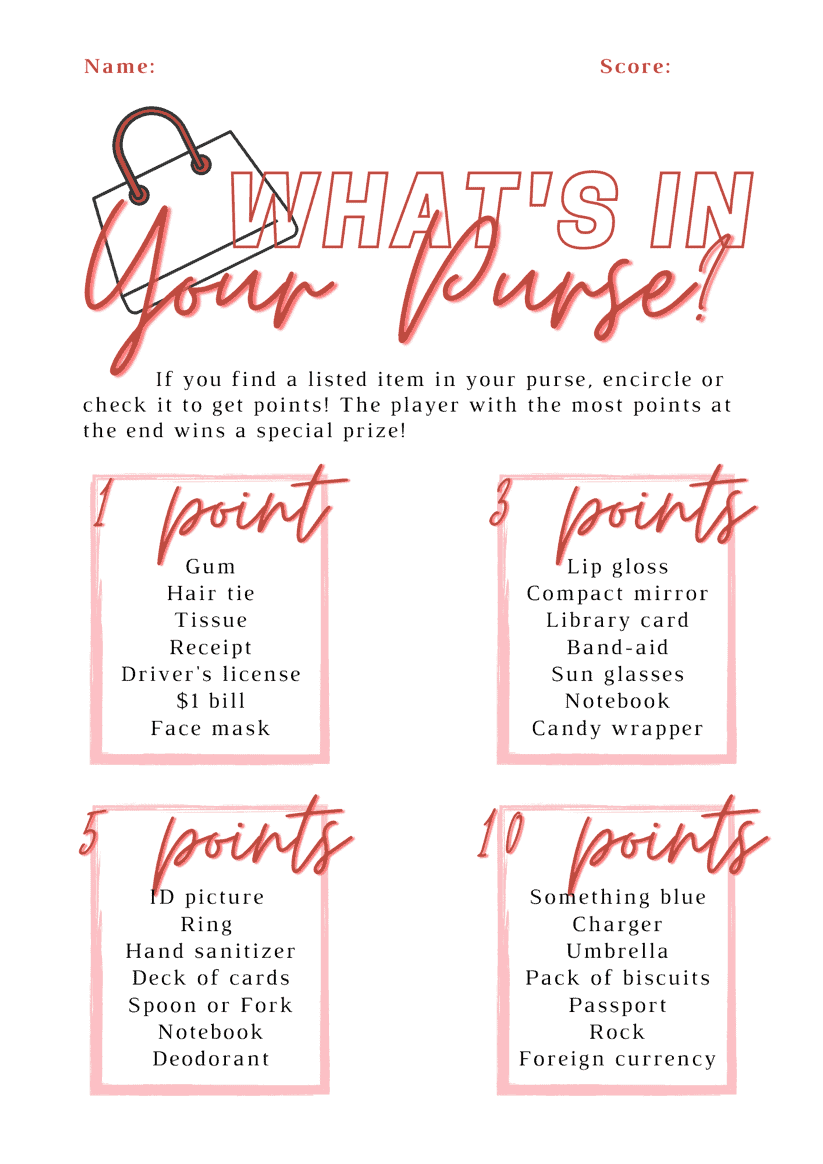 Also known as a mini scavenger hunt, the "What's in your purse?" bridal shower game has its players search through their purses for random items. Each item corresponds to a certain number of points, which depends on how common or obscure it is. Like the aforementioned games, "What's in your purse?" is a relatively effortless game to facilitate.
Party Favors
32. Custom Champagne Flutes
Though getting items personalized will necessitate more expenses, the cost will be worth it. For instance, you can get custom champagne flutes with "Cheers!" inscribed onto the glass. During the bridal shower, you and your guests can use this to drink as much bubbly as you want. Once the event is done, you can distribute the flutes as party favors.
33. Personalized Mini Champagne Bottle Favors
Mini champagne bottles are versatile party favors, but they are best for brunch and bubbly bridal showers; they are cute, and they perfectly match the theme. You can embellish them with custom-made labels, straws, and ribbons. Even if your guests drink the content, the bottles themselves are adorable keepsakes for your event.
34. Credit Card Bottle Openers
Personalized bottle openers are a popular choice for party favors, not only for bridal showers but also for any wedding-related event. However, given the theme of a brunch and bubbly bridal shower, this is a splendid choice for a favor. You can add a romantic saying across the surface of the opener, such as the "Love is brewing" in the picture above.
35. "Bride to Bee" Personalized Honey Jar
Honey is an all-around staple item for any person; not only is it an ingredient for food and drinks, but it is also a home remedy with a plethora of proven benefits. As such, it makes for a great bridal shower party favor. Adding a personalized tag that says "bride to bee" and the details of your bridal shower will make the favor even more special.
Final Thoughts
Regardless of which ideas you will choose to incorporate into your bridal shower, the important thing is that you are happy and content with what you will do. Your bridal shower and every aspect of it should be decided on your terms.