Planning pre-wedding parties is a huge logistical challenge. There are many aspects to consider: decor, food, drinks, games, itinerary, and so on. By deciding on a theme, this process will become a lot easier.
Among the many popular themes, a lemonade theme bridal shower is a sublime choice. Below are 20 decor ideas for your lemonade-themed bridal shower, including balloons, centerpieces, and signs. Other ways to incorporate citruses into your bridal shower are also given afterward.
Lemonade Theme Bridal Shower Decor Ideas You Will Love
1. Bride to Be Cutout with Lemons and Leaves Details
Yellow and green are a great color combination for your lemonade theme bridal shower decor. Using an elegant font, create a cutout that says "Bride to Be" with a grass background. Embellish its borders with a garland of lemons and leaves.
2. Citrus-Themed Balloon Garland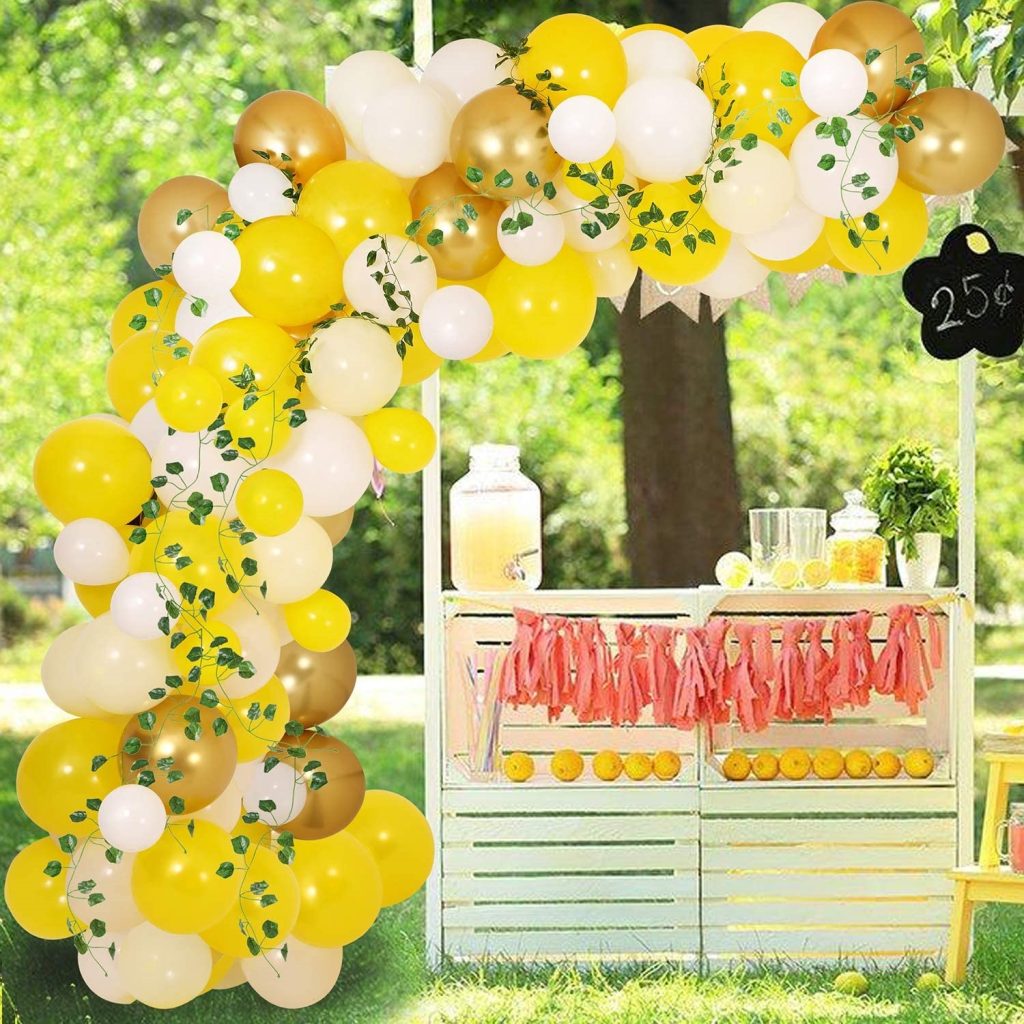 Balloon garlands are a popular choice of decor for any type of party. They are highly versatile and can fit almost any theme. This is true for a lemonade theme bridal shower; you can purchase balloons in various shades of greens and yellows to emulate citruses. Moreover, some balloons come with lemon-inspired designs. You can place this balloon garland near the food to make the area more visually appealing.
3. Citrus-Themed Bouquet of Balloons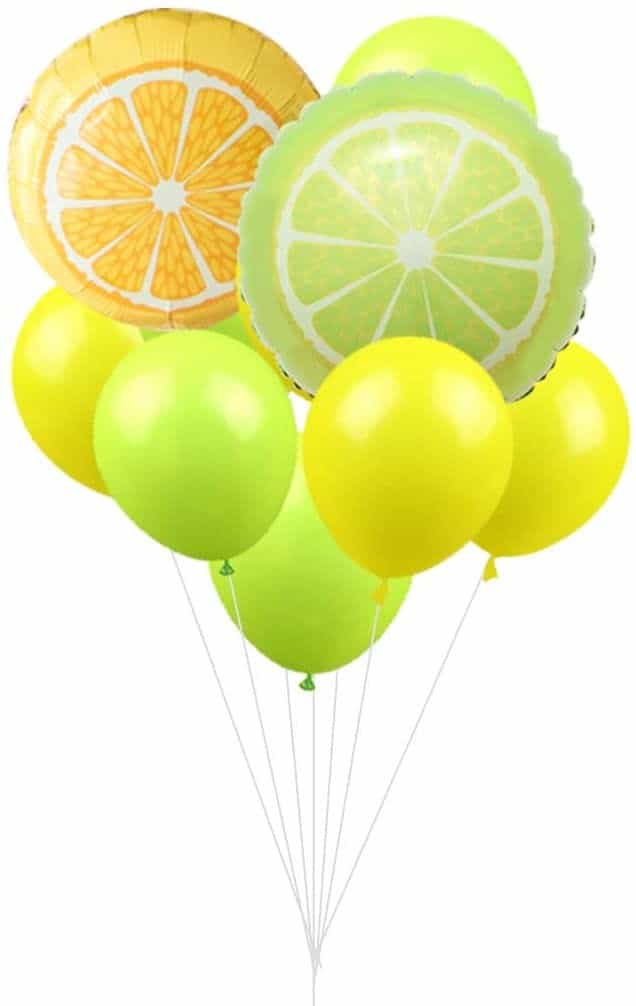 If garlands are not your style, you can opt for a balloon bouquet. You can use the same type and color of balloons as the garland. However, there will be fewer balloons in each bouquet. This will allow you to put the balloons in more spots; you can place them near the food, gifts, important tables, and so on.
4. Decorative Citruses for Your Centerpiece
If you want a simple yet versatile piece of decor, consider buying some packs of decorative citruses. These packs of decorative fruits are widely available, and they come in variations that include lemons and limes.
There are plenty of ways you can incorporate these fake fruits into your lemonade theme bridal shower. Firstly, you can use them to fill vases of different sizes and shapes. Alternatively, you can put them in crates or baskets. These containers will make for great centerpieces.
You can get as creative as you want. You can lay the fruits down on fake grass and add DIY greenery. You can create miniature trees and hang the lemons and limes. There is nothing impossible in the world of DIY.
5. Lemonade Balloons
Another option for balloon decorations is to buy balloons that spell the word "lemonade." These balloons are a perfect addition to your backdrop or the food bar.
6. Lemonade Stand
Instead of a simple table for your drink bar, consider DIY-ing a lemonade stand. Take the classic lemonade stand and add a few sophisticated touches to its design. Afterward, you can place the containers and drinkware onto the stand.
7. Lemon-Shaped Confetti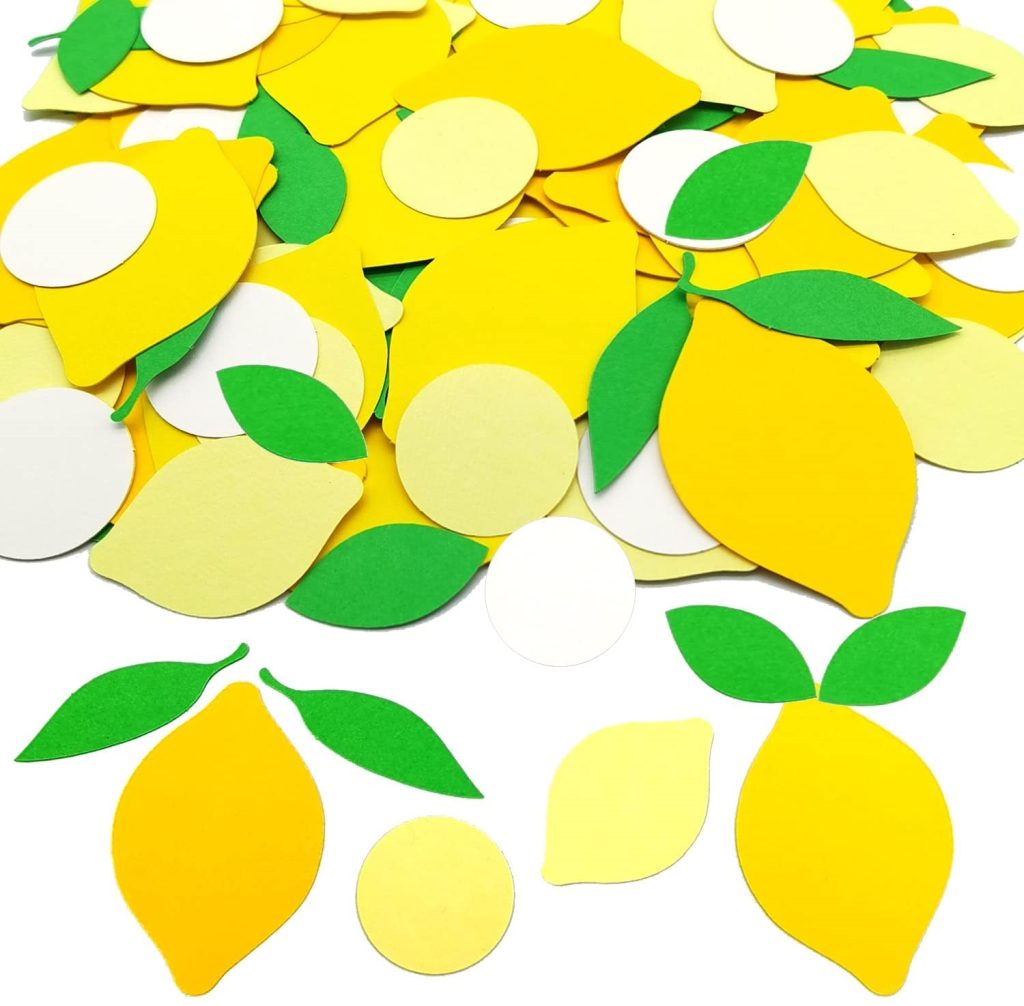 Confetti is a staple at any party. For your lemonade theme bridal shower, you can purchase citrus-themed confetti. This set includes lemons of various shapes and sizes, along with some leaves for a pop of color.
You can have your guests throw the confetti at you, which will make for a memorable and breathtaking picture. Moreover, you can also use the confetti as decoration for your food bar, gift table, or centerpieces.
8. Lemon Cutout Toppers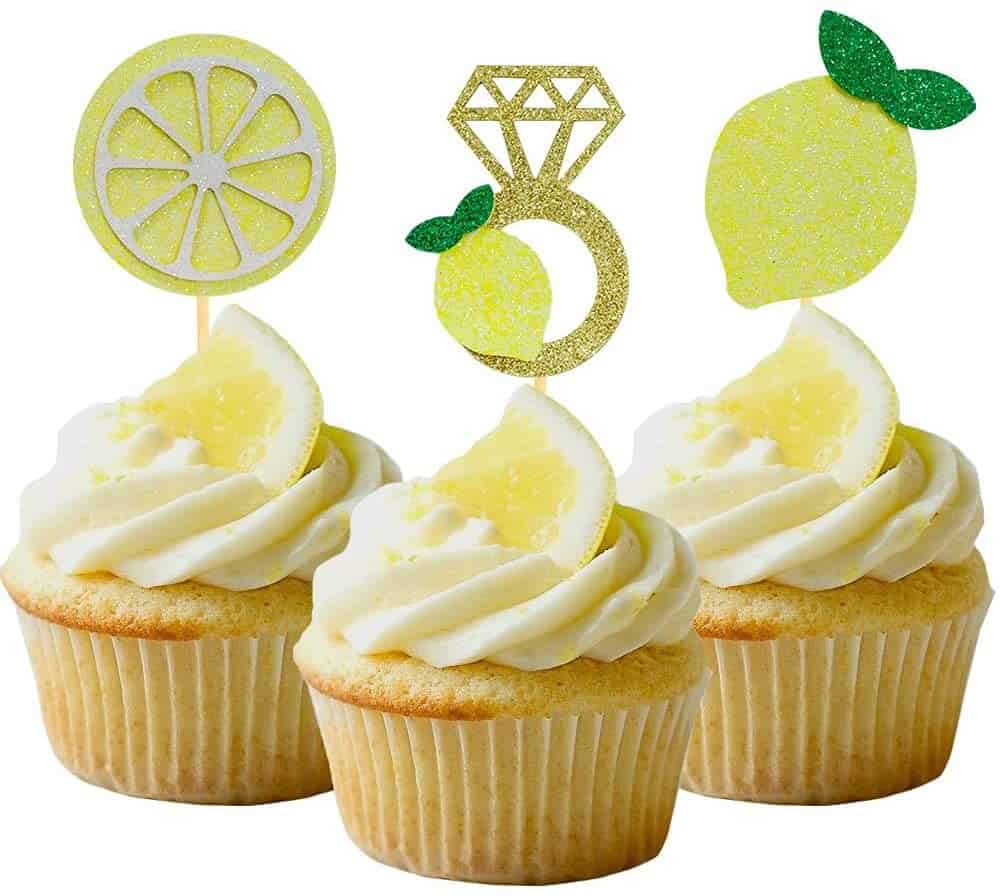 Toppers can make your food bar — and the food itself — look more appealing than it already is. Some stores sell lemon-themed toppers of various shapes and designs, but you can also create them yourself. You can stick the toppers onto the desserts and snacks you are serving.
9. Lemon Garland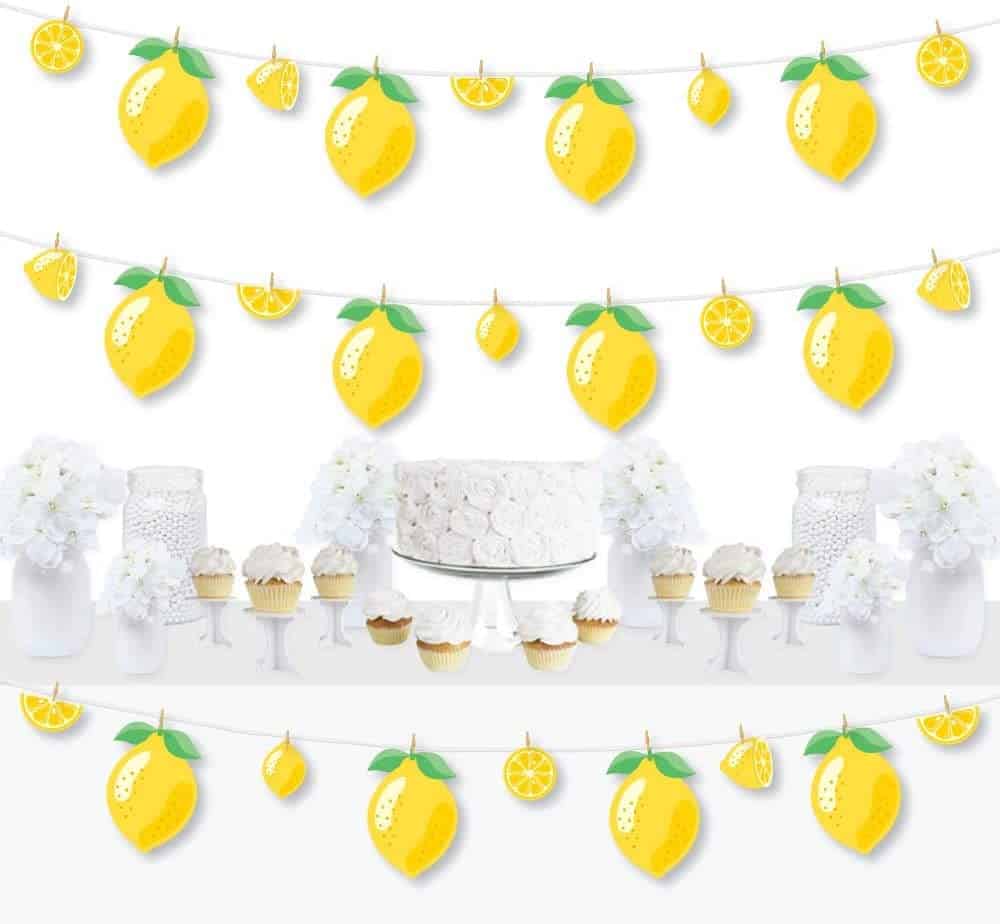 Garlands are an exquisite choice of decor for any occasion. For your lemonade theme bridal shower, consider getting lemon design cutouts. You can hang the cutouts using some twine and clothespins. Another advantage of this method is that you can easily switch the cutouts according to the occasion.
10. Lemon Motif Welcome Sign
With a lemon motif welcome sign, you are setting the scene for your entire bridal shower. Your guests will know what to expect in terms of decorations, color palette, vibe, and so on. You can also get creative with the fonts and layout of your welcome sign.
11. Lemon Slices and Wedges Themed Tableware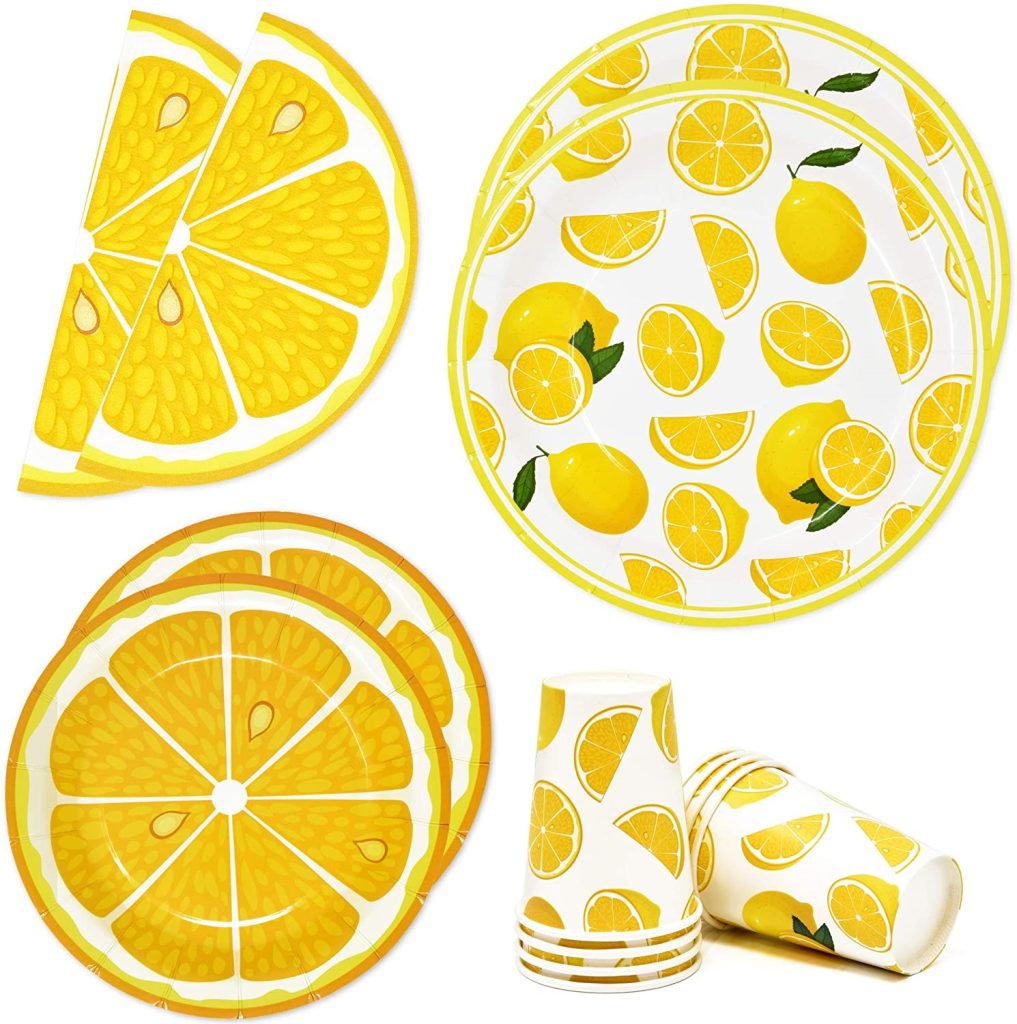 The lemonade theme has to extend to the small details and accents. Themed tableware is not only practical, but it is also refreshing to look at. Lemon slices and wedges-themed tableware is available in various retailers and stores.
12. Lemon Tree Fingerprint Guestbook
Fingerprint guestbooks are a unique twist to the traditional party guestbook. For a lemonade theme bridal shower, a lemon tree fingerprint guestbook will be a wonderful addition to the decor. Your guests will press their thumbs onto a yellow ink pad, and their fingerprints will look like lemons ready to be harvested.
13. Mason Jars with Lemon-Flavored Snacks
Mason jars are versatile pieces of decor that are a favorite among DIYers. One simple yet effective use of these jars is holding desserts and snacks. Not only is this practical, but it is also visually appealing and refreshing.
For your lemonade theme bridal shower, it makes sense to serve plenty of lemon-flavored goods; you should consider buying or making lemon drops, lemon cookies, lemon chews, and so on. You can also go with yellow snacks, even if they do not have a citrus flavor.
14. Paper Lanterns with Citrus Motif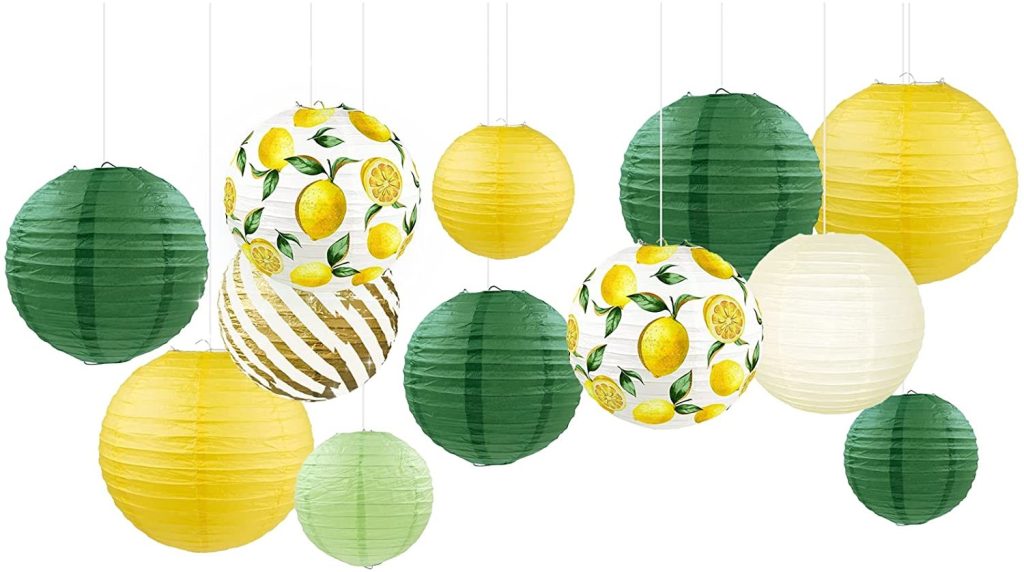 Paper lanterns can add another dimension to your bridal shower decor. They are available in a wide variety of patterns, sizes, and motifs. For your lemonade theme bridal shower, green and yellow paper lanterns will fit the color palette. Moreover, you can also get paper lanterns with a lemon design.
15. Photobooth Props with Lemon-Themed Puns and Designs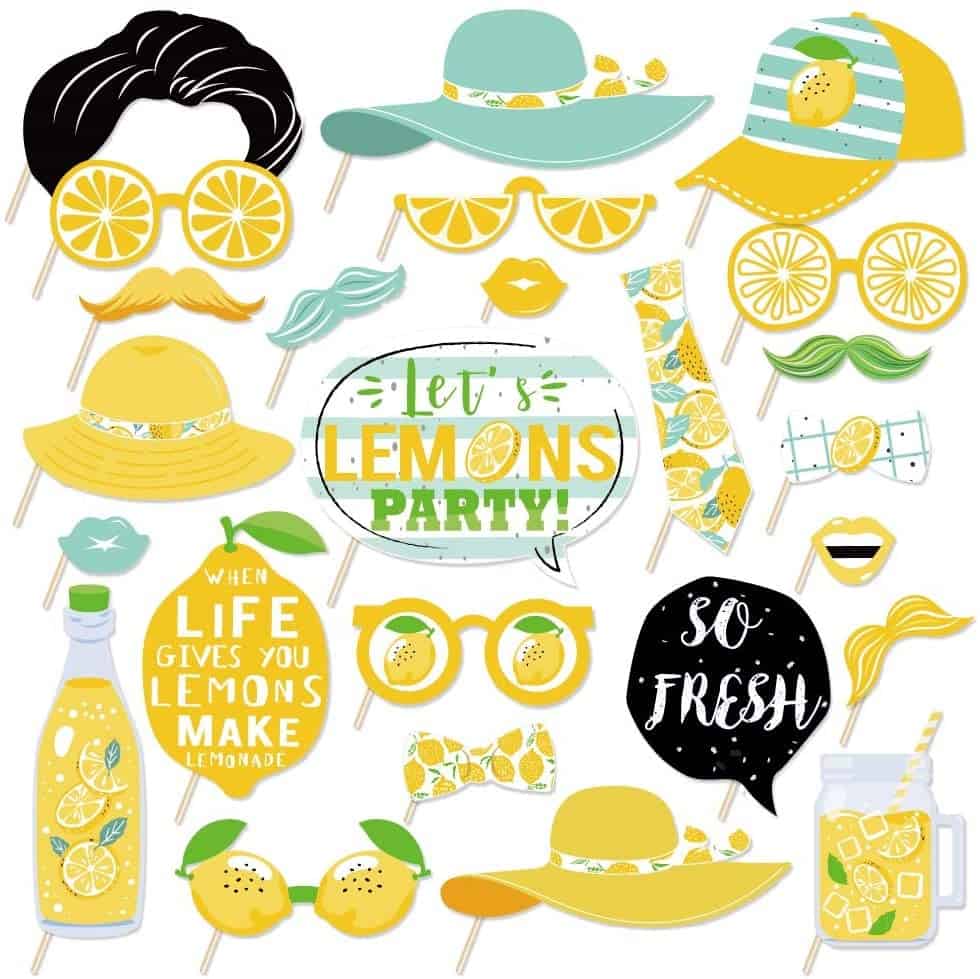 Regardless of whether you have a dedicated photo booth or an aesthetically pleasing background, give your guests props to use for their pictures. Lemon-themed props will fit the theme of your shower. Besides puns, the props can also include cutouts of lemon-themed accessories, lemons, glasses of lemonade, and so on.
16. Recipe Box with Lemon Motif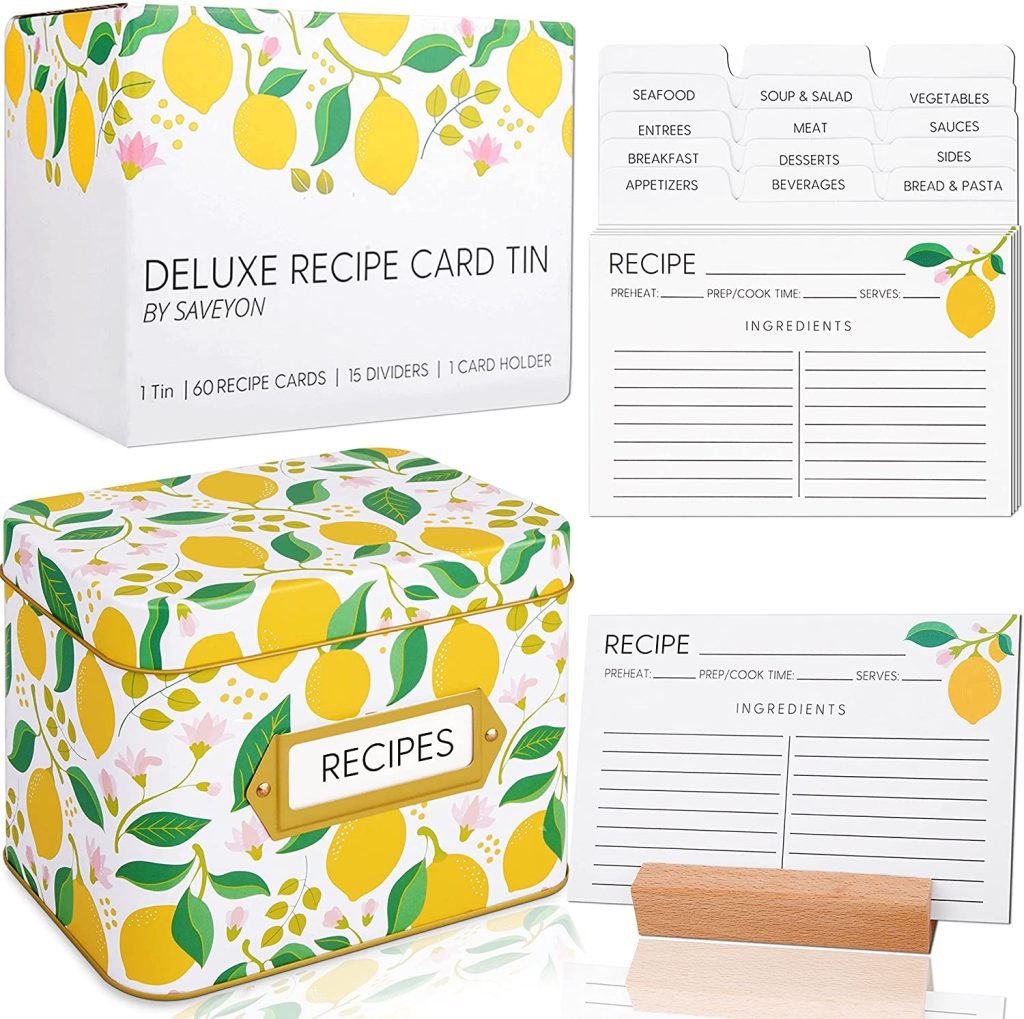 As you send your invitations, include a recipe card in the envelope. Encourage your guests to share their favorite recipe — bonus points if the recipe involves lemons or citruses. Place a recipe box by the entrance to your venue. With a card, inform your guests to drop their recipe cards into the recipe box.
17. "She Has Found Her Main Squeeze" Letterboard
"She has found her main squeeze" is a lovely message for a lemonade theme bridal shower. You can write this sentence on a letterboard and display it where people can immediately see it. You can place it by the entrance, on the food table, or on the gift table. You can also incorporate this sentence into other pieces of decor.
18. Signs for Stations
Let your guests know where things are located or where they should be placed. To do this effectively, put a sign to mark the stations. For instance, you can have a sign that says "cards and gifts," another that says "favors," and so on. For cohesion, you can use the same design and layout as the welcome sign.
19. "Thank You" Gift Tags with Lemon Motif for Shower Favors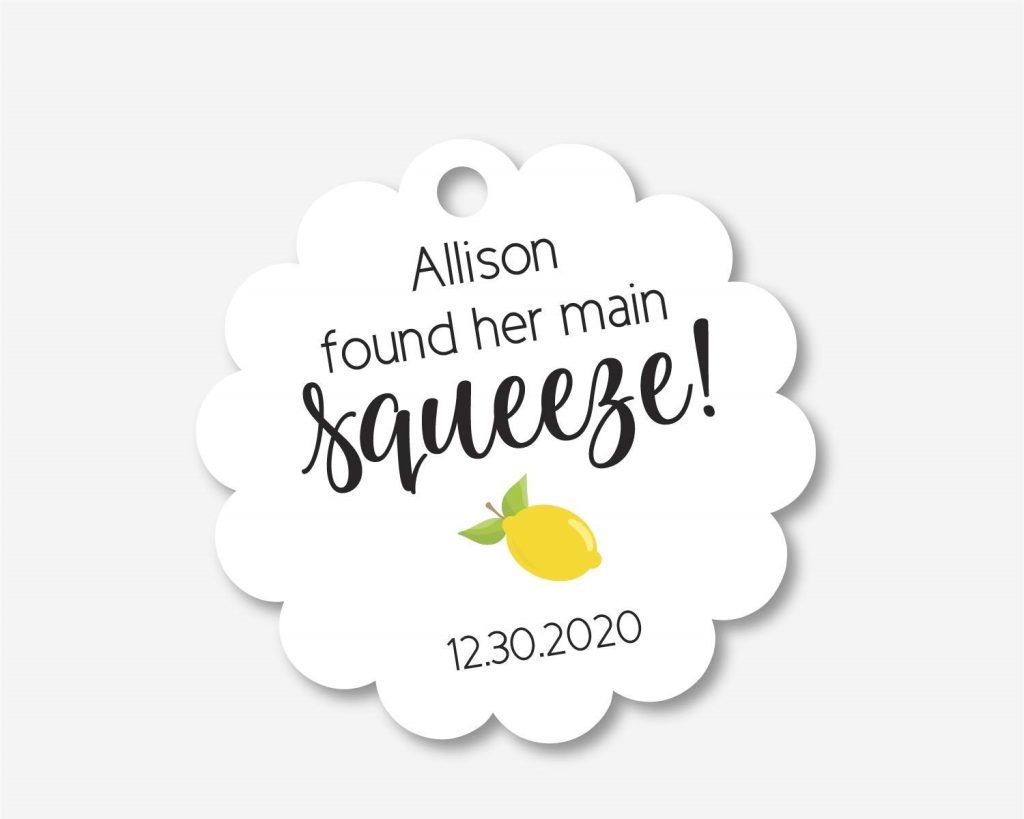 Shower favors are an effective and heartwarming way to show your appreciation to your guests. You can take this one step further by adding a gift tag with a lemon motif. Similarly, you can utilize the same design layout from your welcome sign for continuity.
20. Wreath with Lemons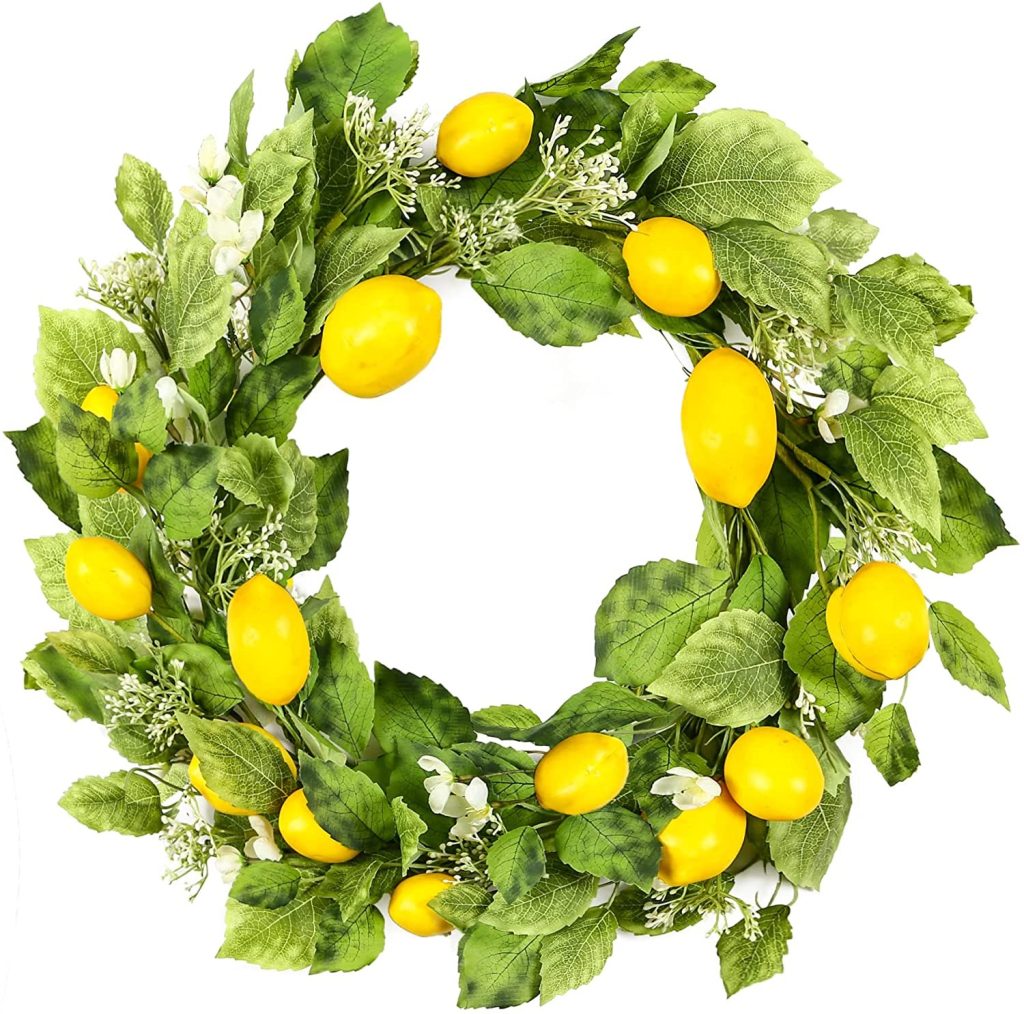 Although wreaths are commonly associated with Christmas, you can also use them for your lemonade theme bridal shower decor. Add some decorative lemons around the wreath to make it better fit the theme. You can hang the wreaths in various spots around the venue, and they will add a beautiful pop of color.
Other Ideas for Your Lemonade Theme Bridal Shower
Shower Favors
Lemonade Mix with Custom Pouch Design
If you are looking for a cost-friendly favor for your lemonade-themed bridal shower, a small pouch of lemonade mix is an excellent option. You can customize the design on the pouch to include the details of your shower.
Lemon-flavored Bath Bombs
Bath bombs are a simple but great bridal shower favor to give your guests. It has a touching connotation, too: giving your guests a bath bomb is a subtle way of encouraging them to practice self-care.
Lemon-scented Candles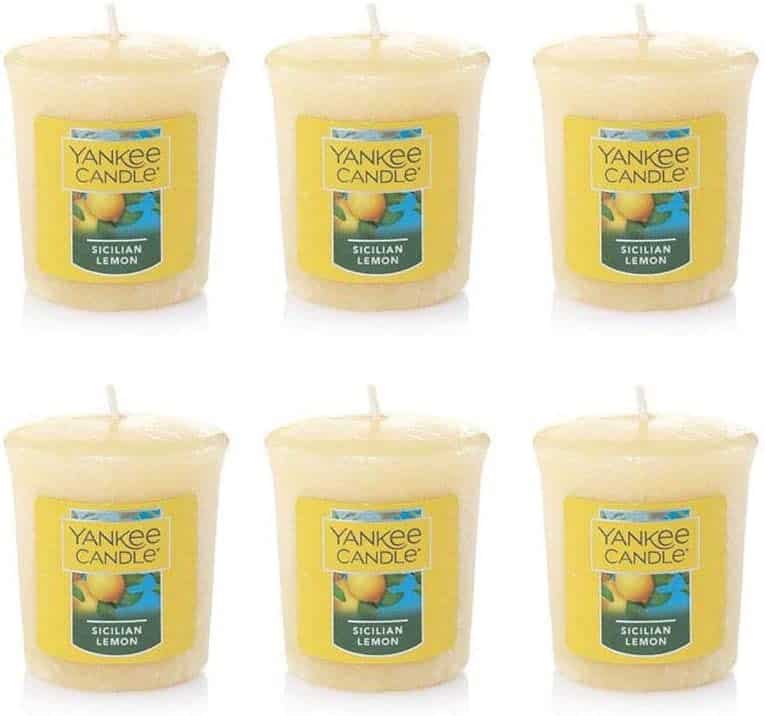 Scented candles are always a great option for any party favor. Everyone has a scent that instantly puts them at ease. Given that you are hosting a lemonade theme bridal shower, lemon-scented candles are perfect.
Lemon Hand Cream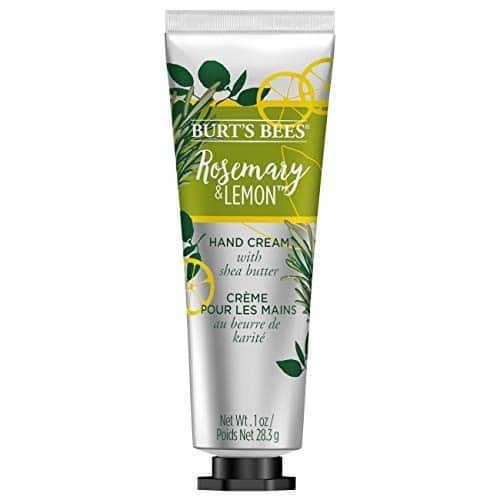 Hand cream is an essential item, especially during the colder seasons. Hand creams have several benefits: they can moisturize your dry hands, slow the aging of your hands, and prevent infections from different pathogens. Lemon hand creams have a distinct citrusy smell, and they work especially well with healing scars and stretch marks.
Lemon Lip Balm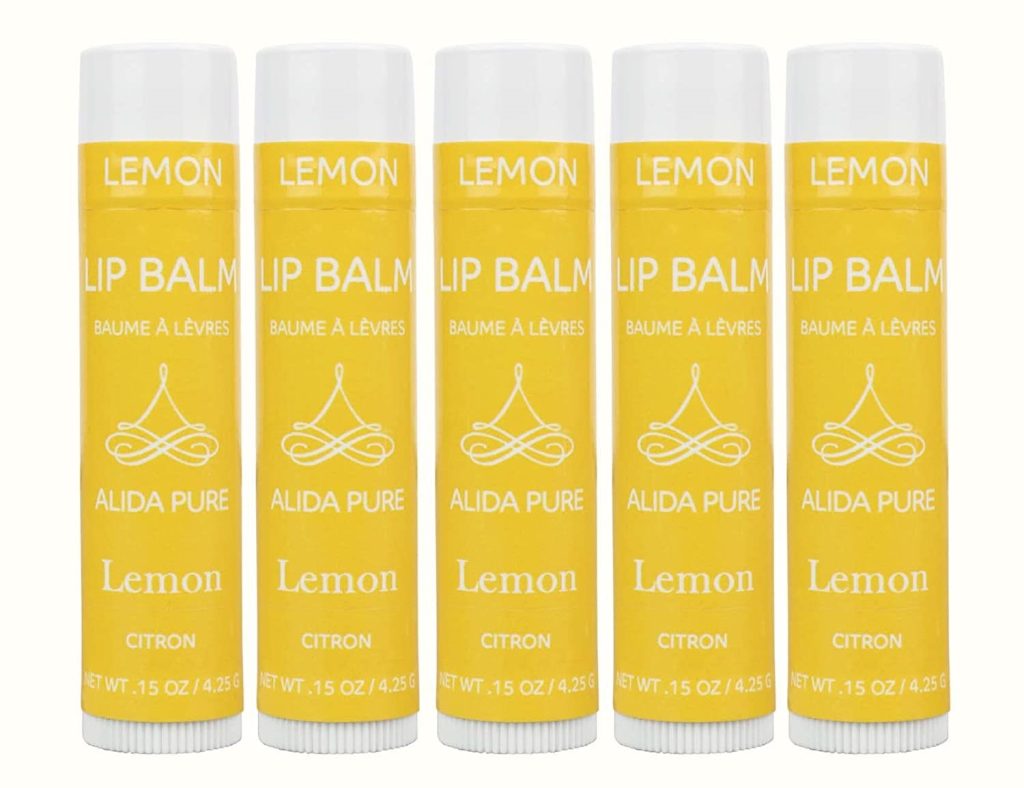 Lip balm is also an important item to have for self-care. It will keep your lips moisturized, thus preventing chapped and sore lips. There are many types of lip balm available, including lemon, pink lemonade, and other lemon-related variations.
Personalized Drinkware
Choosing drinkware as your shower favor is as on-theme as it gets. You can inscribe, "She found her main squeeze!" or another cute bridal shower saying, along with the details of your party. This favor is also practical, as your guests can continue to use it for a long time.
Food and Snacks
Creamy Lemon Pie
This creamy lemon pie recipe is an amalgamation of familiar tastes: key lime pie, almond graham crackers, and the tang of lemon. You only need 7 ingredients: graham crackers, granulated sugar, unsalted butter, salted almonds, sweetened condensed milk, egg yolks, and lemon juice. You can use whipped cream, meringue, almonds, lemon zest, or lemon slices as the garnish.
Pink Lemonade Jello Shots
Jello shots are a classic party snack for the adults. This pink lemonade jello shots recipe is not only easy to make but also very visually appealing. To make this recipe, you need the following ingredients: unflavored gelatin, pink lemonade, regular vodka, lemon vodka, and lemons. You can serve the jello shots on lemon rinds
Lemon-themed Bridal Shower Cookies
Cookies are a great choice for snacks in any bridal shower. Typically, these cookies come in the shape of a ring, or the bridal shower saying is engraved on their surface. In a lemonade theme bridal shower, you can purchase lemon-shaped cookies. Alternatively, you can ask the baker to use a lemon-themed color palette
Classic Green Salad with Lemon Parmesan Dressing
This classic green salad with lemon parmesan dressing is a side dish that is easy to make. For the salad, you can use lettuce, cucumber, avocado, celery, pine nuts, spring onions, and other garnishes. For the dressing, you will need garlic, Parmesan, olive oil, salt, pepper, and lemon juice.
Lemon Layer Cake with Lemon Cream Cheese Buttercream
This recipe for a lemon layer cake with lemon cream cheese buttercream can serve around 12 people. It requires around 4 hours to make. It is a great choice of dessert for a small and intimate bridal shower. You can garnish it with whipped cream, edible flowers, candied citrus, lemon slices, and more. You can also add a bridal shower cake saying on its surface to make it more sentimental.
Drinks
Classic Lemonade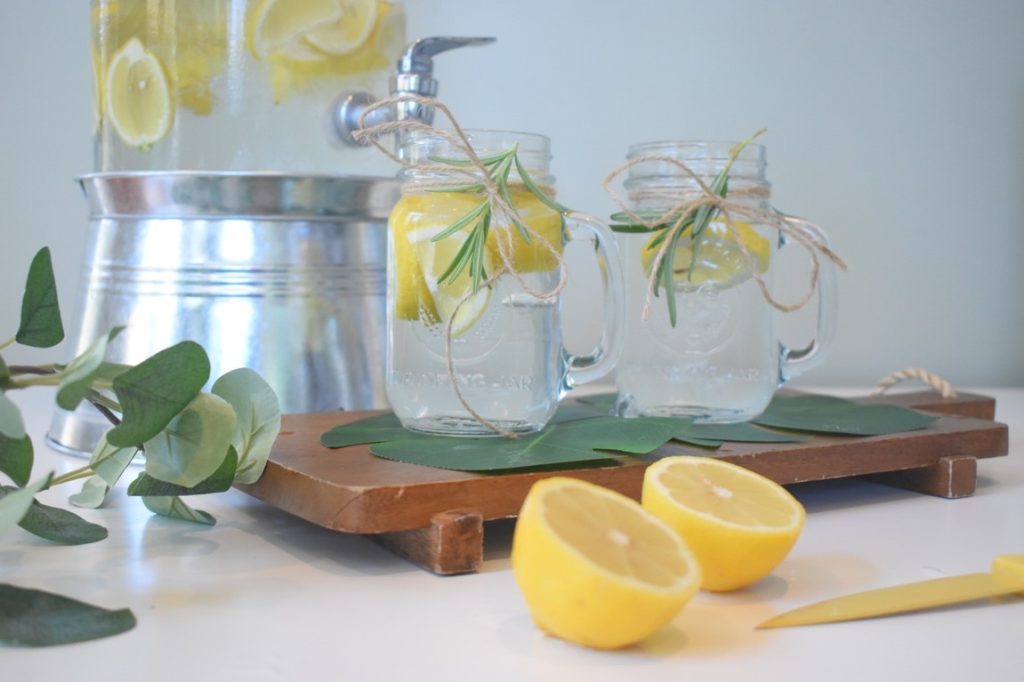 A lemonade theme bridal shower will not be complete without classic lemonade. This drink is refreshing, well-loved, and taps into our nostalgia. You can serve store-bought lemonade, tap a local business, or make it yourself. Depending on your choice of container, lemonade can also serve as a piece of decor.
Variations of Lemonade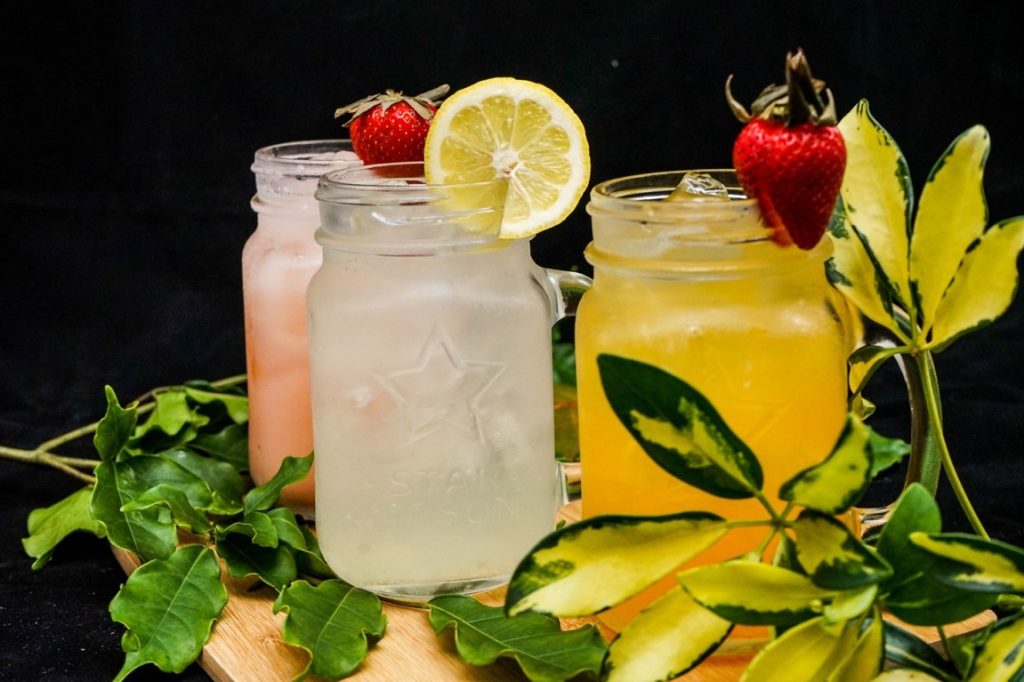 Over the years, people have come up with various variations of lemonade. They use different fruits, ingredients, and additives to enhance the original flavor. Here are some ways you can add a twist to the classic lemonade:
Strawberry Lemonade: add as much strawberry syrup to the lemonade as you prefer. You can also incorporate some strawberry sorbet to enhance the visuals and taste.
Lemonade Sunset: add an equal amount of cranberry juice to the lemonade. After mixing well, stir some orange juice to taste.
Blueberry Ginger Lemonade: for every 1 part of lemonade, mix ¼ part of blueberries. When serving, add some ginger ale to the drink.
Herbal Iced Tea Lemonade: when serving the lemonade, add an equal amount of cold lemon herbal tea.
Tropical Breeze Lemonade: when serving the lemonade, add equal amounts of passionfruit juice and pineapple juice.
Spiked Lemonade: as the name denotes, this variation has alcohol. Rum or vodka will work well in this recipe.
Blackberry Beer Cocktail: this lemonade variation is a combination of beer, blackberries, vodka, and raspberry lemonade concentrate.
In some recipes, you may have to prepare the variation yourself. In that case, place the classic lemonade and all its variations next to each other. Make sure to properly label each drink and, if necessary, warn your guests about its alcoholic content.
Some lemonade variations do not need a lot of preparation. In that case, you can set up a lemonade bar with the necessary ingredients. This bar will give your guests control over the taste and amount of lemonade they will drink.