Biker weddings are a unique combination of tradition and modernity, embracing customs with a hint of rebellion. If you are invited to a wedding with this theme, you might ask yourself, "What should I wear to a biker wedding?"
Attire for a biker wedding usually features leather apparel with metallic touches and practical accessories. Dress codes for this event typically lean toward casual or semi-formal.
A more in-depth exploration of the biker aesthetic and culture is given below, including a guide for what to wear to a biker wedding. Style inspiration to help you plan your outfit is also provided.
Biker Wedding Attire for Guests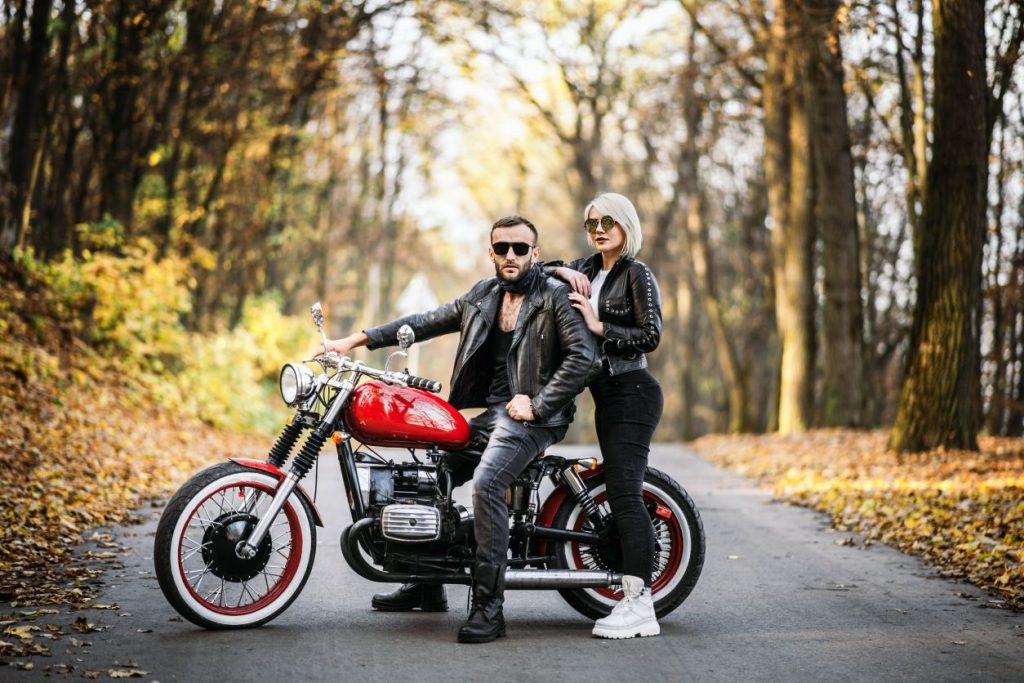 Before discussing the appropriate attire for a biker wedding, it is helpful to discuss what exactly a biker wedding is. Although leather jackets and tattoos are part of it, there is more than meets the eye; it is as much an aesthetic as it is a culture and a lifestyle.
The biker lifestyle—and, by extension, the aesthetic—is all about toughness, rebellion, and sex appeal. The culture's principles include freedom of expression and camaraderie. More than anything, people in the community also value a bit of danger and thrill.
Men tend to emphasize their strength, power, and masculinity. Meanwhile, women usually highlight their sexuality but with an edgy twist. Non-binary wedding guests can incorporate both in varying ratios.
Refer to the Dress Code First
Although the theme calls for biker attire, you should still be mindful of the prescribed dress code. You can find this information on the invitation. Here are the dress codes you will most likely find at a biker wedding:
Casual → You have the most liberty to express yourself through your attire. Guests can wear jeans, leather jackets, cargo pants, fitted T-shirts, blouses, boots, vests, and more.
Semi-formal → You may have to touch up your attire, dressing it up a bit with fitted trousers, collared shirts, button-downs, dressy boots, and statement jewelry.
Formal → In this case, you might have to limit the biker aspects of your attire to accessories and accents. Think leather belts, metallic jewelry, dress boots, pocket squares or pins with biker imagery, and so on.
Signature Components of Biker Wedding Attire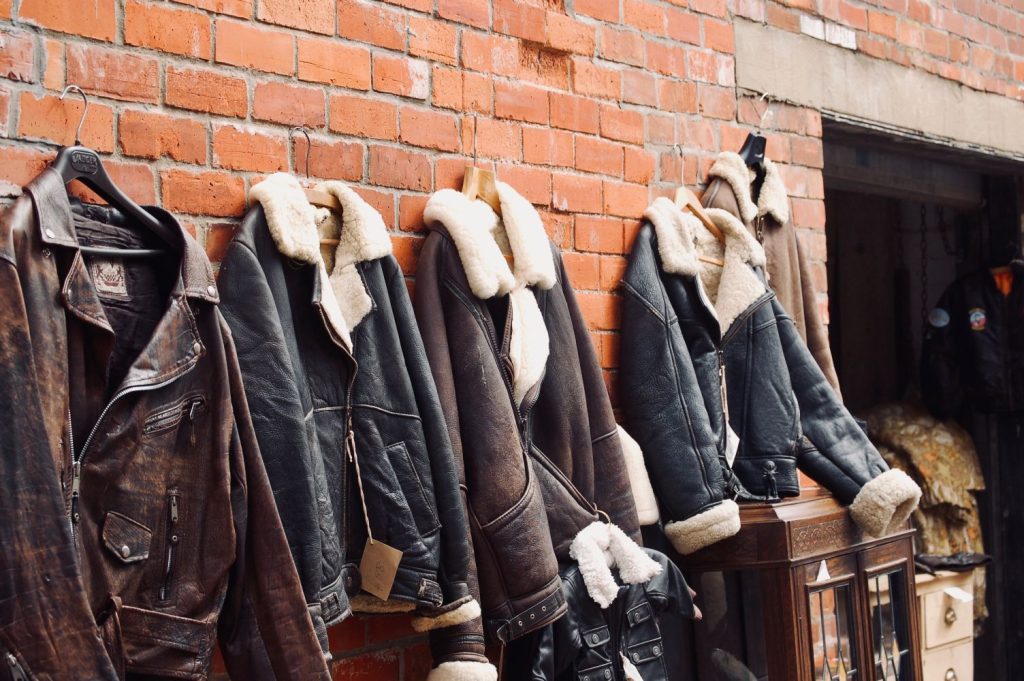 Leather apparel. Overall, leather is a staple in the biker aesthetic. It symbolizes toughness and roughness, a hint of rebellion. You can opt for leather jackets, vests, and boots.
Metallic accents. Metallic touches to your outfit give you a rougher and more rugged appearance. Prominent rings, necklaces, bracelets, and earrings are stunning accessories. You can also feature clunky zippers and studs.
Motorcycle boots. Not only is a pair of motorcycle boots functional, but it also gives you an edgier appearance. These boots are usually made with leather and have buckles, studs, and other hardware.
Tattoos. These tattoos often have symbolic and personal significance. Common motifs include skulls, eagles, motorcycles, and club insignias. You can put on temporary tattoos if you want that edgier look.
Helmets and headgear. Helmets are essential biker gear; they keep you safe, and you have plenty of room to personalize yours. Bandanas are also unique additions to your biker wedding guest attire; you can wear one on your head or around your neck.
Functional accessories. Sunglasses, gloves, and belts are both practical and stylish. Incorporate fingerless gloves, belts with prominent hardware, or statement sunglasses into your attire.
Community symbols. Some people might belong to a particular motorcycle club, which usually has identity signifiers like color palettes, emblems, and whatnot. If you belong to a club, pay homage to your membership through your attire.
Once you get the aesthetic aspects settled, make sure to embody the attitude as well: carry yourself with confidence and independence; bask in the camaraderie with other bikers; do not be afraid to show a bit of quirkiness and rebelliousness.
Be Practical: Consider the Weather and Venue
The majority of biker weddings are held outdoors. As such, prioritize your comfort. If it will be a hot summer ceremony, you can limit your layers or wear something thinner so you do not sweat through your clothes. Oppositely, thicker garments and more layers will be optimal for cold weather.
Your footwear should also be compatible with the venue. For instance, heels are not a practical choice for soft grounds and uneven terrain.
When weddings are held indoors, guests' attires are expected to veer more toward formal. Keep this in mind as you plan what to wear to a biker wedding.
Find the Balance Between Sophistication and Roughness
Although roughness and edginess are key components of biker wedding attire, remember that you are still attending a wedding. Do not go all out on the rebelliousness and forget sophistication and elegance; find the perfect middle ground.
What to Wear to a Biker Wedding: Style Inspiration
1.
Black cropped leather jacket with a belt over a black fitted midi dress, silver jewelry with sapphire, and a studded clutch
2.
Black cuffed leather jacket over a red knee-length dress, black pumps, black handbag with gold hardware, and black and gold bracelets
3.
Black leather jacket with silver details, fitted black T-shirt and black jeans, black leather boots, silver rings, and a black and white handkerchief around the neck
4.
Tan leather jacket over a white V-neck blouse with silver hardware and shoelace-like details, black high-waisted bell-bottom jeans, black sunglasses, and black wide-brimmed sun hat
5.
Brown leather jacket with contrast fur collar and black details, dark denim jeans
6.
Tan leather jacket with silver hardware over a gray patterned button-down, light gray patterned trousers, black sunglasses, and dark gray outerwear tied around the waist
7.
White T-shirt under a black leather vest, brown biker gloves, black helmet, black sunglasses, and black denim jeans
8.
Burgundy leather jacket with matching sunglasses, light gray scarf over dark gray wool shirt, low-rise denim jeans with a metallic belt, and black handbag
9.
Rust orange
turtleneck
layered underneath a spaghetti strap leather jumpsuit with a plunging neckline, silver necklace, and brown leather hat
Final Thoughts
When in doubt, you can always approach the couple and ask them if your planned outfit will be appropriate for their big day. Adjust according to their response.
However, remember to prioritize your style, comfort, and confidence as well. Put an outfit on that means a lot to you and makes you feel your best. Doing so is important if you want to have an amazing and memorable time at the wedding you are attending.