Weddings are one of the most exciting and emotional experiences a couple will go through. More than a symbol of their commitment, the ceremony is also a way to introduce their relationship to their friends and family. Because of this, personalizing one's wedding ceremony is highly encouraged.
Adventurous couples who are passionate about their bike can have a biker-themed wedding. Below are seven wedding dress ideas for a biker bride, as well as a list of some things to consider as you plan your biker wedding.
Biker Wedding Dress Ideas
1. Bridal Bike Shorts
First revealed in Milan Fashion Week back in 2018, the Belgian fashion house A. F. Vandevost exhibited bridal athleisure, including what they call the bridal bike shorts. Paired with a short but elegant motorcycle wedding dress, these bridal bike shorts will prevent chafing and bunching as you ride your motorcycle with your partner toward or away from the venue.
American actress Zoë Kravitz was seen wearing a pair of bridal bike shorts during her rehearsal dinner. She completed her outfit with a bespoke and crocheted mother-of-pearl dress by Danielle Frankel and simple white heels.
2. Leather Jacket and Dress Combo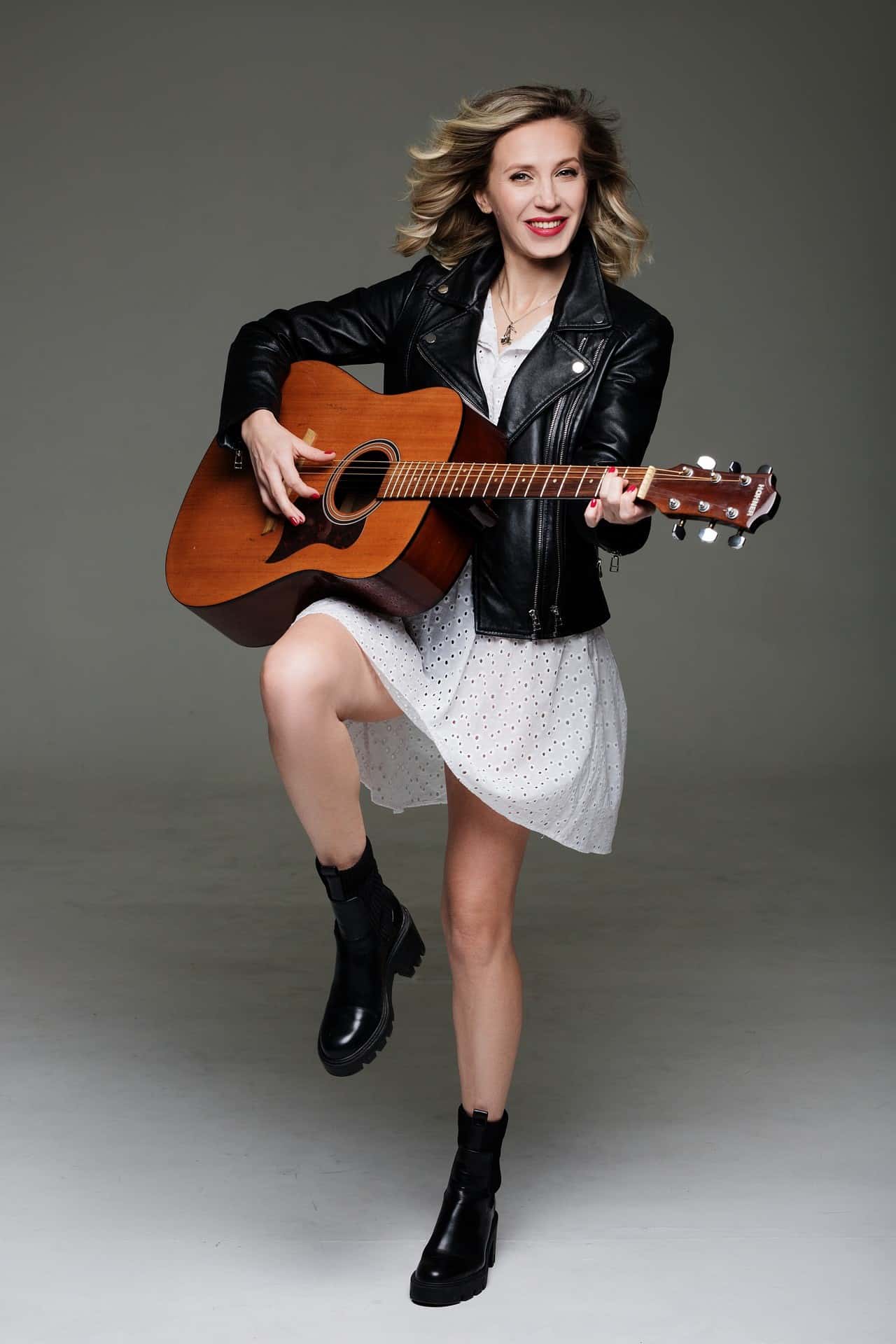 Combining elegance with a touch of wildness, donning a black leather jacket over your biker wedding dress creates an eccentric contrast. Leather jackets are also commonly associated with bikers, so wearing one can be an homage to the biker community. They are available in a diverse array of styles and designs, making them an effective way to personalize your outfit for your special day.
3. White Leather and Lace Ensemble
As stated above, leather jackets come in a wide variety of styles and designs. Although black leather jackets are worn more often, white leather jackets are just as fashionable.
Pairing a white wedding dress with a white leather jacket instead of black removes the sharp contrast. This biker wedding dress idea is perfect if you want a subtle hint of fierceness in your outfit
4. Bridal Garter with Dirt Bike Charm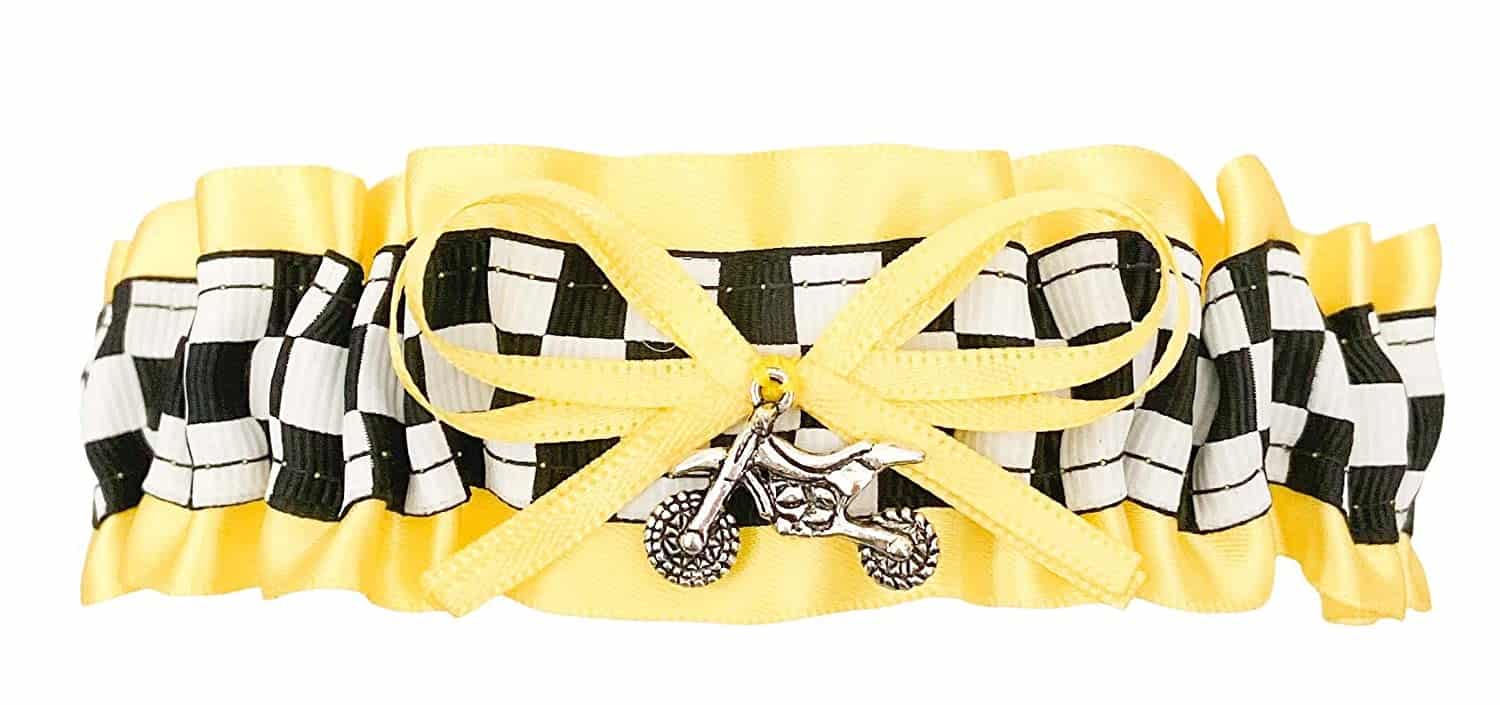 An often overlooked bridal accessory, garters are worn on the leg and are central to the tradition of garter toss. Similar to bouquet tosses, when you catch the garter, it is viewed as a sign that you will be the next to get married. Given that it is typically used as a keepsake after the ceremony, buying a unique and personalized garter is preferable.
5. Short Soft Zip-Up Faux Suede Biker Moto Jacket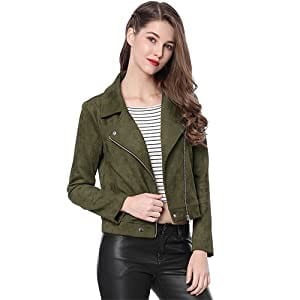 Instead of leather, this biker jacket is made of soft faux suede fabric and 100% polyester. A faux suede jacket is an excellent alternative to leather jackets because it is lighter, more comfortable, and has better thermal insulation. It is generally the more cost-effective option as well.
There are plenty of color options you can choose from, depending on the season, the color scheme of your wedding, the design of your dress, and other factors.
6. Matching Wedding Dress and Gloves
Gloves are a staple for any biker and motorcyclist — they provide safety and add grip strength, along with being a stylish accessory. Wearing gloves that match the design of your wedding gown completes your outfit, aesthetically and characteristically.
Keep in mind that it does not have to be riding gloves; look for a pair that goes perfectly with your overall style.
7. Biker Bride Wedding Durag
Durags are protective pieces of cloth worn over the head to secure processed hairstyles. In America, durags were used in the 1930s during the Harlem Renaissance and Great Depression; they are an evolution from the headwraps enslaved women wore to get their hair out of the way during labor.
It is important to know the history of what you wear, of what they represent for different people. Although durags have been popularized since the 1990s by well-known rappers such as Jay-Z, acknowledging the history behind the clothing shows your respect for it.
8. Black Dress and Black Leather Boots Combo
Another staple for biker wedding attire is a pair of sturdy boots. Partnering a pair of black leather boots with a black dress gives an aura of sophistication and mystery.
9. White Dress With Black Biker Boots and Bolero
Black and white is a classic combination when it comes to outfits. The elegance of a white dress with a black bolero contrasted with the attitude of a pair of black biker boots will make for a unique and memorable wedding day attire. The biker wedding dress pictured above has a black rose detail, adding more personality overall.
10. Embroidered Black Bridal
There are plenty of options to personalize a plain jacket. Choosing one that has a floral design with the word "Mrs.," such as that pictured above, creates a juxtaposition between grungy and lovely.
You can wear a flower crown that matches the jacket's floral design to complete the look. Otherwise, you can intentionally style your hair to be messy and teased.
11. White Biker Jacket With White Dress
Combining the tight fit of a biker jacket with the flowy skirt of a wedding dress results in an interesting and notable silhouette. The outfit above is accessorized with a neckerchief and a white ribbon around the waist. You can personalize this outfit by switching the colors and patterns of the accessories.
12. White Jacket With Slit Dress
This outfit is a variation of the previous one, with the addition of a slit to the dress. This biker wedding dress allows you to show off your chosen footwear. The image above shows the gorgeous bride in a pair of heels, but you can opt for white leather boots or biker boots to stick to the biker theme.
Other Dress Ideas for a Biker Wedding
Rustic Denim: Incorporate elements of denim with lace for a rustic yet elegant look. A denim jacket over a lace wedding dress, for example, blends casual with formal seamlessly.
Rock n' Roll Sequins: Consider a sequined dress for that glitzy rock star appeal. Match with studded biker boots to keep it edgy.
Edgy Tulle Skirt: Pair a tulle skirt with a leather corset or a band t-shirt for a punk-rock princess vibe.
Fringe Benefits: A dress with fringe detailing can give movement and a vintage biker aesthetic. Think of the roaring '20s meeting the wild '60s.
Laced-up Leather: Opt for a dress with leather lacing details, reminiscent of classic biker gear.
Tattoo Effect Dress: Choose dresses with sheer details and embroidery that give the illusion of tattoos, honoring the rich tattoo culture in the biker community.
Biker Jumpsuit: If dresses aren't your thing, consider a tailored white jumpsuit. It's modern, chic, and perfect for riding off into the sunset.
Rhinestone Rider: Add some bling! Consider dresses adorned with rhinestones or crystals, especially in biker motifs like wings, wheels, or skulls.
Velvet Vixen: Choose a velvet dress for a touch of vintage luxury. Deep tones like burgundy or emerald paired with leather accessories can give a rich, contrasting look.
Cut-out Creations: A dress with strategic cut-outs can be both sexy and cool, especially when paired with biker boots and leather accessories.
Bold Black Accents: Integrate bold black details, like belts or ribbons, to a classic white dress, signifying the blend of tradition with the edgy biker culture.
Patchwork Princess: Consider a dress adorned with patches symbolic of biker culture or even personal patches that tell your unique story.
These suggestions blend traditional wedding aesthetics with biker culture, offering a wide range of options for those looking to celebrate their big day with a touch of adventure and rebellion.
Things to Consider for Your Biker Wedding
Logistics of the Ceremony
Biker wedding ceremonies are typically held outside. Two columns of bikers will form a makeshift aisle, and they will press the accelerator and rev their engines as the bride walks past. They will turn off their engines at the same time to mark the start of the ceremony. The bikers will once again rev their bikes' engines as a send-off for the newlyweds.
The couple has the option to ride their bike away from the venue. This romantic idea comes with several logistical considerations:
How long will the gown be?
Will it be safe to ride the bike in the dress?
How will the dress be kept clean throughout the ride?
Customizations to the Dress
Every bride goes through at least two fittings for their wedding dress. Generally, alterations to wedding dresses are made to better accentuate the bride's body and style.
If you plan on having a biker-themed wedding, you will have to think about customizations and modifications that will accommodate the logistics of the ceremony.
Here are some ideas you can think about:
Add slits to the sides of your dress to make getting on and off your bike easier.
Shorten the train so there is less material hanging off the bike.
Make the dress more tight-fitting to avoid material on the sides of the bike while riding.
These customizations will not only make maneuvering easier but also prevent possible wardrobe malfunctions. Make sure to account for the costs of dress customizations in your wedding budget.
Work With the Theme
There are plenty of avenues for personalization you can take to emphasize the biker theme of your ceremony: your wedding cake can have a biker motif; your wedding hashtag can incorporate the word "biker" in it; your stationery can be designed with biker-related ideas.
How much you want to utilize your theme is also up to you; you can go all the way, or you can be subtle about it. These are only three suggestions — there are endless opportunities to make your wedding one-of-a-kind and memorable.