It is not often that we get invited to a wedding. As a result, we want to look our best and be on our best behavior when attending one. Choosing what clothes to wear to a wedding can be a difficult and stressful task if you do not know where to start.
When deciding what to wear with a purple dress to a wedding, it is helpful to know some of the basics of color theory. This will assist you in determining which colors are best paired with the specific shade of purple you will be wearing.
Some shades of purple are shown below for your information, followed by several color combinations that you can consider going with. Outfit inspirations are also given. Lastly, considerations you should keep in mind while choosing your outfit are enumerated.
The Many Shades of Purple
Before moving forward with possible color combinations and outfit ideas, it is best to familiarize yourself with the various shades of purple. This information will better inform your decisions when it comes to your outfits. Furthermore, certain hues will look more flattering on your skin tone than others.
These colors vary in vibrance, intensity, and saturation. Lighter shades include lavender, lilac, and periwinkle. On the opposite side of the spectrum are shades like eggplant, raisin, and wine. Other shades have warm or cold undertones, including jam, plum, heather, and mauve.
It is important that you know what the exact shade of your dress is. Just like color schemes, if you put two clashing colors in your outfit together, the result will be visually unappealing and detrimental to your overall look.
Typically, the boutique from which you bought your dress has the name of the shade. Otherwise, there are online tools that can help you determine the color of your dress.
What Will Look Good with a Purple Dress?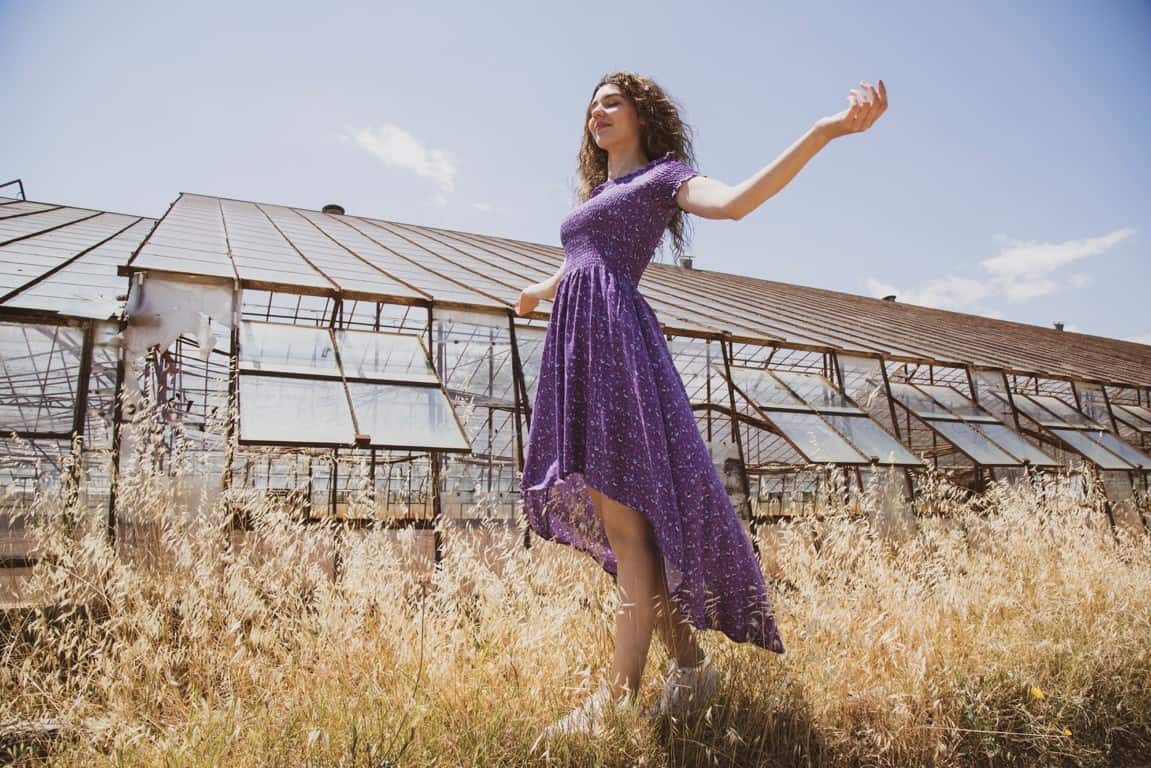 To know what to wear with a purple dress to a wedding, it is best that you stick closely to the basics of color theory. The theory posits that colors can be complementary, monochromatic, triadic, and so on. With that said, here are some aesthetically pleasing color combinations you can consider for your outfit.
Any Shade of Purple with White
Whether you can wear white or not at a wedding as a guest is still a widely debated topic. However, many agree that using white as an accent color is permissible. White is a highly flexible shade that can be paired with anything. Thus, it is highly recommended that you accessorize with a white shoe, purse, or piece of jewelry.
Purple, Purple, Purple
Monochromatic outfits are a popular choice because they are easy to assemble. Despite that, they appear chic and sophisticated. You can opt to wear different shades of purple for your dress, shoes, accessories, and other necessary layers.
Any Shade of Purple with Nudes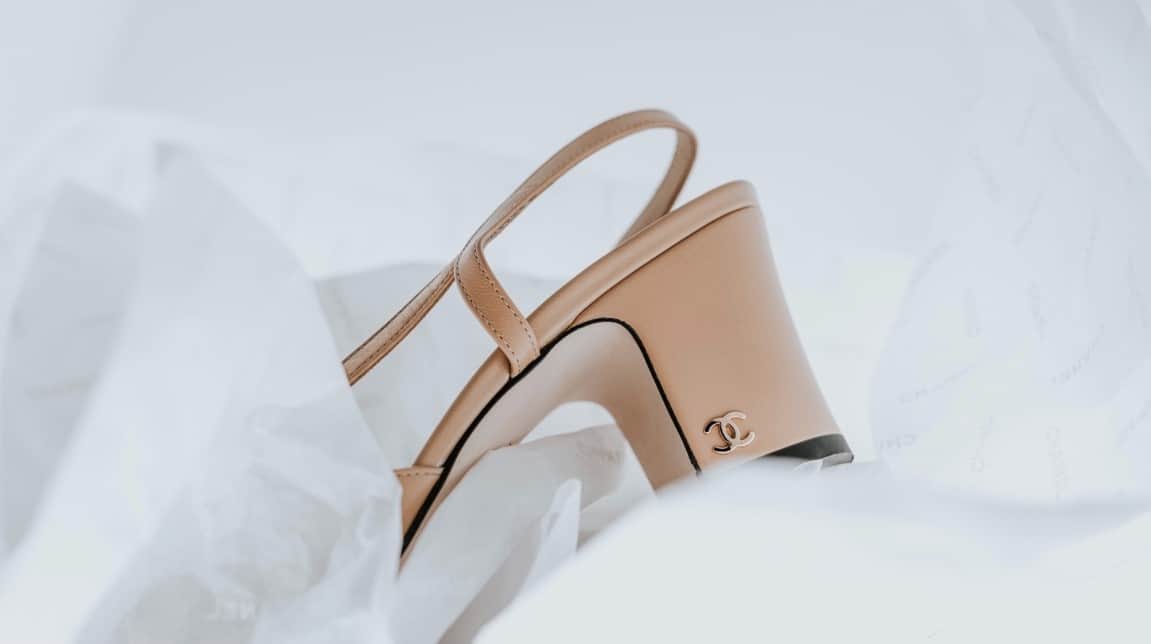 Nude shoes and accessories are a staple for any occasion, outfit, and level of formality. These colors, such as brown, beige, and tan, perfectly work with any color. Purple is no exception; the fact that they are nude means that they will let your dress be the main attraction. Beige sandals, shoes, and boots can beautifully complete your look.
Dark Purple and Black
Rounding up your outfit with black accessories is a great choice for formal affairs. Black shoes, in particular, suit the occasion of a wedding. Black footwear is ideal for darker and richer shades of purple dresses. You can level up your look by adding more black pieces — a black scarf, jacket, handbag, or belt can make a beautiful dress gorgeous.
Purple and Pastel Pink
Pairing a rich color with a pastel color will create a contrasting effect. In the case of purple and pastel pink, the contrast will be visually pleasing. While the purple dress remains the focal point of the outfit, pastel pink accents and accessories will elevate your look.
Purple and Silver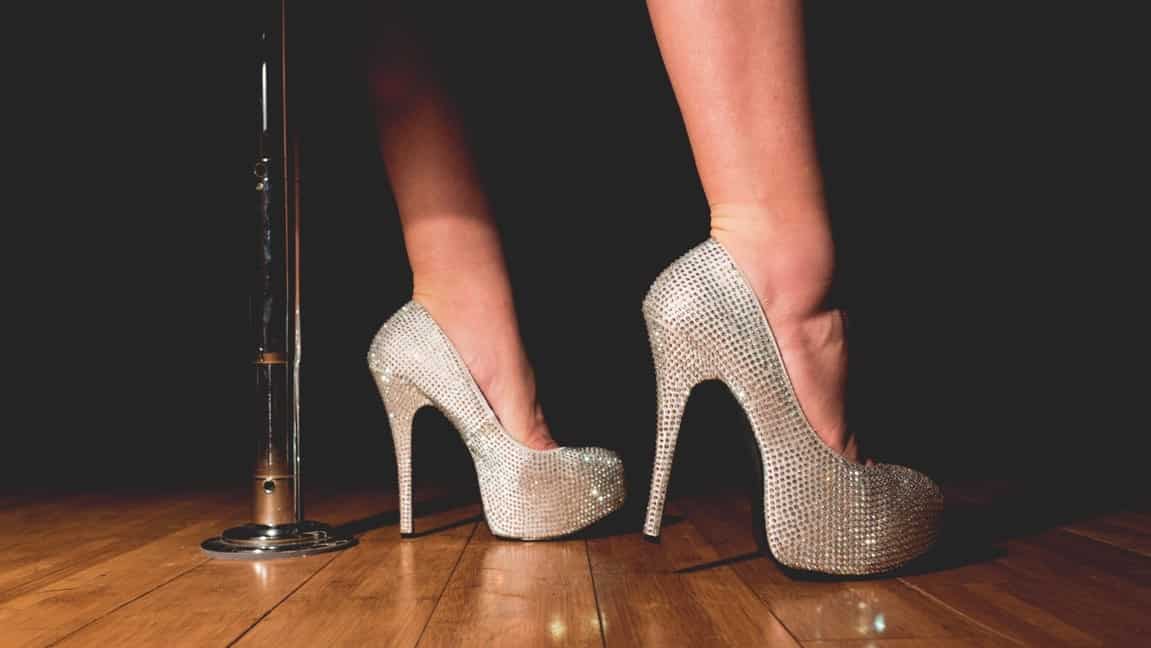 Silver footwear is a lovely and safe choice for what to wear with a purple dress to a wedding. If you want to highlight your shoes, you can even go for a glittery pair of heels. This is arguably among the best choices if you are wearing a purple bridesmaid dress.
Additionally, most breathtaking pieces of jewelry come in silver. Fortunately, silver jewelry is highly suitable with a purple dress. Embellish your outfit with a silver necklace, bracelet, earring, or other pieces of jewelry.
Purple and Gray
People often use silver and gray interchangeably. This is understandable, given how similar their outward appearances are. However, gray lacks the metallic and reflective nature of silver. If you do not want to draw attention to your footwear, gray and light gray heels are a perfect choice for a purple dress.
Dark Purple and Gold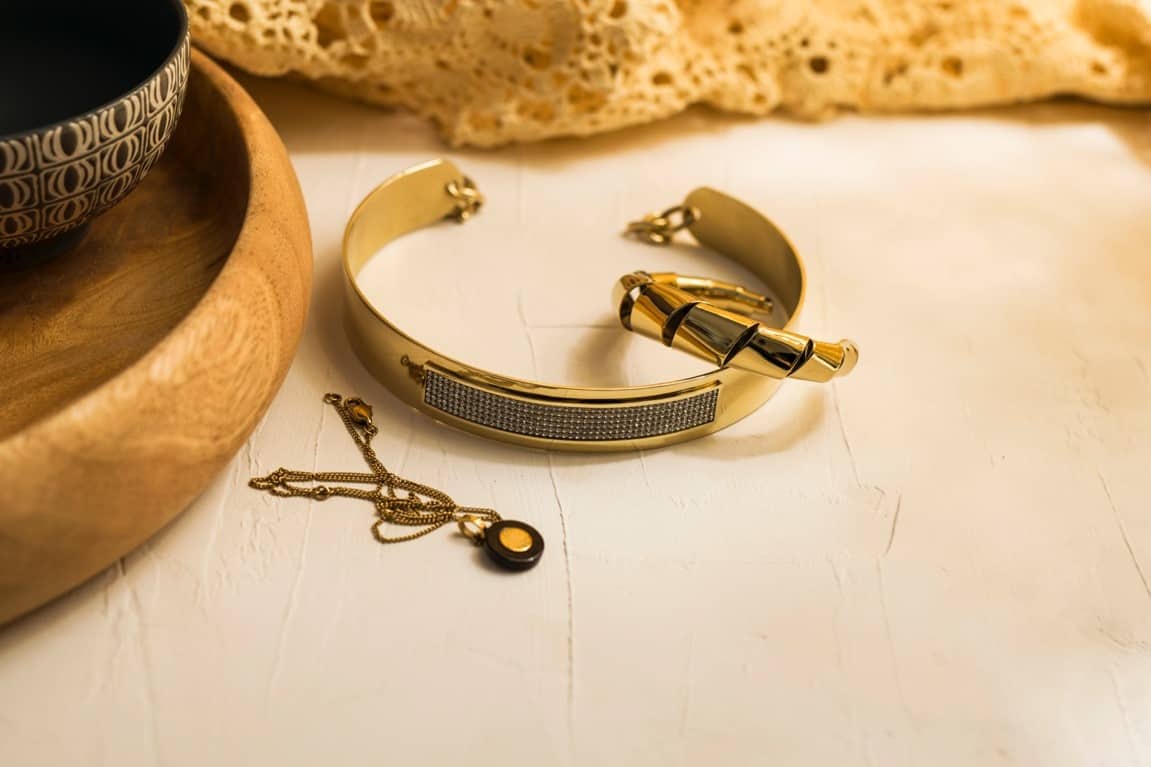 Dark purple and gold are colors often associated with royalty; wearing both in one outfit is a bold choice that can work depending on your skin tone and confidence. Accessorizing a purple dress with gold jewelry, handbags, and shoes can result in a breathtaking look. However, be mindful not to take all the attention away from the bride.
Lilac and Blue
Lilac is a pale, muted shade of purple that is popular among fashionistas and interior designers. Pairing a lilac dress with blue accessories will create a stunning visual effect. These colors are frequently found in nature, making them ideal for an outdoor and destination wedding.
Outfit Inspirations
1. Purple Vintage Tulle Dress
This elegant tulle dress is perfect for any occasion, ranging from weddings to proms. The fitted bodice provides a pleasing contrast with the flowy tulle skirt.
2. Mulberry Asymmetrical Dress with Floral Designs and Black Accessories
This asymmetrical dress strikes the balance between casual and formal. The color is rich and flattering, and the dress itself is visually interesting. The accessories worn by the model include black ankle strap open-toe heels and a black leather pouch.
3. Monochromatic Ensemble with Lavender Dress, Earrings, and Handbag
The focal point of this outfit is the lavender V-neck long blazer wrap dress. Although the silhouette is classic, the dress itself is unique and eye-catching. To complement it, the model also has lavender earrings and a lavender handbag. The resulting monochromatic look is chic, elegant, and sophisticated.
4. Pleated Lilac Dress with Silver Heels
This pleated lilac dress has subtle spaghetti straps, a cinched waist, and a flowy pleated skirt. The femininity of the dress makes it perfect to wear on any occasion, may it be a formal dinner, prom, or wedding. The outfit is completed with some silver accessories and a pair of silver ankle-strap heels with open toes.
5. Grape-Colored Ombre Tulle Dress with Brown Purse
This tulle maxi dress with a halter neckline has a stunning grape-colored Ombre finish. The detail around the waist emphasizes the airiness of the tulle skirt. The model is accessorized with a pair of earrings, whose color perfectly matches that of the dress. Instead of going fully monochromatic, the outfit is completed with a glittery brown purse.
6. Fuchsia Dress with Gold and Brown Accessories
This modestly elegant fuchsia dress is perfect for any event. To give it more details, a leopard belt is wrapped around the waist. This also ties in the rest of the brown and gold accessories: wristwatch, bracelet, handbag, and heels. The lipstick is also matched to the dress, ensuring that no element of the look seems out of place.
7. Simple Plum Short-Sleeved Dress With Belt and Brown Accessories
This understated yet elegant outfit is built around a simple plum dress with a belt around the waist and pleated details. To elevate the look, multiple accessories are added, including bracelets and handbags of various earth tones. The ensemble is then tied together by a simple pair of brown heels.
Things to Consider When Picking Your Outfit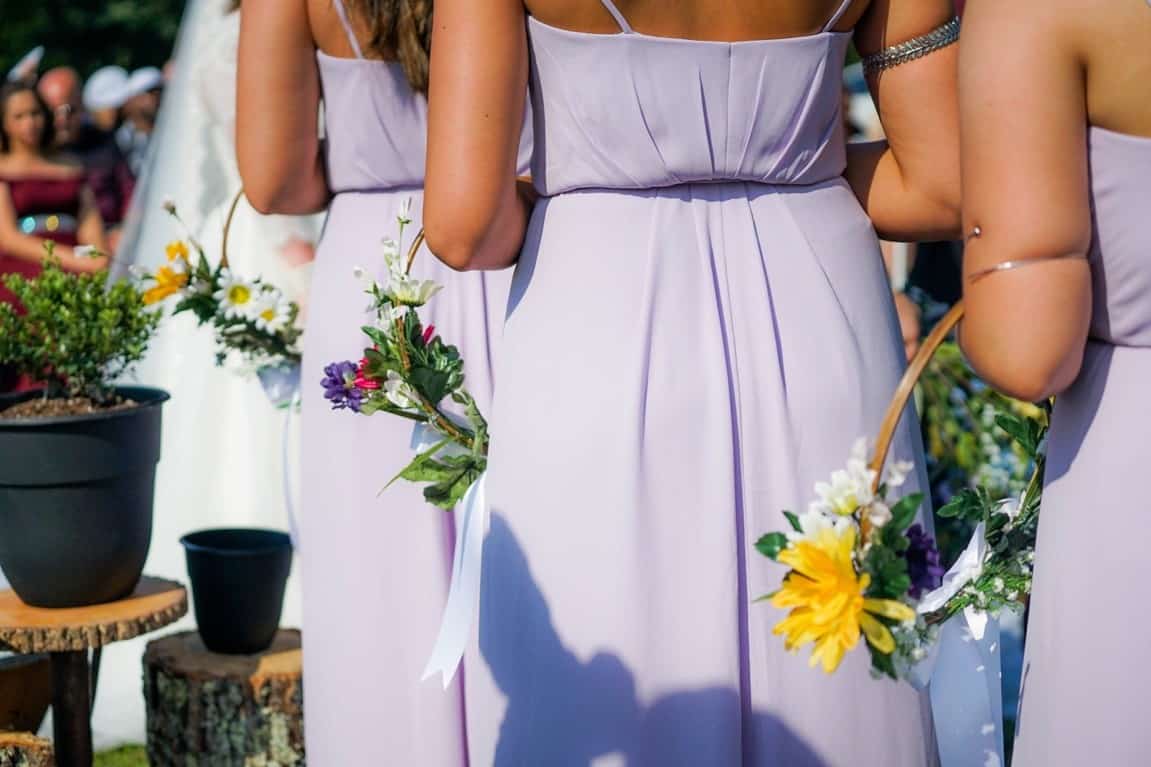 Prescribed Dress Code
In any event, the organizers usually prescribe a dress code that is appropriate for the level of formality. For weddings, the dress code is typically casual, semi-formal, formal, or black tie. This information can be found in the invitation, on the wedding website, or the couple's social media platforms.
Always keep the prescribed dress code in mind as you decide what to wear with your purple dress to a wedding. Going overdressed or underdressed is not only embarrassing, but it can also be disrespectful to the couple.
Location of the Wedding
When choosing what to wear with a purple dress to a wedding, you also need to factor in the ceremony's location and itinerary. For instance, if you are attending a hiking wedding, it might not be in your best interest to wear a restrictive dress with stilettos.
The Religion of the Couple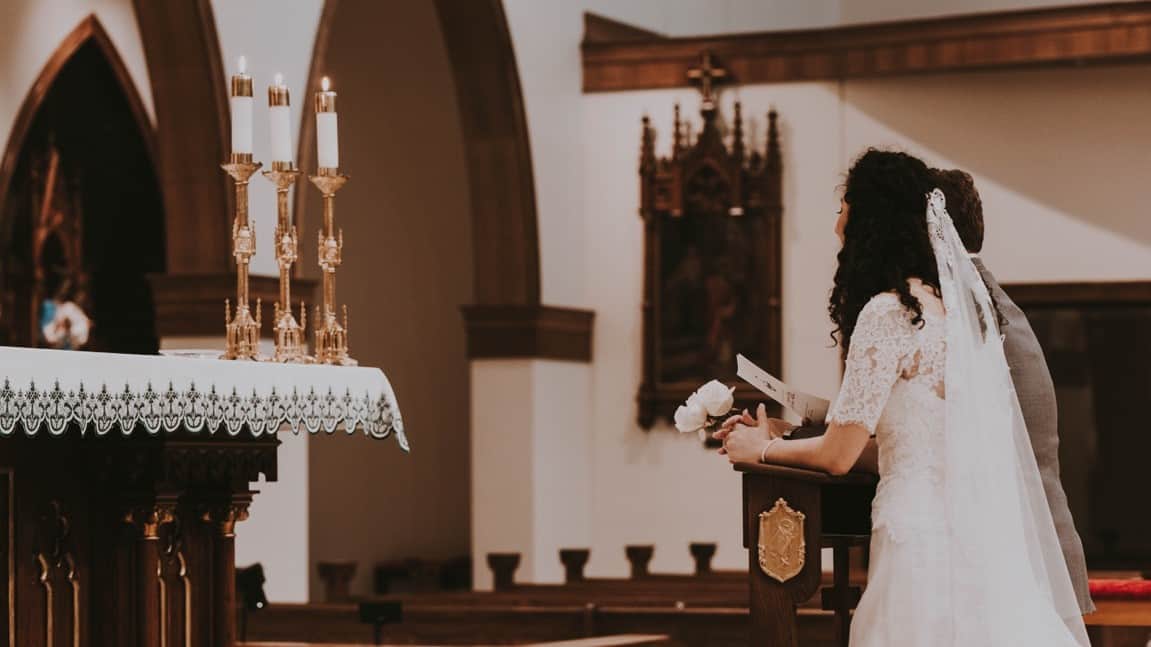 This consideration ties in with the abovementioned guidelines. Depending on the couple's religious beliefs, you may need to dress differently. For example, Catholic and Muslim wedding guests are required to be more modest in their attire. You must show your respect to their beliefs and values, and you can do so by abiding by the expectations.
Your Skin Tone
As briefly mentioned above, different colors will look good on different skin tones. This is the same principle in makeup and jewelry. Be mindful of the undertones of your skin when choosing which shade of purple to go with and what accessories you will wear.
Time and Date of the Wedding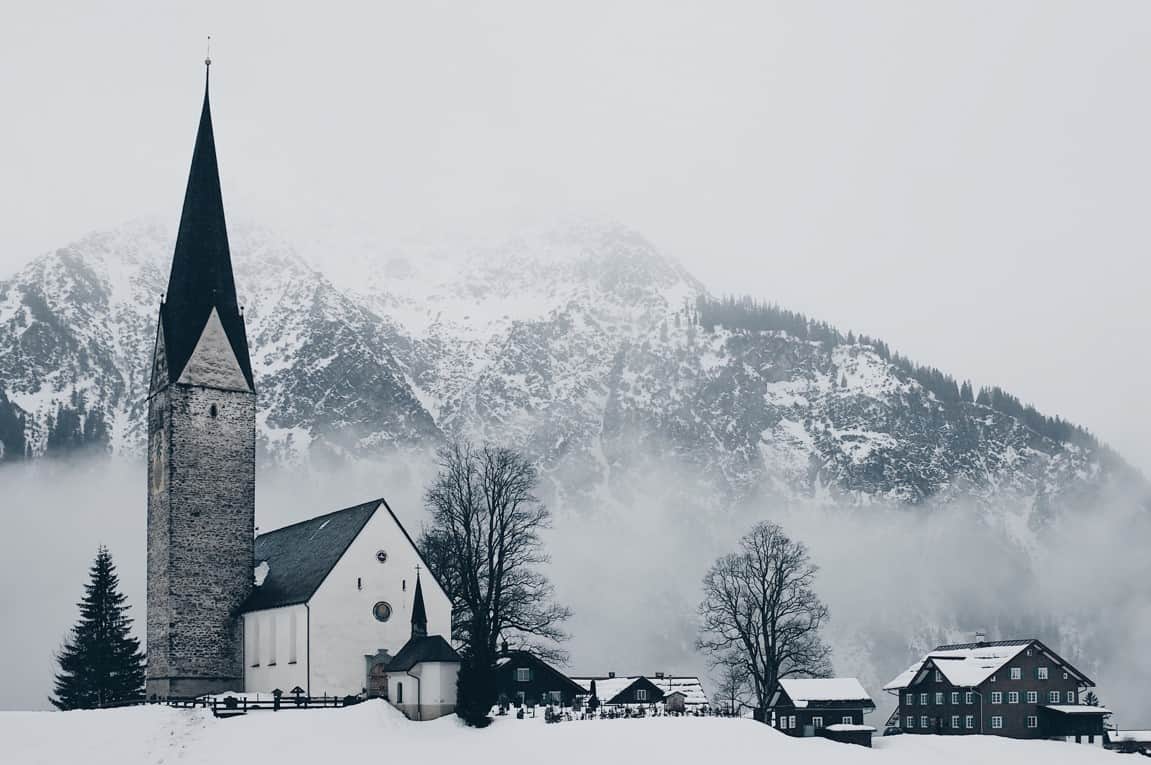 The time and date on which the ceremony will take place is an important consideration for what to wear with a purple dress to a wedding. For summer weddings, you may want to wear fewer layers and thinner fabrics. Oppositely, you may want to incorporate thicker fabrics and more layers into your outfit during a winter wedding.
Your Confidence
When trying on different outfits, take note of what you feel when you look at the mirror. Do you feel confident and secure in what you are wearing? Does it make you feel good about yourself? If not, you must continue searching for the perfect ensemble.
Your Comfort
Depending on what type of wedding ceremony you are attending, its length will vary. You may want to wear an outfit that will not make you uncomfortable after a few hours. Likewise, you may want to go with an outfit that will not restrict your movements during the reception.
Final Thoughts
Before deciding what to wear with a purple dress to a wedding remember that your outfit is an expression of your identity and personality. Regardless of what you end up wearing, you must prioritize your confidence and comfort. Doing this will let you enjoy the wedding and make memories for a lifetime.