If you are a hopeless romantic, you might have daydreamed about marrying the love of your life in a foreign country. You might already have Pinterest boards of venues—be it the Amalfi Coast, Bali, Fiji, or Santorini.
Your daydream does not have to remain a dream. That said, you might be curious about how much it costs to get married in Santorini.
The average Santorini wedding costs anywhere between €15,000 to €40,000 ($16,414.50 to $43,772.00). However, there are all-inclusive wedding packages as low as around €1,000 ($1,094.30).
Below is a more detailed exploration and breakdown of the costs of wedding venues, vendors, and services in Santorini. Some tips and information are also provided to help you save money.
Getting Married in Santorini: Costs and Expenses
| | |
| --- | --- |
| Category | Average Cost |
| Wedding Venue | €3,000 to €10,000 ($3,282.90–$10,943) |
| Accommodation | €150 to €1,000 ($164.15–$1,094.30) per night |
| Catering | €70 to €150 ($76.60–$164.15) per person |
| Photography and Videography | €1,000 to €5,000 ($1,094.30–$5,471.50) |
| Attire | €500 to €5,000 ($547.15–$5,471.50) |
| Decorations and Flowers | €1,000 to €5,000 ($1,094.30–$5,471.50) |
| Entertainment | €500 to €3,000 ($547.15–$3,282.90) |
| Transportation | €300 to €1,200 ($328.29–$1,313.16) |
| Wedding Insurance | €200 to €800 ($218.86–$875.44) |
| Legalities | €300 to €1,000 ($328.29–$1,094.30) |
| Planner or Coordinator | €1,500 to €5,000 ($1,641.45–$5,471.50) |
| Miscellaneous | €1,000 to €3,000 ($1,094.30–$3,282.90) |
Wedding Venue: A Dream Come True
Average cost: €3,000–€10,000 ($3,282.90–$10,943)
Santorini has a wealth of venues suitable for a wedding. You can go for a quaint villa for an intimate ceremony, or you can book a grand hotel with a view of the historic caldera for your ornate event. There are also churches, resorts, and other unique places you can consider.
Each venue has something different to offer. Most couples planning a Santorini wedding prefer a venue with a breathtaking view, which will end up costing them more.
It is worth noting that some venues charge a flat fee for a specific number of hours, guests, and inclusions. Meanwhile, some venues charge per hour.
Accommodation: Sleeping Under the Grecian Stars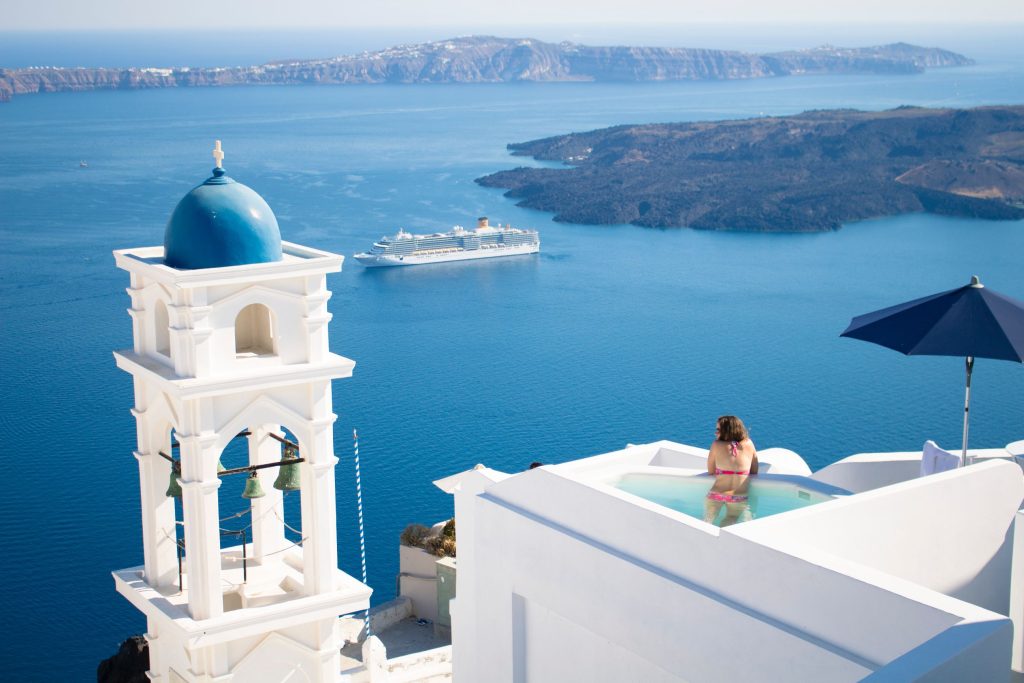 Average cost: €150–€1,000 ($164.15–$1,094.30) per night
Likewise, Santorini has a lot of options for your accommodation. You have boutique hotels, luxury resorts, local bed and breakfasts, and more. The more expensive options come with private pools, unforgettable views, and other amenities.
Catering: A Feast Worthy for the Gods
Average cost: €70–€150 ($76.60–$164.15) per person
Food is one of the most important aspects of a wedding. Besides keeping your guests well-fed, the right menu will make the experience more memorable.
The figure above may already account for the entire meal—from appetizers to drinks and desserts. However, here is a detailed breakdown so you can see how much each part of the feast costs:
Appetizers: €15–€30 ($16.41–$32.83) per person
Main course: €40–€70 ($43.77–$76.60) per person
Drinks and desserts: €15–€50 ($16.41–$54.72) per person
That said, if you have 25 guests, catering might add €1,750–€3,750 ($1,915.03–$4,103.63) to your Santorini wedding costs.
Photography and Videography: Precious Mementos
Average cost: €1,000–€5,000 ($1,094.30–$5,471.50)
In a place as stunning as Santorini, high-quality photography and videography are investments you should consider making. The images and videos will be worth all the money, as you can look back on your special day through those keepsakes years down the line.
The average above accounts for combination packages; one vendor—or one team of vendors—will take care of both the photography and the videography.
However, if you want to book separate teams, you are looking at average costs of €600–€3,000 ($656.58–$3,282.90) for photography and €400–€2,000 ($437.72–$2,188.60) for videography.
Attire: Look Good and Feel Gorgeous
Average cost: €500–€5,000 ($547.15–$5,471.50)
Depending on your budget for your Santorini wedding, you can opt for simple ensembles or go all-out with bespoke pieces. You have the freedom; however, make sure your outfits are appropriate for the occasion and the backdrop.
In this category, you should also account for alteration costs and personalizations. You may have to spend a few extra hundred dollars or euros to get the perfect fit.
Decorations and Flowers: For the Aesthetic
Average cost:
€1,000–€5,000 ($1,094.30–$5,471.50)
Work with the natural beauty and allure of Santorini. You do not need elaborate decorations or ornate pieces; subtle touches that complement your venue's backdrop will be more than enough. Think arches, some floral details, fabrics artfully draped on surfaces, and so on.
Entertainment: Keeping the Energy Up
Average cost: €500–€3,000 ($547.15–$3,282.90)
By itself, a wedding is a memorable and joyous occasion. However, you can hire entertainers to make the night—or the entire weekend—more unforgettable. Here are some well-loved options in terms of entertainment and how much they might add to the cost of a Santorini wedding:
DJ: €500–€1,500 ($547.15–$1,641.45)
Live musicians: €700–€2,000 ($766.01–$2,188.60)
Traditional dancers: €300–€800 ($328.29–$875.44)
Fireworks: €1,000–€3,000 ($1,094.30–$3,282.90)
Average cost: €300–€1,200 ($328.29–$1,313.16)
This category is composed of two subcategories. Firstly, you may want to arrange transportation for your guests' convenience. You can get quaint buses or coaches from €200–€800 ($218.86–$875.44). Doing so ensures that your loved ones get to your venue and the airport safely.
Secondly, you will need a car for the bridal entrance. You can rent a vintage car, look for a luxurious limousine, or ride a donkey—a local tradition. Expect to pay around €100–€400 ($109.43–$437.72) for bridal transportation.
Wedding Insurance: Keep Yourself Financially Safe
Average cost: €200–€800 ($218.86–$875.44)
Destination weddings, whether you choose Italy or a U.S. state, are major financial investments. Give yourself peace of mind by availing of event insurance, which safeguards you from unexpected setbacks—think extreme weather events, getting ghosted by a vendor, or cancellation of a reservation.
There are different types of wedding insurance, each with different qualities. Consult an insurance provider to determine which one is right for you, and get a direct quote for the exact price.
Legalities: Abiding by the Rules
Average cost: €300–€1,000 ($328.29–$1,094.30)
There is plenty of paperwork you have to accomplish for a wedding. With a destination wedding, you may have to get certain documents translated, notarized, or shipped overseas. Prepare around €100–€300 ($109.43–$328.29) for this aspect.
If you will be holding a legally binding ceremony, you will need an ordained officiant. Hiring one might add €200–€700 ($218.86–$766.01) to your Santorini wedding expenses.
Visit this page for a comprehensive list of requirements for a Santorini wedding.
Wedding Planner or Coordinator: A Guiding Hand
Average cost: €1,500–€5,000 ($1,641.45–$5,471.50)
Overseeing all things wedding planning can be overwhelming, even more so if it is overseas. Navigating everything from the venue and vendors to the decorations and legalities can be stressful, and all that stress can be unhealthy for you and your partner—especially if you are expecting.
Thus, having a wedding planner or coordinator who will take care of everything for you will be worth all the expenses. That said, the cost of a Santorini wedding planner hinges on how much work you need them to do.
Miscellaneous: Tying Loose Ends
Average cost: €1,000–€3,000 ($1,094.30–$3,282.90)
Think of the 'miscellaneous' portion of your wedding budget as pocket money; it will be handy to have cash on hand for unexpected expenses. You may want to give a larger tip to your vendors, or you might need to pay for an additional hour with an entertainer.
Setting aside this money is a safety net, much like wedding insurance. The best-case scenario is that you end up not using this fund. However, it is better to be prepared.
Santorini Wedding Costs: Tips and Things to Remember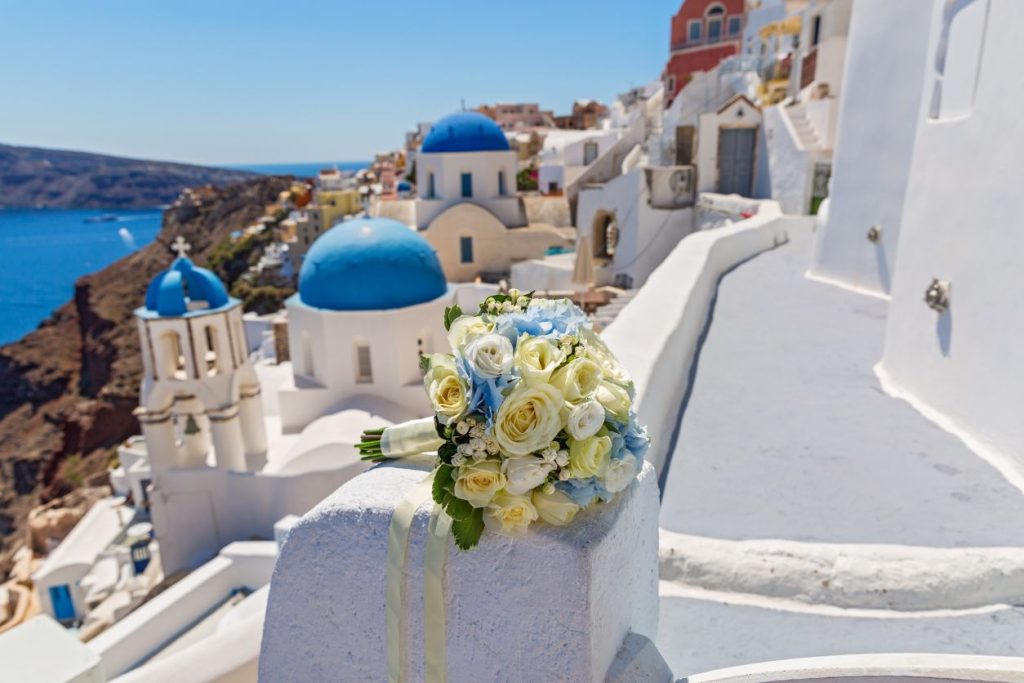 Wedding Packages Are Not Always Cheaper
You might find wedding venues in Santorini that offer wedding packages. In many cases, they might be a cheaper option.
Before proceeding with a wedding package, it is helpful to have a ballpark of how much you are willing to spend. Likewise, do a lot of research; there might be other venues that offer similar packages but with a more affordable price tag.
Hold a Symbolic Ceremony Instead
A symbolic ceremony is not a legally binding ceremony. Think of it more as a commitment ceremony between two people.
Most couples opt to hold a legally binding ceremony in their home city or state. This choice lessens the paperwork you need to accomplish, the fees you have to pay, and the stress you have to experience during planning.
Support Local
To save some money on your Santorini wedding, consider working with local vendors. Look for photographers and wedding planners who are intimately familiar with the area. Hire entertainers that can give you and your guests a glimpse of the region's culture.
Not only will you be supporting the local economy, but this is also practical. If you proceed with vendors you hired in your home country, you have to cover their transportation and accommodation costs.
Plan Your Guest List Mindfully
The more guests you invite to your destination wedding, the more money you have to shell out. As such, you may want to limit your guest list to your loved ones—your closest circle.
There are multiple benefits to this course of action. First and foremost, you can save a lot of money. To illustrate, feeding 30 people may cost you anywhere between €2,100–€4,500 ($2,298.03–$4,924.35), whereas catering for 15 people may add €1,050–€2,250 to the cost of your Santorini wedding.
Second, some of the guests you plan on inviting might not have the financial freedom to attend your wedding.
Third, it is just way more stressful planning a wedding with a bigger guest list.
Final Thoughts
Seeing how much getting married in Santorini costs can be dizzying at first. Keep in mind that the figures above are simply averages; every wedding will cost different, as every couple is different.
You and your partner must have consistent, constant, and honest conversations. Discuss your priorities and preferences. Take note of any must-haves and must-not-haves. These can help you narrow down a budget and stay within it.