Italy has a reputation for being a romantic city. Its rich history, architecture, food, wine, and culture make it a perfect place for weddings. However, planning a wedding in a foreign country has its unique set of difficulties.
When talking about how to plan a small wedding in Italy, you might feel overwhelmed with all the finances and paperwork you must handle. Breaking the process into specific steps, from deciding a budget range to packing your things, will make it easier.
Below is a step-by-step guide for planning a small wedding in Italy, including a detailed list of documents you need to prepare. Lastly, several tips for staying within budget are also provided.
How to Plan a Small Wedding in Italy: Step-by-Step Guide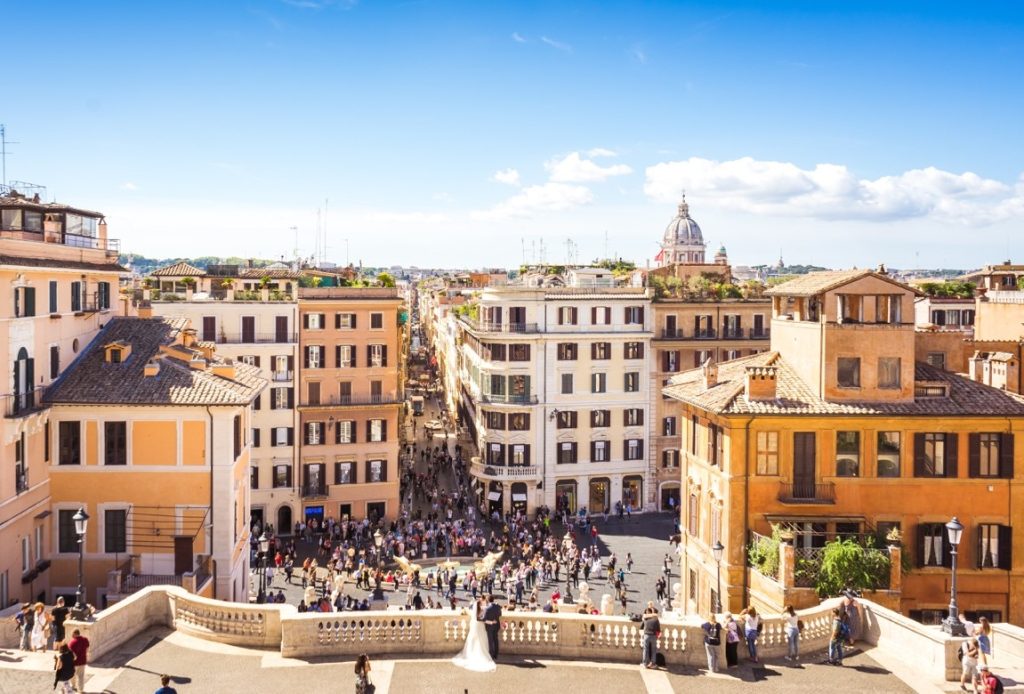 Step 1: Decide Your Budget
Before anything else, sit down with your partner and have an honest conversation about finances. Creating a budget might seem challenging, but you do not have to specify an exact amount immediately. Instead, set a range of money — or at least an upper limit — that you are comfortable spending.
On average, a small wedding costs $8,550 to execute. This estimate accounts for 50 guests at a domestic venue. However, several factors will influence your expenses, including the cost of living in the area, the number of guests, and more.
Since you are planning a small wedding in Italy, you must also account for costs from travel, accommodation, additional paperwork, and more.
During this conversation, you may also want to discuss the division of expenses. Furthermore, you may want to think about dedicating a portion of your monthly salary to a "wedding savings" fund. Your parents or relatives might also volunteer to cover a specific part of your expenditures.
Step 2: Think About What You Want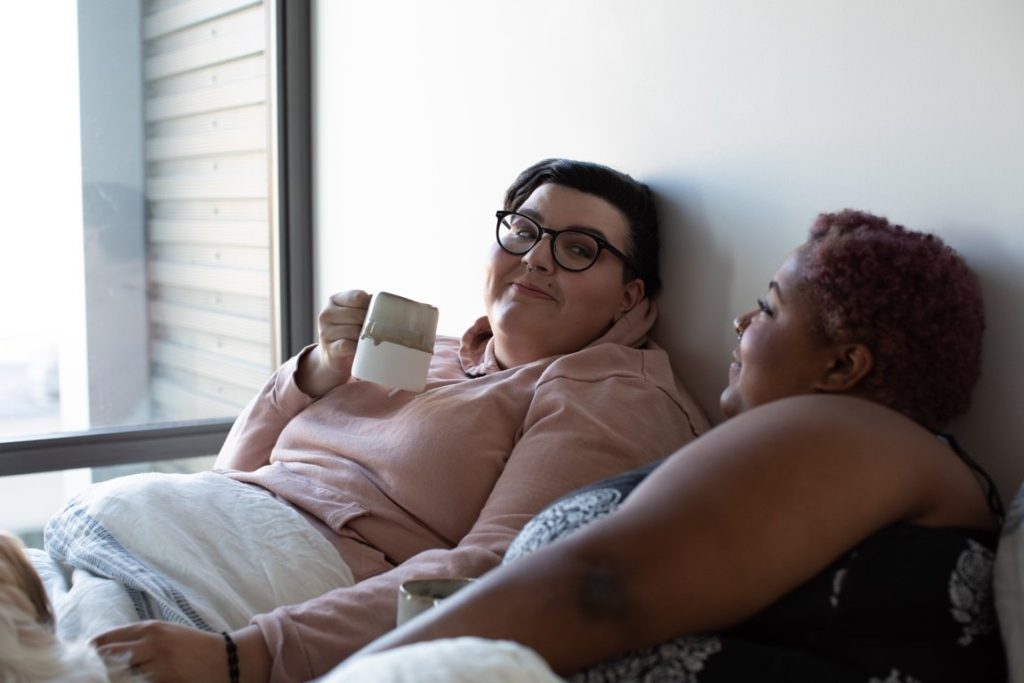 There must be a reason why you and your partner chose Italy as the location of your small wedding. Are you envisioning a winter elopement in The Dolomites of northeastern Italy? Do you want to say your vows in the historic city of Rome?
Italy has a lot to offer. It might be tempting to include a little bit of everything. However, you need to think about your priorities; what is something you must have at your wedding? Do you want an outdoor ceremony, a reception inside a castle, or a vineyard in the background?
Concurrently, you must pinpoint things you do not want. Do you not want to worry about snow, extreme heat, or rain? Would you not prefer a venue in a busy, populated area? Do you think you should avoid seaside or lakeside locations?
Remember to talk to your partner with an open mind. You may need to compromise on some aspects. There is a reason people say wedding planning is often the first significant test of your relationship.
A list of must-haves and must-not-haves will help you narrow down regions and venues. Planning will also be relatively less challenging, logistics- and budget-wise.
Step 3: Gather Inspiration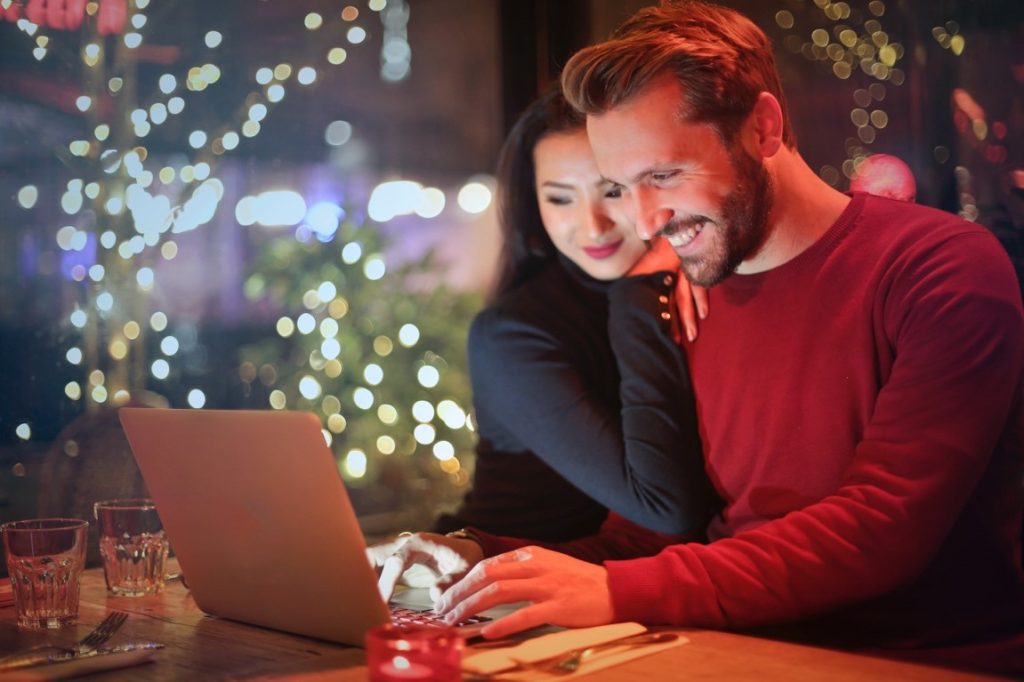 You probably went into wedding planning with a general picture of what you want but few to no specific ideas. You might feel overwhelmed and unsure, not knowing where to look for inspiration. However, you can consult previously published weddings and online and offline resources to help you with the process.
For one, you can ask your parents about their wedding day. They might tell stories, give recommendations, and show you pictures and videos. You can also approach your close friends and relatives for the same purpose.
Bridal magazines, publicized weddings, and media are also incredible sources of inspiration. You might find a gown you like, a venue you want to emulate, or decor pieces you want to DIY.
The internet is full of inspiration. Social media and bridal sites offer practical tips, information, and inspiration. You might even find reputable vendors whose services you can purchase.
While you search for inspiration, take note of what strikes your interest. Create Pinterest boards, photo albums, lists, mockups, and more. These things will not only help you visualize your wedding, but they will also assist future vendors in creating the ceremony of your dreams.
Step 4: Set the Date — or Multiple Dates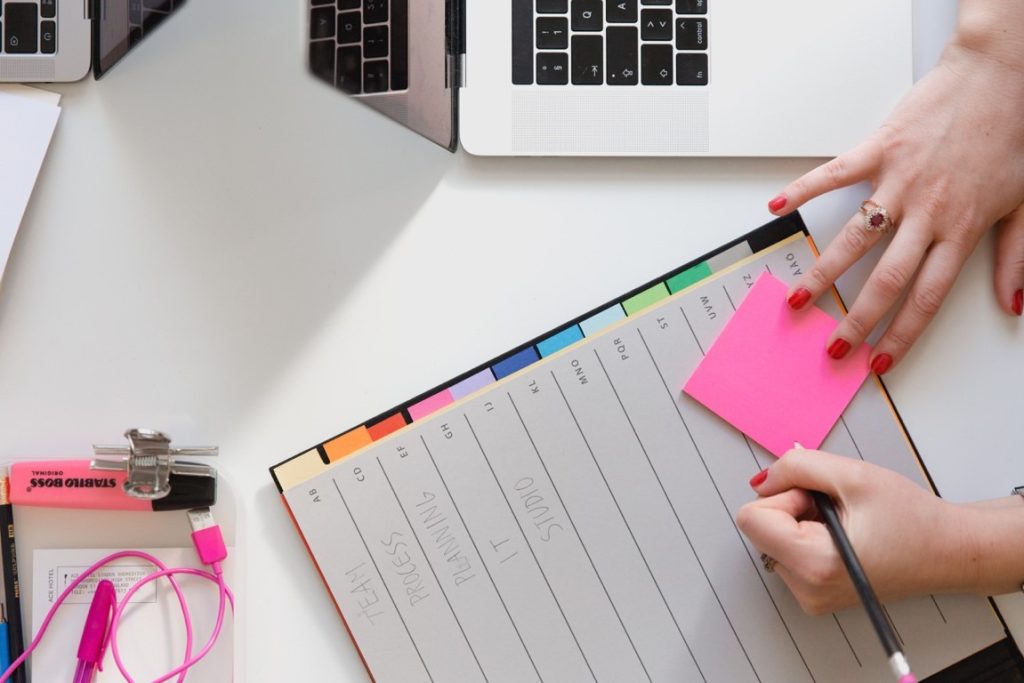 When do you want your wedding to be? Are you envisioning a romantic winter wedding or a fun, adventurous summer ceremony?
Pinpoint specific dates that you think are ideal. You must prepare multiple options. You cannot accurately anticipate the availability of your venue and vendors until you inquire with them, so it is best to be adaptable.
If you already have options for venues, look into their peak seasons. In many cases, an establishment's prices will be more costly during this time. Additionally, more people will try to book the same accommodations and reservations you want.
Step 5: Create a List for Everything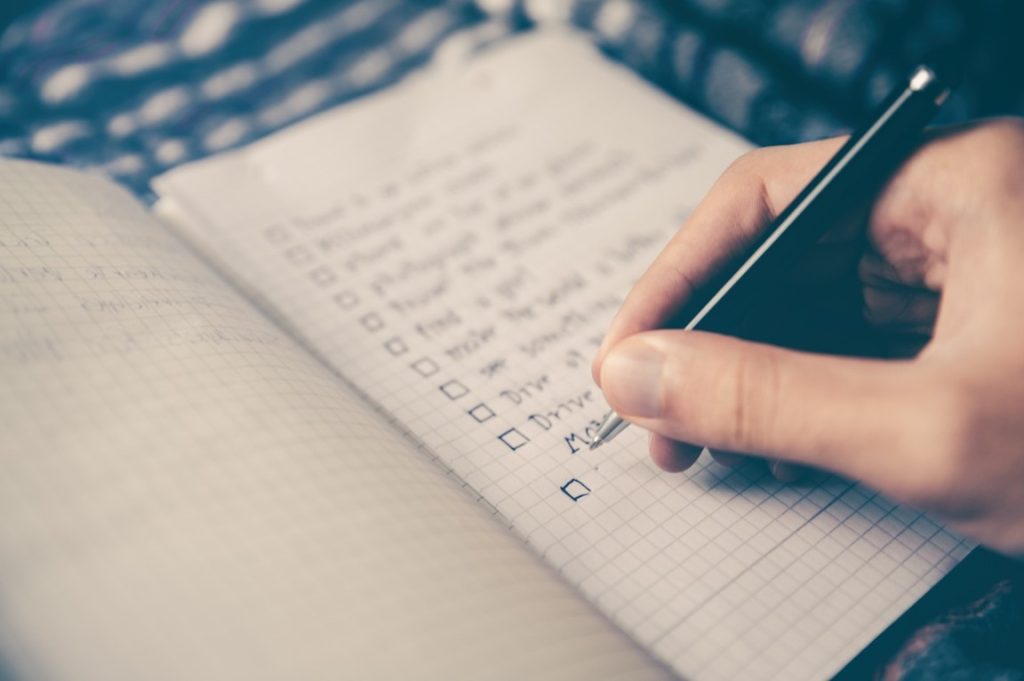 It is worth reiterating that planning a wedding is hard work. There are many aspects to oversee: logistics, finances, rentals, invitations, accommodations, menus, itineraries, and whatnot. Without proper organization, you might forget one detail until the last minute.
Lists will be your saving grace — to-do lists, spreadsheets, checklists, and more. There are several ways you can create a list. You can separate them by categories, such as having a checklist for pre-wedding parties and another checklist for paperwork to accomplish.
You can also divide your checklist according to timelines. For instance, you can have a list of tasks you must finish eight months before the ceremony. Another list will contain aspects to finalize six months before the wedding.
List everything down, even if you think it is a minor detail. Write all your options for venues, photographers, color schemes, and whatnot. Not only will this prevent forgetting any information, but this will also help you manage stress and anxiety.
As you go further along the planning process, never forget to keep track of your expenses. This spreadsheet will be crucial if you want to avoid overspending.
Ultimately, do what works best for you and your partner. Some people prefer pen-and-paper, while others choose digital platforms. You can proceed with any method as long as it gets the job done.
Step 6: Choose Your Venue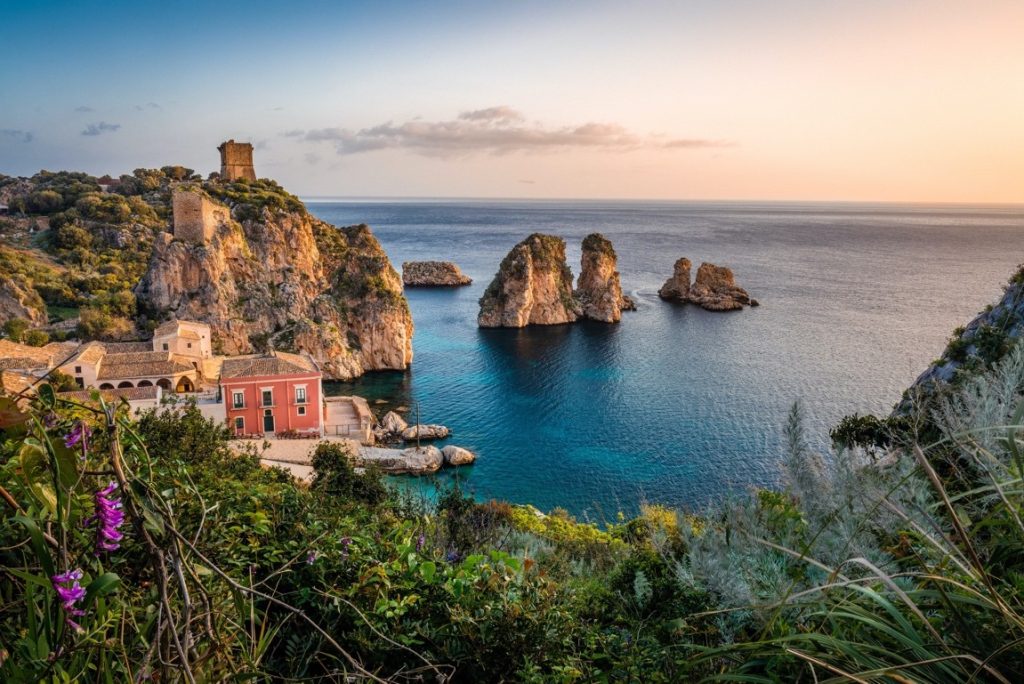 At this point, you have already set a budget, sorted your priorities, chosen ideal dates, and possibly picked a theme. These details will help you find the perfect venue for your small wedding in Italy.
Generally speaking, Italy has four parts: the islands, the north, the center, and the south. Each region has well-known spots for idyllic destination weddings, small weddings, and elopements. Here is a quick overview of each part:
The islands include Sicily and Sardinia, which have breathtaking seaside locations that look out into the Mediterranean Sea.
The north includes Piedmont, Lombardy, and Liguria. Lake Garda, Italy's largest lake, is a prominent feature of this region. Furthermore, you can find neo-Gothic and Renaissance-style architecture in these areas. Meanwhile, The Dolomites are in northeastern Italy.
The center features Tuscany, Umbria, Marche, and Emilia-Romagna. In this region, you can find sprawling hills, acres of farmland, and world-renowned vineyards.
The south consists of Rome, Campania, Puglia, and more. You can find rustic farmhouses, seaside resorts, romantic piazzas, and places of religious importance.
Once you and your partner decide on a venue, contact them as soon as possible. Inquire about their availability, wedding packages, and other pertinent details. You should also ask the staff about their policies, requirements, and regulations.
If the venue is unavailable, take some time to regroup. Remind yourself that it is not the end of the world; there are many other locations that are just as breathtaking. Continue reaching out until you find a venue that can accommodate your special day.
Step 7: Hire a Wedding Planner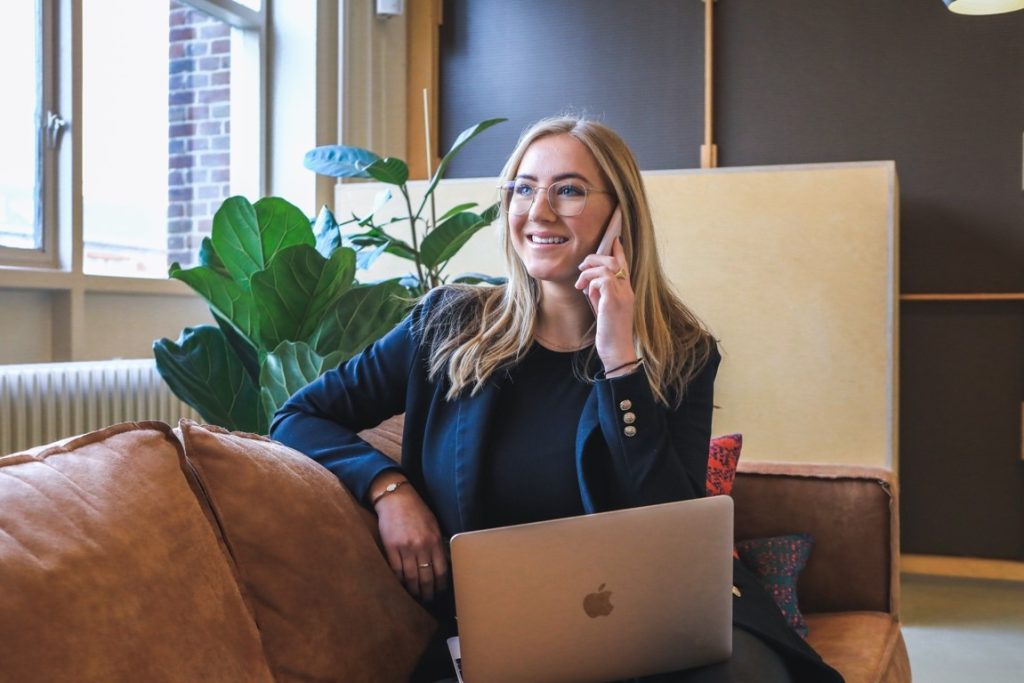 If you and your partner feel confident that you can plan your wedding yourself, feel free to skip this step.
However, hiring a wedding planner will drastically lessen your stress. They probably have a network of reliable vendors and know the best places for photo shoots. They can tell you what activities you can include in your itinerary. They can point you to affordable yet beautiful accommodation.
Moreover, since you are planning a small wedding in Italy, you want someone knowledgeable about the destination. If possible, you should hire a planner who lives — or has experience working — in the area of your chosen venue.
The venue might have an in-house wedding planner, or they might recommend someone they have worked with before.
Step 8.1: Accomplish Pertinent Documents and Paperwork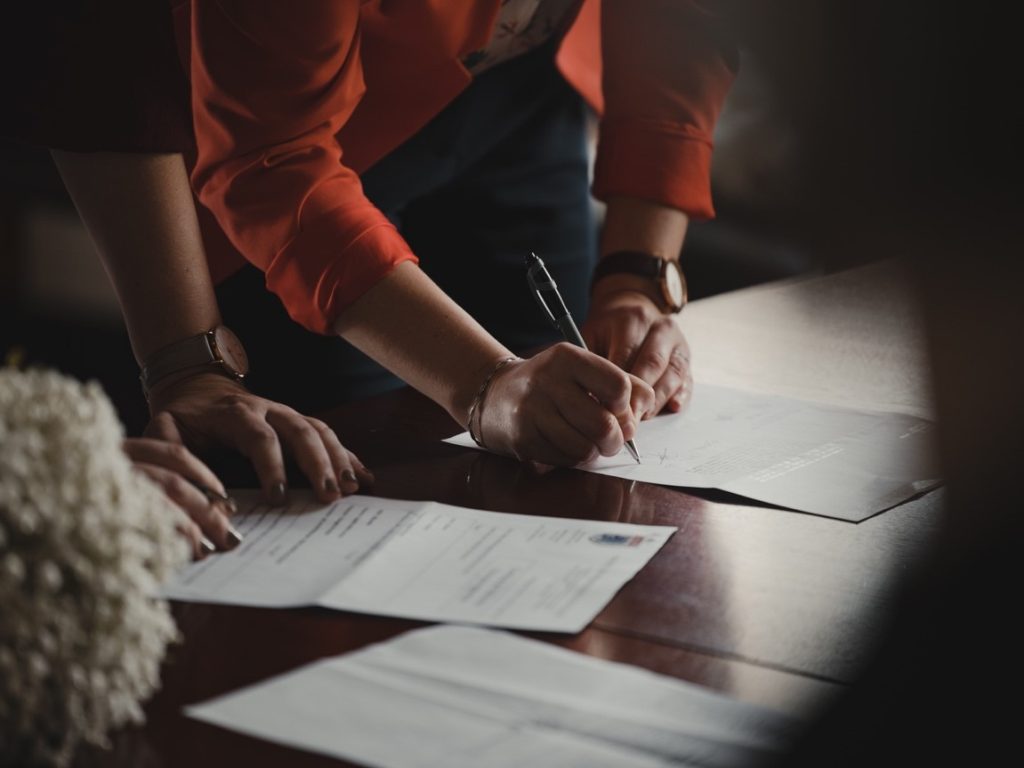 The legal aspect of getting married in a foreign country might seem daunting at first glance. However, as stated in step five, listing all the requirements will help you stay calm and organized.
Firstly, it is worth noting that Italy has no residency requirements for marriage. If both you and your partner are not Italian citizens, you have to satisfy the following conditions:
You must be single, widowed, or legally divorced.

If the woman finalized her divorce within 300 days of her wedding, she must present a certificate of non-pregnancy to the local court.

You must not be relatives by birth or through adoption.
You must have written parental consent if you are below 18 years old.
You must have two witnesses for your ceremony.

They cannot be a current or future family member.
They must know you well.
They must be at least 18 years old.
They must bring a valid ID with a photo.

If none of you can speak Italian, you must hire an interpreter.
As for the required documents, you must prepare the following:
Original birth certificates, which you might need to get translated into Italian
Valid U.S. passport or national ID card
A document that proves there are no legal impediments to your marriage

If you are widowed, provide a death certificate of your late partner
If you went through a divorce, show your divorce papers

Dichiarazione Giurata or an affidavit wherein you legally and truthfully declare something as true. In this document, you will affirm if you have been divorced, widowed, or never been married.

You can obtain the dichiarazione giurata in your country's consulate in Italy.
The specific dichiarazione giurata will have slight variations per area. Refer to the S. Embassy & Consulates in Italy's website for more instructions.
Prepare €16 for the Italian administration stamp.
This affidavit is only valid for six months upon release.

Atto Notorio is similar to a dichiarazione giurata, but your witnesses will swear that your statements are factual. They will affirm that there are no legal impediments to your marriage and that, to the best of their knowledge, no one objects to your marriage.

The application fee is €10.62
You also need to purchase two Italian administration stamps, amounting to €32
Available four to 10 days after applying
If you need the atto notorio immediately, you will pay €31,86 in rush fees

Proof of legal presence in Italy, one for each person, any of the following:

Visa
Plane ticket
Permit to stay (permesso di soggiorno), if you will remain in Italy for over 90 days

Nulla Osta Per Matrimonio, or "clearance for marriage," is a permit required for weddings in Italy with foreign citizens. Generally, a nulla osta refers to permission granted to foreigners with specific requests like marriage. It also affirms the lack of legal impediments to your union.

Prepare around €40 for the application fee.
You must also purchase a stamp (€16)
Your request might take two months to process.
Once all the abovementioned documents are ready, go to the marriage office of the city where your wedding will occur. You will present the documents to a civil registrar and declare your intent to marry (Dichiarazione di Matrimonio).
Again, if neither you nor your partner speaks Italian, you must bring an official interpreter. It is also worth reiterating that you may be required to have your documents translated into Italian.
After filing your declaration of intent to marry, only then can you officially set the wedding date.
If your spouse is an Italian citizen or resident, you must post a public announcement or Pubblicazioni di Matrimonio. The banns must be up for two weeks; you need to wait for at least two Sundays before your marriage can take place.
However, if both of you are not Italian citizens or residents, this requirement may either be waived or shortened.
Step 8.2: Determine the Type of Ceremony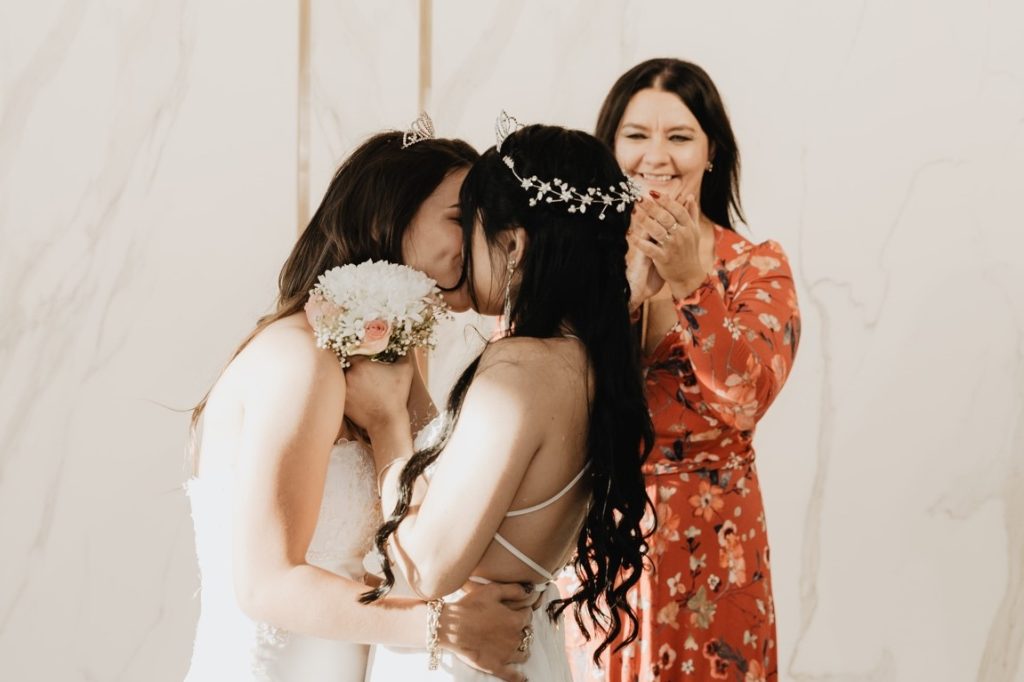 The type of ceremony you will have in Italy might necessitate additional documents. For instance, if you and your partner only want a civil ceremony, then feel free to skip this step.
However, if you will hold a Roman Catholic wedding, here are some more requirements you must bring:
Certificate of baptism
Certificate of confirmation
Certificate of first communion
Proof of attendance in a premarital course
A letter from your local priest or pastoral advisor permitting you to marry
Accomplished prenuptial inquiry by the archdiocese
A letter from the bishop of the parish affirming there is no impediment to marriage (Nihil Obstat)
If you or your partner is not Catholic, approval for a mixed religion marriage
Ask your priest if you need to translate these documents. You will also need to legalize all non-Italian documents through an Apostille stamp, which you can acquire from the secretary of the state wherein the documents were issued. Lastly, have the Bishop's office seal and stamp them.
Two months before your wedding, mail the sealed and stamped copies of the Nihil Obstat, the proof of accomplishment of the premarital course, and the prenuptial inquiry to the Italian priest officiating your wedding.
It is worth mentioning that a religious ceremony will only be valid if a Roman Catholic priest solemnizes it. If your officiant is not Roman Catholic, you might need a separate civil ceremony to legalize your union.
You might be feeling information overload. That is understandable. To minimize the confusion, coordinate closely with your local priest, Italian priest, and wedding planner. They will guide you through the process and answer any questions you may have.
It is also a good idea to contact your home country's embassy in Italy. They will be better equipped to guide you through the legalities of the process. As much as possible, do not take on the paperwork by yourself.
Step 9: Settle Your Guest List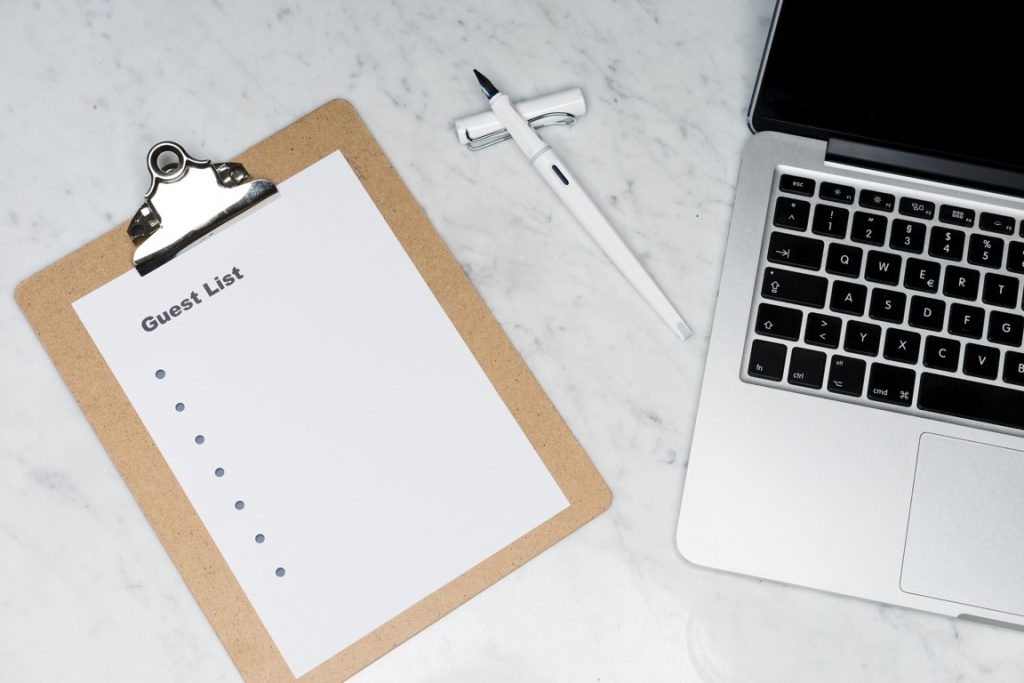 Generally, small weddings have 50 guests or less. You and your partner can decide how many guests you want and how many people each of you will invite.
Do not feel pressured to invite precisely 50 people. In fact, it is in your best interest not to do so; the fewer guests you have, the less you need to spend. As such, only invite the people you cannot imagine not having at your wedding.
Here are some tips for narrowing your guest list:
Ask yourself the following questions:

Do I feel comfortable around this person?
How close am I to this person?
How often do I get to see this person?
Are they supportive of me, my partner, and our relationship?

Limit the number of extended family members. You are probably not close to all your aunts, uncles, cousins, nieces, and nephews; you do not need to invite all of them.
Prioritize close friends over other potential invitees.
It is acceptable not to have kids at your wedding. Even though you love them, they necessitate more expenses and logistics that you might not be capable of accommodating. Examples include meals for children and a crèche service.
Discourage or disallow plus ones.
Once you have a guest list, start sending save-the-dates. Ideally, your guests must have the save-the-dates around nine months before the big day. You should also order your invitation suite at least six months before the wedding.
Step 10: Hire a Photographer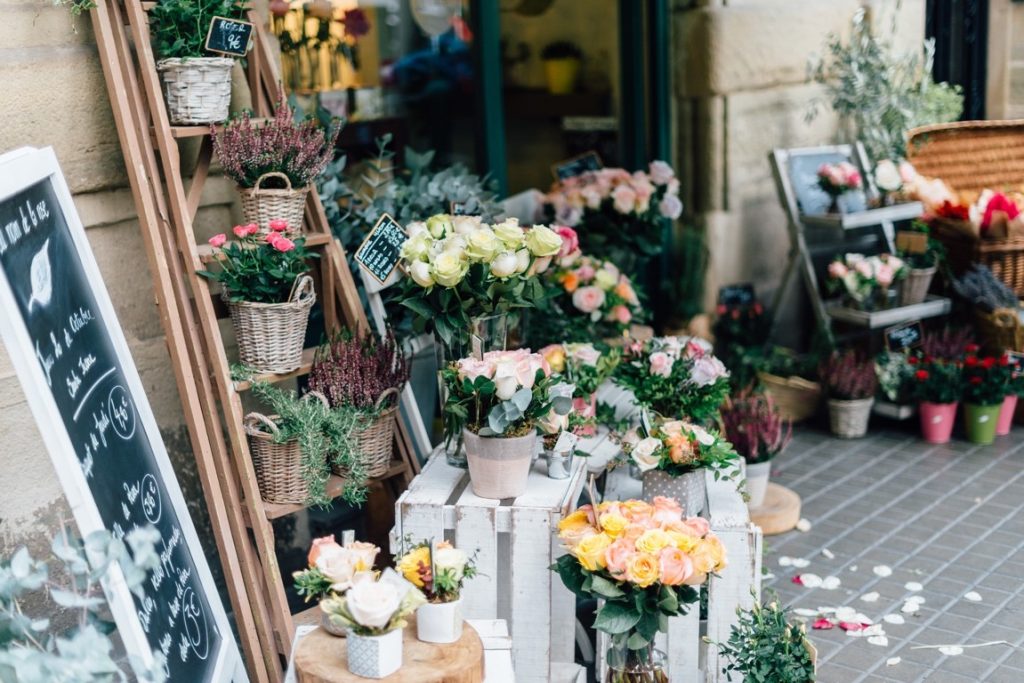 Once you have your venue and date finalized, you should focus on hiring a photographer. Firstly, wedding photographers tend to have full schedules; the earlier you book them, the more likely they will be available for your ceremony.
You can skip this step if your wedding planner doubles as the photographer. Your venue may also have in-house staff who will take care of documentation.
Step 11: Hire Other Wedding Vendors
Besides a photographer, you also need the help of other professionals to ensure that your wedding goes as smoothly as possible. Here are some services you should consider availing:
Florist
Videographer
Coordinator
DJ or musicians
Hair and makeup
Caterer
Your wedding planner may already have a network of vendors they can contact. Alternatively, they might offer additional services themselves. Regardless, work closely with them so that you do not miss anything.
However, if you have decided to use a venue's or a planner's wedding package, you may skip this step.
Step 12: Finalize Travel and Accommodation Plans
How are you and your guests going to Italy? What mode of transportation will everyone use to reach the venue? Where will everyone stay, and how long will they be there?
Although you are not expected to shoulder everyone's expenses, you should try to give some recommendations or directions. In some cases, the venue can give discounts to your guests.
Step 13: Pack for Your Trip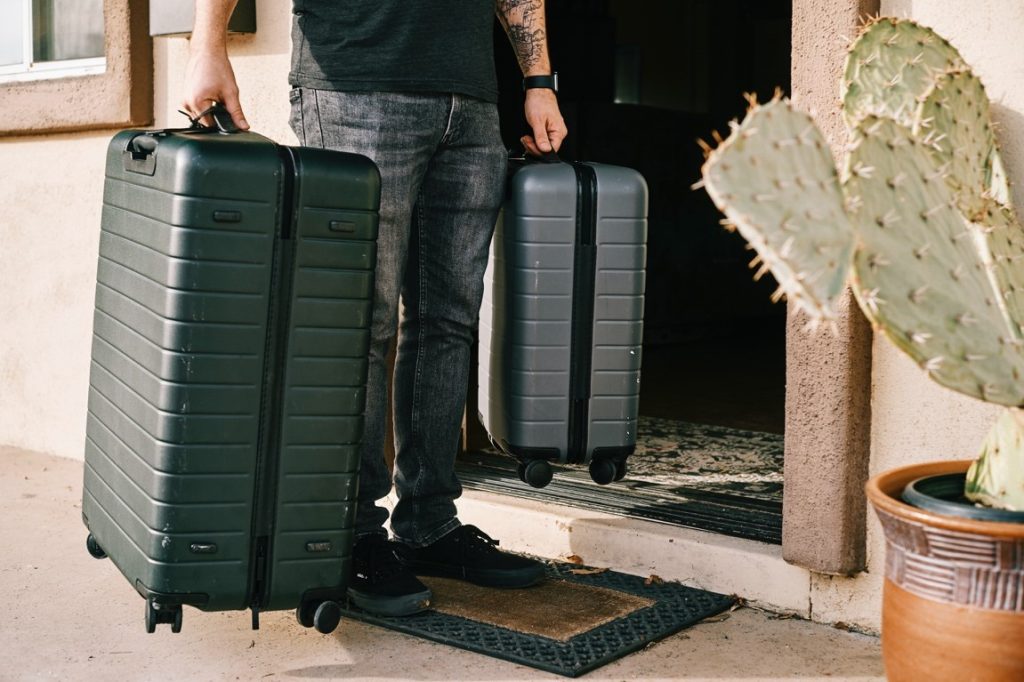 A few days before you leave for Italy, write a list of items you must bring. Give yourself enough time to do this, as rushing may lead to forgetting something. Here are some things to remember:
Passport
Plane tickets
Visa
All required documents
Accommodation- and vendor-related paperwork
Wedding attire and accessories
Underwear
Extra clothes
Credit cards, cash
Makeup
Toiletries
Skincare
Venue- and season-specific wear
Emergency kit (tools for last-minute attire repairs and adjustments, etc.)
Medicine
Power bank
Chargers
Small Wedding in Italy: Tips for Staying on a Budget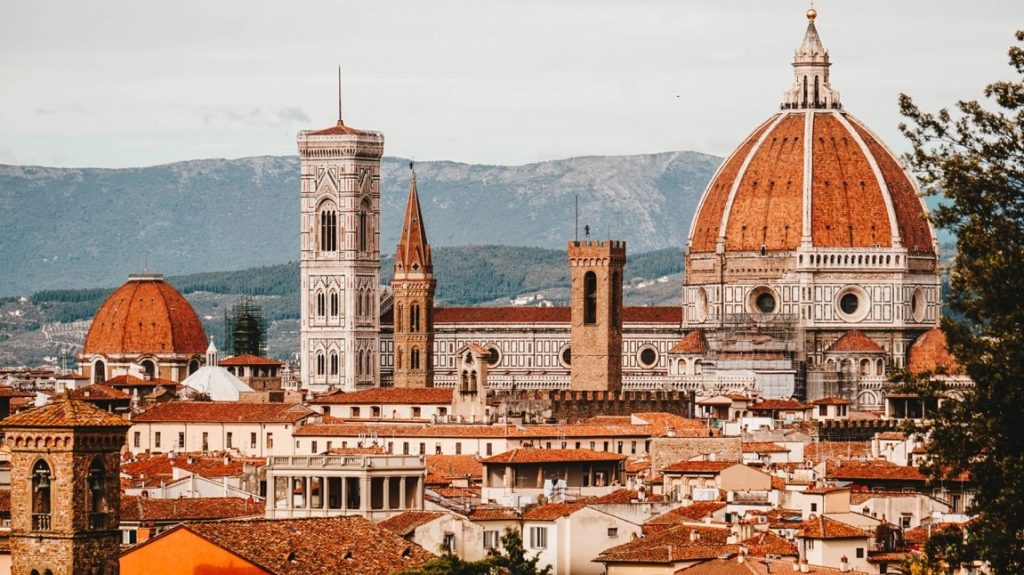 Consider holding your wedding on a weekday.
Support local. Hiring local florists, decorators, caterers, and other vendors will often be cheaper than bringing vendors from your home country. Doing so will also result in a more authentic experience.
Look for venues with in-house catering. This is an excellent way to save money and lessen the stress of planning your menu.
Ask prospective venues if they have backup locations in case it rains on your special day. If they do not, consider looking for other establishments that do.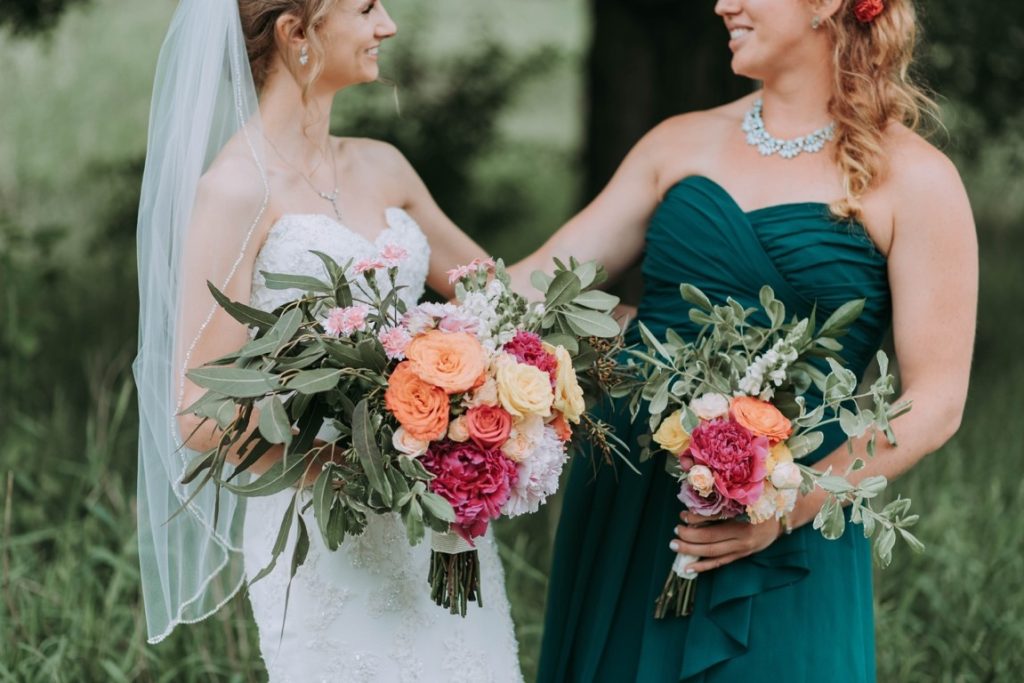 Minimize or forgo a wedding party. In a small wedding, you do not need many bridesmaids and groomsmen.
Go for a venue that needs little to no decoration. Pay close attention to the surrounding scenery and views; if the natural backdrop is breathtaking by itself, you do not need to decorate the venue.
If possible, stay away from tourist hotspots as venues and amenities there are more expensive.
April, May, September, and October are your best bets if you want pleasant weather without large crowds. June to August also have lovely weather, but tourist hotspots will have more visitors.
Rent wedding attire instead of buying new clothes you will only wear once.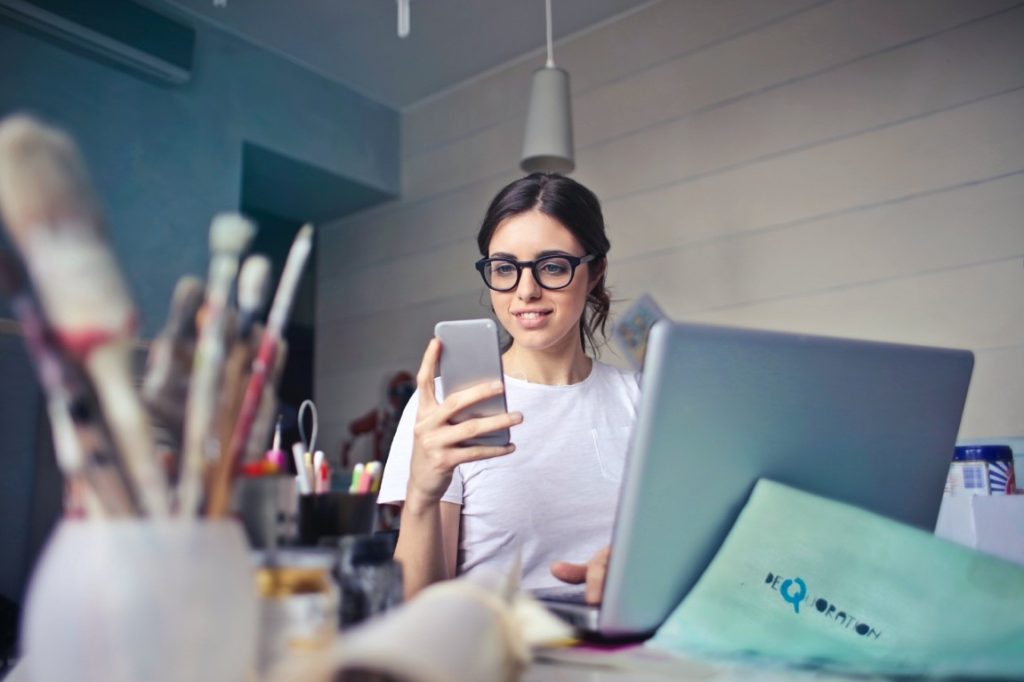 Consider digitizing your invitations. Use an online RSVP alternative to keep track of guests' responses.
Consider opting for a symbolic ceremony; get married at a local courthouse, then go to Italy for a small symbolic wedding. Doing so will lessen the paperwork and expenses.
Having your honeymoon in Italy will lessen travel-related costs.
Browse forums, join online groups, and read discussions from married couples. They can give valuable advice and practical tips for your small wedding in Italy.
Purchase travel and wedding insurance.