Italy is rich in history, charm, and romance, making it a popular choice among couples who want a destination wedding. You may have already considered a villa by Lake Como, a resort by the Amalfi Coast, or a church in Rome.
However, the region of Tuscany—known for landscapes that inspired magnificent Renaissance works of art—is also a breathtaking place to exchange vows with your partner.
A Tuscany wedding can cost anywhere between €10,000 to €50,000 ($10886.80–$54,434.00) on average, with the more luxurious celebrations going upwards of €70,000 ($76,207.60).
More information on how much a wedding in Tuscany costs is provided below. Some tips for planning and saving money are also given.
How Much Does It Cost to Get Married in Tuscany?
Expense
Average Cost
Wedding Venue
€3,000 to €15,000
Catering
€70 to €200 per guest
Wedding Planner
€2,000 to €5,000
Flowers and Decor
€1,000 to €4,000
Music and Entertainment
€500 to €5,000
Wedding Attire
€1,000 to €5,000
Photography and Videography
€2,000 to €4,000 for photography
€2,500 to €5,000 for videography
Personal Accommodation
€150 to €500 per night
Transportation
€700 to €3,000
Legalities
€100 to €1,000
Wedding Venue: Epitome of Beauty
Average cost: €3,000 to €15,000 ($3,266.04–$16,330.20)
Millions of people—individual travelers, families on vacation, and couples looking to get married—are drawn to Tuscany for its breathtaking views and historic charm. The region has a wide array of options for wedding venues to suit anyone's preferences.
At the lower end of the range, you can book rustic farmhouses, quaint venues, and romantic wineries. Wineries are attractive options, as world-class wines are typically included in their packages.
Toward the higher end of the range, you can celebrate your love in a luxurious resort, historic venue, and ornate villas. The wedding packages at these price points typically offer more inclusions and amenities as well.
Catering: A Symphony of Food and Drinks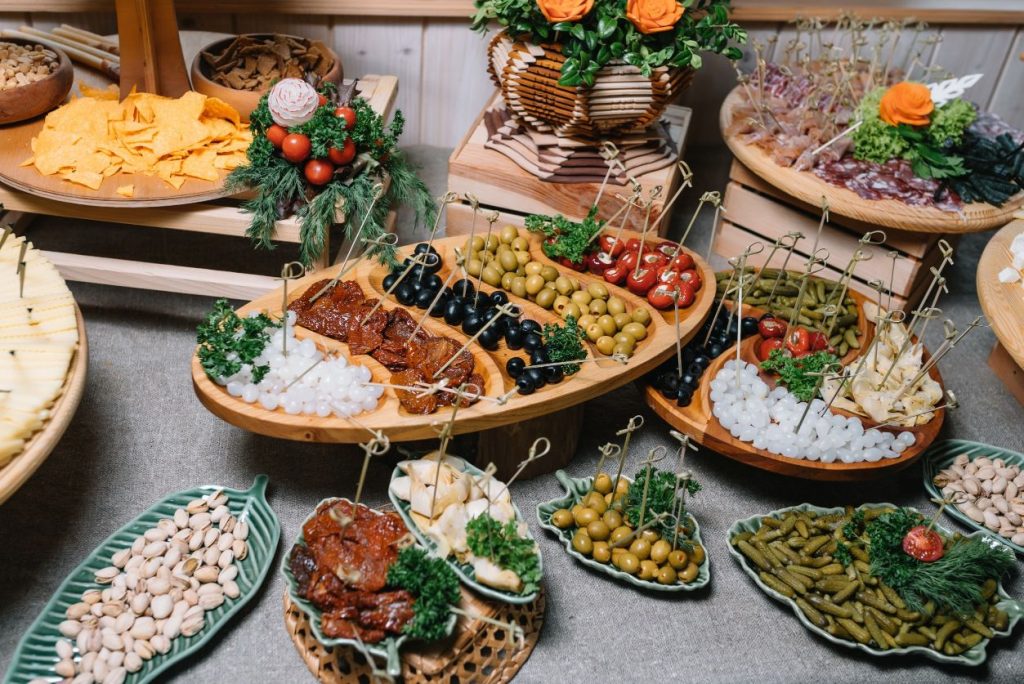 Average cost: €70 to €200 ($76.21–$217.74) per guest
Tuscan cuisine is renowned for its freshness, simplicity, and scrumptiousness. Expect to see a lot of seasonal produce, pasta, cheese, and traditional favors. If this appeals to you and your partner, you can get an authentic Tuscan feast for about €70 to €150 ($76.21–$163.30).
If you want a fusion of international cuisine, you might find rates ranging from €100 to €200 ($108.87–$217.74).
As such, if you have 30 guests, expect catering to add anywhere from €2,100 to €6,000 ($2,286.23–$6,532.08) to your Tuscany wedding costs.
Wedding Planner: The Ceremony's Maestro
Average cost: €2,000 to €5,000 ($2,177.36–$5,443.40)
Planning a wedding is an overwhelming, consuming affair. The stress can double for a destination wedding. As such, many couples benefit from the services and guidance of a professional wedding planner.
A wedding planner local to—or with extensive experience in—Tuscany can connect you with the right vendors, assist you through the legalities, and help you avoid any cultural faux pas.
The prices vary depending on several factors, including the amount of work you need them to do, the amount of experience they have, and their expertise.
Flowers and Decor: Creating a Romantic Ambience
Average cost: €1,000 to €4,000 ($1,088.68–$4,354.72)
For a place as naturally breathtaking as Tuscany, decorations can feel unnecessary. However, think of flowers and decor as details like lace or another layer of tulle on a wedding dress—they can complete the aesthetic you want to achieve.
Music and Entertainment: The Rhythm of Love
Average cost: €500 to €5,000 ($544.34–$5,443.40)
Another aspect to factor into your Tuscany wedding costs is entertainment; after all, a wedding is not complete without music and merriment. The most popular options include a DJ, live musicians, and dancers.
You can also add extravagant touches like a fireworks display. Alternatively, reception games are also memorable additions to your itinerary; you can hire a master of ceremonies, prepare prizes, and purchase the necessary materials to make the games successful.
Wedding Attire: Clothes Maketh the Newlyweds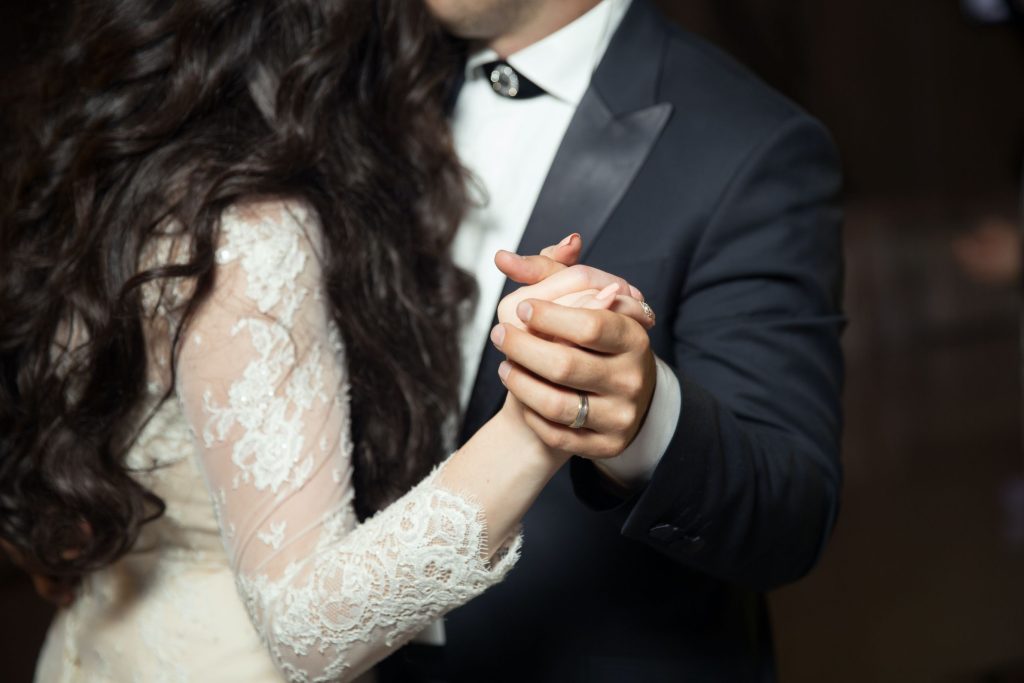 Average cost: €1,000 to €5,000 ($1,088.68–$5,443.40)
When computing how much it costs to get married in Tuscany, some couples tend to forget to take into account their attire. Your expenses in this category can quickly pile up, especially as you add personalizations and make alterations to your outfits.
You can get ready-to-wear attire at the lower end of the range, while splurging can get you bespoke pieces. If you want more affordable options, you can also consider renting garments, buying secondhand, or wearing a family heirloom.
Photography and Videography: Capturing the Magical Moments
Average cost: €2,000 to €4,000 ($2,177.36–$4,354.72) for photography; €2,500 to €5,000 ($2,721.70–$5,443.40) for videography
Years down the line, when you and your partner are celebrating an anniversary or a vow renewal, having photos and videos of your special day can be an emotional way to reminisce on the journey you have had.
Investing in an experienced and professional team of photographers and videographers ensures that the magic of Tuscany—and your Tuscan wedding—will be captured in the images and videos.
Personal Accommodation: Home Away From Home
Average cost: €150 to €500 ($163.30–$544.34) per night
Another often unaccounted aspect of the cost of a Tuscany wedding is your accommodation. Having a place to stay is essential for many reasons: you need someplace to sleep in, somewhere to keep your stuff safe, and a refuge to prepare for the day.
Transportation: A Convenient Journey
Average cost: €700 to €3,000 ($762.08–$3,266.04)
One part of this category is personal transportation in Italy—how will you and your partner get from place to place? Options include public vehicles, rental cars, horse-drawn carriages, and even bicycles. You are looking at spending around €500–€2,000 ($544.34–$2,177.36).
Another aspect is transportation for your guests. If your venue is far from the airport, you may want to consider hiring point-to-point service. Doing so might add €200–€600 ($217.74–$653.21) per trip to your expenses.
Legalities: Sorting the Necessities
Average cost: €100 to €1,000 ($108.87–$1,088.68)
There are plenty of legal aspects you need to sort out before getting married in Italy. You need to present documents like your birth certificate and your passport, and you need to prove there are no impediments to your marriage.
There are also affidavits—such as the Dichiarazione Giurata, which affirms your unmarried status—to accomplish. You have to pay processing fees, along with any translation fees or apostilles required.
The type of ceremony you plan on having will also influence the price you must pay. For instance, religious ceremonies may require additional paperwork and preparation classes. You are also expected to make a donation to the church you have chosen as a venue.
Check the website of the U.S. Embassy & Consulates in Italy for more information regarding legal requirements.
Getting Married in Tuscany: Tips and Things to Keep in Mind
Avail of Wedding Insurance
The more you spend on your destination wedding, the more daunting it feels. You can ease some of the anxiety by purchasing wedding insurance, which can protect you from unexpected circumstances—think getting ghosted by a vendor on the day itself, extreme weather conditions, injuries, and so on.
Different types of insurance offer varying levels of coverage and protection. Talk to a provider so you can work out which insurance is perfect for your situation.
In general, expect to add €300 to €1,000 ($326.60–$1,088.68) to your Tuscany wedding costs for special event insurance.
Bring Pocket Money
Another safety net for your Tuscany wedding is having pocket money. Bring euros, and let a best man or maid of honor keep the cash. With this pocket money, you can pay for additional expenses you may not have anticipated.
A safe figure is to have around an additional 10% of your total budget prepared just in case. For instance, if you spent $50,000 on your destination wedding in Tuscany, it might be a great idea to have $5,000 on hand for any wedding-related expenses.
Inquire About Wedding Packages
Many venues offer wedding packages for couples looking to get married. In many cases, this can be a fantastic deal: you do not have to stress out about planning every single aspect of your big day, and some services might be discounted or completely free.
A lot of wedding packages fall within €10,000 to €30,000 ($10,886.80–$32,660.40). This figure often includes the use of the venue, catering service, basic decor, and a coordinator to guide you through everything.
However, wedding packages are not for everyone. Many of them have a set maximum of guests you can invite, which can be perfect for a small wedding. However, if you want to invite more people, you will pay extra.
Likewise, you do not have as much freedom to personalize your wedding ceremony and freedom as much as you want.
Look at Nearby Accommodation
In some cases, booking personal accommodation in a nearby town can be a smart financial choice. You get to experience Tuscany's local charm, see more of the region, and have the best time of your life for a fraction of the price.
Final Thoughts
Tuscany's sunkissed hills, world-renowned lush vineyards, and picture-perfect villas all combine to make the region a swoon-worthy place for a destination wedding. With careful and smart planning, you can have the celebration of your dreams without worrying about breaking the bank.